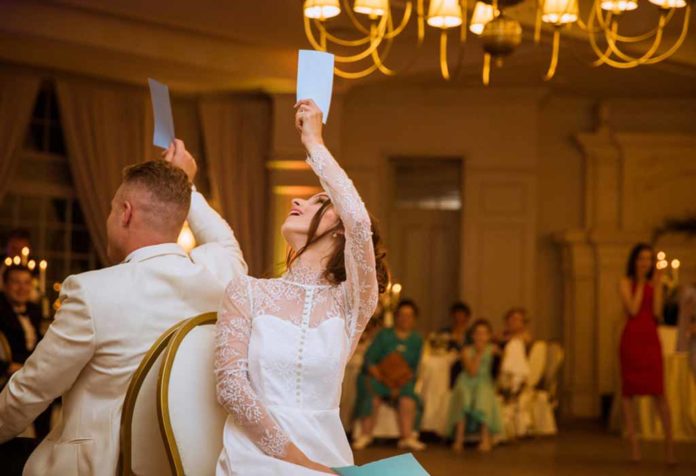 Wedding games are an excellent way for both the bride and groom to have a good time on the most important day of their life. You can opt for traditional and classic games, recently popular games, games suitable for adults only, or even games you make for the occasion. In any case, whether you are planning a traditional church wedding or an informal backyard barbecue with friends and family, here are some fun wedding games ideas to consider.
Fun Loving Wedding Games
Everybody is happy as they await the vows to be spoken and the blessing of their wedding ring. But a wedding is no fun when the guests are grumpy and arguing, when the food isn't adequately prepared, or when there's so much to do that you don't have time to speak.
However, there are a few fun games you can play during your wedding that can help make your big day even more memorable:
1. Wedding Games for Bride and Groom
How about a bit of fun at your wedding? There are so many fun wedding games to select from for the groom and bride that you're sure to discover one that's ideal for you and your partner.
1. Beer-Pong
Nowadays, most weddings include the enjoyable game of Beer Pong. Nothing more complicated than bouncing a ping-pong ball around and landing in an empty glass of beer. The top performers will get a beer. You've undoubtedly seen this game being played if you've ever gone to a pool or beach party.
2. Wishing Game!
It is never too late to share positive thoughts and wishes! It will not only make the couple happy, but it will also make you feel great. Another fantastic idea is to create a wall installation where people may hang their written notes.
3. Shoe Game
The bride and groom are the ones who play the wedding shoe game, but the guests who watch it have a wonderful time as well. Couples are asked to stand in a line and answer questions about their relationship. Two pairs of shoes must be kept together, each with a pair of shoes. They must elevate one of the shoes as a consequence of their answer to a question.
4. Untie-the-knot!
It's an arduous task to untie a knot! This is an excellent game to play at your wedding to see how patient and strategic your guests are. Additionally, provide some prizes for the winners.
5. Wheel of Fortune
Isn't it fun to put someone in uncomfortable situations or make them do dares? This wedding game can help you with that. Dares are written on the wheel of fun, and the wheel is spun to disclose the dares. The dare must be carried out where the mark finishes. This is one of those games that will make you laugh and enjoy yourself.
2. Indoor Wedding Games
Indoor wedding games are ideal for an outdoor event such as your wedding reception. Some of these indoor games may appear a bit cheesy and straightforward, but they can be a lot of fun if played correctly.
1. Housie
Housie, another popular indoor wedding game, may be enjoyed by people of all ages. It's an inclusive game where everyone is racing to see who can check their numbers the fastest. Despite its apparent simplicity, this game has the potential to bring out the fiercest competitors. To spice up this classic game, brides are incorporating a range of creative tombola ideas into their weddings these days!
2. Dumb-Charades
Another game that Indians have loved since childhood is dumb charades. Some wedding games are intended to bring out your theatrical side, such as stupid charades, in which you must guess the title of a movie given by your opponents. You'll learn some of the wackiest movie titles ever produced in this game, and you'll have a lot of fun with your friends.
3. Find-the-Ring!
'Find-the-Ring' is one of the most popular indoor wedding games. You have to locate the ring hidden in a big bowl of milk and rose petals to win. The bride and groom dip their hands in the bowl simultaneously to retrieve the ring before the other.
4. Paper Dancing and Foot Outside the Paper
Paper Dance and Foot Outside the Paper are two more popular indoor wedding games. After each round, the sheet of paper is folded in half, making it more difficult for two people to dance. As a consequence of this game, you will see the most bizarre dance movements that will make you chuckle.
5. Know your Wife Better?
Another age-old wedding game to liven up your festivities. It is available to the whole family and has no limitations on who may enjoy it. This is a fantastic wedding game for all of the wedding guests!
3. Outdoor Wedding Games
Are you looking for outdoor wedding games? Maybe you've already made a decision, but you're not sure how to go about setting them up?? Let us help you get started with a few excellent tips and suggestions.
1. Custom Snapchat
Anyone who has used Snapchat will be acquainted with its location-specific filters available when you are in certain places or at certain events. Geo-filters are what they're called, and making one for your wedding reception is a breeze. The cost is determined by the size of the filter's coverage area and the length of time it will be in place. Your guests will be taking photos as soon as they see the sign!
2. Board-Game Console
Throughout the evening, your more introverted guests will enjoy a selection of short, multi-player board games. You may play traditional games like Yahtzee, Uno, Scrabble, and Life.
3. Video Game Console
You read it right: You might even have video games at your wedding reception, with small prizes for the winners. Dance, Dance Revolution, Rock Band, and Guitar Hero are some of our favorite multiplayer classics, but gaming couples (and guests) may have their favorites that they would want to have on hand!
4. Get Intoxicated!
If you're planning a more casual, informal wedding, consider setting up stations at your reception where your guests may relive their college days with drinking games like beer pong and flip cup. To prevent reminiscing about your college years, consider swapping water for the beer in the single-serving cups.
5. Rent-a-Poker
Install ten poker chairs on the floor of your house and hire a dealer for the evening to play. When it comes to men, a poker station is usually a big hit!
4. Wedding Reception Lawn Games
It's a good idea to explore lawn games for your next wedding reception if you want to have some fun there. Perfect for creating some tension between the couple. Aside from helping visitors interact more, this game also helps break the ice between them, encouraging them to mingle more and have a wonderful time.
1. Jenga
Players of all ages and levels enjoy Jenga. The classic tabletop version is a great option to add a touch of whimsy and fun to any tent or outdoor reception space. A life-size set of blocks, on the other hand, can be purchased for use by friends and family members (and build again). Go to your local hardware store and ask for the wood to be cut into 54 block-sized pieces, which you can then stain, paint or otherwise customize however you see fit.
2. Connect Four
Connect Four is a game of talent and strategy. Undoubtedly, a reimagined version of this well-known game will pique the interest of adults and children of all ages.
3. Tossing the Ring
This carnival game is sure to get your guests' attention and make them more competitive. Put the names of your guests and wedding party members on bottles and rings and see who gets matched up with who for a little extra entertainment at your wedding.
4. Corn Hole
Fun for the whole family, corn hole is a game that everyone can enjoy. As a lawn game, the corn hole is perfect for couples who want to make their additional activities appear like a cohesive part of the overall wedding décor.
5. Croquet
Everyone loves a good game of croquet. When guests arrive, invite them to grab a mallet and start a play on the lawn.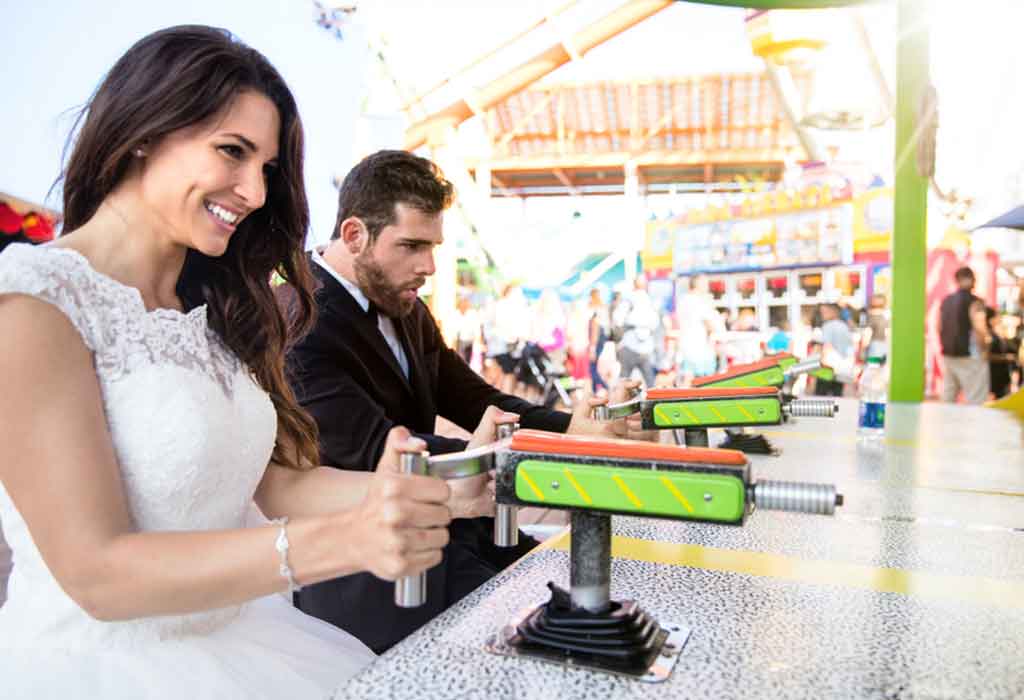 5. Wedding Reception Table Games
Table games at the wedding reception come in a wide variety of choices. And making the correct choice may be a challenge. If they've played any games, they'll be able to give you some excellent recommendations on where to locate decent table games. Always remember to have fun and enjoy your special day!
1. Wedding Mad Libs
Guests may pick up these free wedding mad libs by leaving them on tables throughout the night. In addition to getting everyone talking and laughing, the two of you will enjoy reading it together in the future. It's also a good idea to read aloud some of the best answers during the reception to make everyone laugh.
2. Dare? It's all up to you!
Dares tailored just for your fearful guests will get them moving and involved. And the table with the most dares wins the game! You will write the dares so that you may tailor them to the comfort level of your visitors.
3. Wedding Facts
A lovely sheet with some questions about the two of you, whether multi-choice, true/false, blanks, or anything in between, may be placed on the table at each guest's seat! Guests may answer questionnaires at any time, with replies read aloud by the emcee. They will give the centerpiece to the table that provides correct answers.
4. Look for Hidden Images
A newlywed kiss, someone applauding, a group photo, and so on are just a few of the 20 wedding moments that guests may film with their phones as part of a digital treasure hunt. You'll have a lot more pictures to look at at the end of the day as a bonus. Consider turning your photo treasure hunt into a contest after the wedding, with guests voting for the best image in each category. As a result, your viewers will be more interested in quality images than quantity. And don't forget to urge guests to use your wedding hashtag on social media so you can easily find all the beautiful pictures!
5. Wedding Riffs
'Cards About Matrimony' is a game that has all the silliness of cards against humanity but is centered on marital problems.
6. Large Group Wedding Games
A pleasant and engaging wedding reception game is essential for planning a big wedding or one for your friends and family. These will not only keep your visitors entertained but will also keep the celebration going. Consider the following games to ensure that your visitors have a good time.
1. Dancing is Telling a Tale
Getting everyone to stand in a circle and dance is a great way to get the celebration started. Have each individual do a unique dance that tells a narrative, or have them all perform the same dance. Older couples who recall having dances as children may enjoy this activity. When it comes to wedding games for big groups, you may be as imaginative as you want to be.
2. Photobooth
Having photo booths or photo banners available for guests to use is a standard option at wedding receptions. Guests may take photos taken in these photo booths home as a memento of the event. In addition to providing immediate memories to your visitors, the photo booth also encourages them to engage in the photo booth so they may have additional pictures shot. Request at least two images if you're not sure how many you'd want to have taken, then gauge how much your visitors like participating in the photo booth.
3. The Fun Wheel
During the reception, a fun activity wheel can encourage guest participation. This option includes "Pick a Couple to Kiss," "Show Us Your Best Dance Moves," and the classic "Bride & Groom Kiss."
4. Perform a Word Search!
Allow your visitors to spend the evening playing a word search on a chalkboard. If you want to create your version of this word search game, use permanent paint for the letters and chalk for circling the words. By adding personal trivia, guests will appreciate learning about you as a couple.
5. Dart a Dart!
A dart art station is a beautiful idea for a lunchtime celebration to amuse couples and guests interested in the arts. Paint a large blank canvas with water balloons and connect a few dozen (or more) of them. Set up a dart-throwing station a safe distance away (no one wants paint splatter on their formal wear, after all). People may fire darts at the canvas to burst the balloons and splatter the paint within, resulting in a one-of-a-kind work of art for you to keep!
7. Wedding Games For Children
We've put together some fun outdoor wedding games for kids to help you save money on your big day – whether it's a small gathering of close friends or a huge, formal event with all the groomsmen and bridesmaids. They may help take the tedium out of wedding planning and keep the kids occupied. Prizes in the games teach children how to be polite hosts and inspire them to try their hand at being gracious hostesses. To name just a few:
1. Area for Coloring
Coloring is a relatively mess-free pastime that can keep children occupied for hours. Place a coloring book or crayons at each child's place setting. If you add a distinct kids' table to your wedding seating chart, the kids will enjoy painting on their table.
2. Lego Centerpieces
Lego Centerpieces are an excellent way to dress up your center table. Another great option is to have a Lego centerpiece on the kids' table. During the reception, the kids may disassemble it and build their masterpieces.
3. Pictionary
A classic family game, Pictionary, will encourage the children to exercise their artistic creativity to the fullest and teach them teamwork and communication while bonding with each other.
4. Hopscotch and Hoops
Children may expend some of their extra energy by playing in a play area (in a non-disruptive way). Hopscotch and jump rope, among other classic activities, may keep youngsters occupied without causing too much disruption.
5. Piñata
As a child, who doesn't love a Piñata? Just make sure the Piñata is decorated to appear like a wedding cake (or other desserts) and let them go at it when it's time to eat. We must not overlook inviting the newlyweds!
8. Wedding Games For Guest
Everyone knows there are lots of different games for guests during a wedding reception, but we'd like to share a few ideas and examples with you nevertheless.
1. Badminton
If you have the room, set up a badminton court. Because the equipment is light and portable, guests of all ages are welcome to join in this easy yet fun game.
2. Bocce
This is played by two teams of three players, each on opposite sides of the court. It's easy and cheap to build a bocce ball court in your backyard. A real court is not necessary – just give your guests balls and scorecards.
3. Dice-n-spice
Even a vast set of dice may cause havoc. This surprise game is the perfect way to bring guests together at your wedding reception.
4. Big Checkers
Giant Checkers are big and strong. Consider purchasing a large checkerboard mat that can be used as a picnic blanket or making your own.
5. High Striker
When it comes to High Striker, an old-fashioned carnival game, visitors will be clamoring for their turn to see who can swing the mallet the hardest.
Even if you intend to host a simple, intimate supper for close ones, you'll need to find some best wedding games to play. At least once before the wedding, you'll want to play all feasible games, so you'll have enough to keep you entertained throughout the reception, as well as during the wedding ceremony. In addition, this is an excellent opportunity to make sure you have games for all ages. Games are also an excellent method to de-stress the bride and groom.
Also Read:
Hairstyle Ideas for Wedding Guests
Wedding Party Favor Ideas for Your Guests
Outfit Ideas for Guests to Wear at a Fall Wedding