All Time Best New Year Eve Movies To Watch With Family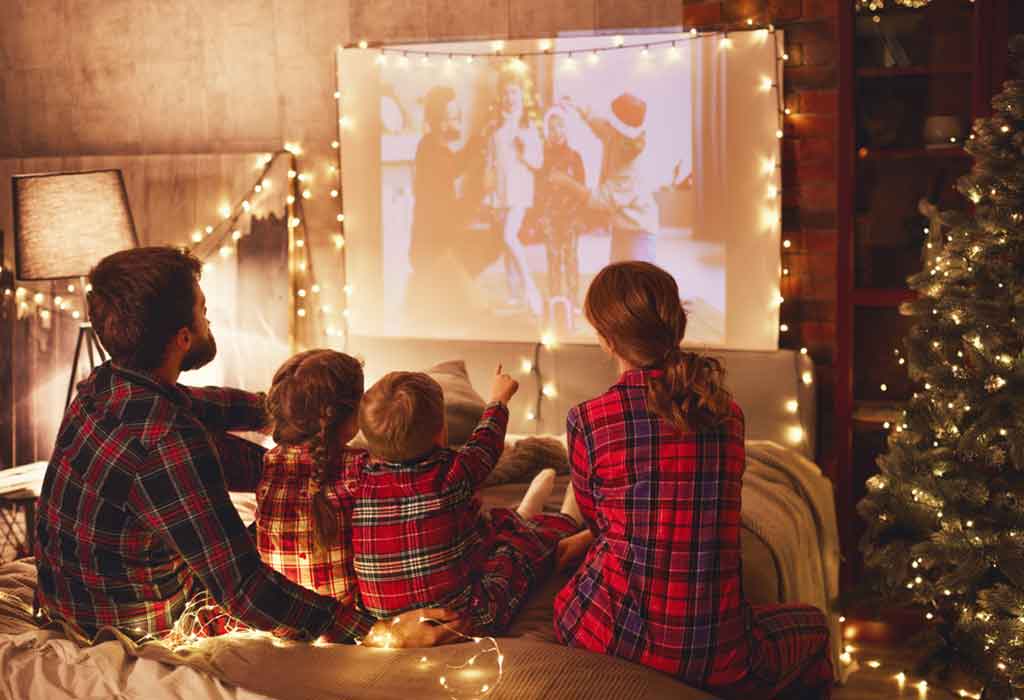 In this Article
Despite all the things, you could do on this special New Year Eve day, watching a movie while snuggling with your family is the warmest of them all! These below-listed NYE movies provide an easy escape from existential dread and lift the spirit on this joyous occasion.
25 Best Movies To Watch On New Year's Eve
When it comes to New Year's Eve films, many Hollywood blockbusters carry the spirit of reflection and resolution as their theme. So it's no surprise that this holiday is marked by such sentiments that have been portrayed in these films. Just as your New Year resolution may resemble the hero's journey, a call to action, and commitment to fight against all odds, in case you're focused on securing that midnight kiss, a rom-com type will be perfect. Either way, if you're already fascinated by the trailer of the upcoming flicks or reminiscing on the highlight reel of the current year's past, there's probably a classic new year's Eve movie out there for you. Whether a festive film or a hungover inspiration on New Year's Day, the possibilities are endless. Here are some of the recommendations that would help to narrow down your search. From the romantic, delightfully funny, unconventional Sci-Fi-s, edge-off-the-seat thrillers to fantasy dramas, a good family New Year's Eve movie can cater to the entertainment needs of all ages.
1. Bridget Jones's Diary
Release Year – 2001
This bittersweet romantic comedy is that rare gem that is brilliantly funny and at the same time maintains the poignancy of the universal struggle with age, weight, career, and finding the right partner.
2. Are We There Yet
Release Year – 2005
Man meets the lady of his dreams, and they hit it off immediately, and you would think that is the end of the romantic comedy. However, here the real story begins on a New Year's Eve when the man with a hatred for kids has to drive the kids of his lady love to Vancouver.
3. When Harry Met Sally
Release Year – 1989
Based on the lives of best friends Harry and Sally, who keep finding each other and struggle to answer the existential question of "can a man and woman ever just be friends"? Famous for the sharp script, witty dialogues, and fabulous chemistry between Billy Crystal and Meg Ryan, this movie should be on everyone's bucket list.
4. 200 Cigarettes
Release Year – 1999
Set in New York's rocking 80s, "200 Cigarettes" follows several 20 somethings on New Year's Eve. This movie has a holiday story for everyone, from Cindy's awkward dinner date with Jack to Monica's NYE bash.
5. Phantom Thread
Release Year – 2017
In 1954 London, fashion designer Reynolds Woodcock creates dresses for members of high society, even royalty. His clients view him as a genius whose creations enable them to become their best selves, but his obsessive and controlling personality that matches his creativity and charm takes the best of him!
6. Trading Places
Release Year – 1983
Starring Eddie Murphy and Jamie Lee Curtis in pivotal roles, "Trading places" is one of Hollywood's best comedies. On New Year's Eve, the group, including a gorilla, boards a train to execute an elaborate plan. The mayhem that follows in their wake is sure to keep you laughing.
7. Sunset Boulevard
Release Year – 1950
Sunset Boulevard focuses on the New Year's Eve party of a silent movie star, past-her-prime, and the sole attendee of the party, a struggling screenwriter. The deadly consequences of the tragic setting are a cautionary tale of glamour gone wrong. Put on your inner star and join Gloria Swanson in her New Year's Eve party.
8. New Year's Eve
Release Year – 2011
This rom-com has an ensemble of Oscar winners Halle Berry, Hilary Swank, Robert De Niro, and other notable actors like Jessica Biel, Sarah Jessica Parker, Aston Kutcher, and Lea Michele. Not to forget Bon Jovie and Taylor swift in cameos. We follow them as they navigate New York on the New Year's Eve holiday.
9. About Time
Release Year – 2013
"About Time" explores this plotline in a charming and heart-touching manner. The film moves around the timelines as Tim goes about fixing his mistakes but never forgetting to come back to the New Year's Eve party to kiss Cozy and set the originally messed-up kiss.
10. Ocean's Eleven
Release Year – 1960
Ocean's 11 shows that a good New Year's Eve cannot be complete without an ultimate casino heist. The original Ocean's 11 stars Frank Sinatra, Sammy Davis Jr, and Dean Martin as the WW2 veterans plan to rob a casino. With twists and explosive turns punctuating the movie as the clock closes at midnight.
11. High School Musical
Release Year – 2006
Revisit your favorite childhood movie on New Year's Eve and sing along to this classic Disney Channel musical. The film opens on a crucial New Year's Eve scene. When Troy and Gabriella meet at a resort for New Year's and sing Breaking Free, they learn they are classmates when the school year starts.
12. Poseidon
Release Year – 2006
Around 2,000 people traveling across the Transatlantic spend their New Year's Eve fighting for their lives when they get an unlikely visit from a massive tsunami wave. This film has all the thrills and scares you need that the SS Poseidon cruise ship passengers are in for.
13. Mermaids
Release Year – 1960
This coming-of-age classic is about a single mother and her two daughters who relocate to a small town. But when several events challenge their bonds, they learn to accept each other for who they indeed are. Funny, warm-hearted, and full of memorable moments, 'Mermaids' is the perfect movie to ring in the new year with.
14. Rent
Release Year – 2005
Rent remains one of the most popular musicals of all time. A group of New Yorkers struggles to pay rent to their landlord while tackling their careers and love lives. Set at the beginning of the 1990s, its first act occurs between Christmas Eve and New Year's Eve.
15. Snowpiercer
Release Year – 2013
This sci-fi film is about a horrendous post-apocalyptic Earth. Humanity has been destroyed by climate change and the few survivors left are forced to live on a class-sectioned speeding train that celebrates a new year every time it spans across the world.
16. Waiting To Exhale
Release Year – 1995
Enjoy watching the beautiful friendship of these four women as they navigate through life's various ups and downs from a different perspective.
17. Money Train
Release Year – 1995
When two rogue New York transit cops decide to rob the high-tech 'money train,' New Year's Eve seems like the perfect night to commit the crime. This subway thriller is the best combination of action and comedy you can ask to watch and chill with your gang of friends.
18. Ghostbusters II
Release Year – 1989
No other movie lights up New Year's Eve as much as this sequel to the 1984 hit. Everyone's favorite supernatural crime fighters return to the screen sequel with the same NY setting to save the city. NYE brings in all of the ghouls, ghosts, and slime in the 1989s Ghostbusters II.
19. The Godfather Part II
Release Year -1974
Ideal to binge-watch with your family, the Godfather saga always delivers drama, suspense, great acting, and even more so in the rare sequel. About two hours into the movie, at a New Year's Eve party, Michael tells his brother, Fredo, that he knows of his betrayal and plants the 'kiss of death ' on his lips.
20. An American In Paris
Release Year – 1951
An American in Paris is an Old Hollywood gem with New Year's Eve in focus. This comedy flick features three men going after the heart of the same Parisian woman. The unforgettable musical is full of costumed enchantment; the black-and-white New Year's party in the movie might ignite some ideas for an NYE party of your own.
21.

Charlie Chaplin – The Gold Rush
Release Year – 1925
Everyone knows Charlie Chaplin and his timeless, silent films. This, too, is one of his best works which still makes us giggle! The movie is about a gold prospector during the Klondike Gold Rush in Alaska. It entails a beautiful love story with a wholesome ending, perfect for the New Year!
22. Sleepless in Seattle
Release Year – 1993
This is a classic love story of two jilted lovers brought together by destiny that casts decorated Hollywood stars, Tom Hanks and Meg Ryan. The Empire Estate Building plays a crucial role in their love story. Tom Hanks' on-screen son, too, helps bring them together. It is a classic romance movie that you must watch!
23. After the Sunset
Release Year – 2004
Dive into this crime comedy as a retired thief is enticed by the allure of one final heist amidst the glitz and glamour of a luxurious island, all set against the backdrop of an extravagant New Year's Eve celebration. The stakes are high, and the night holds more surprises than just fireworks.
24. Four Rooms
Release Year – 1995
Step into a quirky anthology comedy featuring four interconnected stories, one of which unfolds on New Year's Eve in a peculiar hotel. Follow the misadventures of a bellhop as he navigates a series of eccentric guests and bizarre situations, culminating in a wild night of chaos and humor.
25. After Hours
Release Year – 1985
Enter the eccentric world of this dark comedy that follows a man's surreal night in New York City. As he encounters a bizarre array of characters and navigates a series of strange and increasingly absurd situations, the night culminates in unexpected chaos as dawn breaks on New Year's Day.
Apart from the fanfare and parties, most people celebrate the beginning of a new year by mending quarrels, setting goals for self-betterment, and donating to charity. It is a significant holiday that brings with it new hopes, new possibilities, and new dreams. So, get a good family movie for New Year's Eve and help to kick-start a new beginning from the comforts of your couch.
Also Read:
Playlist for New Year's Eve
Ideas to Celebrate New Year with Your Family
Foods to Eat during New Year for Good Health and Prosperity