9 Iced Tea Recipes for This Summer to Beat the Heat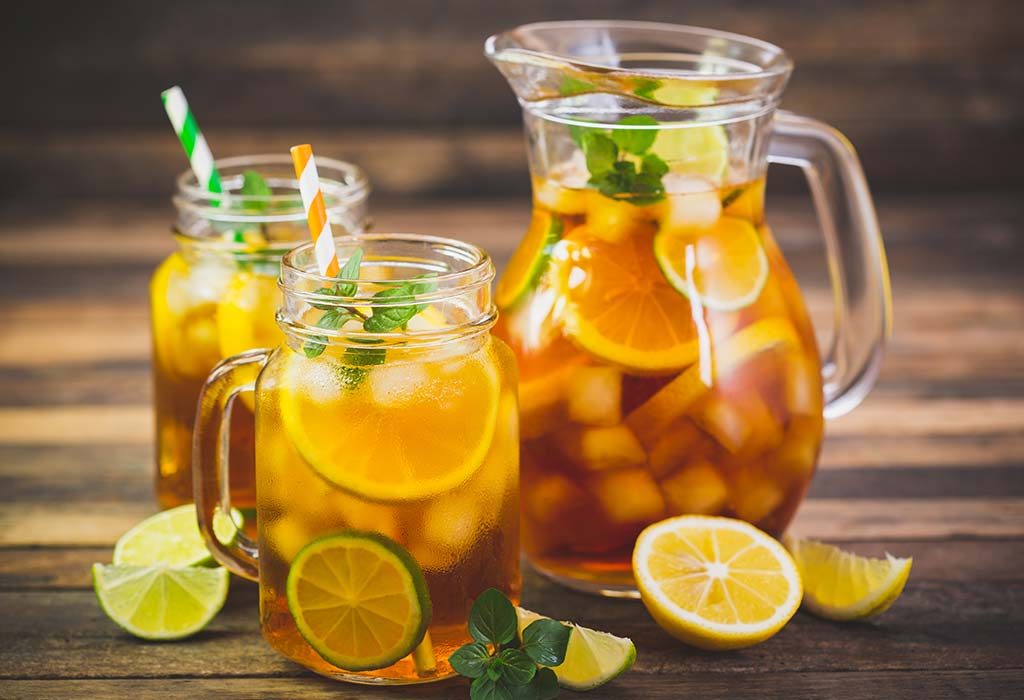 Dehydrated during the summers? Bored of drinking water and fruit juices?
Maybe some iced tea is exactly what you need!
Read on below to get your hands on some of our top recipes and learn about the benefits of this wonderful beverage, as well.
What Nutrients are Found in a Basic Iced Tea?
Depending on the iced tea you go for, you can get a ton of nutrients. Most iced teas are loaded with antioxidants and their nutrient profile depends on the type of herbs, fruits, and veggies infused in them. In general, a basic black iced tea will give you certain amounts of potassium, manganese, flavonoids, and zero added sugar.
Iced Tea Benefits That Assist Good Health
Drinking iced tea brings you a ton of benefits. Here's a list of them.
1. Hydrates You
Dehydration affects both. physical and mental health, and a good way to make sure you're taking in enough water is to drink plenty of iced tea. They're healthy and yummy, which is good news.
2. Has a Lot of Antioxidants
Antioxidants protect your organs from oxidative stress, free radical damage, cancer, and help to lower your risk of attracting various chronic and lifestyle illnesses. The best part is that iced tea contains eight to ten times more of polyphenol antioxidants when compared to fruits and vegetables. Drink up!
3. Has Zero Added Sugar
Sugar is bad for you, since it plays a role in contributing to obesity, poor cholesterol levels, and towards the development of Type 2 Diabetes. Iced tea has zero added sugar, even when you drink up to 12 ounces! And if that isn't enough to convince you, it has just 2 calories in it. Which means, you don't harm your body. The zero sugar and low calories literally prevent you from packing on any pounds. Win-win, if you ask us.
4. Boosts Metabolism
Iced green tea benefits weight loss and boosts your metabolism. This means you have higher energy levels, lose calories more easily, and don't gain weight. In fact, a healthy metabolism also means it gets easier to maintain your current weight. Add to that the cognitive benefits, emotionally feeling healthier due to the nutrient profile, and you have your very own superfood in the kitchen!
5. Improves Oral Health
Iced tea is good for your teeth, since it balances the pH and helps prevent cavities, according to some researchers.
6. Good Source of Manganese
Manganese is a nutrient you need to boost your bone density, heal wounds faster, and keep your metabolism running. Iced tea provides this and helps you meet your RDA easily.
7. Good for Your Heart
There's a lot of research and medical studies out there that state iced tea benefits cardiovascular health and helps regulate your cholesterol levels. This helps lower your risk of heart attacks and strokes in the future.
8. Relaxes You
Drinking iced tea helps you calm your nerves, kick back, and unwind at the end of the day. This means lower levels of cortisol and improved physical/mental well-being. And who wouldn't want that?
Healthy & Refreshing Iced Tea Recipes
Check out our delicious and refreshing iced tea recipes below.
1. Pomegranate and Lime Iced Tea
This one's our signature house blend iced tea recipe.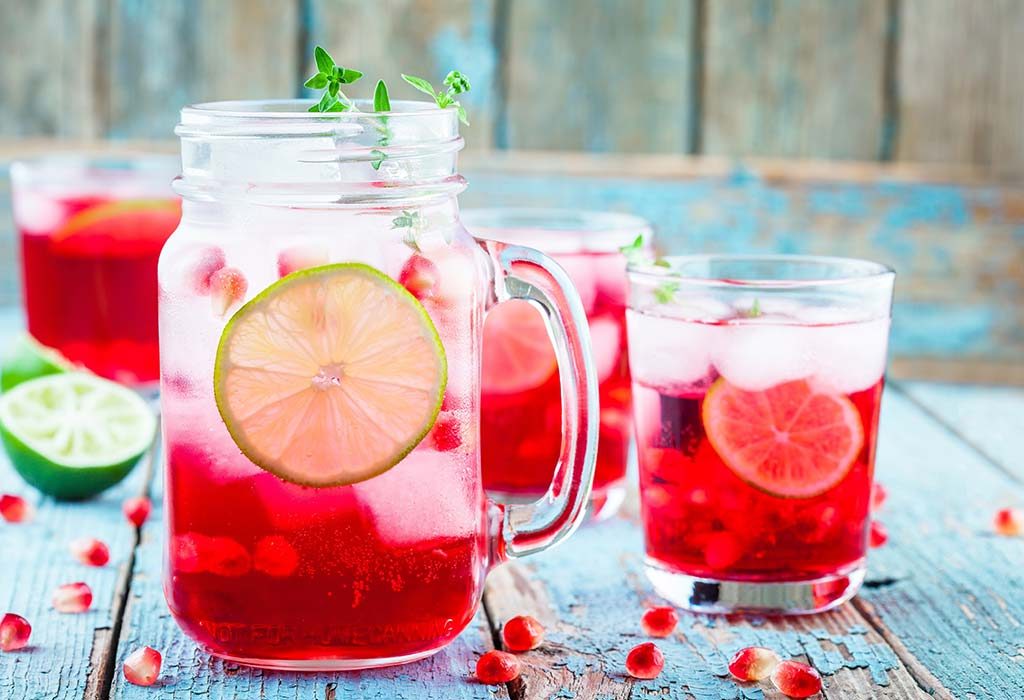 Ingredients:
8 cups of boiling water
8 tea bags
2 cups of pomegranate juice
3 limes (finely sliced)
1/4 cup of sugar
Total Preparation Time:
15 minutes
Servings:
12 cups
Method:
Steep the tea bags for ten minutes in boiling water. Remove and discard them
Once the tea cools down to room temperature, mix in pomegranate juice, limes, and sugar
Add ice cubes and serve chilled
2. Mint Iced Tea
Who doesn't love mint iced tea?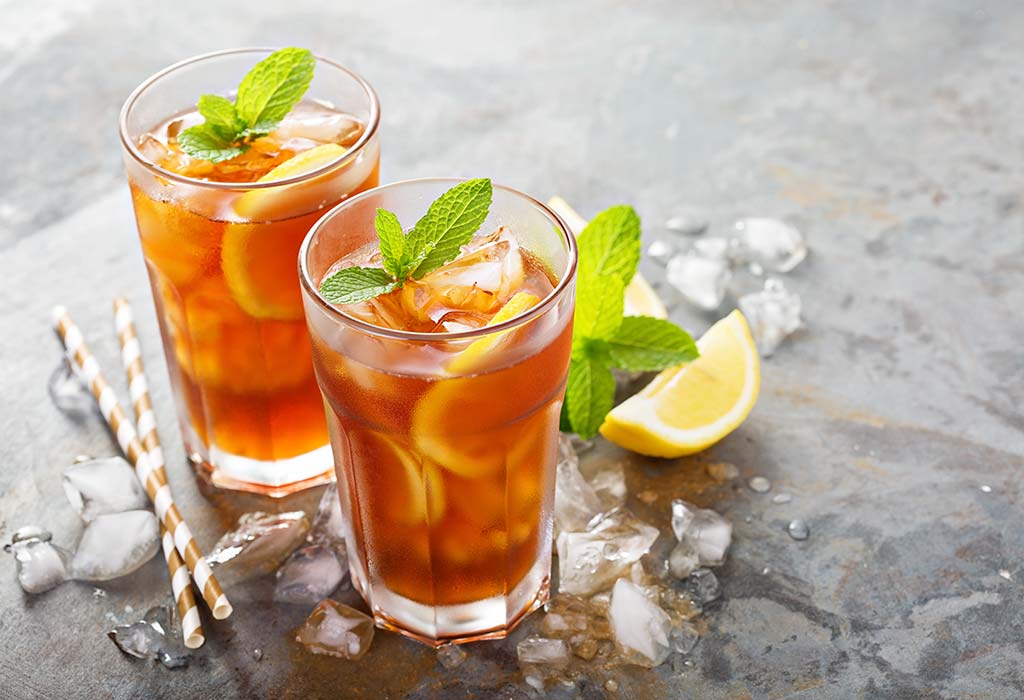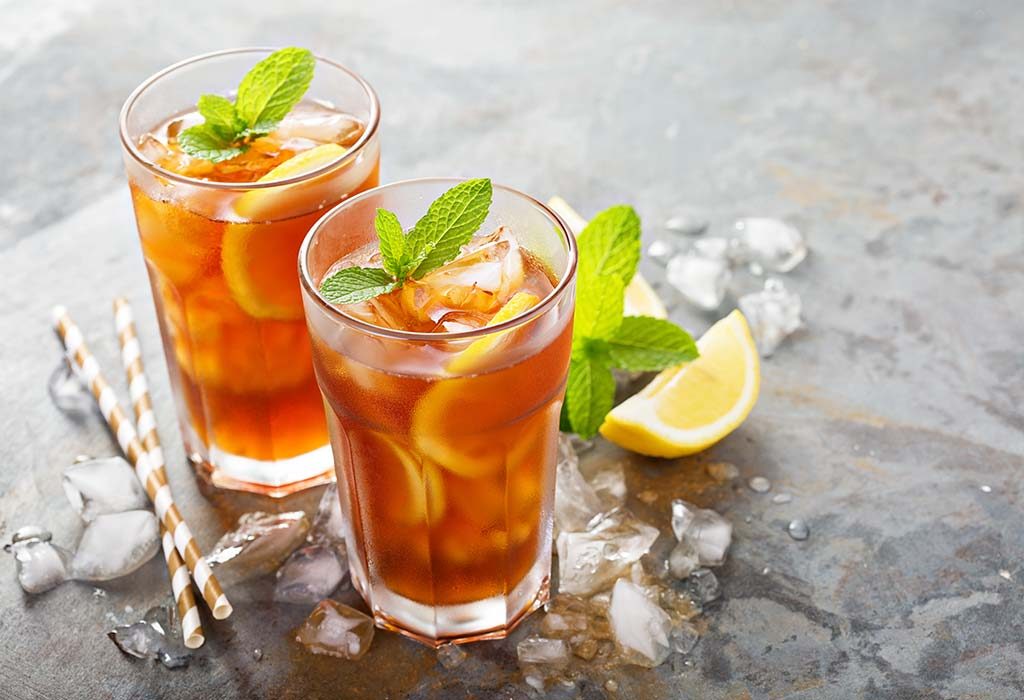 Ingredients:
Boiling water
1 tablespoon of Chinese green tea (loose)
5 cups of boiling water
2 bunches of fresh spearmint (small, rinsed, and drained)
1/2 cups of sugar
Total Preparation Time:
15 to 20 minutes
Servings:
5 cups
Method:
Rinse a teapot with boiling water and set aside
Pour the 5 cups of boiling water in that and let the tea bags steep for 2 to 3 minutes
Add in the spearmint and sugar. Stir the sugar until it dissolves
Steep for another 3 to 4 minutes and strain
Serve chilled with ice cubes after it cools down to room temperature
3. Peach Iced Tea
Peach and lemon iced tea recipe? Sign us up!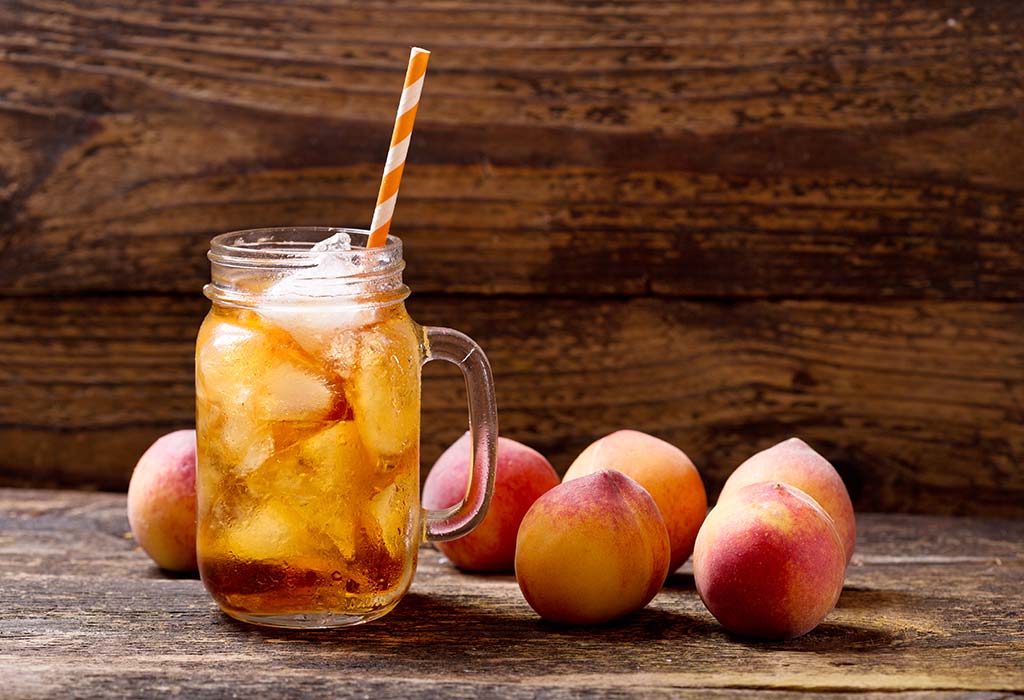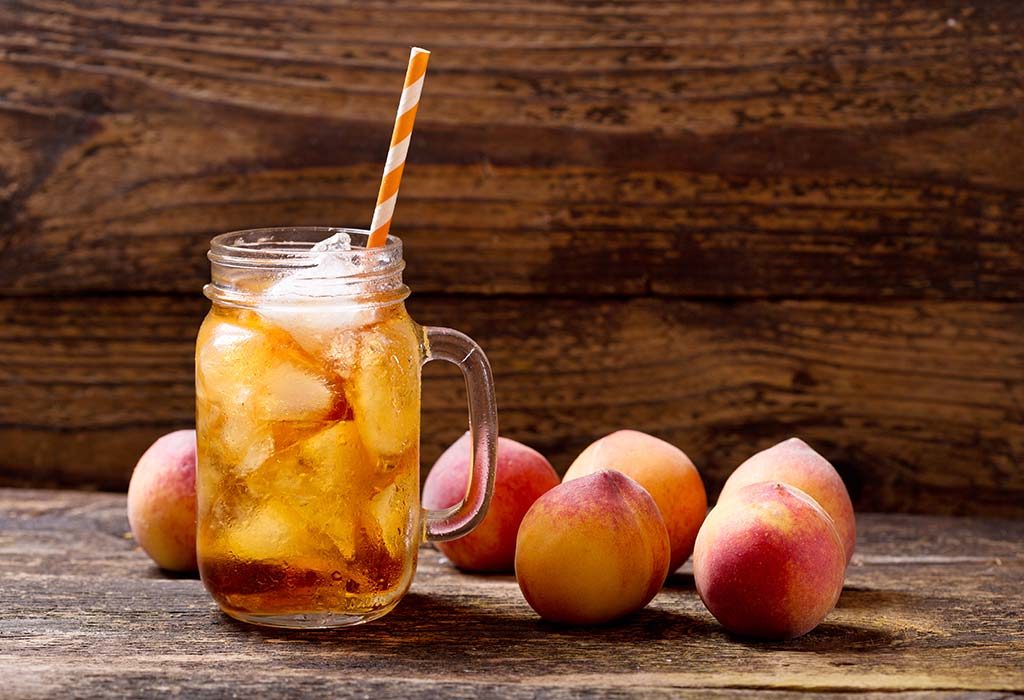 Ingredients:
3 cans of peach nectar
2 quarts of brewed tea
A cup of sugar
1/4 cup of freshly squeezed lemon juice
Total Preparation Time:
10 minutes
Servings:
12 cups
Method:
Get a pitcher and combine all the ingredients in it
Stir well, chill, and serve with ice cubes
4. Mixed Iced Tea
This recipe combines the goodness of chamomile, strawberry, and orange, giving you a delicious iced tea recipe no sugar brew!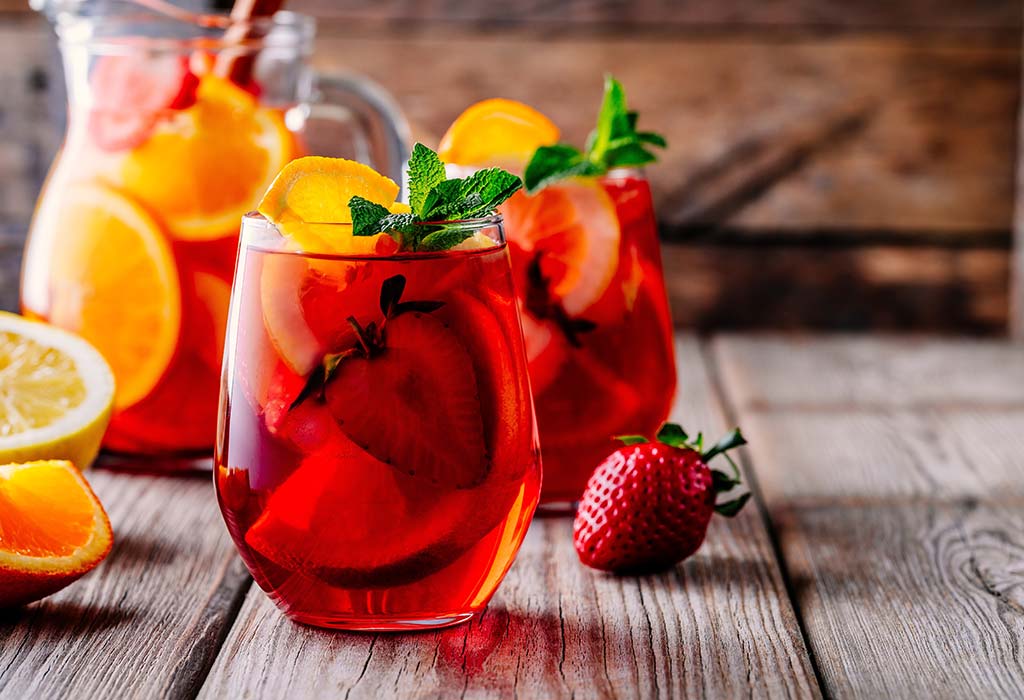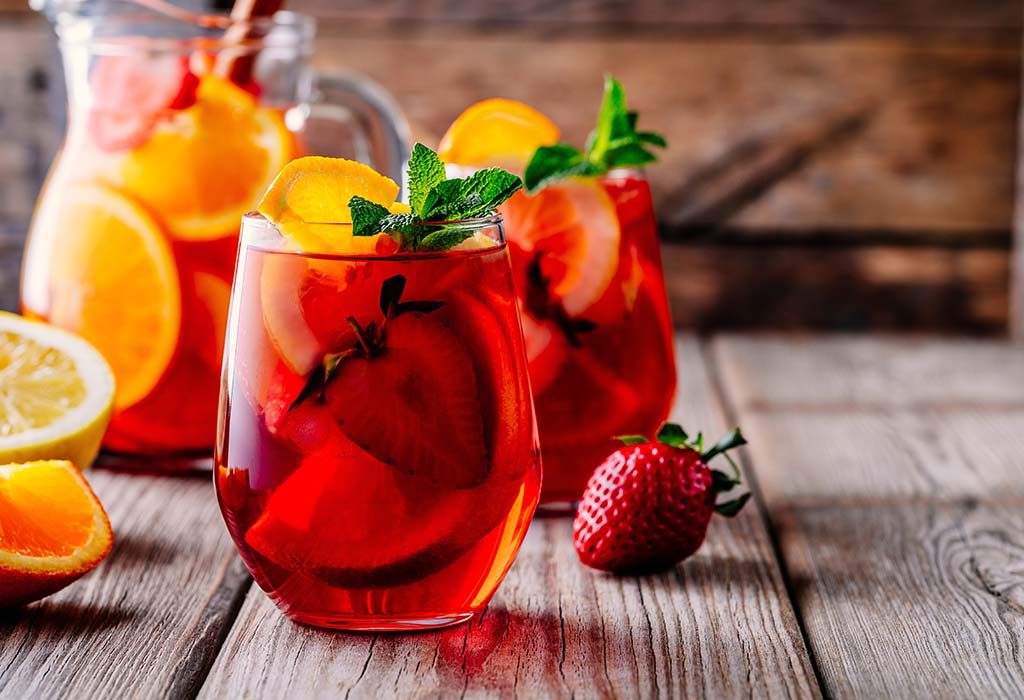 Ingredients:
8 chamomile tea bags
12 cups of filtered water (room temperature)
2 small oranges (peeled, thinly sliced, and de-seeded)
24 large strawberries
4 teaspoons of honey
4 teaspoons of hot water
Total Preparation Time:
12 hours 10 minutes
Servings:
12 cups
Method:
Pour one and a half cups of water into a pint-sized canning jar and add a tea bag. Add in 2 orange slices and six halves of strawberries.
Cover with a lid and refrigerate for 12 hours
Remove the tea bags from the jars and add honey with four teaspoons of hot water
Mix, chill, and serve immediately
5. Special Iced Tea
This is one of our signature iced tea recipes. Just try it.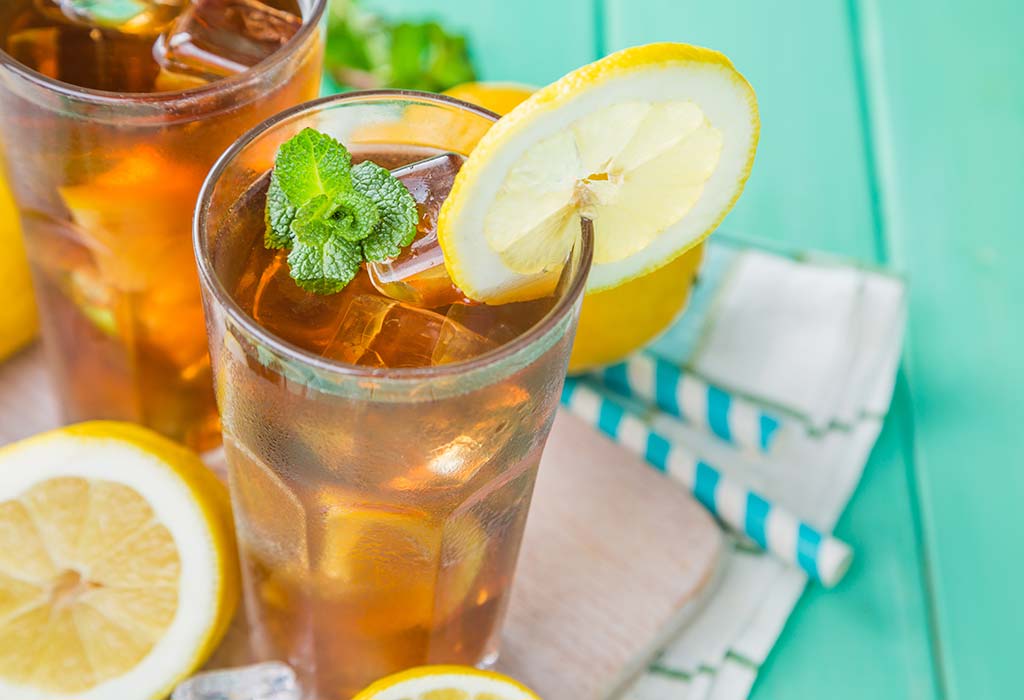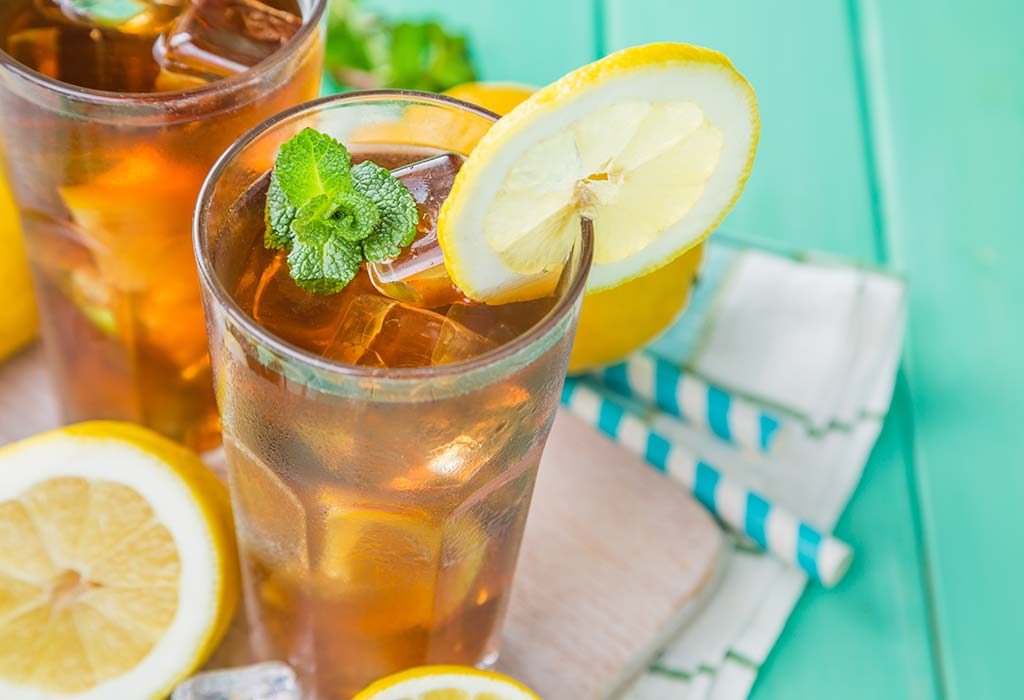 Ingredients:
4 tea bags (regular)
5 cups of water (divided)
14 packs of zero-calorie sweetener
A few slices of lemon and mint sprigs (for the garnish)
Total Preparation Time:
1 hour
Servings:
5 cups
Method:
Put the tea bags in 2 cups of water and bring to a boil in a saucepan.
Steep this for 30 minutes and cover with a lid
Remove the teabags and pour the liquid into a pitcher
Add in 3 cups of water with the sweetener and stir well
Throw in a few ice cubes and use the lemon slices and mint sprigs for the garnish
6. Lemon and Basil Iced Tea
Lemon and basil iced tea make for a fantastic combination. Just try it out!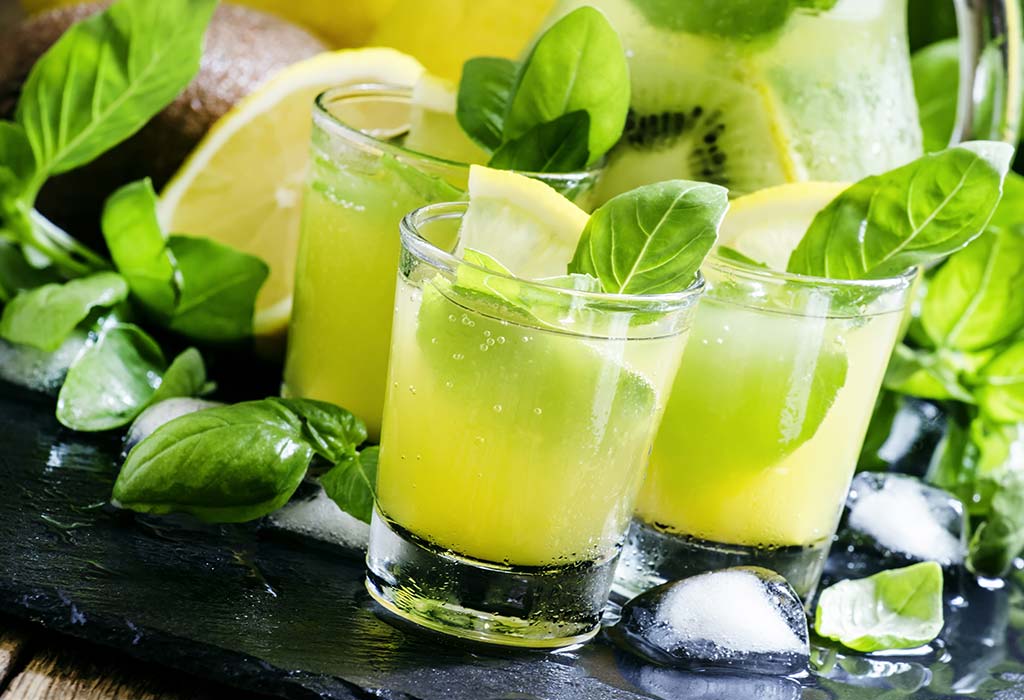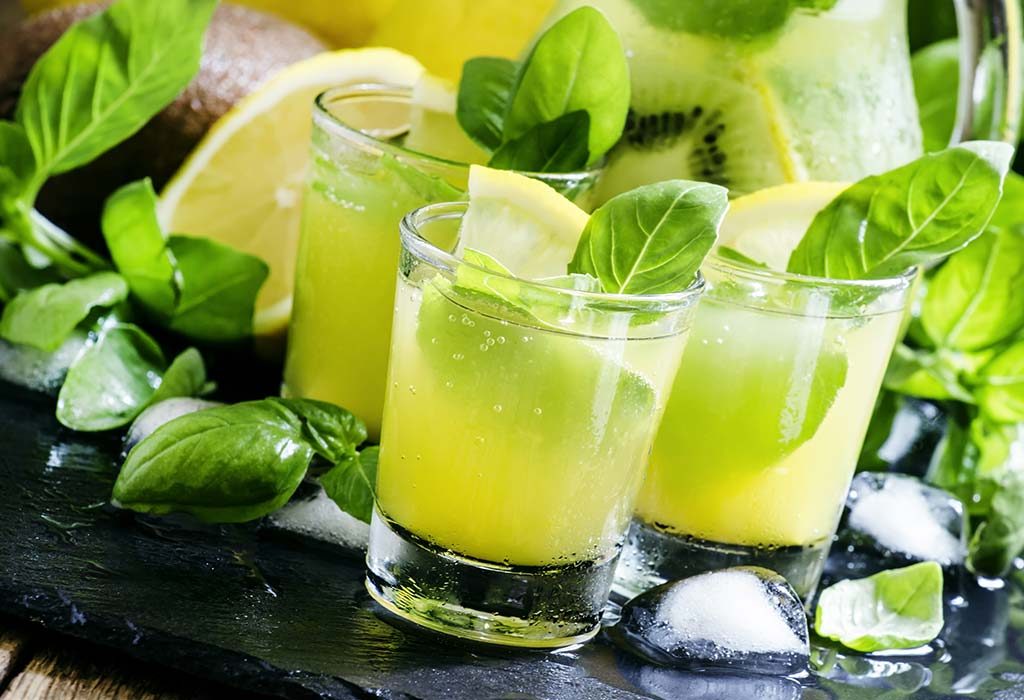 Ingredients:
4 black tea bags
6 fresh basil leaves
1 lemon (thinly sliced)
6 cups of water
1 teaspoon of sugar
Total Preparation Time:
10 minutes
Servings:
6 cups
Method:
Get a large pot and pour six cups of water in it
Bring to a boil and steep tea, basil, lemon, and any sweetener of your choice
Remove the tea bags and refrigerate your iced tea
Serve chilled
7. Lemon and Blueberry Iced Tea
This one is for all you blueberry lovers out there! Enjoy!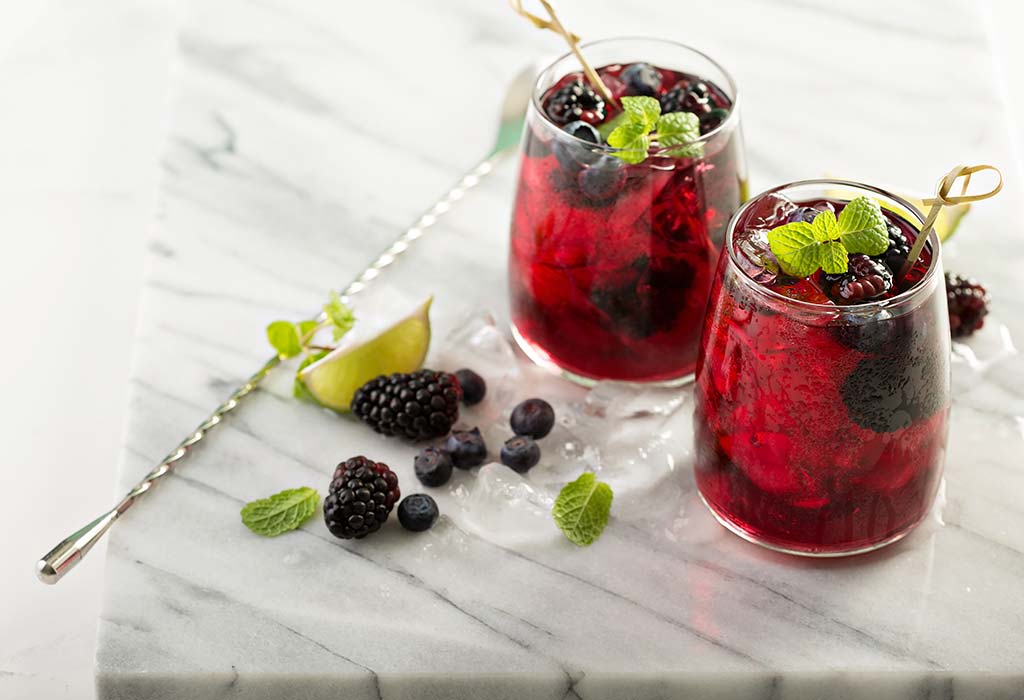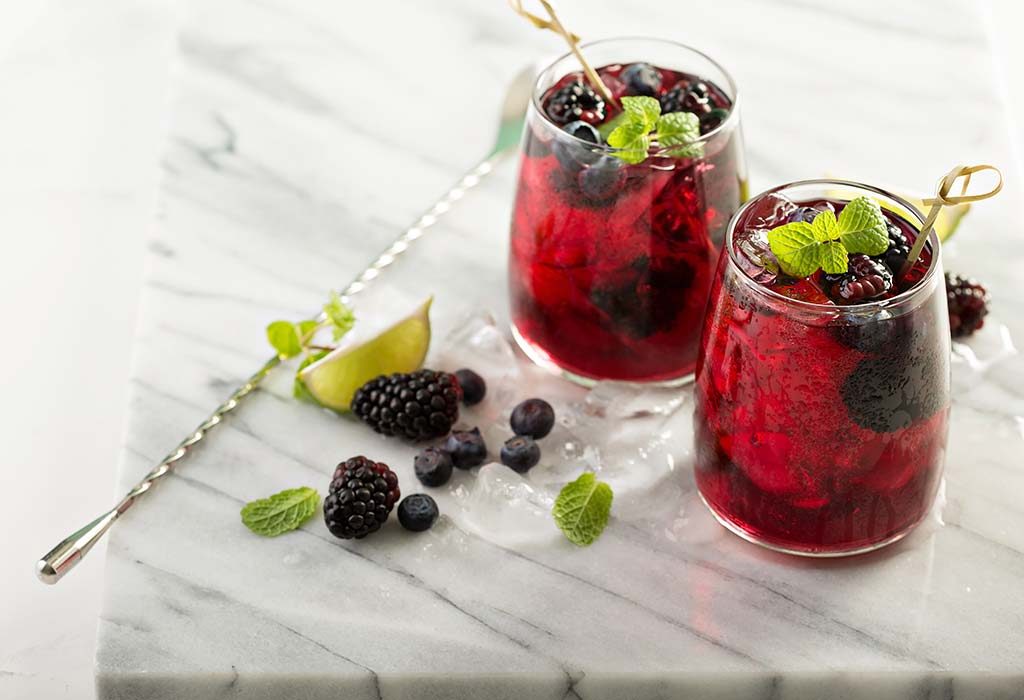 Ingredients:
1 pack of fresh frozen blueberries
1/2 a cup of freshly squeezed lemon juice
3 tea bags (family-sized)
3/4 cups of sugar
A couple of fresh blueberries, mint sprigs, and a few strips of lemon rind (for the garnish)
Total Preparation Time:
1 hour 30 minutes
Servings:
5 cups
Method:
Get a saucepan and bring the blueberries and lemon juice to a boil on a medium flame. Stir well for 5 minutes and remove from the heat. Strain this mixture into a bowl and discard the solids
Rinse the saucepan and add four cups of water, bringing that to a boil afterwards. Steep 3 teabags in that for 5 minutes and discard them. Add sugar and the blueberry blend you just made to that.
Pour in this resulting mixture to a pitcher, cover with a lid, and refrigerate for one hour. Add ice cubes, lemon rind strips, mint sprigs, and a few blueberries for the garnish
8. Raspberry Iced Tea
Do you like raspberries? Then try this recipe!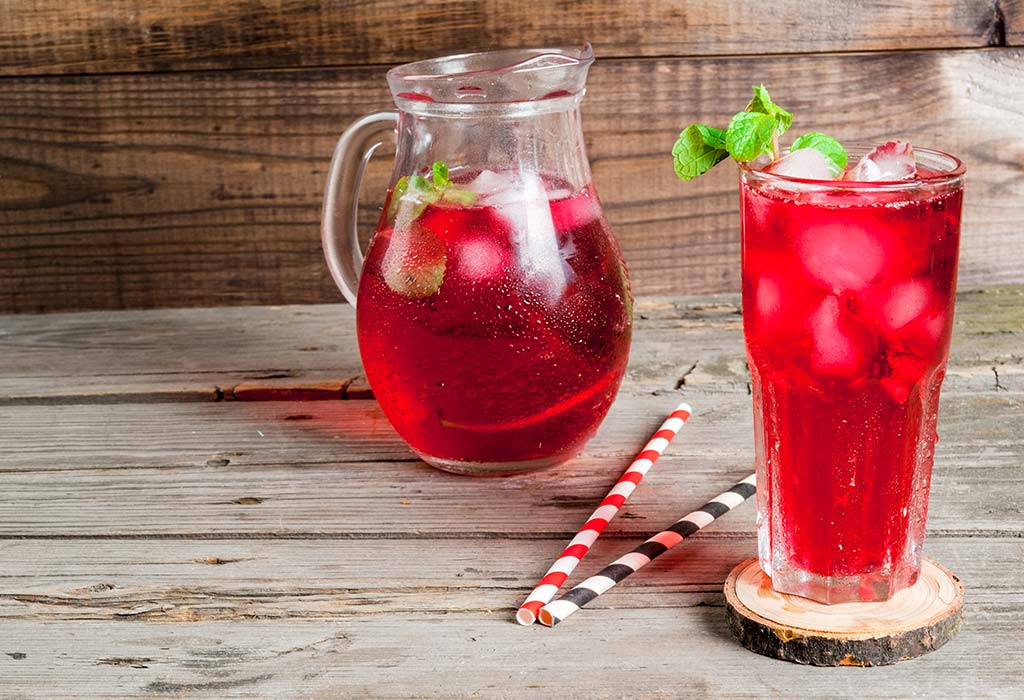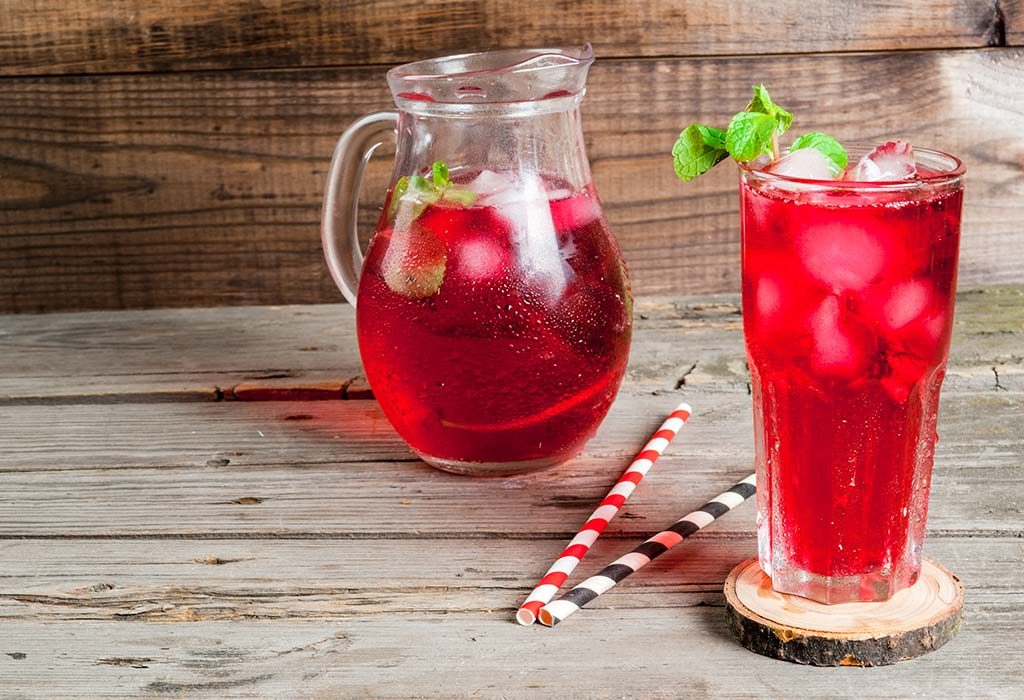 Ingredients:
Eight 1/4 cups of water (divided)
2/3 cups of sugar
5 tea bags
3 to 4 cups of unsweetened raspberries
Mint sprigs
Total Preparation Time:
15 minutes
Servings:
8 cups
Method:
Take four cups of water and pour into a saucepan. Bring to a boil and add in sugar, stirring it continuously until it dissolves. Remove from the flame and add in the teabags. Steep for 5 to 8 minutes and discard them.
Add four cups of water to another saucepan and mix in the raspberries and remaining water
Bring that to a boil, lower the flame, and let it simmer, uncovered, for three minutes
Strain and remove the pulp. Mix the raspberry blend with the tea mix you just made, refrigerate, garnish with mint sprigs and serve chilled with ice cubes
9. Apricot Lemonade Iced Tea
You can't live through the summer without this apricot lemonade iced tea. It's so amazing.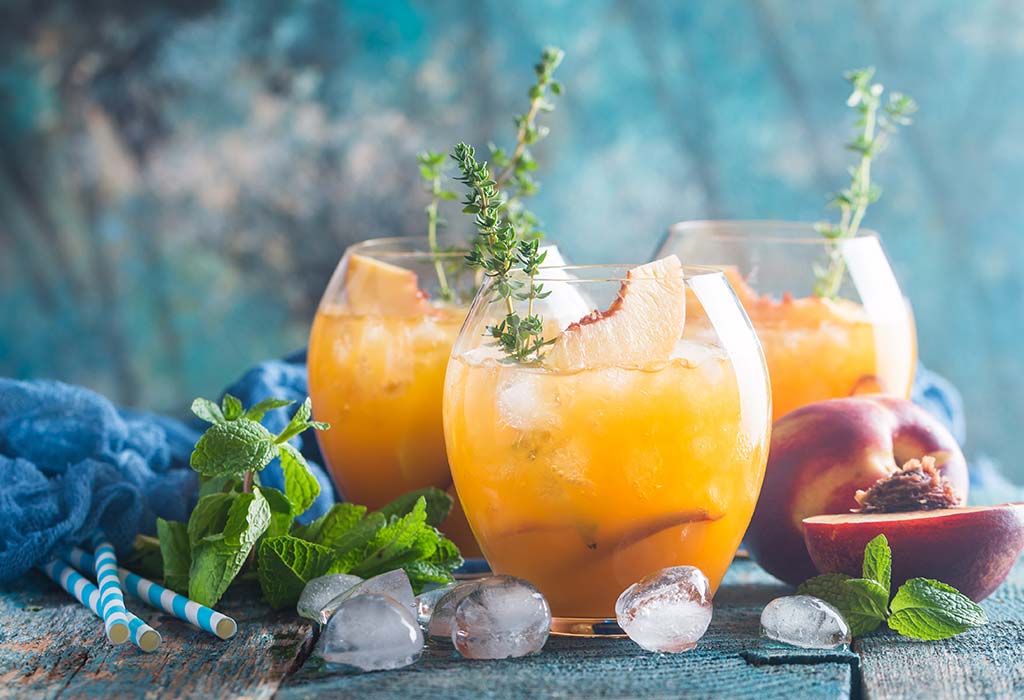 Ingredients:
4 cups of water
7 individual tea bags
1 cup of sugar
1 can of frozen lemonade concentrate (12 ounces)
1 cup of chilled apricot nectar
4 cups of cold water
Ice cubes
Mint sprigs
Total Preparation Time:
15 minutes plus some more time for cooling
Servings:
9 cups
Method:
Bring 4 cups of water to a boil in a saucepan and remove from flame
Steep the tea bags in the water for five minutes and discard them
Add in sugar, dissolve it, cool the liquid and transfer to a pitcher
Add lemon concentrate and nectar, stir well in cold water and serve chilled with mint and ice cubes
Are There Any Side Effects of Drinking Iced Tea?
Yes, drinking too much of iced tea can lead to kidney failure due to the oxalic acid content in them. Make sure to limit your iced tea intake per day.
FAQs
Have questions? Here are our answers below.
1. Does Ice Tea Have the Same Health Benefits as Hot Tea?
No. Hot tea is actually more beneficial than iced tea because when you steep the herbs/leaves in hot water, the antioxidants and nutrients get drawn out and used efficiently.
2. How to Clear Up Cloudy Iced Tea?
Adding a cup of boiled filter water to the ice tea will help clear out the cloudiness.
3. How Long is Homemade Iced Tea Good For?
You should consume homemade iced tea in 24 hours. If you're refrigerating, then you can store it up to 3 -4 days. 2 days tops, if you've added sugar, as the sweetener since it may ferment.
We hope you enjoyed this article on iced tea, their health benefits, and our recipes. Make sure to consult your nutritionist on how much iced tea you can drink, especially if you have any medical conditions. If you're having a hard time staying hydrated, try out our recipes and watch your mood and health getting better instantly.
Also Read:
Ultimate Lassi Recipes for This Summer to Try
Healthy Drinks to Consume This Summer for Refreshment
Yummy Kulfi Recipes to Consider in This Summer