70 Best Peace Quotes To Help Us Calm Our Minds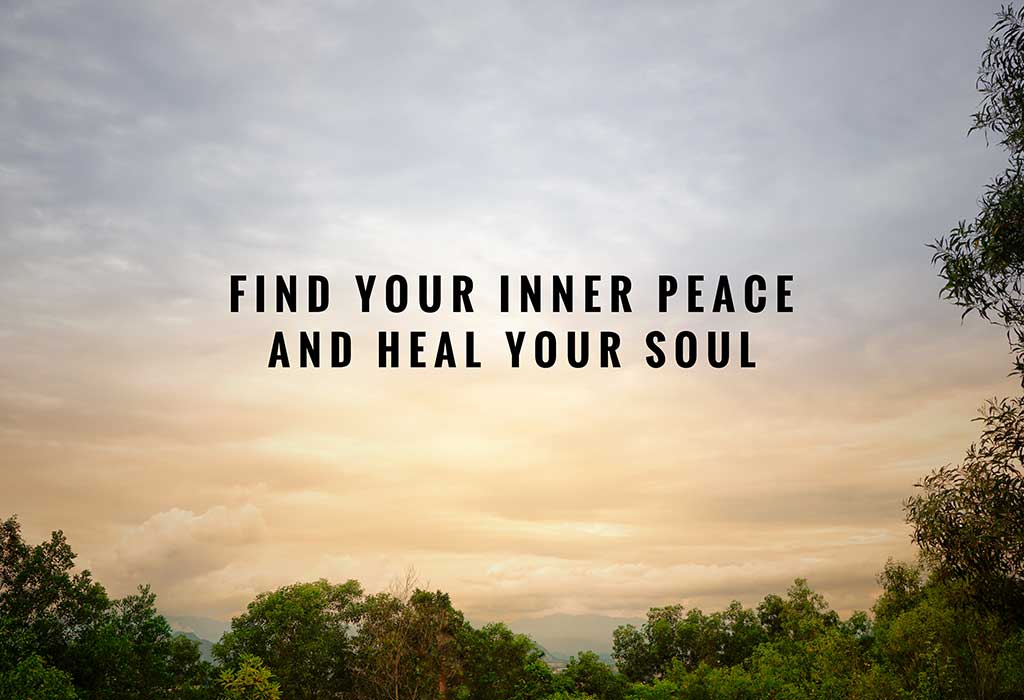 In this Article
Life, as we know it today, is not as simple as it used to be once upon a time. Our desires, our FOMO (fear of missing out), and the endless information on social media has affected our mental health, and the result is that we are all stressed. Our mental health has taken a hit as we are stressed about something or the other, and we all are searching for inner peace.
To help you gain inner peace and stay happy, we have some amazing quotes on peace that you should read and remember. These words of wisdom by some famous people may help bring harmony and peace back into your lives.
Quotes on Peace
1. Best Inner Peace Quotes
Nobody can hurt me without my permission. – Mahatma Gandhi
Peace comes from within. Do not seek it without. – Buddha
Do not let the behaviour of others destroy your inner peace. – Dalai Lama
You find peace not by rearranging the circumstances of your life, but by realizing who you are at the deepest level. – Eckhart Tolle
When you do the right thing, you get the feeling of peace and serenity associated with it. Do it again and again. – Roy T. Bennett
Never be in a hurry; do everything quietly and in a calm spirit. Do not lose your inner peace for anything whatsoever, even if your whole world seems upset. – Saint Francis de Sales
We don't realize that, somewhere within us all, there does exist a supreme self who is eternally at peace. – Elizabeth Gilbert, Eat, Pray, Love
Surrender to what is, let go of what was, have faith in what will be. – Sonia Ricotti
2. Calming Quotes on Peace
Being relaxed, at peace with yourself, confident, emotionally neutral loose, and free-floating — these are the keys to successful performance in almost everything. – Wayne Dyer
Peace comes from being able to contribute the best that we have, and all that we are, toward creating a world that supports everyone. But it is also securing the space for others to contribute the best that they have and all that they are. – Hafsat Abiola
You may say I'm a dreamer, but I'm not the only one. I hope someday you'll join us. And the world will live as one. – John Lennon
Until he extends the circle of his compassion to all living things, man will not himself find peace. – Albert Schweitzer
We are not at peace with others because we are not at peace with ourselves, and we are not at peace with ourselves because we are not at peace with God. – Thomas Merton
Every breath we take, every step we make, can be filled with peace, joy, and serenity. – Thich Nhat Hanh.
Nobody can bring you peace but yourself. – Ralph Waldo Emerson
If you are depressed, you are living in the past if you are anxious you are living in the future, if you are at peace, you are living in the present. – Lao Tzu
Sometimes you can find peace of mind by transferring yourself to different situations. They're just reminders to stay … calm. – Yves Behar
While you are proclaiming peace with your lips, be careful to have it even more fully in your heart. – St Francis of Assisi
You should feel beautiful and you should feel safe. What you surround yourself with should bring you peace of mind and peace of spirit. – Stacy London
Peace is a daily, a weekly, a monthly process, gradually changing opinions, slowly eroding old barriers, quietly building new structures. – John F. Kennedy
Peace brings with it so many positive emotions that it is worth aiming for in all circumstances. – Estella Eliot
Let go of the thoughts that don't make you strong. – Karen Salmansohn
3. Inspirational Quotes on Peace
Love and peace of mind do protect us. They allow us to overcome the problems that life hands us. They teach us to survive… to live now… to have the courage to confront each day. – Bernie Siegel
To be calm is the highest achievement of the self. – Zen proverb
The world is now too small for anything but brotherhood. – Arthur Powell Davies
If you don't know the guy on the other side of the world, love him anyway because he's just like you. He has the same dreams, the same hopes, and fears. It's one world, pal. We're all neighbours. – Frank Sinatra
You'll never find peace of mind until you listen to your heart. – George Michael
The nearer a man comes to a calm mind, the closer he is to strength. – Marcus Aurelius
Love is the purest form of a soul at peace. – Matthew Donnelly
You will find peace not by trying to escape your problems, but by confronting them courageously. You will find peace not in denial, but in victory. – J. Donald Walters
The pursuit, even of the best things, ought to be calm and tranquil. – Cicero
No person, no place, and no thing has any power over us, for 'we' are the only thinkers in our mind. When we create peace and harmony and balance in our minds, we will find it in our lives. – Louise L. Hay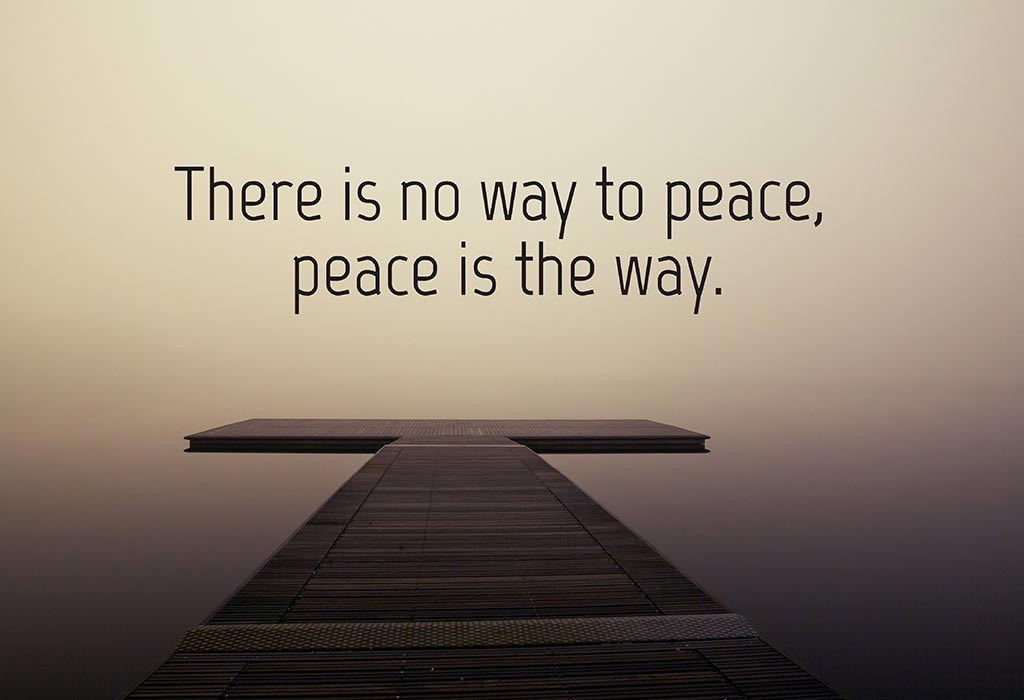 4. Short Quotes on Peace
Nothing external to you has any power over you. – Ralph Waldo Emerson
Peace is always beautiful. – Walt Whitman
You have peace when you make it with yourself. – Mitch Albom
Peace is costly but it is worth the expense. – African Proverb
Freedom from desire leads to inner peace. – Lao Tsu
Feelings are just visitors; let them come and go. – Mooji
When things change inside you, things change around you. – Unknown
Peace is more than the absence of war. Peace is accord. Harmony. – Laini Taylor
Remember the entrance to the sanctuary is inside you. – Rumi
Peace is liberty in tranquillity. – Marcus Tullius Cicero
5. Funny and Surprising Quotes on Peace
They call it 'peace of mind', but maybe it should be called 'peace from mind'. – Naval Ravikant
Fighting for peace is like screwing for virginity. – George Carlin
Be the peace you seek. – Fil Tribble
Peace, like charity, begins at home. – Franklin D. Roosevelt
Free your mind for your soul to have peace. – Sipho P Nkosi
There is no way to peace, peace is the way. – A J Muste
Peace is the greatest weapon for development that any person can have. – Nelson Mandela
Only the educated are free. – Epictetus
6. Deep Peace Sayings
It isn't enough to talk about peace. One must believe in it. And it isn't enough to believe in it. One must work at it. – Eleanor Roosevelt
Those who are free of resentful thoughts surely find peace. – Buddha
Do your little bit of good where you are; it's those little bits of good put together that overwhelm the world. – Desmond Tutu
Peace is the result of retraining your mind to process life as it is, rather than as you think it should be. – Wayne W. Dyer
Learning to ignore things is one of the great paths to inner peace. – Robert J. Sawyer
When the power of love overcomes the love of power, the world will know peace. – Jimi Hendrix
You find peace not by rearranging the circumstances of your life, but by realizing who you are at the deepest level. – Eckhart Tolle
Certainty is impossible. Once you realize it, you stop seeking it, and you become calm. – Maxime Lagacé
The most valuable possession you can own is an open heart. The most powerful weapon you can be is an instrument of peace. – Carlos Santana
Let us bring equality, justice, and peace for all. Not just the politicians and the world leaders, we all need to contribute. Me. You. It is our duty. – Malala Yousafzai
7. Wise Peace Sayings
Walk in the direction where your peace is found. – Steven Aitchison
Peace begins with a smile. – Mother Teresa
Peace is the only battle worth waging. – Albert Camus
Nothing is more precious than peace. Peace is the most basic starting point for the advancement of humankind. – Daisaku Ikeda
Mankind must remember that peace is not God's gift to his creatures; peace is our gift to each other. – Elie Wiesel
Not one of us can rest, be happy, be at home, be at peace with ourselves until we end hatred and division. – John Lewis
Peace can become a lens through which you see the world. Be it. Live it. Radiate it out. Peace is an inside job. – Wayne Dyer
Forgiveness equals inner peace – more peaceful people equals more world peace. – Richard Branson
If there's no inner peace, people can't give it to you. The husband can't give it to you. Your children can't give it to you. You have to give it to you. – Linda Evans
Everywhere I have sought peace and not found it, except in a corner with a book. – Thomas à Kempis
These are some quotes and sayings on peace. Read them when you feel low or when you are in search of inner peace. We hope reading these wise and meaningful quotes will help you stay calm and bring peace in your lives.
Also Read:
Top Love Yourself Quotes
Monday Inspirational Quotes
Spring Quotes for Positive Vibes