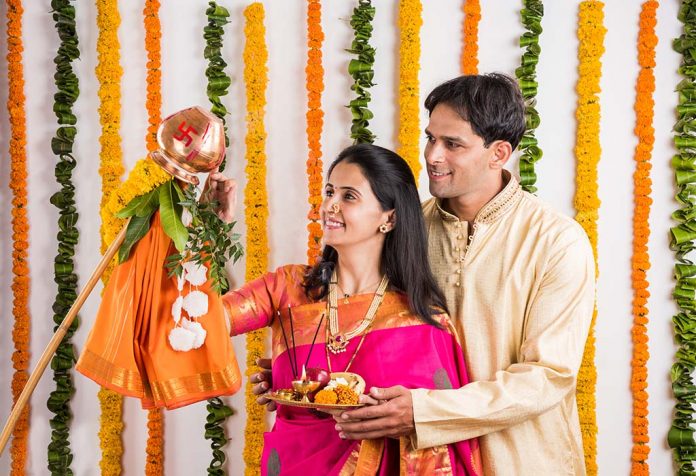 Gudi Padwa marks the beginning of the cultural new year for Maharashtrians. Every family celebrates by making Gudi Padwa special dishes. As they very easy to prepare, you can put together these mouth-watering recipes in a matter of hours.
Traditional Gudi Padwa Recipes
As with any other festive occasion, you would be looking forward to gorging on some great food items this Gudi Padwa. We've put together the top 5 recipes that define the very crux of this festival, are easy to prepare and would leave you wanting for more.
1. Kairi Panhe
Stalls and shops have begun offering this refreshing drink, in time for Gudi Padwa. The festival and this concoction literally go hand-in-hand.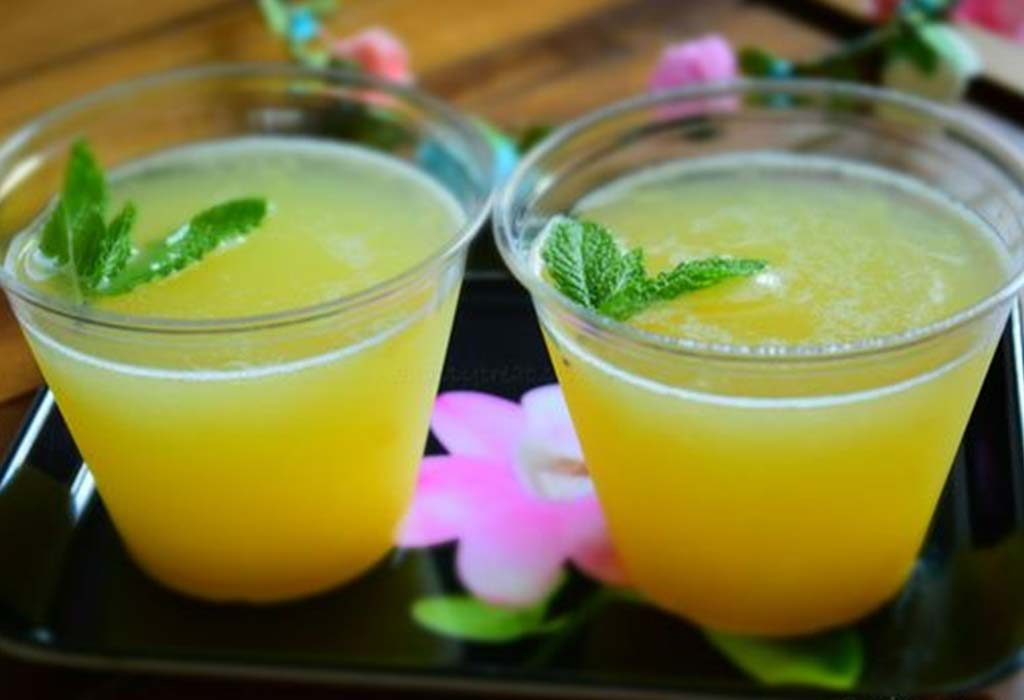 Total Cook Time: 1 hour
Servings: 12 glasses
Ingredients:

Sugar – 3 cups
Salt
Black salt – 2 tsp
Cumin powder – 4 tsp, roasted
Kairi – 1 kg
Method:
Begin by boiling the raw mangoes properly. Once done, allow them to cool down a bit and peel them. Mash the mangoes together in a bowl. Take the pulp and strain it completely.
In a large cooking bowl, add about 5 cups of water and add the strained mango pulp to it. Mix it properly. Allow it to cook on a medium flame until it begins to thicken and becomes consistent.
Put sugar, salt, black salt and cumin powder and mix it all together. Let it cook for some more time and then turn off the flame.
Once it reaches room temperature, place it in the refrigerator, in the freezer if possible. While serving, you can dilute it to a consistency of your choice.
2. Goad Sheera
This popular Gudi Padwa food has multiple names. It is called Kesari Bhaat in the south, Sheera in Maharashtra, and Sooji Halwa in the north. With multiple variants to it, this continues to be a favourite every Gudi Padwa.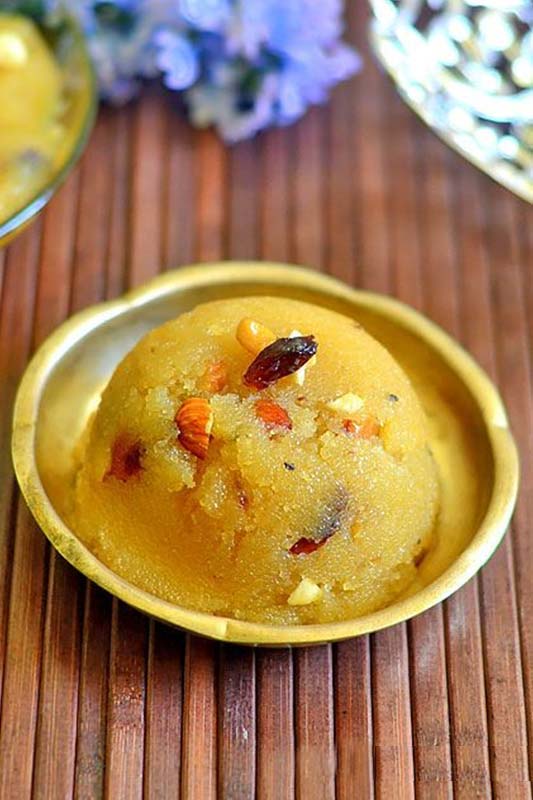 Total Cook Time: 1 1/2 hours
Servings: 4-6 plates
Ingredients:
Sugar – ½ cup
Ghee – 1 tbsp
Raisins – 1 tbsp
Cashews – 1 tbsp
Cardamom powder –  ½ tsp, green
Big sugar crystals – 25g
Saffron strands
Basmati rice – 1 cup
Method:

Allow the rice to soak in water for a good hour or so. Similarly, place some saffron strands in warm water as well.
Meanwhile, take the raisins and cashews in a pan and fry them properly with ghee. Place these aside.
In the pan with the ghee, add the rice and let it roast properly. Once the rice begins to separate, add water to the pan following up with water and saffron. Let this mixture cook for a while.
Put the sugar crystals or khadi saakhar and cook it on medium heat till the water is completely absorbed.
Take the sheera out in a serving bowl and sprinkle some more khadi saakhar and dry fruits on it. Serve warm.
3. Sabudana Wada
A popular item for people who usually fast, this also is a preferred choice for breakfast or snacks on Gudi Padwa day. When paired with some great mango chutney, the taste and flavour are incomparable.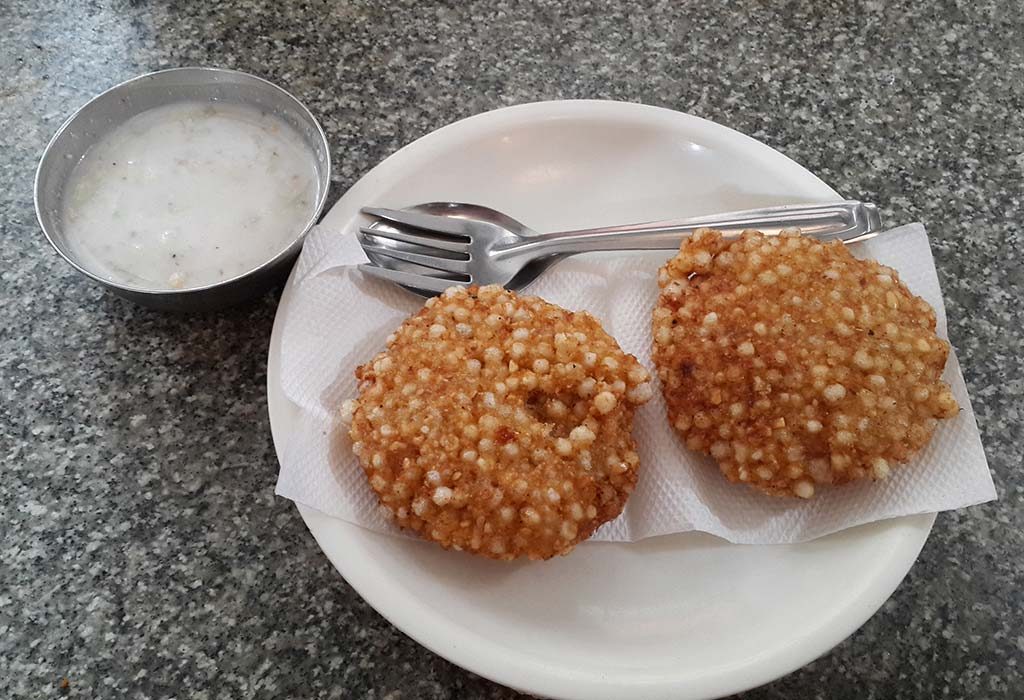 Total Cook Time: 1/2 hour
Servings: 4-5 plates
Ingredients:
Oil
Salt
Lemon juice – 1 tbsp
Coriander leaves – 2 tbsp
Green chillies – 3
Peanuts – 1 cup, roasted
Potatoes – 3
Sabudana – 1.5 cups
Method:
For the initial prep, soak the sabudana in a good amount of water overnight or for at least 3 hours.
Boil the potatoes properly and mash them together.
Strain the water away from the sabudana and mix them together with the potatoes. Follow up with salt, coriander leaves, lemon juice, green chillies, and crushed peanuts; mix them together to form a nice dough.
Take small portions of this dough and pat them together to form flat patties. Make as many as required.
In a pan, add a little oil and let it heat up. Place the patties one by one and fry each side properly until it is brown and a nice aroma starts emanating.
Pair these sabudana wadas with some curd or green chutney and serve warm.
4. Shrikhand
When talking about Gudi Padwa festival food, the very recipe that defines it is none other than the popular dessert, Shrikhand. You can always get a box of Shrikhand from a shop, but preparing it at home in a special way brings a unique taste to it.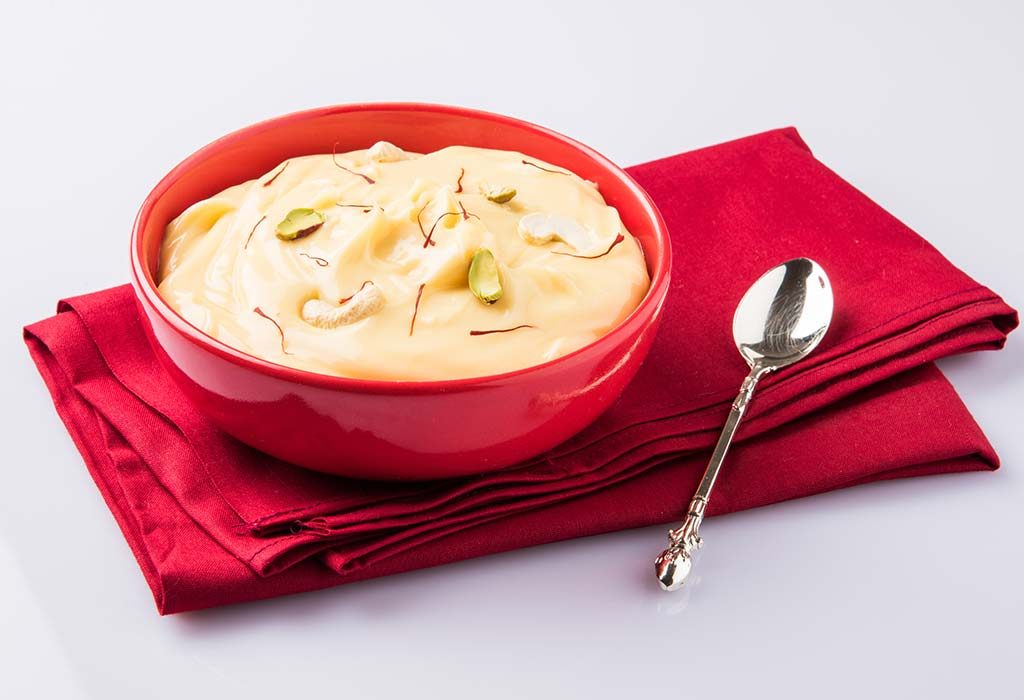 Total Cook Time: 1 1/2 hours
Servings: 4 plates
Ingredients:
Pista – 10
Almonds – 6
Cardamom powder – ¼ tsp, green
Nutmeg powder – 1/8 tsp
Milk – 2 tbsp, warm
Sugar – ½ cup
Yoghurt – 1 kg
Saffron strands
Method:
The preparation needs to begin a day in advance. This involves taking fresh yoghurt and tying it in a muslin cloth to drain the water out of it. Make sure you adjust the muslin cloth every few hours until all the water has been drained.
Once done, take this yoghurt in a bowl and mix sugar with it properly. Add a few strands of saffron to the warm milk and some to the yoghurt mix too. Follow up with cardamom and nutmeg powder and mix all this together.
Keep this mixture in the fridge and let it chill completely. Before serving, garnish with some dry fruits.
5. Puran Poli
Whether it is Holi or Gudi Padwa, Puran Poli is a traditional recipe made in every household. It is a sweet delicacy and allows you to welcome the new year with zest and sweetness.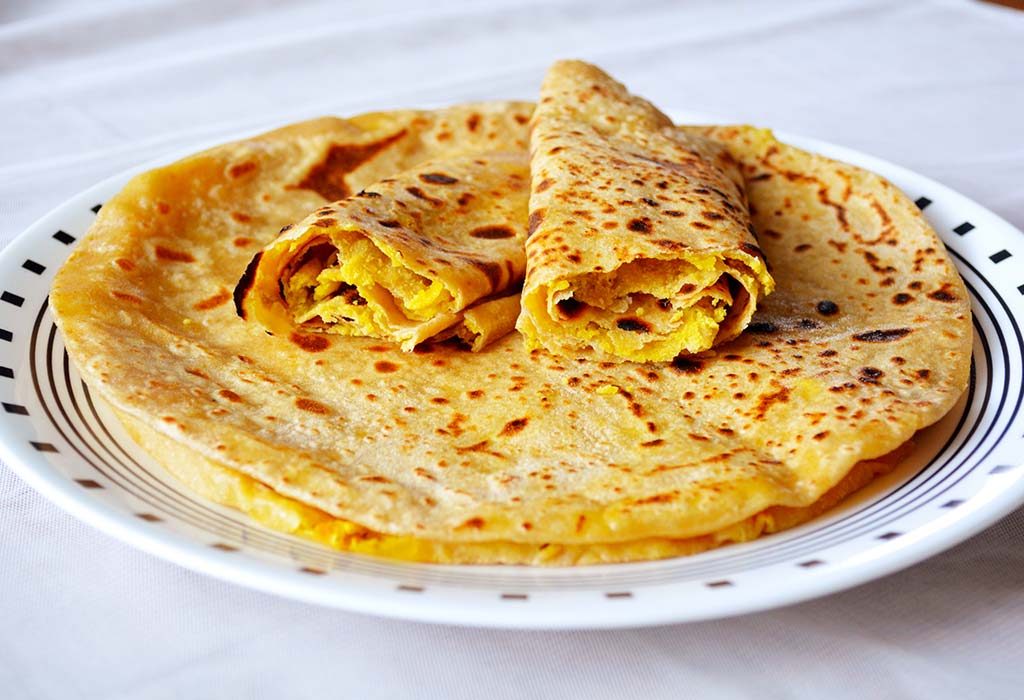 Total Cook Time: 2 hours
Servings: 4 Puran Polis
Ingredients:
Ghee – ½ cup
Salt
Maida – 1.5 cups
Nutmeg powder – 1/8 tsp
Green cardamom powder – ¼ tsp
Saffron strands
Jaggery – 1.5 cups
Chana dal – 1.5 cups
Method:
Begin by boiling the washed chana dal and then grinding it.
Mix the ground dal with nutmeg and cardamom powder, along with saffron strands and jaggery.
Add the mixture to a pan and cook on a medium flame until it begins to soften. Allow it to cool down and keep it aside. This becomes your puran.
In a separate bowl, mix together ghee, salt and maida to form the dough. Knead this and wrap a damp cloth over it; allow it to sit for an hour or so.
Once done, take a portion of the dough and pat it down. Fill it with the puran and roll into a large thick roti.
On a large pan, cook the Puran Poli on both sides until it begins to get a brownish colour. Repeat with the remaining dough and puran.
Pair the poli with milk or ghee when serving.
Gudi Padwa sweets and meal recipes bring everyone together. By making these at home, you can bring a sense of homeliness and togetherness to the celebrations, and make them memorable.
Also Read:
Why Gudi Padwa is Celebrated?
How to Celebrate Gudi Padwa With Your Family
Best Gudi Padwa Wishes, Messages and Quotes