40 Imaginative and Unique Harry Potter Gifts To Stupefy Potterheads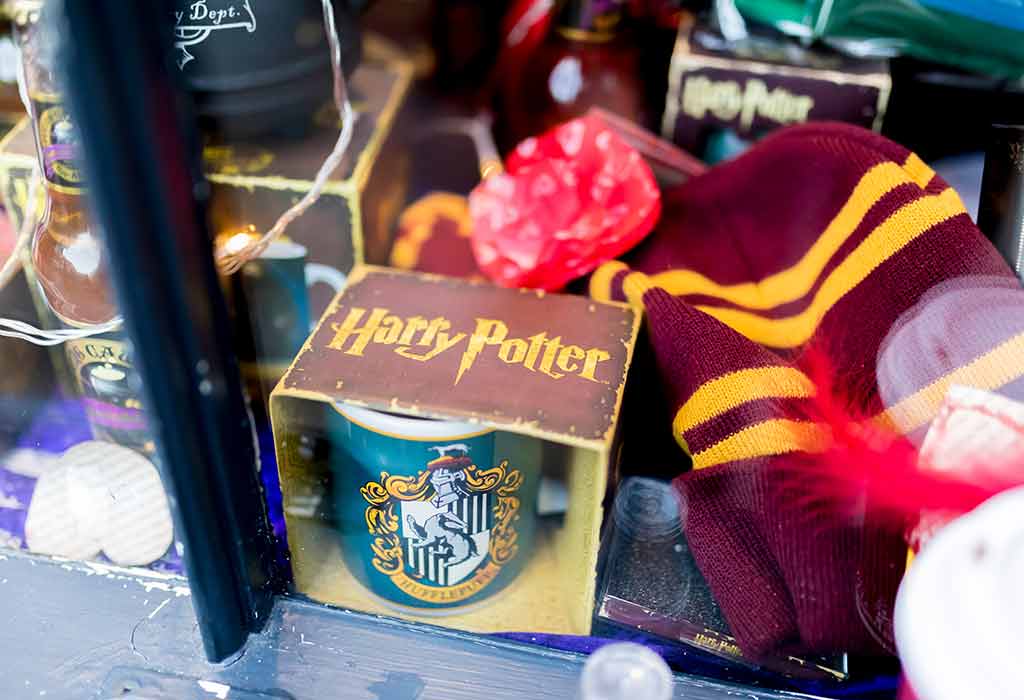 In this Article
The Harry Potter book series and the film are almost a cult, not just among kids or teenagers but also among adults. The book and films have acquired the status of a classic that one can never recreate, and gift manufacturers have well cashed in on this raging popularity. Harry Potter merchandise has now become a craze, and you can find a myriad variety of gifts for Harry Potter fans ranging from coffee mugs, stationery, toys, clothes, et al. From invisibility cloaks to magic wands, there are the perfect presents for all magic-loving adults or kids.
It has been 20 years since the first book of Harry Potter was released and over a decade since the film was released. The book and movie have still got fans in their grips who eat, sleep, breathe and live for Harry Potter. There are so many Harry Potter wannabes for whom the magic never ends. From bath bombs, jewelry sets to boxes and candles, there is a Harry Potter gift for every muggle who dreams of living in that world. Harry Potter fans range in age drastically, but manufacturers have something for everyone. Be it Harry Potter gifts for kids or Harry Potter gifts for adults, there is a thoughtful gift you can give the die-hard fan who stuck with the characters for birthdays, anniversaries, New Year's, or Christmas. So if you are someone who puts a lot of thought into the gifts you buy, then the list below could be your guide to buying a unique Harry Potter-themed gift for your loved one.
Awesome Harry Potter Gift Ideas
If someone from your friend circle or family member who is a crazy fan of Harry Potter is awaiting their letter from Hogwarts, you could do something to cheer them up. Gift them Harry Potter merchandise. Just pick the gift and wrap it in Harry Potter wrapping paper to make it look like it has been shipped from Hogwarts! Gifts are available for those who love the movies to the book worms who have re-read the book so many times that they can cast the spell and conjure potions just like Harry Potter or Hermione Granger. Check out our complete guide for gift ideas for Potterheads, be it kids, teens, adults, men, and women. This comprehensive list could have you just enjoying the thrill of the movie and books whilst shopping. It has everything from doormats to coffee mugs for the Potter fan to experience the magical world of Hogwarts and its characters. What are you waiting for?
1. Custom Wizard Illustration
One of the best Harry Potter gifts for women; a custom-made illustration resembles you and your favorite Harry Potter character. Family portraits are also possible. All you need to do is email or send a physical copy to get one done.
2. Custom Harry Potter Mug
Delight your fellow Potterhead with this personalized Harry Potter mug that has their name engraved.
3. A pair of Harry Potter sneakers
A set of sneakers come in different styles and colors- one for each house, some with other prints on like the Marauder's Map; you can wear this one to stay away from falling off the broomstick.
4. Harry Potter Cookbook
Dining La Hogwarts will be as easy as Banoffee Pie with this cookbook which has over 150 recipes. With a dollop of creativity and a drop of magic, you can now churn desserts, appetizers, snacks, and drinks that would even put Mrs. Weasley to shame.
5. Golden Snitch Clock
A prized possession or a massive chase for the Golden Snitch, which is what Quidditch is all about, could now be yours or gifted to your bestie. One of the ideal Harry Potter gifts for girls is this dainty piece that sits on one's bedside.
6. Harry Potter Hot Chocolate Bombs
Insets of four ( one for each house), these chocolate bombs will transport you to the Potions lessons. Just pour hot water or milk over them to see real magic.
7. Lego Harry Potter Hogwarts Castle
This epic Lego set is one of the best gifts for children. Made of over 6000 pieces that include Harry Potter figures, this is a great gift for adults. Children can spend hours working on building the model.
8. Time Turner Necklace
Hermione's time turner necklace helped her take double lessons. While this may not help you, it is a pretty cute charm to don with any outfit.
9. UNO Harry Potter
Get kids to play UNO in the company of Harry Potter. With just an addition to the normal game, the sorting hat card gets players to draw until they get a Gryffindor card.
10. Witchcraft Witch Wizard Dragon Egg Bath Bomb Gift Set
A pampering dragon egg bath bomb gift set with a cotton towel, bath potion, charms bracelet, and bath crystals to give one luxurious treatment.
11. A pair of socks that any house-elf would receive
With different prints on the socks, gift a couple of pairs to your loved ones so that they can feel comfortable and magical on their feet.
12. Bulb Botz Harry Potter Alarm Clock
With this alarm clock, you could become a powerful wizard and join Harry and his Dumbledore army to defeat their nemesis with the night light functions.
13. Harry Potter Herbology Hoodie Sweatshirt
Step up the fashion game with this smart herbology sweater. Whoever you gift it to could wear it to their lessons in university or college.
14. Polyjuice Potion Flask
Gift this to those who love to have their hot and cold drinks at the right temperature. Beware that whatever is in this flask could well turn them into someone else.
15. Harry Potter: Gryffindor Ruled Notebook
Great for students, this ruled notebook has finely crafted pages with high-quality paper. It has the Gryffindor crest at the front and is available in the other three houses.
16. Golden Snitch String Lights
Gift these string lights to get your Harry Potter fan to light up their house and live in wizard style.
17. Sorting Hat Candle
A wonderful soy candle that reveals your house's color as it burns. If your fan already knows what they want, then it can be selected while purchasing. If not, they can pick the "Sort Me" option.
18. Cookie Cutter Set
If the Potterhead loves to bake, then these adorable themed cookie cutters will leave them spellbound.
19. Illustrated Collection of the "Harry Potter" books
This collection is a perfect introduction to children about the series. It is also great for those who have read the books and wish to recreate the magic again as interpreted in full color.
20. Harry Potter Pillow Set
Bring Harry Potter to your fans' living room or bedroom with this set of pillows. Resplendent in their print and color, these pillows are made from durable fabric and are comfortable.
21. Wizard Wand Brushes
If they love beauty products as much as they love Harry Potter, then these wizard wand makeup brushes could be a different addition to their vanity case.
22. A Hedwig jar for storing sweets and treats
Pay homage to this unsung hero by gifting this cookie jar to your loved Potterhead, who will definitely not mourn the loss of this prominent character.
23. Cauldron Soup Mug
Potterheads would love to have a steaming hot soup in this ceramic mug shaped like a cauldron. Equipped with a spoon, this will make the diners have a wizardry experience.
24. Youth Pleated Face Mask
With cute Harry Potter motifs, these face masks could motivate you to go outdoors and spend time. Generally, masks are considered uncomfortable due to their lack of air movement, but they are designed with lightweight fabric that feels light and comfortable.
25. Hogwarts House Napkins
Perfect if you are having a themed birthday party or want a Hogwart's dining experience, these come in a set of four. You can choose the house that suits your mood for that day.
26. Harry Potter Fidget Spinner
Crafted in the shape of the golden snitch, this Harry Potter-themed fidget spinner has self-lubricating parts which involve zero maintenance. It is a wonderful stress reliever for Harry Potter fans and can be comfortably carried.
27. Alohamora Door Mat
With this Hogsmeade charm, you can now add some elegance to your loved one's home. Each time they step on the doormat, they will be transported to Hogwarts.
28. Harry Potter Trivia
If they love quizzing, then test their knowledge about the book and movies with this game—a great gift for those who have friends who are like-minded Potter fans.
29. Harry Potter LunchBox
Decorated with visuals of patronises, this glow-in-the-dark lunchbox is made from recycled plastic bottles—a wonderful idea for those who take packed lunches to school, college, or work.
30. Harry Potter Snape Inspired Teaspoon
A unique collectable, this spoon comes engraved with the last words of Severus Snape-"ALWAYS". You can also personalize this gift with the name of your loved one.
31. Harry Potter-themed music box
Regardless of age and gender, this Harry Potter music box comes in various gorgeously crafted sets that play iconic theme songs from the movie series. It is a wonderful memoir to gift your loved one.
32. Wizard Chess Set
A wizard chess set that will not destroy itself as one plays it. This one is a wonderful gifting idea for chess and Harry Potter fans. There is no harm when the bishop takes the knight. It does not take up space as in the cursed dungeon, which houses the life-sized set.
33. Harry Potter themed sweets and treats
If your loved one has everything Harry Potter under the sun, this collection of sweets and treats mentioned in the book could be a great idea. It has everything from Bertie Bott's beans, jelly slugs, and a chocolate frog.
34. Wizarding World Nagini Earring Holder
A wonderful gift for a girlfriend who is also a Harry Potter fan, this earring holder from Pottery Barn is a gem in their collection of Harry Potter merchandise.
35. Harry Potter Desk Accessory Set
For those work-from-home Harry Potter fans, this set could be not just a good piece of décor but also a wonderful essential and functional stationery set.
36. Harry Potter Porcelain Dinner Set
For the ultimate dining experience, gift this 16 piece porcelain Harry Potter-themed dinner set, which comes with plates, bowls, and mugs dedicated to the four houses at Hogwarts. How wonderful to eat from a Harry Potter-themed dinner plate. All that is needed is the huge dining hall in all its splendor!
37. Hogwarts Bookends
These bookends could help the Harry Potter fan tidy up their bookshelf or organize their Harry Potter collection within them.
38. Harry Potter Wand Toy
Adult or child, every Harry Potter fan wants to own a wand secretly. This gift could help them realize their dream and serve as a trip to Ollivander's. It can even cast 11 spells.
39. Harry Potter Hand Painted Mini Planter
Featuring Harry's iconic look, this mini planter would be great for succulents or even office supplies if your giftee prefers to make it a piece of décor.
40. Harry Potter's Hogwarts Decal
A sticker that is apt for those who are constantly on their laptops. This one could go on the top and add extra excitement to their screen time.
Harry Potter is nothing short of a phenomenon. Gifting is a tough job, but when your giftee is a fan of something, things become a little easier. In the Harry Potter world, there is no dearth of opportunities to pick a Harry Potter-themed gift. The shelves of supermarkets and categories of online sites are filled with apt items for birthdays, Christmas, Halloween, and even cover aspects of life from apparel to gaming. The list is endless, and there is no wrong time to reward yourself or your loved one with some Harry Potter merchandise. So take a trip down Diagon Alley even if you did not receive a letter. Get into the skin of Harry as you browse through the different items available and shop for that perfect gift that will awaken not just you but the fan moment of your loved one too. We can solemnly swear the gifts listed above will blow anyone away, and they will probably cherish their prized possession for the rest of their lives.
Also Read:
DIY Harry Potter Wand for Children
Harry Potter Birthday Ideas for Children
Harry Potter Themed Crafts for Children