21 Best & Profitable Small Business Ideas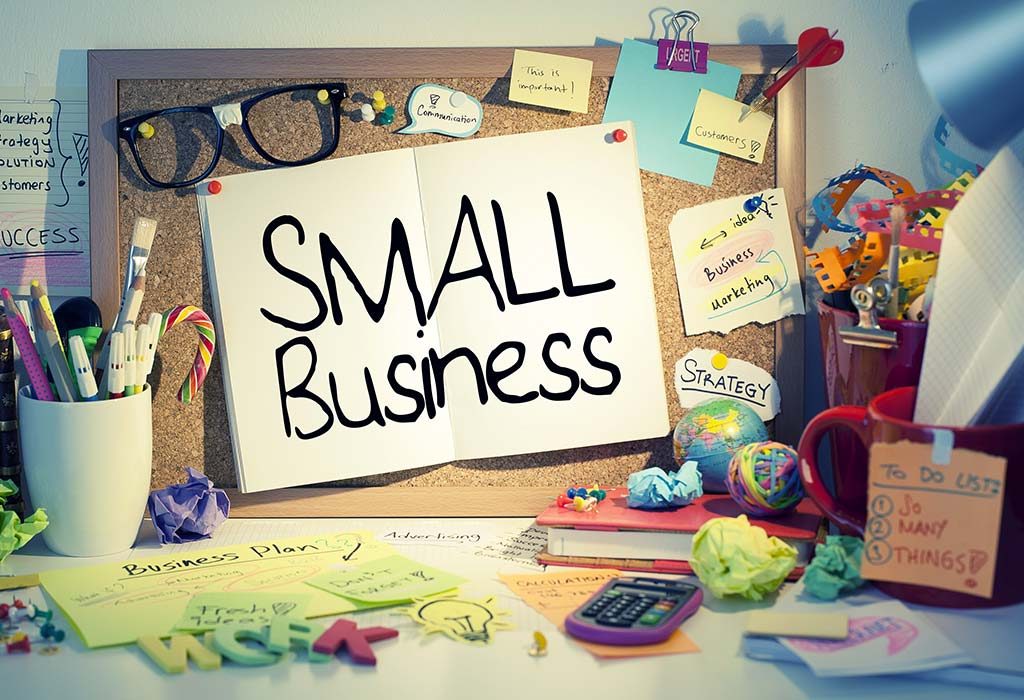 In this Article
Starting a business is something most people dream of. For some it's the challenge of running a business, for others it's the desire to permanently clock out of their day jobs to become their own bosses. Whatever the goal is, starting a business is a good idea for those who often feel like misfits in other places. Continue reading for all you need to know about small business ideas in India that will help you achieve the freedom you've always dreamed of.
Top Small Business Ideas to Run Your Own Business
You have made up your mind to start on your own, but you lack ideas. Here are some small scale business ideas that you can start if it fits your niche.
1. Babysitting/Childcare
There is a growing need for caretakers for children in most homes where both the parents work. A childcare service or babysitting is one of the best small business ideas for women that they can start at home. All that is needed is some minimal premises and experience n caring for children. You will also need to invest in some toys and equipment such as mattresses, cribs, first aid etc. The investment is one-time, and the rewards are plenty down the line.
2. Blogging/Content Writing
Online content is in high demand, and the market is ever expanding. If you have some skills in writing, there are many people who are willing to pay you well for it. If you are more serious about it, you take it up several notches and start a small business from home or a small rented office. You could team up with some peers who share your idea and start a business creating content. You may need to hire some content writers if you can't write yourself, an SEO expert and a content marketer.
3. Meal Services
The every busy or changing schedule of couples means they can't always be around for cooking. Meal services are another excellent business idea for those with skills in cooking. There is a huge demand for the delivery of meals to both workplaces and residences. All you need is a small scale set up to prepare wholesome, clean and healthy food and start supplying. If your meals and service are exceptionally good, you can expect tremendous growth in your business.
4. Mobile Phone Service/ Repair/ Recharge and Accessories
If you are tech-savvy and have a way of fixing gadgets, a mobile service or repair outlet is a great business idea. By the year 2022, India is projected to have over 800 million people using smartphones. This market worth in billions includes accessories for mobile phones and service and repair. The demand for these outlets is also expected to rise as everybody needs it.
5. Mobile Vehicle Repair Services
This is one of the wonderful small business ideas for men and women with some skill in fixing broken down vehicles such as bikes, cars or even trucks. Since vehicles break down all the time on the roads and garages aren't always available close by or at odd times, a repair mechanic who can get to the spot can be a great relief. You need some basic investment in tops and materials and a vehicle, preferably a pickup truck to get to the spot ASAP. You can do the marketing by giving flyers or sign up for a service app that can help you out.
6. Nursery and Garden Maintaining Services
People who own independent houses often have a small space set out for gardens that they wish to maintain. Your business can offer products such as saplings, fertilisers, manures or garden equipment along with services of developing and maintaining gardens. You can also cater to the smaller needs of those living in an apartment by offering suitable products and services such as seeds, planters, fertilisers and maintain them. Your services can also be extended to corporate offices.
7. Aquarium and Decorative Fish
If you have had a fascination for fish or aquarium pets, you would know the kind of business potential that exists for it. People love keeping small aquariums and some common pet fishes in them, and sometimes exotic fishes that they believe will bring them luck. All you need to start the business is a place to keep your aquariums with a range of assorted fish that you would sell. Eventually, you can expand to breeding the fish on your own and sell custom made aquariums.
8. Home-Made Jams, Sauces and Pickles
If you have unique lip-smacking recipes for sauces or jams or pickles, it's a great small business idea to make and sell them on a small scale. There is quite a demand for home-made pickles and sauces that people are willing to pay more for so they can avoid the preservatives and other chemicals added to commercial products. If your product can offer all the above and you combine it with a good sales strategy, you have a winning recipe.
9. Cakes
All you need to start a good baking business is a decent oven and some baking skills. Your love for baking can be turned into a small business that makes cookies, muffins, and many other bakery items that you can supply to stores and offices. Any skill or unique recipe can make a huge difference as people are always looking for new tastes and flock to wherever it is available.
10. Ethnic Food Outlet
If you have a background in the palates of different communities, say those closest to yours, an ethnic food store is among the good small business ideas from home. The investment can be low initially to meet the smaller volume and can be scaled up as the business grows in popularity. You will need a good network of suppliers to provide the right ingredients and a deep network of sellers to extend your reach into the communities.
11. Scented Candles
This is more of a niche business as they aren't too many people who fancy scented candles yet. But as more people become aware of it and the prices drop, the business has good potential. Making candles is not rocket science; all you need is some basic moulds of different shapes, a heating element, a source of different types of wax and finally the essential oils for aroma.
12. Photography
Photo and video content are in great demand in this age of social media and glamour. A passion for photography and talent in getting perfect shots could serve you well in your own small business. You can start out as a glamour photographer working with pre-wedding shoots and eventually move up to bigger clients. When you are big enough, you can have your own team for photography, videography, graphics and editing. You can start small with rented cameras before investing in your own equipment.
13. Homemade Chocolates
Homemade chocolate outlet is one of the highly profitable ideas with low investment for anyone with some minimal skills in chocolate making. As chocolate is in great demand by bakeries, pastry shops, gift stores etc. you can start small in your kitchen making small batches and supply. Since homemade chocolates differ in taste from the commercial ones and use lesser or no preservatives, they are in high demand. Companies also order homemade chocolates as a gift for their employees.
14. Dosa and Idli Batter
The favourite among south Indian communities, Idli and Dosa, are made out of batter which is a carefully controlled blend of rice and cereals. It needs to be fermented at the right temperature and the right degree to give delicious dosas and idlis. Although most people eventually come to love it, they lack the skills or the time to make excellent quality batter on their own. This is where your opportunity lies in. A small unit set up in your house can make enough batter every day to sustain a small business.
15. Event Organizing
Event managing is a wonderful business avenue for those good at planning and ensuring that things stay on track. With a little bit of creativity and some great people skills, you can plan everything from weddings to corporate events, parties, meetings and any event that you can think of. The competition in the field is also high as there is no shortage of enthusiastic people who are good at scheduling performances, meeting sponsors, picking out the best venue and being on their toes at all times.
16. Pet Care Services
People often have to leave behind their pets when they need to go for vacationing or business events. They would love it if they have some professional caring for their pet and keeping it happy while they are away. If you have a way with animals and plenty of space to work with, this is a very lucrative business. Since it is a niche business, you would initially need some training/certification handling pets such as dogs and cats and some investment in setting up a website or social media page.
17. Food Trucks
Street foods on wagons have been around for ages; however food trucks are relatively new to the scene. Food trucks are a great way to have a mobile kitchen move to where the customers are instead of paying exorbitant rents for commercial complexes. As the initial set up cost, you would need to rent one or two food trucks, pay for the employees and of course, have amazing food recipes that people love.
18. Start a Cafe
A common trend among homeowners with property closer to the commercial centres is to rent out their places to be turned into a unique and rustic coffeehouse that attracts people who love to spend time in such setting. Although this is a small business, there is investment going into licensing and paperwork. Therefore thoroughly research how you want it to be for validation.
19. Handicrafts
There's a huge market for handicrafts made in rural areas, but the price for it at malls and large stores are unrealistic and kill the interest of city dwellers in buying them. Buying and selling handicrafts is a good low investment business where you buy handicrafts from different places around the country and sell them at reasonable prices. Since they have value as home or office decor and gifts, there will always be people who are interested if you know how to market well.
20. Tutoring
There has always been a demand for great teachers who can simplify academic concepts to students and help them secure top scores in their exams. If you have excelled at school and college and are good at explaining concepts, starting a tutoring business is a good idea. You can start at home and expand eventually to something large.
21. Fitness Trainer
If working out has always been your passion and you are in great shape, you can become a fitness coach at local gyms. On top of that social media ensures your reach can be maximised. Fitness trainers who have hundreds of thousands of followers often attain celebrity status and make plenty of money on social media platforms.
Not all businesses need huge investments; many can be started on a shoestring budget and developed into highly rewarding ventures. Along with it, you will need much-needed business skills to grow and sustain.
Also Read:
Home Based Business Ideas for Housewives
Career Options for Introverts
Top Apps for Money Management