20 Unique Fall Porch Decor Ideas for Your House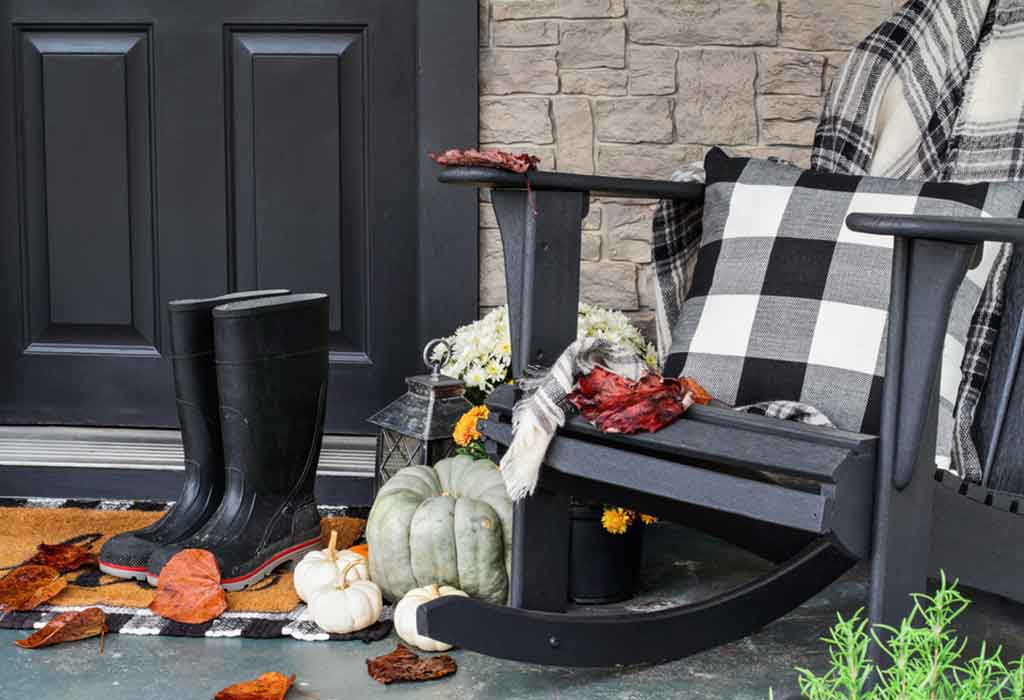 In this Article
What better way to welcome the autumn than by giving your outdoor living spaces a festive makeover. These fabulous fall-inspired porch decorating ideas will not only reflect your sophisticated tastes in home décor but will also make your neighbors turn blue in envy.
Beautiful Ideas for Your Dwelling's Front Porch
Derived from the Old French porche or Latin porticus, which comes from porta 'passage', is a room or gallery located in front of an entrance of a building. Open on the outside, porches allow for sufficient space for entering or after exiting to relax on. A porch is an extension of our home that can be part of the ground floor or an upper floor wrapping around a building's sides or surrounding an entire building. Porch decoration is a long-standing tradition of Halloween. As the summer ends and the mercury starts to dip, it's time to try cute fall porch ideas. Start a project to put together a festive design full of seasonal style. It doesn't matter if you have a small area to work with or all the room in the world to recreate a porch tableau that ushers in the holidays. Modern fall porch décor accents combine minimalism with chic rustic elements that celebrate functionality while playing up the natural scenery right outside your door. The traditional fall palette includes bolder shades like orange, burgundies, and gold, while neutral colors are more contemporary in their appeal. Raising the height of the existing décor helps to maximize the use of space. Make the best use of your 3-dimensional space to layer up and to add more depth. Mix and match furniture and props that complement each other while creating an engaging and well-balanced look for your porch scape. Remember, the most unique and contemporary makeover doesn't necessarily need a shopping trip to the supermarket. Besides vintage accessories and fancy decorative add-ons, you can incorporate seasonal motifs from your own backyard into your fall decorations. However, instead of scattering these treasures along with the steps, get creative and use the ideas given below to get you in the autumnal spirit and boost your home's curb appeal.
1. Signs
Tall DIY chalkboard signs or fall wooden porch signs that sit on top of a table, a banner that can hang across a door, or one hung up on the wall enhance the overall design. 1 or 2 well-placed signs bearing directions for the way or welcoming guests and bring about the right amount of life to your front porch.
2. Front Door Décor
Wrapping up golden cornstalks with fall foliage on the soaring columns can add a touch of autumnal hues to your fall front door décor. Making a monogrammed door decoration through an easy DIY project with a stencil can complement a monogrammed front porch mat. Two life-sized scarecrows flanked on the front door can greet guests and passers-by with a stitched smile.
3. Wreath
Adding a modern hooped wreath to the door made from dahlias, mums, dried wheat, and eucalyptus is an easy way to decorating a fall small front. A burlap sack or buckets filled with fall foliage offers a creative spin on the traditional wreath but can be hung on the front door to grab attention.
4. Fall Lighting
Lanterns with battery-operated candles and white lights on some pumpkin topiaries are an easy and cheap way to illuminate the porch. A strand of white lights intertwined with grapevines, branches, and fall leaves can add a rustic touch to your front décor. Bistro lights bring comfort and snugness to space, while twinkling fairy lights make the place look more homely and cute.
5. Decorate Both Upstairs And Down Stairs
If you have a double-decker porch, fall touches need to be added to both spaces. Grapevine wreaths with swaths of orange and yellow flowers, hanging plants, or decorative brooms can be adorned on the doors of each of the floors.
6. Make it Cosy
Add a fun throw pillow on a bench and a cozy plaid blanket over your furniture to set the mood for the season. Cushions used as soft decorative accents on a hanging chair suspended using a rustic rope can uplift the fall spirit and transform your porch into a seasonally strong hangout area.
7. Pots
Spray paint over your old-tired-looking pots with bold colors to create an interesting display of plants and interesting items at varying heights at the entryway. Personalize vintage wooden crates with stain or distress on their surface with a hammer for an antique twist.
8. Candles
one can line flameless candles in classic white pillars placed atop wooden stumps down the stairs for an arboreal and gorgeous porch accent.
9. Floral Chandelier
A beautiful floral chandelier serves as a natural alternative to modern accessories and a focal point for attention for the festive porch. Perfect to invite some warmth and charm into your household, and they make a spectacular impression when matched with boho motifs.
10. Using Unexpected Elements
Using unexpected elements is an affordable way to add interest and character to the porch. An old door, ladder, dresser, planks of wood, or an old chest from the shed or basement can be repurposed and repainted for a fresh look.

11. Earthenware Accents
If you intend to take advantage of the weather, you can move fall suppers or even Thanksgiving dinner outdoors. Just as terracotta planters look gorgeously rustic, ceramic tablewares with a translucent glaze bring vivid beauty to the gourmet delicacies.
12. Kid-Friendly Decor
A porch with a kid-friendly Halloween décor complete with painted pumpkins, wooden tag door embellishments, paper lanterns, signage, and black cat figurines look most inviting for passing out candies.
13. Furniture As Props
Adding a large entry table with gingham linen to display a few decorative accessories can spruce up the foyer. Furniture found in nearest thrift stores like a pair of chairs or a long bench provides a spot for guests to take of their boots or sit for a chat. A painted cabinet filled with pots and jars can entice visitors with a colorful entry.
14. Pumpkins
Pumpkins of varied sizes are an integral part of traditional fall decoration that one cannot miss out on. From floral painted pumpkins, ombre designed pumpkins, monogrammed pumpkins, these all-natural, all-weather canvases can be visual "centerpieces" for your porch.
15. Hint of Purple
Nothing evokes refined elegance and an image of indulgent luxury quite like purple.​ So add a regal look to your Thanksgiving table or porch with rich, deep purple hues that bring autumnal warmth to the ambiance or accentuates the setting.
16. Fall leaf Basket
Get creative with some artificial or genuine autumn leaves. A wicker or straw basket with pretty golds, corals, and orange leaves looks soothing and pleasant to the eyes and adds flair to the porch.
17. Wooden Lanterns
Wooden lanterns are what you need to create a rustic farmhouse look for your porch. Old-fashioned and sentimental lanterns might just be what you need to complete your fall decor. You can even put some small white pumpkins inside them that may end up being the prime focus.
18. Rocking Chairs
Apart from conveying simplicity, rocking chairs remind you to take a pause, sit down, and relax for a bit. Decorative quilts will keep you toasty during your memorable rocking chair conversations.
19. Plants in Pumpkins
Seasonal flowers, succulents, herbs, ornamental plants, or decorative grasses can be decorated inside hollow pumpkins and used as gorgeous pumpkin planters. Use DIY decorating ideas to make glimmering Jack-O-lanterns, funny gourd faces, and beautiful pumpkin vases to enhance the look of your porch.
20. Window Garland
Make a garland of natural grapevine with seeded eucalyptus, olive branches, and preserved pink berries to drape around the porch window. Attaching corn husks and silks also helps to add serious seasonal curb appeal.
Getting your home ready for the upcoming autumn season and preparing for Halloween can be done with fun by involving the entire family. It allows all the members to put their ideas together to give their abode a festive makeover but creates happy memories that they can cherish forever.
Also Read:
Creative Decoration Ideas for Balcony
Budget-Friendly Home Décor Ideas
Ideas to Decorate Home With Flowers