20 Unique and Creative Container Garden Ideas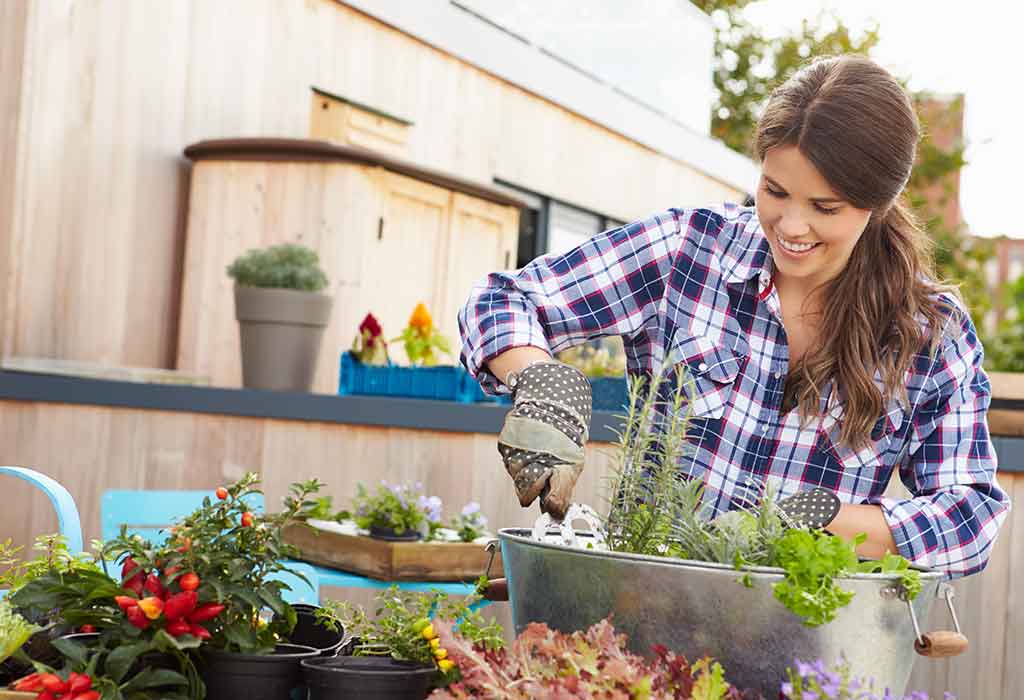 In this Article
Who does not love to be surrounded by beautiful plants? Well, most of us do, but sometimes due to space constraints or lack of patience, we often shun the idea of having plants in our homes! However, if you love gardening and you are looking for creative and unique ways to put your garden in a container, then you have hit the jackpot as this post discusses some great creative ideas for plant containers that can help fulfill your dream of gardening! Keep on reading…
Easy Container Gardening Ideas For Your Home Garden
When it comes to container ideas for gardening, there are endless options that you can experiment with, and here we have assembled some of the easy ones that can spruce up your patio, porch, and other areas in your house!
1. Mosaic Allure
This is one of the best cheap garden container ideas that uses your old rugged terracotta pots and some colorful broken glass or pebbles. You can break the glass into the desired size and glue the pieces on the pot in any pattern or design you like. If you wish to glam it up a bit, you can paint the pot in the contrasting color before sticking the glass, and you have a stunning container ready!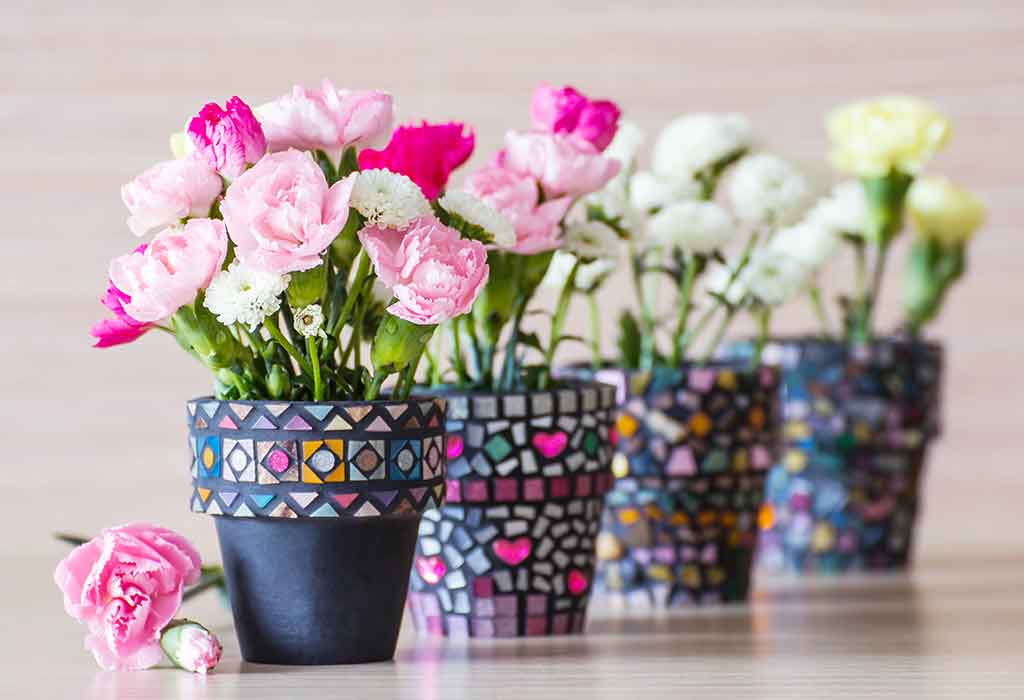 2. Basket Beauty
Do you have some old wooden or cane baskets lying in the house? Well, that calls for some container gardening! You can place small plastic pots or terracotta planters with flowering plants such as petunias, begonias, etc., and you have a stunning planter ready. Place it on your porch, or hang them on the wall for a more cheerful feel to your home entrance!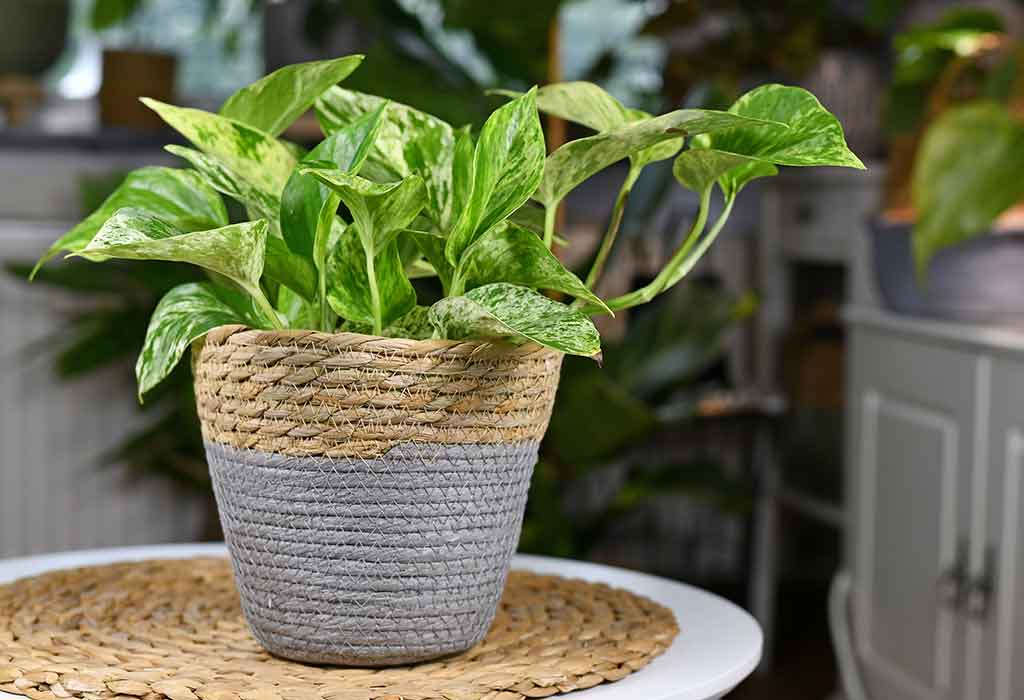 3. Bike Basket Magic
Create a fairytale look with this container plant idea for the front door that uses an old bicycle! If the bicycle already has a basket, use it or place one yourself! You can paint the bicycle white, yellow or any other color of your choice! You can start by placing moss at the basket base and following it up by putting soil. Now sow some flowers, ferns, or dangling plants for an utterly magical feel!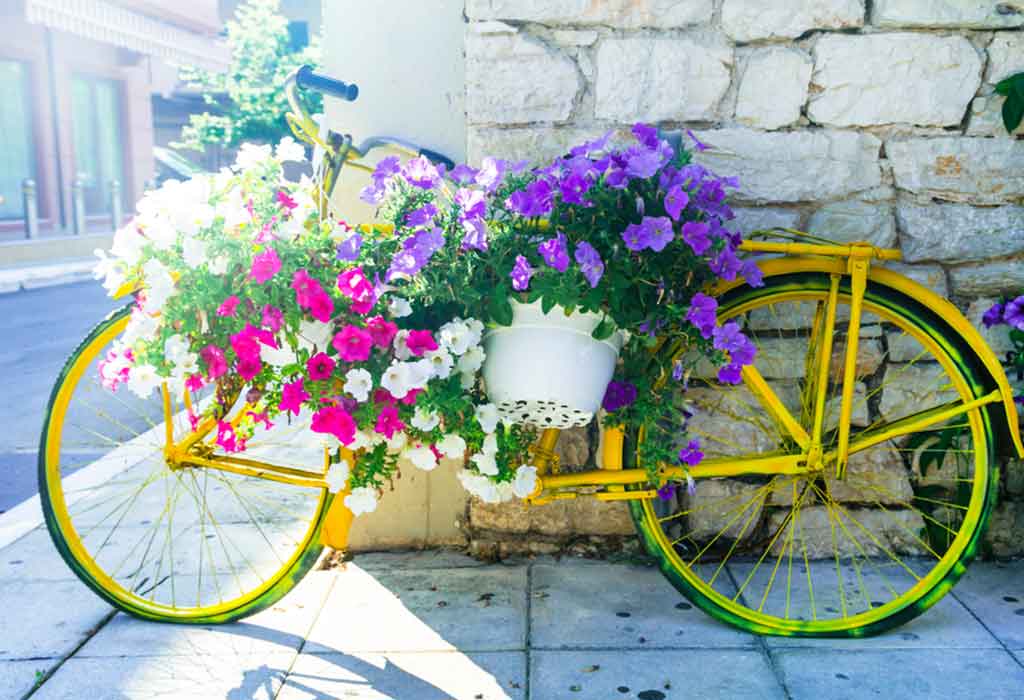 4. Toolbox Fun
If you thought that your old and rusty toolbox had no use, well, think again as it can be transformed into a funky planter and brighten up your home interiors or exteriors. Use a drilling machine to make holes at the base, fill the box with potting soil and throw in some seeds or saplings and see them transform into a stunning planter!
5.Barrel Mania
Wine or beer barrels can become a great option for taller plants! You can paint the barrel in a color of your choice, place soil in the base, and use it for planting bright Tropicana cannas blooms, fountain grass, and other such plants for some added drama to your outdoor space. You can place rope handles on the barrel (if it does not have any) as it would become easier to move it from one place to another!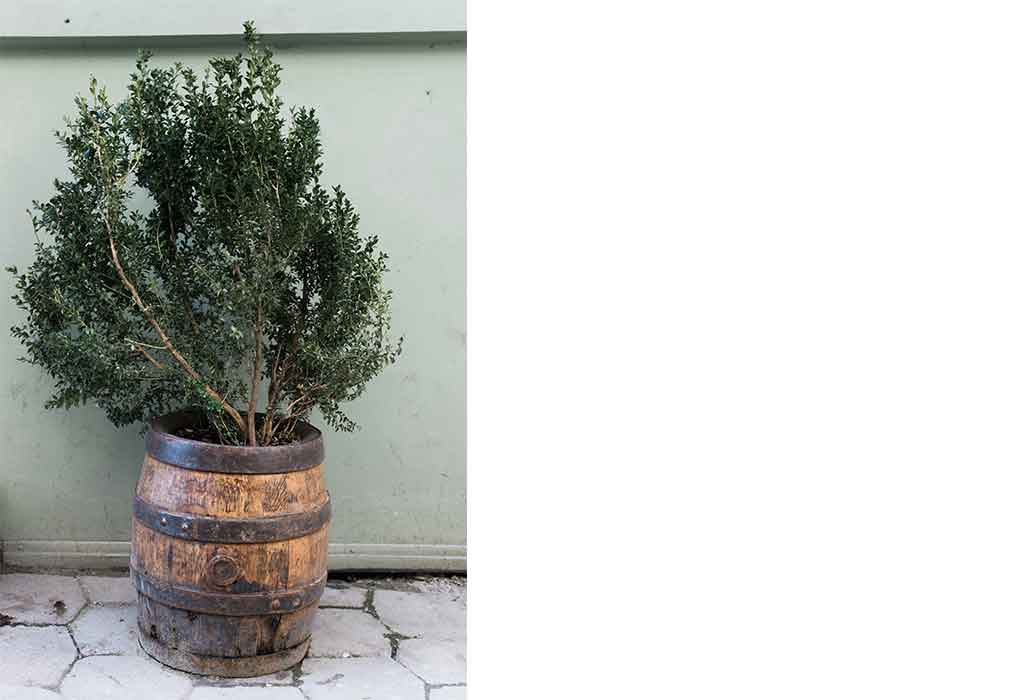 6. Drainage Tile Planters
Perk up the rear of your house with this simple yet elegant backyard container garden ideas with drainage tiles. You can get the tiles cut in different sizes and secure the base by making a wooden or plastic base. Do not forget to punch in few holes for water drainage. Plant your own herb garden in these tiles in a fun, quirky way!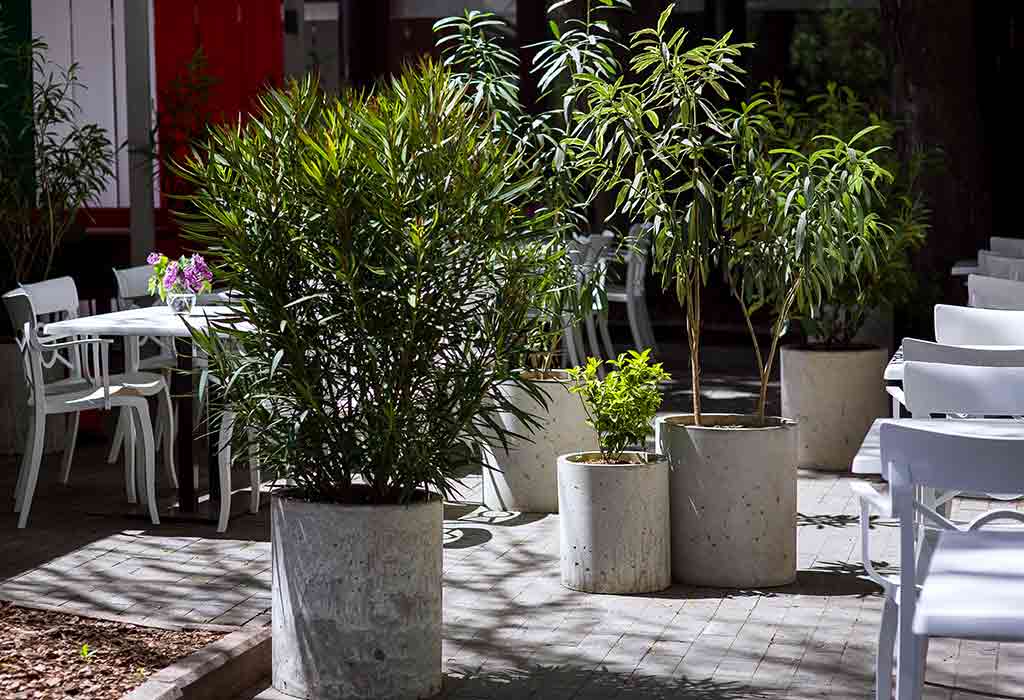 7. Ladder Planter
This is undoubtedly one of the best plant combination ideas for container gardens! All you need is any old wooden step ladder that you have sitting in your house. Give it a fresh coat of paint in a striking color, and start placing the pots of different sizes at each level. For an added allure, upcycle your old boxes and planters by painting them in similar or contrasting colored paint, and you can use this as a focal point for your patio or porch!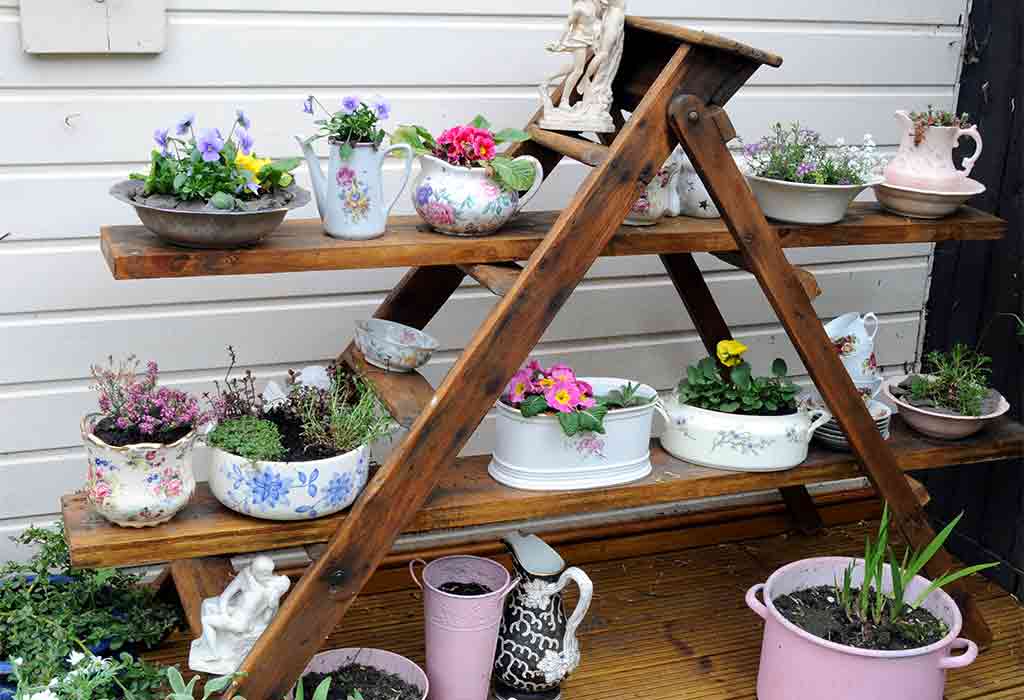 8. Vertical Planters
This works wonders for people with space constraints, along with it looking appealing and elegant! Get hold of a wooden plank and make a base for it to stand vertically. Now nail or stick loops that can hold the pots that you wish to hang on this plank. You can keep the plank in its original wooden color for a rustic vibe!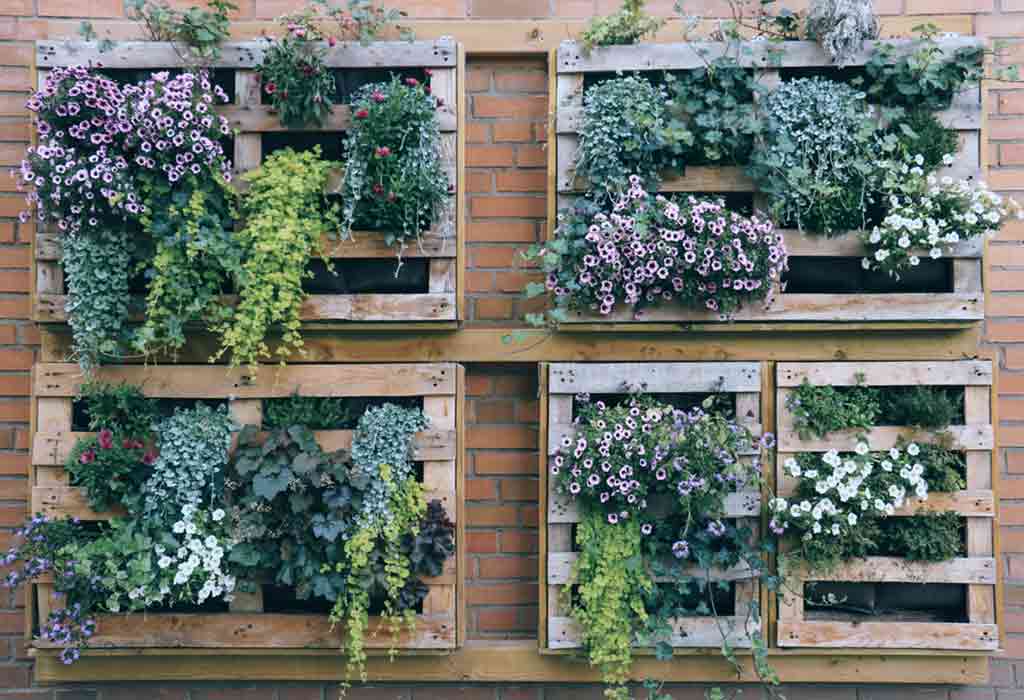 9. Pocketed Planter
Use any old rugged canvas wall hanging or shoe organizer for planting plants; well, it does sound quirky, but it looks utterly chic and unique! This is great for planting succulents and tiny vines or wispy ferns. All you need to do is fill up the compartments with potting soil and plant your adorable little plants, and your eye-catching hanging planter is ready to steal hearts and attention!
10. Birdbath Planter
You can easily transform birdbaths into fun and quirky container gardens! However, these planters work well for plants that can thrive in shallow pots, and the ideal choice would be succulents. You can plant different kinds of succulents and place snowy white pebbles in empty spaces for a desert-like feel and vibe!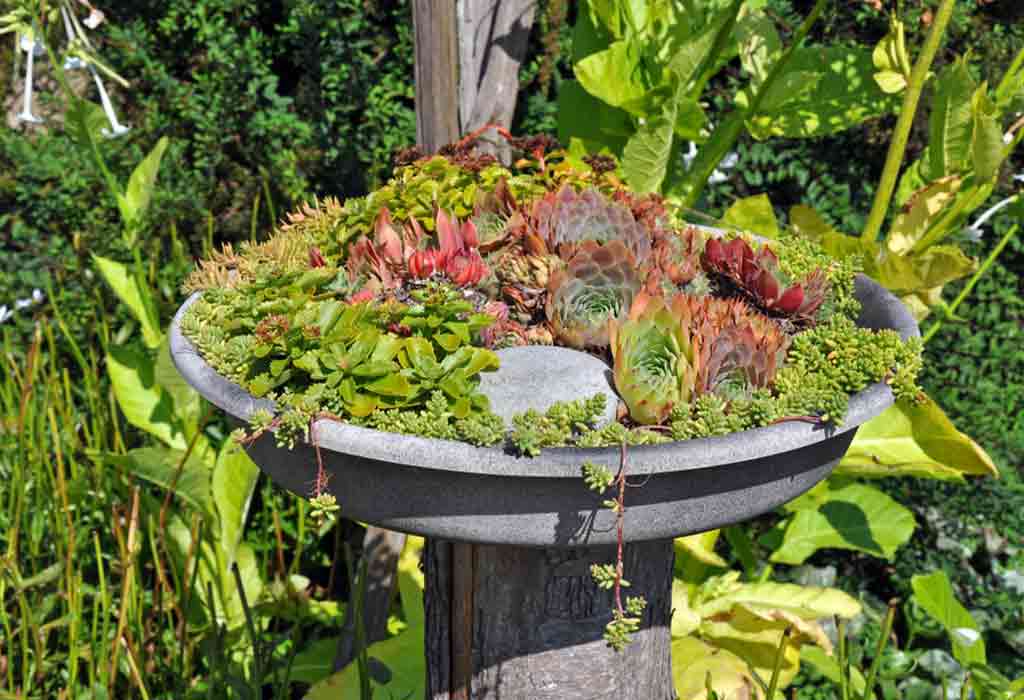 11. Shutter Planter
A great way to decorate a bare wall is by leaning or hanging an old or even new shutter against the desired wall. The cavity between the shutters is great for planting succulents and makes for a robust indoor or outdoor focal point option. You can plant moss and succulents in the cavities. Make sure the area you choose has ample shade to help your plants live longer!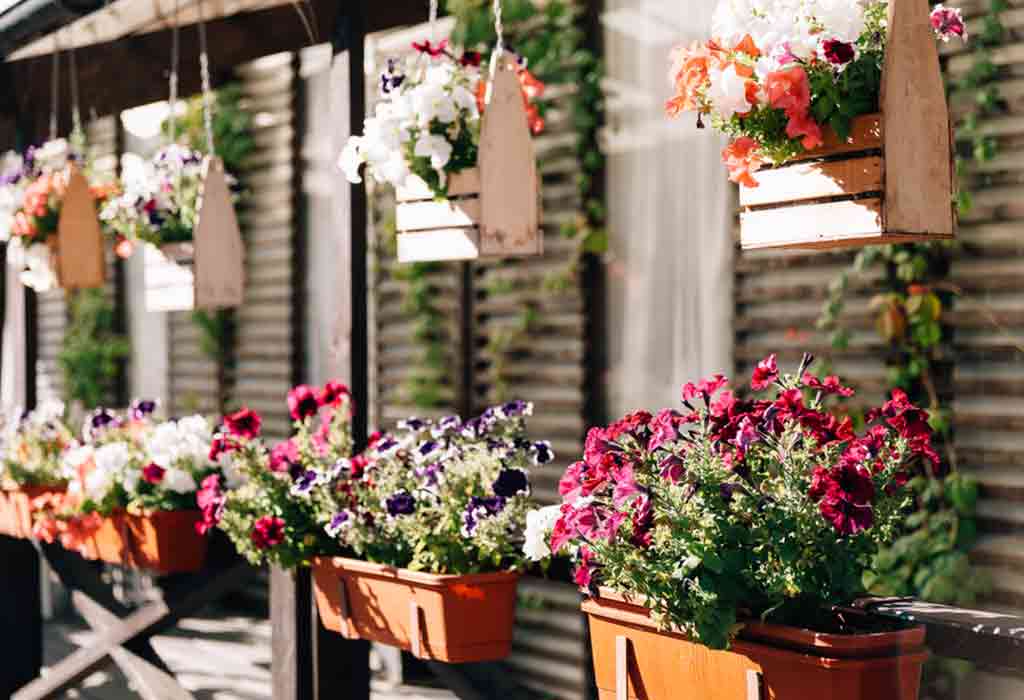 12. Birdhouse Planters
Add some extra space on the birdhouse's roof by nailing few wooden tiles on all the sides. This makes for an interesting place to plant some hanging plants. This will not only add more oomph to your birdhouse, but the greenery on top can also attract little birdies in your neighborhood and can be a win-win for you and the birds!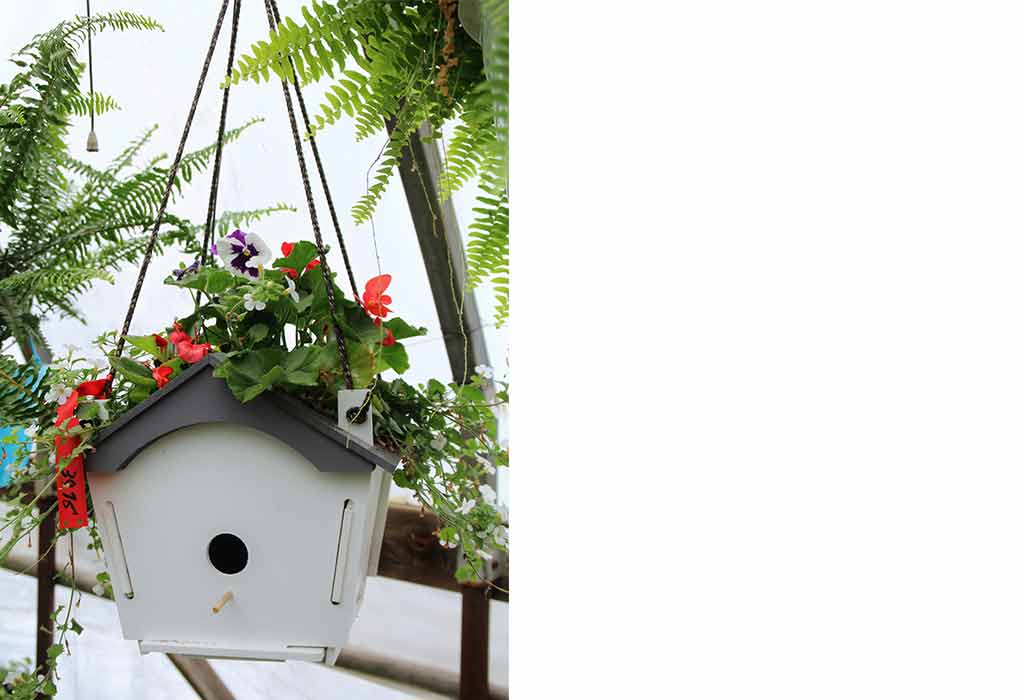 13. Bucket Planter
Metal or plastic buckets of any size or kind make for a great option for planting some dainty plants. You can even use the handle to hang this kind of planter on a fence or wall. Periwinkle spill and petunias or other such combinations that can be planted for a captivating look!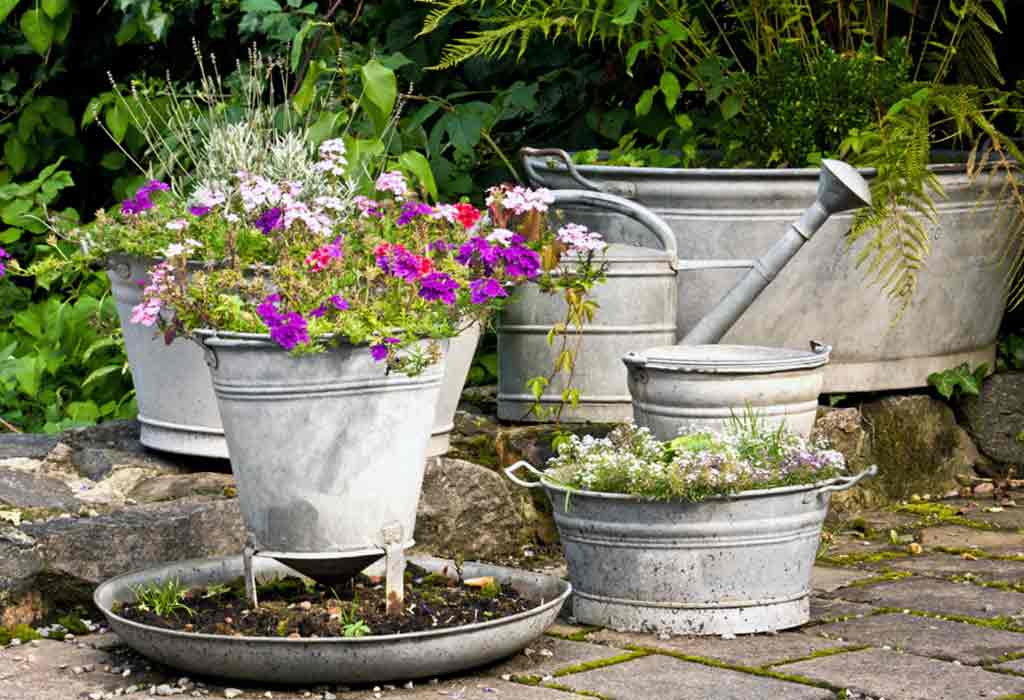 14. Fairy Garden
You can create your own fairy garden by simply assembling some tiny plants, succulents, pebbles, miniature houses, miniature animals, and other such accessories. You can choose a square, round, big, small, or any size or shape of the pot to create some magic of your own. Let your creativity flow as you assemble some adorable accessories in your fairy garden!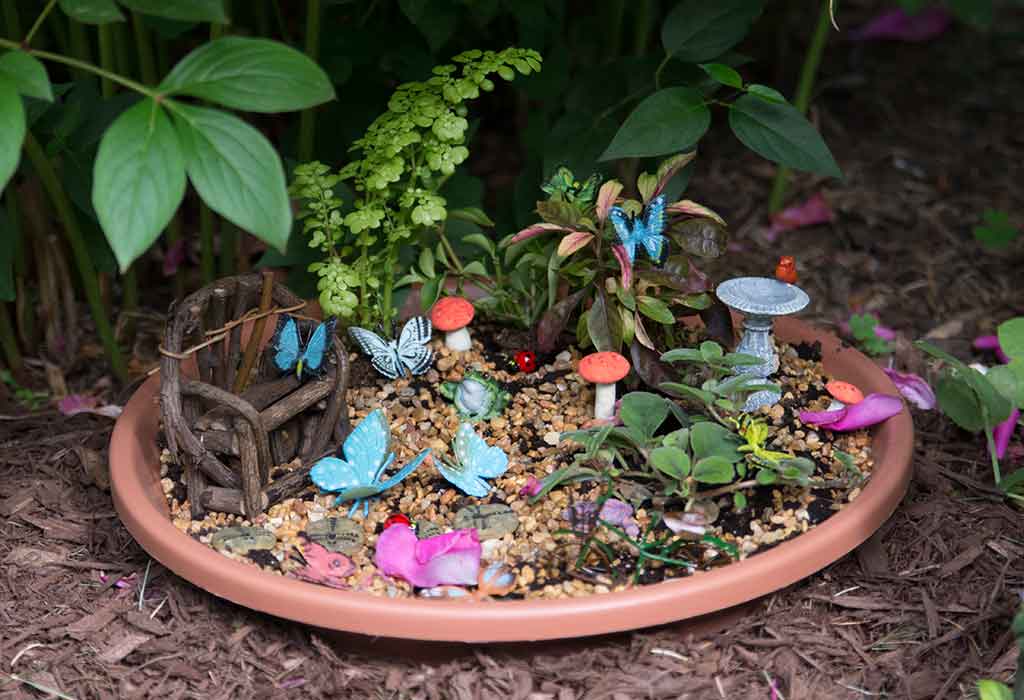 15. Boot Up
An old shoe makes for a great accent option for your lawns, gardens, or porches! Though there is not much space in a shoe, it is great to plant miniature herb gardens or small plants. Mix and match a couple of plants for a more captivating feel to the boot planter!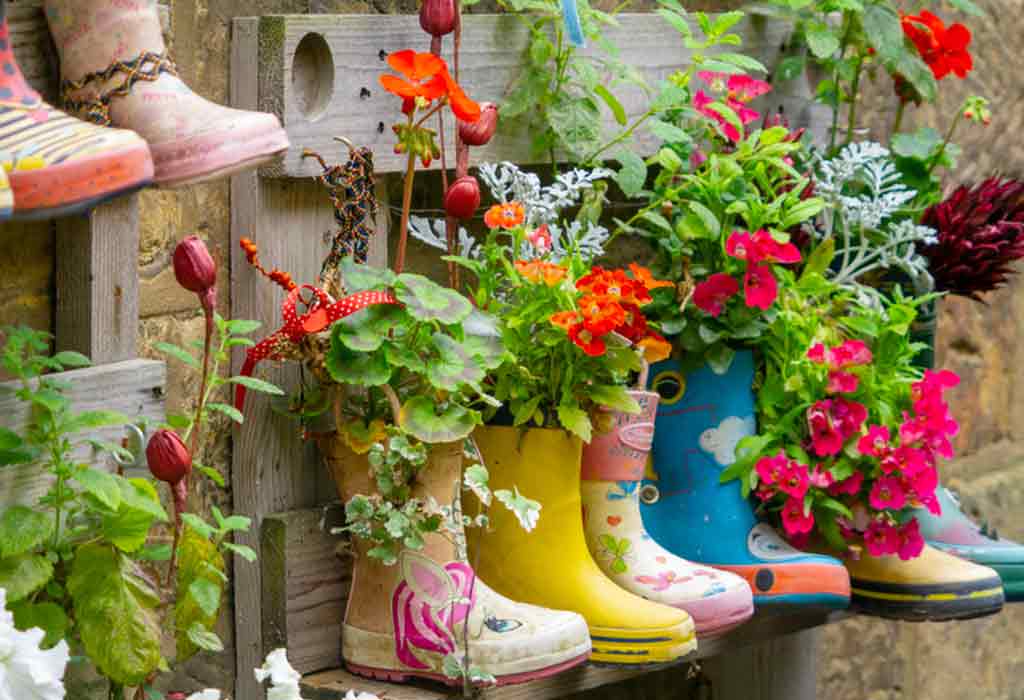 16. Tire Planter
Useless old tires seem to be of no use, well, not anymore! You can turn them into beautiful planters. Take a few tires, preferably in different sizes, and hang them on the wall or any area you wish to accentuate using a rope or wire. Color all tires in striking colors and fill them with soil to grow colorful flowers or hanging plants.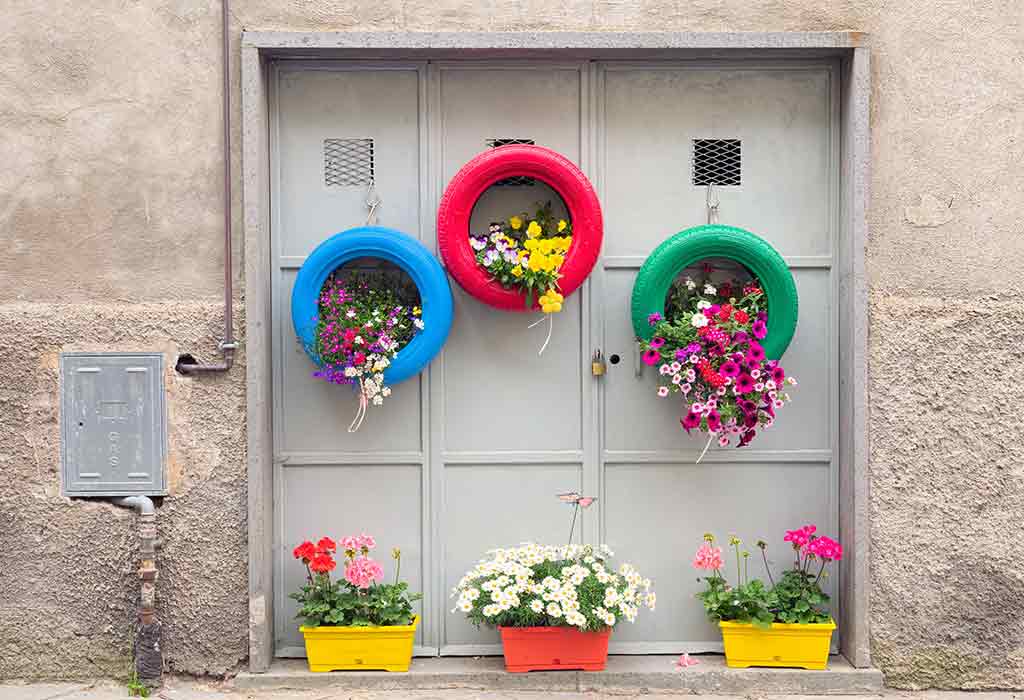 17. Kettle Planter
Now, this one is a real attention grabber because of its unique beauty and charm! Grab any old metal or glass kettle and paint it in any solid color of your choice! If the kettle already has an intricate design or pattern, you can let it remain in its original stage. Throw in some potting soil and plant any flowering plant of your choice.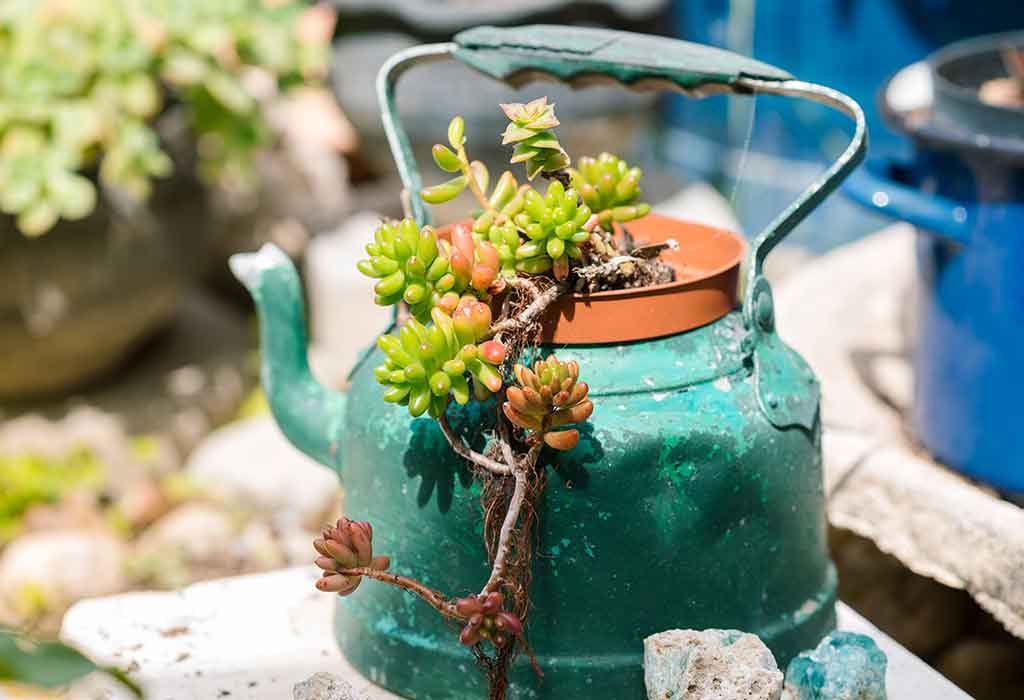 18. Jar Planter
Who says jars are only for cookies, flour, or other kitchen essentials! If you have some old cracked jars lying in your kitchen cabinet, we exactly know what you can do with those! Well, assemble some flowering plants such as Sungal aster and petunia around the rim and place donkey tail spurge, sage, and switchgrass for the added texture and bouquet-like feel!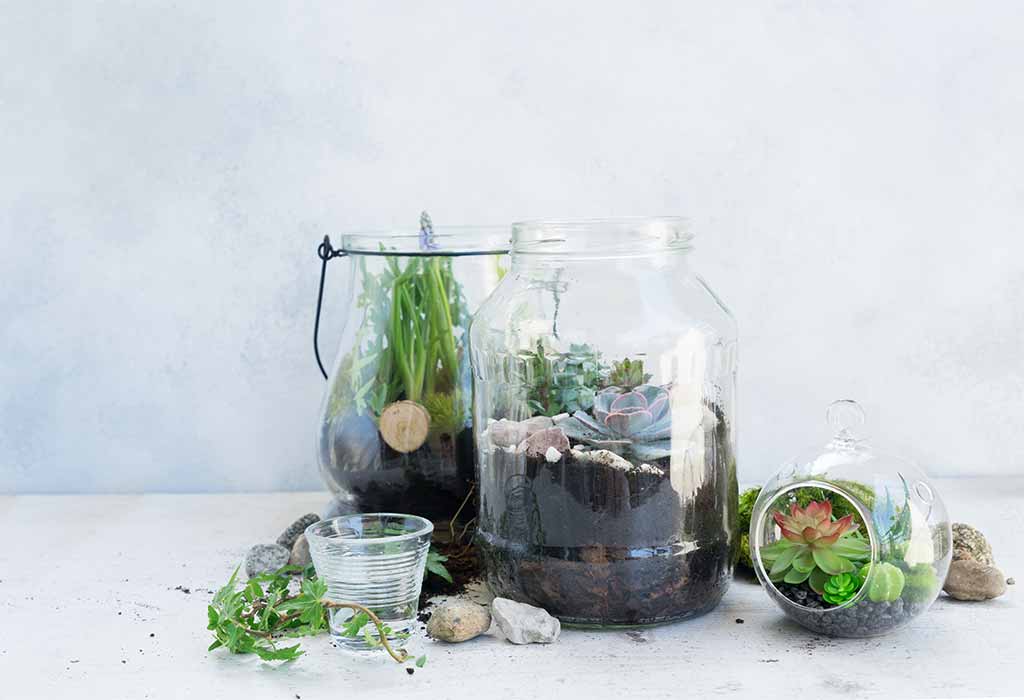 19. Metal Muse
Rusty old metal vases that have no aesthetic value for your indoor décor can be beautifully transformed into container gardens. The vintage-inspired feel of the metal vases or pots is great for planting succulents as the metal color complements the muted hues of such plants. Apart from metal vases, metal dishes and other kinds of containers also make interesting plants' pots.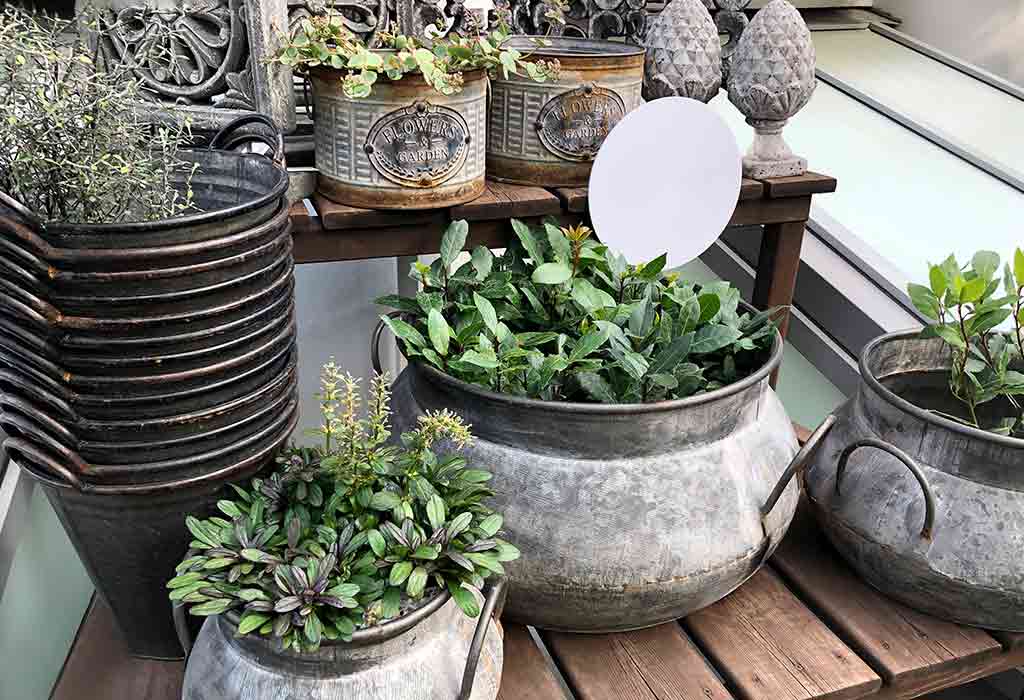 20. Broken Beauty
You may no longer have any use of the broken objects, but you can often turn them into great garden accents. Let your imagination run wild and place some broken objects together, fill them up with some potting soil and mix and match different plant types, and voila, you have garden art that is ready to be flaunted! You can use colorful shells, pebbles, and other such accessories to accentuate such kinds of planters!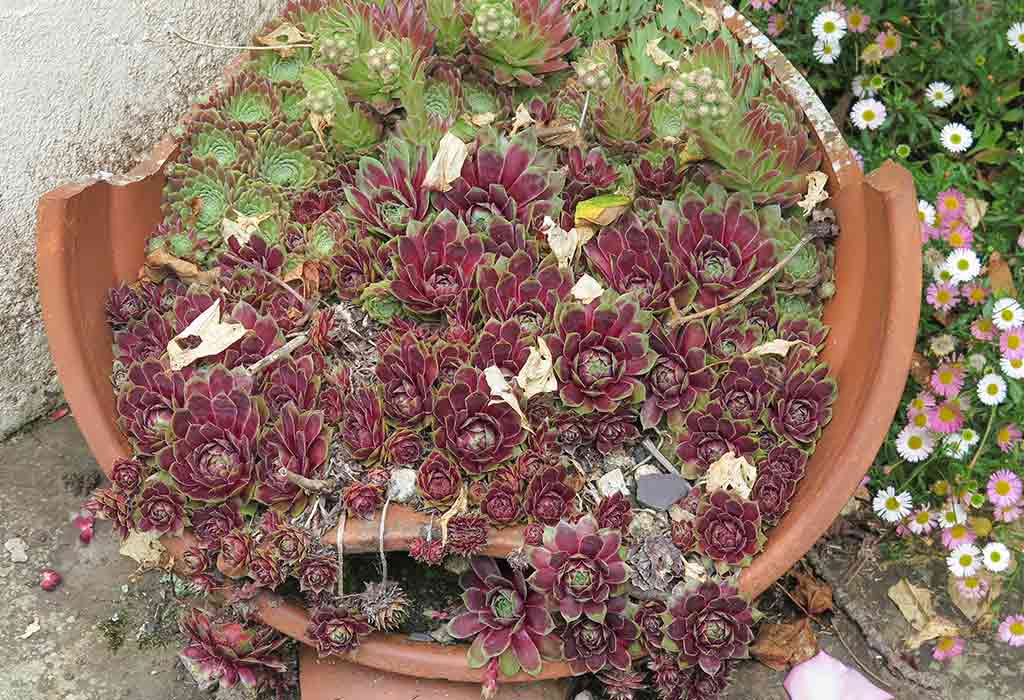 You can do so much when it comes to container gardening, and the above-mentioned are some of our top picks that you can use to your will! Once you get the hang of this stuff, you can create many amazing and creative ideas on your own…
Also Read:
Seasonal Gardening Ideas
Urban Gardening Ideas
Ideas to Create a Vertical Garden