20+ Stunning Patio Cover Ideas to Style Your Outdoor Space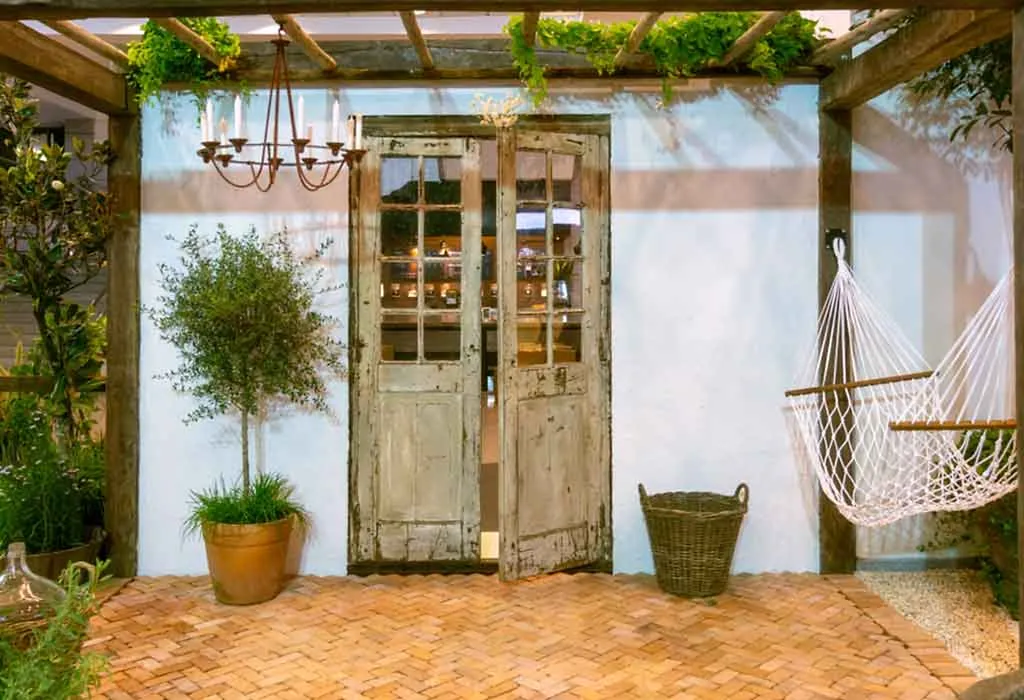 In this Article
Whether a garden or a completely paved concrete space, outdoor spaces are best to spend some relaxing time with your loved ones. You love sitting in your outdoor space and bask in the sun. However, too much sun or rain at times puts a dampener on your intimate get-together or relaxing time. To add shade to your outdoor space and make it comfortable for those rainy days, adding a patio cover is a practical and simple solution. A stunning patio cover will beautify your outdoor space and will offer you protection from the elements. Patio covers let you utilize your garden or outdoor space throughout the year. Even with a simplistic patio cover design, you can transform your outdoor space into a stylish and cozy zone to relax and get fresh air. For your inspiration, we have some stunning patio shade ideas that will enhance your outdoor space.
Best Patio Cover Ideas for Your Home
A covered patio can make your outdoor experience so much more comfortable, whether you prefer reading, sipping a beverage, or dozing off by the pool. Indeed, covering your patio or deck will protect it from the weather while also keeping it cool, allowing you to spend as much time as you like there. Patio covers provide shade and allow you to experiment with overhead flowers, lighting, and other elements. So go ahead and check out these stunning outdoor covered patio ideas to beautify your outdoor space.
1. Install a frameless glass pavilion
For your contemporary home, a barely-there glass pavilion is one of the best-covered deck ideas. The frameless glass structure will provide you with a free-flowing sightline and protect you from excess sun, rain, and wind.
2. Hanging garden on your porch
Instead of hanging light fixtures in your patio, hang flowers and other plants to create a hanging garden. With many vertical visual interests, your patio or porch will be your green heaven. You can use curtains, lanterns along with handing baskets to create an idyllic spot for yourself.
3. Install an adjustable pergola
Create a chic shelter in your outdoor space using an adjustable pergola. This ultra-modern patio design uses a modern seating arrangement with an outdoor fireplace to give you that cozy living room feel. The adjustable pergola set-up gives you the option of enjoying the sun or watching the stars lying down on the couch.
4. Create a garden tent
The garden tent with washable canvas is an elegant and useful patio cover design, providing a cool and light cover for a shaded lunch. Its hardwood framework, paired with white washable acrylic fabric, offers durability, simplicity of upkeep, and undeniable style. The garden tent is much larger than a parasol and may shade big family tables from the sun.
5. Using parasol for patio shade
When you live on a limited number of sunny days, getting a permanent patio cover is less important. A parasol is a practical, flexible option to set up your outdoor dining or living area with some protection for the harsh midday sun. You can go for a freestanding parasol with a heavyweight base or supported by the patio table.
6. Neat awning to cover patio strip
Awnings are one of the great backyard shade ideas for patio or deck coverings as they offer shelter close to your home. They make it easy for you to pop in or out of your home for drinks or snacks when entertaining or to relax outdoors. Awnings come in many retractable options to provide versatility. However, permanent ones are good too.
7. Stylish steel pergola with glass patio cover
Steel pergolas with glass coverings are robust and waterproof patio coverings that are both lightweight and permanent. Depending on the desired style, the steel can be coated in various ways: smooth with thermo-lacquered paint or rough with a rusty finish.
8. Wooden Garden pergola
Covered pergola ideas are the most popular design ideas for patio and deck coverings. The partial sun and shade combo a pergola provides is a great way to enjoy your outdoor space throughout the year. The wooden frame compliments the green landscape. Cover it with vines or flowers and add string fairy lights to create a magical place in your backyard.
9. Use bold light fixtures
To decorate your outdoor space, use bold light fixtures to make a unique statement. You can hang few light fixtures on your patio roof or cover. Remember to hang them at different heights to create a chic design.
10. Glass cover with a hanging chair
Add a hanging chair to your sturdy glass patio cover for an ultimate relaxing feel. To create a sophisticated yet relaxed vibe, use rattan furniture and wicker baskets with many greens. Now you need to sit back in the hanging chair and watch the rain patter on the glass roof or the clouds drift by.
11. Aluminum frame arbor with retractable fabric cover
The aluminum arbor will create a contemporary place on your patio with its austere and sleek forms and smooth finish. This arbor has the benefit of being able to be placed in an open space or against a wall to create a more intimate corner patio. Its aluminum structure is more resistant to wear than wood or steel.
12. Black roof arbor
Use a steel arbor covered with black micro-weave fabric for a unique patio cover design. The dark atypical hue of cover retains the heat, and the light, ventilated steel arbor structure allows air to circulate freely. The black perforated cover fabric offers transparency yet gives a soft and natural look to the patio.
13. Solid glass retractable sunroof
A glass sunroof is one of the most stylish patio roof ideas. Cover your patio with a solid glass sunroof to allow light to come in but keep the other elements like rain and wind out. The retractable design offers you the flexibility of the coverage and unfiltered sunshine as per your mood.
14. Natural reed grass cover
Use delicate reed bundles on a simple frame of branches or beams to create a natural patio cover. Hang some natural material curtains to cover the area. Add natural wood furniture like a bench with soft and large cushions for coziness and a rustic vibe.
15. Wooden strips Pergola
When you get less rain, opting for a wooden strips pergola patio design is apt to enjoy your meals outside the sun. The right space between the strips will soften the harshness of the sunrays and give an elegant look to your patio.
16. Create tree canopy
Create a contemporary canopy in your garden through the clever planting of trees. A beautiful patio cover can be made using both single stem and multi-stem trees with a frame for extra support. Train the trees over the frame, and regular pruning will provide a full canopy for plenty of shade to create a natural patio design.
17. Build a gazebo
A gazebo is a terrific way to be in the open air without sacrificing shade when you want to enjoy your patio in the summer heat. A gazebo design for an outdoor covered patio is lovely, classic, and incredibly adaptable. Your gazebo will not only provide shade at all times, but it will also bring an old-world charm and nostalgic beauty to your garden.
18. Curtained patio cover
To get some privacy on your patio, install a curtain rod around it. Add simple or stylish curtains as per your choice, and you will get the shade or privacy when you want it, or leave them open for a chic look.
19. Create a thatched roof cover
You may not have the tropical view from your home, but you can surely create the tropical vibes in your backyard with a thatched roof "umbrella" or palapa. A palapa with beach-themed décor, semi-tropical plants, and wicker furniture will get the coastal vibes in your home.
20. Install a shade sail
A simple and beautiful shade sail to cover your patio is one of the most casual deck shade ideas. It is ideal for a comfortable and casual look. This patio cover requires few poles to hang the sail, and you have the flexibility to hang as many sails as you want to cover your patio.
21. Build an outdoor grotto
This is one of the most comfortable, attractive, and simple patios covering solutions. A beautiful flower-filled pergola is just magnificent. Flowers will creep in between the roof beams to create a great effect. Add some more flowers in pots or planters, as well as some comfortable chairs, and you've got yourself a paradise from spring to autumn.
You can take inspiration from these stunning patio cover design ideas and plan your ideal patio. You can easily mix a few of these ideas to style your outdoor space. Design your patio as per your vision for your backyard, your requirements, the weather of your area, and your budget.
Also Read:
Creative Balcony Decor Ideas
Beautiful Outdoor Dining Room Ideas
Amazing Front Porch Decorating Ideas