20 Stunning Front Door Color Ideas To Try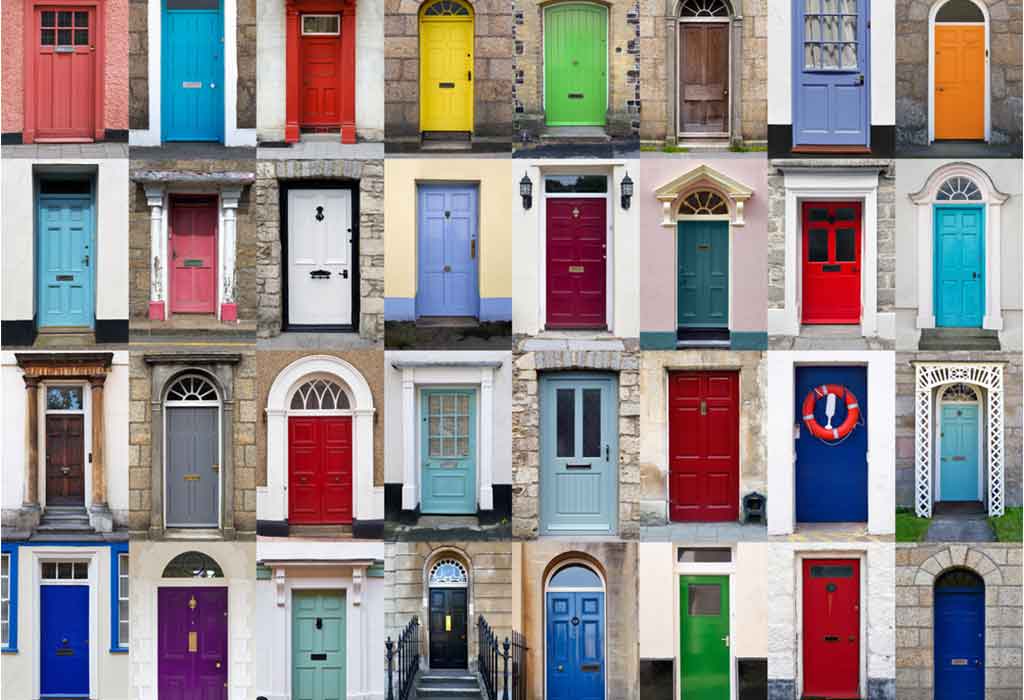 In this Article
Refreshing your door with a glossy new coat of paint is a quick way to make a lasting first impression on any guest. Depending on its color, shape, and even the material, it generates a warm and welcoming vibe.
Fabulous Colors to Paint a Front Entry Door
Creating curb appeal doesn't involve replacing the roof or painting the whole house. You may only apply a fresh coat of paint to the front door to give your home a fresh makeover. From "big and bold" to "subtle and elegant," there's always a color to suit your needs. While brown and beige serve a traditional purpose, innovative front door paint colors may include shades of blue, green, red, yellow, pink, purple, or even patterns that have a trendy appeal. Whether you're posing for photos, pinning up wreaths or nameplates, arranging pumpkins for fall, lugging groceries, or greeting neighbors, a front door is a transition point that separates the world at large from the nest that you call home. Your front door design, condition, and color are essential as it complements the home's architecture. A great-looking strong door makes the other features of your home facade look better by proximity. It may not alone sell your home, but a quality door adds lasting value to your home.
However, most exterior paint colors and materials lean toward neutral shades, so a colorful front door is a chance to express your personal style. A statement color on the front door can not only uplift the façade of a home but complement the architecture and surrounding landscape. Latex exterior paints provide weather-resistant coverage. Look for one with built-in rust protection for metal doors. Door-friendly exterior paints are available in matte, semi-gloss, and glossy finish. A high-gloss finish will bring out architectural details but will also show more blemishes on a door. Choose a strong color and dramatic design that ensures value for money and has a long-lasting finish. To make your job easy, here are some gorgeous front door color ideas that would jazz up your exterior home décor instantly.
1. Natural Green
Green represents the freshness of the natural world. Green front door colors can give your home with a rustic frontage a quick facelift and make it truly belong to the landscape. This versatile hue is a great color for a front door, whether in 'bold and bright' or 'muted and elegant shades. Dark green can be dark and stately; grassy green can be zesty and modern, while olive green can be the traditional color of peace.
2. Cool Blue
Whether aqua, navy, or azure, blue front door colors always charm and offer a dreamy entryway into the home. Sky blue can be a great soothing color that looks fantastic with gray, while the darker shades of blue can project a sense of tranquillity, peace, and elegance.
3. Navy Blue
A navy blue front door is a part of classic styling for accentuating the curb appeal. Navy blue or vivid royal blue act as neutral color that complements most of the colors. It's a naturally gracious expression for the entrance to your home, especially when they contrast with a house's warm undertones. Royal blue is a timeless color choice that will wear well and look great with accents for many seasons.
4. Gracious Gray
Grey is associated with intelligence and dignity, so a gray front door can come across as stand-offish, depending on its shade. It has a way of balancing a bright exterior and lends just the right amount of steely modernity to more traditional structures. It may not pack a punch but has a quiet strength that is much sleeker and contemporary in appeal.
5. Pretty Pink
The rich spectrum of pink surpasses other colors with its versatility and magnetism. Subtly romantic or classically elegant, the various shades of pink give an intoxicating punch of presence that we need to lift our dull spirit. Whether you choose a dusty rose, blush, peach, rouge, or hot pink, a pink front door can capture that modern, feminine chicness that makes us dream about the warm, blooming spring days to come.
6. Pitch Black
Black is a color that symbolizes order and control. Accentuate the graphic aesthetic of the front door by painting it with a deep pitch black that looks highly sophisticated in nature. Black can sharpen and ground a bright white home.
7. Eggplant
In some cultures, purple represents royalty. Thus, a purple door with fine architectural features makes your home stand out. Plant some contrasting flowers for the season to lend your home an exciting visual accent. A rich purple door can invite opportunities to your home as per Feng shui.
8. Sunny Side Yellow
A bright and youthful front door in yellow can draw attention, portray your sense of fun and uphold a lively decorating style. Paired with gray walls and white trim, it offers a sleek and classy vibe when matched with flowers, a doormat, and a wreath.
9. Grassy Green
Light green represents vitality and renewal. A softer green color on the front door would play up the gentle colors of the stonework, creating more of a farmhouse look.
10. Cherry Red
Red, yellow, or orange are naturally warm, exciting, and exuberant in their appeal. These vivid colors make a strong design statement and blend surprisingly well with most other shades, especially the neutrals. Considered one of the most popular front door colors, a red door, as per early American tradition, meant "welcome."
11. Turquoise Green
An elegant door painted with a soft shade of light turquoise green brings a touch of the sea to any home. Decorated by a carved panel, it brings a cool-toned accent to the front of the home while the brown brushed metal hardware gives it a practical look.
12. Pearl White
A white front door evokes a clean, organized, simple, and serene image of the house's owner. White makes a statement in itself, but the black and white combination will always complement each other.
13. Burnished Brown
A shade of light brown exudes a warm, reliable vibe, while dark brown offers a stable and timeless look. Being a warm neutral color, brown can complement any other earthy color across the spectrum and create a lustrous monochromatic look for the property's exterior.
14. Outstanding Orange
Vibrant and exciting, orange as a door color is daring, warm, and inviting. Stick to slightly muted tones of orange against neutrals such as whites and grays, or go for a brighter look against blue walls to make it work for your home.
15. Natural Oak
Natural tones in an oak door can mix perfectly with the sleek brown windows creating an earthy color scheme. Oak is light in color that can lend the door a natural look. A bold and luxurious walnut door can make a real impact on a contemporary or a classic setting. If you have light-colored walls, emphasize the timber graining pattern for the door to make a sleek statement.
16. Magenta
Magenta is a unique choice for a front door color that stands out on half brick walls. The brass hardware can provide it a shiny accent. Integrate it with the look of your home by adding a coordinating seasonal wreath to the door.
17. Luscious Lime
Limey and lighter greens with grassy undertones are door decor darlings as they provide that unexpected pop of color. Although bright green creates a more dramatic effect for the front door colors of a grey house, the radiant, durable sheen of lime green provides a perfectly polished look to your home.
18. Tranquil Teal
Muted teal tones are the best choice for a teal front door. Reminiscent of pristine Caribbean ocean water, the color teal may even have a positive impact on your mood. Teal front doors can complement both historic and modern houses. It makes a great front door color for brick houses, providing a contrast without looking out of place.
19. Brown With Leaded Glass
A brown wood front door with decorative glass doesn't necessarily get lost in a columned portico and contributes to the grand entryway. A geometric glass design with a black finish combines to create a stunning contemporary effect.
20. Double Glass Door
Stained double glass wooden brown doors allow light to filter through the white brick entryway while still providing privacy. The hallmark of most French patio doors is their use of multiple glass panes that lend a stunning antique look to your home.
Front doors have the twin purpose of inviting people in and keeping people out. In the same way, that a quality door can attract the attention of neighbors and buyers. A strong, solid door, by contrast, is a powerful deterrent for burglars and gives your whole home the appearance of being locked down and carefully protected. Hence, give a real thought while choosing the right colors for the front door.
Also Read:
Porch Décor Ideas for Home
Budget-Friendly Home Décor Ideas
Summer Wreath Ideas for Front Door