20 Plants With Colorful Leaves That Will Brighten Up Your Garden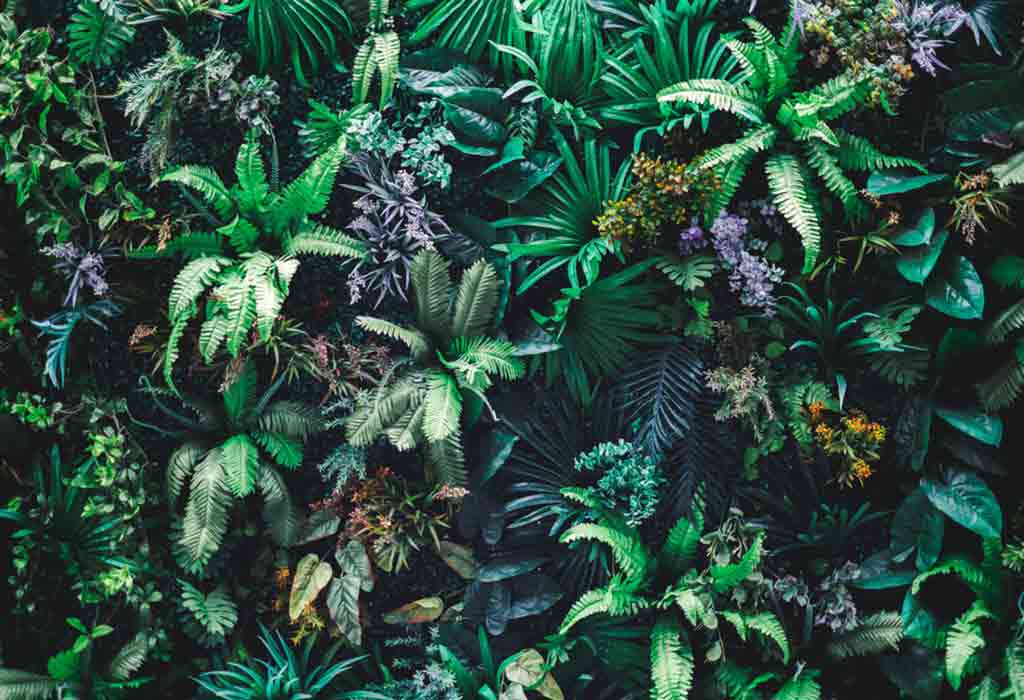 In this Article
Different colors or flower shades can add a unique aesthetic, charm, and beauty to your garden. However, flowers do not stay for long as they come and go as per different flowering seasons. So, does that mean that your garden should remain drab, boring, and devoid of fun colors in a dearth of flowering plants? Well, not so much because there are umpteen options in plants with colorful leaves that can brighten up your garden space and look equally vibrant. Browse the following post to know about some foliage plants with striking colors, patterns, and textures that can keep your garden bright and colorful throughout the year!
Top 20 Colorful Houseplants
Here are some plants with colorful leaves and distinct patterns that are not only hard to miss but will also add a fascinating appeal and appearance to your garden. From yellow, burgundy, purple to almost black, you have many options to choose from:
1. Coral Bells
Coral bells, also known as Heucheras, is a native American plant widely grown for its robust and stunning colored foliage. This is one of the stunning plants with multicolored foliage that includes green, red, silver, purple, and other alluring-colored leaves. You can pick any colored plant that complements your garden aesthetics. This plant thrives well in any amount of sunlight; however, it needs adequate watering.
2. Caladium
Popularly known as elephant ears or angel wings, caladium is one of the most preferred options for shady or semi-shady garden areas. However, some variants thrive well in bright sunlight too. This plant with multicolored leaves thrives well in hot and humid conditions. The leaves that are a little larger than a palm are in a striking combination of green, red, white, and pink. The plant can grow up to 18 to 24 inches, and the shorter varieties can grow up to 12 inches in height.
3. Coleus
Mostly popular as bedding plants, the coleus plant is also becoming widely popular as an indoor plant option. This low-maintenance plant thrives well in bright sunlight as well as shady areas. It belongs to the mint family, and the foliage's color, size, and shape can vary widely. The plant also has white to blue flowers, which are almost insignificant and often trimmed to let the plant's leaves grow well. This variety of plants grows fast and reaches its maximum height in a single season.
4. Canna
You cannot miss the tropical flair of this stunning garden plant with its oversized bold leaves. This plant in multicolored green, red, and bronze hues also develops flowers in yellow, pink, red, and other such colors. Flowers or no flowers, this plant makes for a stunning addition to your garden space with its striking appeal, and sometimes gardeners even tweak the flower stalks to maintain the leaves of the plants. This plant loves heat and humidity and needs regular watering.
5. Hosta
Easy to care for with lush green foliage, Hosta is an absolute favorite amongst gardeners. This plant loves shady places, but some varieties of the plant tolerate bright sunlight too. Some variants of the plant, such as Hosta plantaginea, also have striking colored flowers. This plant can make for a beautiful addition to your garden as it fits most gardening spaces and areas with foliage height ranging from few inches to as much as four feet in height.
6. Persian Shield
This plant that originated in the humid climatic conditions of Myanmar is now widely grown as a perennial plant in most parts of the world. Also called Bermuda conehead, this stunning tropical beauty thrives well in hot and humid conditions, and this purple leaves plant gets its best color when planted in partially shaded places. If planted in bright sunny spots, the foliage may not have shimmery neon shades and may have a less impressive shade. The plant leaves can grow up to six inches in length, and the stem can reach three feet in height.
7. Smoke Tree
This gorgeous green-blue plant can be a prized possession in your garden with its feathery flowers. The foliage turns into beautiful shades of yellow, orange, or red in fall. You can also get variants of this plant that have bright lime-colored leaves, and its foliage can turn into orange or deep red in the autumn months. This tree with red leaves can be maintained in shrub form by pruning it regularly. The smoke tree can be planted in shady places or places with bright sunlight. This plant needs regular watering at its growing stage; however, it can thrive even in drought-like conditions once fully grown.
8. Rex Begonia
Rex Begonia is a semi-tropical plant that is widely grown as a houseplant and a garden plant. This perennial plant is pretty intriguing because of its various varieties, including spiraled, swirled, spotted, winged, ruffled or thick leaves. This plant can have vibrant colored leaves in red, green, purple, or silver, up to six inches in length. The plant has very tiny blooms that are almost negligible and often pinched to nurture the leaves.
9. Sweet Potato Vine
This ornamental plant belongs to the edible sweet potato family, and this stunning plant is widely grown in various parts of the world for its ornamental value. This fast-growing plant is native to the North American region and thrives well if planted during the spring season. This plant is found in various striking and attractive colors ranging from chartreuse to almost black-colored leaves. The leaves of the plant can be different in shapes too.
10. Ninebark
Ninebark is a deciduous shrub, which is an absolute toughie and can tolerate most weather conditions. Fairly easy to maintain, this is a must-have addition to your garden because this plant also has very few diseases or insect problems. This dark purple foliage develops bulb-like blossoms in pretty white and pink colors during mid-summer that last till fall. As it matures, the bark keeps peeling, and that is how the plant gets its name!
11. Japanese Painted Fern
Athyrium niponicum or Japanese Painted Fern is a plant that can be a beautiful addition to your garden and will be hard to miss. The mix of silvery hues of the leaves and reddish and bluish hints in the stems render this plant a subtle eye-catching appeal. Though these ferns do not grow more than 12 inches in height, they stand out because of their unique and striking appearance.
12. Elephant Ears
If you are looking for plants that can add some drama to your garden space or even add oomph to your indoor surroundings, elephant ears is the plant that can become an ideal option for you! Offering a definite tropical vibe to your surroundings, this plant needs regular watering or can even be planted partially submerged in water. This plant is ideally suitable for zone 8 or above regions. However, you can store the plant's tubers in the winter months and grow them the following year.
13. Foamy Bells
A cross between foamflower and coral bells fetches you this stunning perennial plant. This plant can lend a magnificent appeal to your garden and look equally stunning as an indoor plant. The warm to dark hues of this yellow-leaves plant also has pink or white star-shaped blossoms that accentuate the beauty of the plant from spring to fall. This plant can grow well in shaded, partially shaded, and even in bright areas.
14. Ornamental Kiwi Vine
Ornamental Kiwi Vine is a fairly low-maintenance plant that comes with stunning colored leaves. If you are looking for plant options that are easy to care for but look equally stunning, this is the plant that can be a perfect choice! The beautiful green tip of the leaves turns white or pink during springtime, and the color fades away as soon as summer months set in!
15. Alternanthera
Popularly known as Joseph's coat, Alternanthera is a tropical plant with vibrant colored leaves. Apart from the green color, the leaves boast a striking second color: orange, purple, or red. This plant flourishes well in moist and well-drained soil, and when planted in ample sunlit areas, the leaves produce the best colors. However, the plant also thrives in shady areas.
16. Lungwort
Known by various popular names such as spotted dog, Jerusalem cowslip, Bethlehem sage, etc. Lungwort is an attractive and lovely plant for your garden area. The green leaves have white spots that look captivating and appealing to the eye. Though this plant is short and takes considerable time to spread, they make for lovely carpet plants once they grow. This plant grows well in moist and shady places.
17. Dusty Miller
This silvery foliage with lacy leaves makes for an interesting landscaping addition to your garden. Often grown as filler plants, the dusty miller can become a great companion blooming in your garden. This silvery and furry plant is very easy to care for and even survives drought-like conditions. The plant thrives during the summer months and can also withstand winter frost.
18. Amaranthus Tricolor
If you think that only blooms come in striking hues, well, you need to take a look at this beauty that boasts striking green, orange, and yellow colors! A great addition to brighten up dull spots in your garden, this plant is easy to grow from seeds and easy to care for! This plant can easily rot if watered too much and thus thrives well under dry conditions. This green, yellow and red leaves plant is grown for ornamental and culinary purposes.
19. New Zealand Flax
New Zealand Flax can become a wonderful and eye-catching addition to your garden with its striking-colored leaves in various hues. You can choose from a wide range of colors, from green plant leaves to yellow, white, red, and even pink. Though this plant blooms in yellow and red colors, it is mostly grown for its stunning blade-shaped leaves in vibrant colors.
20. Harriet Waldman
Harriet Waldman is a plant that can be an accent plant for your garden area with its tri-colored leaves that include green, white, and pink colors. This plant is one of the types of Japanese maples, and this stunning variety can reach up to 15 feet in height. This is one of the best plants for a year-round beauty in your garden!
These are some of the many colorful foliage ideas that you can choose from to bring year-round color to your garden. Pick any of these plants to achieve a perfect look that you can enjoy any time of the year.
Also Read:
Beautiful Silver Leaf Plants to Complement Your Garden
Amazing Summer Flowers That Will Bloom Your Garden
Spring Flowers to Brighten Up Your Home Garden