20 Kitchen Colours That Are Ideal for Indian Homes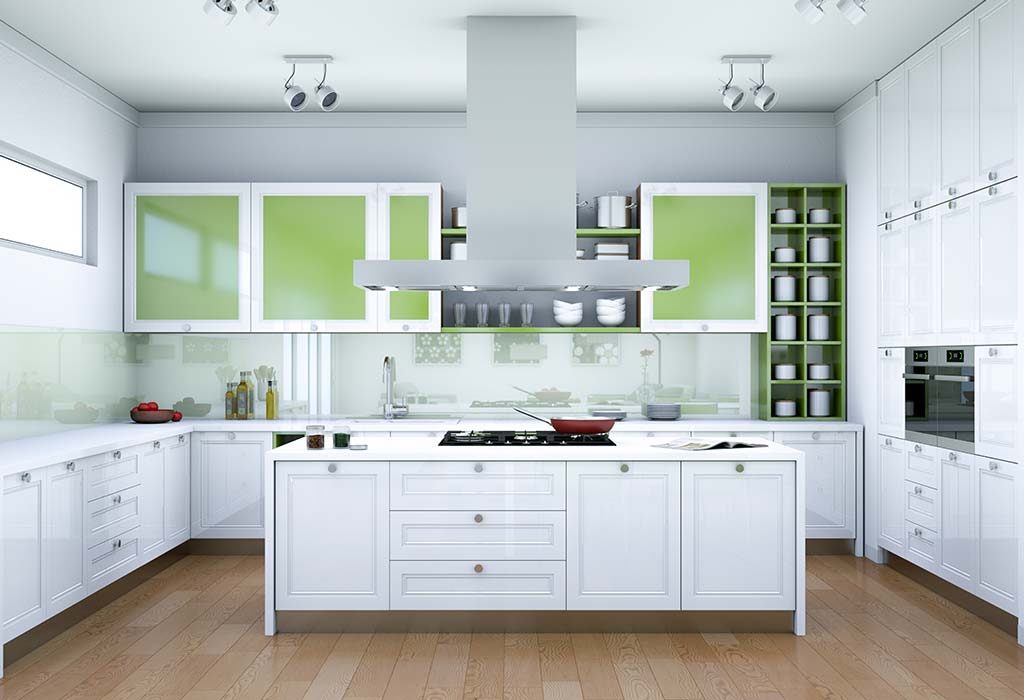 In this Article
Picking a paint colour while getting your interiors done can be time-consuming and annoying. While a lot of combinations and colours look amazing in catalogues, it is hard to understand how easy it would be to clean or how it would suit the rest of the décor in the house. Certain colours like reds, whites, blue, grey, and green can really give your kitchen a certain oomph. Get some ideas on what colours work for you.
20 Kitchen Paint Colours Ideas You Can Easily Copy
Here are some splendid ideas for your kitchen that you could try out:
1. Pale Grey
One of the most elegant options that you could choose for your kitchen is a pale grey colour. You can break the monotony of the grey by adding a bright geometric or paisley patterned back-splash.
2. Deep Oceanic Colours
The mesmerising ocean has a beautiful deep blue that can bring in a wave of calm to your kitchen.
3. Olive and Light Green
Have kitchen cabinets in olive green with walls in pale or pistachio green. You could play with designer counter-tops or even have coloured pans to change the accent of the kitchen a bit.
4. Greyed Zinc
The colour of zinc can be very lulling. It is a staid and neat look to have for a kitchen. Add a few coloured lampshades to accentuate the tone of the zinc.
5. Blue and Grey
Bright blue kitchen furniture with grey cabinets can give your kitchen a colonial and vintage look.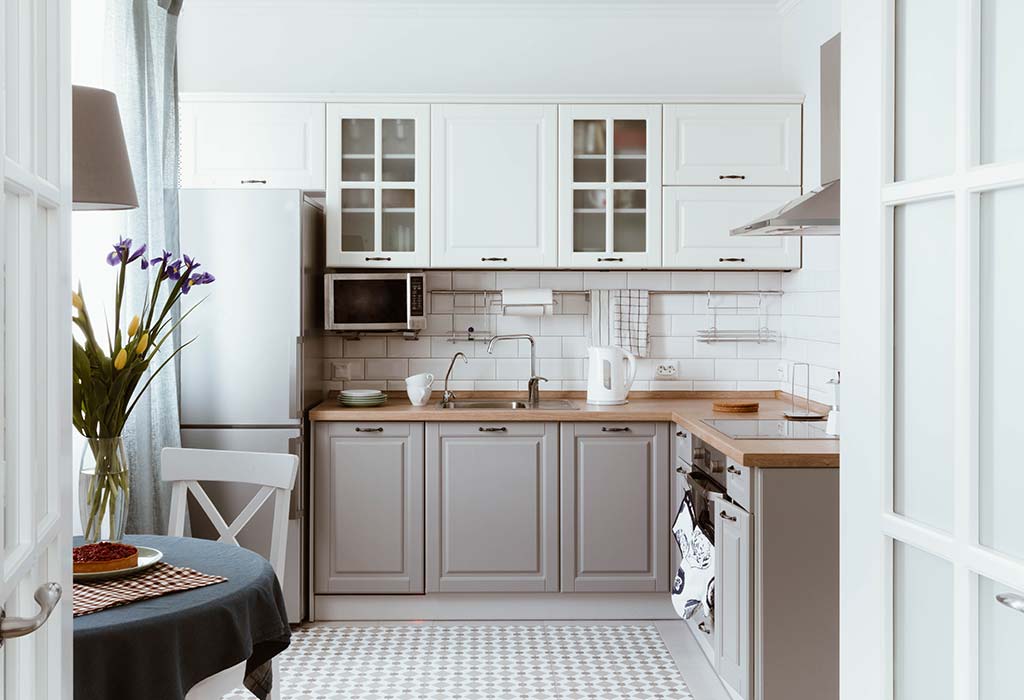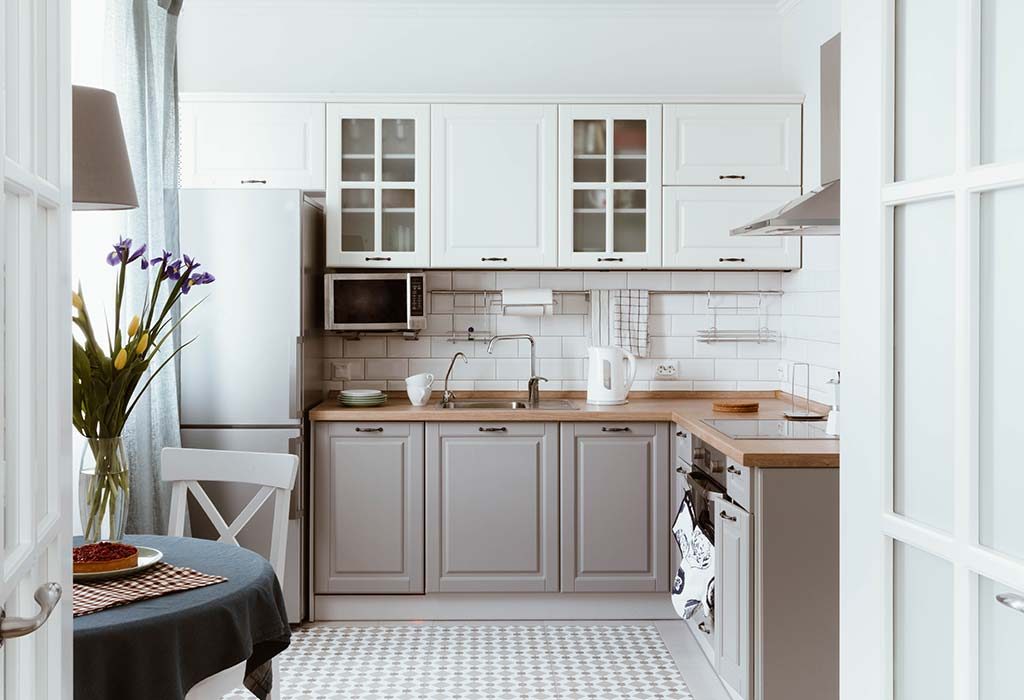 6. Canary Yellow With White
The jazziest way to get in the mood for cooking is to have canary yellow in your kitchen. This is one of the best colours for kitchen walls if you like eclectic décor.
7. Deep Plum
Royal colors bring grandeur to the kitchen, and deep plum will make you feel pretty special.
8. Pastel Sandstone
Sandstone is a very soothing colour to choose for doing up your kitchen. Pick a pastel or cool shade that brings an element of peace with it.
9. Forest and Foliage Green
Nature and serenity will speak to you through your kitchen walls if you go for forest green combined with whites and maybe a bit of light blue.
10. Dark Grey and Light Grey
Combine dark and light grey for a simple yet classy kitchen.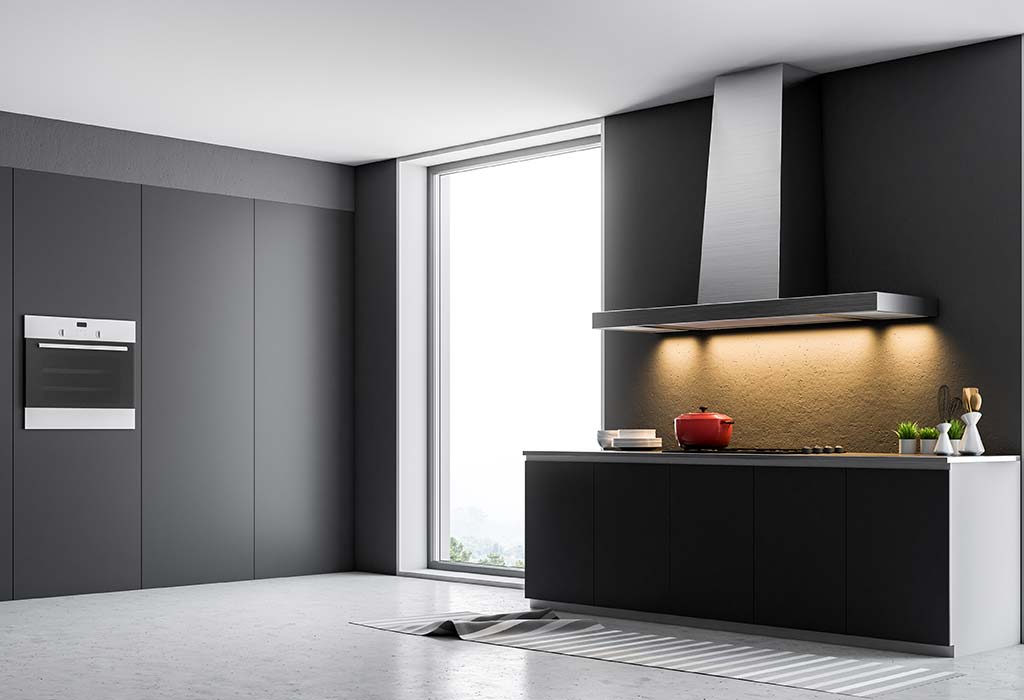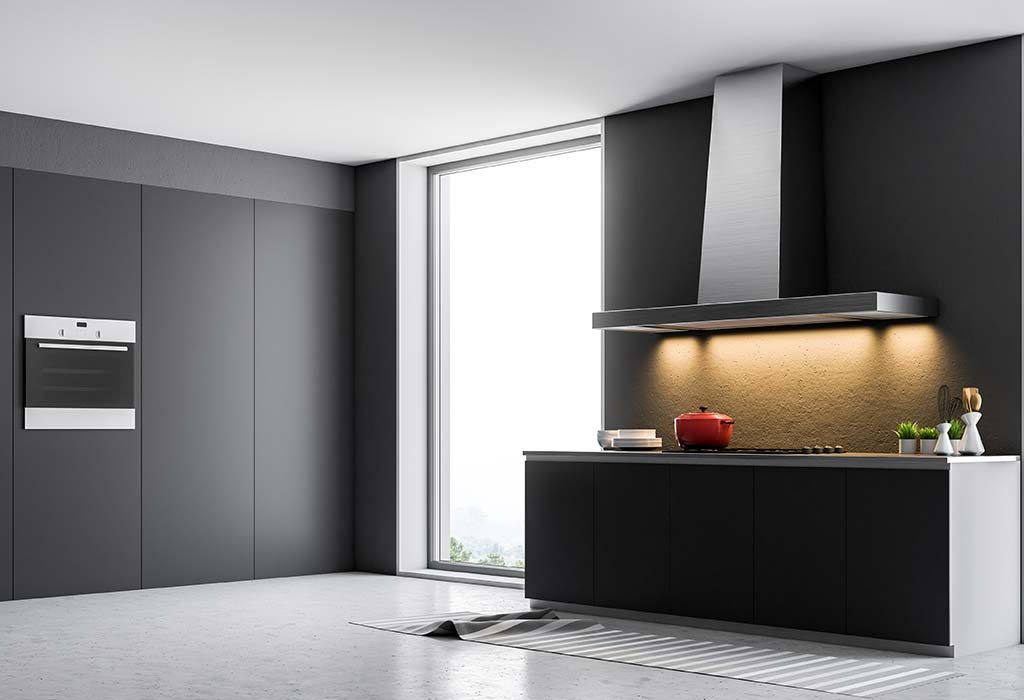 11. Red and Ivory
There is nothing that can beat bright and popping red in a kitchen. It is an appetising colour and works splendidly with ivory to contrast.
12. Burgundy and Wine
This is another deep color that can add energy to your kitchen walls and make you feel like cooking some stellar stuff.
13. Pink and Green
An offbeat yet surprisingly beautiful combination is light pink with mint green for your dainty kitchen.
14. Powder Blue
Have powder blue walls and bring in some electric colours if you want some distinction.
15. Yellow and Pastel Green
A combination of yellow and pastel green colour raises the brightness of your kitchen while making it look wholesome and warm.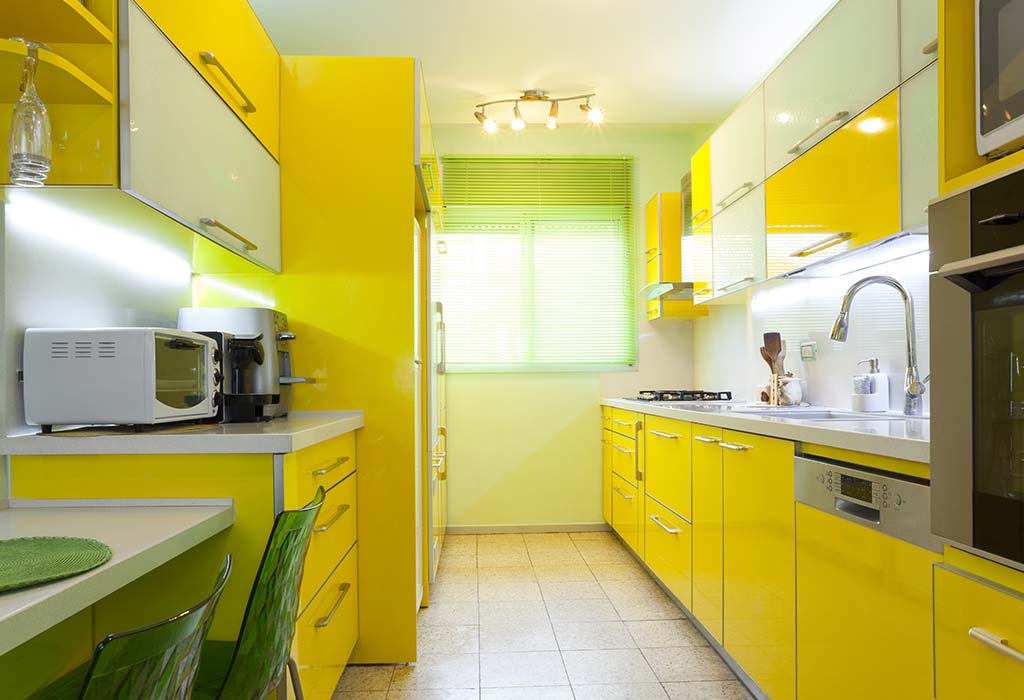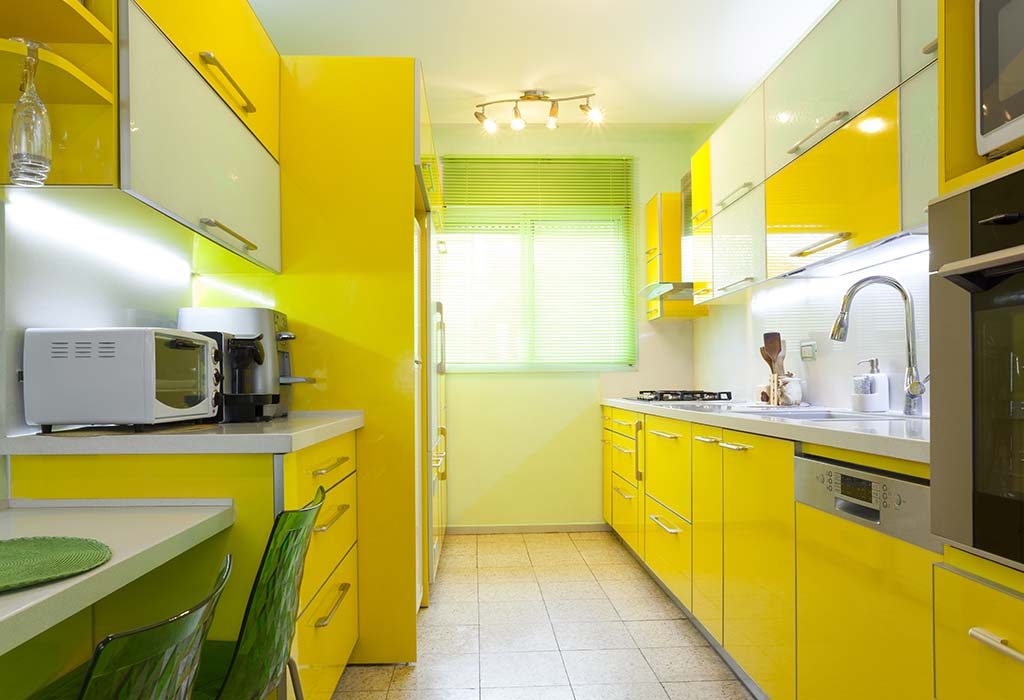 16. Blue, White, and Green
Add a touch of natural elements to your kitchen by mixing blue, green and white into your walls and cabinets.
17. Popsicle Orange
This is a must try colour if you want a bold look in your kitchen. It screams style and chic however you choose to incorporate it.
18. Multihued Backsplash and Cabinets
Have a multicoloured kitchen by tiling with several different colours. Have kitchen cabinet colours to reflect this multicoloured pattern too if you want some fun.
19. Just a Pop of Red or Yellow
Paint the entire kitchen uni-colour and then add a pop of red or yellow by painting just the lamp shades or the bar stools. It gives a modern look to the kitchen.
20. Retro Green and Blue
Go retro with patterned tiles in green and blue or paint the kitchen walls with patterns using two colours.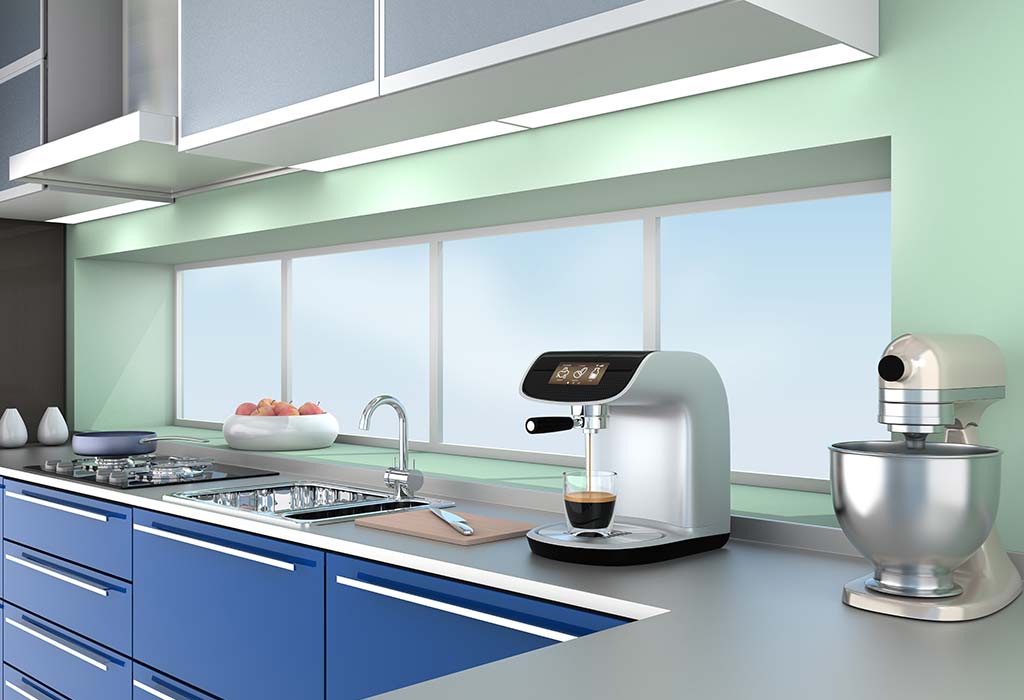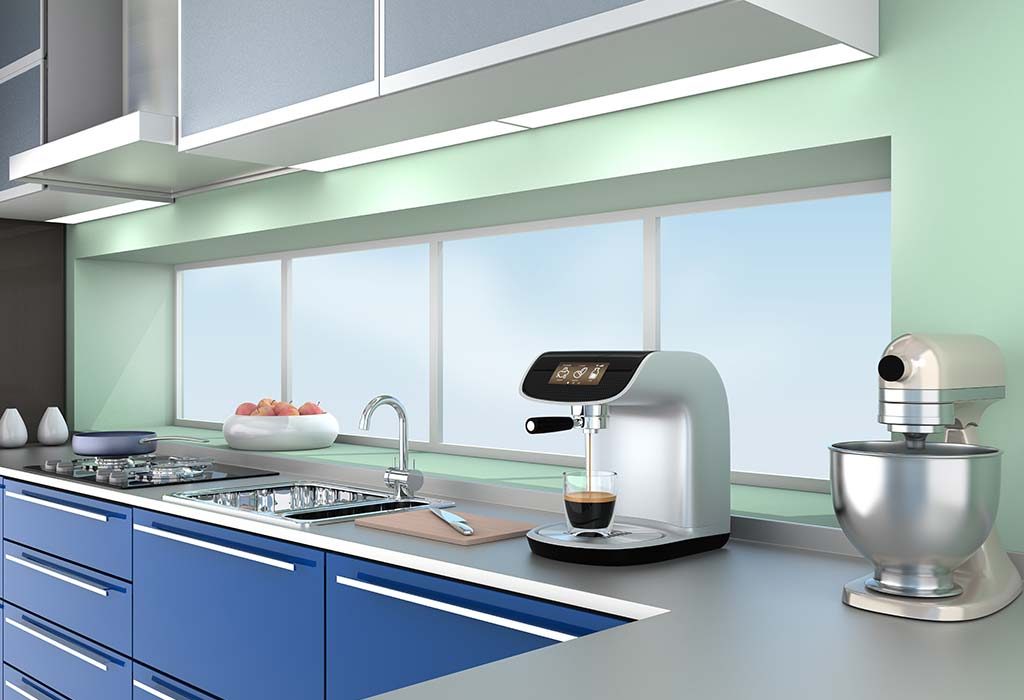 However, you choose to paint your kitchen, remember to use the concepts of uniformity, contrast, and synchronisation to your advantage and never go overboard with colour play.
Also read:
Tips to Decorate Your Kitchen With Indoor Plants
How to Clean Greasy Kitchen Chimney at Home
Effective Tips for Cleaning Burnt Vessel Like a Professional