20 Easy And Fun Backyard Fire Pit Ideas For Your Outdoor Space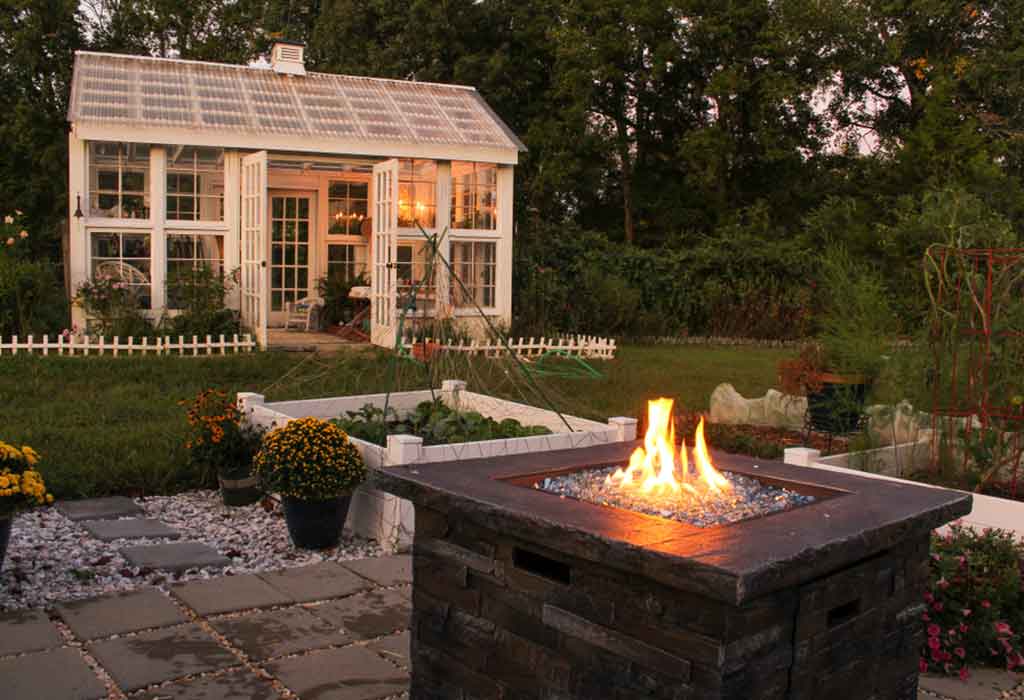 No backyard is complete without a fire pit! It's everybody's favourite place to gather, especially during the colder months when you have guests over. You can either spend a lot of cash and get it professionally done, or get creative, build one yourself, and have your friends appreciate you for creativity. Depending on the kind of landscape you have in your backyard, you could create a permanent or have a portable one that you can set up for a gathering. We've put together some homemade DIY fire pit ideas in this article to get your creative juices flowing.
Creative DIY Fire Pit Ideas You Can Build Yourself For Your Yard
Check out these 20 unique fire pit ideas that you can implement yourself without specialist knowledge:
1. Cinder Block Fire Pit
This idea works well if you have a spacious backyard or a farmhouse. Pick cinderblocks of your choice. You could even use repurposed materials to make it inexpensive. Start by digging a shallow hole and place the blocks to form a square-shaped pit. Use cement to keep the fire pit together in a solid shape for years to come.
2. The Classic Fire Pit
Here is another idea that's excellent for a large backyard or a farmhouse. When built well, it can last a lifetime! Dig a hole that is 4 ft. in diameter and about one ft. deep. Fill up the bottom of the fire pit with lava stones for two inches. Line the side of the wall with inclined brinks. Place some flat stones around the periphery of the pit to complete it.
3. The Modern Desert Fire Pit
This design is something you can quickly put together to complement a barbecue at our place. All you need is a small load of various-sized stones. Arrange the biggest ones in a circle, form the basic structure and fill it up with some sand about halfway. Throw in the smaller rocks to complete the fire pit. How you arrange the stones makes a difference to both the airflow and aesthetics.
4. Coloured Glass Fire Pit
This is a clean home design outdoor fire pit with lots of seating around it. Build the fire pit out of stones to a height of about two feet and fill it up with fire glass. A propane gas fire ring inside with controllable flame should give you a dazzlingly beautiful flame that complements the glass. Use blue or yellow-coloured tempered glass for the pit that can withstand the heat and not lose lustre.
5. Rectangular Fire Pit
You will need some help to build this fire pit as it involves moving some heavy granite slabs. You only need four of them of equal length and width to form the fire pit's square. There's no need for cement as the fire pit will stay together under the sheer weight of the stones. Granite slabs are often used in the construction industry. You can buy new ones or repurpose some from demolished sites.
6. Outdoor Composite Fire Pit
This fire pit is not too different from other designs except that it has a steel ring insert to keep it neatly shaped. You can build it from paver blocks of any rock you choose and arrange them in a circle around the steel ring. Use a little cement inside to keep the blocks together for a long time. Make it as large as your backyard can handle.
7. Half-Wall Stone Fire Pit
The half-wall stone fire pit is quite a bit of work if you are a beginner to DIY projects. However, this is one of the coolest and most rewarding backyard fire ring ideas if you can pull it off. It would help if you had plenty of space to set it up and a lot of paving blocks or stone bricks. Use some cement to keep it together and allow it to withstand the elements for years to come.
8. Concrete Tree Ring Fire Pit
The tree ring fire pit goes well with all home decors and is a very artistic work that you would be proud of. Start with two different tree ring diameters to make an inner pit and an over envelope. Add in some pebbles between the two rings to give it an excellent finish. It is a bit small in size; you can place it anywhere.
9. Washing Machine Drum Fire Pit
A repurposed washing machine drum works beautifully as a fire pit for a small party or a family gathering. The best part is that it is small and portable and fits houses of all sizes! All you need to do is pick up a washing machine drum from the junkyard and weld two pairs of legs to the bottom to keep it stable, and that's it!
10. Concrete Bowl Fire Pit
Talking about small fire pits for small houses, this one balances a small size with a great aesthetic appeal. All you need is a concrete bowl and some pebbles to fill it up a third of the way. You could get creative and intrude a gas line into it from below for the fire or use gel fireplace fuel cans to get the desired flame.
11. Koi Pond Fire Pit
Unused Koi Ponds can be transformed into beautiful fire pits when the occasion arises. Since they are already lined with stones, there's not much work to be done. Ensure you remove any plastic or PVC material sensitive to heat, and you are good to go. Just add a layer of sand and some pebbles and the fire pit is ready.
12. The Glass Fire Pit
This fire pit is simple to make in a true modern innovative DIY style and goes well both inside the house and in your yard. You would need a metal planter and some thin borosilicate glass sheets, the kind used in grill ovens. Make a rectangular box with only four sides that fit perfectly over the planter. Fill up the planter with pebbles and use fire gel fuel cans for the flames.
13. Mini Planter Fire Pit
For a cosy night out on the porch, you need a small fire pit, and there is none better than this one made out of a flower pot. Fill up the inside of the pot about 2/3rd of the way with concrete and, using a fuel gel canister, create a cylindrical hollow in the wet concrete. Surround the hole with fire glass or pebbles, and the fire pit is ready.
14. Truck Wheel Rim and Stone Fire Pit
If you can source a discarded truck wheel, then the rim makes for a beautiful fire pit. Place it on a sand bed and line the outside with stones. You could use this as a temporary fire pit or fix it permanently on the ground using cement.
15. The Barbecue Grill Fire Pit
For a more decorative fire pit idea, build a fancy pit around your basic barbecue grill. Get concrete pavement blocks of different colours and arrange them in two concentric circles. Fill up space in between with pebbles or gravel. The centre pit is where the barbecue grill sits.
16. The Rectangular Fire Pit
This is one of the most accessible brick fire pit DIY ideas if you wish to keep it simple. All you need are a couple of concrete blocks and an estimate of how big you want the fire pit to be. Dig a rectangular pit in the ground and line the walls with the concrete bricks. Apply a little cement to keep it together and strong enough to take the weather.
17. Old Wheelbarrow Fire Pit
If you are looking for some creative garden campfire ideas, then this wheelbarrow should fit the bill. It can double as a fire pit for your garden party if you have an old metallic wheelbarrow. All you need to do is build a firm base for the wheelbarrow to stand and get the fire going. The older models can take all kinds of harsh treatment and still work for decades.
18. The simple Fire Pit
If your garden has a surplus of rocks from landscaping, then all you need to do is arrange them in a circle and add some black sand inside to form the base. If you wish, you could add some pebbles and the fire pit is ready! These pits can burn anything from firewood to fuel gels and need little to no maintenance making them one of the best outdoor bonfire pit ideas.
19. The Flat Stone Fire Pit
Again, this one uses surplus material leftover from landscaping, or you could order more flat stones just for the purpose. Arrange flat garden stones in a circle to form a neat fire pit. The gaps in the stones can make a fire with plenty of air. Be careful to balance the stones nicely.
20. Simple Fire Bowl
Gardening metal pots and bowls make excellent fire bowls, and there is no limit to creativity when it comes to using these. Any fire bowl will need a good set of legs to keep it stable and off the ground. To make it look appealing, fire glass should work, especially when burning gel fuels.
These fire pit ideas are simple to apply, and the fire pits last for years when maintained properly. You can customise them to suit your needs better.
Also Read:
Outdoor Dining Room Ideas
Front Porch Décor Ideas for Home
Summer Wreath Ideas for Front Door