20 Best Color Schemes That Will Give a Professional Interior Look to Your Bedroom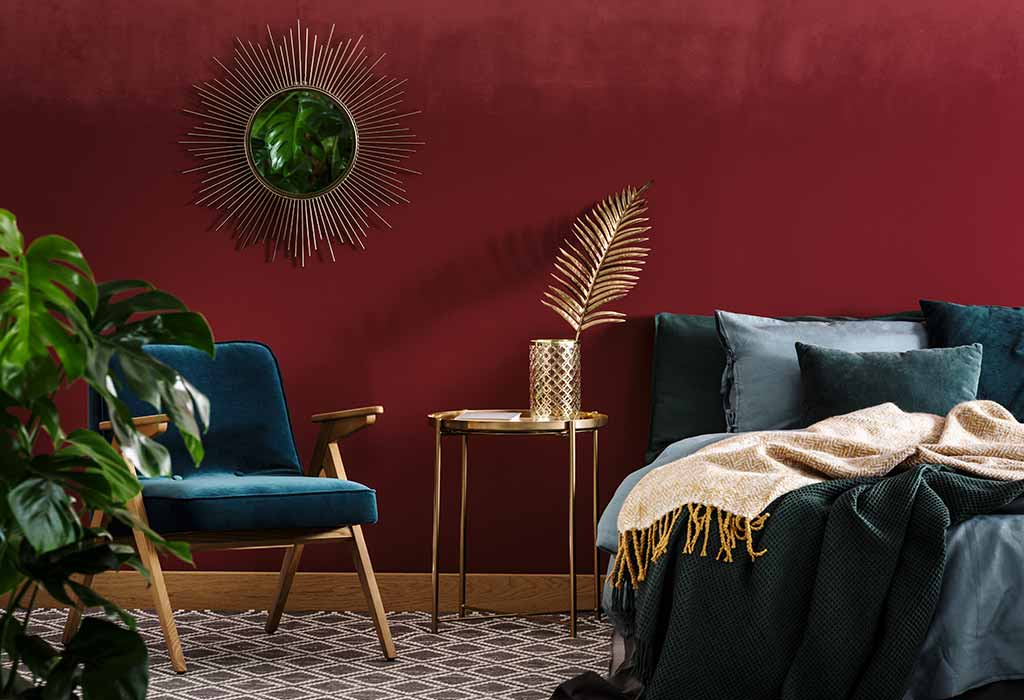 In this Article
Our bedroom's color scheme and lighting effect can boost our mood and energize us to take on each new day. Bedroom paint schemes are very personal. They evoke feelings of happiness, warmth, and comfort. Whether you prefer punchy accent colors, single tonal shades, or soothing neutrals, your bedroom should look inviting enough to offer you peace and joy after a stressful day at work.
Perfect Bedroom Color and Combination Ideas
Your bedroom is the best place to introduce or experiment with a new color scheme as it can be the most longed-for corner of your home. Believe it or not, having your own personalized space to your tastes can make a big difference to the way you think and feel. Master bedroom color scheme ideas can convert the mundane sleeping place into a haven of tranquility. Putting together the perfect bedroom requires careful curation, patience, and precision, but it's worth the effort. Dark bedroom color schemes have a sophisticated charm and dramatic appeal. Such colors emanate a warm feeling that gives large rooms a more cozy and intimate appearance. Contrarily, light colors are expansive and airy, making rooms seem larger and brighter. Monochromes are boring and have gone outdated. Two-color combinations for bedroom walls complement each other and are in vogue in the latest interior design trends. These charming shades keep you happy yet calm in your bedroom. The delicacy and smooth appearance of the pink two-color combination for bedroom walls can create a romantic atmosphere that uplifts your mood instantly. If you're up to remodeling your bedroom and looking for inspiration, here is a compilation of the best color palette for bedrooms that might add the magic and refresh its look.
1. Boho Chic
A new color scheme and updated furniture can improve a boho-inspired bedroom. Bring the outdoors in with a bedroom with lush green walls while an earthly tone of beige can keep the balance. Green denotes freedom and prosperity, and it's also considered restorative as a bedroom color. While bohemian styles include mostly vibrant colors, a deeper tone of green can stay true to an unconventional look. White curtains and bedding will illuminate the room, while natural wood furniture and patterned carpet can enhance the bohemian theme.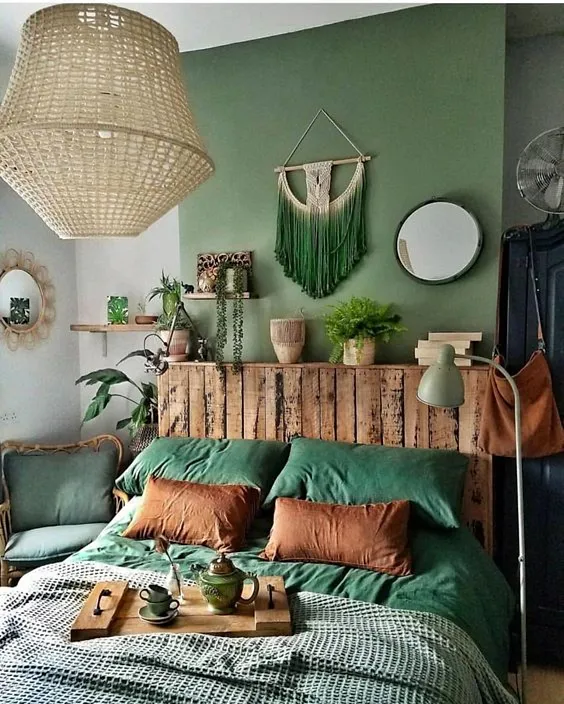 2. Happy and Warm
Depending on the shade, red can aid passion or anger. So, before splashing it on your walls, choose a subdued shade of red and mellow yellow to create perfect harmony in your bedroom. Add hints of yellow with couch pillows and small decor items.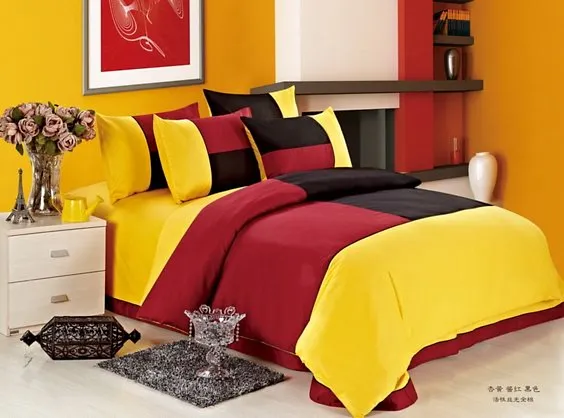 3. Pink and White
The wonderfully feminine shades of pink include fun bubblegum, traditional rose, and bright coral, matching well with large swaths of white and beige in contrast. You may use a pink sheet with few throw pillows on the coordinating loveseat. Elegant lighting, butterfly-pattern Roman shades, a beveled mirror further elevate the design. Balancing sophistication with childhood whimsy, this room enveloped in pink will be the most age-appropriate both now and later.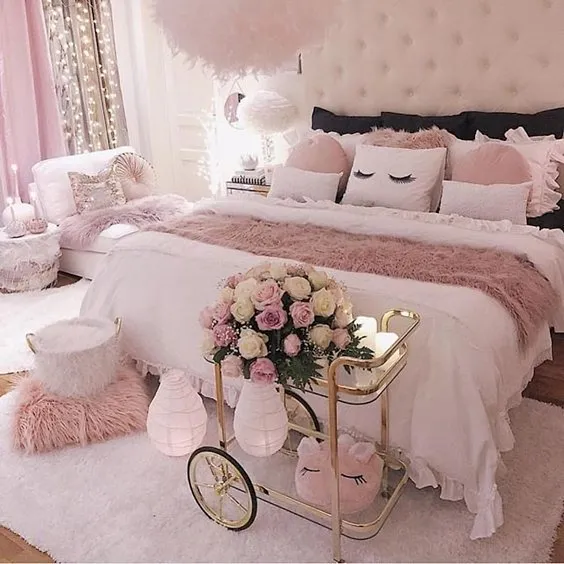 4. Burnt Orange and Gray
The boldness in the orange color emanates an energetic positive vibe. When shades of orange are matched with neutral colors like gray, they bring unique charm that is vibrant yet not overwhelming. Rusty burnt orange creates an earthy country scheme for your sunny oasis. Combine it with patterned cushions, leather accessories, and wooden furniture for a woodland-inspired bedroom with a vintage vibe.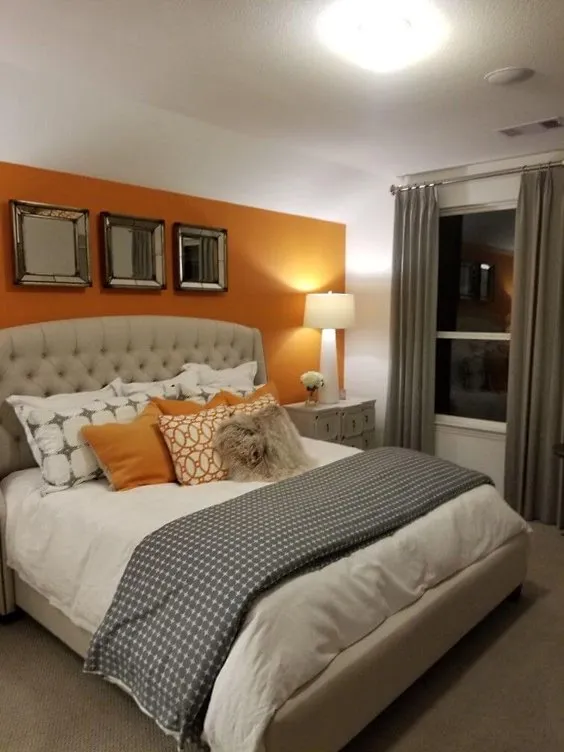 5. Nude Color Schemes
Subtlety can be the pinnacle of style as nuances such as white, beige, and ivory turn the four-walled spaces into a peaceful abode where you feel contented and in harmony. An understated nude-based palette of a bedroom allows for more dramatic choices in other areas, like tufted upholstery, a mother-of-pearl inlaid bench, and a brass chandelier dripping with shiny prisms. Taupe and champagne look luxurious with stain and brocade fabrics.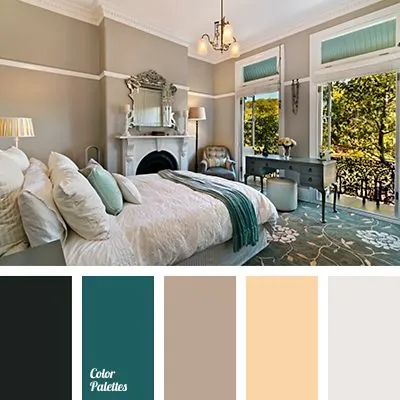 6. Mellow Yellow and Gray
A bedroom full of vintage yellow with a touch of modern gray can awaken the senses with sunny and positive vibes. Imagine yourself lazying in a stunning room with gray walls decked up with a beautiful yellow lampshade and yellow cotton curtains fluttering in the summer breeze! Add a hint of serenity with lots of white and introduce geometric patterns in the form of chevrons for a sharp, contemporary finish.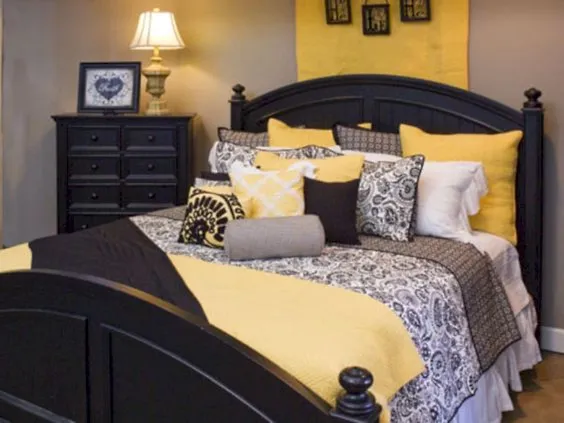 7. Crisp White
Simple and calm, an all-white bedroom scheme oozes sophistication. But simple doesn't have to mean boring. Inject visual interest and keep a bedroom feeling peaceful with a natural wood floor, accessories with green tones, and luscious prints. The neutral base also allows you to mix things up with varied textiles and bed linen, depending on the season. Stick an oversized lace pattern wallpaper. Diverse textures can give the scheme a three-dimensional effect.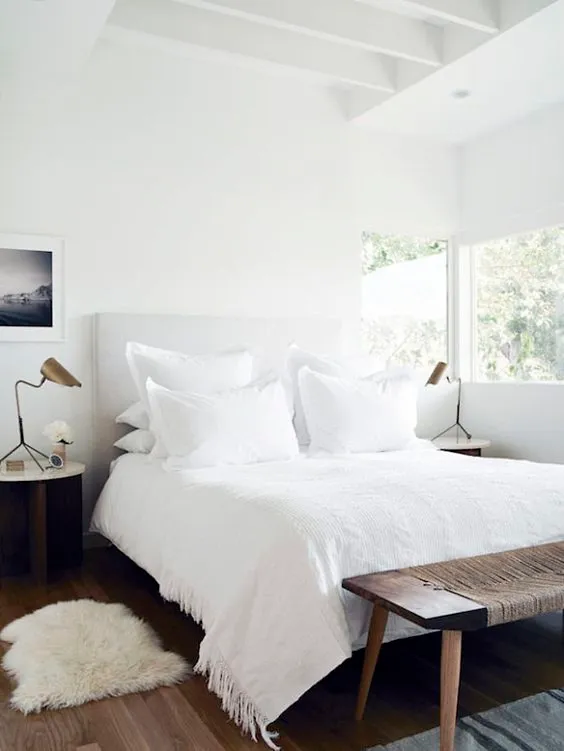 8. Powerful yet Cozy
Purple is a vibrant and powerful shade. Its light shades, such as lilac or lavender, have a soothing and revitalizing effect. Dark purple walls make excellent accent colors that can make a space look royal. So balance it with lighter shades like gray and soft beige. A lilac throw on the bed, soft beige carpet, muted flooring, and accessories styled up with vintage-style floral prints can enliven the look of the room.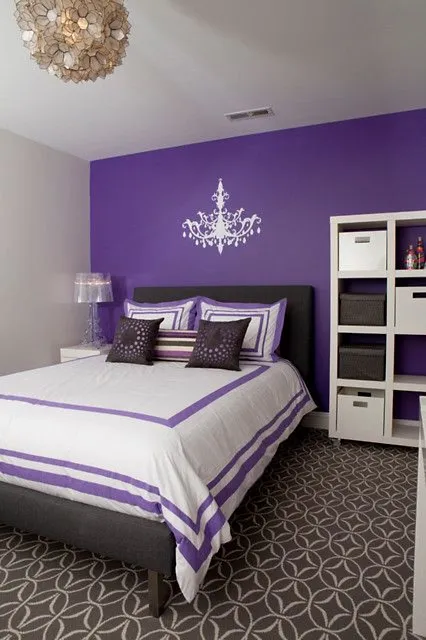 9. Soothing and Blissful
A blend of classic blue and white for your bedroom can never go wrong if you wish to keep it simple yet sophisticated. The combination of blue and white soothes and relaxes our minds. You can rely on breathy soft blue or pastel blues if you want the space to seem open and bright. Try a darker shade for a more saturated tone. Pair a sky blue that looks consistent and pair it with wall art featuring nature silhouettes for a complementary aesthetic.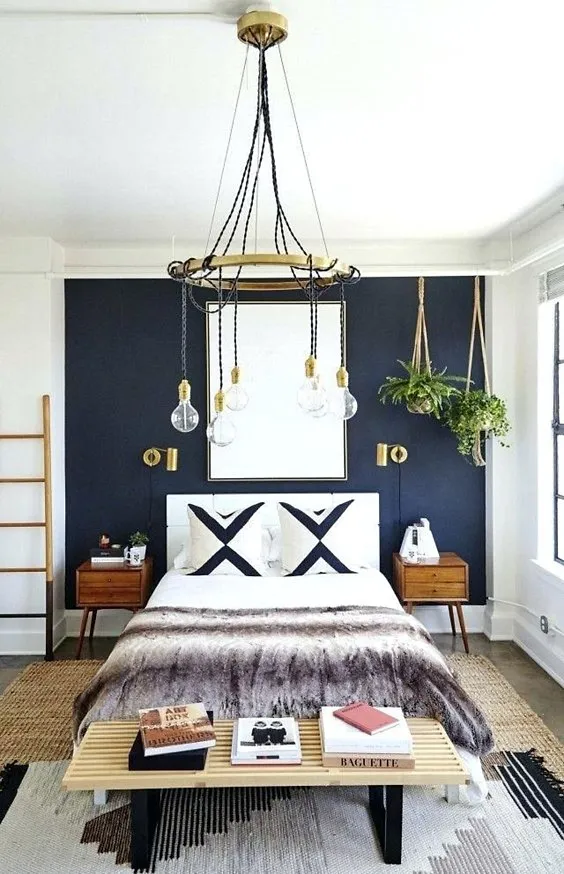 10. Casual yet Modern
If you like a casual yet chic look for your room, just create a neutral color scheme with shades of grays and browns. A textured accent wall in natural wood design can pack a punch of style and take your bedroom to the next level. Make it cozier with leather accents, wooden flooring, and fur throws.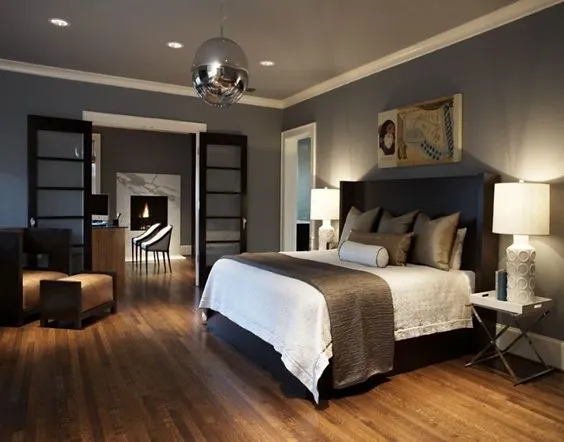 11. Soft Black
Dark wall color can transform your bedroom into a cozy cocoon. Eclectic furniture adds a more lived-in and homey vibe to the darkness, while cool modern lighting solutions and decadent wallpapers can complement the shade. White painted floors, white and linen toned bedding provide a welcome contrast to the warm black-brown surroundings of your sleeping quarters.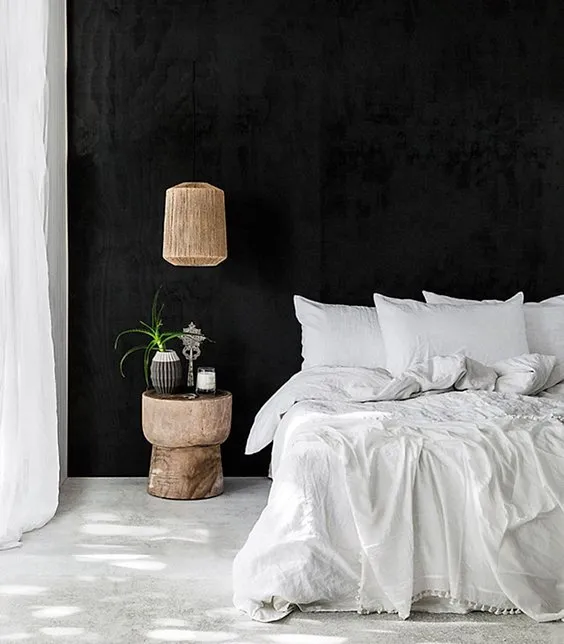 12. Regally Glamorous
Even a private space like your bedroom cannot escape from the regal appeal of gold. This metallic color can get really subdued with black and pop out in the presence of white. A gold sheen accent wall can highlight the décor but remember introducing muted tones that look too overwhelming for your master bedroom. The off-white bedding and cloudy tan walls are the neutral colors that this bedroom needs. A perfect alternative to a plain golden wall is a patterned gold wall design.
13. Blush Pink
Soft blush pink creates a minimalistic look for your bedroom. It not only works in different styles ranging from the traditional bedroom with clean lines and classic furniture to more modern space that incorporate hints of colors that offset the pink like a light teal sheen chair.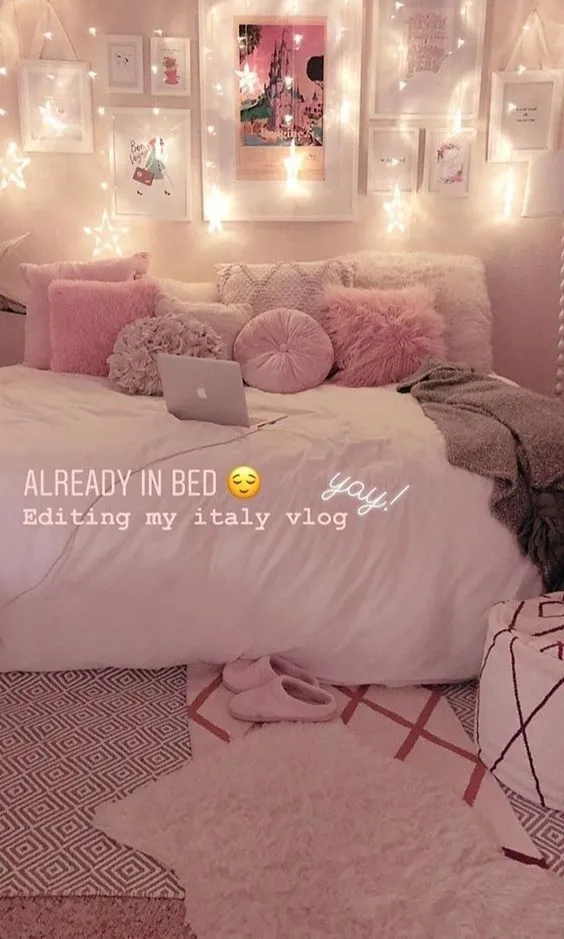 14. Glorious Sunshine
This stimulating shade adds a lighthearted touch to any bedroom space. Luckily, it's an easy-going team player that works well with other colors and adapts easily to any decorating scheme. The accent walls, curtains, and bedding help illuminate the room, while the wood floor, black side tables, tan and turquoise pillows keep it all in balance. Pair buttery warm yellow walls with touches of green while a turquoise midcentury modern chair can cool things down.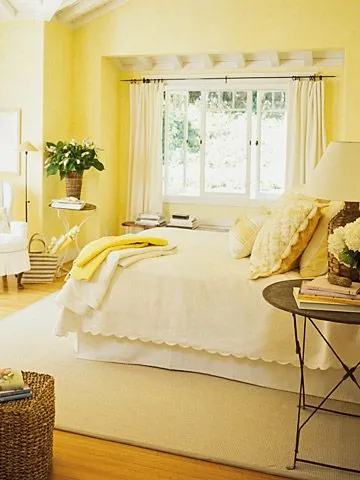 15. Cheerful Spring
Seasonal colors can spruce up your bedroom to make it look dreamy and beautiful. Cheery blooms of spring on the bedside table, printed bedding, bright lighting, colorful artwork, and a light and airy duvet can enhance the strong spring spirit of your room in a budget-friendly way. Balance out the bright shades with muted colors such as tan, beige, or white, so the bedroom doesn't appear too loud.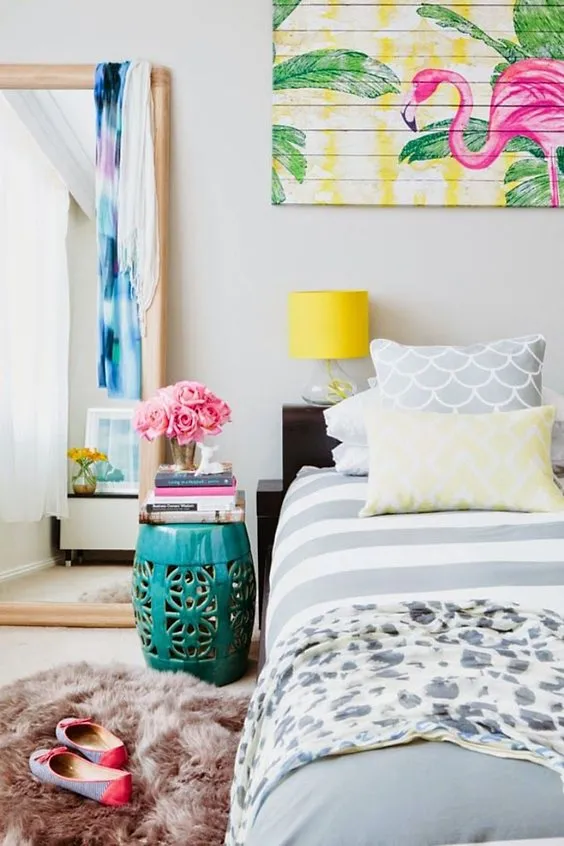 16. Multicolored Beauty
A splash of bright colors can make an ordinary room dazzle in an instant. A psychedelic design is nothing but pure energy and fun. When you mix and match different colors, wall art, accessories, and furniture, your room becomes art by itself. A multicolor comforter with matching pillows with tones of mint green, navy, orange, and white works well. One daring creative mural to spice your bedroom walls!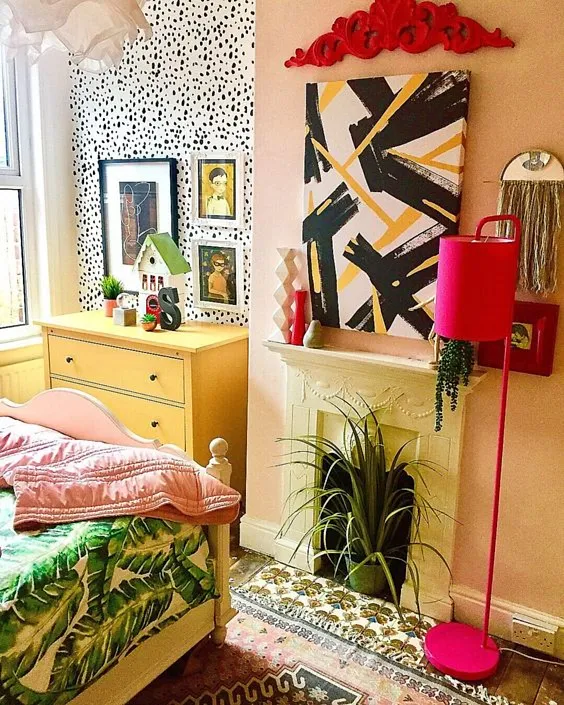 17. Forest Den
Nature-themed bedrooms can be created with deep earthy colors. The most obvious color choice is green to simulate the rich hues of a forest canopy. Choose from light to dark hues of brown for a more subtle color palette. An open-weave cane pendant lamp, weathered wood bed-stead, tree trunk side table, linens in tones of worn wood, or old-fashioned candle holder can make you feel as if you're in a private cabin in the woods.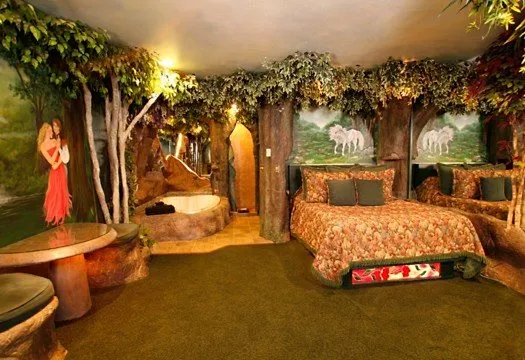 18. Warm Brown
Brown is a neutral that lends a masculine vibe and delivers warmth without overpowering the room. You can pick delicate creams, light brown shades, or dark, rich chocolate tones for a wide range of decorative styles. Level up your wall with patterned wallpaper, chair rail, crown molding, or painted stripes for a timeless and elegant look. Wall sconces, for instance, provide decorative illumination to light up a dark wall. Hanging silver or glass shelving offers a shiny modern touch to a neutral brown room wall. Furniture with natural wood finishes and navy or dark green bedding provides a cohesive look.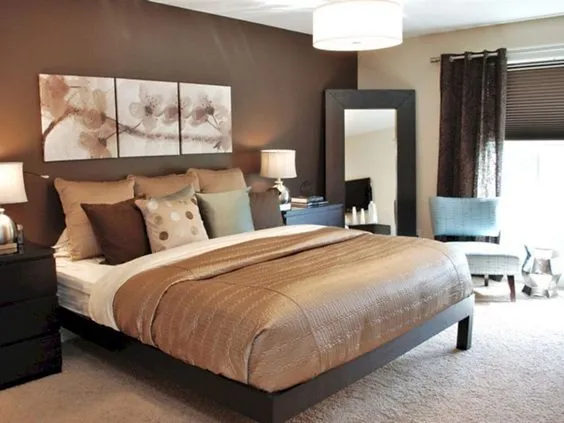 19. An Indoor Garden With Mint Green
Mint green has a surprising versatility that creates a cool, calm living space in your bedroom. The wallpaper with purple blooming flowers of soft mauve can be matched up vintage framed paintings, monogrammed bedding, and pottery lamps that channel the vigor of spring. A dove gray carpet grounds all the pastels while echoing the lived-in finish of the furniture.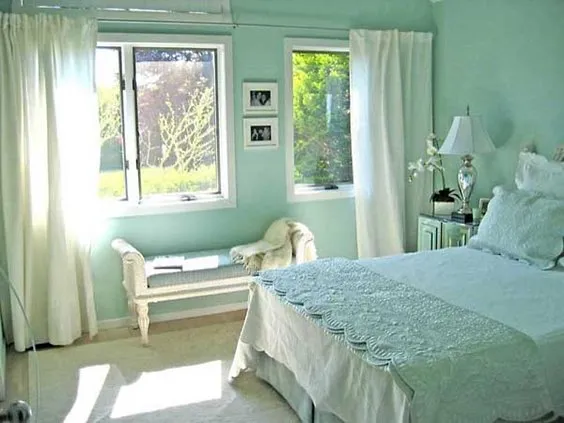 20. Black and White Tales
This classic combo weaves a tale as old as time. The strong neutrals serve as a solid backdrop for so many textures and decor styles—a single wall in matte black paint, providing a dramatic backdrop for unframed art. An oversized photo in black and white over the bed lends a romantic edge, while glints of gold and textural toppers such as cozy blankets and pillows lend this bedroom an elevated appeal.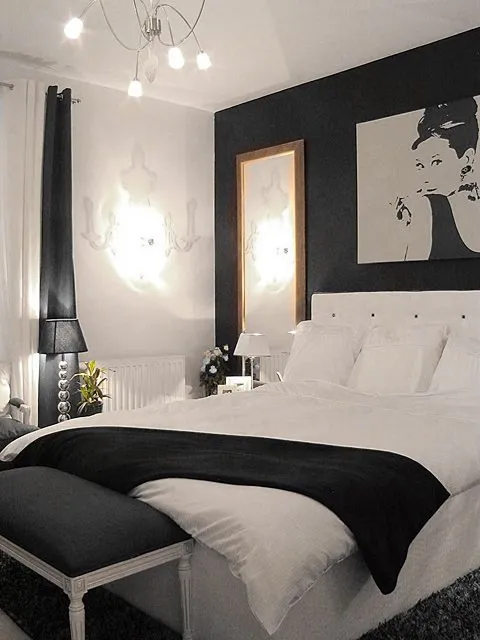 Color schemes affect people in many ways, depending on age, gender, ethnicity, and climate. However, it is important to keep in mind that trends are just transient preferences that come and go. Just let the colors do all the talking in your space and work in harmony to revitalize your spirit.
Also Read:
Best Bedroom Decorating Ideas for Couples
Monsoon Inspired Bedroom Decorating Ideas
How to Renovate Your Bedroom