18 Must-know Benefits of Carrot (Gajar) for Health, Skin and Hair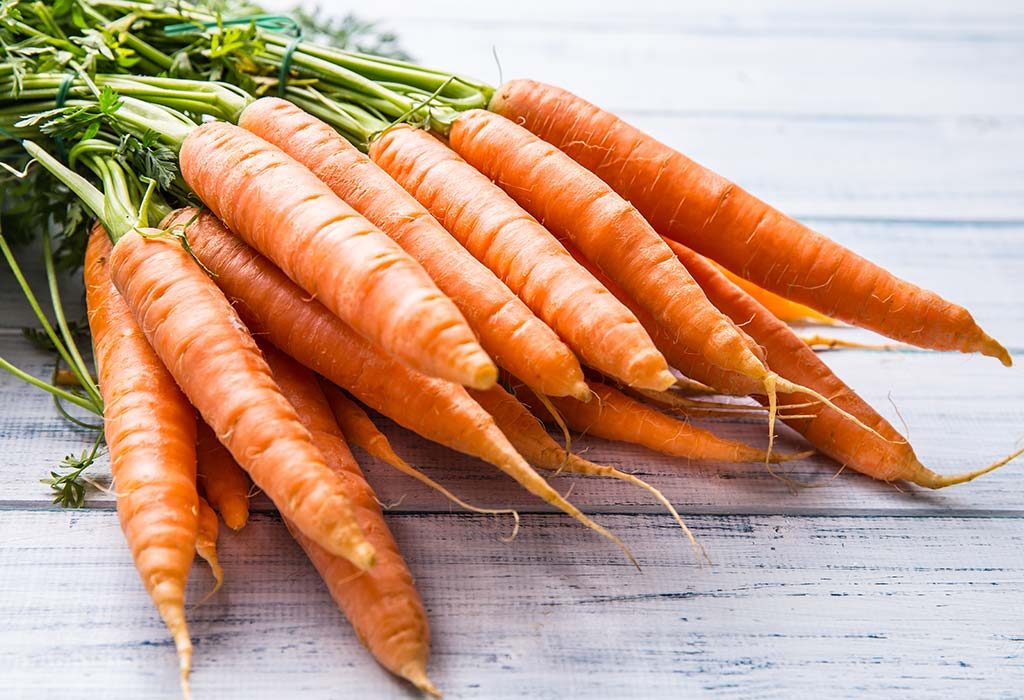 Crunchy, orange and juicy carrots offer a host of benefits for our health, skin and even hair. These are not only yummy, but are also loaded with many vital nutrients such as beta-carotene, antioxidants, potassium, fibre, vitamin K etc. Carrots are believed to improve eye health, reduce bad cholesterol, and help in reducing weight. Read on to know more about why carrots are good for you!
Nutritional Value of Carrots
This root vegetable is also considered a perfect health food because it offers a multitude of benefits. The following table shows some of the important nutrients present in carrots.
| | |
| --- | --- |
| Nutrient | Value |
| Carbohydrates | 9.8 g |
| Protein | 0.8 g |
| Sugar | 4.9 g |
| Water | 90 % |
| Fibre | 2.7 g |
| Saturated Fat | 0.03 g |
| Polyunsaturated Fat | 0.11 g |
| Monounsaturated Fat | 0.02 g |
| Calories | 40 |
This table shows approx nutritional content present in 100 grams of raw carrots.
Table Source: https://www.healthline.com/nutrition/foods/carrots#section1
Amazing Health Benefits of Including Carrots (Gajar) in Your Diet
Carrots or gajar as they are popularly called in Hindi, are mostly available in orange colour but there are other variants available too, such as white, yellow, purple and red. The bright orange colour of the carrots is because of the presence of beta-carotene, an antioxidant that gets converted into vitamin A when we consume it. Carrots are loaded with ample vital nutrients and health benefits. Following are some benefits of carrots:
1. Good for Eye Health
Carrots are good for the eyes because they contain carotenoids or vitamin A, which not only helps in improving the eye health but also helps in preventing conditions such as night blindness, age-related muscular degeneration etc.
2. Helps in Weight Loss
Are you battling overweight issues? Well, one of the best things that you can do is include carrots or carrot juice for weight loss. This is because carrots help you feel satiated for longer and also takes care of the hunger pangs. This may lead to lesser calorie intake and thus help lose weight.
3. Helps in Prevention of Cancer
Carrots contain falcarinol, a poly-acetylene antioxidant that helps in destroying cancerous cells in the tumours. One of the major benefits of carrots is that they are also loaded with anti-carcinogenic properties that help inhibit the growth of cancerous cells. Studies have proven that carrots can reduce the risk of various kinds of cancer such as colon, breast, prostate etc.
4. Helps in Improving Dental Health
Eating raw carrots can help improve your dental health because it not only helps in getting rid of plaque and food particles from the teeth, but also helps in the production of saliva by stimulating the gums. Saliva formation is beneficial for keeping cavity-forming or bacteria-forming under control.
5. Helps in Boosting Immunity
One of the many benefits of carrot juice and carrots is that they are loaded with antioxidants, which is very beneficial in boosting the immune system. If you consume carrots regularly, it helps you in building a better and stronger immunity.
6. Helps in Getting Rid of Toxins
Ample amounts of vitamin A in carrots help in removing the toxins from the body, and also prevent the accumulation of fat and bile in the liver, thus keeping it healthy. The waste elimination process is also assisted because carrots contain water-soluble fibre.
7. Helps in Maintaining Good Digestive Health
Carrots contain good amounts of fibre in them which is not only effective in aiding the digestion, but also in clearing bowl movements effectively. Fibre is also beneficial in regulating the blood sugar levels and aids in weight loss too.
8. Helpful in Dealing With Menstrual Issues
There are umpteen carrot benefits for men, but carrots also have many benefits for women and one of them is dealing with the menstrual issues. Women who have irregular menstrual flow or who suffer from heavy bleeding can benefit greatly by including carrots in their daily diet. Even for women who are dealing with menopausal systems such as hot flashes, mood swings etc, carrots can prove to be beneficial in keeping such symptoms at bay.
9. Helps in Lowering Blood Pressure
If you are battling hypertension or high blood pressure issues, carrots can prove to be of great help. This is because carrots are power-packed with potassium. Ample amounts of potassium in the body not only relaxes the arteries and blood vessels, but also helps in improving blood circulation, thus bringing down the blood pressure. It is crucial to maintain healthy blood pressure to be healthy, and high blood pressure is also associated with strokes, heart attacks, seizures, etc.
10. Helps in Lowering the Risk of Diabetes
Carrots help regulate the blood sugar levels and thus, aid in the prevention of diabetes. Studies have proven that regular consumption of carrots helps in maintaining blood sugar levels and thus reducing the risk of type-2 diabetes in the future.
These are some of the many health benefits of including carrots in your regular diet.
Benefits of Carrots for Hair
Apart from our health, carrots are also great for our mane. Here are some benefits of carrots for hair:
1. Helps in Stimulating Hair Growth
Carrots contain vitamin A and vitamin E which are beneficial in improving blood circulating of the scalp. Improved blood circulation to the scalp not only helps in promoting hair growth but also prevents your hair from premature greying. You should consume approximately 4 ounces of carrot juice regularly if you wish to have long and thicker tresses.
2. Helps in Preventing Hair Loss
Carrot and carrot juice are great for battling with hair fall issues as they help in strengthening the roots of the hair. This happens because of the presence of various vital vitamins and minerals in carrots.
Benefits of Carrots for Skin
How can your skin benefit from carrots or what are the carrot juice benefits for skin:
1. Helps in Treating Skin Ailments
Carrots can be added to your daily diet if you wish to cure skin ailments such as acne, dermatitis, pimples, rashes etc. Carrots are loaded with anti-oxidants, which lend it qualities that help in preventing skin ailments.
2. Helps in Preventing Skin Dryness
Dearth of potassium in the body may also lead to dry skin. However, including carrots in your diet may help in dealing with skin dryness because carrots are loaded with potassium. Therefore, drink carrot juice and keep your skin moist and supple.
3. Helps in Providing Sun Protection
The harmful effects of the sun can cause permanent damage to the skin; however, carrots can help in providing much-needed relief from the harmful effects of the sun. Beta-carotene helps in repairing the skin from the sun damage and also protects against the harsh effects of the sun.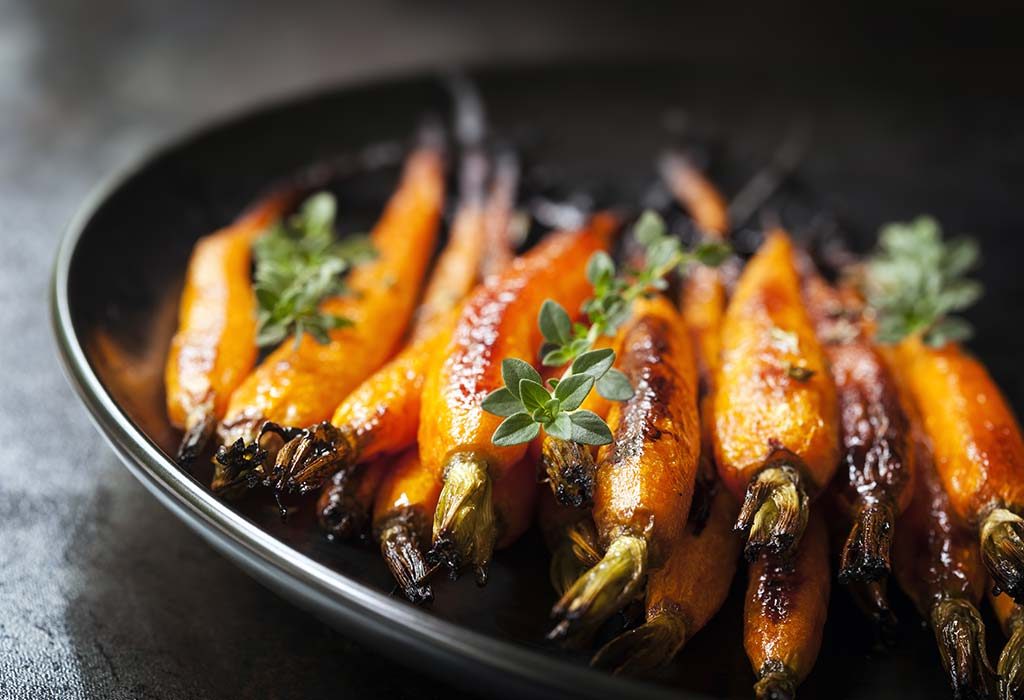 4. Helps in Preventing Ageing
Including carrots in your regular diet can help in preventing the ageing process. This happens because the presence of beta-carotene acts as an antioxidant that helps in reversing cell damage, which occurs due to the body's regular metabolism.
5. Helps in Treating Scars and Blemishes
The antioxidants present in carrots are also beneficial in healing scars and blemishes on the skin. You can simply apply carrot pulp or juice on the face to clear out these skin imperfections.
6. Helps in Maintaining a Healthy Glow
Carrots are packed with nutrients that act as beauty boosters for the skin. The presence of vitamin A, vitamin E, antioxidants and other important vitamins and minerals help in adding a healthy shine and glow to the face. You can eat carrots or apply them in the form of a pack to obtain its benefits.
Carrots Facial Masks for Your Skin
Here are some carrot facial mask recipes that you can try for your skin:
1. Calming Spray
Exposure to pollution and sun can make our skin extremely tired and dull. However, this calming spray may help in getting back that lost charm and glow of your skin. Here's the recipe!
What You Will Need
½ cup fresh carrot juice
1 cup rose water
A spray bottle
How to Make and Use It
Take both the ingredients and put in the spray bottle. Shake well.
Use this spray on your face and body to feel refreshed and reduce the harsh effects sun, dust and heat.
2. Moisturising Mask
This mask is great for moisturising the skin and giving it a healthy glow.
What You Will Need
2 tsp carrots, grated
1 tsp milk cream
1 tsp honey
3-4 drops of olive oil
How to Make And Use It
Take a bowl, add all the ingredients and mix well.
Apply on your face and neck; let the mask sit for 15-20 minutes.
Wash with cold water and pat dry. Notice healthy skin that shines from within.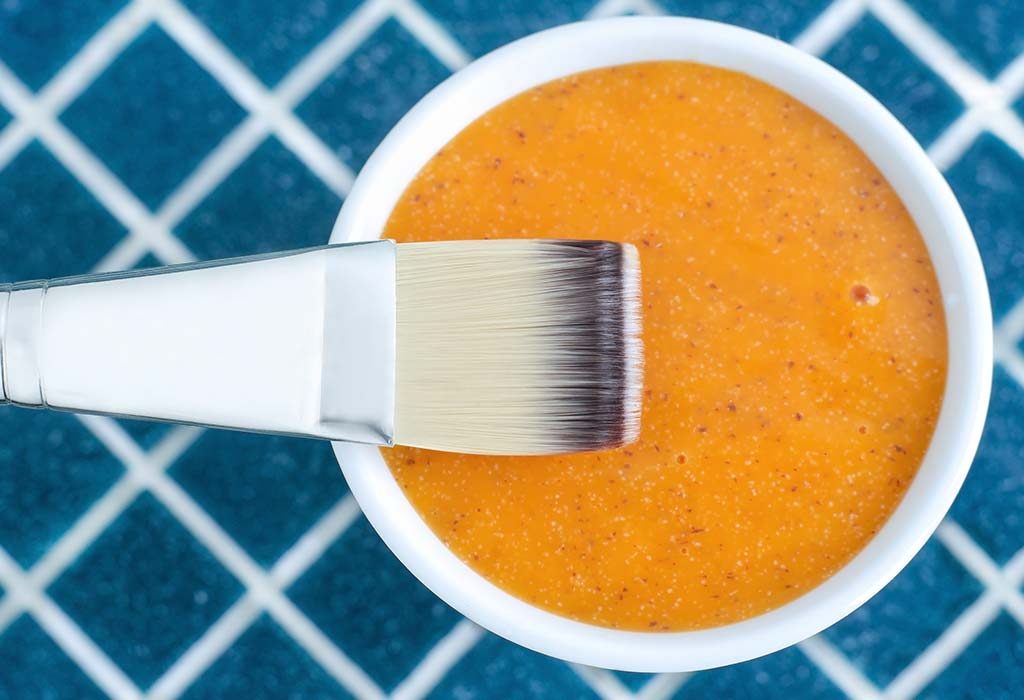 How to Store Carrots?
Carrots should be stored under refrigeration in a sealed plastic bag. Make sure you discard the leaves before storing them, because the leaves can draw nutrients and moisture from the roots.
How to Include Carrot in Your Diet?
Carrots should be consumed in their fresh form. You can eat them raw or steamed, boil, sauté or even bake them. Carrot is a versatile vegetable and can be used in many culinary preparations. If you are wondering how much carrot to eat per day, well, you can safely consume up to 2 to 4 cups of carrots in a day.
Are There Any Side Effects of Eating Carrots?
You might wonder whether or not there are any side effects of eating or drinking carrot juice every day. Well, there can be side-effects if you consume them in large or more than required amounts. Here are some drawbacks that may occur:
It can cause a slight change in skin colour.
People who have psoriasis should avoid high doses of vitamin A as it could lead to hypervitaminosis.
It can cause pollen-related allergic reactions.
If grown in contaminated water or soil, carrots may contain heavy metals that may cause a probable threat to health.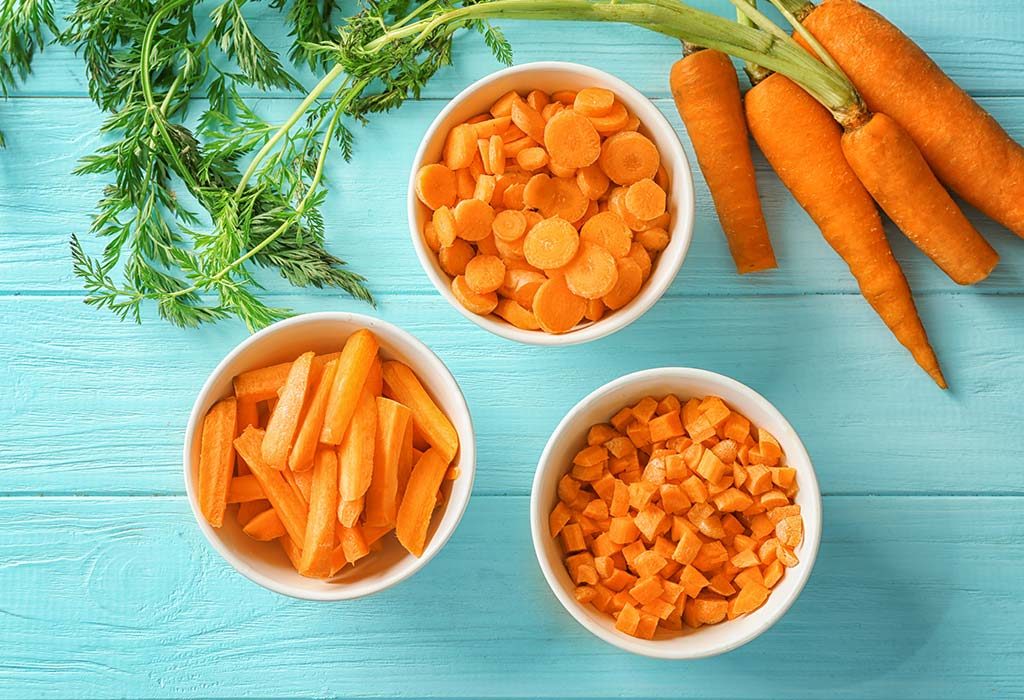 FAQs
Here are some FAQs:
1. Is Drinking Carrot Juice the Same as Eating Carrots?
No, eating carrots and drinking carrot juice is not the same thing. Eating carrots offer you more fibre, which is good for the health; however, drinking juice is not only high in sugar, but it also offers less fibre. Therefore, drinking a glass of carrot juice is certainly not a replacement for eating carrots.
2. What is the Best Time to Drink Carrot Juice?
You can enjoy carrot juice any time during the day, however, drinking it on an empty stomach in the morning hours is certainly a better choice. This is because your body tends to quickly absorb all the vital nutrients on an empty stomach; however, if you have it with your meal, the nutrients may get absorbed slowly.
3. Are There Any Benefits of Eating Carrots During Pregnancy?
If you are wondering what are the uses of carrot during pregnancy, well, carrots are loaded with beta-carotene, which is critical for your growing baby's bones, skin, eyes and development of other organs.
Carrots are a boon for our overall health; therefore, it is important to include them in our diet to take advantage of all the health benefits!
Amazing Benefits and Uses of Lemon (Nimbu) for Your Family
Health Benefits and Uses of Holy Basil (Tulsi)
Nutritional Benefits and Medicinal Uses of Honey