15 Trendy Fall Makeup Looks to Try This Year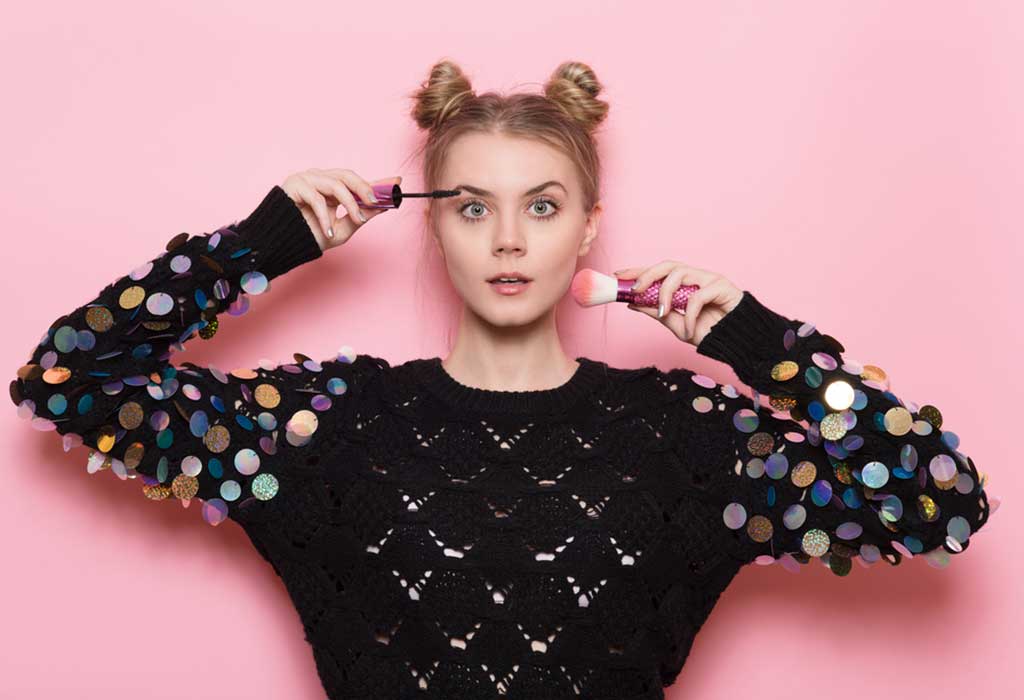 In this Article
You may feel vulnerable and chapped in the cold, but it's also an excellent time to experiment with your cosmetics. Many autumn staples come back in the fall season, such as boots and hats. However, with changing trends, finding the perfect fall makeup ideas may be a challenge. To relieve you of some brainstorming, here are 15 stunning ideas to inspire you this fall.
15 Best Makeup Looks to Look Gorgeous This Fall
Our home decor and clothes are beginning to become a little cozier now that fall has arrived. Be sure to update your makeup looks for fall as well. However, it may be fun to include seasonal tints and colors into your makeup. Instead of the summer's bright colors and bold lips, the fall cosmetics counterpart is a cozy, warmer palette with darker eye and lip colors. Look no further than these 15 stunning beauty trends for the upcoming fall season!
1. Terra Cotta Looks
It is clear that a talented makeup artist had something to do with creating this smoldering look, but it is easy enough that anybody can get this natural fall makeup done on their own. To finish off a glitzy look, apply bronzer to your eyelids, then use glitter to add sparkle to the corners of your eyes.
2. The Power of Black-n-Gold
Whether you like thick black eyeliner pencils for your bottom lashes or gold colors for your top, the first thing you should consider in your beauty routine is strengthening your lashline. To ensure you've maximized your lash length, choose a bright eye shadow color to create the look you want.
3. The FWL Look
It has become more fashionable in recent years to use white eyeliner. It doesn't matter how you style it; this unique 'floating white liner' design is a must-have for any wardrobe.
4. Touch of Smokiness In The Cobalt Blues by the Band!!
The predictions say that your shadowy illusions will get considerably more color until this year's fall! This is one of the easiest fall makeup looks with a silver-tinted cobalt hue. It is just one example of the numerous choices available for experimenting with different eye styles for your next special event.
5. The Gloss Shines Brilliantly
Gloss was enough to finish any hairstyle and outfit in the early 2000s; you could cover up any imperfections by applying copious amounts of the thick, sticky stuff. The advice recommends using a more reflective solution over your lipstick to enhance its appeal. Even in today's climate, it's beneficial to put a more reflective solution on top of your lipstick.
6. Mermaid-Green Fall Look
The fact that red carpets have been laid up in advance indicates that there will be something significant for these cute fall makeup looks! The traditional smoky eyeshadow style has been modernized with olive, a color reminiscent of mermaids.
7. Glow Liners
After a time, wearing clothing in colors like brown, bronze, taupe, and black (often known as "fall fashion staples") can make outfits monotonous. When you need a pop of color, use a neon brush to apply color to your bottom lashes. To help you maintain your equilibrium throughout the day, add a thick black wing to the top of your upper lashes.
8. Shiny Gold
Even though using smoldering gold eyelids is an autumn beauty must-have, this variation has a '20s flair that differs from the typical interpretation. If you want to bring out the gorgeousness of your eyes, use light gold makeup. Dab some dark inky shadow around the frame's corners with your finger to further enhance the drama.
9. Red Lipstick Marks the Mouth
It's natural to want your cosmetics to match your clothing with a 1990s look. Draw thin lines within your lips using a darker-than-normal lip pencil to give the impression of a defined mouth. To get a more organic-looking gradual gradient, mix the colors as you blend them. Add an accent color with a glossy finish to the surface for a finished look.
10. Bronze with a Little Smoky Red Hue
What about an autumnal makeup look? Take your look to the next level with a smoky red eye along with the help of a dark copper eyeshadow for the new season.
11. Matte-Effect Lips
For years, women were afraid their makeup might run, even on a somewhat warm day, but bold lip colors are trending in response. Even if the rest of your face is naked, you can immediately get autumn-ready with the application of a dynamic red matte.
12. Neon at The Corners
Neon-colored lips are famous, but the dark color of this season may make it tough to achieve this style with your whole face. The addition of some summer shadow will give a burst of color to your eyes while keeping your appearance natural.
13. Subtle And Smoky Look
A little smoky shadow applied over a bare charcoal eye may give it a sense of beauty instead of making it seem like a costume. Putting on false lashes finishes your look and brings out your features.
14. An Unsettling Dark-Hued Lips
Burgundy red lips have been in and out of vogue in the autumn season the whole time, so they had to make it to the list. Begin by studying (and experimenting) with this color!
15. Dragged-Out Eyeshadows!!
If you apply a little dragged-out shadow to your face, you can instantly improve your appearance. As you would with your eyeliner, use tape to create the perfect straight line between your brows and your lash line.
The habit of painting our eyes with fantastic mascara is coming back. While mascara may do wonders for the eyes by making them seem more defined and dramatic, the opposite can occur if you put on too much mascara, which results in your eyes looking exhausted. These 15 trendy yet simple fall makeup looks are sure to help you stay fashionable and looking your very best this fall!
Also Read:
Most Common Makeup Mistakes and How to Fix Them
Makeup Tips for New Moms
Makeup Mistakes You Don't Realize You're Making