15 Surprising Benefits of Sweet Potatoes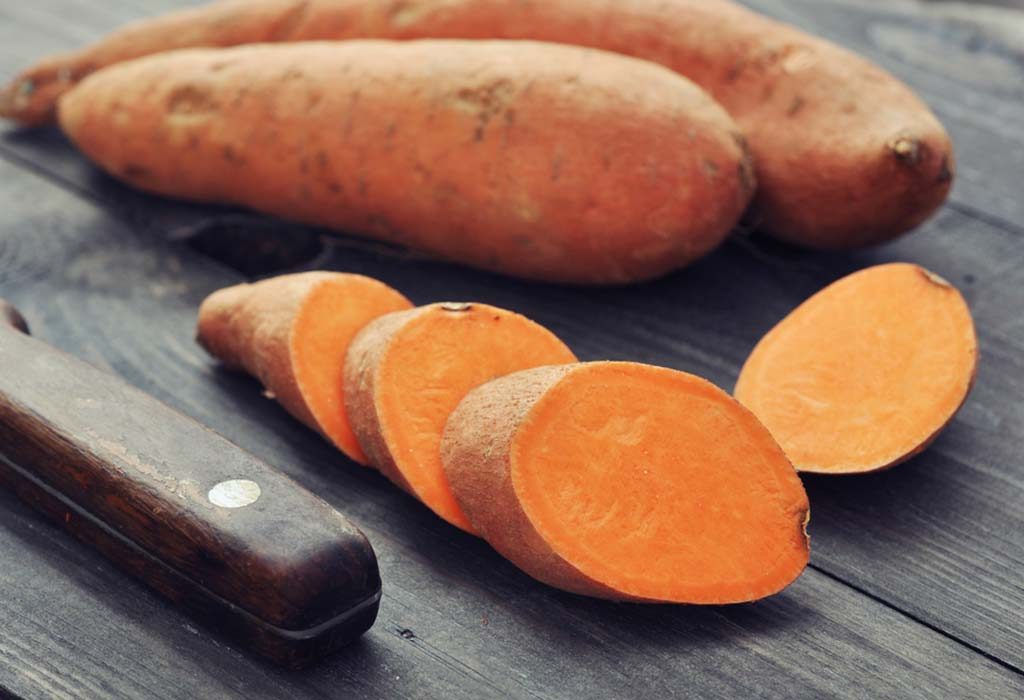 Sweet potatoes are very delicious and nutritious root vegetables. They are creamy and soft, which makes them the perfect ingredient for many recipes. These are the best sources of many vitamins and minerals, and are packed with riboflavin, thiamine, niacin, and carotenoids. They also contain a lot of medicinal benefits and help in bodybuilding.
Nutritional Information of Sweet Potatoes
| | |
| --- | --- |
| Nutrition | Value |
| Calcium | 38 mg |
| Carbohydrates | 20.7 g |
| Dietary fibre | 3.3 g |
| Energy | 378 kJ |
| Fat | 0.15 g |
| Folate (B9) | 6 μg |
| Iron | 0.69 mg |
| Magnesium | 27 mg |
| Manganese | 0.5 mg |
| Niacin (B3) | 1.5 mg |
| Phosphorus | 54 mg |
| Potassium | 475 mg |
| Protein | 2 g |
| Riboflavin (B2) | 0.11 mg |
| Sodium 36 mg | Zinc 0.32 mg |
| Starch | 7.05 g |
| Sugars | 6.5 g |
| Thiamine (B1) | 0.11 mg |
| Vitamin A | 961 μg |
| Vitamin B6 | 0.29 mg |
| Vitamin C | 19.6 mg |
| Vitamin E | 0.71 mg |
Reference: https://en.wikipedia.org/wiki/Sweet_potato#Nutrient_content
Why Sweet Potato is Good for Your Health
Here are some benefits of sweet potatoes.
1. Prevents Vitamin A Deficiency
Sweet potatoes are an amazing source of Vitamin A because they contain high amounts of beta carotene. Beta carotene is transformed to Vitamin A in our livers, and every molecule of beta carotene gives rise to two molecules of Vitamin A. Vitamin A is needed for helping the body fight various infections and remain resistant to infections in the future.
2. Manages Diabetes
On the glycemic index scale, sweet potatoes are categorised as low to high, as they can minimise the occurrence of insulin resistance. Sweet potatoes have a low glycemic index, which means they release sugar into the bloodstream very slowly, as compared to the other starchy foods. This steady release helps in controlling the levels of blood sugar of individuals. Thus, sweet potatoes can be used to regulate the blood sugar levels in diabetic people. Sweet potatoes have magnesium and fibre, which are important in the management and prevention of diabetes.
3. Reduces Stress Levels
Sweet potatoes have a high amount of magnesium, which is an important mineral for the body to function properly. One of the most valuable advantages of this mineral is that it helps to reduce anxiety and stress. Deficiency of magnesium is linked with higher risk of stress, depression, and anxiety. Thus, sweet potatoes can help to replenish the magnesium levels and help treat depression and anxiety-related behaviours.
4. Promotes Anti-inflammatory Activity
Sweet potatoes have a good amount of vitamins that have great anti-inflammatory properties. Moreover, it has a high concentration of choline. Choline is a versatile nutrient, and one of the best benefits is that it reduces the body's inflammatory response, thus resulting in lesser inflammation. Sweet potatoes also contain anthocyanins, which are important for preventing and reducing inflammation in colon cancer cells and reducing cell proliferation in certain cancer cells. Therefore, the presence of choline and anthocyanins in sweet potatoes make it an essential dietary source for the reduction and prevention of inflammation.
5. Prevents, Protects, and Manages Cancer
Purple-fleshed sweet potato is especially effective in fighting cancer. The elements in this can inhibit the growth of specific cancers like gastric cancer, breast cancer, and colon cancer. The high anthocyanin levels are the reason for anti-cancer activity in breast and gastric cancer. Extracts from the potato can kill prostate cancer cells, making sure that cancer does not spread or grow to any other parts of the prostate.
6. Helps to Guard Ulcers
An ulcer occurs when the inflamed tissue is shed from the skin or from the mucous membrane, which can be very painful. The extract from sweet potato is good for protecting gastrointestinal tissues from aspirin-induced ulcers. Thus, sweet potatoes can be used in the management and treatment of peptic ulcers.
7. Minimises the Risk of Cardiovascular Diseases
Complications such as atherosclerosis occur when there is oxidation in the body, which can lead to the development of many cardiovascular diseases. The extracts from sweet potatoes contain high levels of polyphenols, which will suppress oxidation and thus, reduce the risks of developing cardiovascular diseases. It also contains soluble dietary fibres that are strongly linked to a decrease in the chances of cardiovascular diseases. Therefore, anthocyanin, fibres, polyphenols, and the high radical scavenging activity present in these potatoes are all needed to fight against cardiovascular diseases.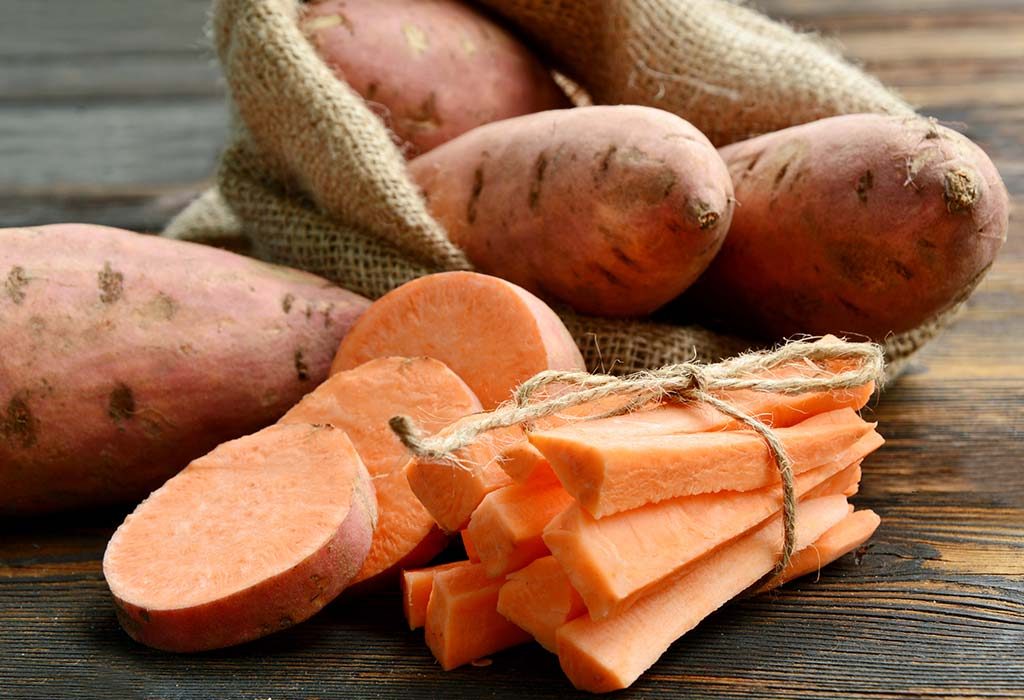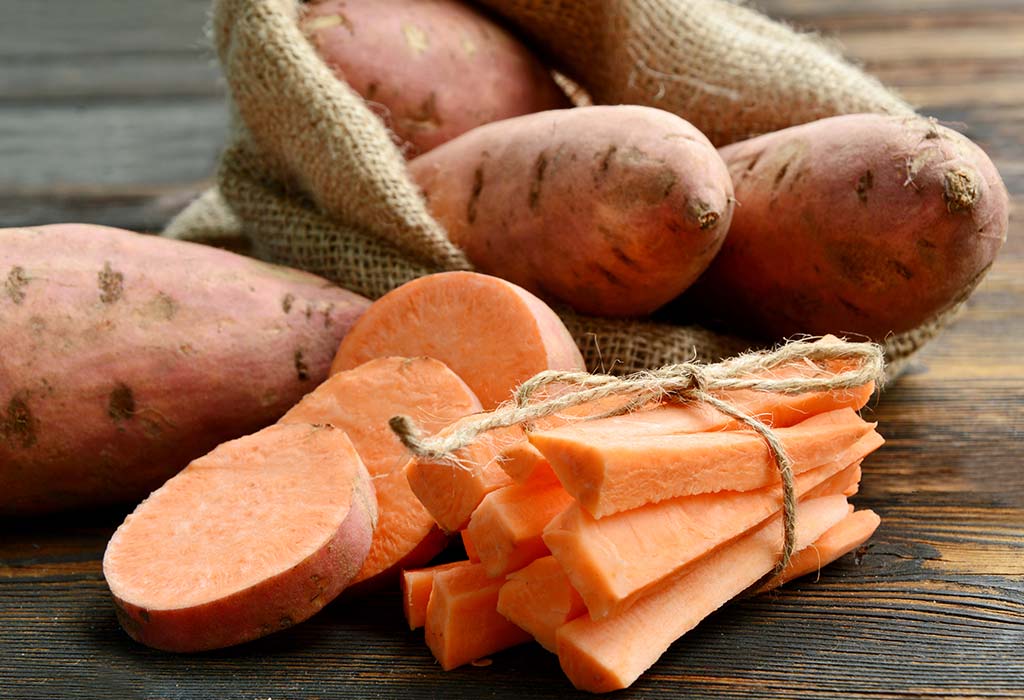 8. Contains Antimicrobial Properties
Sweet potatoes have some amount of antimicrobial activity. The extracts from these potatoes contain antimicrobial properties which fight against the bacteria responsible for typhoid and pneumonia. The fibre content can also reduce the development of foodborne bacteria. This is why sweet potatoes are used in the prevention and treatment of different types of bacterial infections and pathogens.
9. Improves Hair and Skin
Sweet potatoes are rich in Vitamin A, C, and E, which are great for hair and skin. Vitamin E has the potential to increase hair growth and density in individuals who have high hair fall. This is because this vitamin has antioxidant properties that can help to reduce a major cause of alopecia oxidative stress. Vitamin C is popular for dermatological treatments and is used in the treatment of hyper pigmentation and photo-aging. Vitamin C is needed for the synthesis of collagen, which is an important structural protein of the skin. It also has anti-inflammatory properties, and thus, helps to manage skin problems like acne and promotes healing of wounds.
10. Aids Digestion
It contains a high amount of fibre, which is known for improving digestion and the health of the gut. Consuming sweet potatoes can increase the amount of fibre in the body needed to have normal digestion. It can also help to prevent constipation, which is one of the bets sweet potato benefits for babies.
11. Regulates Blood Pressure
Since they are rich in potassium and magnesium, sweet potatoes are consumed to control blood pressure. Higher intake of potassium results in lower blood pressure and thus, reduces the risk of developing coronary problem or stroke. Magnesium is another dietary component that prevents hypertension by reducing blood pressure.
12. Boosts Fertility
The high amounts of Vitamin A make sweet potato one of the best vegetables for women of childbearing age because it helps to enhance fertility. Vitamin A plays a major part in improving reproductive performances, and its deficiency might lead to secondary infertility in women. These potatoes also contain iron which is good at promoting fertility. Therefore, an increase in the intake of iron from foods like sweet potatoes can help avoid secondary fertility and reduce the chances of ovulatory infertility in women.
13. Promotes Better Vision
The Vitamin A present in sweet potatoes helps in the improvement of vision. This vitamin is important for the formation of various pigments that are responsible for the absorption of light in the eyes. It also maintains the proper structure of the retina. Deficiency of vitamin A will lead to poor vision and may also cause blindness. Deficiency is also linked to eye diseases like ulceration of the cornea, dryness of the cornea, and conjunctiva. Vitamins A, C, and E are good at promoting better vision and preventing problems in the eyes.
14. Helps in Weight Management
Sweet potatoes contain fermentable and soluble fibre that offer the body a self-sustaining and natural mechanism to regulate weight. Dietary fibres like pectin are effective in reducing the intake of food and increase the activity of the body's hormones. Thus, increasing the consumption of sweet potatoes will result in higher fibre intakes, which will lead to lower body weight. Therefore, sweet potatoes for weight loss are an excellent choice.
15. Enhances Memory
Sweet potatoes contain anthocyanin, which possesses properties to enhance memory. It's antioxidant properties greatly enhance memory.
How to Select and Store Sweet Potatoes?
When you pick a sweet potato, first take a look at the skin and see if everything has the same colour without any signs of cracking or decay. Give the potato a little squeeze, and if it is squishy then it is a sign of rotting. After you take the potatoes home, keep them in a nice place like a basket on the pantry or the counter top. You should keep them cool and dry and use them within a few weeks.
Are There Any Side Effects of Eating Sweet Potatoes?
Most people can tolerate sweet potatoes. However, the high amounts of oxalates will cause problems in people that are prone to the formation of stones in kidneys.
Easy and Nutritious Sweet Potato Recipes
These recipes are very easy. So check them out!
1. Sweet Potato Roti
The sweet potato roti has pleasant flavours with coriander and spice powders.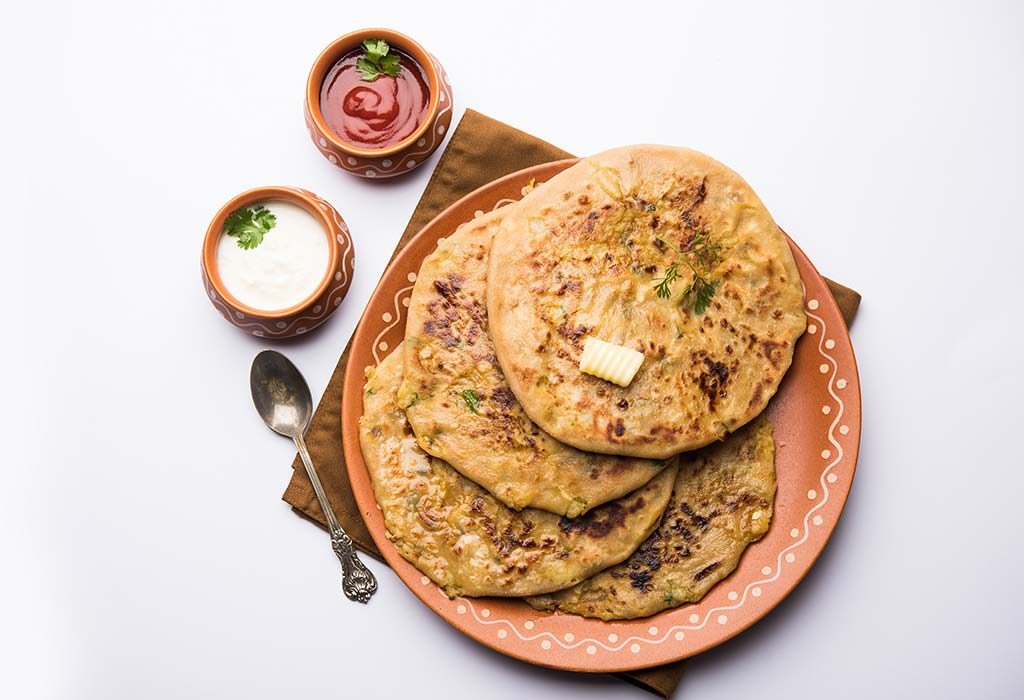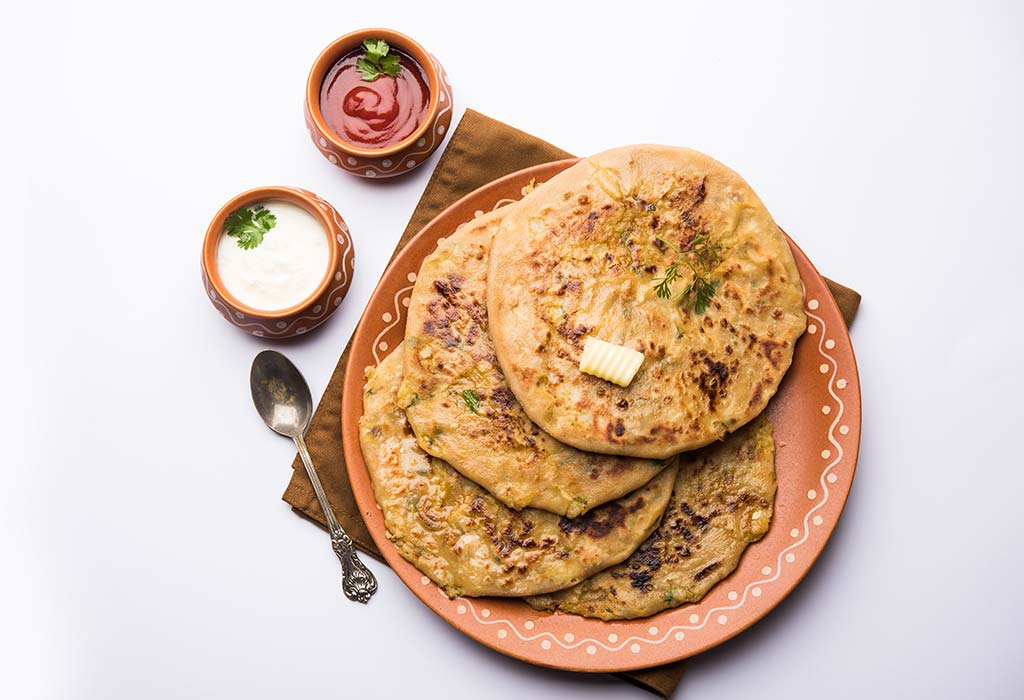 What You Need:
Sweet potato (1/2 cup, boiled and mashed)
Chilli powder (1 tsp)
Turmeric powder (1/4 tsp)
Whole wheat flour (1 cup)
Cumin seeds powder (1/4 tsp)
Coriander (1 tbsp, chopped)
Salt
Ghee (6 tsp)
How to Make:
Put all the ingredients in a bowl and knead them to make a soft dough with enough water.
Divide the dough into equal portions.
Roll it into a circle using a little flour for rolling.
Heat the tava. On a medium flame, cook using ½ tsp of ghee and wait till it turns golden brown on both the sides.
Repeat the same steps to make the other rotis and serve immediately.
2. Sweet Potato Halwa
This is an all-time favourite sweet and is an amazing dessert.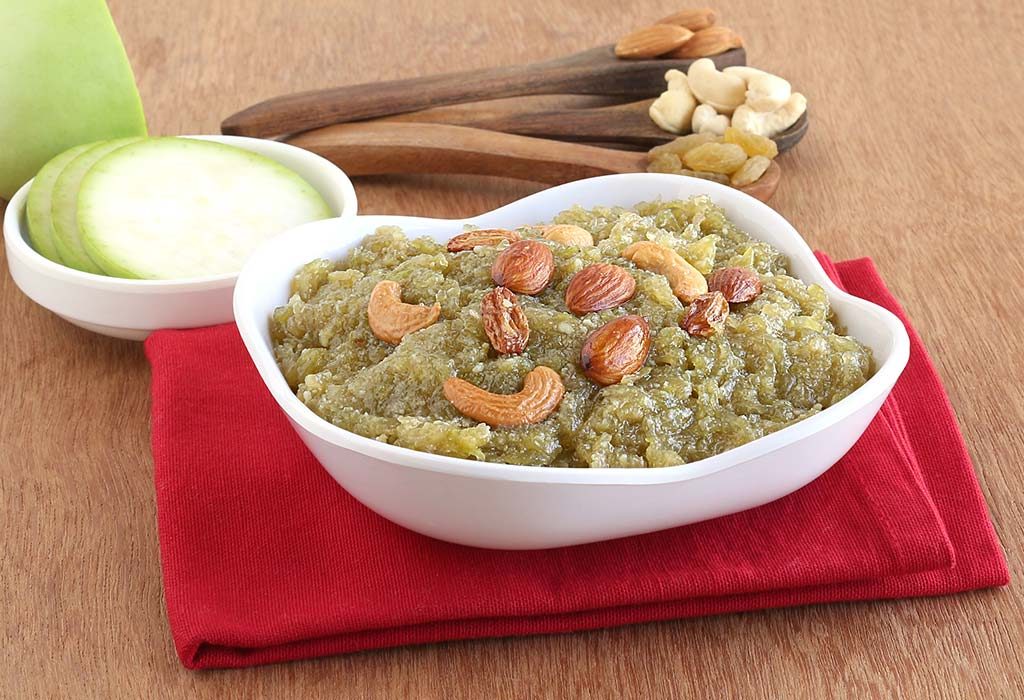 What You Need:
Sweet potatoes (3)
Low-fat milk (3/4 cup)
Sugar substitute (1 tbsp)
Cardamom powder (1/4 tsp)
Saffron strands (in 1 tbsp milk)
Mixed nuts (2 tbsp, chopped)
Ghee (1 tsp)
How to Make:
Wash sweet potatoes and pressure cook them for 4 whistles.
Peel, mash, and keep it aside.
Heat the oil in a pan and add some mashed potatoes. Sauté for 3 minutes.
Add sugar substitute, milk, cardamom powder, and ½ cup of water. Simmer for 2 minutes and make sure that it has little liquid left behind.
Add the nuts and saffron strands and mix. Serve when hot.
Therefore, sweet potatoes are excellent sources of vitamins, minerals, and various other plant compounds. It has numerous health benefits, such as improving Vitamin A reserves, improving blood sugar regulation, and reducing the chances of cancer. Sweet potatoes are affordable, nutritious, taste amazing, and can be easily added into your diet.
Why You Should Add Coconut Water to Your Diet
Why Flax Seeds is a Super Ingredient
Health Benefits of Brahmi That You Should Know