15+ Mirror Decor Ideas for Your Home That Work With Any Style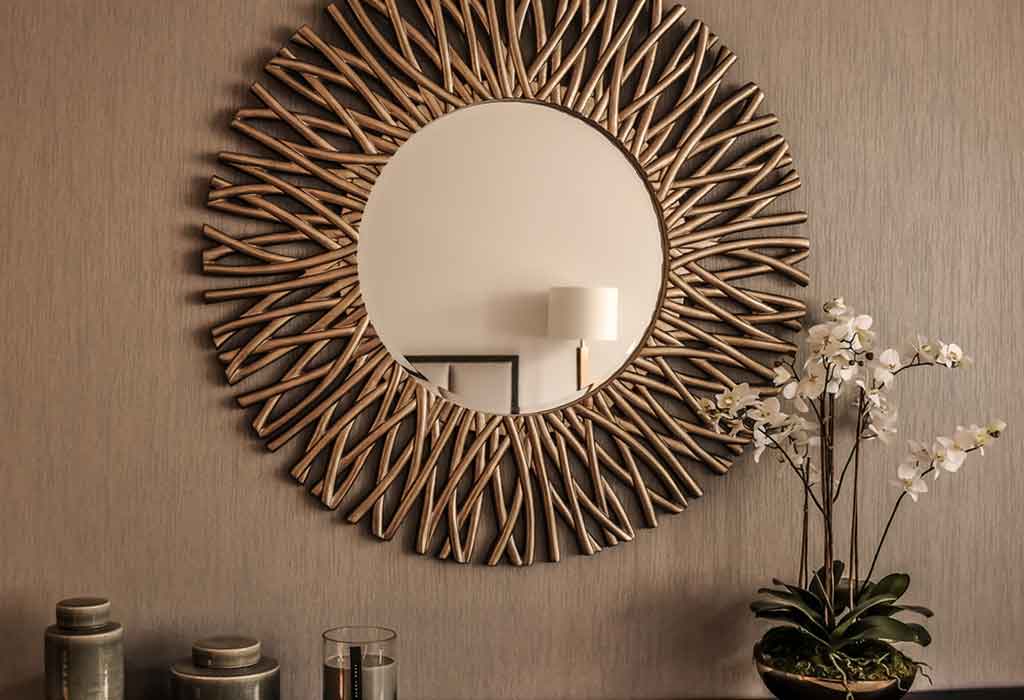 In this Article
Every home has mirrors, but they are not just a household object to get dressed up or check whether we look presentable. Mirrors are versatile objects that can be used in many ways to make a décor statement as they perfectly blend with any décor style and uplift the décor to make it shine. In short, decorative mirrors are a simple way to add style and purpose to any room. Not only do mirrors add a touch of modern glitz to your walls, but they are also useful to give the appearance of a larger space or to brighten up any space. Well-used mirror décor creates engaging perspectives and bounces light to make your room look more expansive. Mirrors come in various beautiful designs and styles and work as pieces of art when used interestingly. So there is a perfect mirror for every home and budget, with endless designs such as antique starbursts, modern metal flowers, and fun geometric showpieces. Mirror decor is a wonderful idea that can add a huge impact to any room with minimum effort. So when you need to add a bit of flair to your living room or liven up a monotonous bedroom, just add a decorative mirror and enjoy the change.
15+ Best Mirror Decor Ideas
Decorating wall mirrors is the perfect solution to add dimension to any room and uplift the décor style. Here are some interesting wall mirror décor ideas to take your home décor to the next level:
1. Mirrored Tile Centerpiece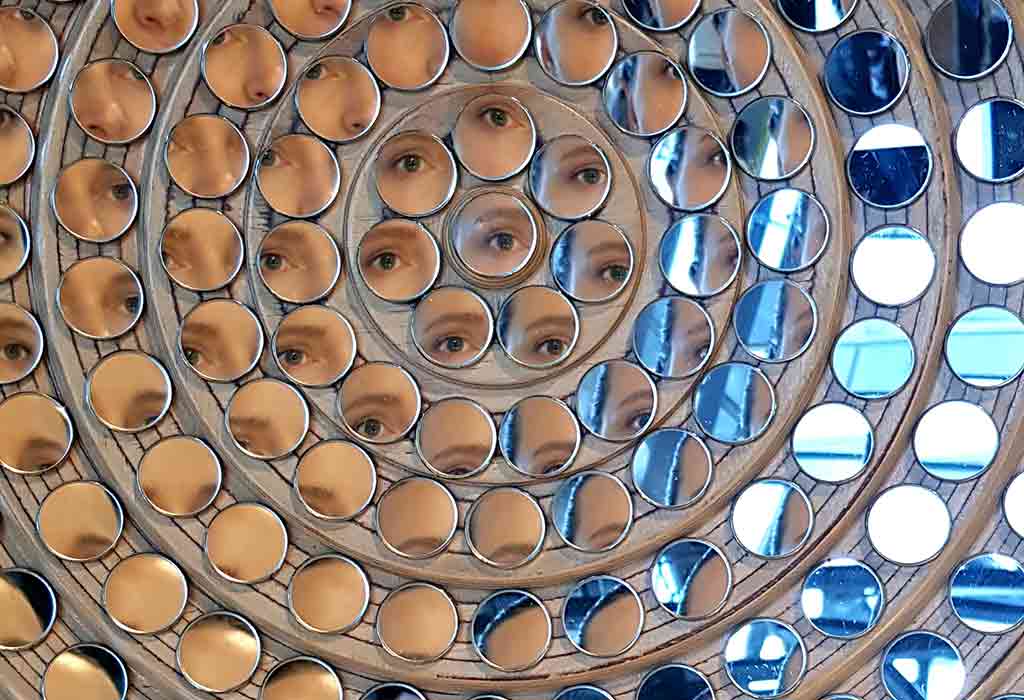 Instead of usual mirrors with frames, add mirrored tiles to your wall to make a bold statement. Mirrored tiles set in decorative patterns will be the centerpiece of your room. This focal point will reflect images in pieces creating an interesting focal point. The small mirror pieces will break the light and reflect it in different patterns, making your room look unique.
2. Keep It Off Center
Discard the conventional mirror placement of hanging in the center of the wall or above the mantel/table or any other furniture. The classic placement of hanging the mirror in the center is not wrong, but hanging the mirror a little off the center will create a surprise element in your room and add dynamism to your decor. The off-center position also makes the mantel or table feel more light and airy. To further enhance the décor, go for a metal framed wall mirror.
3. Two Are Better Than One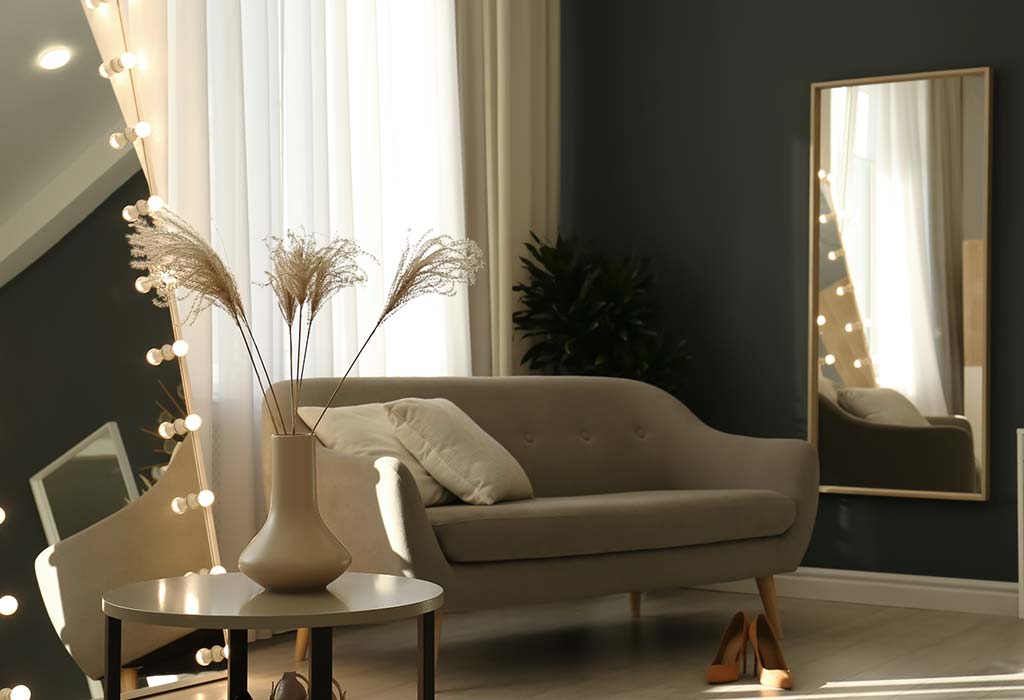 A huge, statement mirror can be the focal point of any living room and instantly turn the room's reflection into an artwork. However, to make things more interesting, place two large mirrors on opposite walls of your living room. The continuous reflection will be lovely to watch.
4. Use On Wallpaper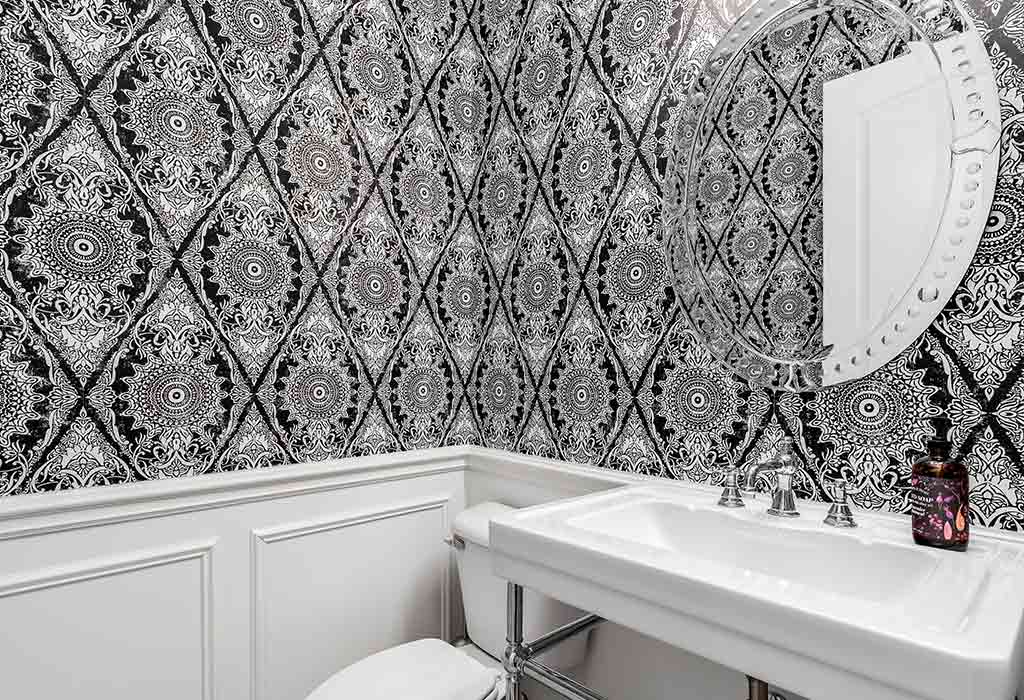 You have used wallpaper on all four walls and now are looking for décor items to create interest in your room. All you need to enhance the look of your room is a simple black framed mirror in any shape. The simple, thin mirror will reflect the wallpaper motif of the opposite wall to give the appearance of a seamless look. Just by adding a simple mirror, you can easily add sparkle and interest to your room.
5. Use A Large Decorative Mirror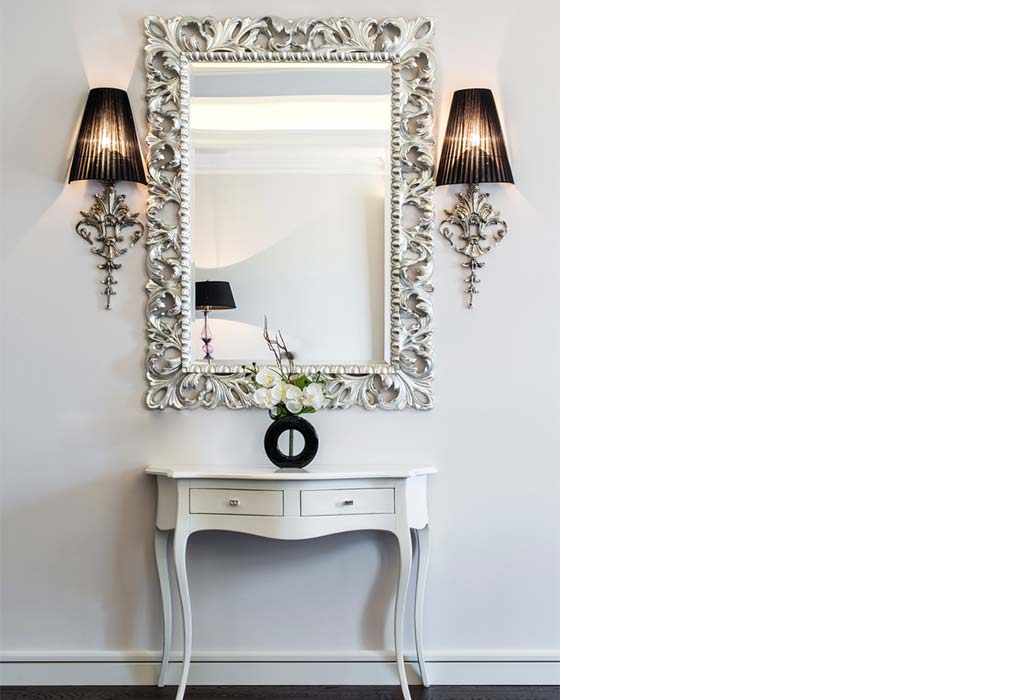 In case your room lacks windows, then to brighten up your gloomy room, use a large decorative mirror. Use an oversized mirror with an ornate metal or faux metal frame to make your room the focal point. A gorgeous decorative mirror placed behind the nightstand or on any wall will enhance the beauty of the décor by manifolds.
6. Go For A Mirrored Object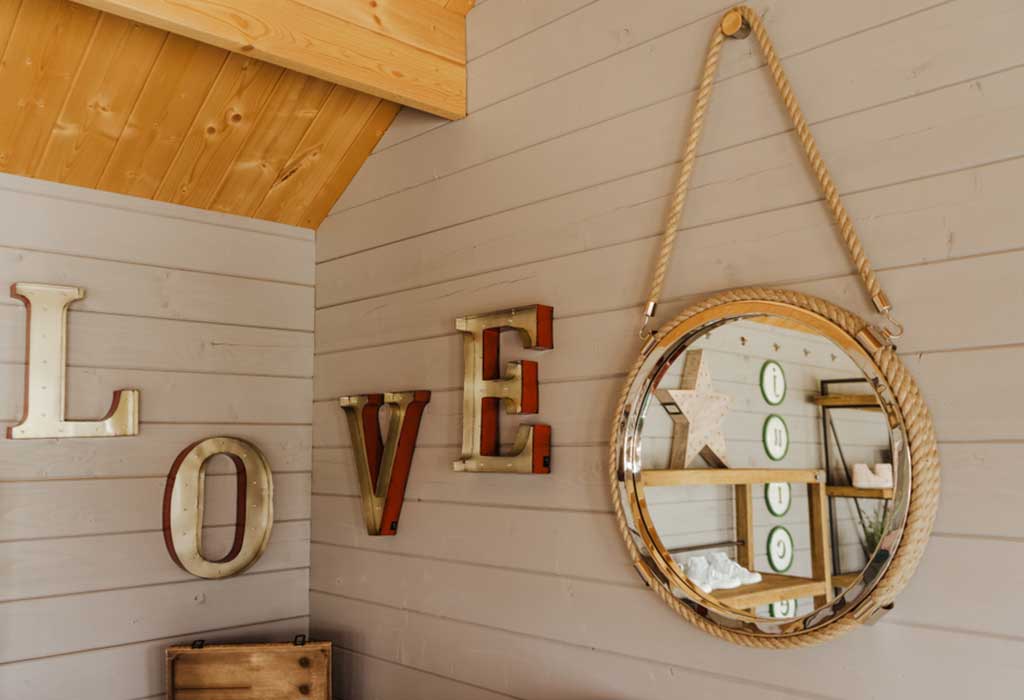 Instead of going for a regular mirror in any decorative or simple frame, just use a mirrored object in your room. Any decorative object with a mirror can be used as a statement decorative piece that can enhance the sophisticated look of the room. Using mirrored objects will serve two purposes, they will bounce of light to brighten up the room and will be the décor item too.
7. Mirror On The Staircase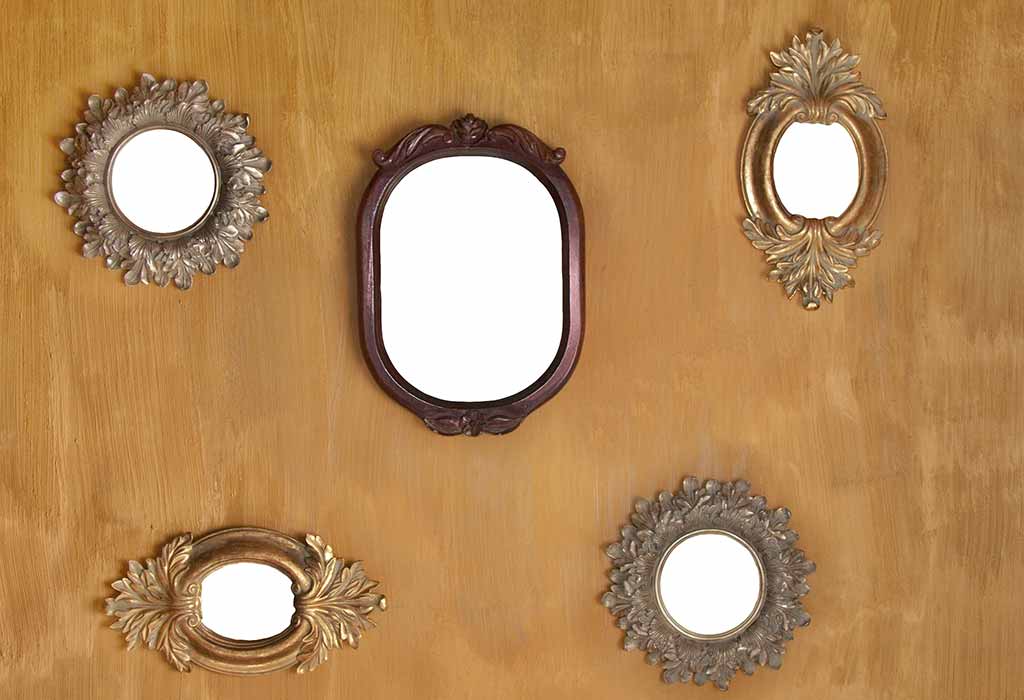 Most people decorate their staircase walls with family photographs; however, lines of photographs tend to make the staircase look heavy and monotonous. Turn your heavy staircase into an artwork by using mirrors on the staircase walls. Intersperse the photographs with mirrors in different shapes, sizes, and styles to break the monotony and add perspective to the wall. The light bouncing off the mirrors will lighten up space too.
8. Use A Large Sunburst Mirror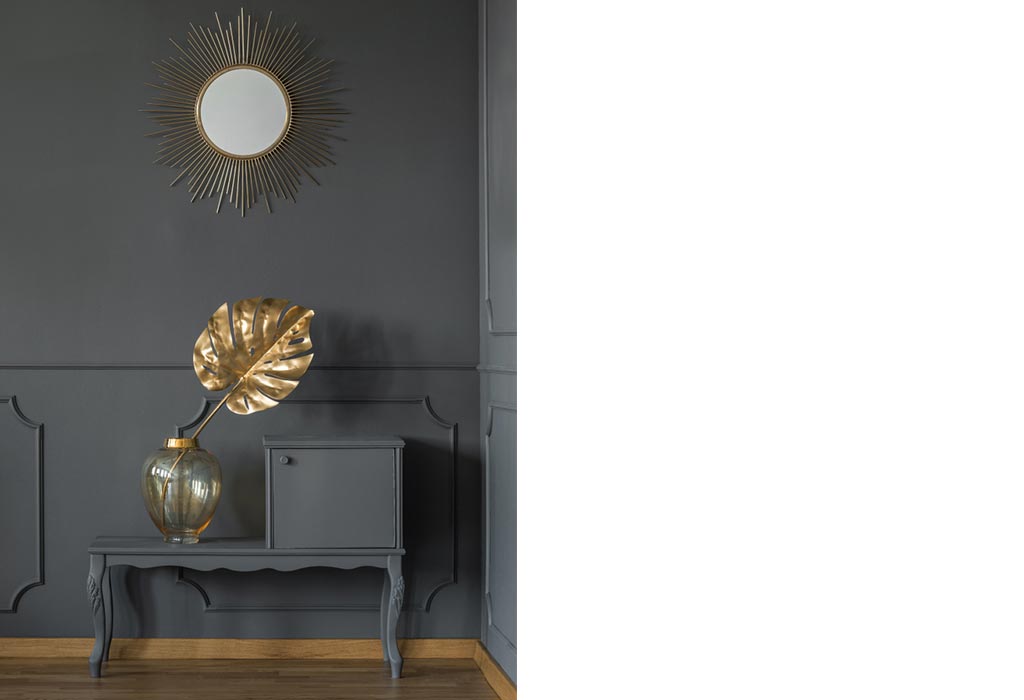 Large sunburst mirrors are the perfect style statement when you want to add glamour to your room. An oversized sunburst mirror perfectly fits any décor style, whether classic or vintage or eclectic. They can also be used as a bold art piece in a minimalistic or simple room. Sunburst mirrors can be used in any room to make a décor statement from kitchen to living room to bedroom without looking out of place.
9. Mirror On The Door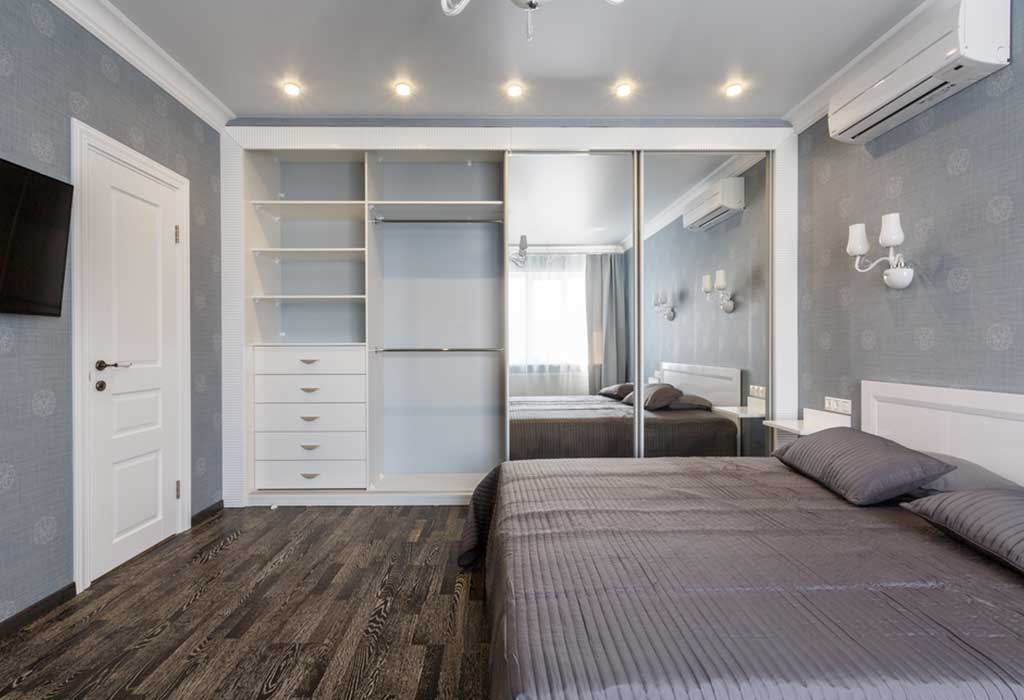 Small bedrooms often lack space to put a full-length mirror. So instead of a small wall mirror, use your bathroom door or cabinet door as your mirror. A mirror on the door will not only help in getting ready but will also save space for the dresser. You can utilize the space saved to keep some other furniture. A mirrored door will make your bedroom look larger and give the illusion of a window on the wall. Your bedroom will be brightened, and the light and views reflected will make it engaging.
10. Use Another Decorative Mirror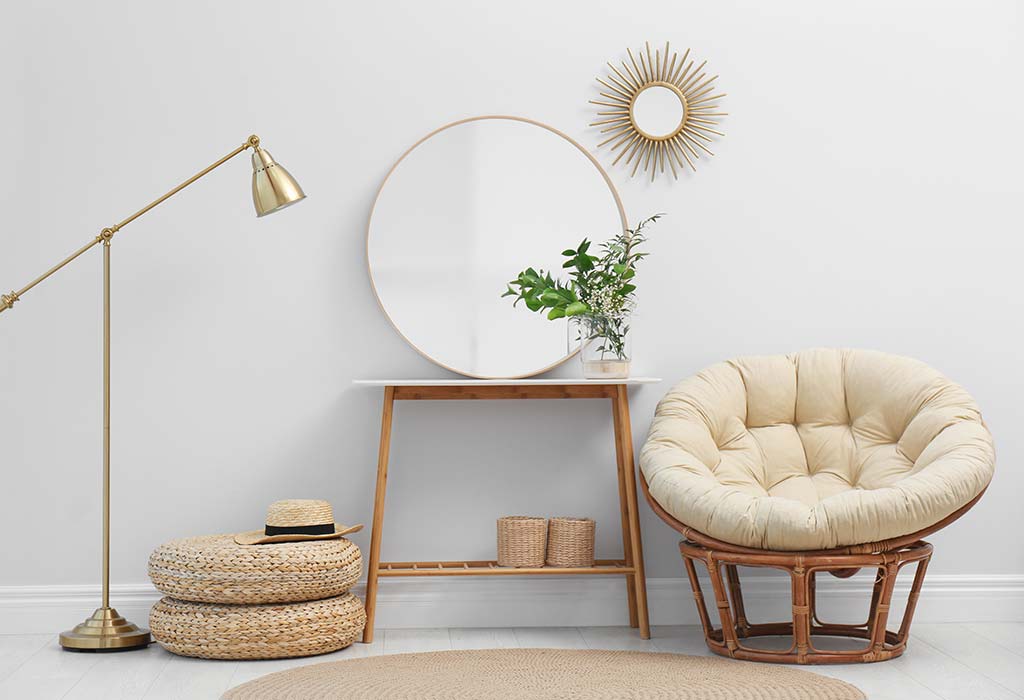 To create a point of interest in your room, place a decorative mirror near the main mirror of the room. The smaller decorative mirror will be the focal point of your room, making both of them the center of attraction of the room.
11. Go For A Different-Shape Mirror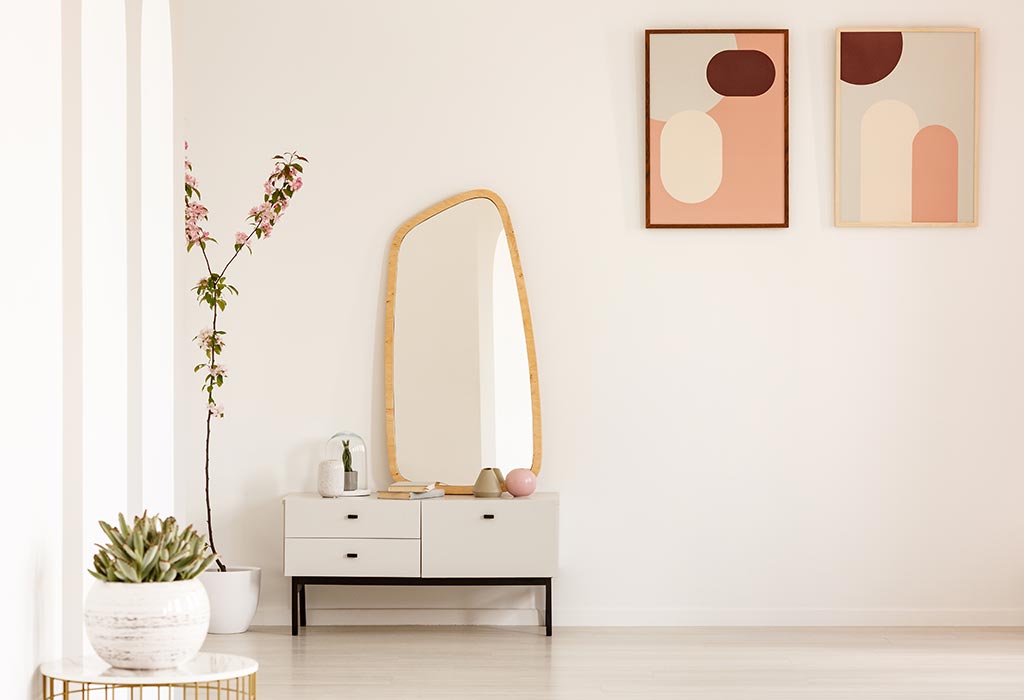 Instead of the usual round wall mirror, go for an unusual-shape mirror in a metal frame for your home. The different shapes will make it an object of décor rather than a household item. The unique shape will perfectly mimic the window arches and add style to your living room. The metal frame will match the metal hardware of the room to create a signature style.
12. Mirror Wall Decorations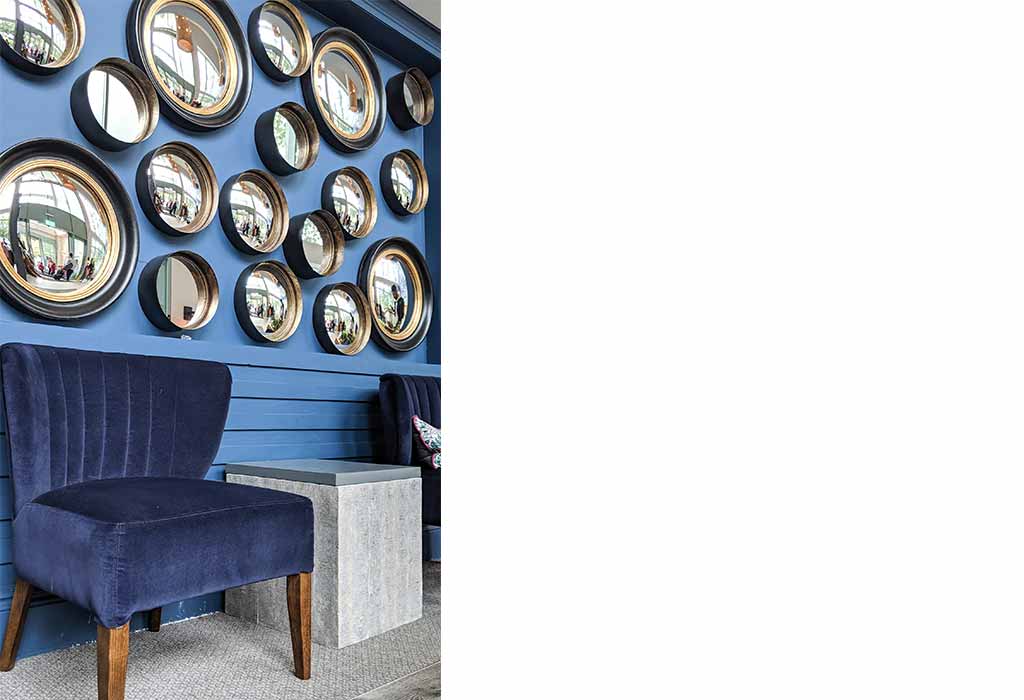 Use mirrors as your decorations to brighten and add elegance to any room. All you have to do is use a couple of mirrors in the same style or varying styles to create an engaging focal point on your wall. You can use few vintage mirrors in varying sizes or simple frame mirrors in various shapes to create a unique pattern. However, remember the color and style of all the mirrors should complement each other otherwise, they will look disturbing. The collection of mirrors will create an interesting backdrop to any room.
13. White Matt Frame Mirror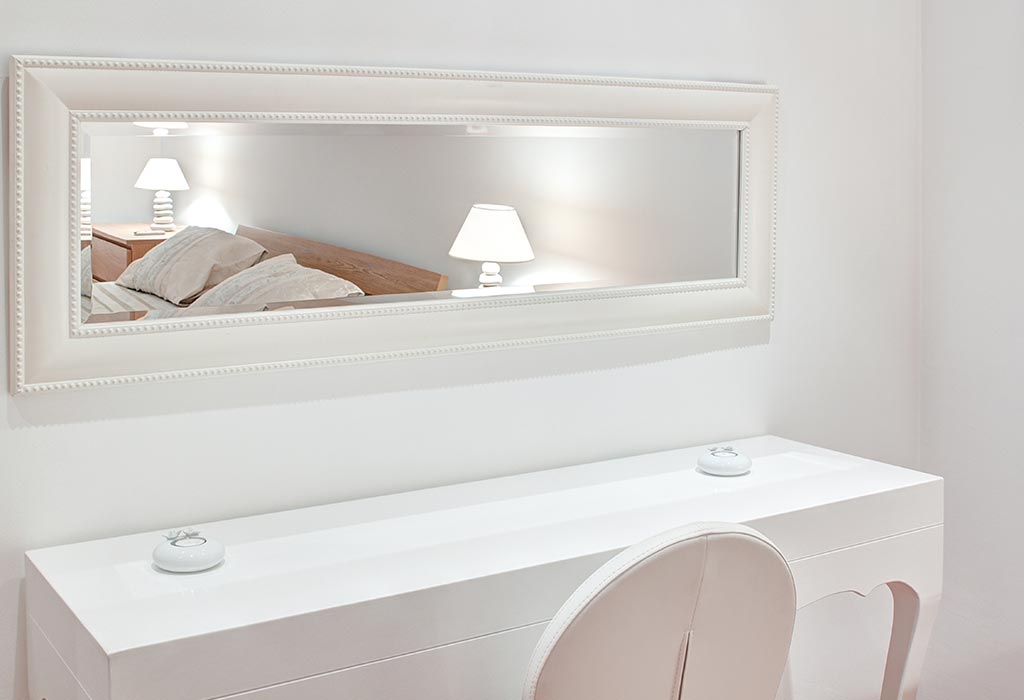 Sometimes all it takes to enhance the minimalistic décor of any room is another simple décor piece. Use a mirror with a broad white frame in a matt finish to maintain elegance and serenity. The mirror will be the focal point of your room and brighten up space with minimal effort. The simplicity of the mirror frame will not overshadow the room décor and blend in perfectly with the minimalistic décor style.
14. Invisible Mirror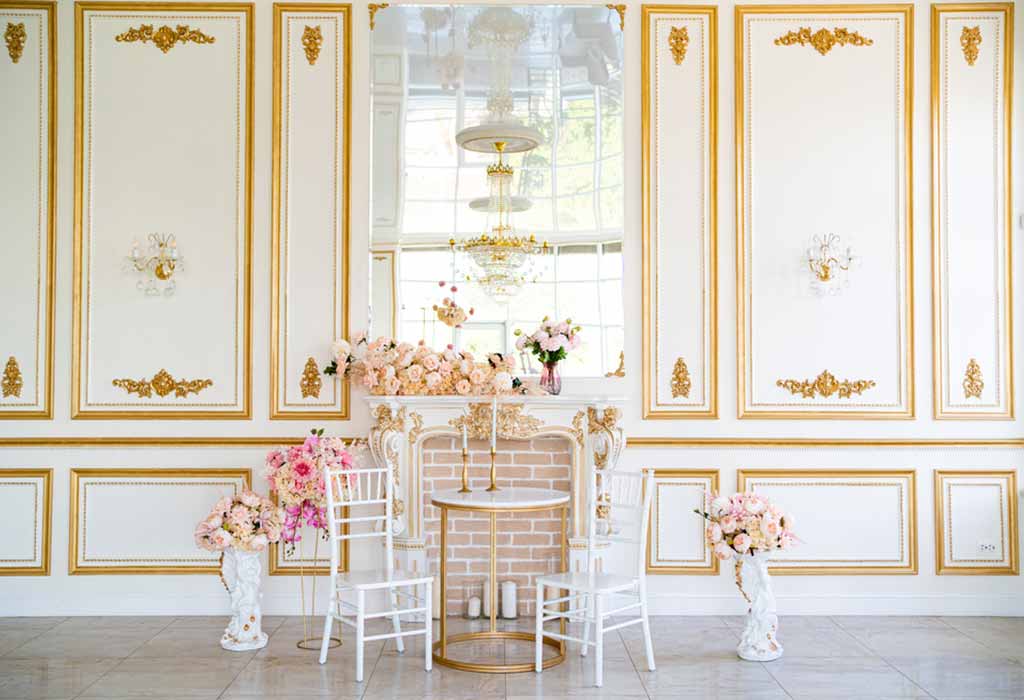 When you want to add lightness and brightness to any room in a subtle manner, then the best way is to go for an invisible mirror trick. The mirror is not actually invisible but using a mirror without a frame does the trick. Use the mirror on the wall without a frame to make it an invisible architectural piece. It will reflect light from the windows and add brightness to the room.
15. Add A Mirrored Frame To Your Mirror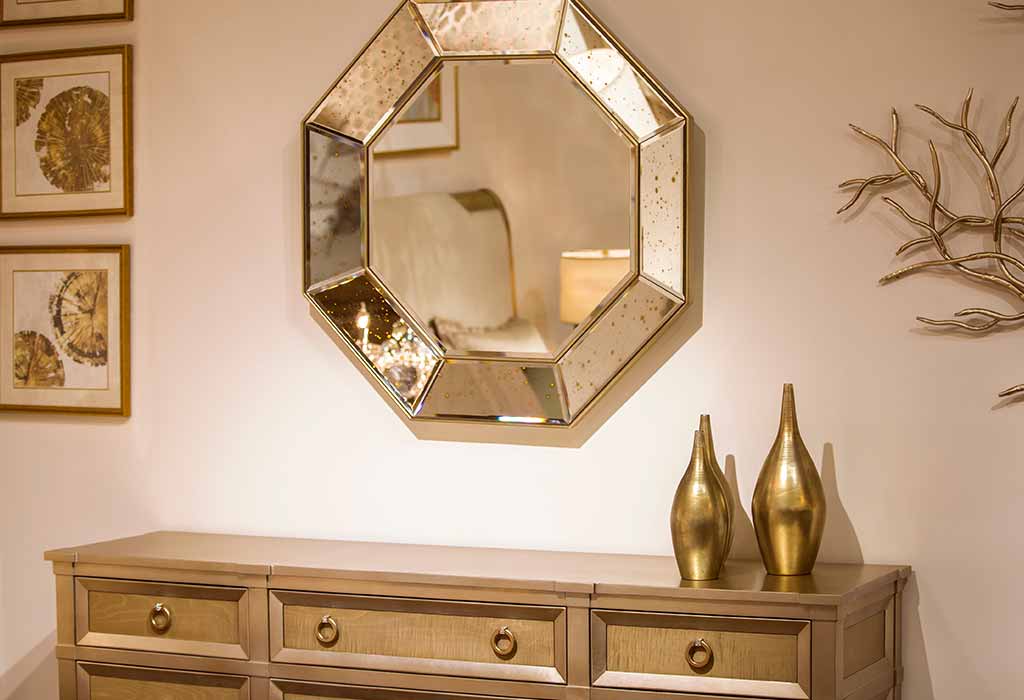 To create an interesting mirror décor in your bedroom, just add a mirrored frame to any simple mirror. The double framing effect will create extra interest, and it will be the statement art piece in your bedroom. The outer mirror frame reflections will create an interesting perspective, and your room décor will be uplifted without much effort.
16. Use Mirror Wall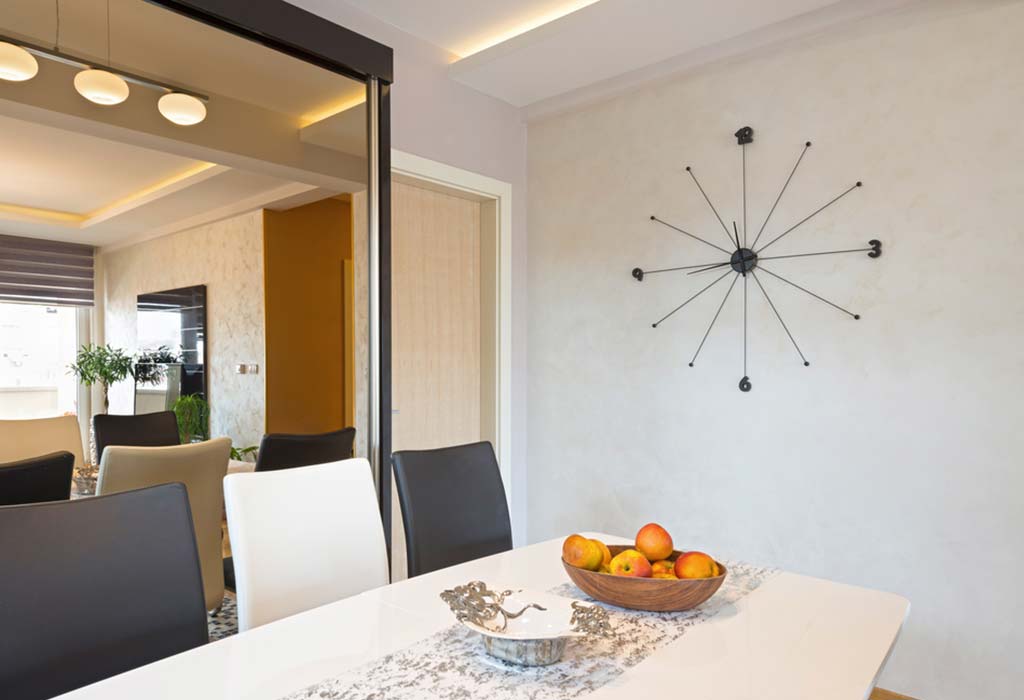 Add a unique design element to your dining room wall by using mirrors. Instead of large or single mirrors, go for a complete wall or section of wall made of mirrors. The floor-to-ceiling mirrors will reflect the light and images of the dining room, making a small space look large.
17. Contemporary Geodesic Mirror Wall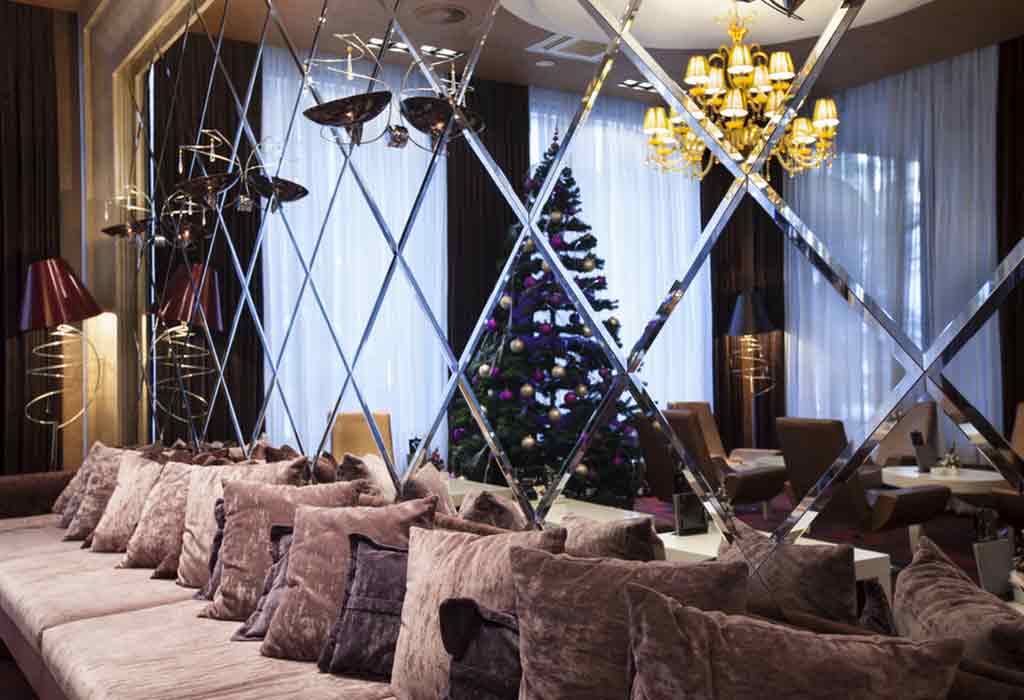 Create an accent wall with a mirror for a bold and contemporary interior design. Use slim and clean metal-colored frames in a geodesic pattern to cover the mirror wall. The mirrored accent wall will reflect the light from the window and create an interesting perspective in the living room.
18. Use Gold Ornate Mirror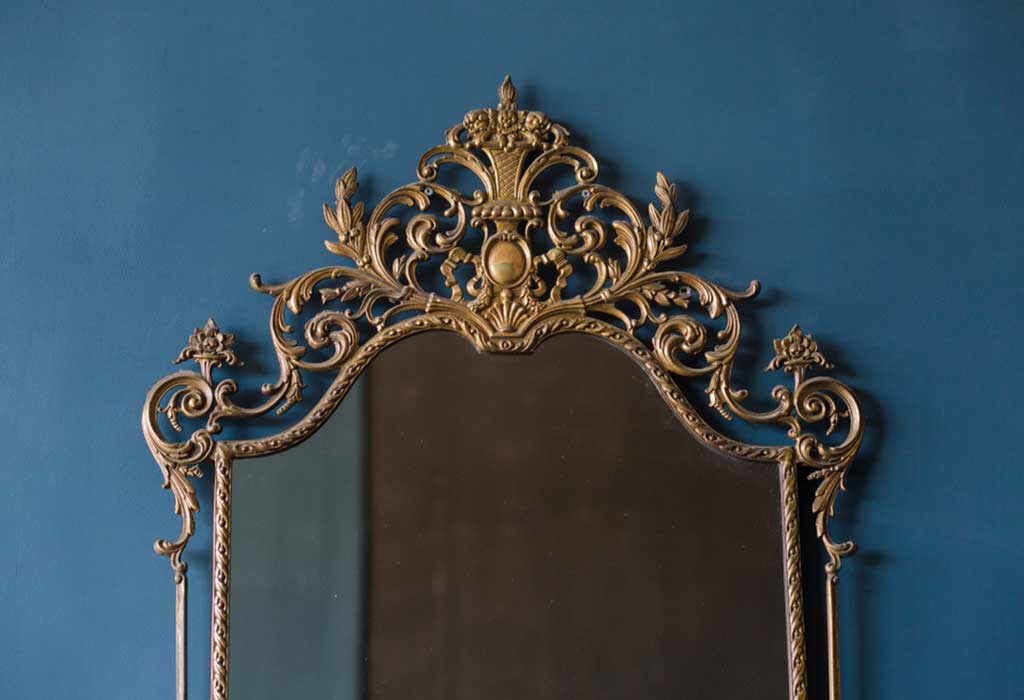 Do you feel your entryway is a bit dull or gloomy? To brighten up your entryway, use a gold ornate mirror. The bold color and thick ornate frame will be the anchor piece of your entry and enhance the look of the entryway by creating a welcoming atmosphere. This will also uplift the appearance of your home as everyone coming to your home will be impressed by your stylish entryway.
19. Mirror On An Accent Wall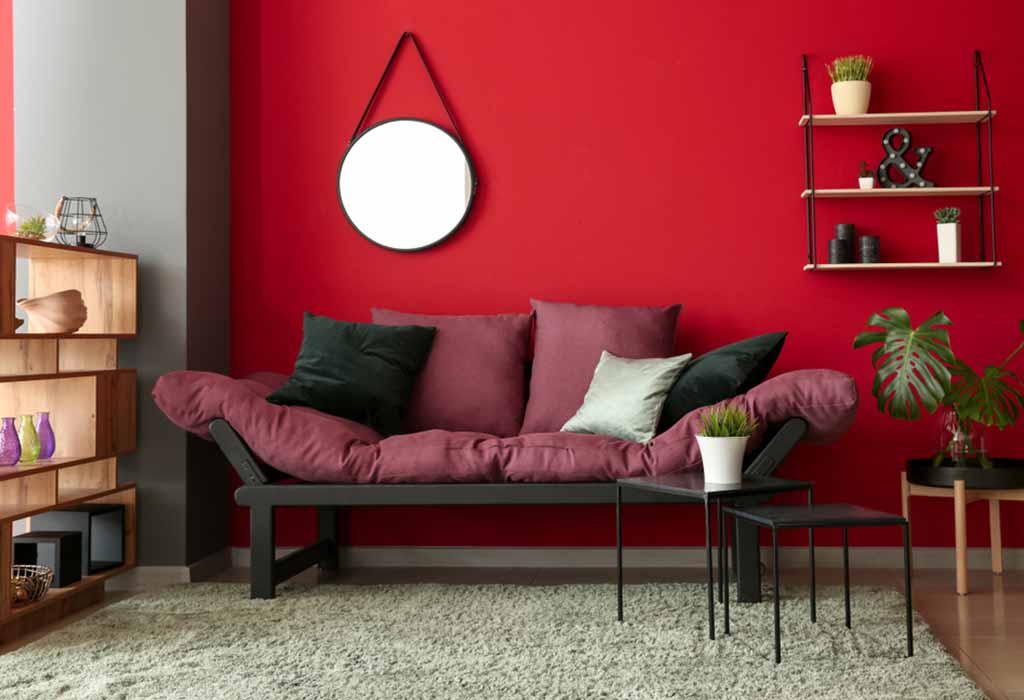 To make your accent wall from looking too heavy, you can lighten it up by using a mirror on it. An oversize simple mirror will reflect light and images, thereby creating an engaging focal point in the room. Mirror will also lighten up the bold color or pattern of the accent wall and will brighten up the room in the process.
20. Use A Large Standing Mirror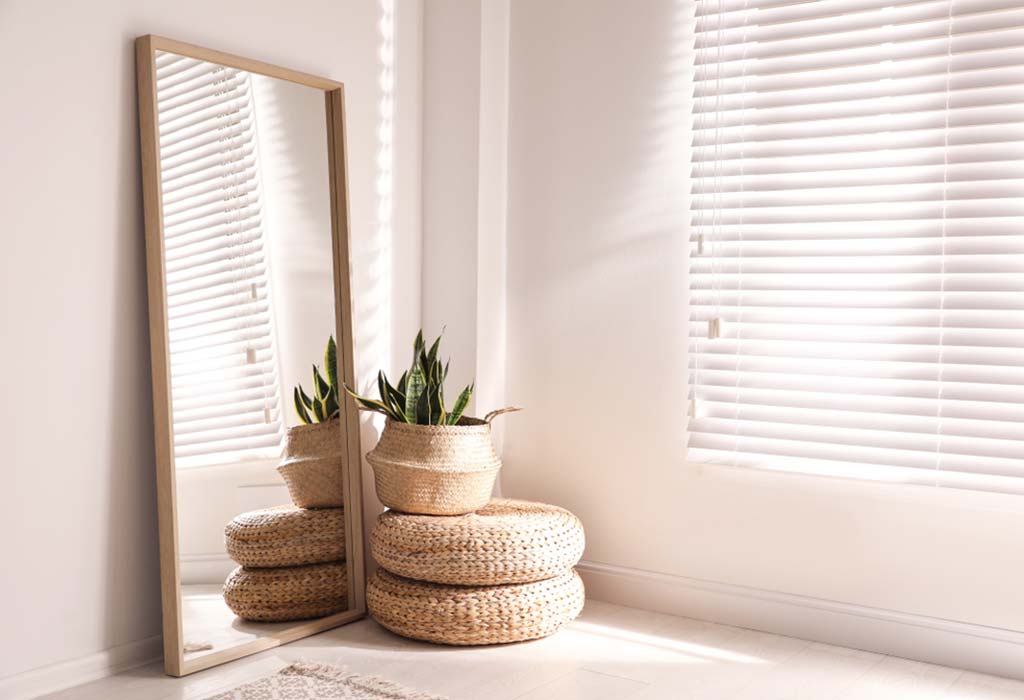 To make your living room look brighter and give an illusion of enlarged space, use a simple and large standing mirror. The simple frame of the minimalistic mirror will not overshadow the décor, and the large size will reflect the complete living room giving the illusion of extra space.
Take inspiration from these creative mirror décor ideas to enhance the look of your home. All of these ideas can be conveniently used in any kind of décor style and are easy to incorporate with minimal effort.
Also Read:
Spring Home Decoration Ideas
Nature Inspired Home Decor Ideas
Homemade Wall Decor Ideas for Your House