15 Living Room Curtain Ideas for a Stylish & Elegant Space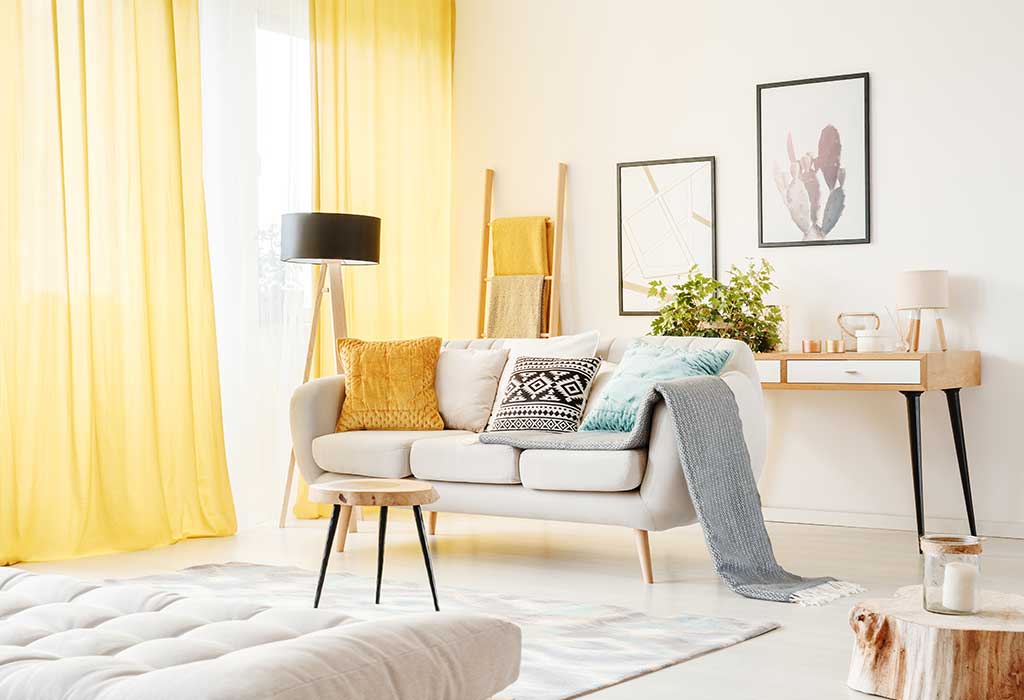 Curtains are the most fundamental element of every home décor. Depending on the color, print, shape, or even the fabric, you can expertly combine curtains with the furnishings to generate a warm and welcoming vibe.
Factors to Consider While Choosing Curtains
Styling up the windows of any room is an essential step in decorating the interiors. We need to consider the length, fabric, pattern, and budget to select the perfect curtains. Once you get it right, upgrading the living room becomes easy. One needs to drape the living room curtains with window treatment ranging from simple, elegant pinch and pencil pleat curtains to decorative trims, statement pelmets, and wild colors.
1.Colour Scheme
You should consider room size, décor, and color scheme before selecting curtains. Check whether the room projects a formal, casual or comfortable feel. Neutral shades can easily match most of the furnishings, while darker colors are suitable for high traffic areas so as it doesn't get noticeably dirty soon.
2. Fabric
You can choose the fabric for any curtain based on its weight, texture, light blocking or exposing qualities, durability, and sun-fade resistance. From natural to synthetic fibers and knit to woven, there is a wide range to choose from: cotton, silk, linen, polyester, velvet, acrylic, rayon, brocade, lace, and voile are the most common varieties.
3. Measurements
The measurements of the regular window or French window that you intend to decorate need to be taken. Measure from the top-up to the length with respect to the floor. Remember to add about ten centimeters on both sides as for the width.
4. Brightness
Rooms that get a lot of light probably need a lighter color as a darker one will fade in some time. The heavier fabrics reduce the brightness coming from the natural light. So, white and cream shades are suitable for reflecting light and tend to enhance it.
5. Style
It would help if you styled the curtains for modern living rooms in a uniform color scheme along with sleek furniture. Ethnic weaves of velvet and suede match different textures of Bohemian décor. Popular in Victorian interior design, valances mask the curtain hardware on the uppermost part of the window. They can be hung alone or paired with other window blinds or curtains. Double curtains layer a sheer curtain under an opaque or blackout drape or curtain on top. It's an easy decorating hack that adds color and depth to the windows.
Best Living Room Curtain Ideas
Find the best way to add style and panache to your living room curtains with the below ideas…
1. Pair Two Colors Together
Layering two curtains can lend the walls some texture. You can tone down a bold color with a sheer beige or white inner panel to adjust the light as needed. Patterned fabric and block color curtains in an accent color derived from that pattern can go well. Pair an opaque cellular shade with an off-the-shelf sheer curtain that blocks out light yet ensures privacy when the shade is open.
2. Select a Wide Rod
An ideal curtain rod should be eight to ten inches wider than the window to give the illusion of a larger window and provide space to pull back the curtains as needed.
3. Combine Blinds With Curtains
Combining curtains and blinds adds extra depth and elegance to your windows. However, it's crucial to select materials, textures, and styles that work well to complement one another.
4. Sheer Curtains
Sheer, lightweight fabrics soften the lighting and provide an instant infusion of style into your interior decor. If you're a minimalist at heart, choose sheer curtains for an airy look to your living room.
5. Stripes
Striped curtains are versatile enough to be considered timeless. Striped neutral curtains for grey living rooms add extra dimension, texture, and warmth while maximizing the feeling of space. Use horizontal stripes for narrow, cramped rooms and vertical stripes in rooms with low ceilings and expansive low windows. Narrow striped curtains are perfect for small, cozy rooms. You can use broad stripes for spacious living rooms matched with the bright or contrasting color combination.
6. Cotton
Cotton is a versatile fabric. It's crisp and clean feel suits both traditional and modern styles. The lightness of cotton fabric demands proper lining to ensure they hang and fall naturally. Choose a tightly woven fabric or select a thick lining to block excess sunlight if you plan to use them.
7. Thick Blackout Curtains
Blackout curtains come in shades of light grey, white and beige that can darken a room in an instant while ensuring total privacy.
8. Mounting
Mount the hardware a few inches above the top of the window casing to give it a traditional look. While mounting the hardware just below the ceiling to achieve a very contemporary look, make the ceilings appear higher, and make your room appear much loftier by creating an illusion of height.
9. Funky Rod
A simple curtain characterized by a bulky or shiny rod will add some fun without you having to go too crazy with patterns and prints.
10. Woollen Fabric
Woolen curtains offer a highland style to your living room, especially during fall. Add plaids to the fabric to create a warm and inviting look. Its thermal properties ensure insulation, and if the material is 100% wool, then it is inherently fire retardant.
11. Blackout Liners
Modern Curtains for living rooms have blackout curtain liners usually made with thicker fabric that help block out the daylight that comes through apart from assisting in thermal insulation and noise reduction.
12. Pelmet
A pelmet is a decorative upholstered board that adds structure to the drapes. Contrast pelmets in simple shapes with light-hearted, interesting trims have an air of modernity about them.
13. Tassel & Lace
Tassels & lace should be used judiciously for maximum effect. Tassels add an avant-garde vibe. Solid color tassels add a pop without going overboard. Lace traditionally represents romance, comes in neutral shades, and is perfect for that vintage look. Use it for privacy and to diffuse natural light.
14. Silk
Silk is the best choice for luxury curtains as it adds an opulent vibe to any living room. Although it comes in patterned and solid colors, choose a shiny material for a streamlined look. Being a heavy fabric, silk drapes well. Pure silk fabrics are more expensive than faux silks that are more affordable. Silk-like polyester fabric can be highly durable as well!
15. Curtains For White Walls
White walls are a must-have for Nordic-themed, clean, minimalistic look. This means that curtains for a white living room should consist of lightweight fabric with minimal lines. Colour block fabric or those with Herringbone or chevron patterns layered with neutrals are good options to consider. Together with the white walls, they highlight the feeling of space and airiness.
A home without curtains is incomplete in an indescribable way, like a painting without a frame. And whether or not the room features a big wall of full-length windows or a small one; adding curtains to suit your design aesthetic can make all the difference in terms of the overall feel and ambiance of your living room.
Also Read:
Modern and Stylish Living Room Theme Ideas
Living Room Center Table Decoration Ideas
Best Living Room Rug Ideas for Your Home