15 Gorgeous Coffee Table Ideas for Your Home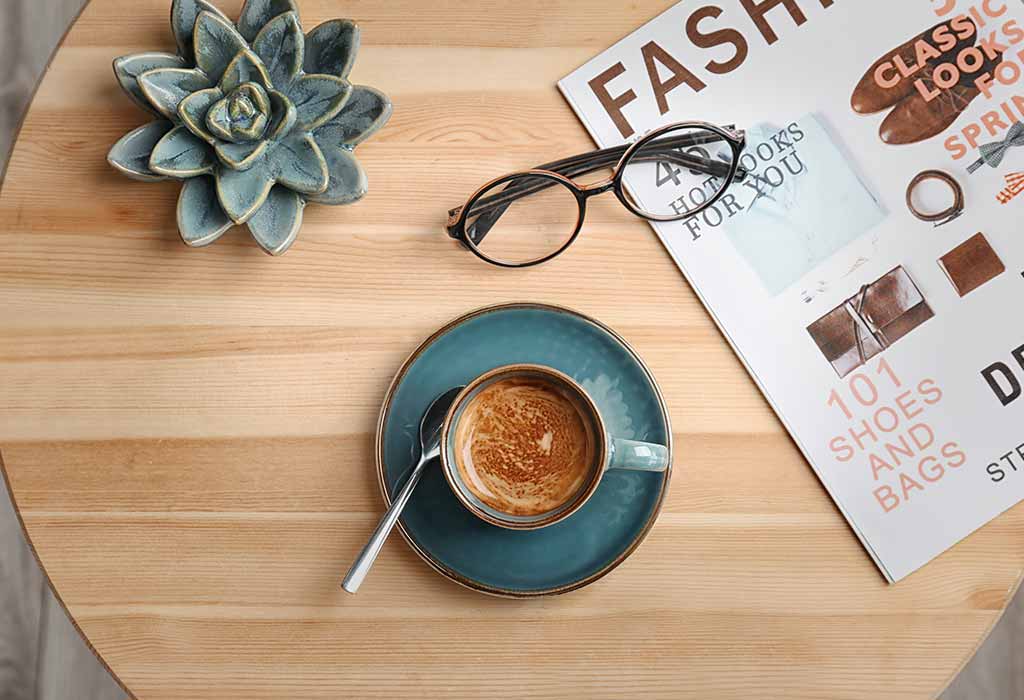 A coffee table is a highly versatile piece of furniture that deserves all your attention! It is normally found in the principal living room or lounge room of the house. Depending on what coffee table you have, the living room can really stand out or go unnoticed. Thus, choosing an appropriate coffee table to increase its utility or maximize the aesthetic appeal of your home interiors is very important. Use refinished coffee table ideas to suit your family's lifestyle and add an element of style to your home decor.
How to Build a Simple Coffee Table
Whether you are starting to furnish, decorate from scratch or updating the look of your home, picking the right furniture, especially in terms of size and style, can make or break your interior décor. A coffee table is a low-in height accent table usually placed along with the big sofa set or conversational chairs for serving beverages, placing books, or other decor objects. This significant piece of furniture not only anchors the living room but helps draw you into your space. A coffee table with drawers and racks can provide additional storage space. In contrast, a clean and purposeful one can double up as a workstation and create a seamless living room aesthetic. It is truly meant to complement your sofas, rugs, wallpaper, photographs, and paintings by completely linking them to each part of the living room. So, place it at the center to have a noticeable central point that may promote interactions and conversations in the living room.
Whenever extra seating is needed, an asymmetrical coffee table leaves room for ottomans underneath. You can customize a coffee table according to the size, height, and color that serves its purpose. Available in numerous varieties, from traditional rectangular to chic contemporary shapes and a wide selection of materials, the designs of coffee tables depend entirely on the interior decoration style of your home. A glass coffee table top over steel or brass suits the formal look and gives it a sophisticated feel. At the same time, a wooden coffee table or a black coffee table would look absolutely modern yet classy. Even a center table with leather or faux leather can act as a magnificent coffee table centerpiece. Considering its practical utility and the latest design trends, custom-made designs allow you to create your own unique homemade coffee table that works best for your home. If you're wondering how to make a coffee table, play with innovative ideas and follow the step-by-step instructions given below to give your living room a fresh makeover.
1. Coffee Table With Seating Storage
A coffee table with seating storage can be handy for any small living room.
What You Will Need
Thickness measuring 3/4 inch and 4 x 8-foot sheet of plywood
Pencil
Measuring tape
Wood glue
Iron-on veneer
Drill
Clamps
Jigsaw
1-1/2-inch screws
1-1/4-inch screws
Iron
Paintbrush
Clean finish
Instructions
Measure in 3/4-inch and up 19 inches at the bottom right corner of a 19 x 38-inch under-layer top piece. Use a jigsaw to cut the board out after placing it on a work table for convenience.
Keep the 19-inch edge of one of the under-layer side pieces of the board below the cut and align in place with a corner clamp. Align the two boards so that they intersect each other at 90 degrees. Next, make a drill from the under-layer board on the top into the side piece with wood screws of 1-1/2-inch.
Place the 13-inch edge of the end piece aligned from where the first side piece has been attached. Clamp it in the right place with a corner clamp and screw up for support.
Now flip the table to work on the top. Attach the 19-inch edge of the last side on the other end of the tabletop with a corner clamp. Make a drill to secure it.
Draw a rectangle in line with the end of your 13-inch wide panel and the opposite 19-inch wide panel. Use a jigsaw to cut out the mark.
Once the under-layer of the table has been put together, apply wood glue to one of the 19 x 18-3/4-inch sides. Then clamp the 19-inch sides of the under-layer and the finish layer together. Make three columns of three screws underneath the table by drilling to secure the two sides together using 1-1/4-inch wood screws. Follow the same procedure on the remaining side and end piece.
Once the glue has dried completely, sand down any rough edges on the top using a power sander. Apply glue on the underside of the 20-1/2 x 38-3/4-inch tabletop and align it on the top of the table that has been assembled. Secure it as the sides.
Even out the rough edges on the sides with sandpaper and wipe it to clean. Cut the iron-on veneer to the desired size and apply as per instructions. Layer a clear coat to the entire surface, including the sides of the table, and let it dry.
2. Birch Log Coffee Table
Simple yet stylish, a birch log coffee table has an interesting detail that brings the outdoors in and lends a natural look to your home.
What You Will Need
4×8-foot sheet birch plywood
Circular saw
Birch logs cut 18 inches long
Miter saw
Wood screws
Grout float
Grout
knife
4-inch casters
Clear polyurethane
Wood glue
Cordless drill
Instructions
Cut the base of plywood to approximately 33×24 inches. Make a plywood box with measurements of 27x18x16 inches by cutting one 27×18-inch piece for the top and two 27×16-inch and two 18×16-inch pieces for sides. Fix the sides of the box together with glue and screw them. Center the box on the wooden base by screwing through the box and into the base.
Cut logs to 18 inches using a miter saw. Adjust the quantity based on the diameter of your logs. Apply wood glue along one side and on the bottom of each log. Attach the logs to the wood base and box. Screw through the wood box into each log for extra strength.
Top the box with the 27×18-inch piece of plywood that has been cut in Step 1 and screw it up.
Cut around 40 pieces of 1-inch birch rounds with a miter saw. Secure them to the box top while aligning them in rows with wood glue
Spread grout over the logs with a grout float, smoothing between the edges of the logs. Wipe off or scrape off the extra grout with a knife and leave it to dry.
Fix casters to the base of the table with screws about one inch away from the table's edges. Spread a coat of polyurethane to the wood for a perfect finish.
3. Old Door Coffee Table
Any old door can be upcycled to make a dazzling coffee table that will win instant compliments. The hardware of the doors with a rustic flair will add to the overall vintage look of your house.
What You Will Need
circular saw
Old door
dark wax
(4) L-brackets
glass top
tape measure
drill
shop vacuum
rags
sandpaper
mask and gloves
Instructions
Measure the exact size of the door to ensure that it is wide enough to have a 2-inch overhang on the sides of the coffee table. Paint or refinish the base for the desired look.
Clean and sand the door to remove the loose paint and dirt
Use a circular saw to cut the door down.
Spread dark wax on the entire door, including the edges, especially the edge that was cut. Buff out the wax and do a second coat.
Lay the door face down on a drop cloth. Place the coffee table frame on the back of the door. Make sure it is centered and even. Attach the base to the door using L-brackets on all four corners—paint L-brackets to match the color of the base.
Take exact measurements of the top of the door and place a piece of tempered glass for the top.
Budget-Friendly DIY Coffee Table Ideas
Coffee tables can be incredibly overpriced. Being relatively easy and suitable for either beginners or pro DIYers, it is better to build one from scratch or upcycle one. Here are some wonderful small coffee table ideas that can be used for making one that fits your budget and matches your living room style.
1. Tree Stump Coffee Table
An old tree stump can be converted into a coffee table to create an effortless, rustic look. Try getting them at lumber yards, furniture manufacturers, and salvage yards to upcycle it.
2. Chicken Crate Coffee table
A used chicken coop can be transformed into a stunning beach-themed coffee table. Attach casters to make it mobile and add a Plexiglas tabletop to make it look ultra-modern.
3. Upcycled Window Coffee Table
An old salvaged window used as a tabletop for your coffee table lends so much character and personality to your living room. Place your collectible and repurposed treasures inside this clever unit and admire your handiwork.
4. Vintage Suitcase Coffee Table
Inject new life into a vintage suitcase or an old trunk by drilling holes into the bottom surface and attaching legs. You can store old newspapers and magazines in this hidden built-in storage space.
5. Wooden Crate Coffee table
Wooden Crates are super handy and can be used as a basic unit for making an antique coffee table. Assembling wood scratch, pallet woods, or wine crates directly to make a square or rectangular form can work in different sorts of layouts. You can even use wood varnish to polish it or join crates for extra storage space or shelf display items.
6. Cable Spool Coffee Table
With the rising cost of lumber, an affordable option can be to convert an old cable spool to a bookstand with a coffee table top that looks complete with rolling casters. Smaller cable spools can be used to make multiple tables that can be arranged together in various patterns.
7. Industrial Coffee Table
Taking inspiration from lofts, factories, and warehouses, a classical industrial style coffee table suits homes from farmhouse to Scandinavian décor. It might consist of wood, metal, or a combination of the two. Wooden boards instead of glass tops can give it a country feel.
8. Herb Garden Coffee Table
You can use your coffee table to display plants or grow a herb garden inside its built-in metal planter box. This table can be ideally placed in a porch or patio area, as the plants would drain water underneath the table.
9. Door Coffee Table
You can recycle them from simple old doors to ornately carved ones encased with brass and iron handles by painting them with bright colors. Adding casters and a bottom shelf area can also make them your favorite living room accessory.
10. Picket Fence Coffee Table
A rustic repurposed picket fence coffee table made of solid wood with a plank-style lower shelf can be a great addition to any living room. Its two-toned colors with the right distressing can create a coastal look for a warm and inviting natural home.
11. Square Plank Coffee Table
Walnut or oak veneer pieces can be used to make a coffee table with a planked top. Boasting a solid silhouette, it can be outdoor friendly and passed down like a piece of heirloom furniture. A two-tier square Plank Coffee Table made from reclaimed teak boards is large enough for smaller rooms and small enough to act as an end table in larger rooms.
12. Balustrade Coffee Table
A clean-lined coffee table, defined by its bold and discreet balustrade supports, has immense architectural appeal and fits in easily with any home decor arrangement. It may feature an open lower section that provides a place for a spread of sumptuous eatables or a pile of newspapers.
13. Hair Pin Leg Coffee Table
Bring a streamlined, modern style to your seating ensemble with an impressive retro coffee table. You can craft it from manufactured wood with laminate veneers in a rich woodgrain finish and complete its design with four powder-coated metal hairpin legs.
14. Fireplace Coffee Table
A rectangular fire pit coffee table with a glass or steel enclosure will add a modern touch to an indoor or outdoor space. A cost-effective bioethanol-burning coffee table will give you all the warmth and hypnotic goodness of a real fire. Commercially available fuel, which runs smoke- and fume-free, can be used not to require any ventilation if you burn it inside your home.
15. Mosaic Tile Coffee Table
A steel or weather-resistant iron frame coffee table with elaborate geometric motifs in mosaic patterned featuring different color combinations can definitely steal the show. Individually hand-chiseled tile pieces are set into a plaster base and placed in an iron surround round table.
You don't need to be a master craftsman to furnish your home! Building your own coffee table that meets your exact specifications can be rewarding and fun. Anyone can get it done with a bit of effort, patience, and inspiring ideas. You not only save money but utilize your specialized skills and tools to make a statement piece that you can be proud to show off to friends and family.
Also Read:
Living Room Center Table Decor Ideas
Beautiful Bedside Table Ideas
Process and Basics of Table Setting