15 Dazzling Fireplace Makeover and Remodeling Ideas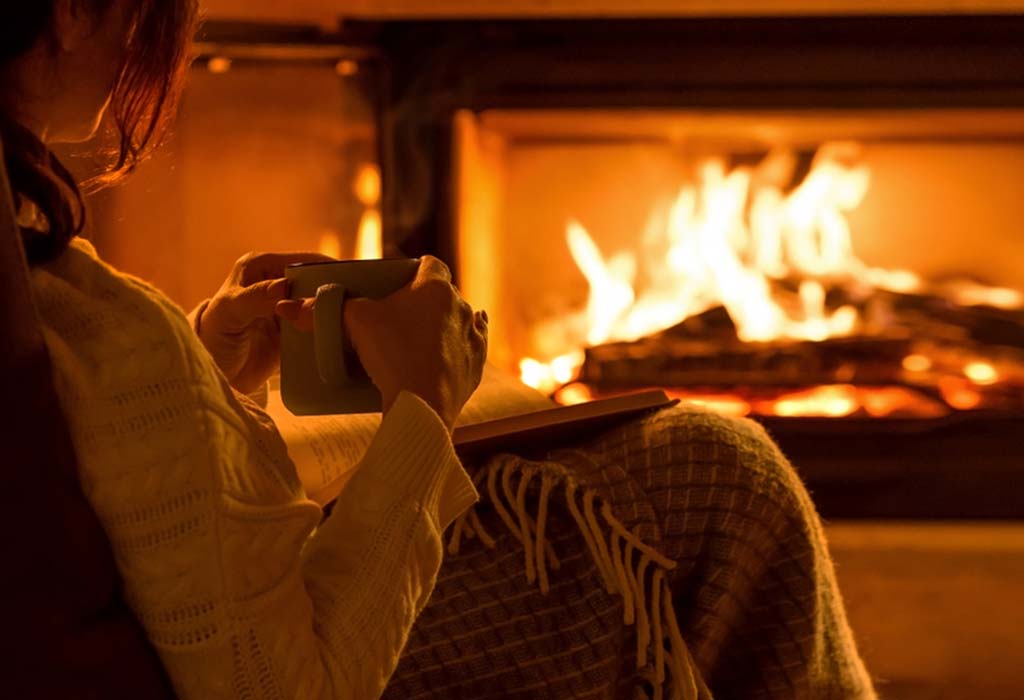 In this Article
A fireplace is a rewarding aspect of a home that provides a great means of relaxation and warmth. Besides being an eye-catching display place all year long, this fire-lit corner adds an extra touch of architectural vitality to any house. So, in case you're looking to unlock the existing brickwork's stylish potential or updating your fireplace, this investment is surely worth your effort and Money.
Easy Fireplace Makeover Ideas
A fireplace can literally brighten up your winter experience apart from providing a perfect cozy setting for family bonding time or a romantic candlelight dinner. You could pull up in a comfortable chair and read an interesting book or gather around crackling flames with friends to enjoy countless favorite indoor activities. A gorgeous fireplace can add a touch of glamour to an otherwise drab room. Even gas fireplaces can provide a hot top surface for grilling a sandwich or heating soup. Both wood and gas fireplaces have the ability to disperse inviting aromas around your home. Apart from the unmistakable scent of burning wood, you can simmer stove-top potpourri that can keep the air from drying out as well. The fireplace can keep you warm and provide light through extended blackouts when the worst of winter storms hit. Old fireplaces are known to be drafty, and heat often escapes through the chimney top. You can install a gas-set or wood-burning insert into your pre-existing fireplace opening to eliminate the draft issue. If you're looking for eco-friendly heating, modern wood-burning appliances produce a small number of emissions and can easily qualify as smokeless heat sources. Hooking a fireplace into your existing heating system could help use a wood-burning fireplace as the main source of heat that allows you to save on your energy bills and become less dependent upon utility companies. Alternatively, it doesn't have to look like a traditional brick hearth with a wood mantel if there is already a built-in fireplace. This sought-after architectural feature with added utility is increasingly gaining popularity for increasing a home value. Viewers are immediately attracted to the authenticity and personalization of the space. Thus, professional interior designers' fresh and innovative fireplace redo ideas can lend your desired comfort spot a charming update. You can even be inspired to do a DIY fireplace makeover to offset your modern décor. Whatever be your style and need, a fireplace remodel can completely transform its appearance and improve its efficiency. Here is a compilation of the best fireplace renovation ideas that can make it the most dazzling focal point of your home.
1. Stone Fireplace
Natural or artificial stone can typically be less expensive than a brick remodeling. It helps radiate heat better so that you can get more warmth out of your fireplace. It also projects a warm atmosphere and lasts forever if well-maintained. Easy to clean and heat resistant, granite is a durable stone.
2. Marble Fireplace
Remodeling a fireplace with a slate or marble design can give your home added value. Marble in whites and greys remain a classic option for a tasteful, refined look. Moreover, these neutral tones can be adapted to nearly any design style. Vertical applications of marble in fireplaces can showcase the luxury of marble beautifully.
3. Mantel
Mantels are extremely versatile and can take your fireplace to the next level. They help you express your personal taste more than any other fireplace accessory. A floating mantel is sturdy enough to hold heavy objects and can brighten up a dark brick fireplace. You may use standard lumber and crown molding to create a fresh new look.
4. Stainless Steel Fireplace
The sleek brushed face of the state-of-the-art stainless steel trim elevates your outdoor fireplace and patio atmosphere. Available in multiple finishes, this slim and contemporary accent frame is sure to work seamlessly with any existing home décor.
5. Exposed Brick Wall
An exposed unpainted brick expanse works better with a 'raw' contemporary look and lends itself to a range of interiors styles, from country to industrial.
6. Fireplace Surround
Fireplaces can make your living room stand out and be more useful. This area includes the mantel and can extend beyond that, including the hearth and molding. You can create an entertainment system around the fireplace, make a storage space with shelves for books, cabinets, and even hidden drawers to simulate that built-in look.
7. Adding Sconces
Sconces act as a decorative accent that complements the area around the fireplace by making it more relaxing. In fact, sconces can flank a mirror beautifully, provide light for reading, cast accent light on displayed objects on adjacent shelves and mantels that elevate a hearth's grandeur.
8. Moulding
Using molding and white paint can extend our fireplace to the ceiling to give it a regal and expensive look. Trim molding with subtle details under the mantel and around the tile can give your boring or dated fireplace a new look. Sticking with one trim line with repeating or complimentary details ensures that the project looks cohesive and blends well with other house elements. You may use fluted trim for the sides of the fireplace or dentil molding for more decorative accents under the mantel.
9. Accessories
Since contemporary fireplaces are understated in their appearance, unfussy accessories like a single oversize abstract painting, a pair of swirly art glass vases, a line of clear hurricanes, or natural objects with sculptural shapes can best enhance their appeal. Tend the fire like a pro with a set of fireplace tools next to it. Ensure the even distribution of the heat with a poker. Tongs can be used to safely pick up fiery logs and move them in the firebox.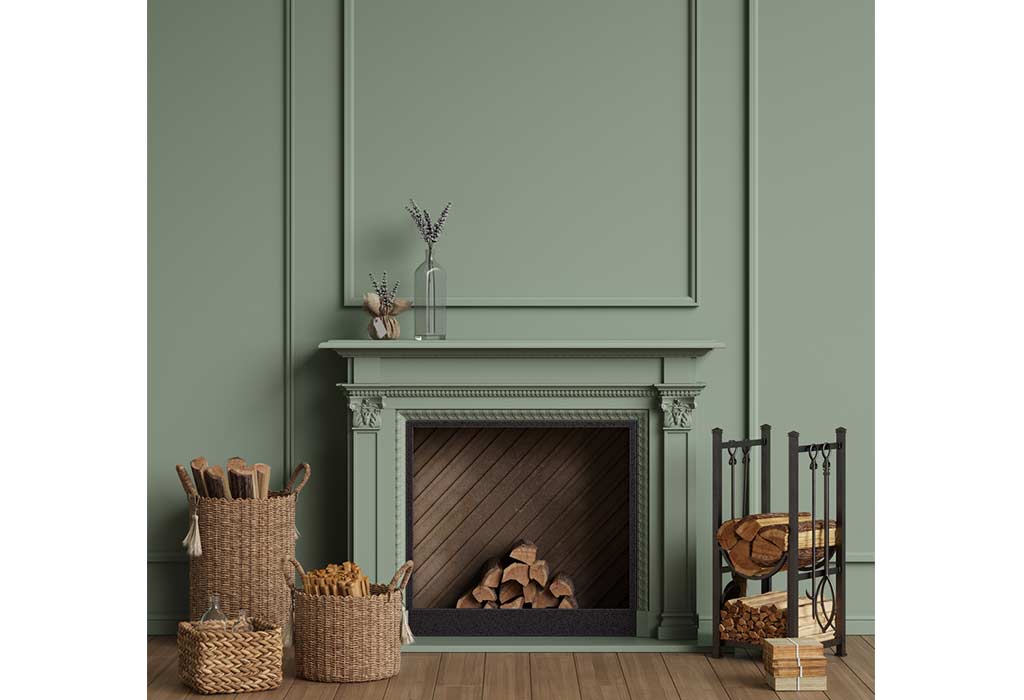 10. Modern Fireplace
Modern fireplaces derive their chic allure from a streamlined silhouette, crisp contours, neutral hues, floor-set hearths, and novel use of natural materials such as granite tiles or slate surrounds and interiors covered in travertine tiles or slabs of soapstone. Trendy models without mantels, simple mantels with a rustic wooden beam mounted above the firebox, or a shallow frame with bare protrusion from the wall are on the rise.
11. Mixing Surfaces
Mixing complementary surfaces and finishes into your fireplace design as hearths, firebox interiors, mantels, and fire screens prevents these one-note soaring structures from appearing monotonous. Plain and stained concrete, wood planks, and stone slabs or tiles emit futuristic vibes when they share a color set in a simple pattern.
12. Whitewashed Brick
Whitewash preserves the natural texture of the brick while bonding tenaciously to any masonry or coarse wood surface. A whitewashed fireplace acts as a neutral backdrop for photographic prints while bringing texture, calmness, and personality to your room.
13. Dark Colour
A dark color layout surrounding your fireplace looks dramatic when you have tall ceilings, an open concept layout, and lots of natural light in the living room. It makes a large, bright room feel cozier when you pair a gray wall with a mix of colorful décor apart from hiding dust and ash, which might show on the natural concrete.
14. Eye-Catchy Tiles
From interlocking wood to hand-painted terra cotta, decorative tiles can give a fireplace a cutting-edge, eclectic look. Naxos with texture and variations in the pattern is a great fit for glamorous fireplace surrounds. Subway tile has become a versatile modern classic that fits effortlessly into almost any style of home. Metallic porcelain tile is excellent for bringing a modern, moody touch to a fireplace. Sculptural midcentury ceramic can truly elevate a basic wall of sheetrock to a high design stature.
15. German Smear Look
Instead of spending big bucks to repaint your fireplace wall, consider an affordable DIY upgrade by applying German smear for a time-worn brick reminiscent look of centuries-old European homes. The layer of mortar on the brick adds a rough texture creating a rustic and distressed appearance.
As wonderful as fireplaces can be, they come with associated fire hazards. Hence upgrading it with regular cleaning, inspection, and renovation can help to improve your home efficiency, safety, and aesthetic appeal while remaining secure and invulnerable to potential dangers. Install glass fireplace doors with locks, then put a screen or small indoor fence in front so that pets and kids don't get hurt by touching them. Design trends may vary but choose a fireplace before and after look that suits your lifestyle best. Also, check with your local municipality for any building codes or permits you need to abide by.
Also Read:
Nature Inspired Home Decorating Ideas
Theme-based Decorating Ideas for Living Room
Best Joyful Spring Decor Ideas for Your Home