15+ Creative Shower Tile Ideas for a One-of-a-kind Bathroom
In this Article
Decorating your bathrooms with tiles is no new concept. Even the ancient civilizations such as Persians and Romans used beautiful tiles in various design schemes and mosaics to decorate their bathhouses and spas. Even today, many contemporary bathroom designers take inspiration from those tile patterns. This fact solidifies the importance of tiles in transforming or designing a bathroom. Attractive tile shower designs can transform up your bathroom from outdated to stylish with no other changes. So when you are looking for ways to spruce up your outdated bathroom, stylish tiles in the shower area are the easiest way. Decorative shower tiles come in an array of aesthetic gamut from simple to inlaid stone and solid whites to multicolor patterns. You have a wide range of materials, styles, and designs to choose from to get inspired to decorate your bathroom.
Unique Shower Tile Ideas for Your Bathroom
Decorating your bathroom doesn't require you to go for extensive interior work. Neither styling your bathroom requires you to spend an exorbitant amount. You can easily style up your bathroom by just tiling up your shower. Stylish and decorative tile patterns for showers can change the complete look of your bathroom at an affordable cost. Here are some unique tile shower bathroom ideas to change the look of your bathroom:
1. Varied tile styles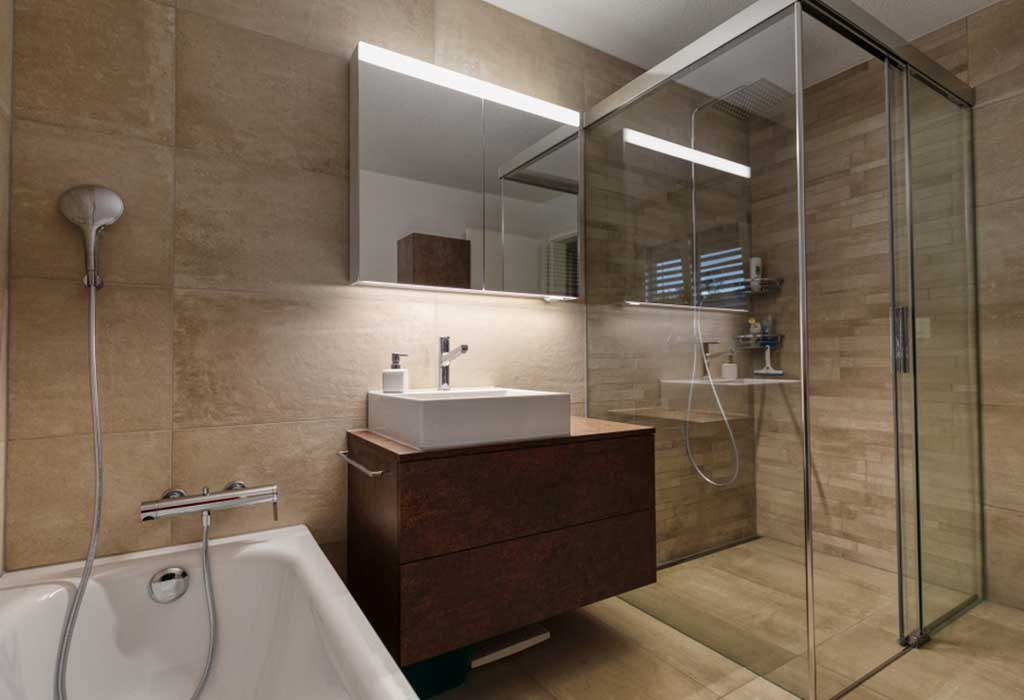 Looking for minimalistic and modern tile shower ideas? For a minimalist yet modern bathroom, use shower tiles in neutral tones. However, to get a unique design pattern, use tiles of different materials in the shower space. The varied layering of tiles of different materials in different sections will make your shower look interesting.
2. Use different shapes of tiles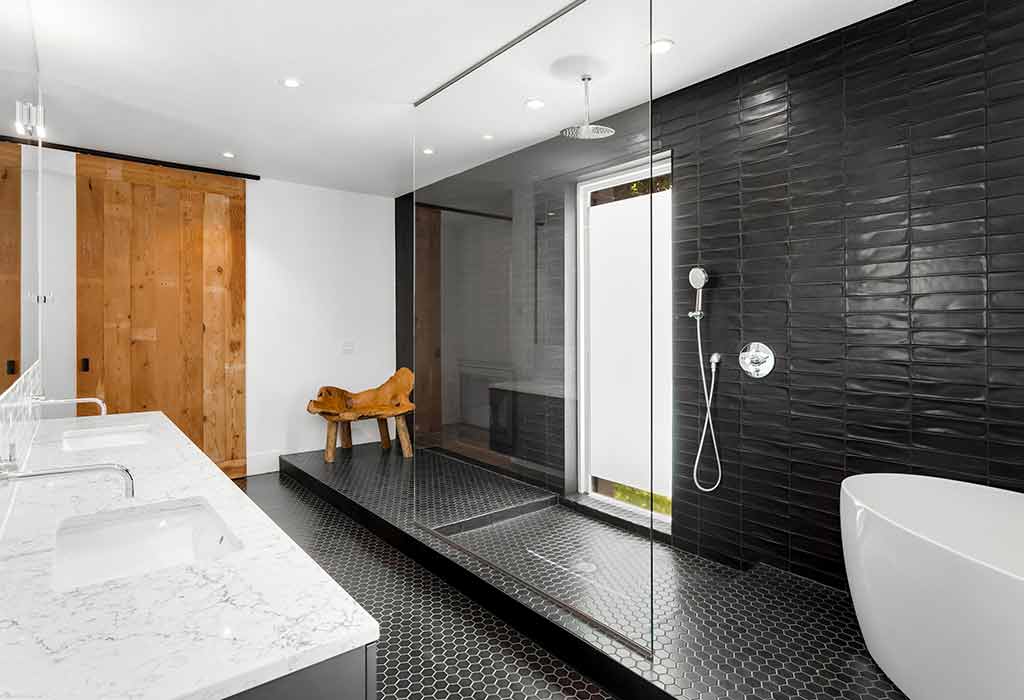 One of the popular bathroom tiles ideas for small bathrooms is to keep the tiles in a single tone but different shapes and add statement fixtures to highlight the bathroom. The same color tiles will make the small bathroom appear big and different shapes of tiles used in the shower walls and on the floor will create a unique design. Add bold industrial-style lighting or fixture to make the tile color pop and bring out the contrast.
3. Decorate the floor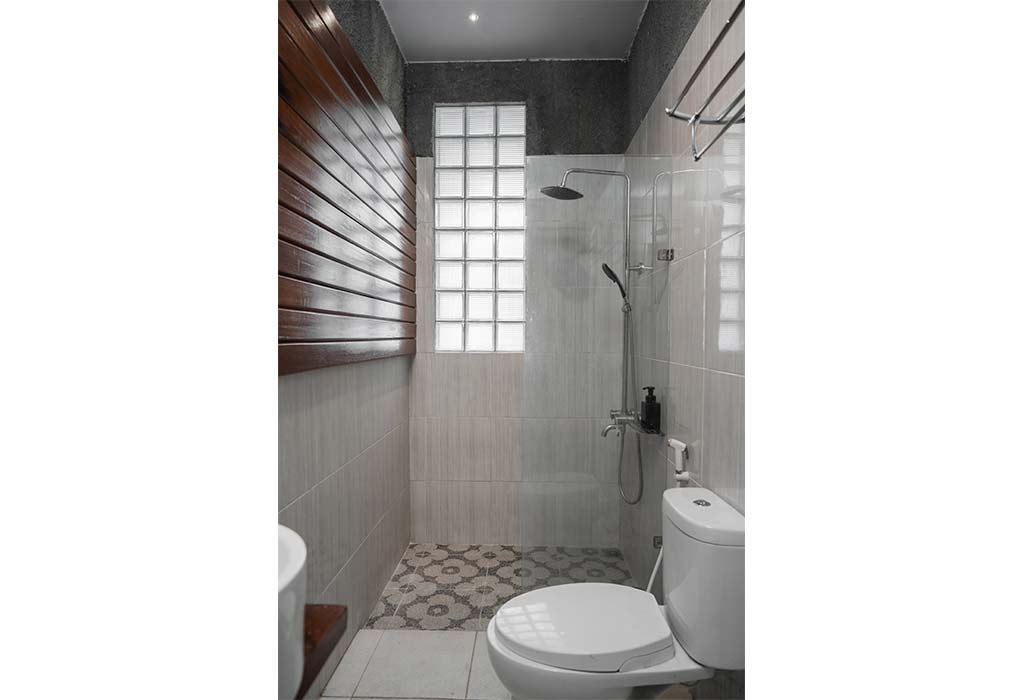 Visually separate your shower area from the rest of the bathroom by using different patterned tiles on the floor. You can use neutral-colored tiles in any pattern on the whole of the bathroom and then on the floor of the shower area, use bold tiles to demark the shower area.
4. Use mock material tiles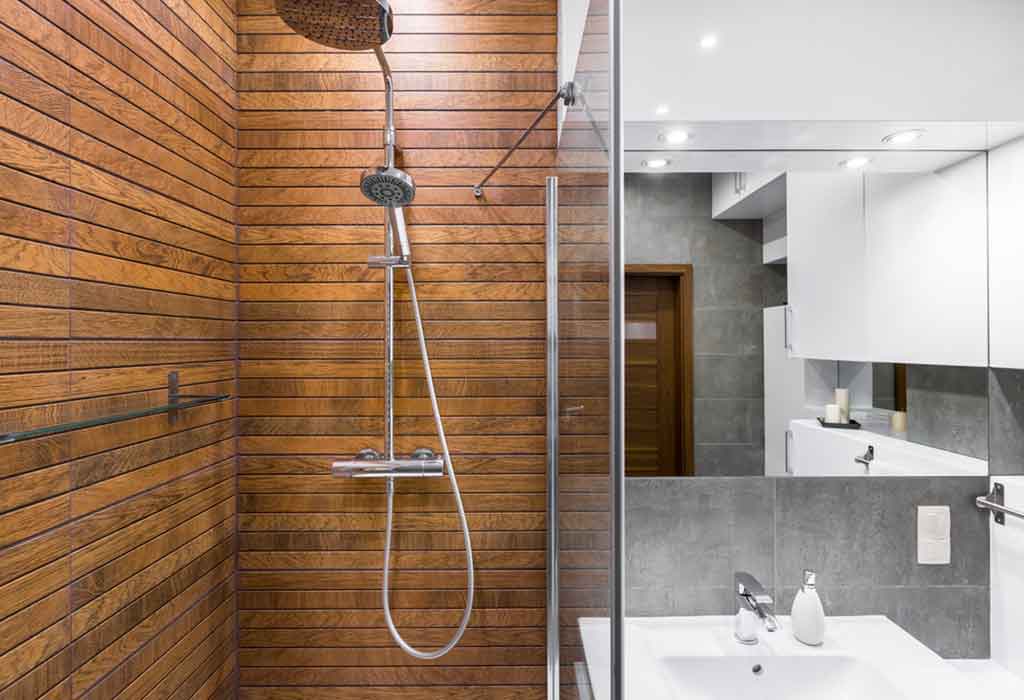 To add a unique touch to your bathroom, use mock material tiles in the shower. Using mock-wood tiles that look just like hardwood floors will give your bathroom a modern and cheeky edge. Mock-material tiles are easy to clean and maintain while giving a sophisticated look. And they look expensive too.
5. Make it monochrome
Monochrome shower tiles in the bathroom always give a cool and contemporary look. Using one-tone color tiles makes the area look larger and the design seamless. Single-tone also gives a neat and clean look as it makes it easier to process the design. Add in a contrasting color sink to make a statement.
6. Varied tile size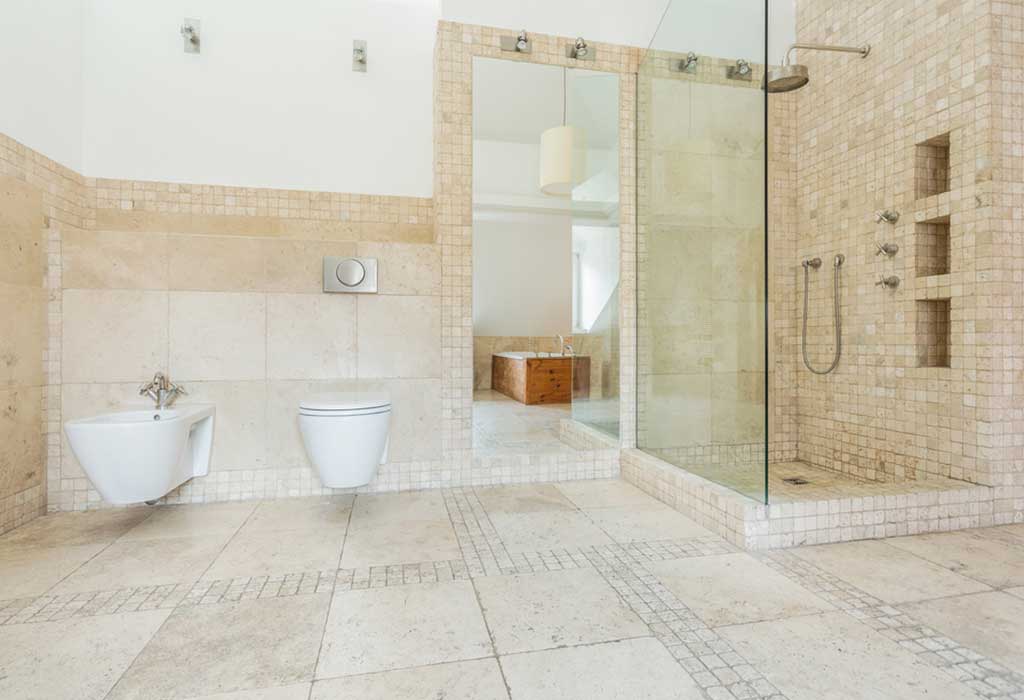 When you are unsure about mix-n-matching shower tile patterns or colors with the rest of the bathroom, you can use shower tiles in different sizes instead to add visual contrast. You can use small rectangular tiles in the same color in the shower while using large rectangles on the bathroom walls and floor. This will set the boundaries of showers subtly without overtly calling them out.
7. Go grayscale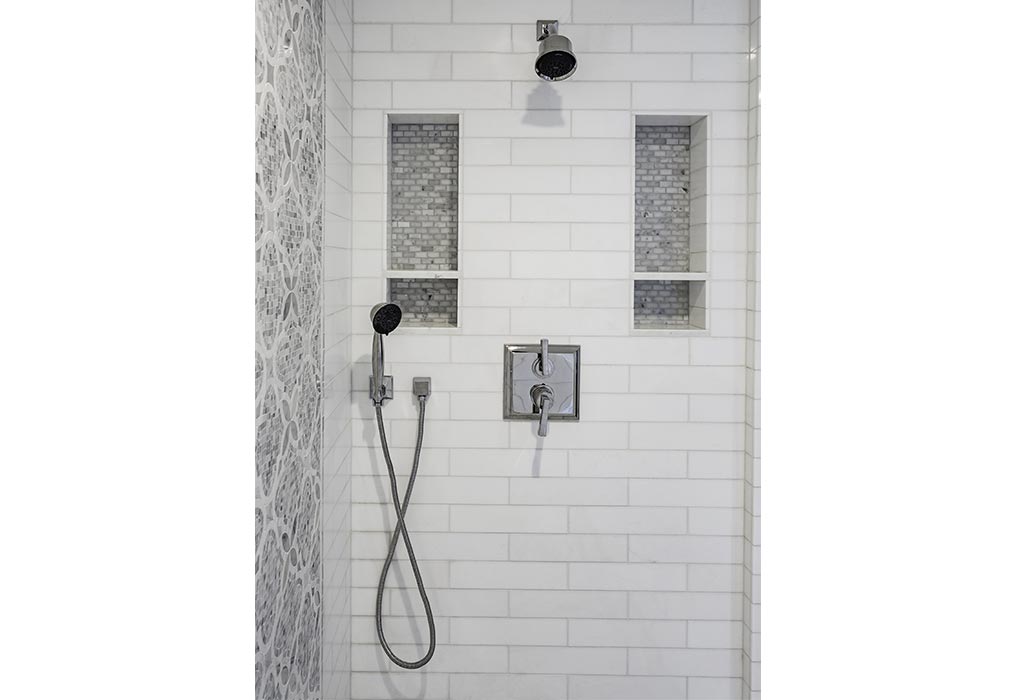 To add a unique personality to a white minimalistic bathroom, add grayscale graphic tiles to the shower. The minimalistic color palette of the bathroom will make the graphic pattern of shower tiles pop out without making them appear visually chaotic.
8. Create a mosaic effect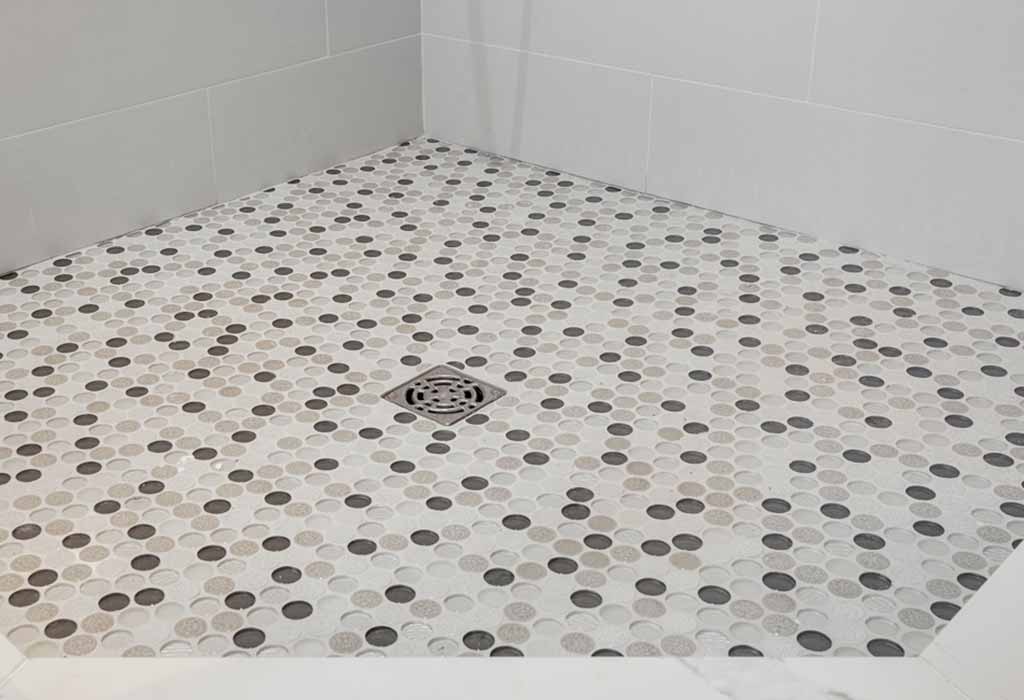 Create mosaic patterns with penny shower tiles. You can go for mosaic stripes on the shower walls in two colors or some other pattern on the floor. The impactful shower tile design will give your bathroom a unique character.
9. Go halfsies on shower tiles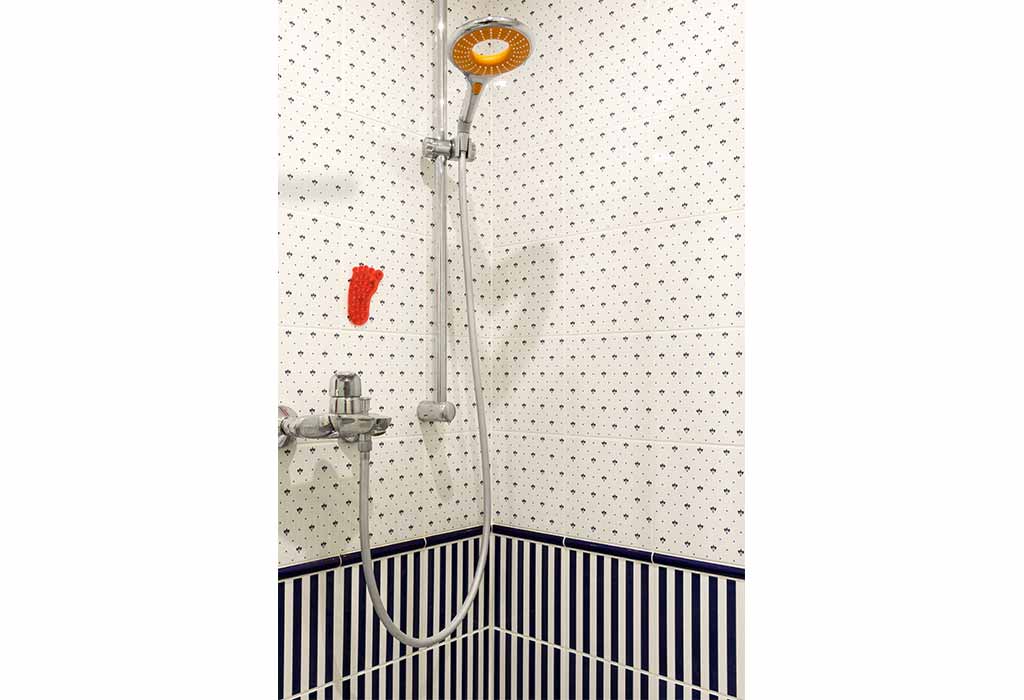 Create a different design by using two designs of tile style on your shower walls in your bathroom. Use the tiles in the same color palette to maintain the same look of the bathroom.
10. Go bold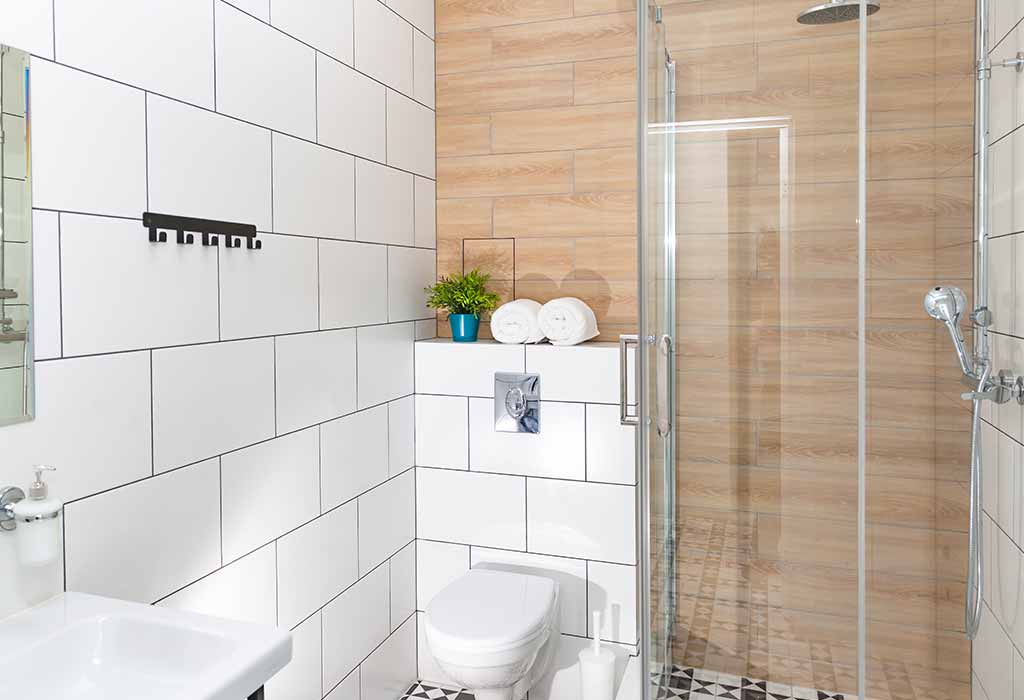 Create a statement design by using bold shower tiles with plain and simple tiles on the rest of the bathroom area. You can use geometric tiles or patterned tiles on the inside of the shower or shower floor.
11. Be colorful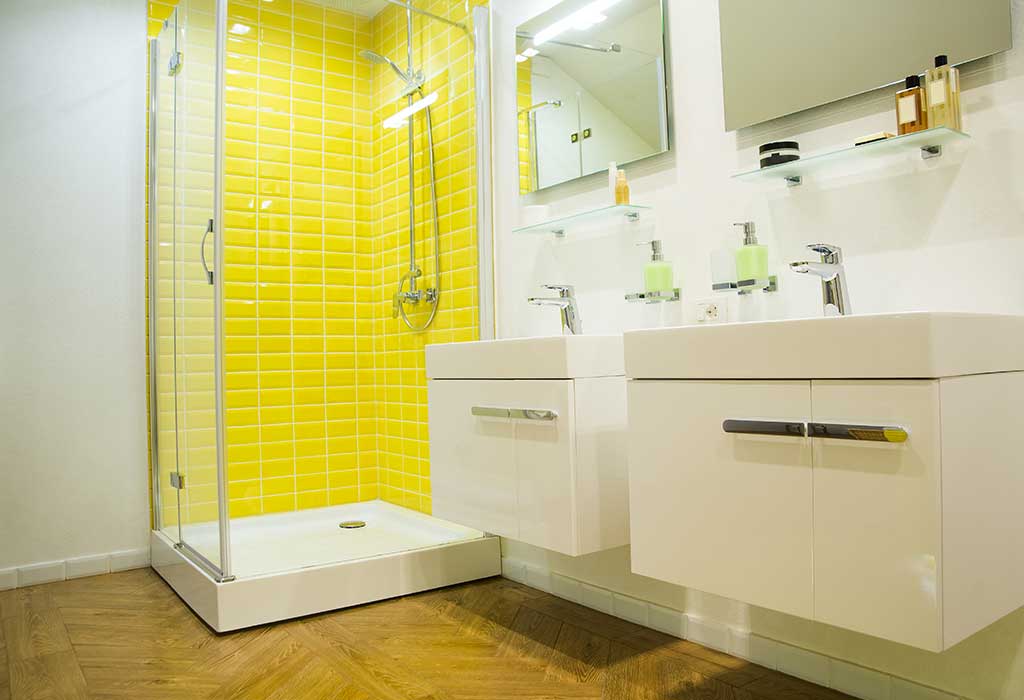 Why be dull when it can be colorful? No one said the bathroom has to be neutral or dull colored. Use bright color shower tiles to brighten up your bathroom. The rich color of shower tiles will make your bathroom look bold yet playful.
12. Go for a statement wall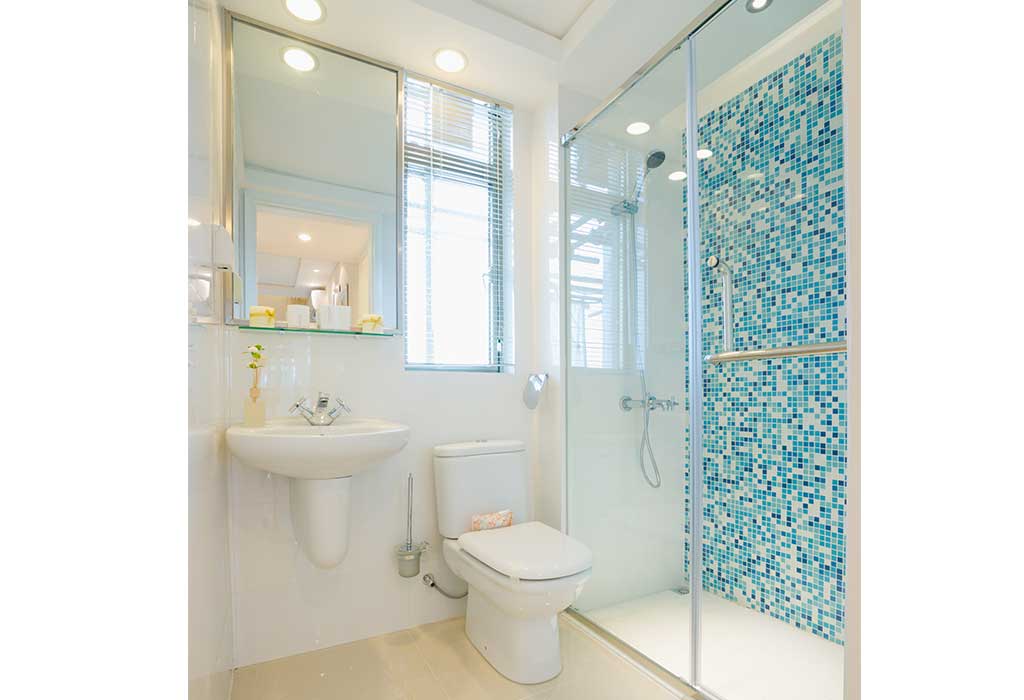 Looking for unique master bathroom tile shower ideas? Make a statement in your master bathroom literally by an enticing statement shower wall. Just use boldly patterned or bright color tiles on one shower wall and use plain or neutral tiles on the remaining area. This will add depth to the bathroom.
13. Play the high ceiling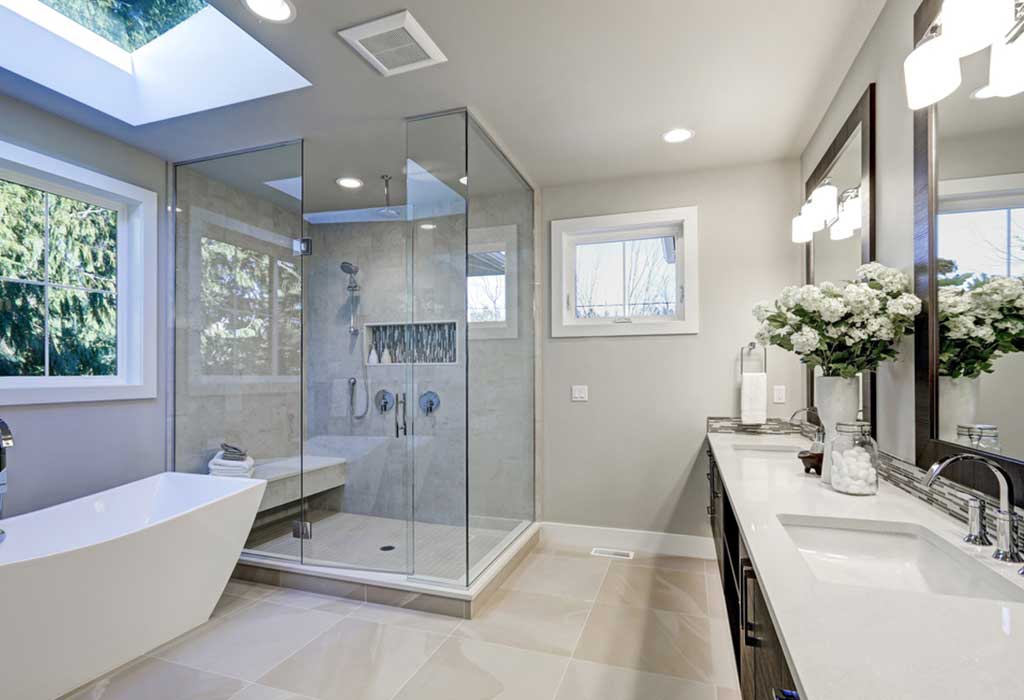 For a bathroom with a high ceiling, accentuate the look with floor-to-ceiling shower tiles. The shower tiles will add texture to the bathroom and will break up the look of the wall nicely. It will also create an interesting backdrop than painted walls.
14. Contrasting shower tiles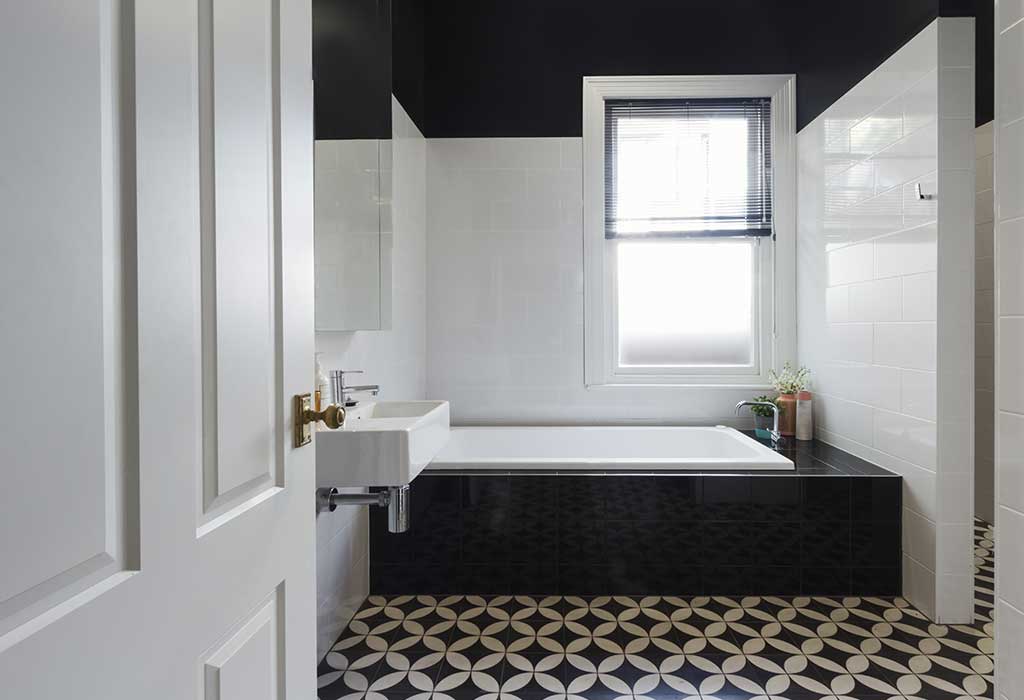 Let your shower tiles counterpoint the other tiles in your bathroom. They will supply the contrast and thereby complement the rest of the bathroom. E.g., if you have used black patterned floor tiles in your bathroom, add a black border in your shower tiles to complement the look.
15. Show off the niches and benches
To make your bathroom design unique, use different colors or types of tiles for small shower insets. Small shower insets can naturally complement or contrast the shower tiles. To add color to your shower tiles, use different color tiles inside the recessed shelf or for the shower bench.
16. Go for geometric artwork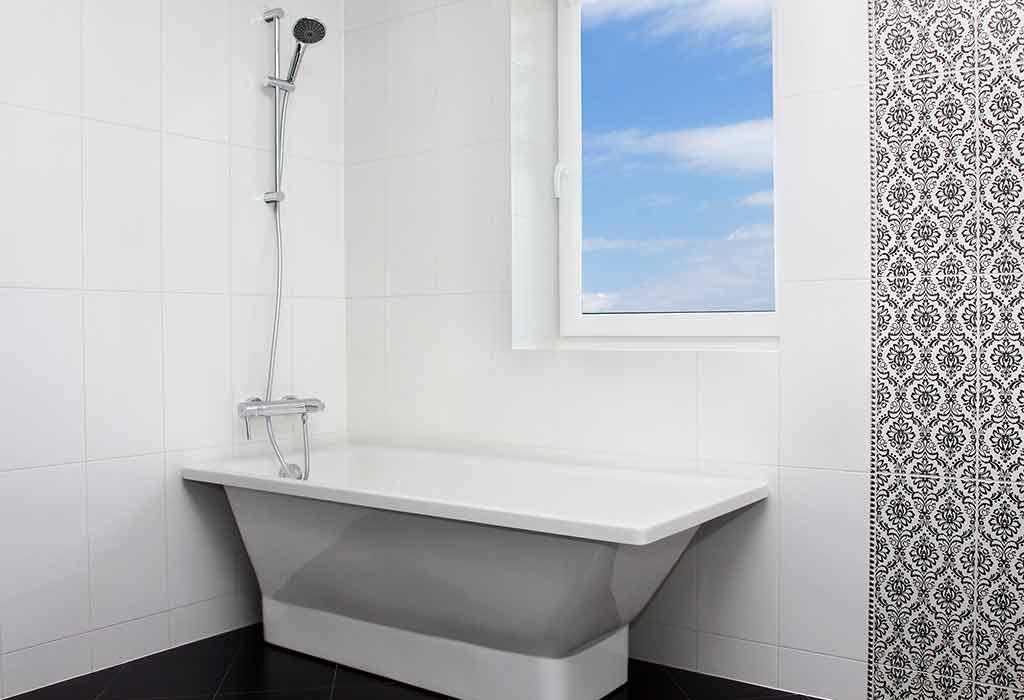 Style your bathroom by using white and black geometric pattern shower tiles. They will add a unique flair to your bathroom and make your shower look like artwork with their geometric patterns.
17. Create visual interest with tile stripe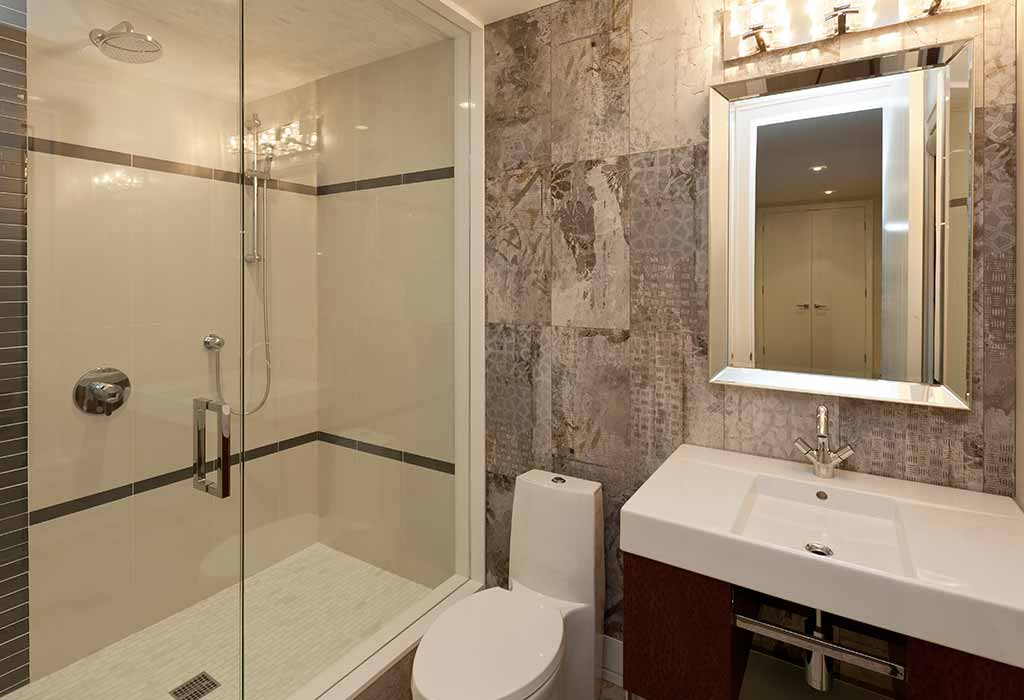 Break your shower wall tiles by adding a contrasting or complimenting single tile stripe. You can go for solid color tiles or patterned tiles, or mosaic glass tiles to create a visual interest in your bathroom. Even a single strip of different patterned or colored tiles is enough to give a unique look.
18. Use contrasting grout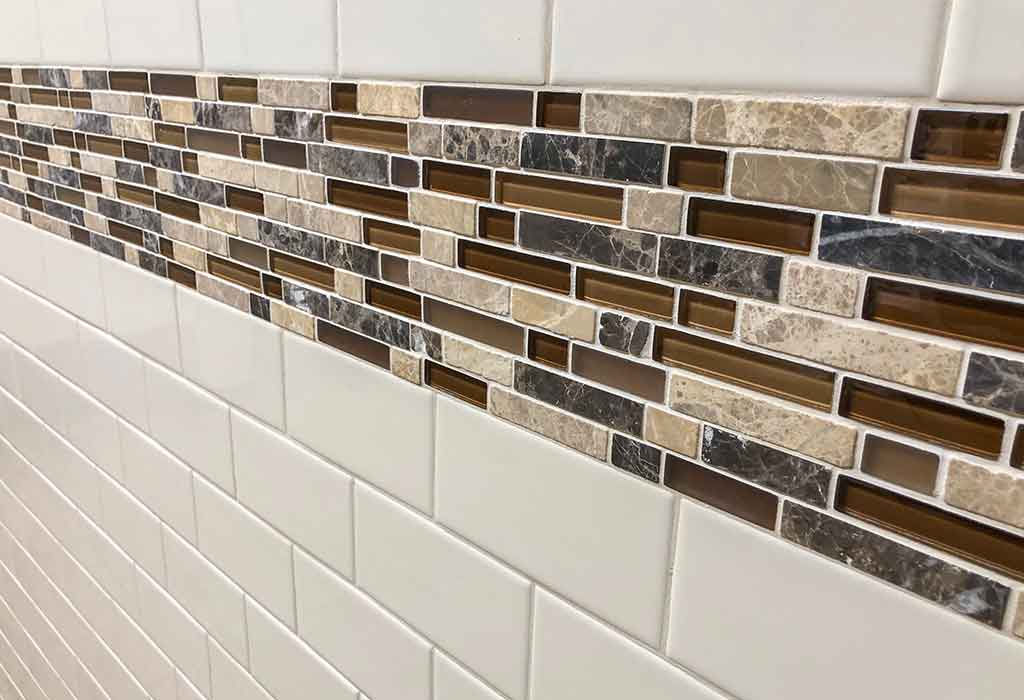 Using decorative shower tiles is not the only way to style up your bathroom. You can use grout in a different color to add contrast to your shower tiles, such as dark grout for light-colored shower tiles. For a trendier look, paint the grout in any vibrant color.
19. Be innovative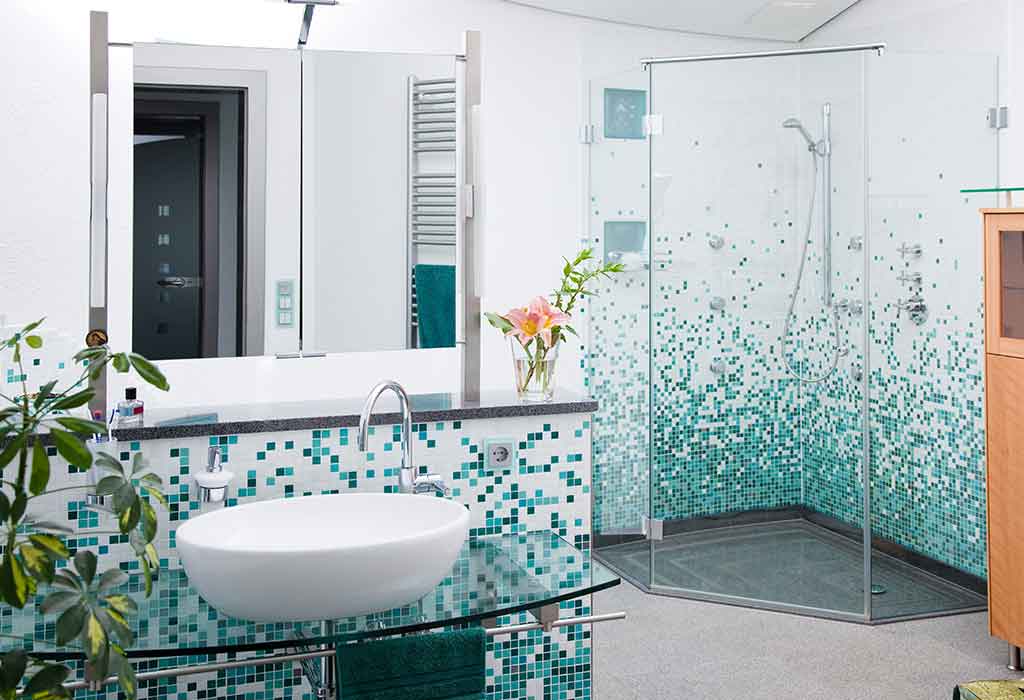 Instead of laying shower tiles on the whole of the walls or floor, try experimenting with an out-of-the-box lay pattern. Use different color penny tiles randomly to create an innovative pattern or tile the walls only halfway up in a nonlinear edge for an unexpected look.
20. Go for a chevron pattern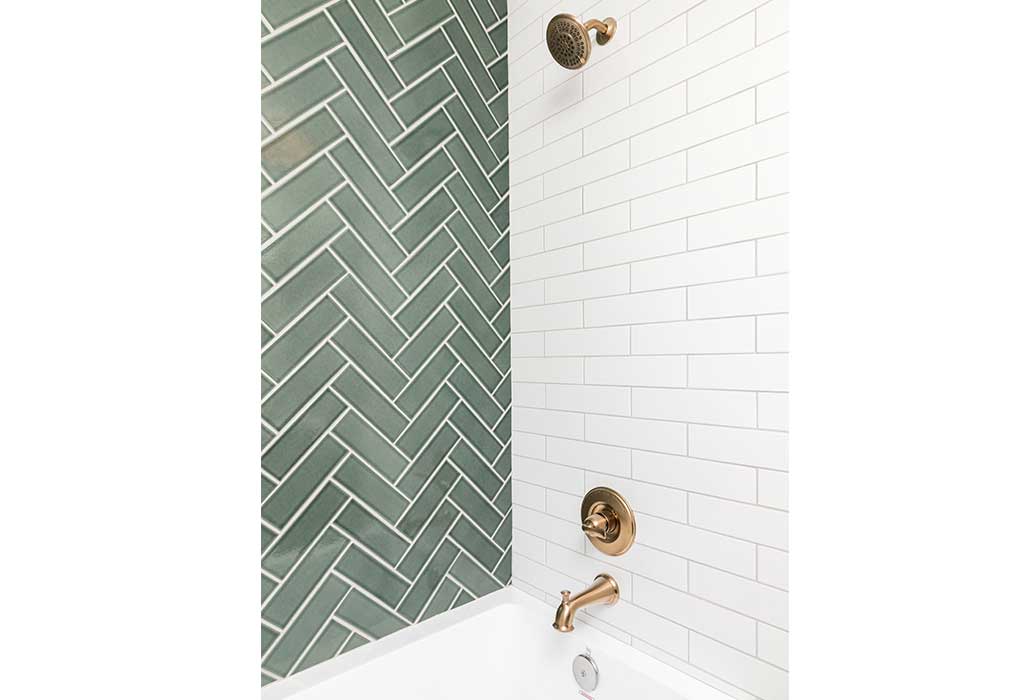 Create a unique-looking bathroom by laying shower tiles in a chevron pattern. You can either use a chevron pattern on the shower floor or go for a chevron pattern on the shower walls. Chevron pattern shower tiles give a unique yet sophisticated look to even a simple bathroom.
Decorate your bathroom with any one of these creative shower tile ideas. By using different shower tile designs in various colors, patterns, and layouts, you can easily create a unique-looking bathroom of your choice.
Also Read:
Easy Ways To Clean Bathroom Tiles
Innovative Bathroom Ideas for Your Moppet
Best Tips on How to Keep Your Bathroom Organised