15 Best Green Cabinet Ideas to Update Your Kitchen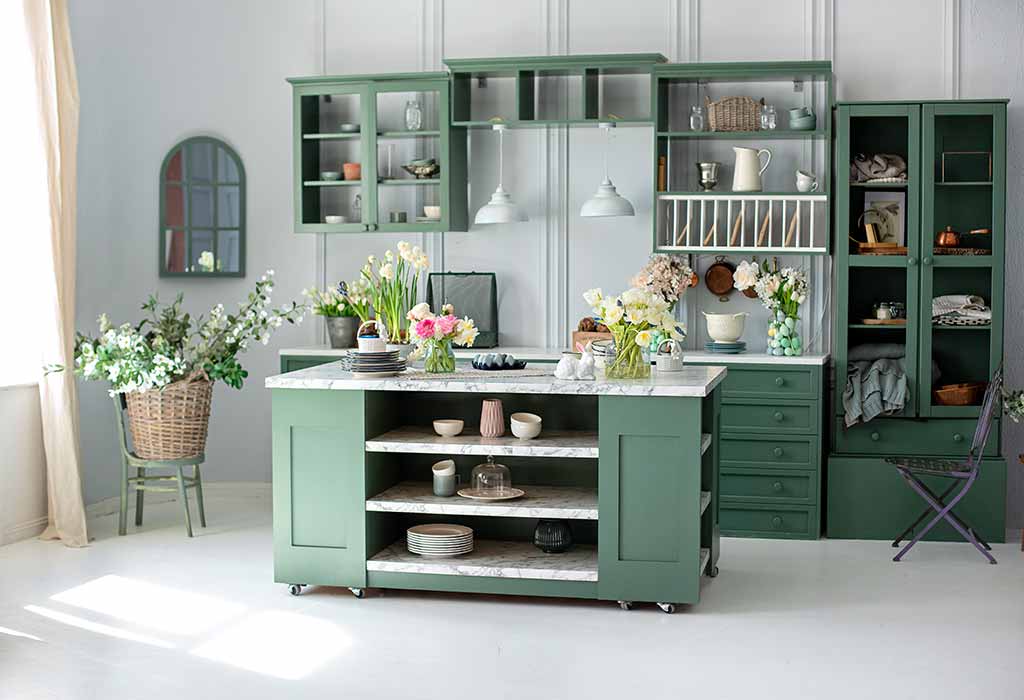 The color green is more than just a passing trend in the world of interior decoration. It is often used to symbolize renewal, the freshness of nature, fertility, harmony, and growth. It exudes emotionally positive energy that inspires us to calm and nurture ourselves for more creative activities. Hence, green in all its shades is undoubtedly considered a perennial favorite among leading designers when it comes to selecting a color for painting kitchen cabinets.
What Kind of Green Shade Should You Pick for Your Kitchen Cabinet
The kitchen is usually the most frequented place in households. However, in recent years, the kitchen has slowly morphed from a room initially dedicated to cooking meals into the epicenter of our day-to-day living. We most likely kick start our day in the kitchen with a cup of coffee or energizing breakfast. This functional and modern kitchen provides the perfect tranquil environment to exercise our culinary pursuits, socialize, learn table manners, develop healthy eating habits, spend quality family time and destress after a long day that will bring lifelong benefits. No wonder your kitchen needs a coat of paint or renovation from time to time to retain its aesthetics and comfort as the other rooms of your home do. After all, a beautiful kitchen means investing in your health and happiness. For those who are not keen to transform the entire kitchen with a full-blown renovation, a simple retouch here and there can make a lot of difference. Changing the cabinets or countertops can significantly uplift the mood in the kitchen. Modern green kitchen cabinets offer one of the most versatile color options in the design schemes. Whether you're fascinated by a softer shade or plan to go bold, both light green and dark green kitchen cabinets can make a statement and reflect your elegant choice in home decor. Apart from bringing the outdoors in, this vibrant color fits any aesthetics and lends a modern appeal to the kitchen. Bright greens can be intense in any setting, but olive green kitchen cabinets can brighten up your space against the neutrals without overwhelming it. From light mint, sage green kitchen cabinets to emerald, these subtler shades are surprisingly easy to decorate with and are sure to play well with all the wooden shelves and marble countertops. These are sure to bring out the inherent warmth of earthy olive and washed-out sage green. Once you paint cabinets green, choosing the combination shades can be just as important. Mix and match shades with complementary colors to create plenty of interesting contrasts. Blending two shades of green for floor-to-ceiling cabinets can give your kitchen a 'fresh from the garden' look. Lower cabinets can be painted darker green, while a light green can be used for upper ones to make the kitchen feel open and expansive rather than crowded.
15 Perfect Green Paint Colors for Cabinets
For a new kitchen, it is advised to choose the appliances, cabinets, and countertops before scouting for the befitting green paints. But if you're repainting, take note of what you already have in the room and consider the paint swatch. A lively green-colored kitchen can look equally dramatic and luxurious without burning a hole in the pocket. This refreshing color goes with different types of hardware and finishes to suit all your styles. Here are some exciting and perfect green paint color choices for your kitchen cabinets that can take you on a nature-inspired adventure and be a real crowd-pleaser.
1. Mint Green
Mint green is a refined pastel shade of the mineral jadeite that works in many different climates. Adding the color to the cabinets can create an attractive contrast to the brass hardware and Moroccan handmade tiles. They can be combined with white larder units, wooden mid-century-style furniture, pale green crockery, black and white tiles to create a retro aesthetic.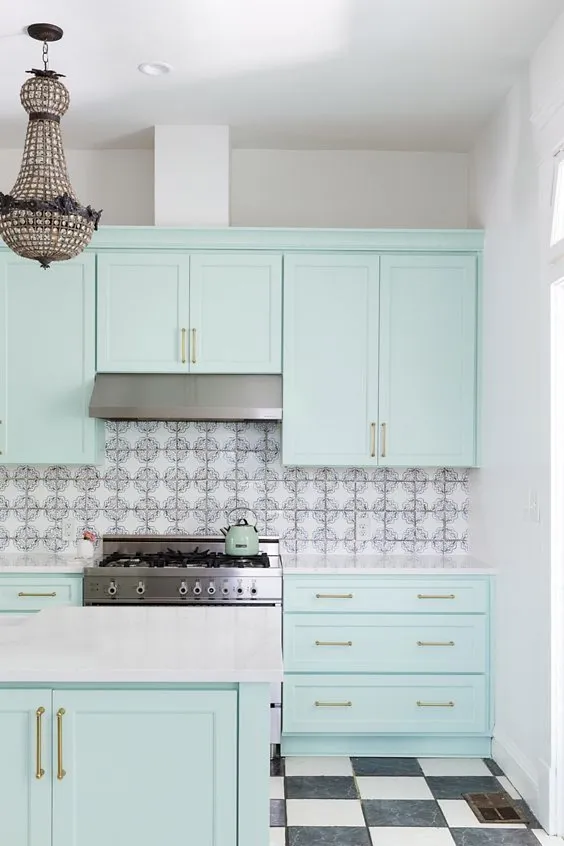 2. Turquoise Green
A greenish turquoise is perfect for producing a beach house vibe for your kitchen. The bluish-green shades of these turquoise kitchen cabinets reflect the colors found in the ocean that are equally cooling and relaxing. The deep rich shade might have the potential to overwhelm the space that can be prevented through the use of numerous lights, cream-colored countertops, light-colored floors, and white walls.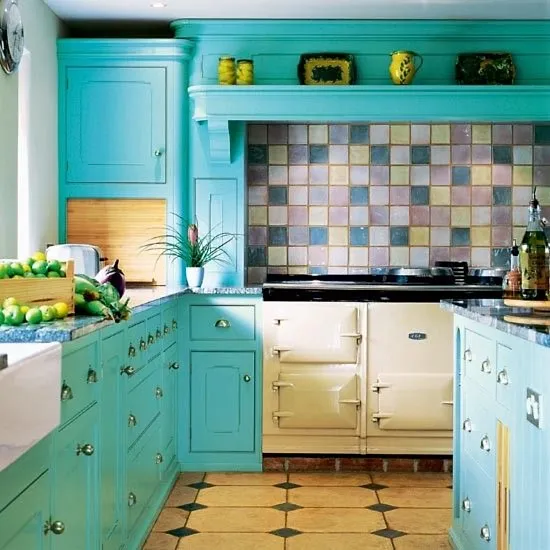 3. Succulent Green
Succulent greens are very inviting and have a spring-like appeal. Their deep, muted, crisp clover green makes a foyer look quite dramatic. These yellow-green shades are livelier than their mint or sage counterparts. Pair it with white countertops for a dashing contrast.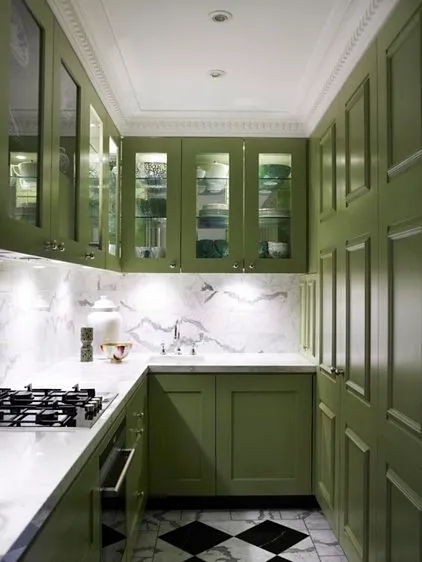 4. Sage Green
Being a lighter and muted shade of green, sage green can inject calm into a kitchen that tends to feel busy and chaotic. With strong ties to the greenery and nature surrounding our home, this color helps to make the kitchen feel more grounded. Combine with darker accents for making cozy, moody spaces in your kitchen.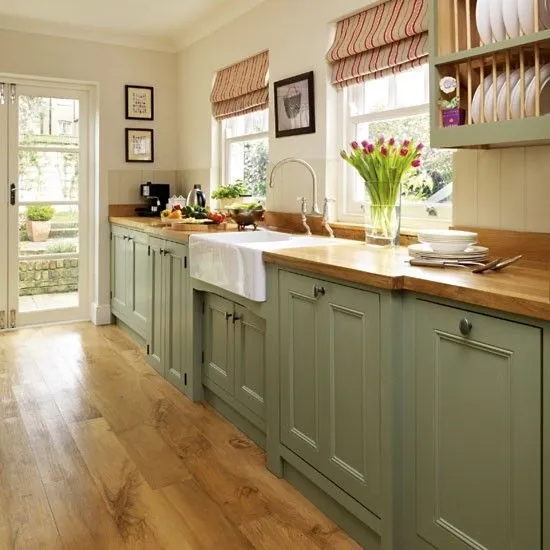 5. Jewel Tone Green
Derived from precious gemstones such as amethyst, emerald, ruby, and sapphire, shades of jade, emerald, and malachite set the regal tone for your kitchen. Embrace a striking and colorful look while selecting from a wide range of shades that vary from mid-tones to deep, saturated shades. Use metallic accents or a high-gloss finish to make the room look less small in size.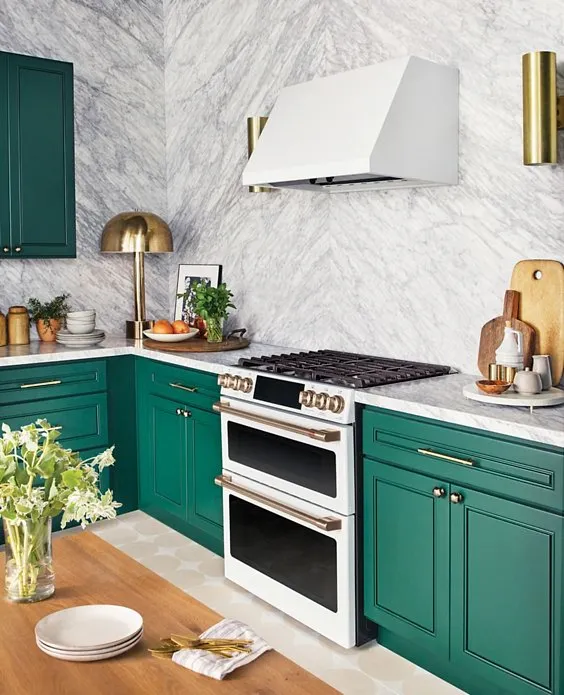 6. Neon Green
Neon green is an amazingly vibrant green that is best suited as an accent. A darker wood tone may underline white and neon green kitchen cabinets for perfect cohesion. Adding a bright new backsplash and a matching pendant light easily adds a splash of color to an existing kitchen installation.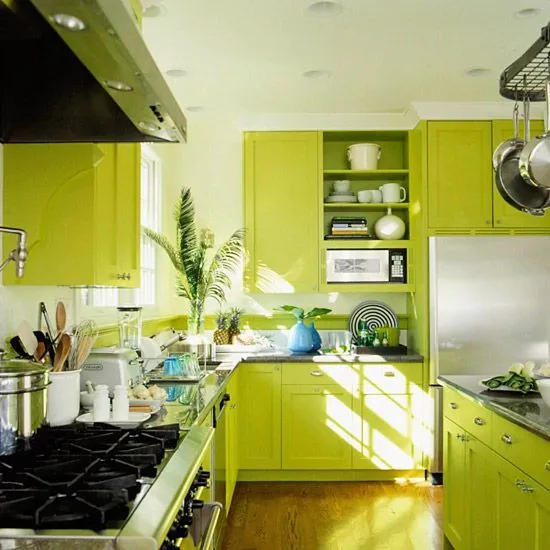 7. Pistachio Green
Pistachio green includes grayed and tinted variations. Often paired with mid-toned timber or white, it is used as a statement color for the splashback and under bench cabinets. Glossy Pistachio green tiles give a luxurious finish to any kitchen wall space. Clean but warm design in pale pistachio green and off-white lends a traditional farmhouse kitchen design a fresh personality, warmth, and character.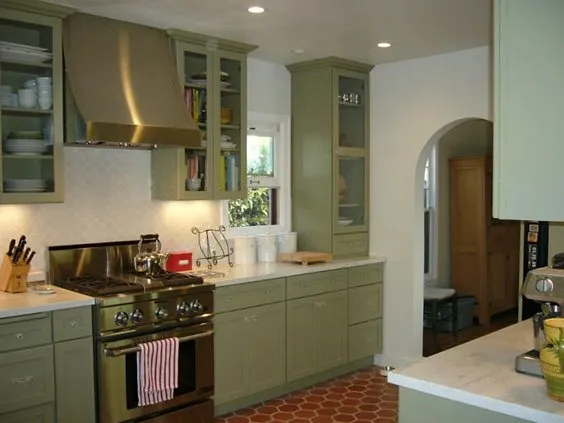 8. Dark Green
Dark green kitchen cabinets let neutral furniture pieces and materials pop up to sight. Imagine a green glazed tile being a classic complement to the dark green cabinets in your kitchen! And, the white marble tile floors just look too perfect with the dark green. Terracotta tiles and green marble island tops can be used in a contemporary way to suit a kitchen of an old classic home. Use a combination of closed and open upper shelving to keep the space look bright.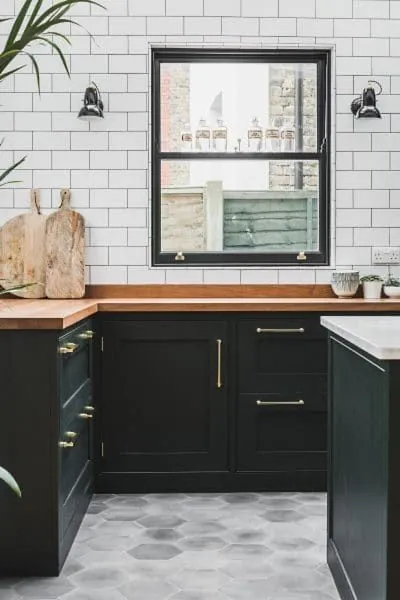 9. Soft Jade Green
Soft jade is a subtle, sweet hue that works with saturated tones and other soft pastels. Soft jade cabinets and furnishings bring the same refreshing feel of an all-white kitchen without being too monochromatic. It can complement stainless steel appliances, while white pendant lighting enhances the sleek, clean look of your kitchen.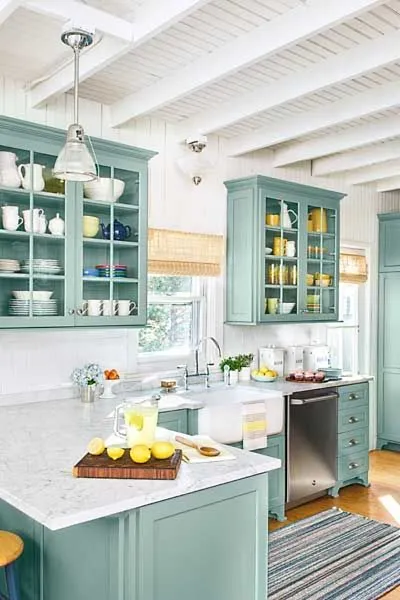 10. Lime Green
Lime green offers a sense of balance against crisp white in this kitchen design scheme. This refreshing hue used in this cheery kitchen brightens and energizes upon first glance. When matched with chocolate, it makes a zesty combo. Lime green kitchen decorations can come in the form of zany wallpaper and typographical wall art.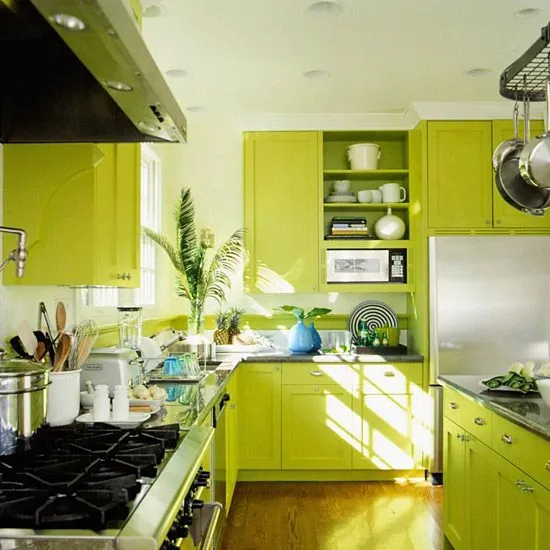 11. Green Apple
Flooded with sunshine, the green apple color adds elegant simplicity to a modern kitchen design. It has a rich, old-fashioned look in darker situations but often feels much fresher and brighter in well-lit rooms and when contrasted with a bright white.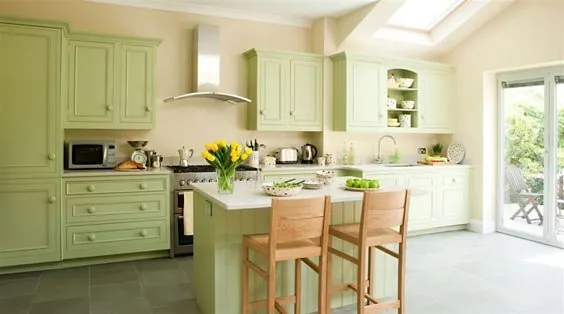 12. Pale Avacado
Open cabinets, paneled appliances, an island, an undermount sink, green cabinets in pale avocado, and a black backsplash with beige walls help create a mid-sized contemporary kitchen.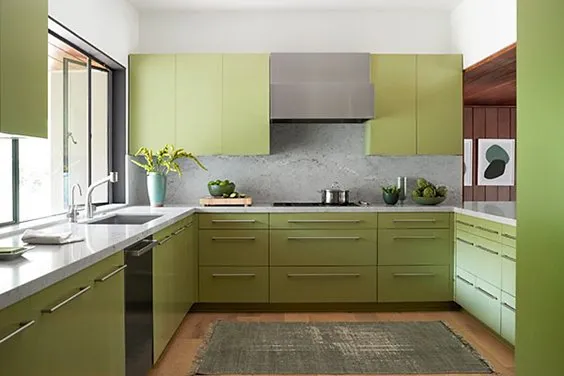 13. Fern Green
Fern green is a darker and saturated shade of green that is fashioned after the houseplants and ferns. This earthy tone helps to create a rustic atmosphere in your kitchen that's warm and inviting. Pair it with sky blue, black, or white for breathing a crisp and modern feel into any space—top a table with bright red-orange flowers for contrast. Reclaimed wood and distressed finishes add to the vintage feel of a fern green kitchen decoration.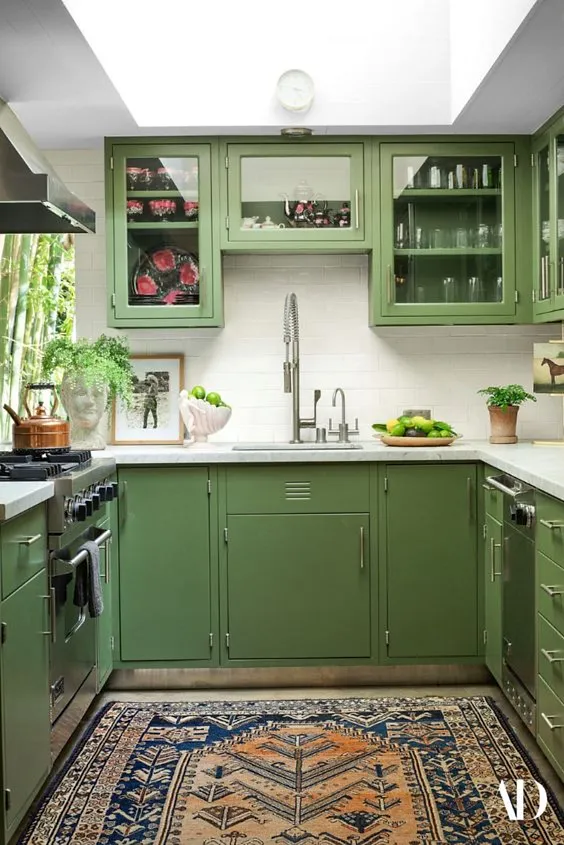 14. Muted Gray-Green
This subtle shade of green is understated but a great choice for creating a more traditional green kitchen look that'll remain in style for years to come. Abundant natural light with limestone floors and crisp white walls allow the green-gray color to truly shine.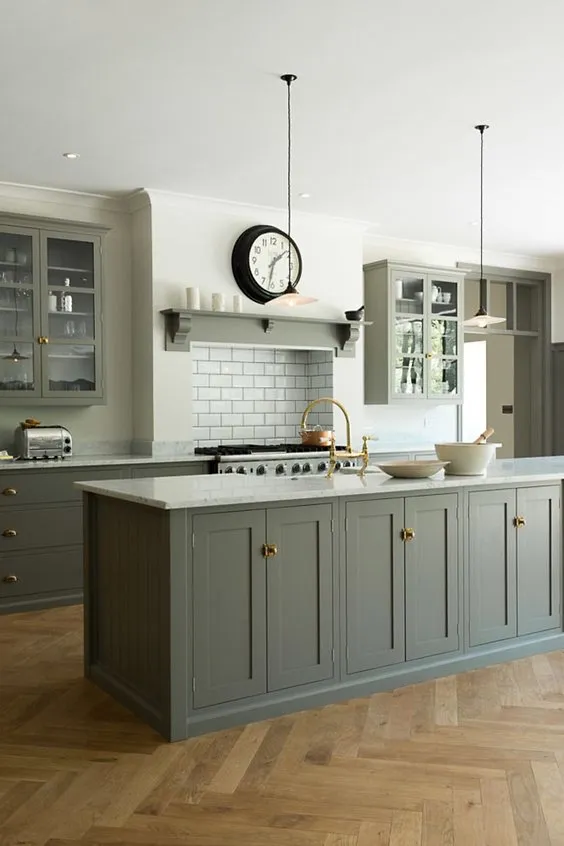 15. Olive Green
Rich olive green cabinetry in a sophisticated kitchen featuring gold accents and mirrored subway tile. It works well with a burnt orange vintage rug and the natural wood island. It is also the perfect partner for dark wood mid-century furniture that will give you a space that offers warmth and comfort.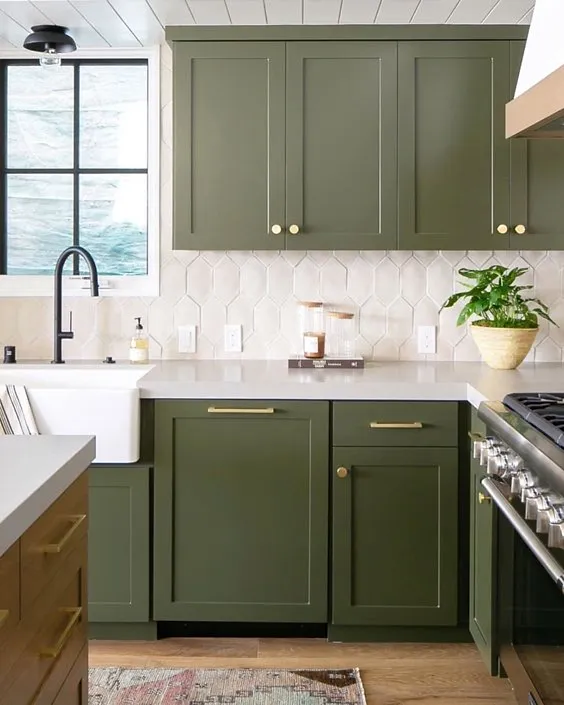 Impactful Places to Use Green on Kitchen Cabinetry
Utilizing a few design methodologies while using green on kitchen cabinetries can help make a distinctive impact on the room's ambiance. This fresh and stimulating color looks pleasantly inspired by nature when matched with warm wooden flooring. Green adds energy to utilitarian spaces like laundry rooms and mudrooms, while its earthy, rich tones can make your bathroom look like an oasis. The cabinet fronts can be painted green, while the rest of their bodies might have a wooden finish to complement it well. A lighter shade of green looks good for a beach-style kitchen. An eye-catchy green backsplash with bold geometric tiles can be convenient for getting that green kitchen look without painting the cabinets. Mint green kitchen cabinets can be combined with wooden or white countertops, and choose a subway tile backsplash for a retro-chic feel. Opt for a kitchen island or an adjacent built-in bar in a bold green for a memorable impact. Green open shelves that match the cabinets can cheer up a room. A bright shamrock-inspired shade of green on the bottom cabinets can be paired with open shelves of neutral color. Glass doors on green upper cabinets keep the kitchen feel airy and open while adding a pop of color to your kitchen. Pair darker green cabinets with lighter grassier shades of green on the walls. While keeping the countertops and backsplash simple, your cabinets can feature a happy emerald green. Still, a black-and-white wallpaper behind provides a wonderful contrast acting as a focal point in the kitchen. A few accent pieces in green like your small bars or other tucked-away cabinets can be colorfully tuned to echo the green color throughout the kitchen. You can never go wrong with brass or gold hardware while matching green with white to make the kitchen look sophisticated and classy. Sticking to a satin or semi-gloss finish on green paint works best if you're looking for a soothing and relaxing feel in your kitchen. Go bold by painting the kitchen ceiling, walls, and trim with green to add substantial drama to the setting. Two-toned cabinets are a great way to add dimension to your kitchen. The contrast between minty green and moody black cabinets can create a visual interest worth your guest's compliments.
Tips to Paint Your Kitchen Cabinets
Painting kitchen cabinets don't have to be a stressfully daunting task. While it may require a lot of planning and organization coupled with a bit of patience, you can certainly do it yourself without hiring a professional.
Use painter's tape to cover countertops and backsplash with plastic sheeting.
Scrub all cabinets with a grease-cutting cleaner and scrubbing sponge to prep up the cabinets.
Label the placements of the inside of each cabinet door to facilitate rehanging them once the painting is completed. Remove the hinges and take off all hardware.
Remove the shelves and wipe out cabinet interiors.
Screw cup hooks into the top of each cabinet door in order to dry doors later after being painted.
Layout cabinet doors on a sawhorse with 2×4 planks on top. Prime cabinet backs. Leave them to dry and turn over to prime fronts. Prime cabinet boxes and shelves.
Hang up dried cabinet fronts from cup hooks to dry them completely.
Once the primer has dried, use a random-orbit sander and medium-grit sandpaper to smooth out brush strokes.
Use cabinet enamel paint to color backs and fronts for priming with a new paintbrush. Let them dry—paint cabinet boxes and shelving.
When cabinet fronts have dried, hang again on cup hooks for about two hours.
Repeat as needed until full coverage is achieved. Let them dry for one or two days.
Fix cabinet doors to cabinet boxes. Reinstall or attach new hardware.
Apart from its restorative attributes, green is economically sustainable, earth-friendly, and balances well with most home interiors. So, whether you are a home designer with a classic style or an experimentalist who loves the latest trends, start crafting your kitchen with innovative green-colored cabinet ideas that might turn your neighbors 'green' with envy but will stand the test of time. Whichever green shade you go with, it's important to select one that you're truly passionate about. Think about the resale value of your home since extravagant and quirky design choices might not resonate with potential buyers in the future.
Also Read:
Easy Kitchen Decor Ideas
Effective Tips for Organizing Your Kitchen
Small Kitchen Design Ideas