15 Best and Time-saving Makeup Organizers and Storage Ideas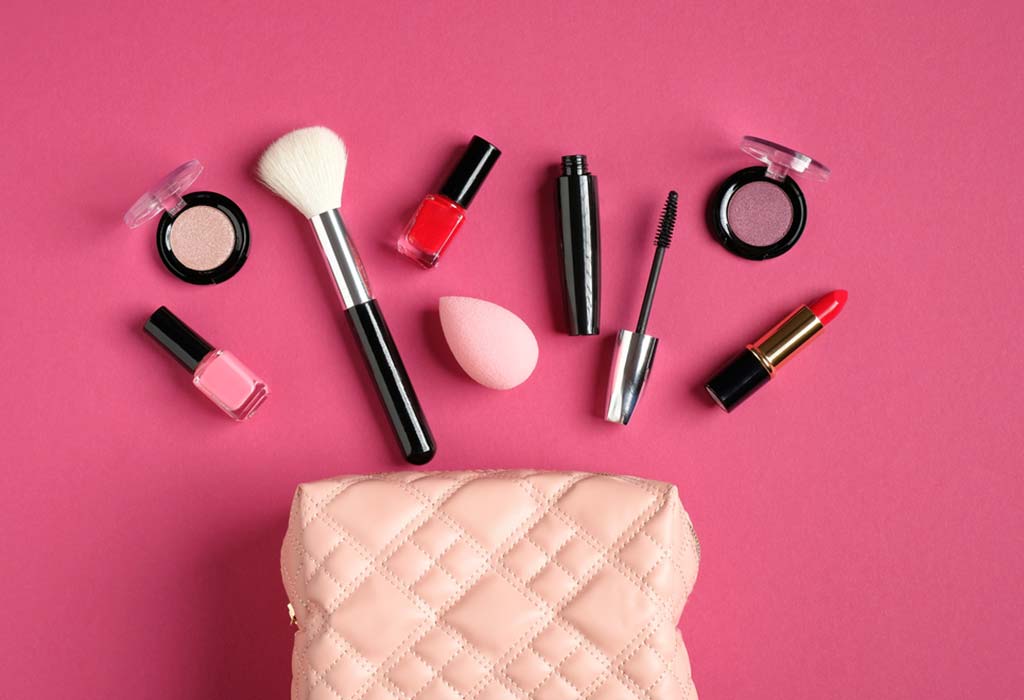 In this Article
Small space and limited storage are huge problems for most of us regarding beauty and makeup products. Organizing plays a significant role in keeping your makeup storage space uncluttered, non-essential beauty products out of sight and those used on a day-to-day basis easily accessible. After all, no one likes to rummage through the crammed pouches, digging through a hundred zips, fumbling in countless purses, or piled up drawers tracking for your favorite eyeliner or lipstick on a busy morning. Budget-friendly makeup storage ideas for small spaces can maximize your space and make them more functional for your daily needs.
15 Brilliant Ways to Store Your Beauty Products
Your favorite make-up sets don't always need a large dresser, fancy vanities, separate drawers, and cabinets for storing them. However, keeping all your beauty needs in one place is never an easy job because you never use all of them at once. Many items can be stored in vanities, depending on the size and type of vanity you have. Most often, taking time out to declutter your vanity can be a problem. Alternately, if you have limited space, all you need is to organize the items in trendy makeup organizers and elegant storage kits to avoid being fashionably late at an important event.
These ingenious storage solutions not just complement your eclectic makeup items but work as classy décor accents for your room. Even if it may not be the time for spring cleaning yet, it never hurts having all your everyday essential makeup products neatly stored and arranged in drawers and compartments that help to keep your ever-growing collection under control. Whether you're a professional makeup artist with a rather substantial collection of products or have a minimalist approach to cosmetics, you could probably benefit from smart makeup organizer ideas that will keep your ever-growing stashes under control.
Instead of breaking the bank, try a DIY makeup organizer at home that looks supremely sorted to suit your preference and needs. Moreover, a well-organized beauty collection will look far more stylish and visually appealing. Here is a list of pretty and practical ideas for makeup storage systems that will inspire you to tidy up your cosmetic collections.
1. Desk Drawer Organizer Tray
One of the best makeup drawer organizer ideas for small spaces, different-sized drawers help keep everything stored out of sight. Opt for trays with adjustable dividers to sort out your favorite products according to their colors and application.
2. Over-the-door Cabinet
Over-the-door makeup organizers are the best way to set your accessories and makeup well organized. They don't take much space and hang perfectly on your doors or even walls. Sometimes, they come with a long mirror so you could simultaneously see and choose the makeup you need. An over-the-door makeup organizer may come with different shelves and side hooks attached to the cabinet door, which you can use to store the brushes.
3. Makeup Case With Dividers
Mainly used as a portable travel bag, you can easily use this case with dividers at home to organize your everyday essentials easily. Its multiple compartments and pouches not just keep things separated but offer a designated place for your skincare and makeup items.
4. Tiered Tray
A tiered cosmetic storage tray keeps things well organized. It may come in a two or three-tiered design that makes displaying your prized perfumes on bathroom countertops and vanity simple and easy. The freestanding design makes it easy to place wherever more storage is needed.
5. Acrylic Lipstick Organizer
If you own a substantial lipstick collection, a transparent tiered lipstick organizer tray with individual slots makes it super easy to spot which tube of red you're looking for.
6. Divided Lazy Susan
Although most typically found in a kitchen, you can use your acrylic lazy Susan to store beauty products like compacts, makeup tools, and makeup remover. Choose the one that features clear, removable dividers or two-tiered designs that allow you to organize more makeup easily.
7. Caboodles Case
After a meticulous edit of products and deciding what makeup you wear on an average day, consider a caboodles case with an auto-open tray and mirrors. It can be highly functional, while dividers and various-sized compartments offer spacious storage.
8. Glass Shelves
If your bathroom lacks storage, mounting narrow glass shelves to the wall provides the perfect perch for your everyday essentials. Consider a sleek, chrome-finished rail that prevents items from toppling off.
9. Old Candle Jars
Repurpose your old candle jar as a holder for your makeup brushes. This beautiful container keeps a countertop tidy, protects brush bristles from wear and tear, and adds a splash of style to your bathroom.
10. Caboodles Acrylic Train Case
Boost your organization game with this spacious case that has square cantilevered trays, deep interior storage, and comes with a locking latch with keys. Its large capacity with lots of compartments is suitable for loading numerous cosmetics.
11. Plate Storage
This no-brainer storage idea requires only a medium flat plate topped over a small soup bowl. You can use a cake plate to arrange your makeup and perfumes on it so that you can find them conveniently.
12. 360-degree Rotating Cosmetic Organizer
Free up your counter space with a makeup tower divided into compartments on top of one another. Its space-saving vertical design makes it perfect for a small home. Choose a four-tier multicompartment makeup organizer that rests steadily on a rotating plate, swivels enough for you to access your products while giving them visible placement.
13. Magnetic Make-up Board
If you want to keep track of all your makeup and are always in a hurry, a DIY magnetic board can be used to make all of your products visible and accessible while saving space. You can use a vintage tray or a metal cookie sheet and glue magnets to the back of small, lightweight cups that can be adhered to the board. Next, please place your items in order inside the cups to make them look visually appealing.
14. Holes Acrylic Bamboo Brush Holder
An acrylic bamboo brush holder with holes can hold up your makeup brushes nicely and keep them fluffy while protecting them from dust and damage. Its stylish design containing leather/acrylic/bamboo drawer can be closed and opened easily.
15. Wall-Mounted Jars Make-up Storage
When it comes to makeup storage ideas for a small bathroom, you can either upcycle your old jam jars or use mason jars, metal strings, and reclaimed pieces of wood to upcycle storage jars for a rustic touch. Remember to secure the mason jars to the wood piece first and then hang it up on your wall. Fill the jars with makeup brushes, cotton balls, and glasses.
Instead of being merely a luxury, a makeup organizer is a necessity that helps enhance your cosmetics' usage, keeps you from buying products twice, and makes your makeup lasts longer by avoiding spillage and breakage. A makeup organizer ensures that what you apply to your skin or eye is clean to prevent skin irritation caused by dirty brushes and expired products. Just as putting makeup has always been a kind of therapy for us women, a makeup organizer is every makeup enthusiast's best friend.
Also Read:
Important Reasons to Use Herbal Makeup
Makeup Mistakes to Avoid during Family Vacation
Easy Makeup Tips for Different Types of Makeup Looks