15 Beautiful Silver Leaf Plants to Complement Your Garden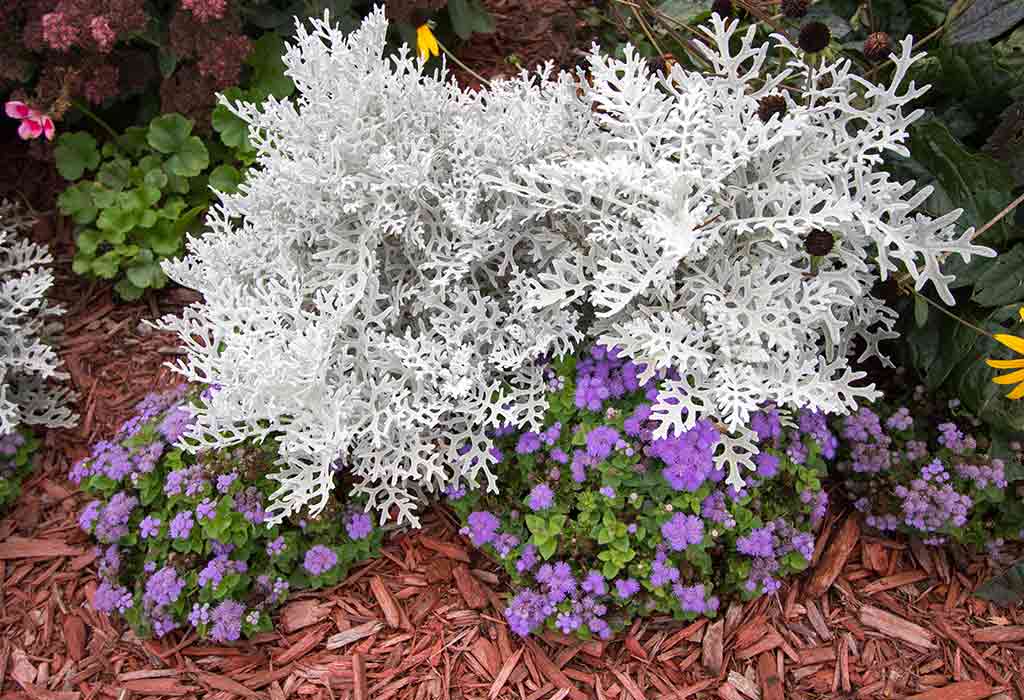 In this Article
Plants with silver-toned foliage have the ability to bring a welcome gleam to garden beds and borders. Many of these attractive beauties have textured or furry leaves that offer a sharp contrast to green plants and harmonize well with soft or brightly colored flowers. No matter how to choose to use them in the garden, these neutral silver leaves can readily attract our attention.
Top 15 Silver Leaf Plants
As the name suggests, silver leaf tree refers to white, pale grey, or grey-blue foliage that generally grow well in areas that experience hot and dry climates. Most of these perennial plants are drought tolerant, making them useful in low rainfall areas like deserts and arid lands of the world. They usually like full sun and well-drained soil. Strikingly different from typical green-leafed plants, these companion and specimen plants are visually appealing enough to lift our mood and create a soothing ambiance. No wonder they are beneficial for "moonlight gardens" that are meant to be enjoyed at night. Taller silver leaf plants should ideally be planted in the rear of planting beds, where they provide a backdrop for shorter flowering plants. Low-growing silver leaf plants can be planted as groundcovers under taller flowering plants to reduce heat, cover the soil and offset blooms and foliage. At the same time, you can pair both tall and low-growing silver leaf plants with ornamental grasses to create a wonderful monochromatic blue-gray-green landscape—plants with gray and silver foliage pair exceptionally well with pastel and bold colors alike. Grey leaves also pack a punch to the combination with blue flowers, white flowers, mauve and purplish flowers. However, it's not just all sculptural leaves and bright flowers when it comes to planting a lush garden. Consider this curated list of 15 shades of grey or silver plants that will provide the perfect foundation for garden design and subtle shine in sun or moonlight.
1. Eucalyptus
With dozens of varieties, silver leaf eucalyptus is a tropical plant with blue, green silvery leaves and pretty white flowers that will lend an aromatic fragrance to your garden. Eucalyptus is an excellent shade tree too. Also referred to as the Argyle apple, this fast-growing tree is drought and heat tolerant and can grow up to 40 feet tall. However, it will stay smaller in small spaces. The silver dollar eucalyptus has pretty white flowers, attractive bark, and distinctive foliage. Avoid wet areas while planting them.
2. Maple
Silver leaf maple trees grow best in temperate northern and mid-southern climates in the U.S. and Canada and have green leaves on top and silvery-white on their undersides. Its deep and wide root system allows it to tolerate a wide range of soil conditions, and care should be taken to plant it away from sidewalks, drives, foundations, and sewer lines. This tree can live up to 130 years in its natural surroundings and grow really tall with wide foliage spread. However, in an urban setting, they normally have a significantly smaller life span of 35 years at maximum.
3. Dusty Miller
One of the most versatile plants of all time, Dusty miller leaves are covered in soft, silvery-gray hairs. Ideal for borders or along with other heat-loving annuals, this plant is suitable for pots and summer container gardens. Dusty Miller generally needs minimal care. Its lacy leaves and small yellow flowers keep the garden attractive through the summer heat. It can also tolerate frost and thrives well in all types of soil, with good drainage.
4. Artemisia
Artemisia in both varieties of 'Silver King' and 'Silver Queen' are some of the most valuable in the world of garden design. These sun-loving plants grow up to two to three feet high and spread rapidly. Effective in drifts and mass plantings in garden beds and borders, it creates a sense of continuity across your garden. In addition, the Silvermound Artemesia can add a soft, elegant look to your yard with lots of glossy and bright silvery leaves.
5. Edelweiss
This classic flowering plant means "noble" and "white" in German. Edelweiss, a member of the daisy family, produces snowy white flowers that are, in reality, modified leaves that prevent moisture loss and protect against strong wind and heavy rain. As a result, the plant is extremely hardy and needs cold temperatures and strong winds to grow well. Found in many challenging environments, these short-lived perennials are slow-growing and rarely grow beyond 8 to 9 inches. Used in traditional medicines, Edelweiss acts as an excellent sunblock.
6. Lamb's Ear
This easy-care perennial of Middle Eastern origin has soft, woolly leaves of silver to the gray-green color used to bandage wounds and treat bee stings. Mainly used as a ground cover because of its low height and wide foliage, its shape resembles a real lamb's ears. Well-drained soil and a good amount of sunlight are needed for this plant to thrive. Lamb's ear produces spikes of flowers of pink to purple shades in summer.
7. Ornamental Mullein
This hairy biennial is a really tall plant that produces large furry leaves and tall spikes of yellow flowering rosettes. The common varieties of this plant can grow up to 10 feet and produce seeds that can survive decades. There are close to 300 varieties of ornamental mullein plants, and the flowering can continue up to three months during summer. It is also used in a variety of herbal treatments and medicines.
8. Snow In Summer or Cerastium
This evergreen groundcover plant grows in any well-drained soil. The plants grow fast and require deficient maintenance. The flowering season starts from May and lasts till June. However, the silver leaves continue to add shine to your garden through the year. The plant is very drought tolerant and looks lovely in wide-ranging settings, including rockery, crevices or at the front of flower borders. They can be quite invasive but easy to remove.
9. Rose Campion
Rose Campion grows naturally on rocky, scrubby hillsides all across the US and has felt-like leaves. Their brilliant shades of magenta, bright pink, and white flowers bloom mostly from June to August. Leaves of this plant were used as lamp wicks in the olden days. The soft, pale, gray-green silvery foliage adds soft texture to the garden and makes the perfect backdrop for the brightly colored flowers.
10. Blue Spruce
Resplendent with silver-blue-green needles, this American conifer is mostly used as an ornamental because of symmetrical growth habit. However, its pyramidal shape, foliage color, and wonderful smell make this plant a classic choice for a Christmas tree. This tree can be planted in mild climates, mostly throughout the year. They usually have a slow to medium growth rate rising to a height of fewer than 12 inches to 24 inches annually.
11. Russian Sage
Commonly known as Russian sage, Perovskia is a woody-based perennial of the mint family. It needs full sun and dry soil to grow. The lavender-colored flowers start to appear from late spring and bloom till fall. Their grey-green leaves are finely dissected and aromatic—an upright plant with two-lipped tubular, light blue delicate flowers that are tiered in branched panicles.
12. Silver Bouquet Lungwort
This easy to grow, shade-loving, deer-resistant plant requires moist soil with good drainage. In addition, it needs abundant air circulation to prevent mildew. Specially bred to tolerate high heat and humidity, this plant is perfect for lightening darkened landscape sites. It forms a good-sized clump of slender, pointed silver leaves and blooms in vivid pink, coral, blue, and violet dots.
13. Japanese Painted Fern
This silver leaf shrub has cool silvery-gray foliage that makes it an excellent choice as an edging plant or in the front of the border. Its leaves have a hint of lime green scattered along the edges, and the flowers can change from pink to blue as they mature. This low-growing shade-loving native of Europe and Asia is one of the easiest to grow and maintain.
14. Silver Edge Lavender or Lavandula Angustifolia
This flowering shrub has attractive green foliage that provides a touch of silver to the sunniest of locations. The fragrant narrow leaves are highly ornamental and turn coppery-bronze in fall. They are ideal for low informal hedging and in borders and formal gardens. It needs full sunlight and well-drained soil and can withstand drought conditions. Growing to a mature height of three feet tall and two feet wide, this plant sports pretty purple flowers in the summer. Cut the flowers back after blooming to encourage new growth and flowering.
15. Wooly Thyme
The woolliest of all thymes, this hardy herb has both medicinal and ornamental usages. This low-growing plant forms a very dense ground-covering mat of tiny, silvery, and fuzzy leaves. Tiny pale pink tubular flowers appear in summer. They thrive well in any dry, well-drained, average, neutral to alkaline soil in sunny locations. This self-sustaining plant is a treat for the unmotivated or the just too busy a gardener.
You may spend the entire summer and spring watering, weeding, and tending the garden, but there's an even easier way to grow a stunning landscape. It all starts with choosing the right plants so that they can grow with minimum effort and maintenance. Silver foliage plants can be quite expensive even when they produce no remarkable flowers. Pick wisely, and they are sure to enrich the look of your garden.
Also Read:
Best Plants for Your Bathroom
Perfect Plants for the Bedroom
Beautiful Flowering Plants to Brighten Up Your Home