15 Beautiful Glitter Nail Ideas to Glam up for Your Next Look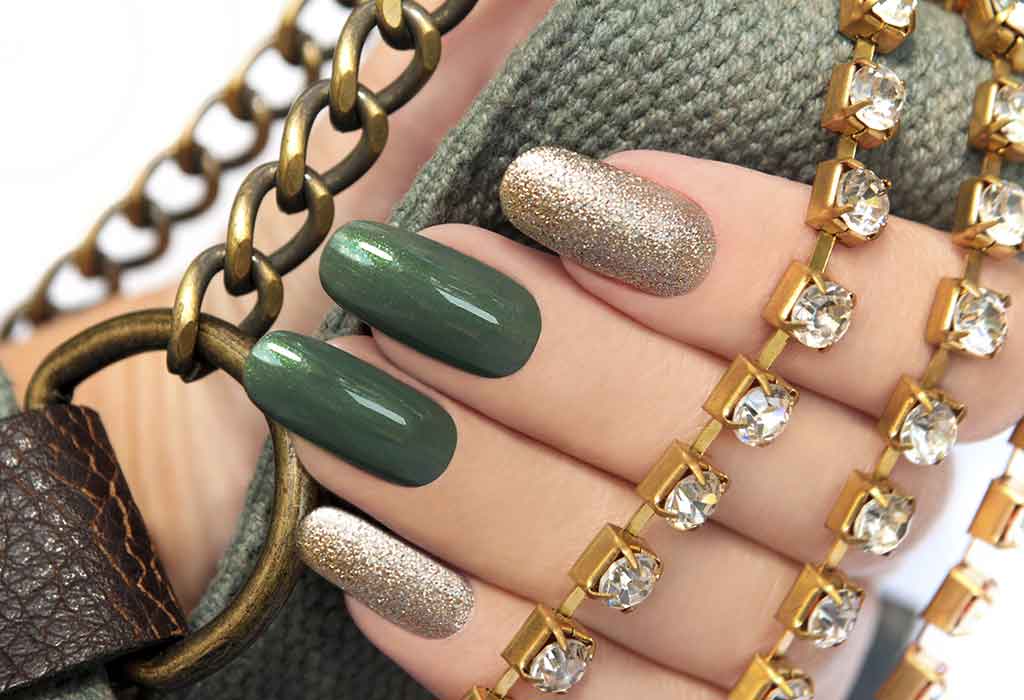 Glitter is mainly used for special occasions or festivals. However, with the vast array of easy and cute glitter nail designs that have emerged in recent years for almost every occasion, one can sport a fab nail anytime! Find out some ideas for cute glitter nails that will let you go chic, bold, or subtle with short or long nails to give them an undeniable wow factor!
What Are Glitter Nails?
Nail art is a creative way to paint, decorate and embellish nails. Nail polish has developed into an array of other variants, like crackled, glitter, flake, speckled, iridescent, and holographic, to glam things up. Derived from the old Norse word Glitra, glitter means 'to shine,' modern glitter as we know it today has been the basis of countless viral fashion trends across the globe.
Applying glitter nail polishes is the newest trend in personal grooming that helps a woman own her identity through personalized fashion and style. A coat of glitter on your beautifully painted nails can add charm and oomph factor to your hands and overall ensemble. Acrylic nail polishes are a combination of liquid monomer and powder polymer. Glitter acrylic nail designs form a hard layer instantly after application that can brighten up the dullest manicure with sparkles.
Whether you get custom DIY glitter nail art designs or visit a salon for a professional service, nail glitters can be the fastest way to perk up your fingertips. Here are some of the most artistic nail art design ideas that will inspire you to make your nails Instagram-worthy:
15 Stunning Glitter Nail Ideas That You Will Love
From micro-glitter, glitter, frost, or luster, here are some of the stunning glitter nail ideas to dress up your digits in drops of sparkle.
1. Acrylic Nails With Beachy Waves
Any shade of icy cool blue mixed with white and light brown creates beautiful beachy nail art that brings peace and relaxation.
How To Do
Apply the sea blue, light blue, and light brown shades on a cotton ball.
Dab the cotton ball onto your nail, keeping the brown shade near your cuticle.
Add a drop or two of white polish to the bowl of water.
Spray some nail polish remover in the bowl to break up the nail polish slightly.
Dip your nails one by one in water.
Use some nail polish remover to clean up the sides of your nails.
Add the topcoat.
2. Red Glitter
Get into the upcoming holiday spirit with red glitter nail designs with subtle or a rich shade of red.
How To Do
Paint the base with two coats of dark red polish.
Sprinkle golden glitter quickly before the topcoat dries up.
Dust off the remaining glitter with a tiny brush.
Paint the top coat for a shimmery finish.
3. Blinging the Tips
Blinging out your tips with glitter french nail designs has been quite popular among the teens.
How To Do
Apply pink for the base of the nail. Make a curved white tip for contrast. Let it dry.
Gently paint over the white with a glitter top coat for creating fabulously sparkly tips.
4. Pretty Pink
While sweet pink nails are pretty in themselves, ramp up the glam with shiny pink glitter nail designs.
How To Do
Apply two coats of coral pink nail polish on your nails.
Let it completely dry.
Cut and stick a small piece of cello tape on your nails, keeping the tips of your nail exposed.
Now apply glitter on the exposed tips.
Once the tips dry off, gently peel off the cello tape.
Finish with a clear topcoat.
5. Dazzling White
White nail designs with glitter look soft and sophisticated enough to be your best summer nail art staple.
How To Do
Paint nails with a base flat white polish.
Add silvery-white glitter to the nails of the index and ring finger.
Stick stripping tape to the middle nail.
Finally, apply the topcoat.
6. Glitter Cuticles
Glittered cuticles against any contrasting base color of your choice help create minimalist art on your fingers.
How To Do
Push back your cuticles.
Apply two coats of any nail color of your choice. Let it completely dry.
Place a rounded Band-Aid over the bottom of your nail. It will form a half-moon shape near the cuticle.
Apply glitter nail polish on this area.
Carefully remove the Band-Aid once you're done.
7. Dark Desire
Glitter designs over black nail polish offer an edgy and fashionable look.
How To Do
Apply two coats of black nail polish on your nails.
Use copper, gold, or silver shade of chunky glitter to apply on the base of your nails.
Dab the glitter to spread it around.
Finish with a topcoat.
8. Holographic Glitter
From celebrities, fashion bloggers to runway models, everyone seems to be loving the holographic glitter nails trend.
How To Do
Apply a base coat.
Apply two to three coats of holographic glitter nail polish in any shade of your choice.
Finally, apply the topcoat.
9. Party Ready Glitter
An ombre design is perfect for you to curate a weekend party look.
How To Do
Apply two coats of nude nail polish.
Add bold and chunky glitter nail art polish.
Start from the bottom of your nails and dab at the glitter to create a gradient effect.
Apply top-coat for your manicure to last longer.
10. Bejeweled Shine
This bejeweled design is made using just the right amount of glitter to dazzle up your blue sapphire blue nails.
How To Do
Paint your coffin stiletto nails with two coats of sapphire nail polish
Apply fine glitter polish to the edges of your nails and dab softly to spread it around.
Apply a thin coat of chunky glitter polish over it. Apply clear nail polish on top.
11. Emerald Sparkle
Emerald green with glitter on short nails gives you a fresher and unexpected look.
How To Do
Apply a clear base coat.
Paint the nails with emerald green nail polish.
Dab the glitter delicately on your nails with a sponge. Repeat as many times as necessary to cover all the nails.
Apply top coat to finish off.
12. Super Shiny Silver Glitter
A silver glitter nail polish offers the maximum shine and glam needed to make a lasting impression.
How To Do
Apply base coat.
Lining the skin around your nails with liquid latex ensures it won't get covered in polish.
Use a makeup sponge to apply the silver glitter nail polish onto your nail.
Peel off the liquid latex.
Apply final topcoat.
13. Light Purple With Multicolor Glitter
Get flirty with purple by accentuating it with multicolor glitter that exudes a fun spring vibe.
How To Do
Paint all your nails, except for any finger that will sport a glitter polish. Apply two coats for a smooth and even finish.
Use a multi-colored glitter nail polish for that specific finger.
Apply a topcoat.
14. Gray And Pink Glitter
Pink glitter goes well with gray and monochrome nail polish shades to create a versatile and unique nail design.
How To Do
Apply pink glitter polish on the thumb and ring fingernail.
Apply light grey paint on the middle and pinky fingernail.
Paint white polish on the index finger and add on stripes in black using a fine brush.
Seal with a topcoat.
15. Cocoa Gold With Chevron Design
A dark shade of brown spruced up with gold glitter Chevron patterns makes an ideal winter style statement.
How To Do
Paint your nails with two coats of brown nail polish. Let it dry completely.
Place a piece of scotch tape diagonally across your nail on both sides to form a triangle.
Use a chunky gold glitter nail polish to cover this space up. Gently remove the tape.
Apply a layer of high-shine topcoat.
Easy Steps To Remove Glitter Polish From Nails
After a perfect sparkly application, removing the glitter from the nails is crucial without ruining them. Here are some steps to follow:
Get the first layer off by roughing up the polish a little. Too much buffing can damage the nail.
Acetone-based nail polish gets rid of stubborn glitter by dissolving the nail paint.
Take some cotton balls or pads and soak them in a bowl containing acetone-based removers. Set them onto your nailbed to cover each nail.
Cut some aluminum foil into long strips to wrap all-around your fingers. After sealing the nail well, wait for around 5-7 minutes.
Slide the tin foil off and use the cotton balls that have already been soaked in acetone to wipe the nails.
Acetone residue on nails can dry or damage them. Rehydrate the nails by massaging olive oil or almond oil to replenish the moisture after removing the glitter polish.
Although human attraction to sparkle is deep-rooted in our culture, it represents a dramatic display of feminine beauty. Glitter combined with an alluring spectrum of color makes any nail enamel shade look cool and multi-faceted. So, take your pick and express your mood with a glitter nail design.
Also Read:
How to Shape Your Nails Perfectly
How to Make Your Nail Paint Last Longer
How to Take Off Nail Paint without Using Remover