15 Beach Destinations in India – Rejuvenate in Solitude With Your Family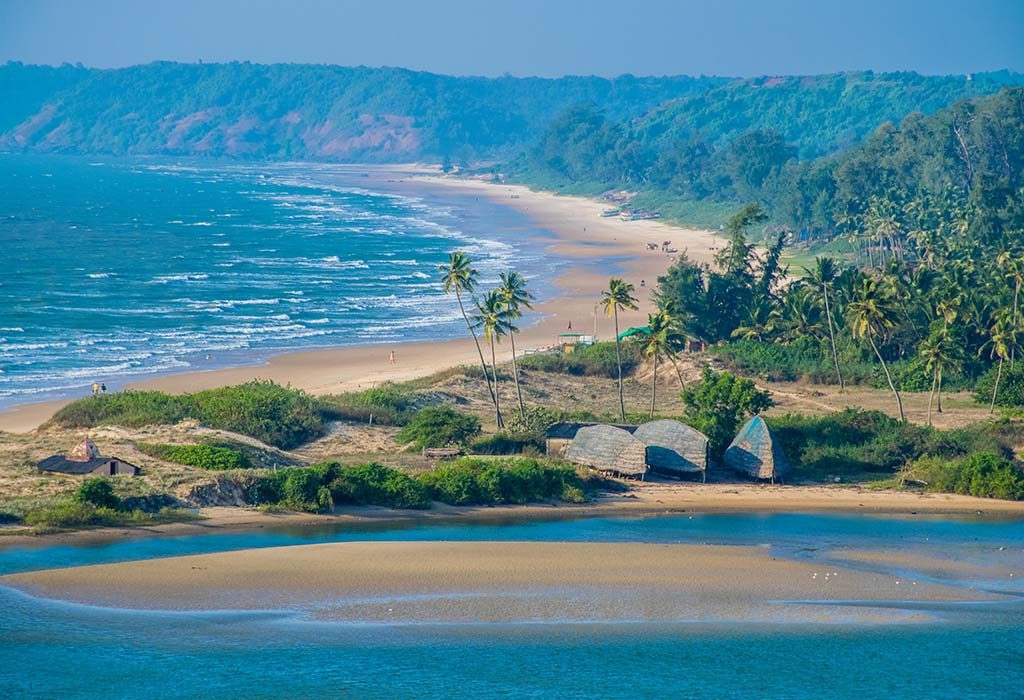 In this Article
A beach holiday is most people's idea of a relaxing holiday. There's nothing better than experiencing the sun shining down, the sound of the waves crashing against the sandy shores, the smell of the salty sea air, and a refreshing ice-cold drink, as you bask in nature's glory. India, in all its splendour, boasts of many fine beaches, so when it's time for you to take your family on a relaxing vacation, you don't need to look that far. Though most of the more popular beaches are located in the South of India, there are also a few beautiful beaches to visit further up north.
Top 15 Must-Visit Beaches In India
Here is a list of best beaches in India for you to consider for your next family vacation:
1. Agonda Beach, South Goa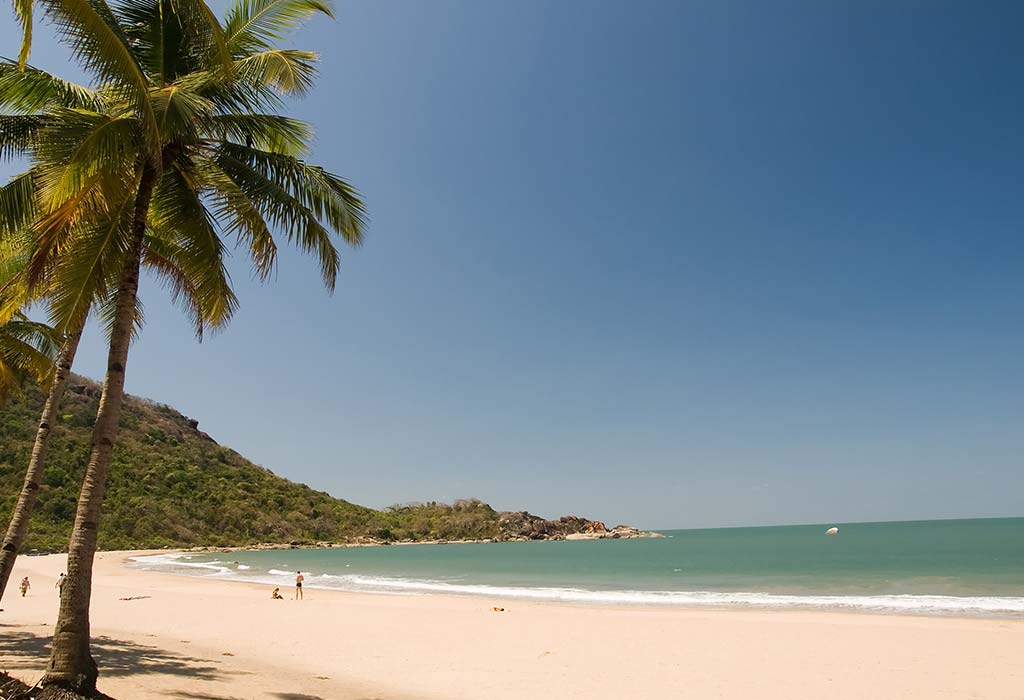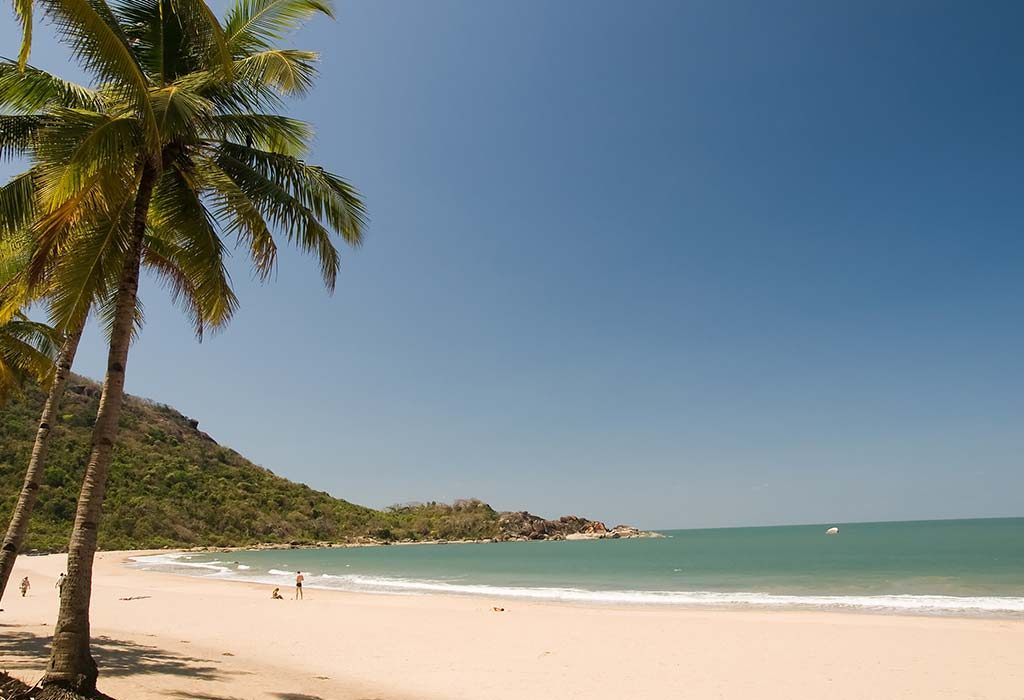 Located on the outskirts of Goa, Agonda beach is the perfect place for a relaxing family vacation, since it is one of the more isolated beaches. Unlike many other beaches, those who are looking for a peaceful and serene holiday filled with basking in the sun and swimming, will get the most out of this beach. It even has a turtle reserve that you can visit.
Best Time To Visit
November to April
2. Ramakrishna Beach, Visakhapatnam, Andhra Pradesh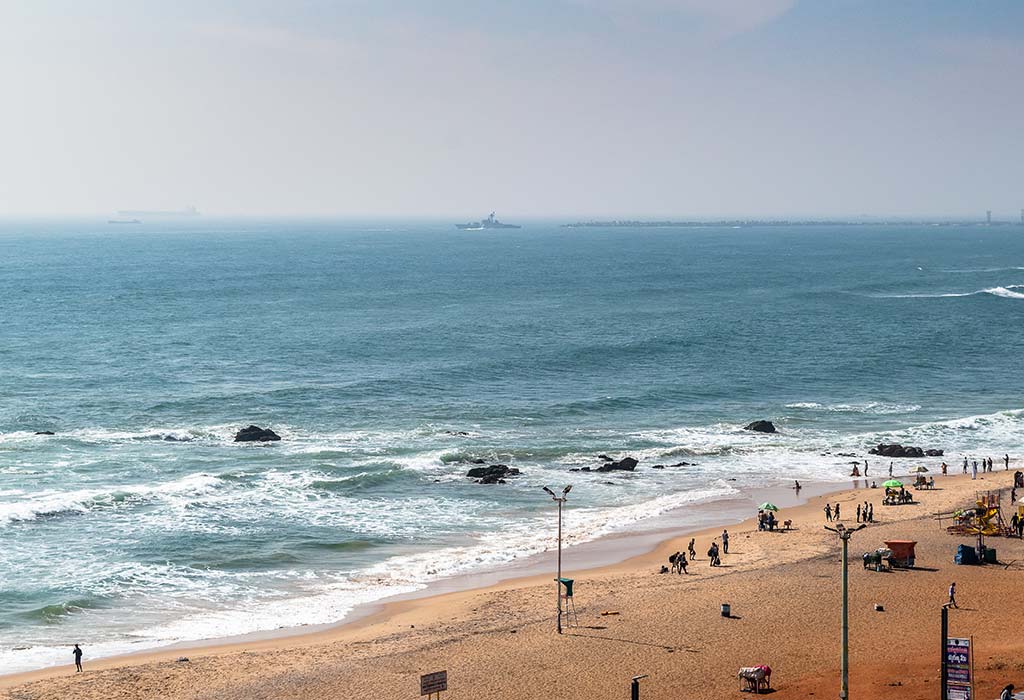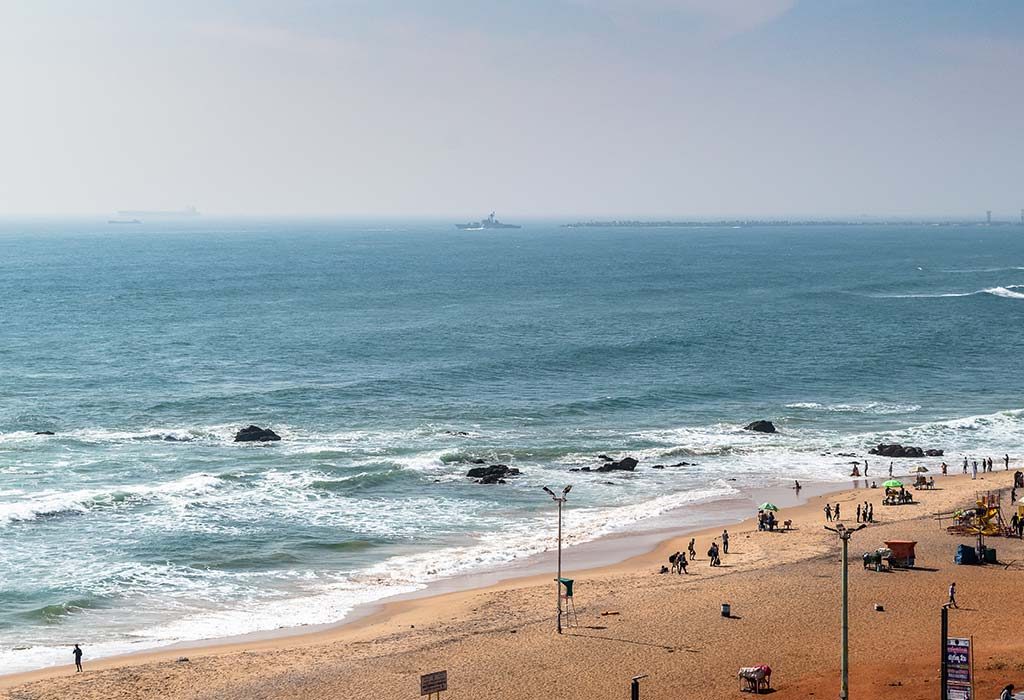 This virgin beach is also called RK Beach. It is a beauty that is unmarred by the crowds, so common on most beaches today, and is a place where it is truly possible to kick back and relax with your family. You can also view the Kalvari class submarine at the INS Kursura Submarine Park.
Best Time To Visit
November to April
3. Marari Beach, Alappuzha, Kerala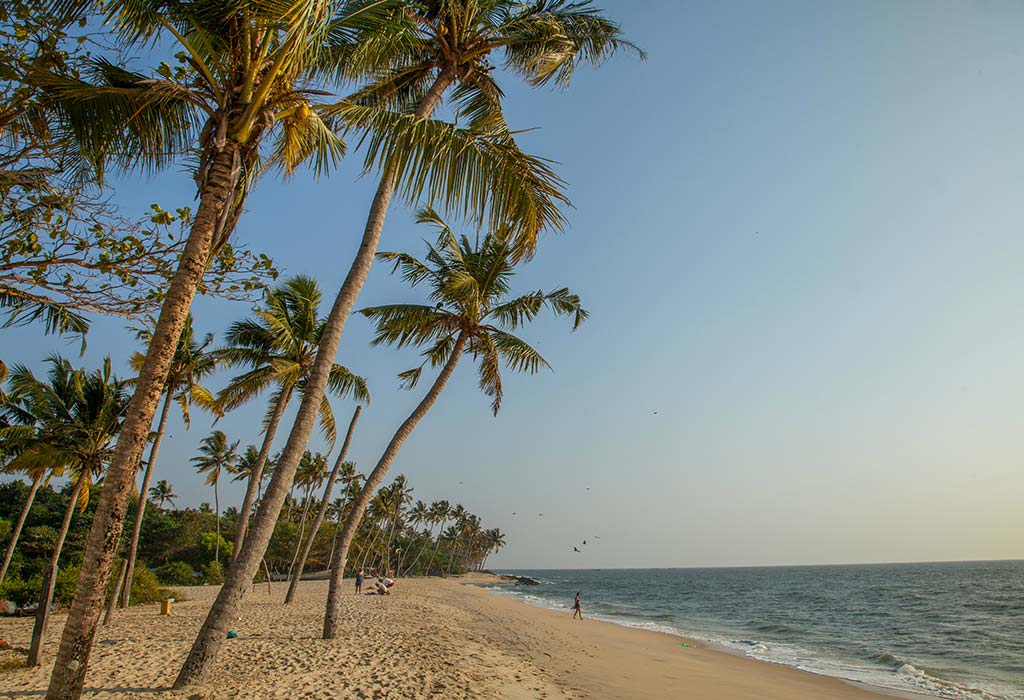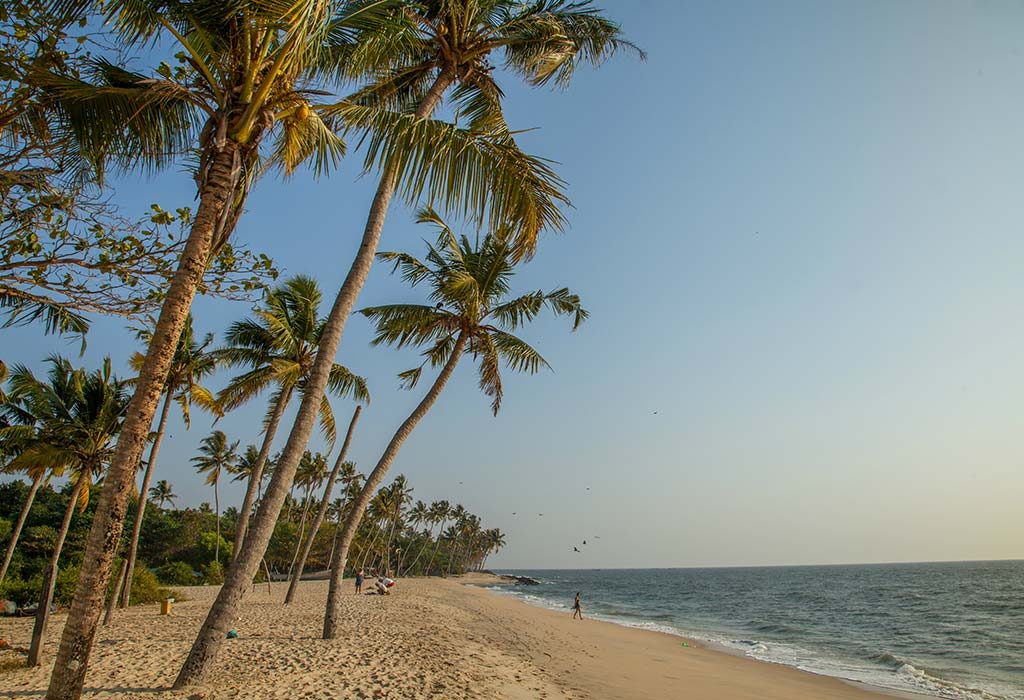 For those of you who want to explore the backwaters, as well as enjoy some beach time, you are sure to love this particular beach destination. Marari Beach offers one of the most picturesque views in India and is the best place for you and the family to unwind and relax.
Best Time To Visit
September to March
4. Ganpatipule Beach, Maharashtra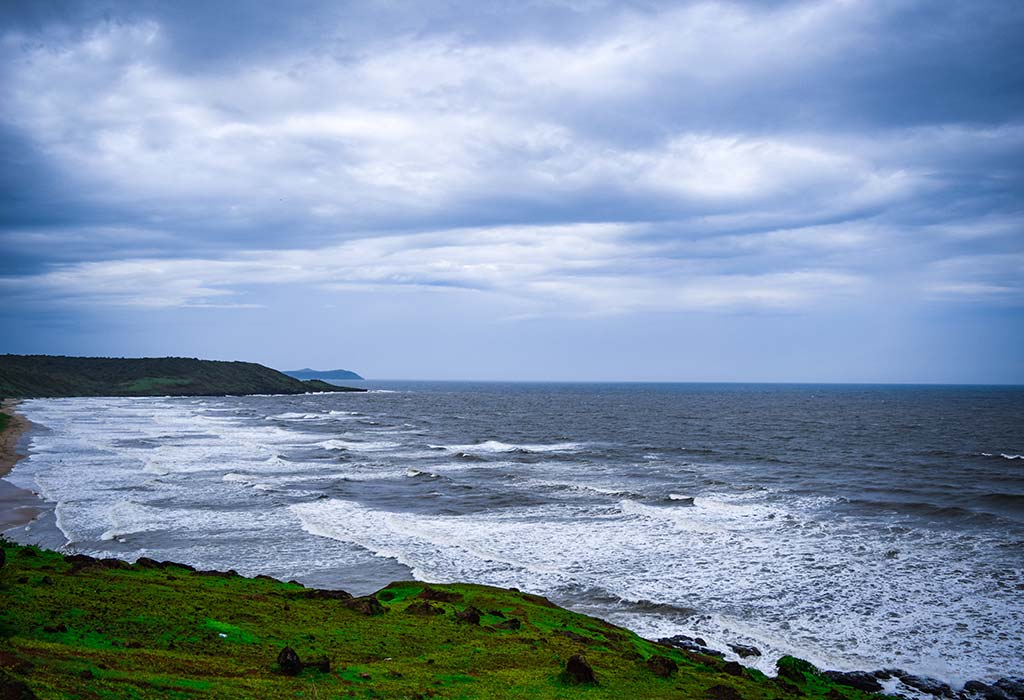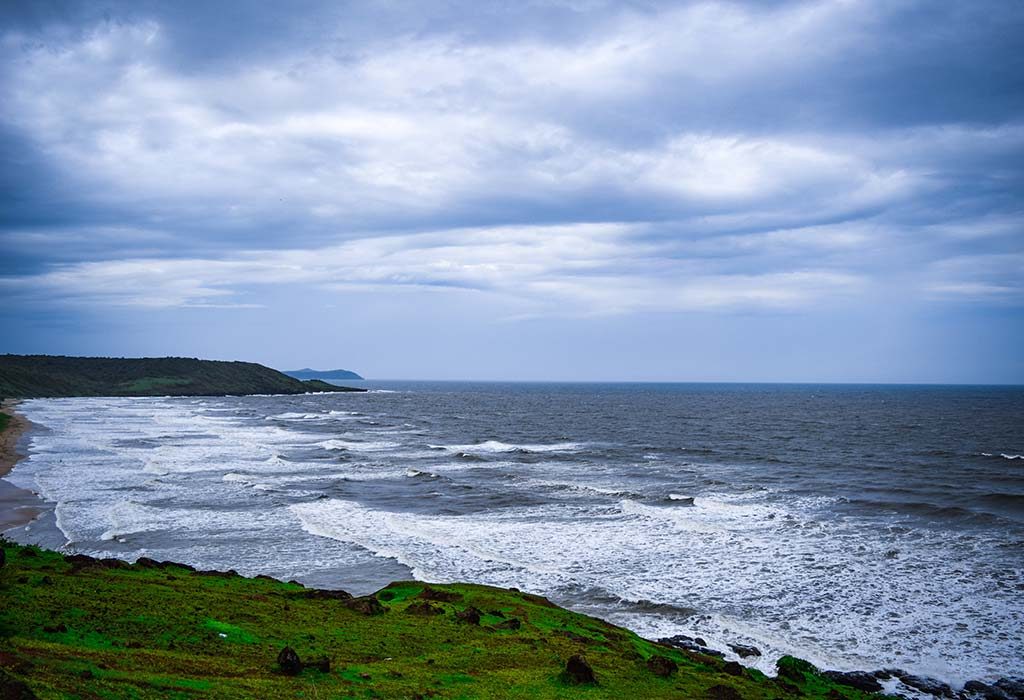 Find some rest and relaxation on the lush and green coasts of Maharashtra at Ganpatipule Beach. This beach offers you the enjoyment of beautiful coconut groves, flourishing fauna, and a view of the rolling green agricultural fields.
Best Time To Visit
October to February
5. Dhanushkodi Beach, Rameswaram, Tamil Nadu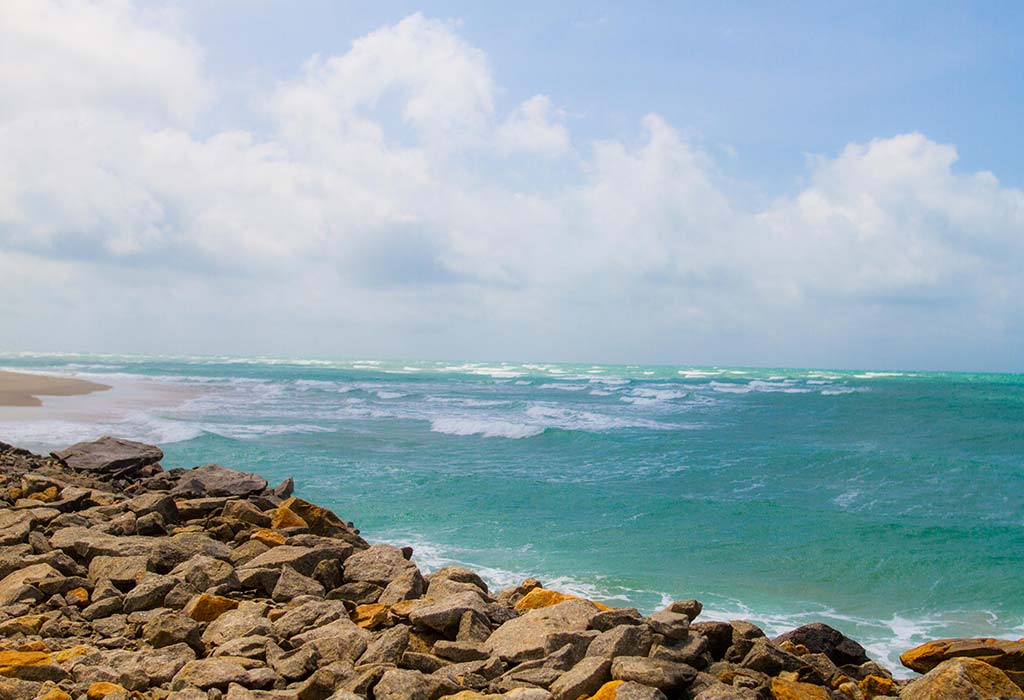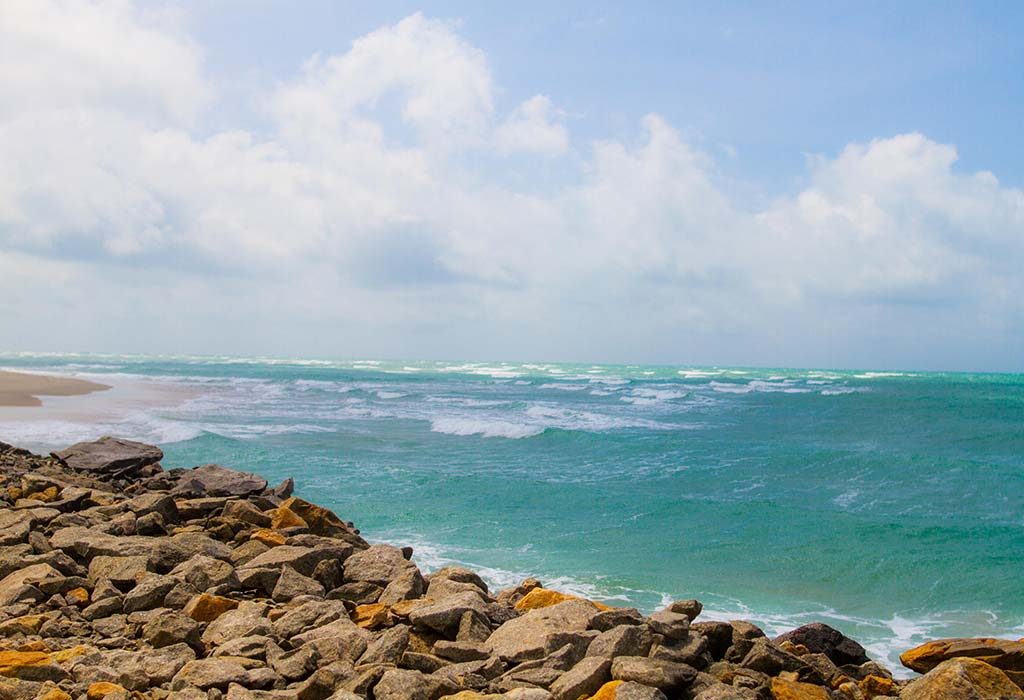 Peaceful and serene, this beach is said to be the place where Lords Rama and Hanuman once built the well-known "Setu" bridge to Lanka. Though there once was a village there, it was destroyed by a cyclone in 1964, and the remnants of it are visited by tourists today. The beach is a simple one and offers peace and rest, and it is one of the beaches with blue water to feast your eyes on.
Best Time To Visit
October to April
6. Radhanagar Beach, Havelock Island, Andaman And Nicobar Islands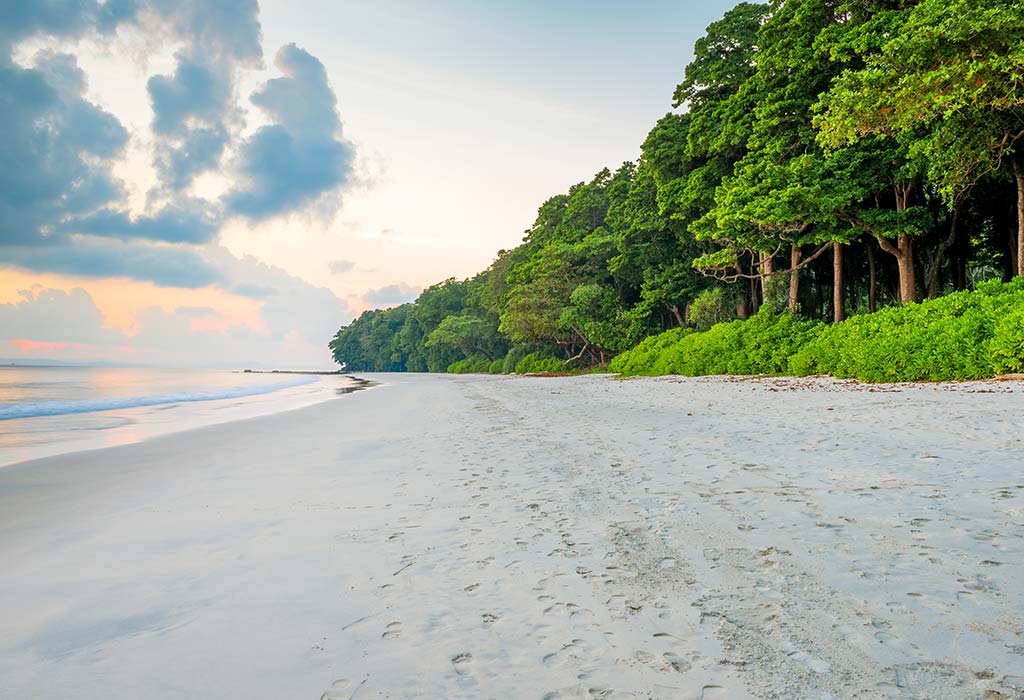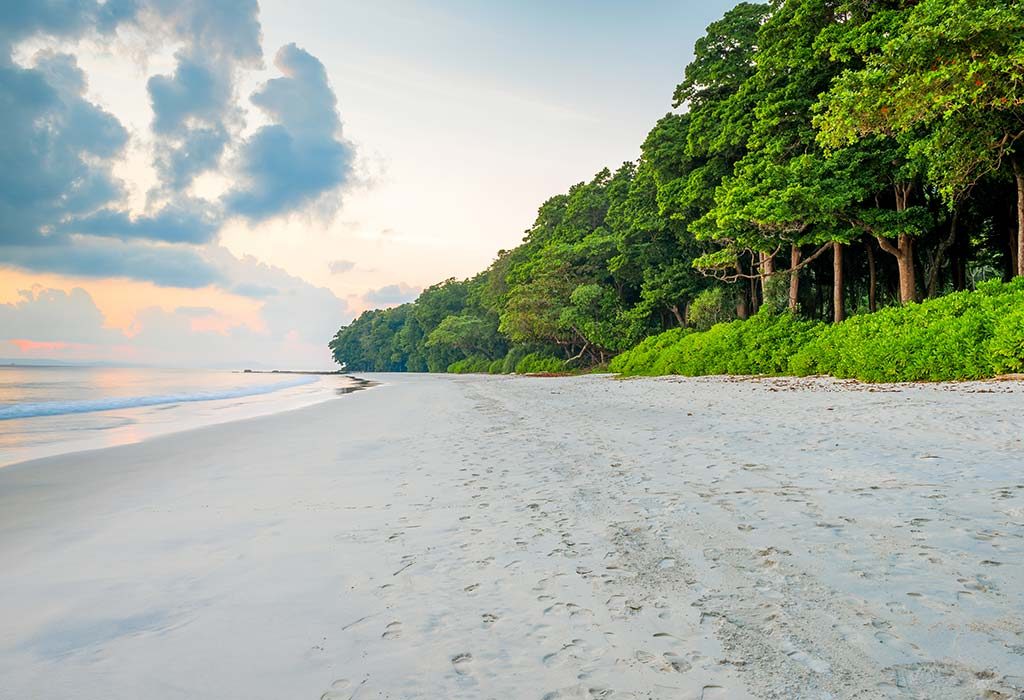 If your idea of the perfect family vacation is sunbathing and swimming, this beach is the place for you. The natural beauty of the beach is charming, and it offers you a chance to live out the rare and old fashioned version of a trip to the sea. Enjoy watching your kids make castles out of the clean and soft white sand against the backdrop of a sparkling blue sea, as you bask in the warm sun.
Best Time To Visit
October to May
7. Puri Beach, Orissa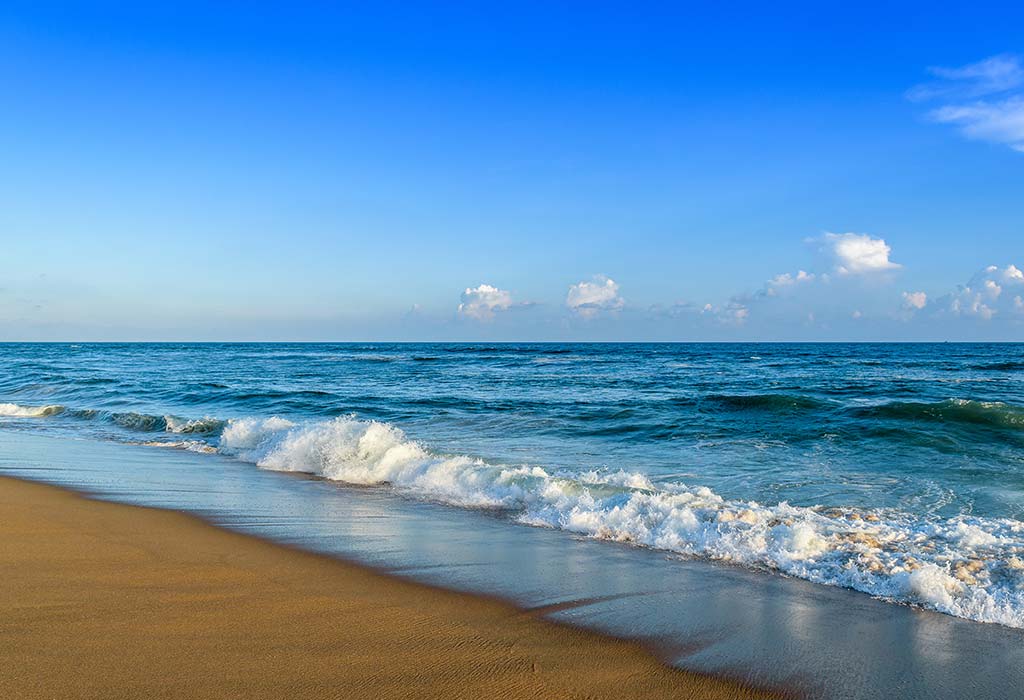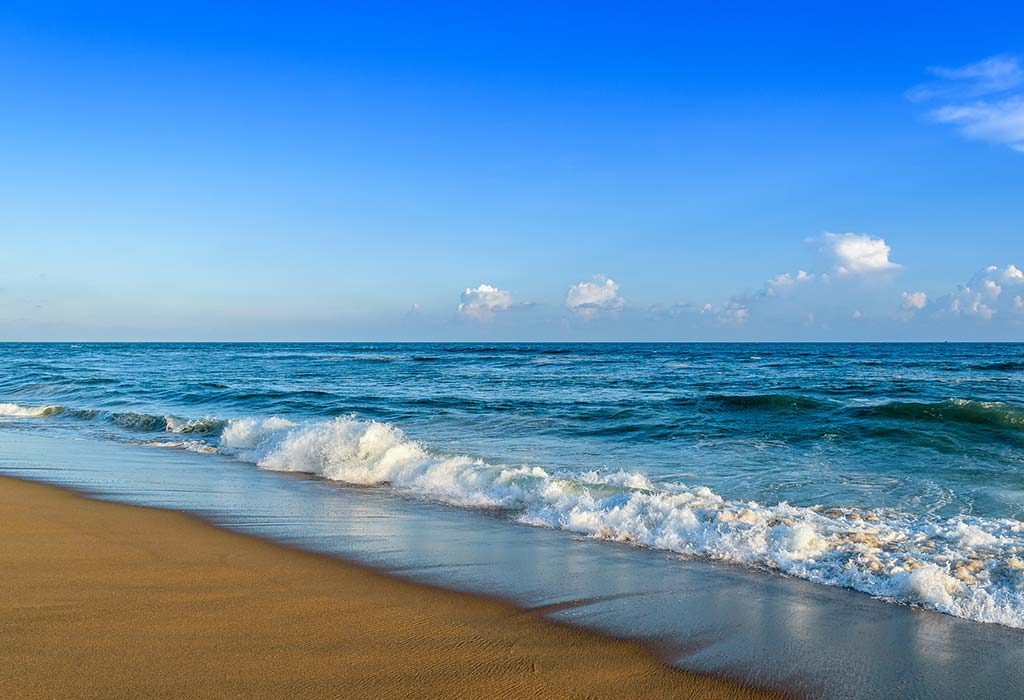 This destination is known to be a popular attraction, as many followers of Lord Jagannath visit it while on their pilgrimage. The fishing village along the coastline ensures that there is always plenty of fresh seafood available; a treat for seafood lovers.
Best Time To Visit
Throughout the year
8. Ganga Beach, Gokarna, Karnataka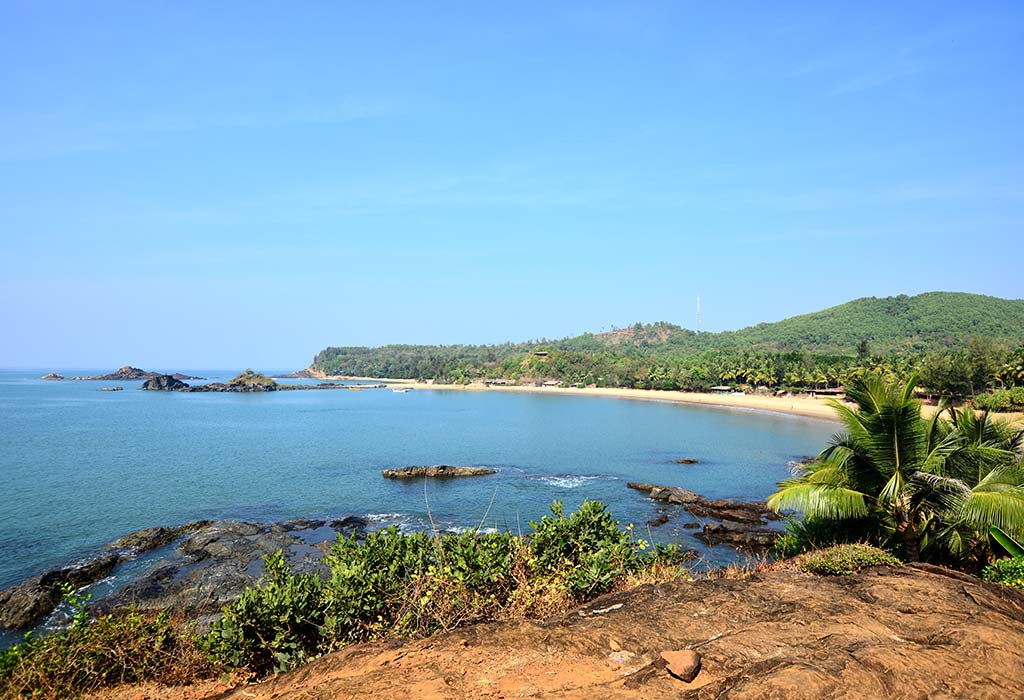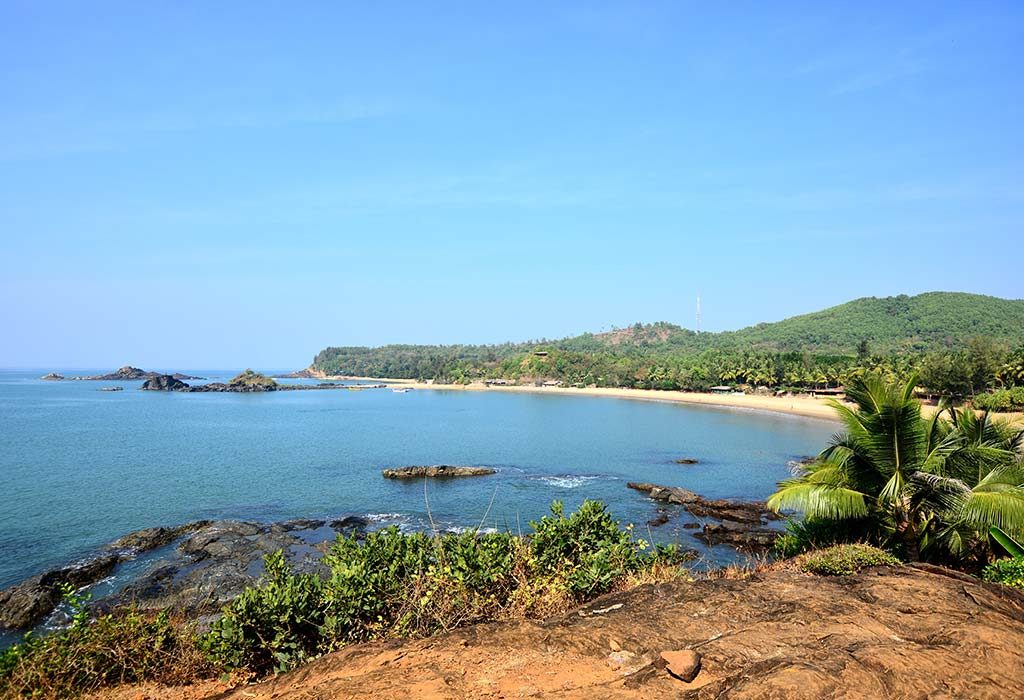 Just half an hour away from the more crowded Om beach, Ganga Beach is more secluded and scenic, offering the view of an ancient lighthouse and can be likened to a hidden paradise.
Best Time To Visit
November to February
9. Serenity Beach, Pondicherry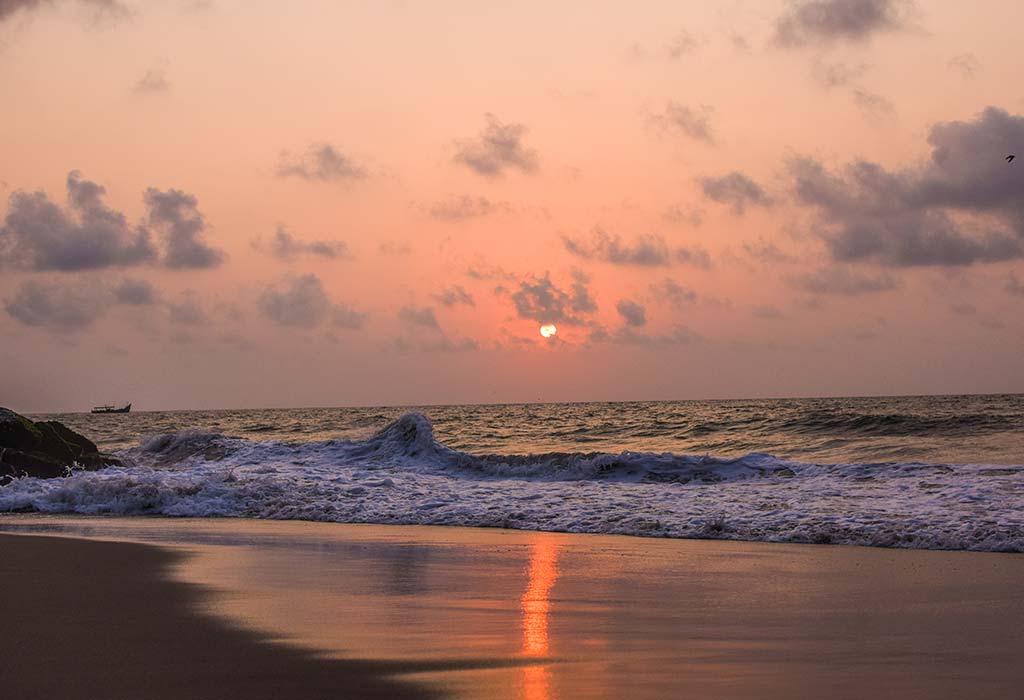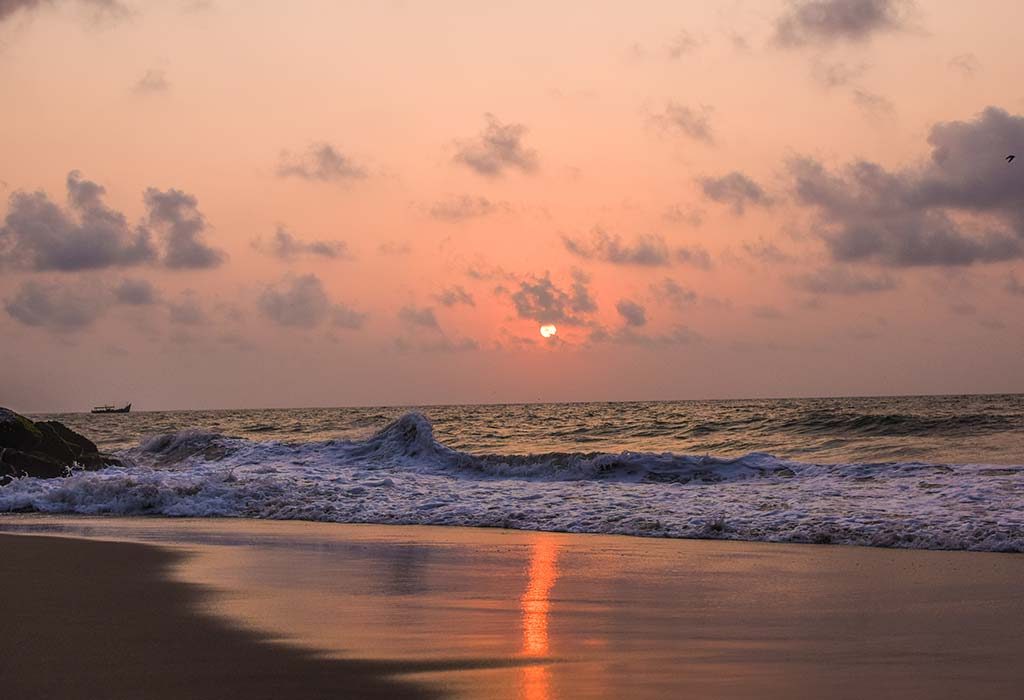 If you are ready for a rejuvenating holiday or are looking for a good place to go on your honeymoon, Serenity Beach should be one of your top picks of beaches in South India. With beautiful golden sands and the opportunity to learn to surf and also relax, it has everything to make it the perfect beach holiday.
Best Time To Visit
September to March
10. Nagoa Beach, Diu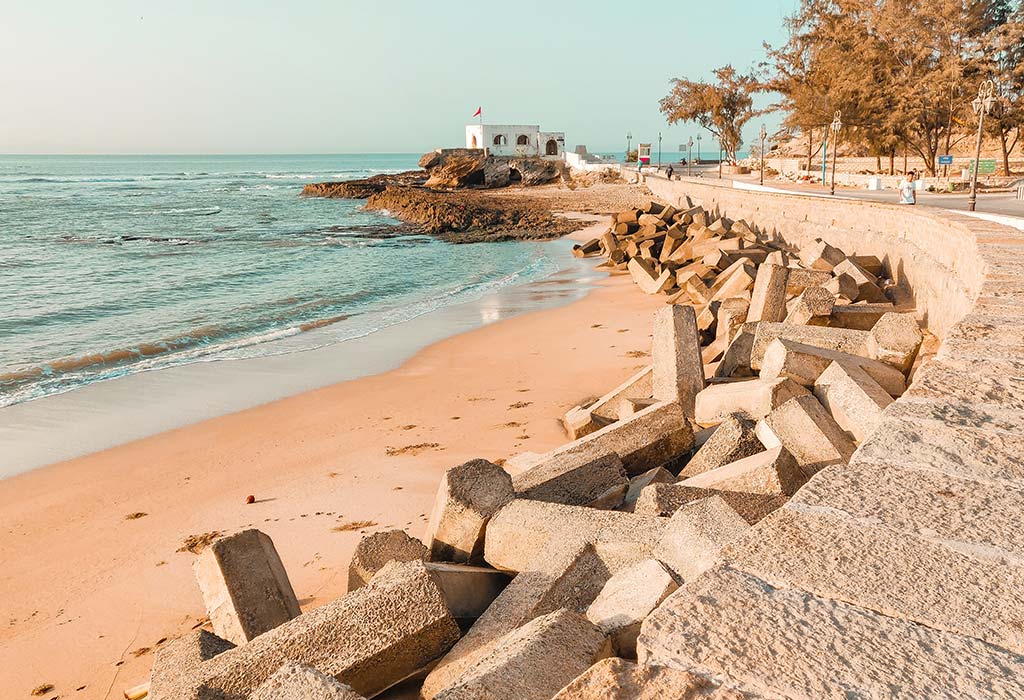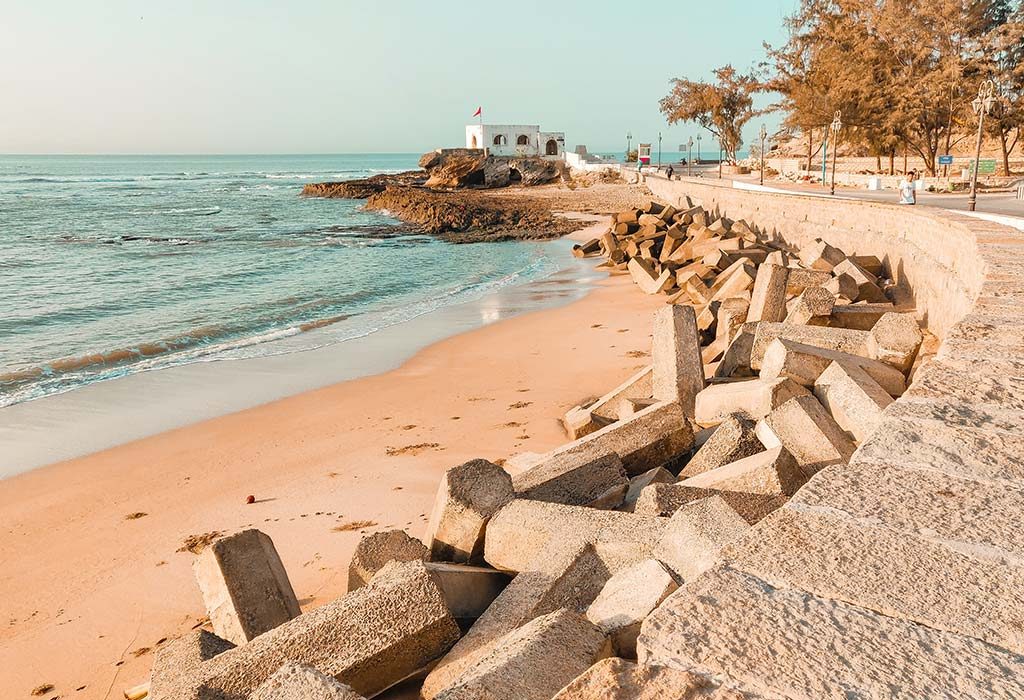 This beach is located in the little hamlet of Bucharwada and is lined with Hoka trees, known to give an exotic and delicious fruit. There are several different kinds of water sports available, yet it is also a place where you can enjoy some rejuvenating time, basking under the warm sun.
Best Time To Visit
April to October
11. Bangaram Beach- Lakshadweep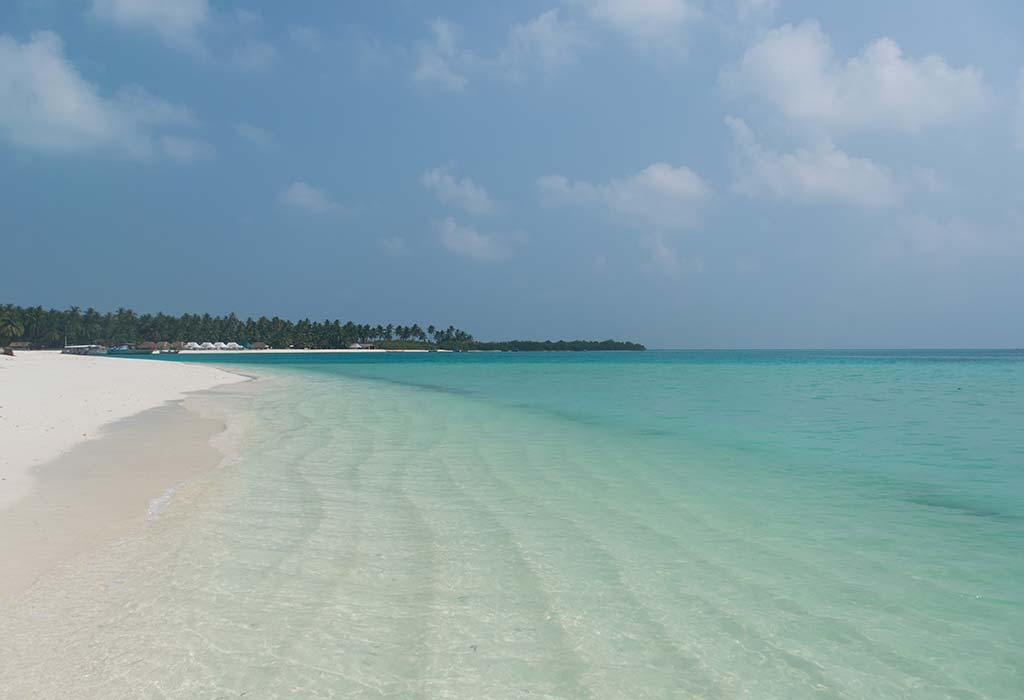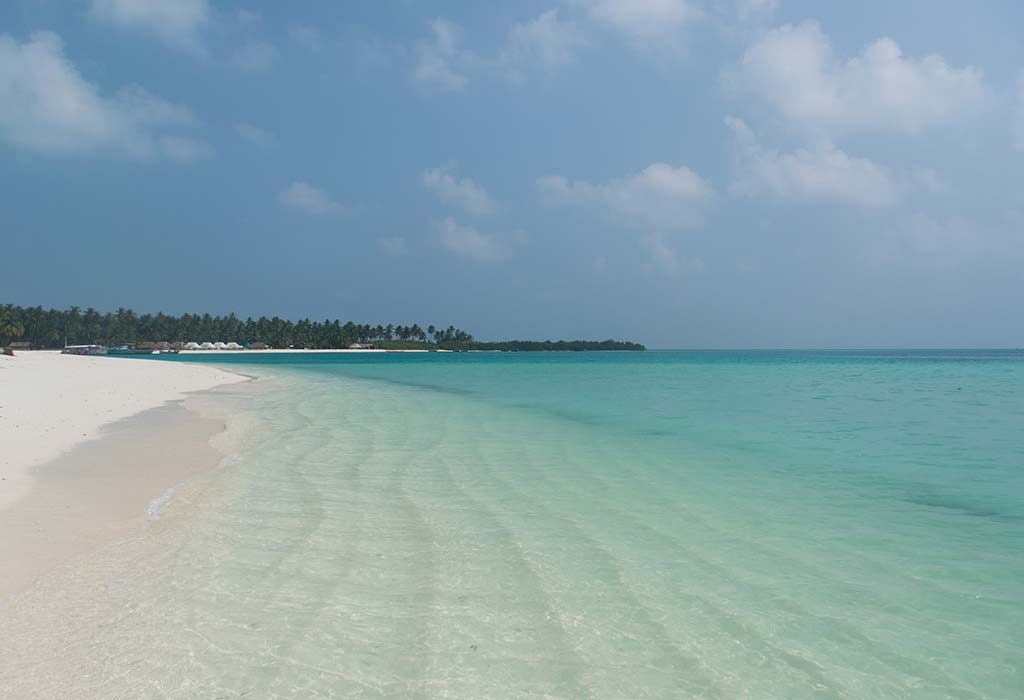 The island itself is enclosed by a shallow lagoon which is surrounded by coral reefs. There is an abundance of fauna to see amongst the flourishing coconut groves and many water activities to indulge in. It is said to be one of the most beautiful places in the world, and the beach offers one of the most memorable and picturesque scenes you will ever see.
Best Time To Visit
October to March
12. Yarada Beach, Andhra Pradesh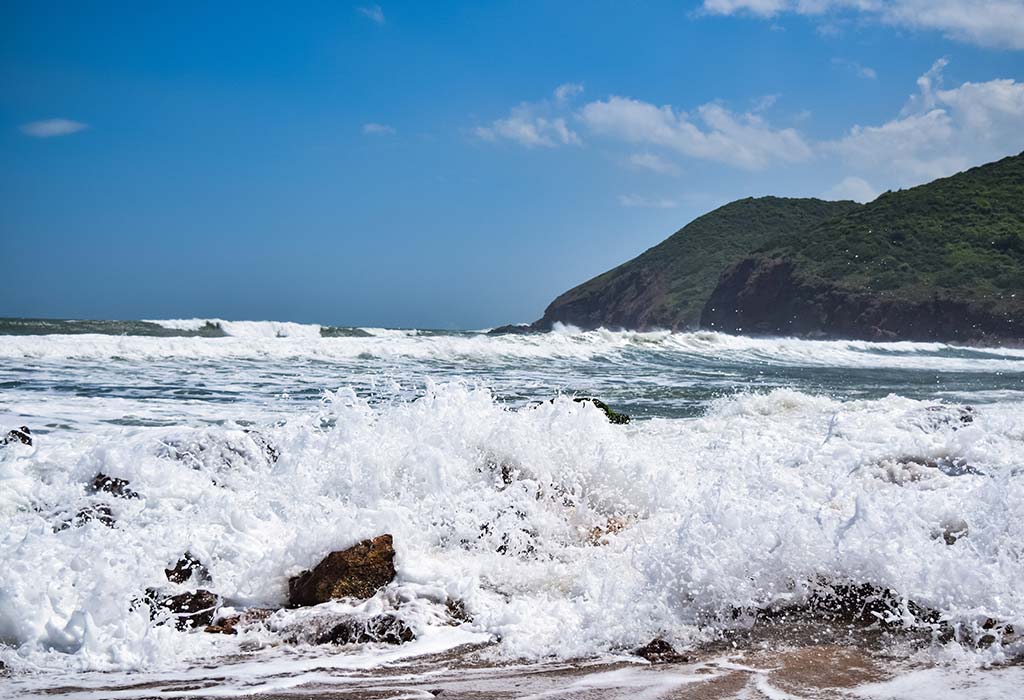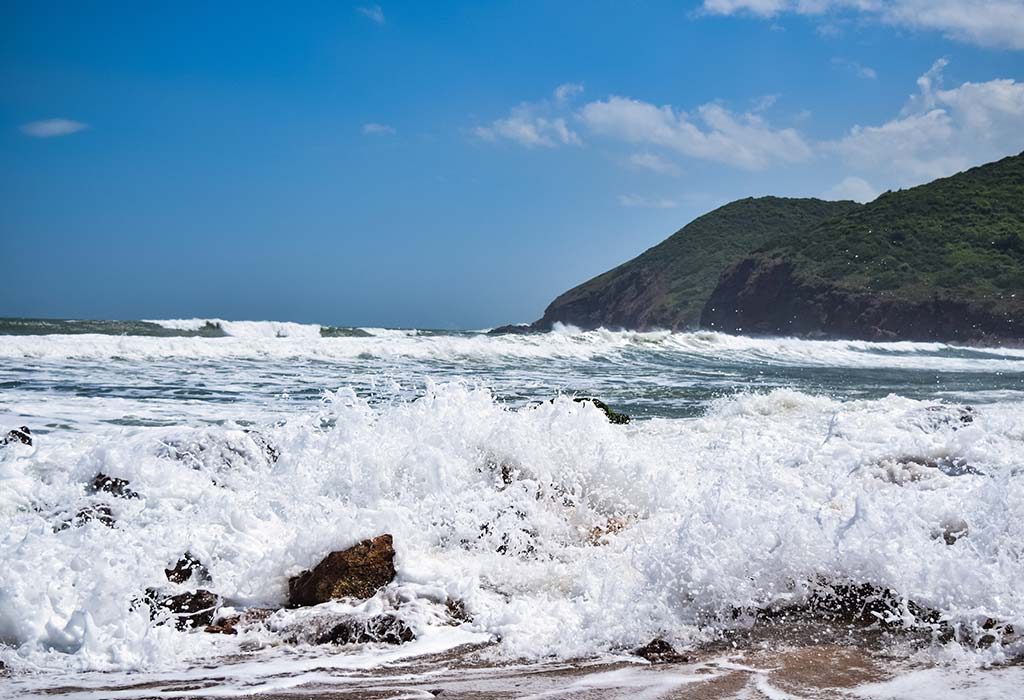 One of the few unspoilt beaches in the country that is more famous for its peaceful and serene environment. There are no late night parties, and the beach also leads to Black More's Hill, atop of which sits Dolphin's Nose Lighthouse.
Best Time To Visit
October to March
13. Mandarmani Beach, West Bengal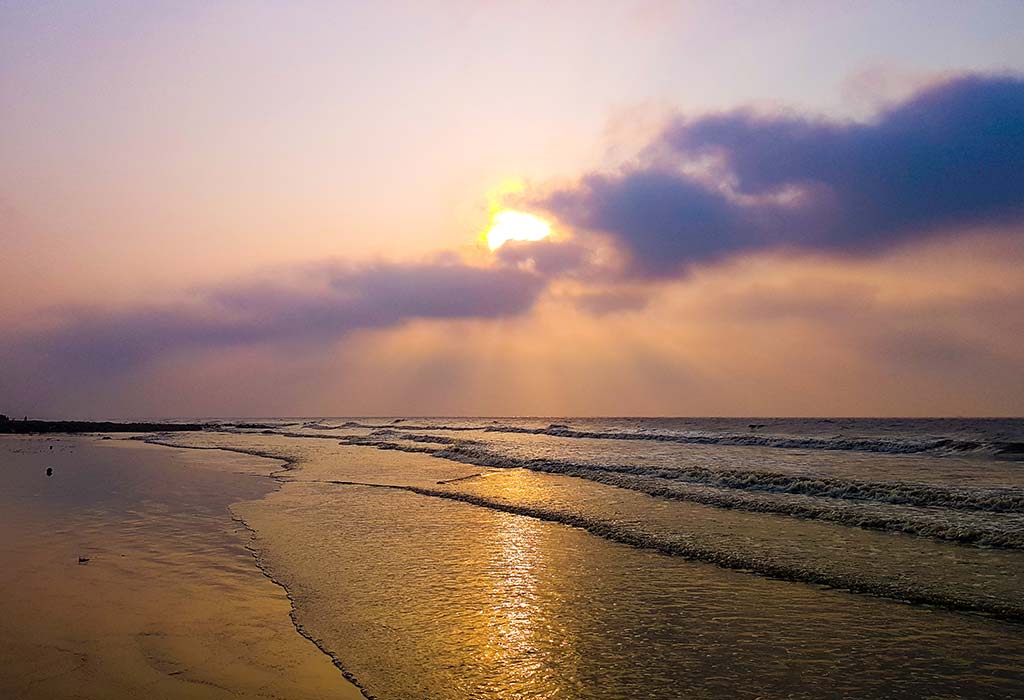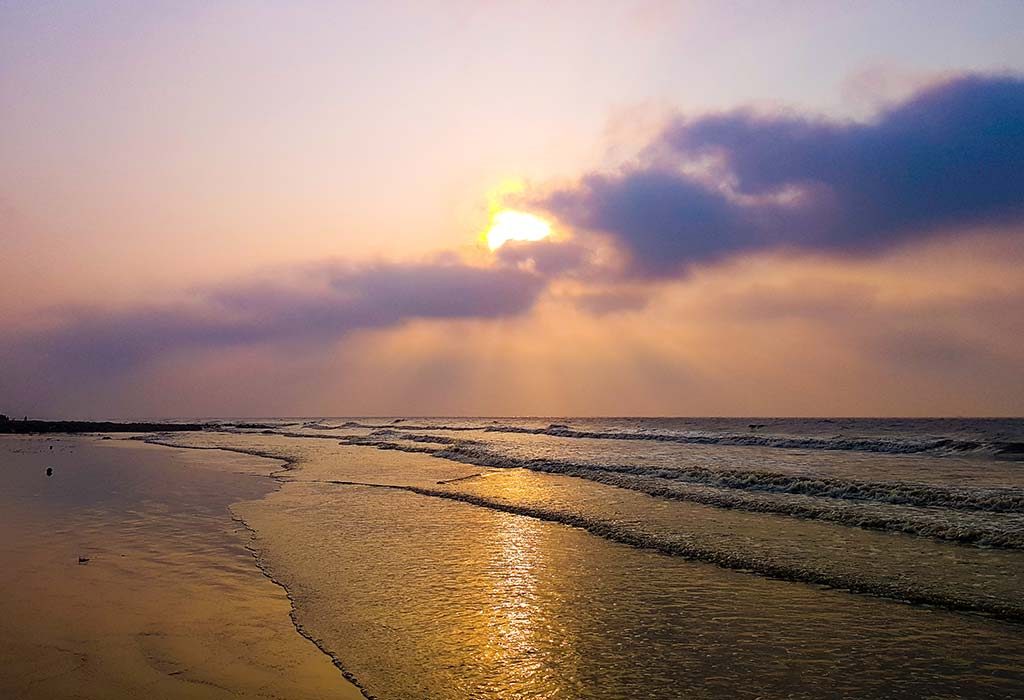 This peaceful and quaint beach has the longest drivable beach in India and can even contend for the title of the cleanest beach. When visiting, keep an eye out for little red crabs, which are known to be seen around the place.
Best Time To Visit
November to February
14. Gopnath Beach, Gujarat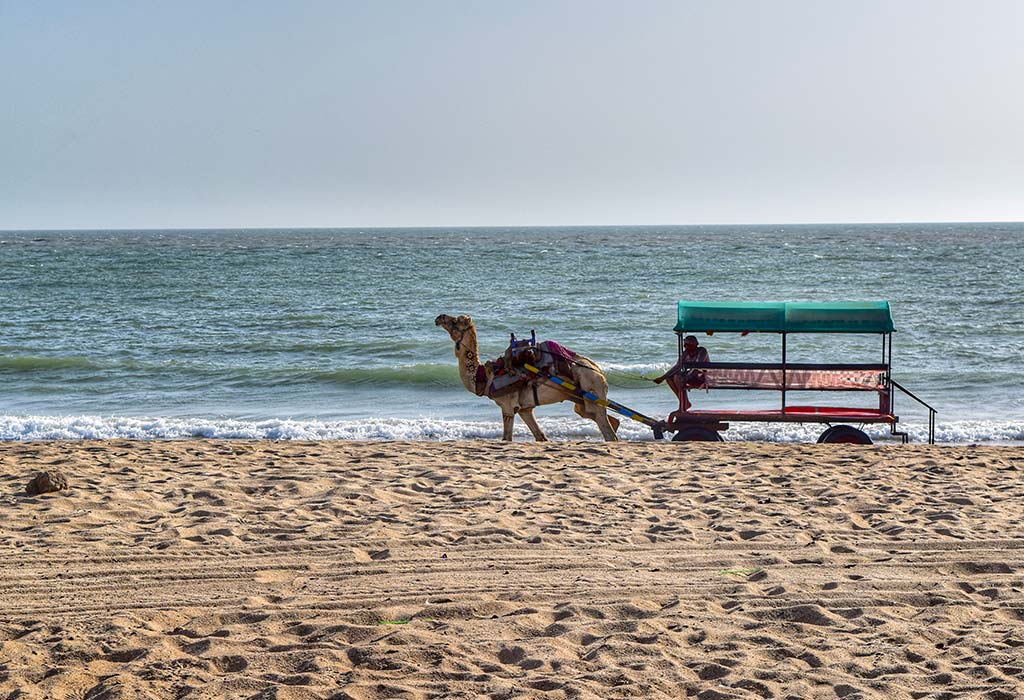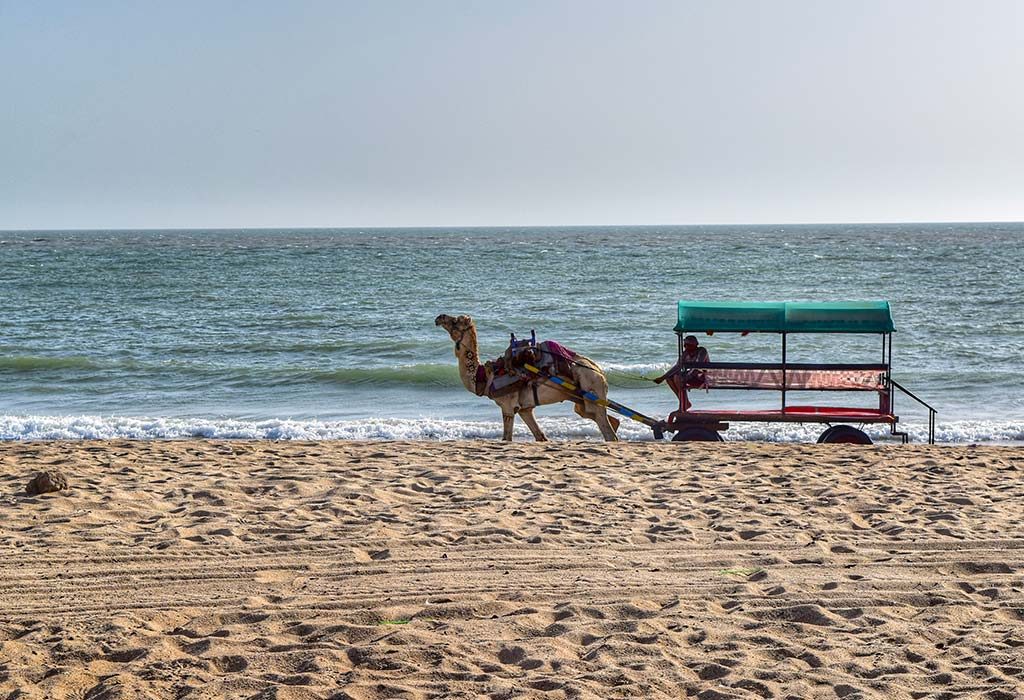 This pristine and beautiful beach is located in the Bhavnagar district and has historical importance. There is a fort nearby that once belonged to King Gohilvad and there are also many other temples to visit, like the Gopnath temple, which is 700 years old.
Best Time To Visit
October to February
15. Mandrem Beach, North Goa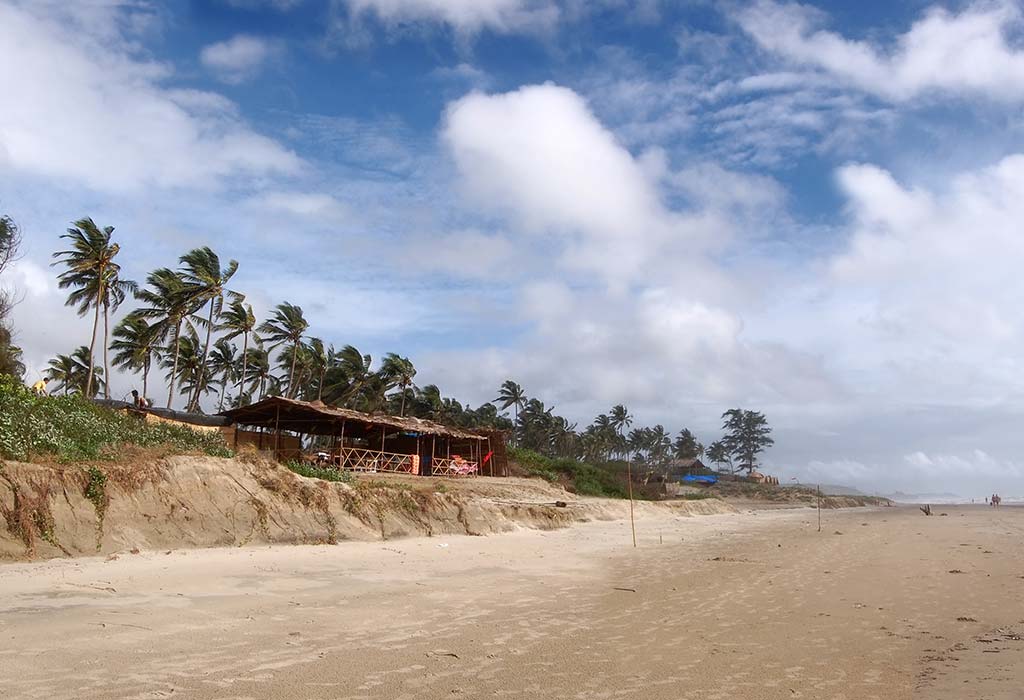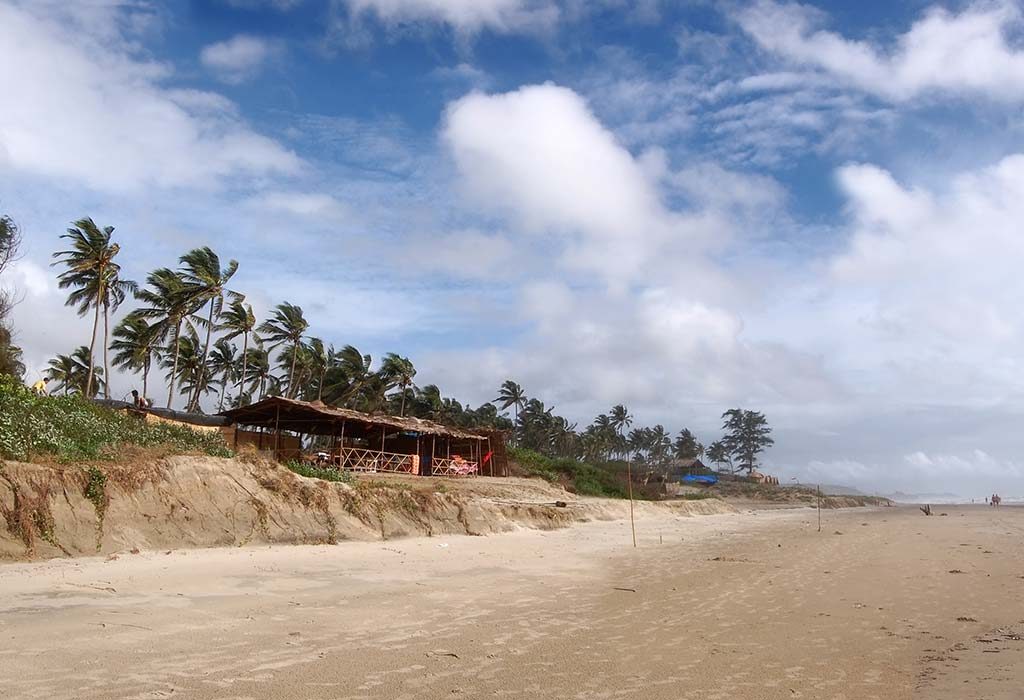 Located between Arambol and Ashwem beaches in the Northernmost parts of Goa, Mandrem is the most peaceful sea beach in the area and the place you go to when you want to escape the hustle and busy of the busy beaches more popular with tourists. Lined with tall palm and casuarina trees, this peaceful and quiet beachside is just what you need for a peaceful vacation.
Best Time To Visit
November to March
A trip to the beach is the first thing most people think about when they are trying to think up ways of unwinding, de-stressing and trying to clear their minds of all the background noise that usually accompanies them during the fast-paced life in the city. If you are someone who feels a similar way, you might want to forget about all those beach paradises that are advertised to you in far off countries, the next time you are in the frame of mind for a beach holiday. With its many different beaches, you are sure to find something that suits your idea of the perfect beach holiday, right here in India, a land known for its diverse cultures, landscapes and food. So, not only will you get a change in scenery, but you can also enjoy the variety of seafood cooked in traditional styles with your family.
Street Shopping Destinations in India
Religious Places in India You Must Visit with Your Family
Amazing Indian Destinations for an Internet-Free Vacation