15+ Amazing Sunroom Ideas for a Bright and Beautiful Space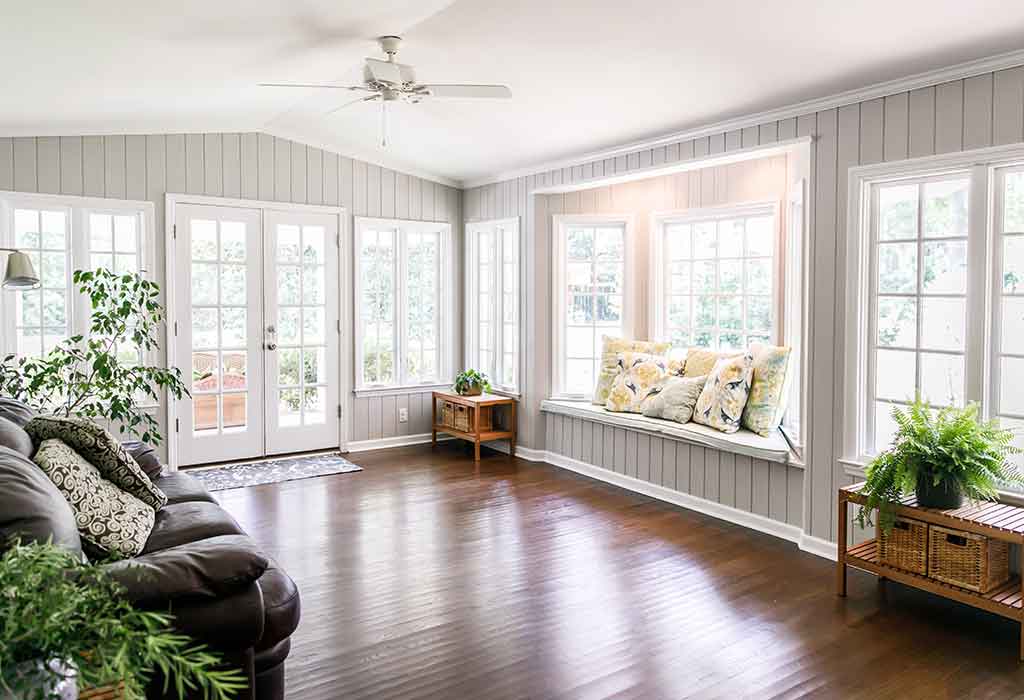 In this Article
If you love basking in the sun and spending free time outside, then a sunroom should be on your checklist! There is just something beautiful and welcoming about this space, and if you have enough area in your home to build a sunroom, then go for it!
Best Sunroom Decor Ideas
No matter how large or small your space is, these ideas can help you build a cozy sunroom.
1. Garden Pavilion Style
The Garden Pavilion style is a chic, semi-outdoor dining area usually located among the lush backyard. This sunroom can contain a vintage garden table surrounded by vintage-styled dining chairs along with chic rustic vases containing indoor plants or trees. With oil paintings decorating the spaces, the entire room will provide a subtle yet whimsical vibe.
2. Simple and Pretty
A sunroom should always provide warmth and happiness, but if you do not have the budget to purchase entirely new décor, you could always complete the room with some of the stuff you already have on hand! Once you have the room ready with gorgeous wide windows, decorate the room with a beautiful wooden vintage-styled table, charming casual furniture, and a soft and lovely rug on the floor. Add a few potted plants to brighten up dull spaces, and you are good to go!
3. Monochromatic spaces
If the room is tiny and does not have enough space for seating and storage, these small sunroom ideas might be perfect. Built-in benches that can also act as cupboards in the area underneath the cushions and a rug on the floor can make a cozy space.
4. Blending Tradition and Modern Accents
For a traditional vibe embellished with modern accents, it is best to go for a Scandinavian-inspired coffee table and white couches. You could also go for built-in seating arrangements around the table, depending on the size of your room. With some black and white pictures as well on the wall and a vase of yellow or red flowers (to add a color pop in the room), your room would be complete!
5. Mid-Century Style Sunrooms
A mid-century modern sunroom is another excellent option you could consider. Decorate the room with a large Moroccan lamp at the center of the room, a rustic sofa and other furniture, and a small coffee table at the center of the seating arrangements. All of the furniture can be of different accents of orange to enhance the mid-century vibe.
6. Jungle-Inspired Sunroom
If you are looking for wonderful 3 seasons room ideas that allow light from every angle, then go no further than the jungle-inspired sunroom. The room would be surrounded by glass walls, allowing maximum light to enter the room no matter where the sun is located.
7. Breezy Sunrooms
For spaces that always feel clean and fresh, you could go for sunrooms with large windows all around the room. Add in blue and white shades for each window, and the same color combinations can be considered for the furniture. Also, add in a lot of potted plants for a hint of nature.
8. The Fireplace Feature
Instead of building a summer space, why not go for 4 season room ideas that would work all year round! The decoration can be like any other sunroom, but one feature will stand out the fireplace. This can keep your space cozy and warm during winters while it is snowing everywhere around you!
9. Colorful Space
Add in extra shades into your sunroom instead of going for a specific color theme to add in a feel of vibrancy. To add these pretty color interests, you could go for darker furniture while the other décor, like tables, vases, stools, cushions, and rugs, can be brighter colors like yellow, orange, and turquoise. This lively contrast can help create an inviting and cozy space.
10. Sunny Play Space
Have your kids take a break from technology and enjoy a wonderful summer day in a welcoming and lively sunny playroom. This space can be stylish and functional with small dollhouses, tents, and toys, making it a fun space all year long.
11. Attached With Living Space
If you have an extra space facing your backyard or garden attached to the living area, why not convert this space into a beautiful sunroom. You can adorn this extra space with rustic and portable seating options and a tiny table. You could also store your art supplies there for the painters in your family.
12. Conversion Greenhouse
Go for something more than just a sunroom! Convert your space into a beautiful indoor greenhouse packed with indoor tropical plants and trees- real jungle-themed fun! The sunroom furniture ideas could resemble something tropical and jungle-themed with glass tables and vases.
13. Sunrooms With a View
Instead of having sunrooms attached to the backyard, you could go for sunrooms on the higher floors in your home. This way, you would have a sunroom with an epic view, where you could absorb the beautiful sunset every charming evening. Include a decorated rug, a few rustic pillows, and other simple accents to enhance the room's appeal.
14. Tropical Influences
A cheerful lavender and lime green scheme, a rustic blonde shiplap, and tropical rattan accents can transform any dull old space into a warm and cozy sunroom. With tropical-inspired artwork and décor along with a round seating arrangement, you can make any room feel welcoming.
15. An All-White Theme
Sunrooms can be made to fit all seasons, and the perfect neutral color for that would be white! An all-white approach can assert an ethereal glow and can make any space look appealing. Add in white furniture, white rugs on the floor, and even a white vase with plants that have white flowers.
16. Porches
Though the sunroom usually has screens or windows, a cozy porch decorated with clever designs would also work well! A small coffee table, comfy couches, and small stools, along with tiny lights and potted plants, would make any front porch an appealing one!
17. Modern Sunrooms
If a modern space is what you are looking for, go for sleek furniture made from contemporary materials like painted metal and blonde wood. You can stick to neutral shades of black, grey, and cream and add a few subtle vibrant elements for a pop of color!
Sunroom design ideas are too many, and you can always experiment with these ideas by blending one another to come up with a design that perfectly suits your home!
Also Read:
Balcony Décor Ideas
Outdoor Dining Room Ideas
Budget-Friendly Home Décor Ideas