12 Stunning Wedding Guests Hairstyles You Can Do Yourself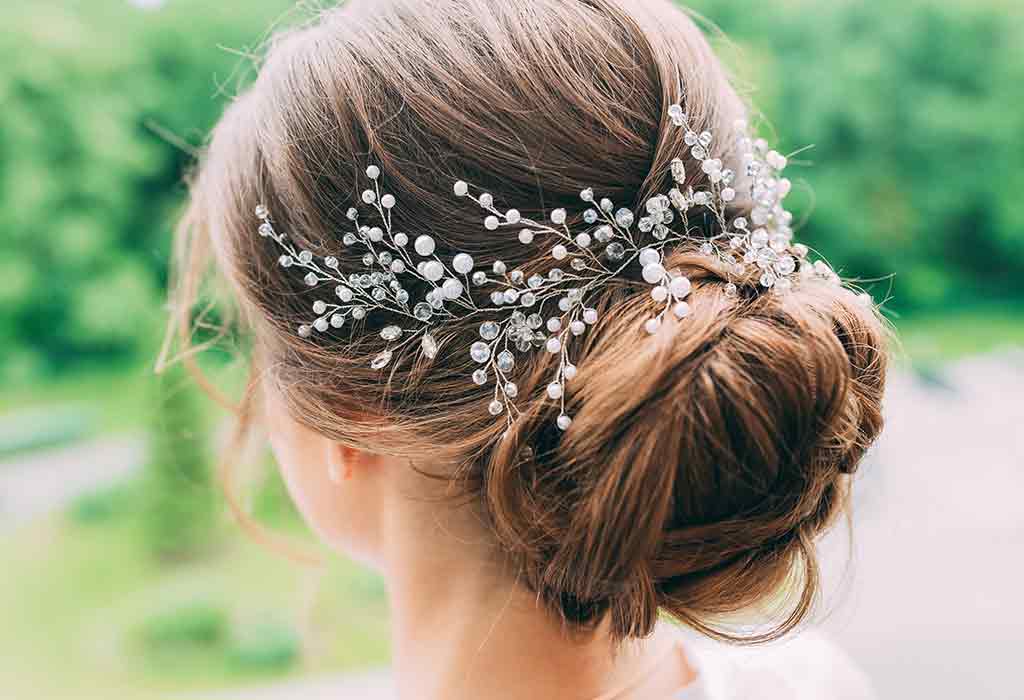 In this Article
You could be a friend of the bride or groom or also a relative flying in for the wedding, no matter what, women always need exclusive hairstyles to wear to a wedding as a guest. A well-tressed guest is the one who looks like she can create a chic hairstyle with just a few pins, hair ties, and accessories. Hairstyles are statements within themselves, and if your hair is styled well, you can even skip on the heavy jewelry!
12 Easy Hairstyle Ideas for Wedding Guests
A perfect hairstyle is essential to complete your look for the wedding. A hairstyle is the ultimate fashion statement; no matter how perfect your outfit and accessories are, your ensemble is not complete if you do not sport a great hairdo. To make your day and your attire at the wedding an epic success, we have created a list of the best hairstyles for female wedding guests keeping in mind all hair types and lengths. Read on:
1. Half-Up, Half-Down
If you are looking for wedding guest hairstyles for long hair, then this one is the easiest. Brushed-out waves on long hair stand on their own and only need a slight enhancement. However, for some added effortless convenience, a simple gather makes a huge difference.
2. A Bevy of Braids
These kinds of braids give a chic, young, and uber cool look and add the drama required for a long night of celebration and dancing. This hairstyle is a trendy and statement updo for wedding guests. You may need to be careful not to hurt anyone as you shake your head for some fun dance moves.
3. Sleek Ponytail
One of the best wedding guest ponytail hairstyles is an ultra-sleek ponytail that looks brilliantly regal at any wedding, especially if this hairstyle is paired with the perfect statement earrings and dramatic cat eyeliner.
4. High Pompadour
For the essential sprinkle of drama at any wedding, a high pompadour is a sure bet to nail the perfect look. To get this style right, begin with unwashed hair (which holds the style better) and then tease the back section of your scalp for maximum volume.
5. Twisted Bun
A twisted bun adds to oodles of charm and gives a sophisticated look for any wedding. For more defined portions, you can turn small strands of hair, wrap those strands around the base, and gently secure each strand with bobby pins.
6. Twisted Half-Up
A twisted half-up style is one of the most favorite wedding guest hairstyles, as it looks like you have spent a lot of time and effort on it. To nail this style, all you have to do is take some hair from the front of your head and then twist those strands. Pin these strands together at the back of your head, and you are done.
7. A Low-Key Pin
If you are looking for wedding guest hairstyles for short hair, then a low-key pin is your answer. Short hair lengths with bouncy curls give an instant retro-chic look coupled with a sparkly hair accessory. You can use the hairpins to pull some hair strands away from your face to only one side to give a vampy curtain-like effect to the other side of your face.
8. Curled Ends
Another option available instead of straightening your tresses into a sheath of needle-straight locks is to slightly curl the ends of your locks inward for a more glam and aesthetic look. You can add more volume throughout your strands to keep your entire look soft and demure and not extra sleek.
9. A Side Braid
You can also plait your hair in a somewhat uneven fashion and then sweep it over to one side for a more playful and chicer vibe. This stunning look can help you achieve a youthful illusion by securing a braid a few inches above the ends.
10. Updo With Curtain Bangs
If you have decided to opt for curtain bangs, you need not worry. You can still sport an attractive look at any wedding. All you need to do is style your curtain bangs in soft waves and then pull the rest of your tresses into a simple bun.
11. Air-Dried Locks
It is possible to get incredible and beautiful hair by letting it air dry. We recommend applying a mousse to your damp tresses and then twirl your hair into low pigtail buns until your hair dries. You can then gently take your hair out and then apply a styling product to hold the structure.
12. Braided Headband
This wedding guest hairstyle may seem a bit tough to accomplish but is pretty effortless. All you need to do is take long strands of hair from behind your ears, braid these strands, and then wrap them neatly over the top of your head. You can then secure your braid using a bobby pin, and your hairstyle is sorted.
All of the styles that have been detailed are easy to do and will have you transform into the beauty that you already are. Now, all you have to do is select your outfit and then browse through the list of hairstyles we have curated. Select the one that suits your style, and then wait for the day to get heads turning.
Also Read:
How to Rock Perm Hairstyles Right Way
Best Half Up Half Down Hairstyles
Elegant Hairstyles for Women With Thin Hair