12 Best Christmas Dinner Ideas Along With Recipes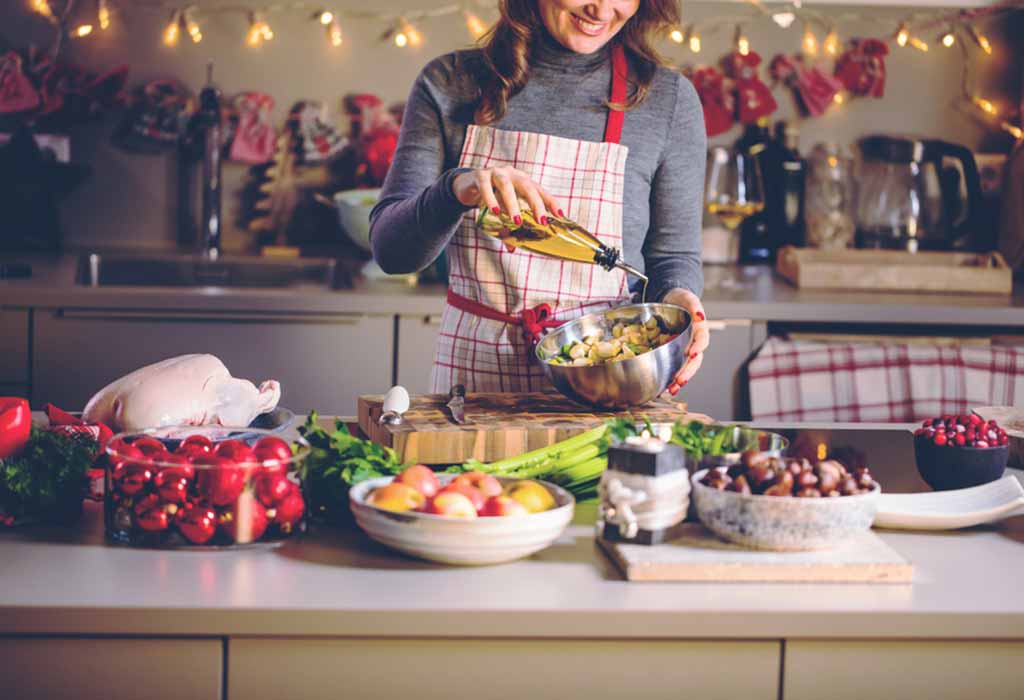 In this Article
Are you cooking for a whole village, or it's just an intimate Christmas dinner for two? In any case, if you are wondering what to cook, we have got you covered with some of the easiest yet fanciest recipe ideas.
Yummy Christmas Dinner Recipes for Friends and Family
Widen your Christmas dinner menu with these innovative and comforting traditional holiday recipes that are sure to bag you the best chef award this holiday. From sides to cocktails, we've got your Christmas dinner meal list covered. Below listed are our favorite picks to take your holiday spread a notch higher. Of course, drinks, appetizers, sides, and mains are included…
1. Classic Roasted Chicken
How can you forget a classic roasted chicken for a traditional Christmas dinner?
Ingredients
1 (3 ½ lb.) chicken
1 yellow onion cut into large petals
3 carrots peeled and cut into big pieces
1/2 lb. baby potatoes, quartered
2 stalks celery, chopped into big pieces
1 head halved garlic
3 tbsp. melted butter
1 tbsp. extra-virgin olive oil
1 bunch fresh thyme
1 lemon
Kosher salt
Fresh Ground pepper powder
Preparation Time – It takes around 1 Hour 30 minutes to make this classic dish.
Total Time – The total time for this recipe would be 1 Hour 50 minutes.
Servings – It provides around 6 servings.
How to Make
Slap the chicken. Dry and garnish with salt and pepper. Tie the legs together and pucker the wing tips underneath the body of the chicken.
Place the chicken in the fridge for an hour or overnight if there is time.
Preheat oven to 425°. In a 9-13″ baking dish, place onion, celery, carrots, potatoes, and garlic and flip together with oil and a teaspoon of salt.
Keep the chicken on top and brush it fully with melted butter. Stuff the cavity with lemon and 3/4th of the thyme.
Roast till juices run clear for about 50 minutes to 60 minutes. Check with a meat thermometer into the center of the thigh to see if it reads 165°.
Place a foil over the chicken and let stand for 15 to 20 minutes.
Transfer to a board and carve. Serve with roasted vegetables.
2. California roasted lamb
Serve this on Christmas eve dinner and take the festive fever a level higher with this mouth-watering roasted lamb!
Ingredients
1 leg of lamb (4-5 pounds)
2-3 garlic cloves sliced
2 cans tomato sauce
1 cup water
1 tsp. seasoned salt
1 tsp. pepper
1 tsp. dried oregano
3-5 big fresh artichokes quartered
3 small lemons
Preparation Time – It takes around 10 minutes to prepare, plus the baking time.
Total Time – The total time taken is 2 hours 50 minutes.
Servings – This recipe gives 12 servings.
How to Make
Slash lamb in silts and plug garlic. Cover the meat throughout with oregano, salt, and pepper.
Roast the lamb at 400° for 30 minutes. Turn the heat down to 350° and roast for an hour more.
Skim off every fat in the pan and add water, tomato sauce, and lemon juice over lamb.
Place the fresh artichokes and lemons around the lamb.
Roast for an hour longer or till the lamb attains your level of required doneness. The meat thermometer should read 135° for medium-rare, 140 °, medium, and 145° for medium-well.
Let it rest for 15 minutes and garnish with fresh herbs before serving.
Note: If you are diabetic or health-conscious, replace with 3 lean meat.
3. Four Cheese Lasagna
This Italian Christmas dinner is a delicious meat-free lasagna made of Ricotta, Parmesan, Mozzarella, and Fontina.
Ingredients
For the filling:
1 ½ cups fresh ricotta
¼ cup grated Parmesan
1 large egg
2 tsp. grated lemon zest
3 tbsp. chopped fresh basil, parsley, rosemary, or thyme, or a mix of everything
1 ½ cups fresh diced mozzarella
1 cup grated fontina
Salt and pepper, to taste
For the lasagna:
8 pasta sheets (6×8 inches), or 10 ounces of no-boil dry lasagna noodles
4 tbsp. olive oil
6 tbsp. of grated Parmesan
Fresh herbs to garnish
Preparation Time – 20 minutes is all it takes to cook this rustic dish.
Total Time – The total time taken is 40 minutes.
Servings – You get around 6 servings.
How to Make
Preheat the oven to 450ºF and grease a large skillet or a baking dish. Take another pot of salted water and boil.
Take a bowl and mix the Parmesan, Ricotta, lemon zest, egg, and herbs well. Combine the mozzarella, fontina, and drizzle some salt and pepper to your taste.
Chop the pasta sheets in half to have 16 sheets sized 4×6 inches. For no-boil noodles, cut them in half if it is more than 10 inches.
Cook the pasta sheets in boiling water for 30 to 40 seconds. For no-boil noodles, cook for 2 to 3 minutes, or till it is softened. Carefully take the pasta sheets to the cold water to halt cooking.
Transfer the pasta sheets to a cutting board, a few at a time, and dry with a napkin.
Fill each pasta sheet with 3 tbsp. Of the filling and fold the sheet in half such that the filling is in the middle. Without sealing the edges, brush the top with olive oil and place them in the skillet/ baking dish.
Once all the sheets are assembled in the skillet/ baking dish, drizzle the top liberally with Parmesan.
Bake for 18 minutes, or until the cheese is melted and golden and the pasta is crisp and tan at the edges.
Garnish with herbs and serve hot.
4. Crunchy leaf potatoes
A unique Christmas dinner idea, these crunchy leaf potatoes are sure to wow your guests.
Ingredients
9 lbs. peeled Yukon gold or Russet potatoes
12 oz. unsalted butter
3 tsp. salt
1 tsp. ground black pepper
4 tsp. chopped rosemary or oregano
Preparation Time– You can cook this in an hour.
Total Time– With prepping, it takes around 1 hour 40 minutes.
Servings– This recipe easily gives you around 8 servings.
How to Make
Preheat your oven to 400°F/207°C.
Thinly slice the potatoes with a Mandoline Slicer (preferably) lengthways and pat dry the potatoes with napkins or paper towels.
Mix the sliced potatoes with butter, salt, black pepper, and 2 teaspoons of chopped rosemary in a large bowl until fully coated.
Neatly place the potatoes upright in a baking tray till the tray is stacked fully. Ensure not to tightly pack the potatoes as they won't turn out crispy.
Bake for 60 minutes or till the potatoes turn golden and crispy.
Garnish with salt, rosemary, or oregano and serve instantly.
5. Butter Lemon-Garlic Beans
If you're looking for a light Christmas dinner side, these Butter Lemon-Garlic Beans are all set to take the spread a notch higher.
Ingredients
1 pound fresh trimmed green beans
½ cup halved almonds
4 tbsp. butter
3 cloves minced garlic
1 lemon's juice
Lemon zest
Kosher salt
Black pepper
2 ounces grated parmesan
Preparation Time – It takes 12 minutes to cook this dish.
Total Time – In 17 minutes, you can prepare this dish.
Servings – This recipe doles out six servings.
How to Make
Blanch the green beans in boiling water for 3 minutes till it gets bright green and tender, about 3 minutes. Drain and immediately transfer it to a bowl of ice water.
Heat a skillet and toss in the almonds and toast till fragrant. Ensure to stir occasionally, so the almonds don't burn. After 2 minutes, set aside the almonds to cool.
In the same skillet, add melted butter and garlic. Stir for about 3-5 minutes occasionally, till you get the butter to light brown with a nutty fragrance.
Add the beans to the skillet and sauté for around 5 minutes till they are warm and coated well with butter.
Take the beans from the pan and squeeze in lemon juice. Assemble it on a plate, and garnish it with parmesan cheese, lemon zest, and the toasted almonds.
6. Herb-Cheese Rolls
A must-have item in your dinner party list, these herb-cheese rolls are low in calories but high in tastiness.
Ingredients
4 ½ cups all-purpose flour
¼ cup sugar
¼ ounce active dry yeast
2 tsp. salt
1/2 tsp. Dill weed
¼ tsp. garlic powder
2 tbsp. mashed potato flakes
2 cups water
4 ½ tsp. butter
1 cup old-fashioned oats
1 large egg at room temperature
¾ cup shredded part-skim mozzarella
For topping:
2 tbsp. fat-free milk
4 ½ tsp. Grated Parmesan cheese
½ tsp. Garlic powder
½ tsp. Dill weed
½ tsp. dried basil
Preparation Time – It takes around 45 minutes to make this dish.
Total Time – The total time amounts to 2 hours 30 minutes.
Servings – It makes around 24 pieces.
How to Make
Take a big bowl and mix 1 1/2 cups flour, potato flakes, sugar, yeast, salt, dill, and garlic powder. Meanwhile, in a saucepan, combine water and butter and bring it to a boil.
Take a small bowl, pour the boiling liquid over oats and let it cool to 120°-130°, mixing occasionally.
To the mixture, add dry ingredients and beat just till it is moistened. Next, add the egg and beat till smooth. Stir the remaining flour to form a firm yet sticky dough.
Dust your countertop with the flour and knead the dough till it gets smooth and elastic for about 8 minutes. Add the mozzarella and knead it together.
Place the dough in a bowl greased with cooking spray and turn once to coat the top. Cover the bowl, place it in a warm place, and let the dough rise until doubled, which takes about 1-1/4 hours.
After it is doubled, punch the dough down and place it on a floured surface. Divide the dough into 24 equal pieces and form each piece into a ball.
Arrange the pieces in a 13×9 inches greased baking pan and brush some milk over the rolls.
Mix the topping ingredients in a bowl and sprinkle it on top. Cover and let it double, which takes around 45 minutes.
Bake at 375° in a pre-heated oven for about 20-25 minutes or until it gets golden brown. Cool them in a wire rack.

7. Cauliflower Broccoli Gratin
Looking for a nutritious vegetarian Christmas dinner idea that is healthy yet tasty? You have landed on the perfect one! Ditch the usual vegetable Au Gratin dish, and surprise your relatives with this cheesy Cauliflower Broccoli Gratin.
Ingredients
4 tbsp. unsalted butter and a little extra more for sauté
1 medium head cauliflower (around 2 pounds), cored and sliced into 1/4-inch thick pieces
1 large head broccoli (around 1 1/2 pounds), cored and sliced 1/4-inch thick pieces
6 tbsp. all-purpose flour
3 cups of whole milk
1/4 tsp. freshly grated nutmeg powder
2 cups grated Gruyère (around 8 oz.)
Kosher salt
Freshly ground black pepper.
Preparation Time – The dish takes around 40-50 minutes to make.
Total Time – The total time taken is around 1 hour 10 minutes.
Servings – You get around 8-10 servings.
How to Make
Preheat oven to 375°F for 10 minutes. Grease a deep 3-quart baking dish generously with butter. Place the cauliflower and broccoli pieces in the prepared baking dish.
Melt 4 tbsp butter in a saucepan over medium heat. Add all-purpose flour and stir the butter for around 2 minutes. Ensure not to darken the butter.
Slowly pour the milk in simmer and whisk intermittently for 3 to 4 minutes until the mixture is thickened slightly to a creamy consistency.
Remove the saucepan from heat and mix the grated nutmeg with around 1 1/4 cups cheese—season with salt and pepper.
Pour the sauce over vegetables and add the remaining 3/4 cup cheese on top.
Cover the baking dish loosely with aluminum foil and bake for 15 minutes.
Remove the foil and bake for 20 to 25 minutes until vegetables are tender and the cheese is golden brown.
Cool it for 10 minutes before serving.
8. Brussel sprouts sides
A great way to incorporate some vegetables in your Christmas spread, these Brussel sprouts sides are an amazing recipe for your vegetarian family members and friends. The best part is this can be made on the stovetop, which comes as a great life-saver when your oven is buzzing with cakes and roasted recipes.
Ingredients
4 slices thick chopped bacon
2 lb. small Brussels sprouts, trimmed and halved if large
1 small, chopped onion
3 tbsp. of sherry vinegar
4 tbsp. olive oil
2 tsp. of Dijon mustard
1 tsp. of maple syrup
Kosher salt
Preparation Time – Easily make this in 30 minutes right in your pan.
Total Time – With chopping and prepping, you can finish this is in 40 minutes.
Servings – Get around 8 servings with this recipe.
How to Make
Roast bacon on medium in a skillet till it gets crisp for 8-10 minutes. Once done, transfer to a plate lined with a towel.
Retain 2 tablespoons of drippings and add onions. Cover and cook till it gets tender for 8 to 10 minutes. Ensure to stir occasionally.
Add mustard and vinegar and continue to cook for a minute. Scrap the browned edges and mix them well. Remove from the stove and mix the maple syrup with 2 tablespoons of olive oil.
Simmer ½ cup water in a skillet and add ½ teaspoon salt. Add the Brussels sprouts and cook them covered for around 4 minutes. Ensure to shake the pan often.
Remove the lid and switch heat to high. Combine 2 tablespoons of olive oil and toss the skillet occasionally till it starts to turn golden-brown.
Transfer to a plate and stir with bacon vinaigrette. Garnish with reserved bacon.
9. Ginger cookies
Make your house tingles with the smell of freshly baked cookies along with the sugared fruits. These cookies are sure to make you famous among your loved ones.
Ingredients
50 grams of butter
50 grams flour
50 grams castor sugar
1/2 tsp. of ginger powder
2 tbsp. of honey
1 tsp. of rum
Whipped cream
Sugared fruit:
200 grams sliced strawberries
250 grams sliced grapes
1 tbsp. of sugar
1 tbsp. of rum
Preparation Time – You can whip this in just 30 minutes.
Total Time – Along with prepping, the total time taken is 40 minutes.
Servings – The total yield from this recipe is 10.
How to Make
Combine melted butter, sugar, and honey in a bowl.
Add the balance ingredients and mix everything well.
Butter and dust a baking sheet with flour. Place the mixture using a teaspoon 3 inches apart.
Bake it for 7-10 minutes at 170°C or till it gets golden in color.
Take the baking tray out of the oven and cool it for a minute.
Remove the ginger snaps from the baking sheet and roll them around the handle of a wooden spoon.
Allow it to sit for some time and fill it with whipped cream.
Combine the ingredients for the sugared fruit and refrigerate for 2-3 hours. Serve the ginger cookies with sugared fruit.
10. Cider Sangria
What's a Christmas party without fun cocktails? This sparkling and spicy cocktail, along with citrus fruits, gives the right punch to your tastebuds.
Ingredients
2 1/2 cups of apple cider
3/4 cup of brandy
1/2 cup of fresh clementine or orange juice
1/4 cup of lemon juice
2 tsp of orange bitters
750ml Prosecco bottle or any dry sparkling wine
1-inch piece of peeled and thinly sliced ginger
4 thinly sliced clementines
2 apples sliced into wedges
Pomegranate seeds
Preparation Time – You can do this in just 15 minutes!
Total Time – After preparing, chill this for an hour or two before serving. You can chill the mixture without adding Prosecco for up to a day before serving.
Servings – This tasty punch serves 6 – 8.
How to Make
Take a large glass pitcher and mix the cider, clementine juice, lemon juice, brandy, sliced ginger, and bitters.
Next, mix in clementine and the apple wedges.
Chill the mixture in a refrigerator for some time to allow the flavors to meld well and the fruit to shine through. Remember, you can chill this mixture only for up to a day.
Before serving, add the bottle of Prosecco. You can also use Cava, sparkling rosé, or other dry sparkling wine.
Serve over ice and garnish with a few pomegranate seeds, apple, and orange slices.
11. Ham with pineapple sauce
Serve this juicy baked ham with tangy pineapple sauce for a delectable finish.
Ingredients
A fully cooked bone-in ham weighing around 6-8 pounds
A handful of whole cloves
1 can sliced pineapple
½ cup brown sugar
Some maraschino cherries
Preparation Time – The time taken to prep is around 10 minutes plus time for baking.
Total Time – You can finish this recipe in 2 hours 15 minutes.
Servings – Time to loosen your pants as it gives you 20 servings.
How to Make
Place the cooked ham in a roasting pan and slit it with narrow diagonal cuts such that you form diamond shapes.
Insert whole cloves into each diamond-shaped slits.
Tent it with aluminum foil and bake at 325° for 1 ½ hour.
Take the pineapple from the can and store ¼ cup of the juice.
Mix the brown sugar with the ¼ cup of juice and brush it over ham.
With toothpicks, place pineapple slices and cherries on ham.
Bake with any covering for 30-45 minutes longer or until your meat thermometer shows 140° and the ham is heated all through.
12. Christmas Salad
Just as Christmassy as the name, this simple salad is made with just a few ingredients.
Ingredients
Salad:
1 head butter, bibb, or green leaf lettuce, cut into small pieces
½ cup pomegranate seeds
Vinaigrette:
1 small shallot, finely sliced
1/3 cup of extra virgin olive oil
¼ cup white wine vinegar/red wine vinegar
Salt and pepper to taste
Preparation Time – It takes only 10 minutes!
Total Time – It takes only 10 minutes!
Servings – You get around 4 servings.
How to Make
For the vinaigrette, take shallot, vinegar, olive oil, salt, and pepper and shake to combine well in a jar.
Arrange the lettuce pieces in a bowl topped with pomegranate seeds.
Shake the salad with the vinaigrette before serving.
Impress your guests this Christmas with this yummy spread. Some of these recipes might sneak into your regular meal list, so don't blame us if you have frequent requests. And did we mention that they are taste-tested and approved by Santa and his clan?
Also Read:
Tasty and Easy Christmas Cake Recipes
Yummy and Best Side Dishes For Christmas With Recipes
Amazing and Creative Christmas Cake Decorating Ideas