11 Apps That Can Help You Sleep Better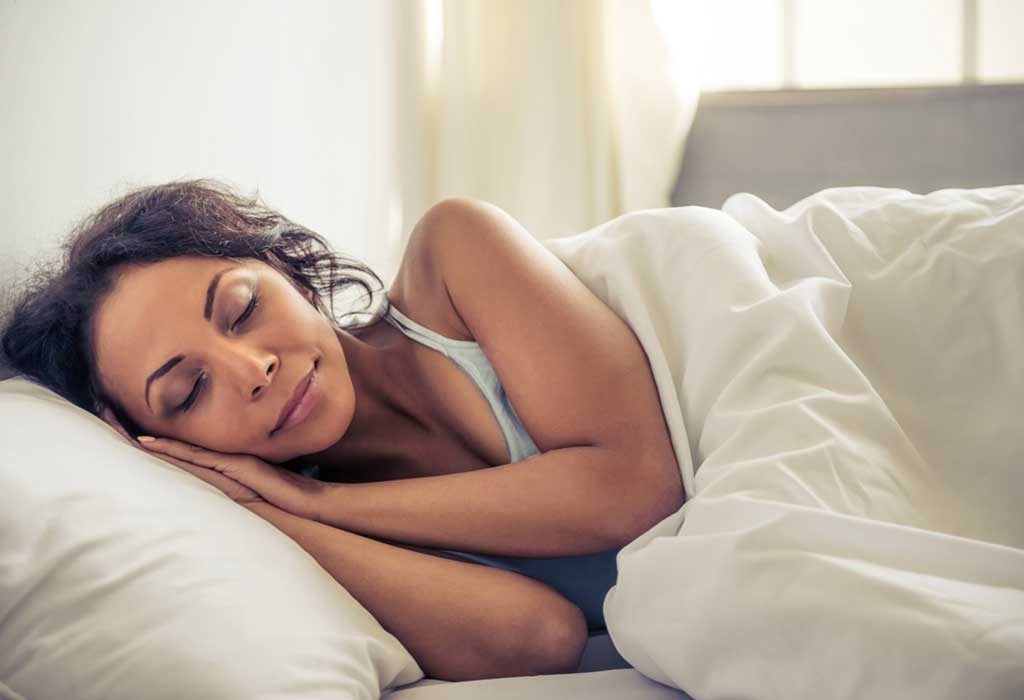 In this Article
A normal adult needs at least eight hours of uninterrupted sleep. If you wake up several times during the night. If you don't get enough sleep, you will probably wake up feeling groggy. And you may have a hard time carrying out the daily tasks if you are not well rested. Insomnia is a major problem but it can be tackled. And the good news is that the one thing that keeps most of us distracted can actually help us sleep better. Yes, it is your smartphone. By downloading the below-mentioned applications in your smartphone, you can sleep better. Use these apps and notice an improvement in your sleeping pattern.
Sleep Apps That Can Help You Get a Good Night's Sleep
Given below are 11 best applications that are designed to help the insomniacs sleep better. Try one or more, and sleep well.
1. Noisli
Sleep well with the help of Noisli. This app lets you choose from different sounds to create your sleep soundtrack.
Key Features
Lets you choose from different soundtracks like the buzz of a café or the sound of waves, white noise, sounds of wind etc. You can even create your ideal sleep soundtrack by mixing various sounds.
Comes with loop feature so that the soundtrack can repeat as many times as you like.
The background noise generated can help you relax and sleep better.
Comes with a timer feature so that you can set it to go off at a certain time to prevent it from playing all night.
2. Pzizz
This app can help you sleep at the push of a button. This popular sleep-inducing app can help you fall asleep faster and stay asleep.
Key Features
Pzizz helps curb insomnia through the use of sound sequences and lets one sleep better.
With this app, you can set a timer for the length of a sleep session to play dreamscape. Dreamscapes are soundtracks that are comprised of music, sound effects, and even voice-overs.
This app offers different dreamscapes every night.
It comes with different modules, namely, sleep module, focus module, and nap module.
3. Headspace
Headspace app is popular as a meditation app, but it also helps one sleep and relax. It helps you calm down and lets you sleep peacefully.
Key Features
This app offers guided meditation that helps calm the mind. It promotes a soothing bedtime experience as guided meditation and sleep sounds let you sleep.
It promotes mindfulness as it sends you reminders to remain mindful throughout the day.
Provides different courses that deal with different problems like stress, anxiety, work and many others.
The screen is dimmer than usual, and buttons are easy to locate.
4. Sleep Cycle
Sleep Cycle app helps you track your sleep pattern and also comes with an alarm that wakes you up during the lighter sleep stages.
Key Features
This app has an alarm clock feature that will wake you up when you are in the lighter sleep stage.
Offers an analysis of your sleep pattern, and all you have to do is keep your phone near you.
5. Calm
This easy-to-use app helps you sleep better. The sleep stories section has bedtime stories (for kids and adults). These stories are read aloud when you play them. The soothing voice of the readers can help you calm down and relax.
Key Features
Offers bedtime stories for adults and children read by people with very soothing voices.
Offers others such as guided meditations, relaxing music, breathing lessons and more.
Each of the tracks is of different lengths so you can choose what is most suited for you.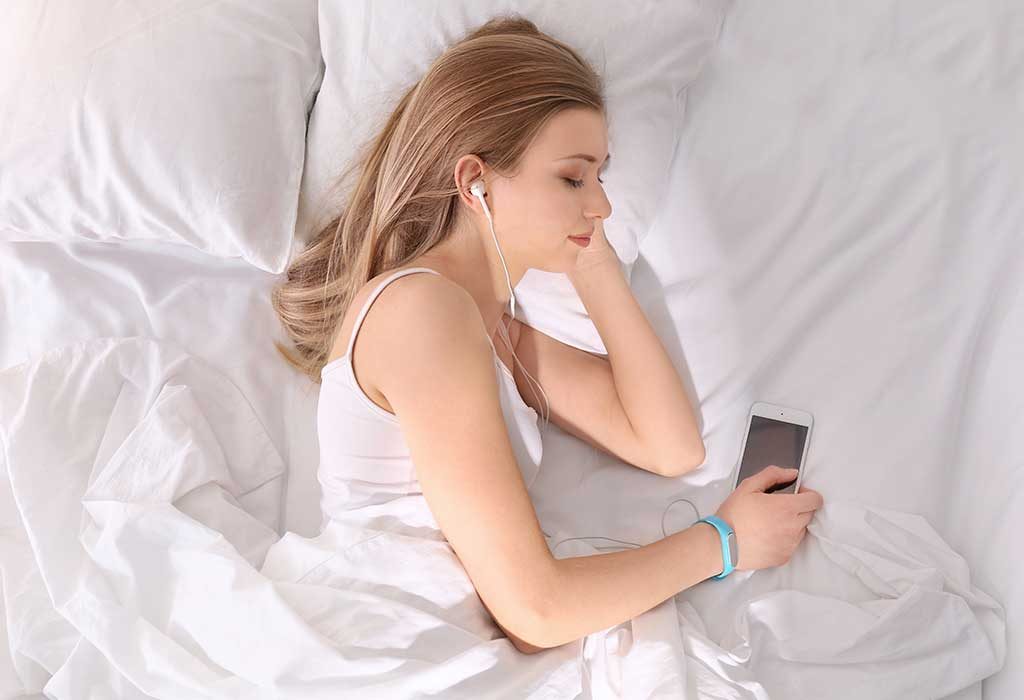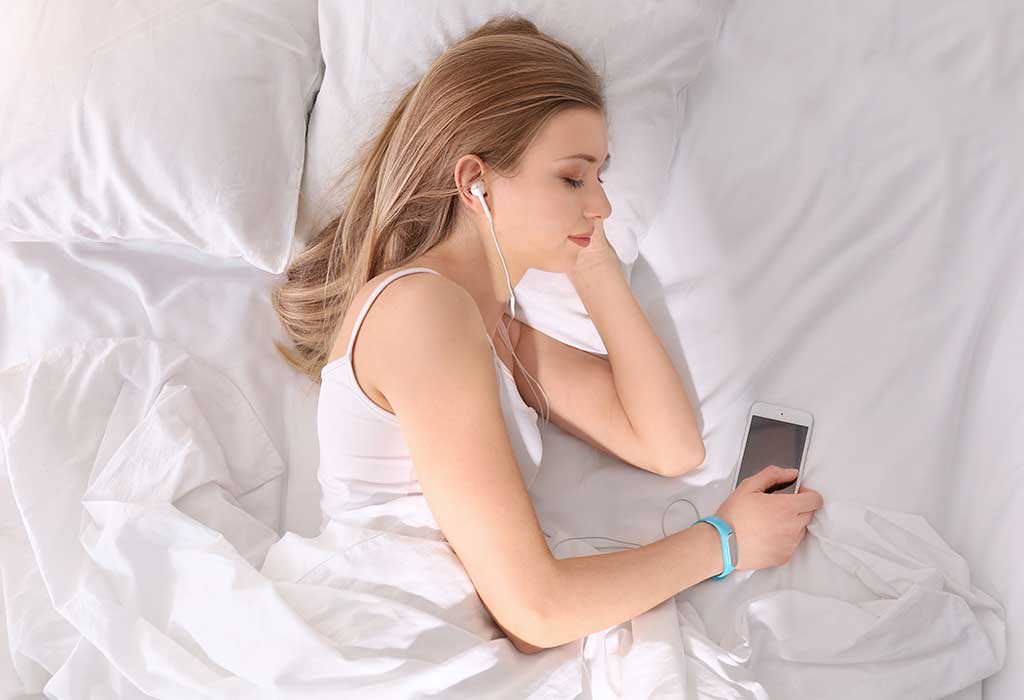 6. Relax & Sleep Well: Hypnosis and Meditation
This meditation and hypnosis app will help you relax and get good sleep.
Key Features
Offers four meditation and hypnotherapy recordings over a wide range of topics such as insomnia, anxiety, stress, sleep and others.
Offers playlist feature.
Offers feature to manage storage.
The recordings have sound effects to complement the information and the soothing voice relaying it.
7. Relax Melodies: Sleep Sounds
This app will help you defeat insomnia through pleasant soundtracks.
Key Features
Offers sleep-enhancing guided meditation.
You can choose sounds and melodies to customise and mix some sleep melodies to lull yourself to sleep.
Offers features that will be useful at bedtime, as a reminder for bedtime, a timer that ensures the app goes off after a certain period of time.
8. Sleep Timer
Sleep timer lets you fall asleep to your favourite music.
Key Features
Lets you set the timer and listen to the music without worrying about turning anything off. It automatically goes off once the time period elapses.
This app lowers the volume slowly before stopping the music to avoid waking you due to the sudden silence.
9. Runtastic Sleep Better
This app takes tracking and learning about your sleep to a new level and is a good sleep monitor app.
Key Features
You can track your sleep, even when your phone is on flight mode.
Offers the option to enter your daily habits into the app so that it can help you figure out what is coming in way of your sleep.
Offers the option to keep a dream journal to help you understand your dreams and whether they affect your sleep or not.
10. Ten Percent Happier – Meditation & Sleep
This app is for you if you want to sleep better, improve your relationships, and be happier in life. Using this app, you can relax, be more mindful, and get better sleep.
Key Features
Offers a section full of recordings based on improving the quality of your sleep. These will not only help you fall asleep but to stay asleep as well.
Includes little bits of wisdom or stories that can help you work on your mindfulness. This is especially helpful while on the go.
Ensures to release new content every week.
Over 500 meditations that will help with a wide range of topics like sleep, focus, etc.
11. Good Morning Alarm Clock
Providing you with more than just an alarm clock, this app also helps you track your sleep and figure out solutions for getting better sleep at night.
Key Features
The app can monitor your body signals if it is placed next to you, making it able to sense when you naturally come out of deep sleep.
The graphs and information given when getting feedback on your sleep is easy to read and helps you understand your sleep pattern.
Offers reminders on a daily or weekly basis that will help and encourage a better lifestyle and better sleep.
Every individual is unique and responds to different things. There are so many apps that can help you get good sleep. You can download the one as per your needs and get ready to sleep and relax. Picking the right app for you can improve the quality and quantity of your sleep, so choose wisely.
Also Read:
Best Productivity Apps
Money Management Apps
Apps to Help Finish Your Glass of Water
Cool Gadgets You Can Actually Wear