11 Best Sharbat Recipes to Keep You Cool This Summer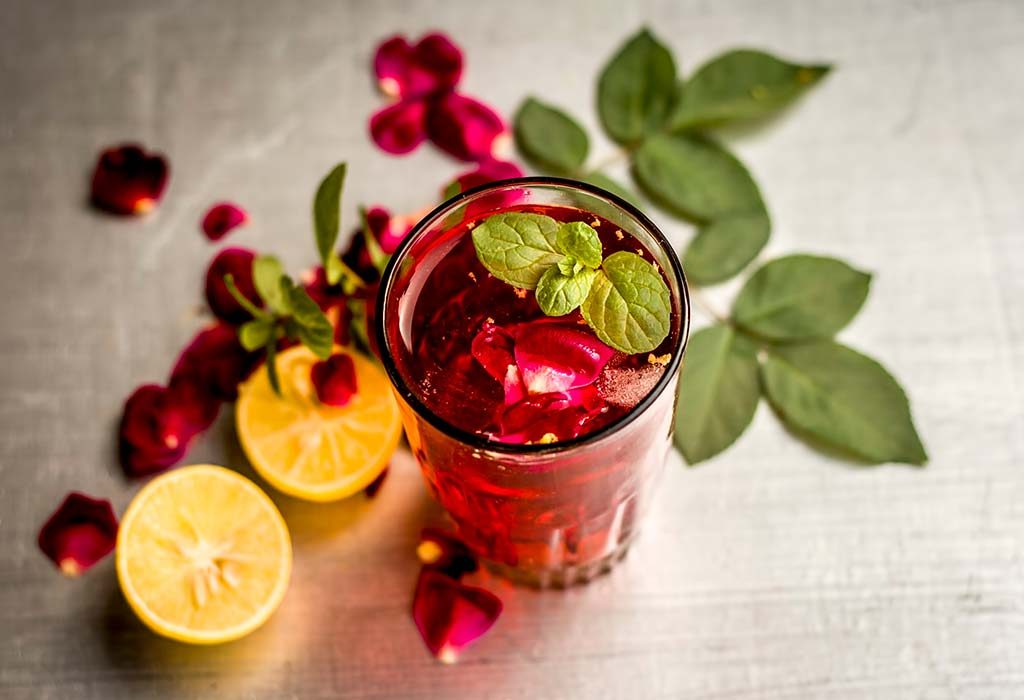 In this Article
Summer is here and we all need some refreshing drinks to beat the heat. There are a variety of sharbats that you can try out to stay hydrated and fresh. The term sharbat comes from 'sharba' which means 'a drink'. Mughal emperors popularised the drink in the Indian subcontinent with popular variations like badam sharbat and gulab sharbat. Here are a few recipes for some refreshing sharbats that you can try at home.
11 Refreshing Sharbat Recipes
Sharbats are generally made from fruits, flower petals, or herbs. These easy to make sharbats will delight your family and keep you feeling energised this summer:
1. Kokum Ka Sharbat
Kokum sharbat is a delicious, mood uplifting drink. Here is a kokum sharbat recipe:
Ingredients
Kokum – 12-15 pieces
Chilled water – 2 glasses
Sugar- ½ cup
Jeera– As per taste
Room temperature water
Ice cubes
Servings
How to Make
Soak kokum for about 2 hours in ½ a cup of water.
Mix in sugar and jeera and bring to a boil.
Cook it for approximately 6 minutes.
Cool and mash completely.
Strain this mix to form a thick syrup.
Using the syrup, mix with chilled water and add ice cubes.
Serve chilled.
2. Gulab Ka Sharbat
This is how to make rose sharbat:
Ingredients
Gulkand– ½ teaspoon
Rose syrup- 2 tablespoons
Sugar- 1 teaspoon
Black salt -1 pinch
Chilled water- 4 glasses
Servings
How to Make
Mix the gulkand with sugar.
Once it has blended, add the water and the rose syrup and mix well.
Stir in the black salt.
Decorate with fresh rose petals if available and serve while cold.
3. Pudina Sharbat
Pudina has a cooling effect on the system. Here is a pudina sharbat recipe:
Ingredients
Fresh mint leaves- 1 bunch
Water- 5 cups
Sugar- ½ cup
Lemon juice– 1 teaspoon
Servings
How to Make
Boil 3 cups of water for about 5 or 7 minutes mint leaves in it .
Let it cool once off the flame.
With the other 2 cups of water, boil the sugar until it dissolves.
Cool this as well.
Strain the pudina water and add the sugar water. Mix in the lemon juice.
Chill in the refrigerator for a while before serving.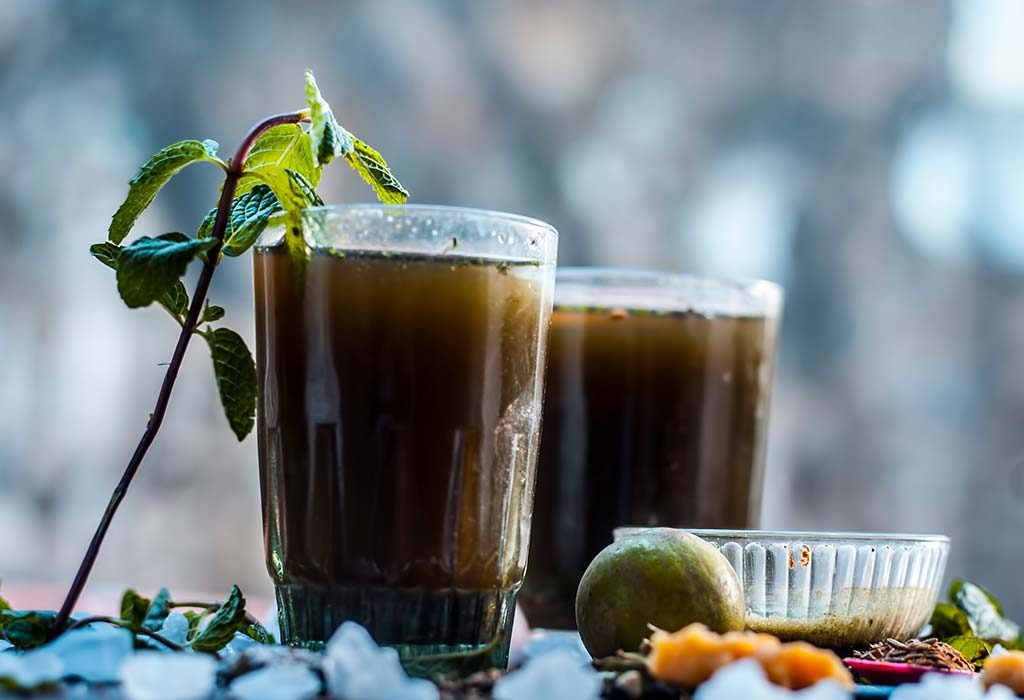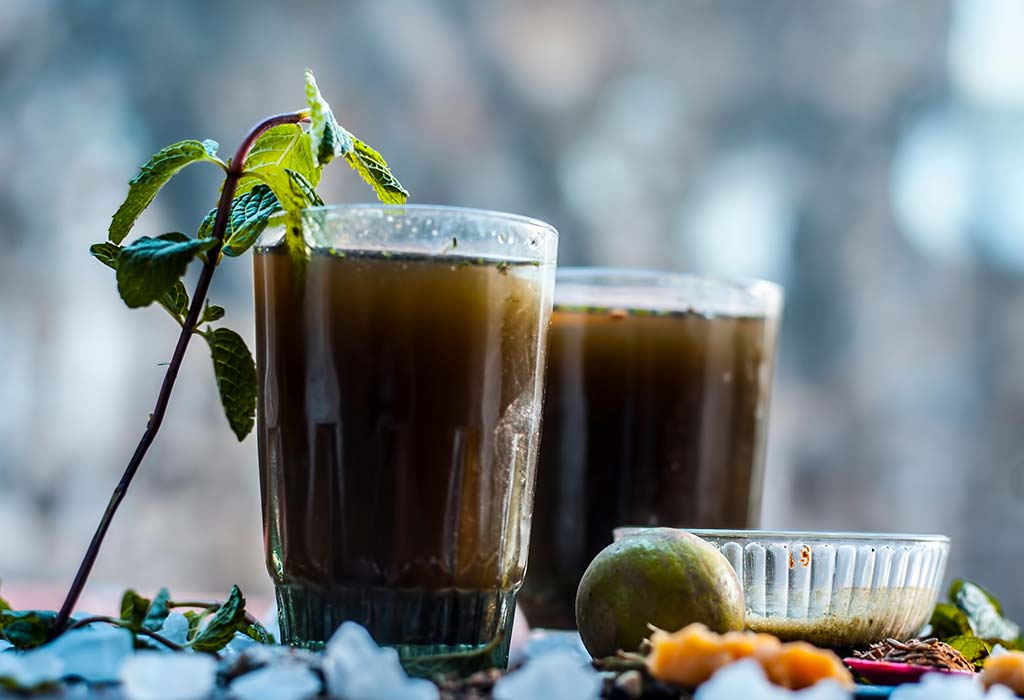 4. Bel Ka Sharbat
The bel ka sharbat recipe is an easy to make one and is very delicious.
Ingredients
Wood apple/ bel– 500 grams
Water- 1 litre
Roasted cumin- ½ teaspoon
Black salt- ½ teaspoon
Sugar- 6 teaspoons
Ice cubes
Servings
How to Make
Crush the fruit and extract the pulp into a vessel.
Add water to it and mash thoroughly with your hand.
Sieve the liquid into a jug.
Mix in the sugar, salt, and the roasted cumin.
Add ice cubes and serve chilled.
5. Lemon Sharbat
Chilled lemon water is an energiser during the summer and works as a re-mineraliser for the body instantly. This is our easy nimbu sharbat recipe:
Ingredients
6 cups of water
1 cup of granulated sugar
6 coriander seeds properly crushed
3 saffron threads powdered with your mortar and pestle
2 large fresh lemons
Servings
How to Make
Boil the coriander seeds, water, and sugar for 5 minutes.
Remove from flame and cool.
Mix the saffron powder in 1 tablespoon of hot water. Keep it aside.
Squeeze the lemons and extract the juice into a vessel.
Strain coriander seed out and mix sugar water with saffron.
Chill the concoction well before serving.
6. Badam Sharbat
Our delicious and easy to make badam sharbat recipe is mentioned here:
Ingredients
Almonds– 1 cup
Sugar- 4 cups
Water-2 cups
Cardamom powder- 1 teaspoon
Saffron- 2 or 3 strands
Servings
How to Make
Soak and peel almonds.
Grind to a fine paste.
In a saucepan, bring all the ingredients to a boil.
Cool sufficiently and sieve it to get a smooth liquid.
Grind the leftover paste again and mix in with the liquid.
Cool well and bottle for future use.
Mix the syrup with chilled water or milk to make the sharbat.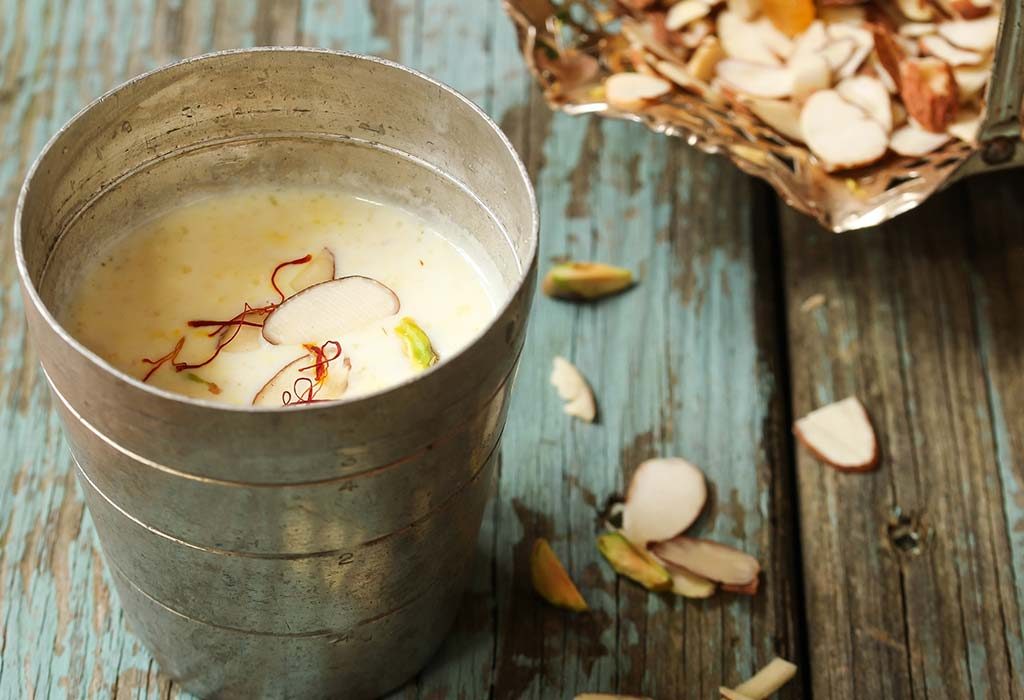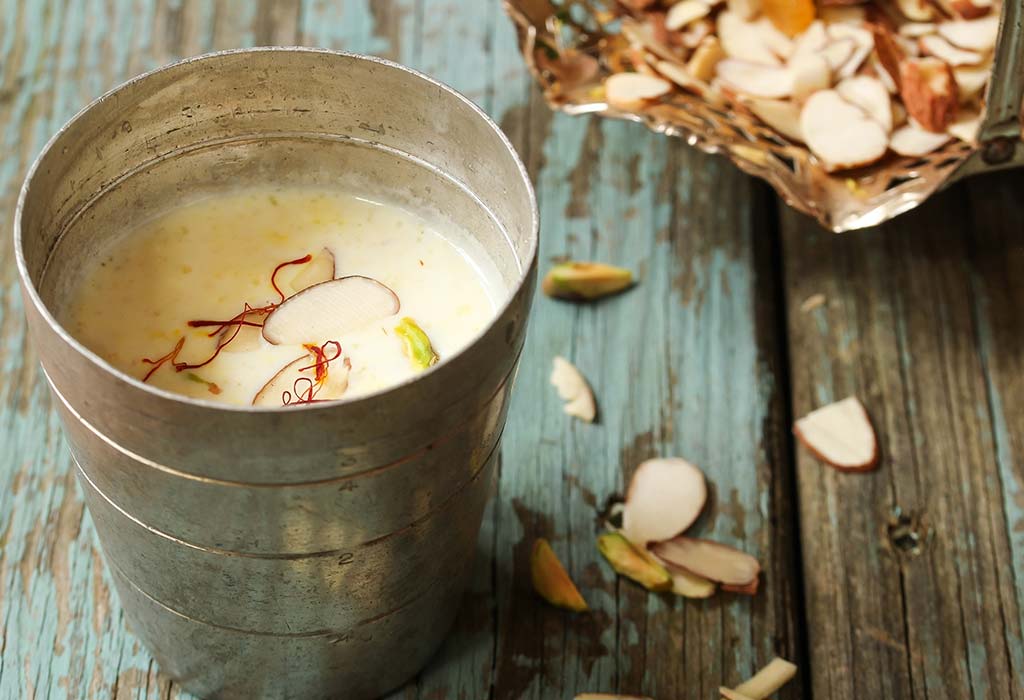 7. Kachi Keri/ Aam Sharbat
This delightful mango sharbat recipe is made from raw mangoes. It is extremely beneficial for health as it cools the body down immediately.
Ingredients
Raw mango- 500 grams
Sugar- 400 grams
Lemon juice- ½ tablespoon
Servings
How to Make
Clean and pressure cook the mangoes.
Cool and peel the skin off.
Extract the mango pulp and grind to a smooth paste.
Boil water and sugar together.
Switch off flame and add the lemon juice.
Add the mango pulp and mix well.
Store it in the refrigerator.
To make the drink, mix 5 tablespoons of syrup with milk.
8. Chandan Ka Sharbat
This is an ultra-cooling drink made from sandalwood paste.
Ingredients
Sugar- 1 cup
Water-3 litre
Sandalwood powder- 10 grams tied into a muslin cloth/ potli
Milk– 2 tablespoons
Lemon juice -2 tablespoons
Servings
How to Make
Mix sugar and water and heat without boiling. Once sugar dissolves add milk and bring to boil.
Skim the scum of and boil by adding lemon juice.
Bring it to single-thread consistency and remove from flame.
Drop the sandalwood potli inside and keep it overnight.
Strain it and store in the refrigerator.
Mix with chilled milk or water to serve.
9. Variyali Sharbat
This Gujrati sharbat is sweet and delicious.
Ingredients
Fennel seeds- Powdered ¼ cup
Honey– 2 tablespoons
2 ½ cups of water
Crushed clove- 1
Servings
How to Make
Soak fennel seeds and clove in water overnight.
Strain the liquid and add honey.
Serve with ice.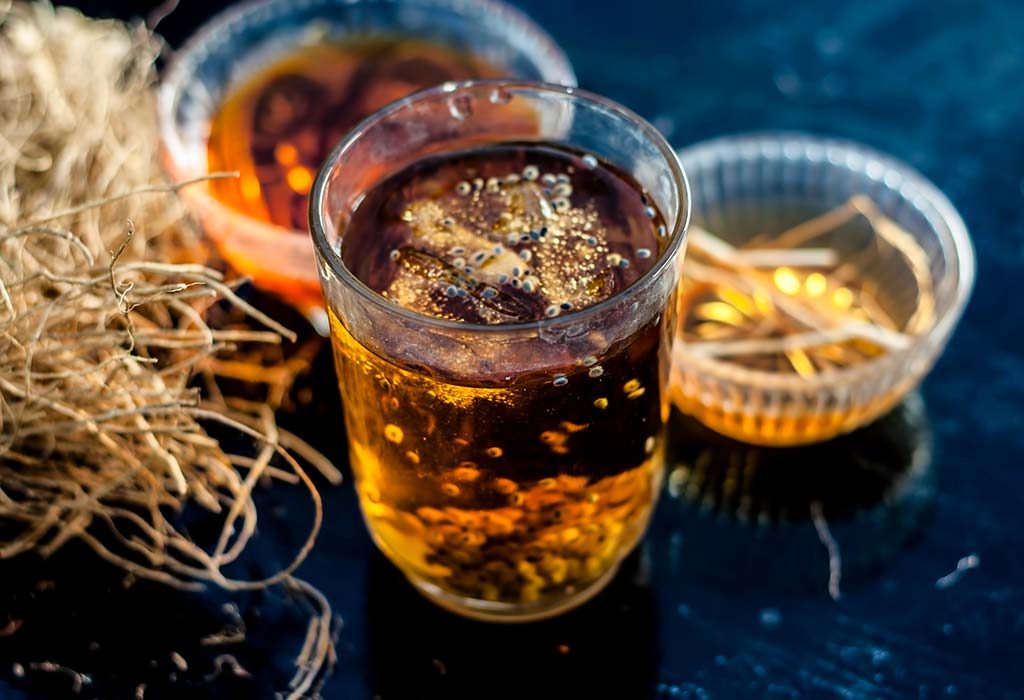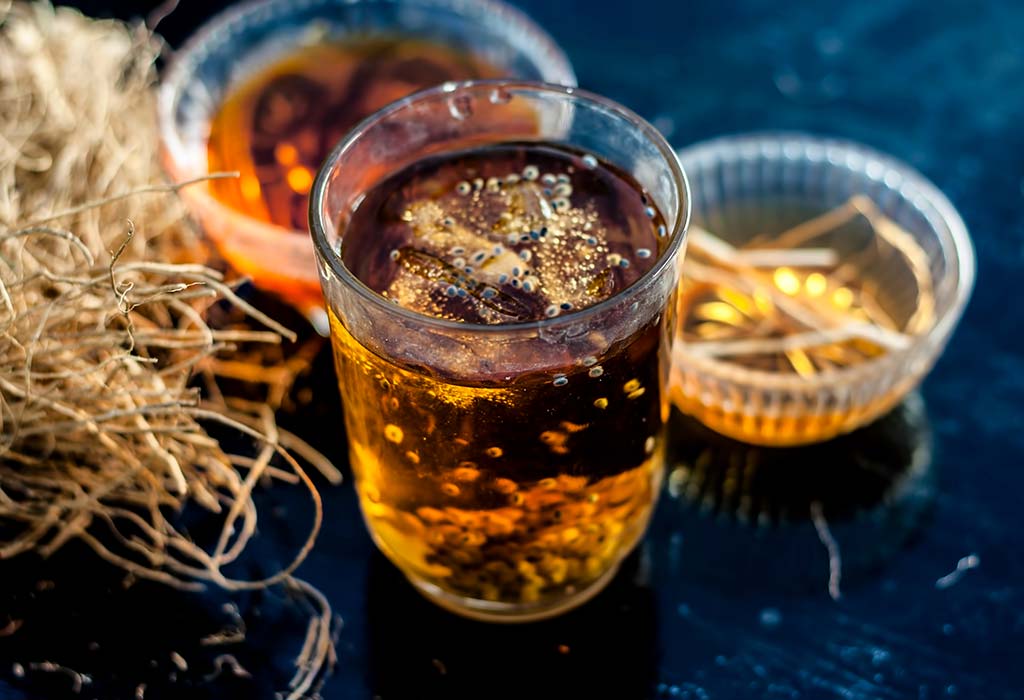 10. Ice Apple Sharbat
This is a drink made with nongu which is famous in Kerala, Tamil Nadu and Andhra Pradesh.
Ingredients
6 nongu-peeled and made into bits
Milk-2 cups
Sugar- 1 tablespoon
Cardamom powder- ½ teaspoon
Servings
How to Make
Boil milk and reduce to ¾ of original amount.
Add the sugar and elaichi powder and simmer for a bit.
Mix in the crushed nongu after the milk cools down.
Refrigerate and serve chilled.
11. Meetha Sattu Sharbat
This famous Bihari drink gives you an energy boost immediately.
Ingredients
Sattu powder (fried gram flour)- 3 tablespoons
Water- 500 ml
Jaggery- 4 tablespoons, powdered
Servings
How to Make
Mix the sattu powder in water.
Add jaggery and mix well.
Chill and drink.
Keeping yourself hydrated during the summer is very important. Heat waves can cause internal issues in your body and may lead to a stroke. Try out these simple recipes and never run out of fun drinks this summer.
Also Read:
Try Out These Lassi Recipes to Beat the Heat
Yummy Kulfi Recipes to Try at Home This Summer
Best Healthy Drinks to Cool Yourself in Summer
?>