121 Best Women's Day Quotes, Wishes and Messages 2023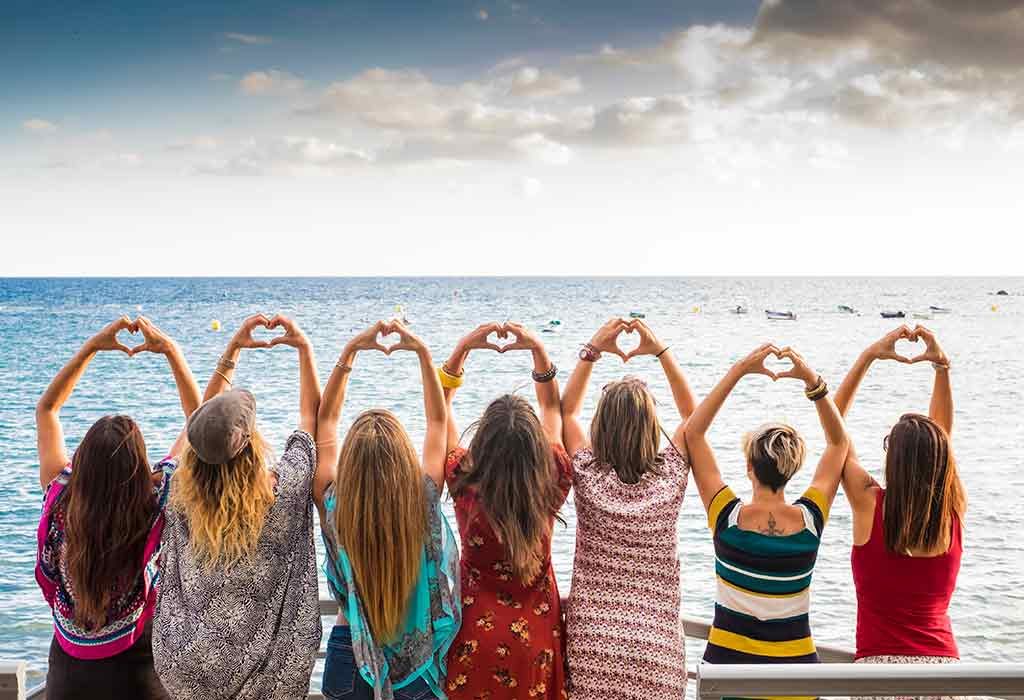 Women's Day is celebrated on 8th March every year to honour the contributions and achievements of the women in our lives. They undoubtedly hold a special place in our hearts, and we can't imagine a life without them! This day is perfect to appreciate them and show them how much they mean to us. So, if you're running out of ideas, we have plenty of cute quotes, wishes and messages for you to choose from, and wish your loved ones a Happy Women's Day!
International Women's Day Quotes, Wishes and Messages for Special Women in Your Life
The women who we know and respect – have shaped our lives and raised us to be where we are today. Honour them with this list of inspiring Women's Day wishes, short quotes and messages.
Beautiful Women's Day Quotes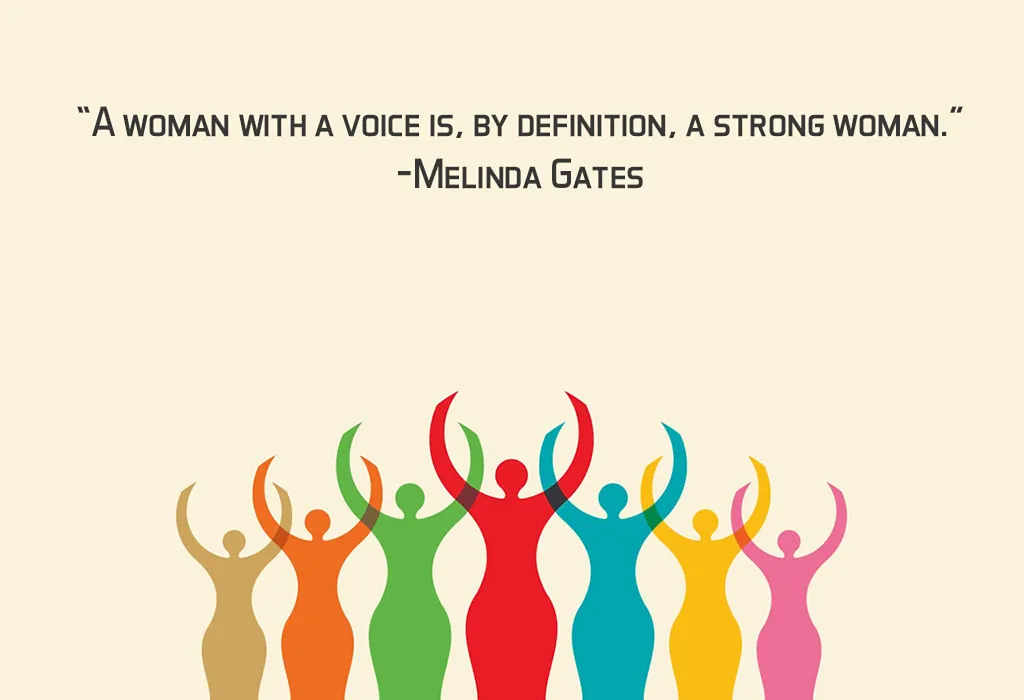 If you'd like to tell her how much you care for her and respect her, send her these inspirational quotes for Women's Day!
"Fight and push harder for what you believe in, you'd be surprised, you are much stronger than you think." – Lady Gaga
"Don't try to squeeze into a glass slipper. Instead, shatter the glass ceiling." – Priyanka Chopra
"She remembered who she was and the game changed." – Lala Deliah
"The question isn't who is going to let me; it's who is going to stop me." – Ayn Rand
"Here's to strong women: may we know them, may we be them, may we raise them." – Unknown
"A woman is like a tea bag; you never know how strong it is until it's in hot water." – Eleanor Roosevelt
"A charming woman doesn't follow the crowd. She is herself." – Loretta Young
"Do not live someone else's life and someone else's idea of what womanhood is. Womanhood is you." – Viola Davis
"We need to reshape our own perception of how we view ourselves. We have to step up as women and take the lead." – Beyoncé
"A woman with a voice is, by definition, a strong woman." – Melinda Gates
"You should never let your fears prevent you from doing what you know is right." – Aung San Suu Kyi
"Always be the first-rate version of yourself, instead of a second-rate version of somebody else." – Judy Garland
"I want every girl to know that her voice can change the world." – Malala Yousafzai
"Like stars, women can survive in the darkest places." – Rune Lazuli
"You educate a man; You educate a man. You educate a woman; You educate a generation." – Brigham Young
"Above all, be the heroine of your life, not the victim." – Nora Ephron
"How important it is for us to recognize and celebrate our heroes and she-roes!" – Maya Angelou
"Every woman's success should be an inspiration to another. We're strongest when we cheer each other on." – Serena Williams
"Empowered women who reach tough or unconventional positions to make choices and not sacrifices." – Kiran Bedi
"There's something so special about a woman who dominates in a man's world. It takes a certain grace, strength, intelligence, fearlessness, and the nerve to never take no for an answer." – Rihanna
"I alone cannot change the world. But I can cast a stone across the waters to create many ripples." – Mother Teresa
"Beauty is about being comfortable in your own skin. It's about knowing and accepting who you are." – Ellen Degeneres
"Think like a queen. A queen is not afraid to fail. Failure is another stepping stone to greatness." – Oprah Winfrey
"I can hear the roar of women's silence." – Thomas Sankara
"What would men be without women? Scarce, sir…mighty scarce." – Mark Twai

"As a woman, I have no country. As a woman, I want no country. As a woman, my country is the whole world." – Virginia Woolf
"She believed she could, so she did." – Unknown
"The thing women have yet to learn is nobody gives you power. You just take it." – Roseanne Barr
"The fastest way to change society is to mobilize the women of the world." – Charles Malik
"Define success on your own terms, achieve it by your own rules, and build a life you're proud to live." – Anne Sweeney
"Feminism isn't about making women stronger. Women are already strong. It's about changing the way the world perceives that strength." – D. Anderson
"Little girls with dreams become women with a vision." – Unknown
"Freedom cannot be achieved unless the women have been emancipated from all forms of oppression." – Nelson Mandela
"Do you want to meet the love of your life? Look in the mirror." – Byron Katie
"One is not born, but rather becomes a woman." – Simone de Beauvoir
"If you want something said, ask a man; if you want something done, ask a woman." – Margaret Thatcher
"Here's to strong women: May we know them. May we be them. May we raise them." – Unknown
"The best protection any woman can have is courage." – Elizabeth Cady Stanton
"Where there is a woman, there is magic." – Ntozake Shange
"To tell a woman everything she cannot do is to tell her what she can." – Spanish Proverb
"She wasn't looking for a knight. She was looking for a sword." – Atticus
"Girls should never be afraid to be smart." – Emma Watson
"Life is tough, my darling, but so are you." – Stephanie Bennett-Henry
"A strong woman looks a challenge in the eye and gives it a wink." – Gina Carey
"Sometimes it's the princess who kills the dragon and saves the prince." – Samuel Lowe
"I can and I will. Watch me." – Carrie Green
"There is no force more powerful than a woman determined to rise." – E.B. Dubois
"The most beautiful thing a woman can wear is confidence." – Blake Lively
"A man's got to do what a man's got to do. A woman must do what he can't." – Rhonda Hansome
"Some of us are becoming the men we wanted to marry." – Gloria Steinem
"There is nothing stronger than a broken woman who has rebuilt herself." – Hannah Gadsby
"Life is tough, my darling, but so are you." – Stephanie Bennett-Henry
"The most important thing one woman can do for another is expand her sense of actual possibilities." – Adrienne Rich
"Well-behaved women rarely make history." – Eleanor Roosevelt
"There is no limit to what we, as women, can accomplish." – Michelle Obama
"How wrong it is for a woman to expect the man to build the world she wants rather than to create it herself." – Anais Nin
"Know what your worth is and then add the tax to that amount." – Unknown
"Never ever mistake her silence for weakness. Remember that sometimes the air stills before the onset of a hurricane." – Unknown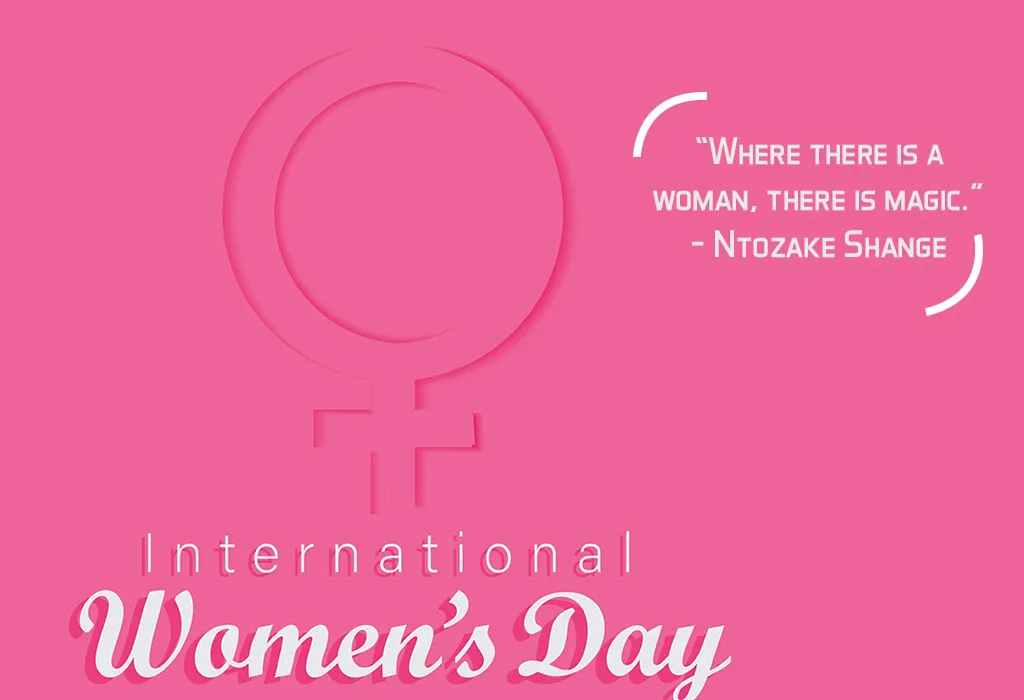 Happy Women's Day Wishes and Messages for the Lovely Ladies in Your Life
Celebrate and acknowledge the special women in your life with these sentimental and heart-warming Women's Day messages and wishes!
For Wife
I've got a gift that's beyond my imagination. It's a courageous woman who's my friend and love, my wife. Happy Women's Day to you.
A woman may look delicate but has the ability to face the worst hardships. Happy Women's Day, my love!
Thanks for being loving, caring, compassionate, motivating, compromising, and inspiring all the time. Thank you for taking care of my family and me along with your job. Happy Women's Day, darling!
Blessed was the day when you entered into my life. You transformed my world for the better. Thanks for always being there beside me. Happy Women's Day, love!
You're a breath of fresh air. You're a river that flows over a long distance, carrying everything in her laps but finally reaching her destination. Happy Women's Day, wifey!
You have faced hardships with bravery and resilience. You have hidden your worries in your heart. You are a strong woman, indeed! Happy Women's Day, sweetheart!
My life without you is like the sky without a sun, the moon without stars, and life without happiness. You mean the world to me. Happy Women's Day, my love!
I'm proud that I got a wife, who's a princess by looks and a warrior by heart. For a very inspiring woman like you, Happy Women's Day.
It's called love when someone understands your problem, just by a single glance. I wish my lovely lady a Happy Women's Day!
Women are a sign of happiness. My life became whole when you came in, my wife. Wish you a Happy Women's Day.
You're a wonderful person and my best friend. I am blessed to have you in my life, my dear wife. Happy Women's Day.
It always amazes me how you balance work and personal life and nail it with perfection! A salute to you dear wife and Happy Women's Day!
You are one graceful person that I always look up to for inspiration and solutions. Happy Women's Day, wifey!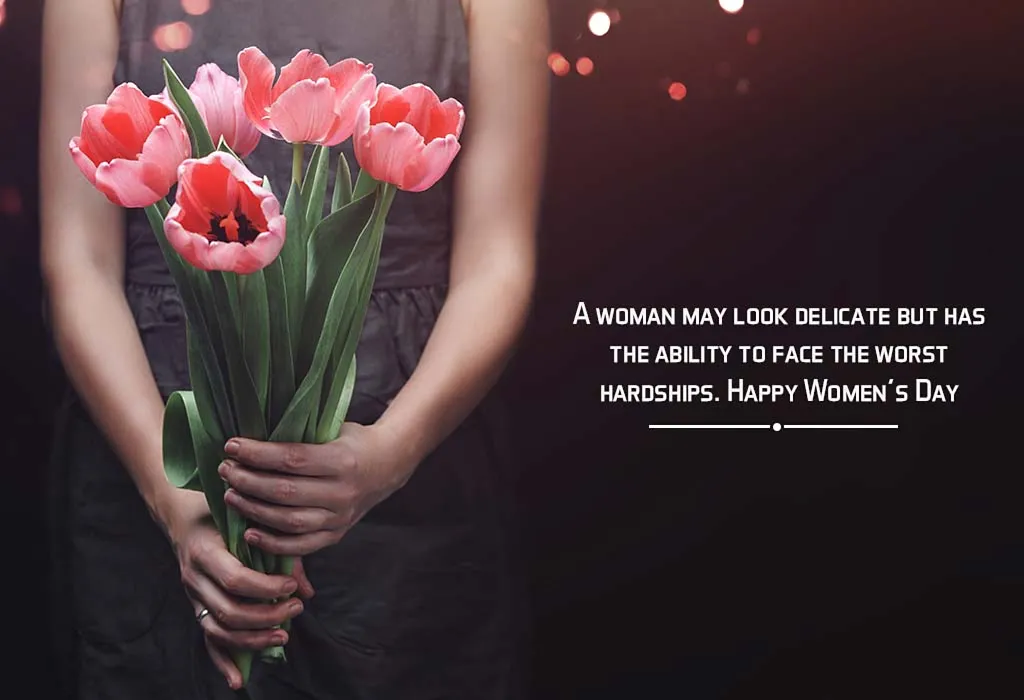 For Mother
It's because of you that I have learned so much about emotional strength and kindness. Happy Women's Day, mom!
Dear mom, you have raised, taught & protected me right from the beginning. Thank you for always standing up for me. Wishing you a Happy Women's Day!
Strong women realise their dreams, and women who sacrifice their lives for the welfare of their kids are exceptional. Happy Women's Day to you, mom!
Mom, the values you have imbibed in me, have made me a better person who respects women. Happy Women's Day!
You always stood by me no matter what. I want to express my gratitude and appreciation for everything you have done for me. Happy Women's Day, mom!
I feel really blessed to have the best mother in this world who is also an inspirational woman. Wishing a very Happy Women's Day to you, mom!
The affection and care of a mother cannot be described in words. Mom, you're the most beautiful person who supports us in every situation. Happy Women's Day to you!
The strongest person is a mother who protects her child prays for his long life and prepares him for the world. Salute to all the mothers who are the strongest women!
A woman is beautiful in every way. But when she becomes a mother, her glory shines and her power flourishes. Happy Women's Day, mom!
The woman who never gives up in any situation and can face each and every hardship for her child is a mother. This Women's Day, we salute all the mothers of the world.
You are my source of inspiration. It is because of you that I am where I am today. Thank you, for always encouraging me. Happy Women's Day, mom!
You were my first teacher, my first friend, my first torch to explore the unexpected world, and you will always be the spring of my life. Happy Women's Day mom!
Even after all the faults, you saw the best in me and nurtured it. Thank You mom and wish you a very Happy Women's Day!
For Sister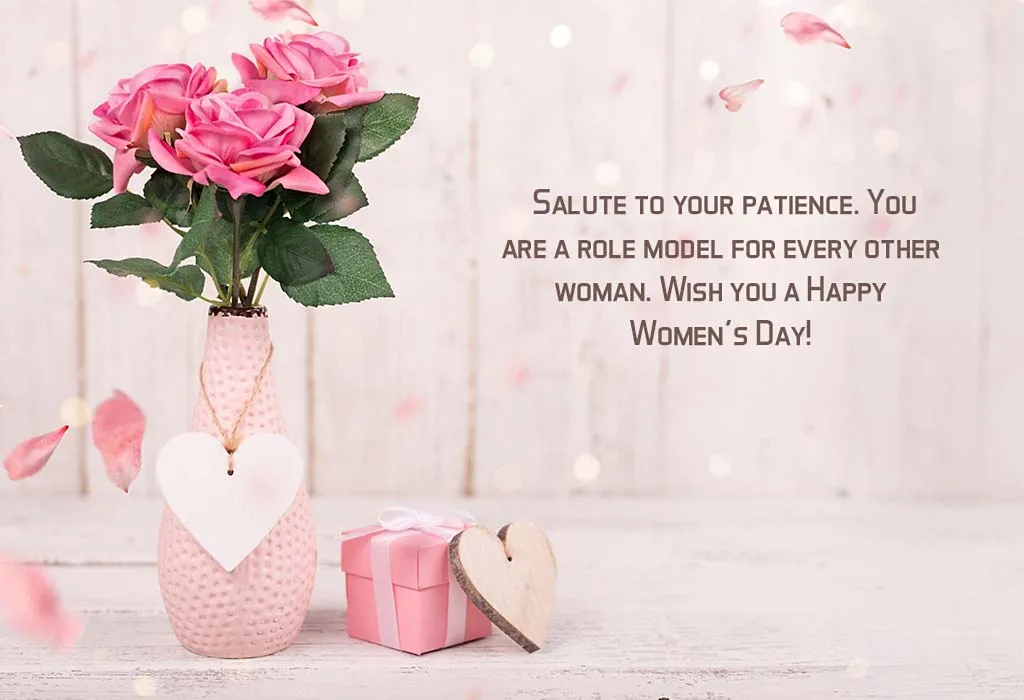 Dear sister, you understand me better than anyone else. Do know that you are a wonderful woman. Happy Women's Day!
Having a hard-working sister is really motivating. It invokes a sense in me to work hard too. Happy Women's Day to you.
Under your guidance, my behaviour changed for good, and my life set out on a new path. For my sister, Happy Women's Day.
For every problem I faced, I found the solution in your personality. You really deserve all the respect in the world. Happy Women's Day to you.
Being an elder child, you were the model for the younger siblings. We are proud of you. Happy Women's Day!
Through the years, I've shared a lot with you. You've been such a comfort to me, helping me in every way, and all I want to say today is: Sis, I treasure you close to my heart. Happy Women's Day!
After our parents, the one who educated and guided me is you, dear sister! You inspire me to be myself. Happy Women's Day!
Living the life I want, and getting the most out of it are the two best things I learned from my lovely sister. Happy Women's day!
God has granted me the most priceless gift of a sister. You're a treasure beyond measure and I wish you a Happy Women's Day!
If you could see it from my eyes, you would know you are one gem of a woman! Happy Women's Day, sister!
On this day, I want to thank you for all the things you've done for me. My childhood was amazing only because of you. Thank you for being there for me. Happy Women's Day, my dear sister!
You are good crazy, positive crazy, courageous crazy, and my sister crazy! Always be crazy and spread the cheer around. Happy Women's Day sis!
Dear sister, it's time to admit that you were the torchbearer of my life all along! You deserve all the respect in the world. Happy Women's Day lovely sister!
For All the Lovely Ladies Out There!
A woman shines like a sun, is calm like the sky and is beautiful like the moon. My best wishes to you, this Women's Day.
Tribute to the woman who is a symbol of bravery, and a sign of excellence. Happy Women's Day to you.
Tolerance is the key for a working woman, challenging hundreds of problems every day. But you are steadfast in your mission. May you achieve whatever you aspire for! Happy Women's Day to you.
No one can compete with a woman in high ambition and true love. For the beacon of ambition and lighthouse of love, Happy Women's Day.
From the beginning of life to the end, it's the woman who makes life worth living. Respect for all women and a delightful Women's Day to them.
The determination of a woman and her courage are the two swords she bears. With these, she can change everything! Happy Women's Day.
The gauge of a woman's personality is not her beauty but her willpower and character. Make your willpower strong and character matchless, and you will see the world honouring you!
Now, when women are making their way to success, you are leading them with your performance and courage. Happy Women's Day to you.
You held my hand when everyone left, to support me and be my strength. Thanks, friend and best wishes on Women's Day!
In the journey of life, you should believe in your abilities and be a source of motivation for others. Never be discouraged, and always grab whatever you want. Happy Women's Day!
Every woman is made unique. She works and thinks differently. Never try to be what you are not, and always be yourself. Happy Women's Day!
Never let your attitude weaken in any circumstance, and show the world your real power. Happy Women's Day!
To work with a woman whose aim is sky high and whose determination is rock hard is an extraordinary experience for me. I have learnt a lot from you. Happy Women's Day!
Salute to a woman who is a symbol of courage and a sign of perfection. Happy Women's Day, my sweet friend!
Managing time, executing things and working hard are your three best qualities. You are a fine example of determination. Happy Women's Day to you!
When a beautiful flower grows, it enlightens its surroundings with beauty and fragrance. You are a beautiful flower for us. Happy Women's Day!
Salute to your patience. You are a role model for every other woman. Wish you a Happy Women's Day!
Friendship is the most wonderful bond and being friends with a woman is definitely a blessing. Wishing you a very Happy Women's Day!
I can't imagine how you managed to achieve so much in so little time. I wish to be like you someday. Happy Women's Day to you!
A woman is one of the most beautiful creations of God. She is respected as a daughter; caring as a sister; full of warmth in the form of a friend. Happy Women's Day, special lady!
Women have the ability to make everything magical. Happy Women's Day to all the women out there!
When a woman's mind is made up, there's no stopping her. Happy Women's Day to all the strong ladies out there!
Don't ever forget that you are a fire inside. Happy Women's Day to all the women out there!
Your smile lights up my surroundings. Thanks for being so wonderful. Happy Women's Day!
So, take your pick from this comprehensive list of quotes, messages and wishes for Women's Day. Tell the women in your life how proud you are of them, and make them feel loved and cherished for all that they do!
Also Read:
Amazing Women's Day Gift Ideas
Inspirational Quotes for Women's Day
Best Ways To Celebrate International Women's Day