10 World Records That Are Simply Unbelievable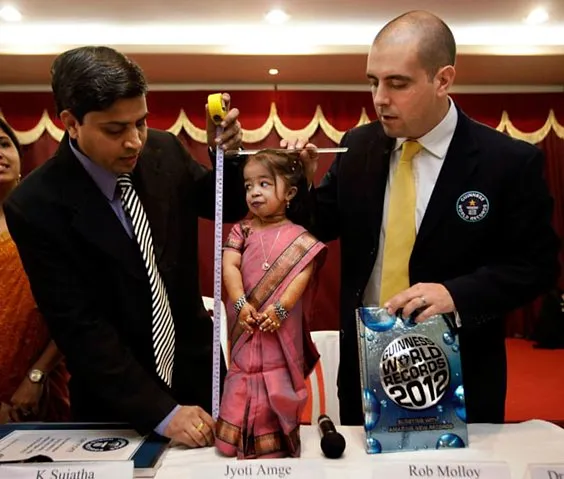 In this Article
World records are not exclusive to the largest, tallest, and heaviest things and people; many of the records belong to some crazy feats or ideas. The Guinness Book of World Records has some incredibly strange record attempts.
10 Strangest World Records You Didn't Know
Here is a list of some of the weirdest Guinness world records you probably didn't know:
1. Largest Commercially Available Pizza
Pizza lovers always crave for a larger one. So, Moontower Pizza Bar based in Burlson, Texas came up with the world's largest commercially available pizza. At 8 ft X 2ft, this Guinness record-holding monster is affectionately dubbed "The Bus" for its rectangular shape and the capacity to feed a busload of people as well. The order for this one must be placed 48 hours before delivery and is deliverable to specified areas.
2. The Record for Cold Endurance
Jin Songhao (54) and Chen Kecai (52) broke the previous world record for the longest time spent in a box filled with ice. The previous record was set by 51-year-old Dutchman- Wim Hof who spent 115 minutes in ice. For the record, the men were required to wear nothing but a simple swimsuit; in their case boxers. Then they stood in two separate transparent boxes, and ice cubes were dropped into the boxes till it reached their neck. Chen Kecai lasted for 118 minutes before medics pulled him out because of a dangerous drop in body temperature. However, Jin Songhao stays for 120 minutes to set a new record.
3. Largest Gathering of People Dressed as Albert Einstein
What started as a thing among nerds quickly spread to other places- gathering of people dressed up as Albert Einstein. Soon larger and larger crowds gathered to break old records and make new ones. The current record is held by 541 students from 5 schools in South Morang, Australia. The record was set in celebration of Science Week 2018 on 16th August 2018.
4. Man Who Holds the Most Guinness World Records
Having set over 700 records since 1979, Ashrita Furman currently holds a little more than 200 standing Guinness world records. One of his records is the record for the most records held at a given time. Ashrita's journey started with his spiritual awakening learning meditation under Sri Chinmoy. His inspiration drove him to train rigorously and set records in hundreds of activities involving physical feats of endurance. Some of his records include 27,000 jumping jacks; longest continuous somersaulting- 12 miles, 390 yards; pogo stick underwater jumping- 3 hours, 40 minutes; carrying a brick with one hand for the longest distance- 85 miles, etc.
5. Man With the Longest Moustache in the World
Ram Singh Chauhan, a man from Jaipur, Rajasthan sports the longest moustache in the world at 14 feet long. He was inspired to grow one back in the 1970s after seeing the amazing moustache of Karna Bheel, a fellow Rajasthani. It took him 30 years to grow the moustache to 14 feet and finally get recognised by the Guinness Book of World Records. Maintenance of the moustache takes a lot of effort on a daily basis, and Ram has his wife help in the daily 2-hour grooming session.
6. Largest Collection of Rubber Ducks
Anybody with the mindset of a collector would understand Charlotte Lee, the woman with the largest collection of rubber ducks in the world. Lee began collecting them in 1996, and as of 10th April 2011, she has over 5,631 rubber ducks. A dedicated basement of her condo has her collection neatly displayed in shelves and cabinets. She owns rubber ducks of different sizes, styles, and colours. Some even glow in the dark.
7. Most Number of Big Macs Consumed in a Lifetime
Don Gorske holds the world record for the most Big Macs consumed in a lifetime. In the last 40 years, Gorske has eaten 30,000 Big Macs. Since his first one, he has had two sandwiches almost every day. So far, there have only been 8 days when he has not had a Big Mac, and the most recent one was on November 23rd, 2011. He buys them in bulk and stores them in a freezer to be microwaved before consumption.
8. World's Wealthiest Cat
In 1988, Blackie, a cat became the wealthiest cat in the world when his owner, wealthy antique dealer Ben Rea passed away bequeathing him a $12.5 million fortune. The millionaire refused to recognise his family in the will and instead split most of his wealth between three cat charities that were tasked with looking after his beloved cat. Ben Rea was a recluse and lived in his mansion with 15 cats, Blackie was the last surviving one.
9. Largest Collection of Toothpaste Tubes
Although collecting is one of the oldest hobbies around, most everyday items are not what people, in general, think of as collectables. However, that doesn't apply to Val Kolpakov from Georgia, USA who has a collection of 2,037 toothpaste tubes from all over the world. The collection has different tubes from countries such as China, Japan, India, Korea and Russia.
10. Biggest Pillow Fight
What's the funniest way to set a world record? A pillow fight! That's what the attendees at a Christian evangelist event did to set the world record. 7,681 people had an epic pillow fight on May 18th, 2018. The organisers had expected that nearly 66,000 people would take part in the fight and over 70,000 pillows at the event. The previous record was set at a St. Paul Saints game in 2015 by 6,261 people.
Hundreds of crazy records have been set and broken by people around the world. Whether you want to hop your way to a new record or balance a basketball over your head to it, there's always room for a higher number.
Also Read: Best Self-help Books That Actually Help