10 Super Cool DIY Photo Booth Ideas For Your Party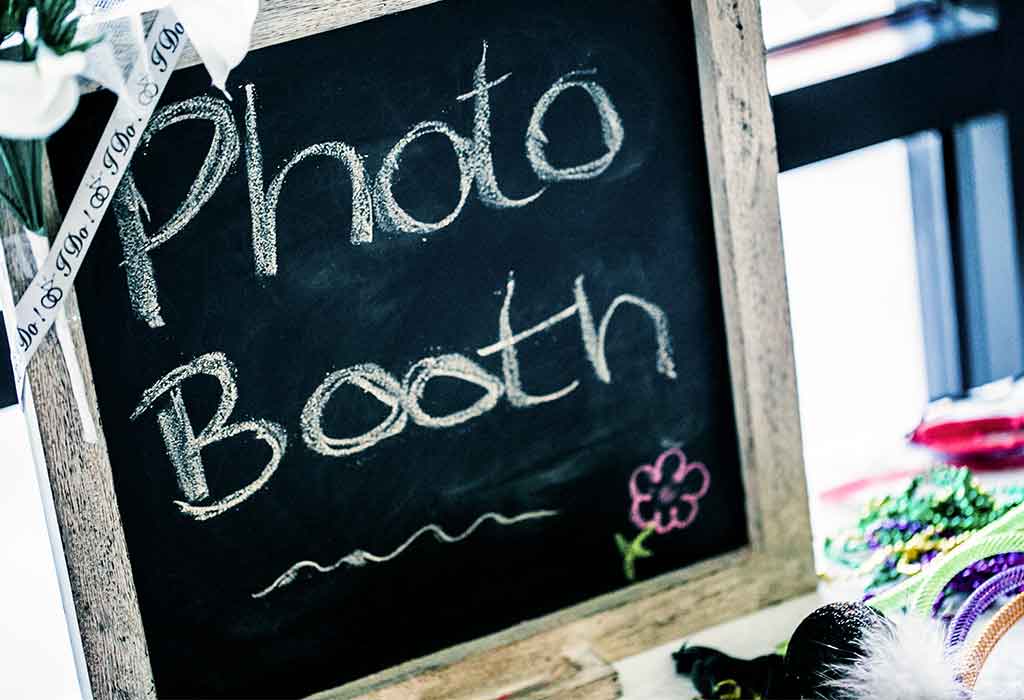 In this Article
Photo booths are the necessary ingredient for any successful party. However, even a small photo booth can come with a hefty rent. An easier way is to go for a DIY photo booth for your party. DIY photo booths are easy to make with affordable materials and photo booth props. Making your own DIY photo booth backdrop gives you the freedom to be as creative as you want. So whether you are hosting a birthday party or anniversary party, a baby shower, or a wedding party, use any of these awesome DIY photo booth ideas below to make your own photo booth for a cool party.
Awesome Photo Booth Ideas
Here are some awesome DIY photo booth ideas for a memorable party: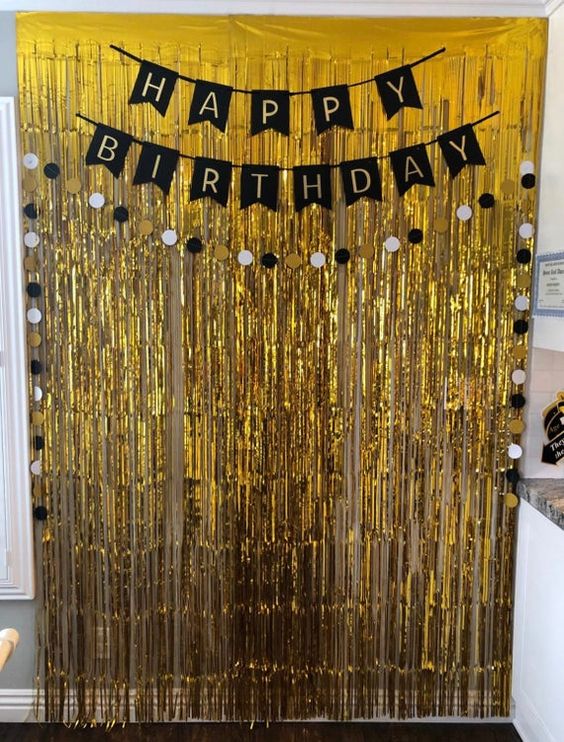 1. Tinsel Photo Booth Backdrop
This cool photo booth backdrop can be made with few bundles of tinsel garlands within few minutes.
Things You Need
Tinsel garland bundles – quantity as per the area to cover.
Pole or rod (of any length)- 1 qty
Twine roll – 1 qty
Thin wire roll – 1 qty
How to Make
Cut all the tinsel garlands in 12 to 14 feet lengths.
Fold each length and attach to the pole or rod from the folded point with a small length of wire.
Repeat till the rod or pole is covered with tinsel lengths.
Tie the twine to each end of the rod or pole and hang it on any wall.
Your photo booth is ready!

2. Gold Sequin DIY Backdrop
Make this amazing DIY backdrop using gold sequins and stun your party guests.
Things You Need
60 mm Gold Sequins – 600 qty
Foam Boards – 6 qty of 1/8" thickness and 32"x 40" dimension
Gold wrapping paper – 2 rolls
Masking tape
Sequin pins (short and straight)- 600 qty
Ruler
How to Make
Use the masking tape to tape the foam boards on the wall starting from the bottom of the wall.
Tape the wrapping paper on the foam boards.
Starting from the bottom of the foam boards, pin the sequin pins in a straight line.
Hang the sequins on the pins.
Cover the whole foam boards with sequins.
Your photo booth backdrop is ready.


3. DIY Hanging Mirror Backdrop
This elegant hanging DIY mirror photo booth is super easy to make and is perfect for adding charm to your party.
Things You Need
A dry tree branch – roughly 6 feet in length
A framed mirror (large size)
Artificial flower strings – 10-12 qty in varied length
String roll -1 qty
Thread roll – 1qty
Wall hooks – 2 qty
Nails
Hammer
How to Make
Nail the wall hooks on an empty wall, or use curtain hooks already nailed to your wall.
On the branch, tie the flower strings with thread.
In the center of the branch, tie the framed mirror with the help of a sturdy string.
Now put the branch on the wall hooks.
Your elegant floral backdrop is ready!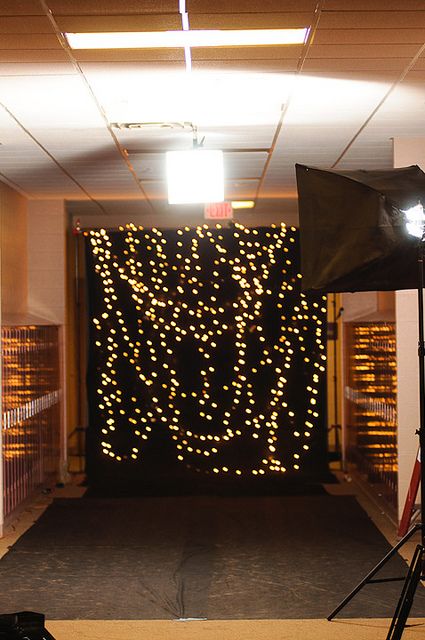 4. DIY Bokeh Lights Backdrop
Use your Christmas lights to make this spectacular bokeh backdrop for stunning party pictures.
Things You Need
White Light strings – 4 to 5 qty
Masking tape
How to Make
Tape the white light strings on an empty wall with the help of masking tape. You can make tape them in any manner.
Your bokeh photo booth is ready!
5. DIY Scalloped Backdrop
Create an elegant photo booth by using wrapping papers.
Things You Need
Wrapping paper rolls of different colors (30"x60")- 3-4 qty
Circle cutter tool
Glue dots(removal)
Washi tape
How to Make
Cut circles from wrapping papers of approximately 5" width.
Put few glue dots on each circle.
Make a frame on the wall with washi tape to make the border of your photo booth.
Start by placing a row of circles on the wall starting from the top edge of the frame.
Add a circling row below to the first row, partially covering the first circle row to appear like scallops.
Cover the entire frame.
Your scalloped photo booth is ready for pictures!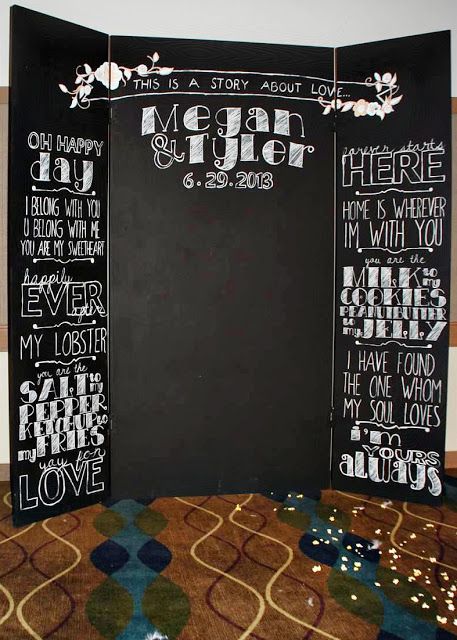 6. Chalkboard Photo Booth
Make this super cool chalkboard photo booth for any short notice party. This will be the center of attention of your party with minimal effort.
Things You Need
A large blackboard (any dimension you want)
Chalks
Ruler
Duster
How to Make
Place the blackboard against any wall or any space you want.
Draw horizontal lines on the top of the board and write the occasion of the party or any other message you want to write.
Rub the lines after writing.
Draw doodles or any other decorative designs on the sides of the blackboard. Remember to leave the center blank as your guests will stand and pose in front of it.
Your photo booth is ready!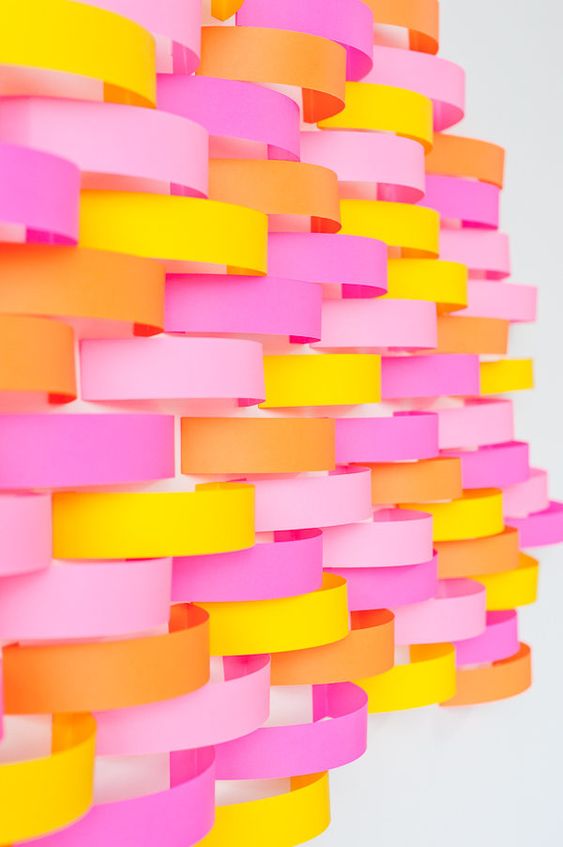 7. DIY Paper Loops Backdrop
Create a colorful homemade photo booth with paper circle loops.
Things You Need
Construction or cardstock paper in multi-colors – 20-25 large sheets
Glue
Masking tape
Scissors
Pencil
Ruler
How to Make
Cut the construction sheets in strips approximately 2" wide.
Then cut the strips in 11" length to make the paper loops.
Glue the 11" strips on the edges to make paper loops.
Let them dry.
Roll small bits of masking tape to make it like double-sided tape.
Place these masking tape bits on the wall in vertical lines.
Stick the paper loops on these tape bits to stick them to the wall.
Cover the area.
Your paper loop photo booth is ready.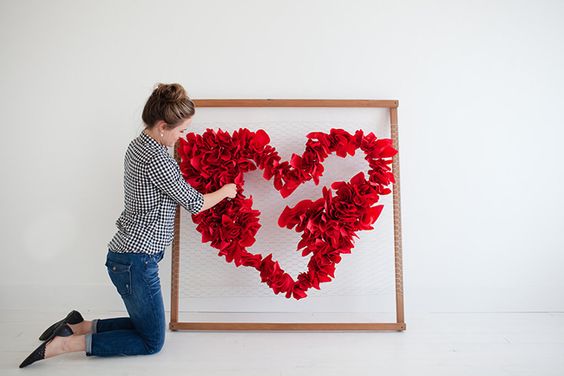 8. DIY Heart Backdrop
This heart photo booth is good for a casual anniversary or other casual parties when you don't want to overdo the decorations. This cute backdrop is ideal for couples to pose for lovey-dovey pictures.
Things You Need
Chicken wire – 4 feet x 6 feet
Napkins(red) – 2 to 3 packets
Wood pieces 6 feet tall (1"x2") – 3 qty
Spray paint – any color
Hammer
Nails
Staple gun
Marker
How to Make
Spray paint the chicken wire and wood pieces.
Make a frame by nailing the wood pieces to each other with nails. The frame will be of a U-shape or an open box.
Stretch the chicken wire over the wooden frame. Attach the chicken wire with the help of a stapler gun.
Put the frame against the wall.
Roughly draw a heart shape with a marker in the center of the chicken wire.
Now insert the red napkin into the chicken wire to cover the heart shape.
Complete the heart.
Your cute photo booth is ready.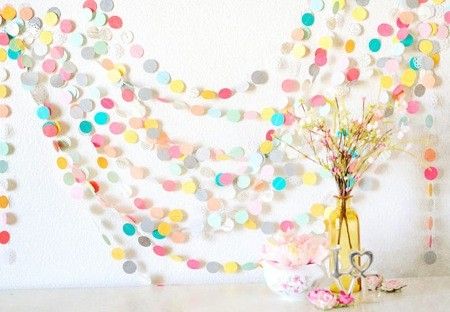 9. Floating Confetti DIY Backdrop
This colorful confetti backdrop is a popular DIY wedding photo booth idea.
Things You Need
Giant Wall Confetti with the glue dots
Sturdy clear thread or fishing line – 1 qty
Scissors
Washi tape
How to Make
To make the confetti strand, cut the clear thread or fishing line to over 8 feet long.
Place the confetti circle on the fishing line or thread and secure it with the glue dot. Then place another confetti circle on the other side of the glue dot to sandwich the glue dot between confetti circles.
Repeat to cover the whole length of the thread or fishing line with confetti circles.
Do this with all the fishing lines or threads.
Tape the strands to the ceilings using the washi tape.
Your confetti photo booth is ready.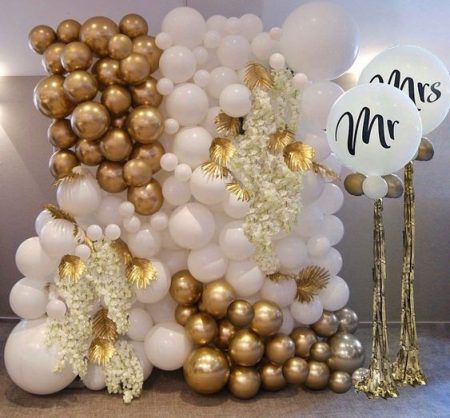 10. Balloon Wall
This balloon photo booth backdrop is one of the easiest and popular DIY birthday and wedding photo booth ideas. Easy to put together, this is perfect for making the birthday kid or couple super happy as they pose with their friends.
Things You Need
Balloon packets (any color) – 5 to 6 qty with 100 balloons each.
Air pump -1 qty
Thread roll -1 qty
Tinsel garlands(any colour)- 10-12 qty
Masking tape -1 qty
How to Make
Inflate all the balloons with the pump.
Glue the tinsel garlands on any wall with the help of masking tape. Make sure to place them at an equal distance.
Attach the balloons on the tinsel garlands with small lengths of thread. You can attach one balloon at a time or make a few together and then tie on the tinsel garland.
Cover the whole length of the tinsel garlands with balloons.
Scatter the remaining balloons on the floor in front of the backdrop.
Your cool balloon photo booth is ready for clicking!
Create any of these easy DIY photo booths for your party to make sure your guests have a memorable time. For more fun, keep few photo booth props such as different colored goggles, crowns, signboards, etc., nearby. Then you will have a hard time removing your guests from the photo booth.
Also Read:
Photoshoot Ideas for family
Best Ways to Hang Pictures on Wall
Creative Couple Photoshoot Ideas
?>