10 Festive Cake Ideas for Your Halloween Party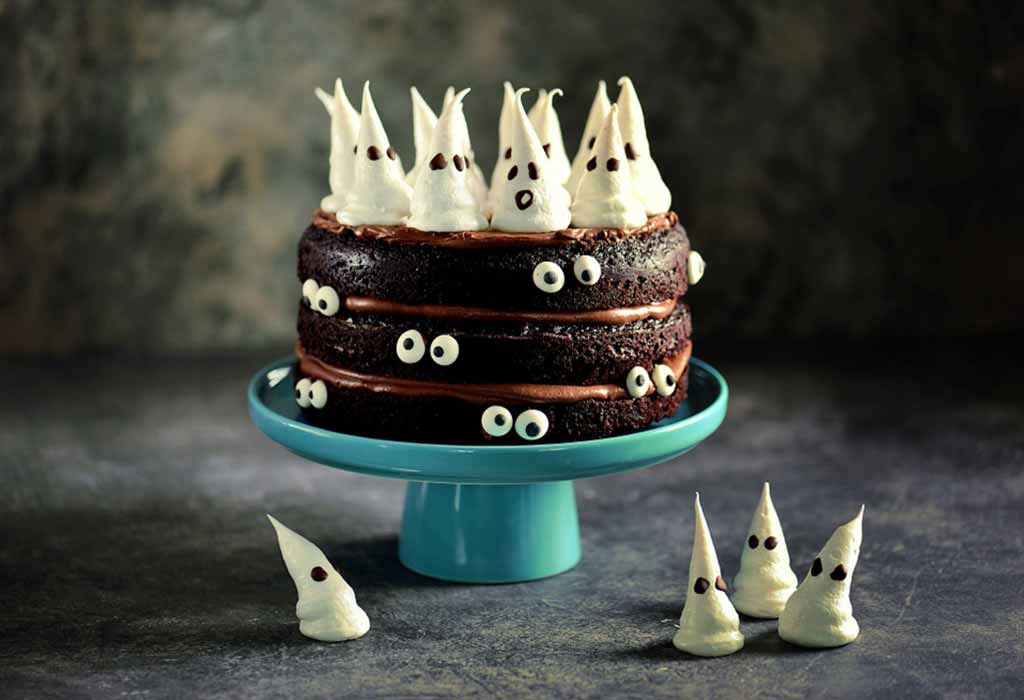 In this Article
Scarily delicious and eerie-looking Halloween cakes are the highlight of your Halloween party. From a devilishly gorgeous haunted house cake and graveyard cake to spooky-shaped candy, ghost cakes, and spider cake, these scary cakes will get guests excited! Celebrate this year's day of the dead with fun Halloween cakes.
Stunning and Spooky Halloween Cake Ideas
Halloween-themed cakes impress kids and adults alike. These scary cakes are dramatic, unique, and scarily stunning – the perfect centerpieces for your party. Whichever recipe you decide to try, make sure to be generous with the frosting and sprinkles, or else the ghosts of unsatisfied guests will come and haunt you!!
1. Chocolate Pumpkin Bat Cake
Total Time: 1.5 hours
Servings: 12
Ingredients
2 cups all-purpose flour
3/4 cup unsweetened cocoa
1 ½ tsp baking soda
¼ tsp salt
1 cup low-fat buttermilk
¾ cup canned pure pumpkin
2 cup granulated sugar
How to Make
Grease two 8-inch round cake pans, line bottoms with parchment paper, and dust with flour. Preheat oven to 350°F.
Add the butter and sugar to a large bowl, mixing on low speed till just mixed. Increase speed to high and whisk till light and fluffy, occasionally scraping with a spatula.
Reduce speed to low again and add eggs one at a time till well mixed.
Take two separate bowls for dry and wet mixtures. For the dry mix, add flour, baking soda, salt, and cocoa. For the wet mix, take buttermilk, pumpkin, and vanilla.
Alternatingly add the dry and wet mixes to the egg concoction in batches, starting and ending with the dry mixture. Beat well till smooth.
Divide batter equally among prepared pans. Bake cake for 30-35 minutes. Cool cakes in pan for 10 minutes. Cool completely on a wire rack for about 45 minutes.
Prepare the butter frosting and tint with orange food coloring to get desired shade.
Place one cake on the cake stand, top with 1/3rd portion of frosting, spreading evenly. Place the second cake on top and cover it entirely with the remaining frosting.
Stick Bat centerpieces to give a spooky look.
2. Follow the Footprints Malted Sheet Cake
Total Time: 2 hours 30 minutes
Servings: 12-16
Ingredients
4 1/2 cups cake flour, spooned and leveled
Baking spray
1 tbsp baking powder
2/3 cup malted milk powder
1 ½ tsp kosher salt
21/4 cup sugar
1 ½ cups of unsalted butter ( room temperature)
5 large eggs
1 tbsp vanilla extract
1 1/2 cup Buttermilk
Cream Cheese Buttercream
Template of footprint, cocoa powder, and Candy Pearls for decoration
How to Make
Spray a 9×13-inch baking pan and preheat the oven to 325°F. Whisk flour, malted milk powder, salt, and baking powder in a bowl.
Beat sugar and butter on a medium speed with a mixer until light and fluffy for 4-6 minutes. Add eggs one at a time, beat until well blended. Beat in vanilla too. Reduce speed to low and beat flour mixture and buttermilk in alternate turns. Start and end with the flour mixture until fully incorporated.
Transfer batter to the pan. Bake for 55 minutes to 1 hour. Cool in pan for 15 minutes and invert in a rack to cool completely.
Place cake on a platter and frost with cream cheese buttercream. Refrigerate for 15 minutes and place the footprint template on the cake, and dust with cocoa powder. Now decorate the cake base with candy pearls.
3. Ouija Board Cake
Total Time: 1 hour 20 minutes
Servings: 12
Ingredients
For Cake:
1 Devil's food cake mix and mentioned ingredients
1 cup mini chocolate chips
For Sugar cookie planchette:
A tube of refrigerated sugar cookie dough
¼ cup all-purpose flour
For Frosting:
1 cup softened butter
4 cup powdered sugar
¼ cup milk
¼ cup caramel
½ tsp kosher salt
How to Make
Preheat the oven to 350°F (for the frosting sheet with the print, refrigerate it on a flat surface till needed).
Grease and flour a 12×17-inch baking sheet with edges. Prepare cake according to instructions; use hot water to get an intense cocoa flavor.
Once the batter is combined, fold the chocolate chips in and evenly pour the batter on the baking sheet. Bake according to the instructions in the package and cool.
To make sugar cookie planchettes, mix cookie dough and flour in a large bowl. Roll the dough, cut it into a triangle with a hole in the middle, and bake for 10 minutes. Set to cool.
To make caramel frosting, beat butter until light and fluffy for about 2 minutes. Add powdered sugar and beat on the lowest speed until it combines well. Beat milk, caramel, and salt, and mix. Pour caramel frosting on top of the cake and smoothen it to a layer with a knife.
Peel the printed frosting from parchment backing. Drape it loosely over a rolling pin to prevent it from getting bunched up. Place it on the center and pat it down gently using your hand. Let it set and serve with sugar cookie planchettes.
4. Halloween Layer Cake
Total Time: 2 hours 20 minutes
Servings: 16
Ingredients
For the Cake:
Cooking sprays
1 Devil's Food Cake mix and mentioned ingredients
1 Vanilla cake mix and mentioned ingredients
For the frosting:
2 cups softened butter
7 cups powdered sugar
½ cup whole milk
2 tsp vanilla extract
2 tsp pumpkin spice
Orange food coloring
For the Ganache and assembly:
1 ½ cup semi-sweet chocolate chips
¾ cup heavy cream
Ghost people for decoration
Milano and Oreo cookies crushed
Candy corn
Candy pumpkins
Sprinkles
Candy eyeballs
How to Make
Spray four 9-inch cake pans with cooking spray and preheat oven to 350°F. In a bowl, prepare the chocolate and vanilla cake batter with a hand mixer.
Divide batter among the pans, two with chocolate and two with vanilla. Bake for 30 minutes. Transfer to a wire rack to cool it.
To make the frosting, beat butter and half of powdered sugar until smooth. Beat milk, vanilla, pumpkin spice, and remaining powdered sugar until light and fluffy. Add food coloring until frosting is a bright jack-o-lantern orange shade.
To make the ganache, heat heavy cream on low heat in a pan until it bubbles, put chocolate chips in a medium heatproof bowl, and pour the hot cream – whisk until smooth.
To assemble cakes, level cake layers with a serrated knife. Place a tiny dab of frosting on a plate and top it with the first vanilla cake layer.
Top this cake with a cup of frosting and smoothen to an even layer. Add the first chocolate cake on top and frost with another cup of frosting. Repeat the same with the remaining vanilla and chocolate layers. Frost the outside of the cake.
Drip ganache on the sides of the cake, pour the rest on the top and smoothen it out.
Create a graveyard scene by placing the ghost decoration on skewers to stick out of the cake. Break the Milanos in half and put it on the cake like a gravestone, surround it with Oreo dirt, sprinkles, pumpkins, candy corn, and candy eyeballs.
5. Cobweb Cake
Total Time: 1 hour 30 minutes
Servings: 12
Ingredients
2 cake mixes of any flavor and brand
2 packets marshmallows
Ready-made black fondant
Cooking spray
Parchment paper
How to Make
Line two round cake pans – 4×4 and 7×4 – with parchment paper and coat with cooking spray.
Divide the cake batter into the pans equally and bake in a preheated oven at 350°F (bake the smaller cake for 25-30 minutes and the larger one for 45-50 minutes. Cool completely on a wire rack).
Level top of each cake. Frost the larger cake with white buttercream. Place the small cake over it. Frost the entire two-tiered cake with white buttercream.
Microwave marshmallows in a bowl for 30 seconds until they become gooey but are still lumpy. Pinch a bit of the marshmallow and stretch to create a long thin strand. Drape this on the cake. Use all marshmallows to weave a spider web.
Use black fondant to make spiders. Make a 1½ inch ball and nine ½ inch ones. Flatten the top of the balls and use water to attach them to make the head and the body. Roll the remaining balls to make the legs, bend them and attach them to the body with water. Place the spider on the cake to complete the spider cake.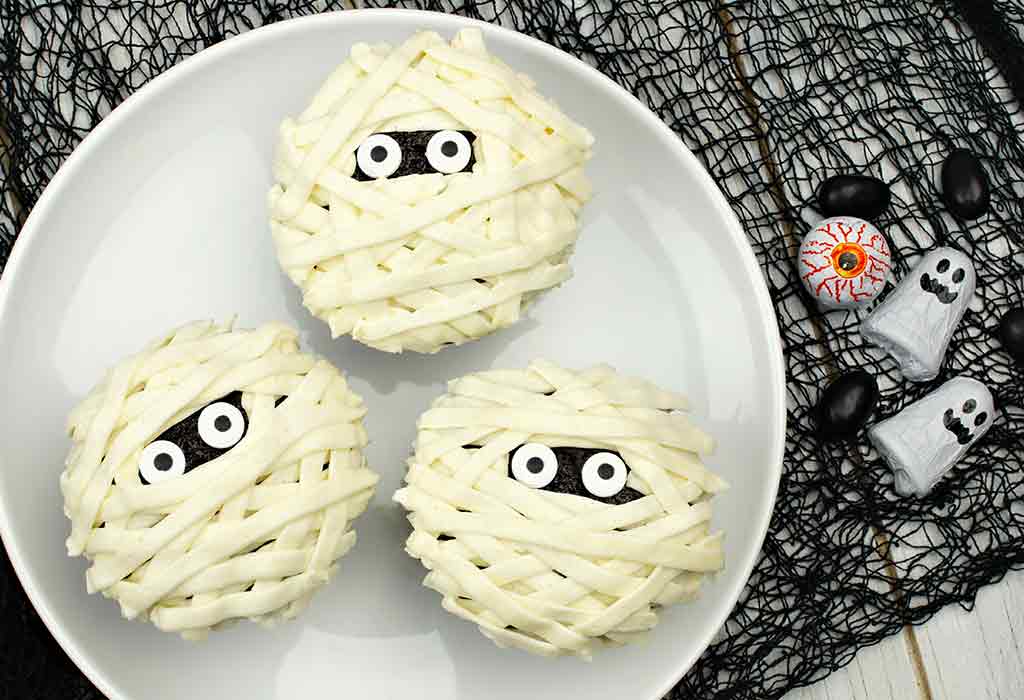 6. Mummy Cupcakes
Total Time: 1 hour 8 minutes
Servings: 12
Ingredients
1 ½ cups cake flour
1 cup granulated sugar
1 ½ tsp baking powder
1 tsp kosher salt
½ tsp baking soda
½ cup unsalted butter at room temperature
½ cup buttermilk
1 tbsp vegetable oil
3 egg yolks
1 egg
2 tsp vanilla extract
1 can vanilla frosting
25 candy eyeballs
How to Make
Preheat oven to 350°F. Line a muffin tray with cupcake liners. Use a 12 cupcake tray.
Combine flour, baking powder, salt, baking soda, and sugar in a bowl with a mixer. Once combined, you can scatter the butter on the surface and mix at low speed until all the butter is incorporated into the dry ingredients.
Whisk the buttermilk, yolks, egg, oil, and vanilla in another bowl. Add half the liquid ingredients with the dry and mix on low speed for 2 minutes. Scrap the sides of the bowl, add the rest of the liquid ingredients and mix for another 2 minutes on low speed.
Fill ¾ of the cupcake tray and bake until golden brown – insert a toothpick to see if it comes out clean. Cool completely.
Fill a piping bag with canned frosting and line it with a basket weave piping tip ( No.44 or No.45). Pipe a line of cream above the center of each cake. Place two candy eyeballs on the lines to make the eyes of the mummy. Use the piping bag to pipe overlapping strips of frosting on the surface of the cupcake and make sure not to cover the mummy's eyes.
7. Coffin Pumpkin Cake
Total Time: 1 hour 40 minutes
Servings: 20
Ingredients
¾ cup softened butter
½-1 cup sugar
3 large eggs
½-1 cups canned pumpkin
½-1 tsp vanilla extract
3 cups all-purpose flour
1 tsp ground cinnamon
1 tsp baking powder
1 tsp baking soda
¾ ground nutmeg
½ tsp salt
¼ tsp ground ginger
¼ tsp ground cloves
1 cup buttermilk
For Frosting:
2 packs of cream cheese softened
½ cup softened butter
3 ½ cups confectioners' sugar
2-3 tsp maple flavoring
½ cup heavy whipping cream
2 cups crushed gingersnap cookies
How to Make
Cream butter and sugar until light and fluffy for 5 minutes. Add eggs, one at a time, and beat gently. Beat pumpkin and vanilla. Combine flour, cinnamon, baking powder, baking soda, nutmeg, soda, salt, ginger, and cloves and add to pumpkin mixture. Alternate with buttermilk beating with each addition.
Line a 13×9 baking pan with parchment paper and grease by spreading butter. Spread the batter and bake at 325°F for 40-45 minutes. Cool for 5 minutes before transferring to a rack to cool completely.
Beat cream cheese and butter until smooth. Add confectioners' sugar and maple flavoring to reach spreading consistency. Beat 1 cup frosting with whipping cream until the top peaks.
Cut cake in the shape of a coffin and cut horizontally into two layers. Place the bottom layer on a plate and spread with filling. Top with the second layer.
Set aside ¼ cup frosting for decorating and frost cake with remaining frosting. Sprinkle cookie crumbs—pipe the words "RIP" with the remaining frosting. Decorate with the leftover frosting.
8. Halloween Spice Cake
Total Time: 12 minutes
Servings: 6
Ingredients
250 gms plain flour
1 tsp baking powder
1 tbsp cocoa powder
1 tbsp ground cinnamon
2 tsp ground ginger
200 gms granulated sugar
50 gms soft light-brown sugar
160ml vegetable oil
85 gms apple sauce ( unsweetened)
1 tsp vanilla essence
2 eggs
Butter and icing sugar
2 eggs
1 tsp pure vanilla essence
Icing sugar for dusting
How to Make
Preheat oven to 350°F. Grease a 23×13 loaf tin with butter and flour.
Combine flour, salt, cocoa powder, cinnamon, nutmeg, baking powder, and salt.
Beat sugar, apple sauce, eggs, vanilla essence, and oil. Add dry ingredients gently and mix.
Pour batter in greased tin; bake for 45 minutes.
Cool cake for 10 minutes and dust with icing sugar, and cut into slices.
9. Sneaky Snake Cake
Total Time: 1 hour
Servings: 12
Ingredients
Cake Mix
Store-bought buttercream
Template for snake
Black nonpareils
How to Make
Prepare cake according to instructions on box; divide batter into two 9 inch pans.
Level cake tops. Frost one with buttercream. Place the second one over it and frost the entire cake.
Place the snake stencil on top of the cake and flatten it smoothly. Fill the stencil with nonpareils and press it with the back of a spoon.
10. Trick or Treat Cake Bites
Total Time: 1 hour
Servings: 12
Ingredients
1 box of cake mix
Whipped cream
Cone for icing
How to Make
Bake cake according to instructions on the box. Once cool, use a knife and cut into 12 equal squares.
Fill the piping cone with whipped cream and whip the letters in each slice. Arrange on a tray when done.
Apart from dressed guests, the party food could be the show stopper of the party you host. Although Halloween is all about candy, it does not mean you cannot have cake! There are easy recipes to perk up the fun factor at the party and have the little ghouls prancing in delight with spooky-themed Halloween cakes.
Also Read:
Healthy Halloween Treat Ideas for Children
Hocus Pocus Costume Ideas for Halloween
Amazing Spooky Basket Ideas for Halloween