10 Budget-Friendly Meal Ideas for Large Families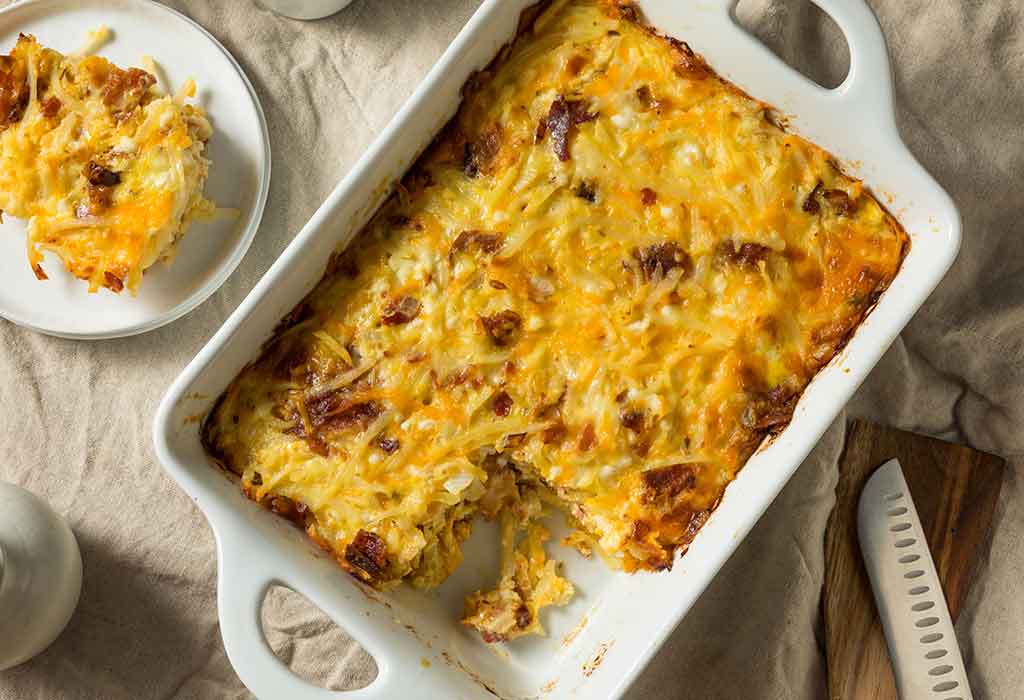 Cooking food for the family can sometimes become a tricky business, especially when it comes to large families as sometimes you run out of meal ideas or sometimes it is the cost factor! Well, if you are looking for some mouth-watering meal options that are easy on your pocket too, this post may prove to be a saviour! Read on to know some budget-friendly meal ideas or some cheap meals to cook options for big families!
Affordable Breakfast Ideas
As soon as we hear the word 'meals on a budget' we may option think of bland or boring food options, well, that is not the case with some of the following sumptuous breakfast ideas:
1. Biscuit, Sausage and Egg Breakfast Casserole
The interesting combination of egg, sausage, and biscuit, is not only a filling meal option but tastes divine too!
Prep Time: 20-25 mins
Servings: 8-10
Ingredients
1 pound chicken breakfast sausage (you can take pork or any other kind of sausage too)
8 frozen biscuits (bake as per instructions), you can use ready to use biscuits too
8 eggs
2 cup milk
2 cup shredded cheddar cheese
1 onion, chopped
4-ounce green chillies, chopped
2 tablespoons butter, divided
½ teaspoon oregano
½ teaspoon cumin powder
1 teaspoon chilli powder
¼ teaspoon ground black pepper
Salt to taste
Instructions
Heat a skillet over a medium flame.
Add onions and sausages, add cook until done. Break the sausages while cooking.
Add seasonings and chili peppers to the sausages, cook for a few minutes. Keep aside.
Take approximately a 3-quart baking dish and grease it with butter.
Layer the baking dish with frozen biscuits.
Now, add the sausage mixture on top of the biscuits.
Take a large bowl to whisk eggs, milk, salt, and pepper. Pour the egg mixture evenly on sausages and biscuit.
Bake at 350 F in a preheated oven for 20 to 25 minutes. Serve hot!
2. Overnight French Toast Casserole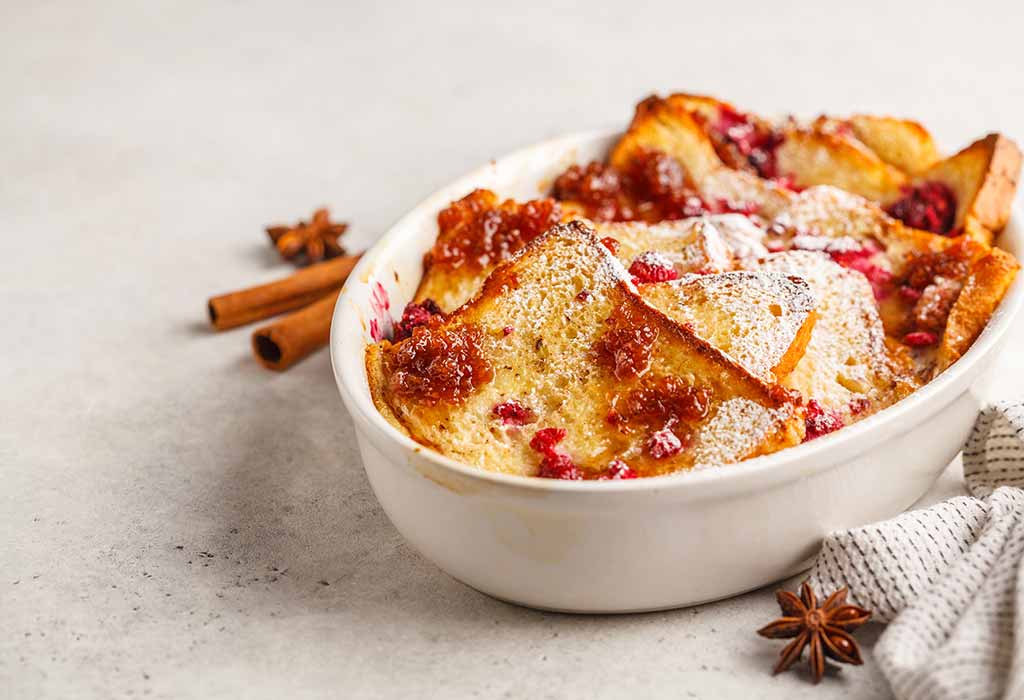 This yummy delight tastes best if you let it sit overnight, but if time is a constraint or you simply can't wait to relish it, it can be enjoyed instantly too!
Prep Time: 8-10 hours
Servings: 6-8
Ingredients
10 to 12 slices of white bread, cut into bite-size pieces (or you can use any bread for this recipe)
5 eggs
1 cup milk
¾ cup powdered sugar (divide in half)
1 teaspoon cinnamon powder (divide in half)
Few drops of vanilla extract
¼ teaspoon salt
Butter for greasing
Instructions
Take a 9×13 inches baking dish and grease it with butter.
Place the bread pieces in the baking dish.
Now take a big mixing bowl, add eggs, milk, half of the sugar, vanilla extract, half of the cinnamon powder, and salt in it, and mix well.
Pour the mixture all over the bread pieces. Use your hands to coat the mixture on bread generously. Cover the dish and keep it overnight in the refrigerator.
Take out the dish in the morning, sprinkle the leftover powdered sugar and cinnamon before baking in a preheated oven at 350 F for 40 to 45 minutes.
Serve French toast with maple syrup, whipped cream, or any topping of your choice!
Cheap Lunch Ideas
Here are some simple and easy lunch options that are not only budget-friendly but will also leave your family asking for more!
3. Macaroni Pizza Casserole
A different way to relish and make pizza, this yummy recipe also makes for an ideal lunch option!
Prep Time: 20 minutes
Servings: 10 to 12
Ingredients
1 ½ cup macaroni
2 cups mushrooms, diced
½ lb. sausage, diced
2 eggs, beaten
1 cup grated mozzarella cheese
¼ cup grated parmesan cheese
1 green pepper, diced
1 medium-sized onion, chopped
4-5 garlic cloves, minced
16 oz pasta sauce
1 teaspoon oregano seasoning
Oil for cooking
Instructions
Take macaroni and boil with water until soft and tender. Make sure not to overcook it. Once done, drain and keep aside.
Heat oil in a pan, sauté onion, garlic, green pepper, mushroom, and sausages on medium heat until everything gets cooked. At this point, take out one cup of the mixture and keep it aside for later use.
Now add pasta sauce and oregano to the pan and cook for a few minutes. Once all the ingredients are cooked well, remove from the heat.
Mix eggs, parmesan cheese, and macaroni in a big bowl.
Take a 9×13 inches baking dish, grease it with butter, and place macaroni mix in it.
Layer the sauce and meat mix on macaroni using a spoon. Make sure you spread the sauce evenly over macaroni.
Add grated mozzarella cheese evenly to the sauce.
Finish the layering by spreading a reserved cup of vegetable and meat mix.
Bake at 350 F for 20 to 25 minutes. Serve hot with garlic bread or any bread of choice!
4. Meatloaf With Carrots and Potato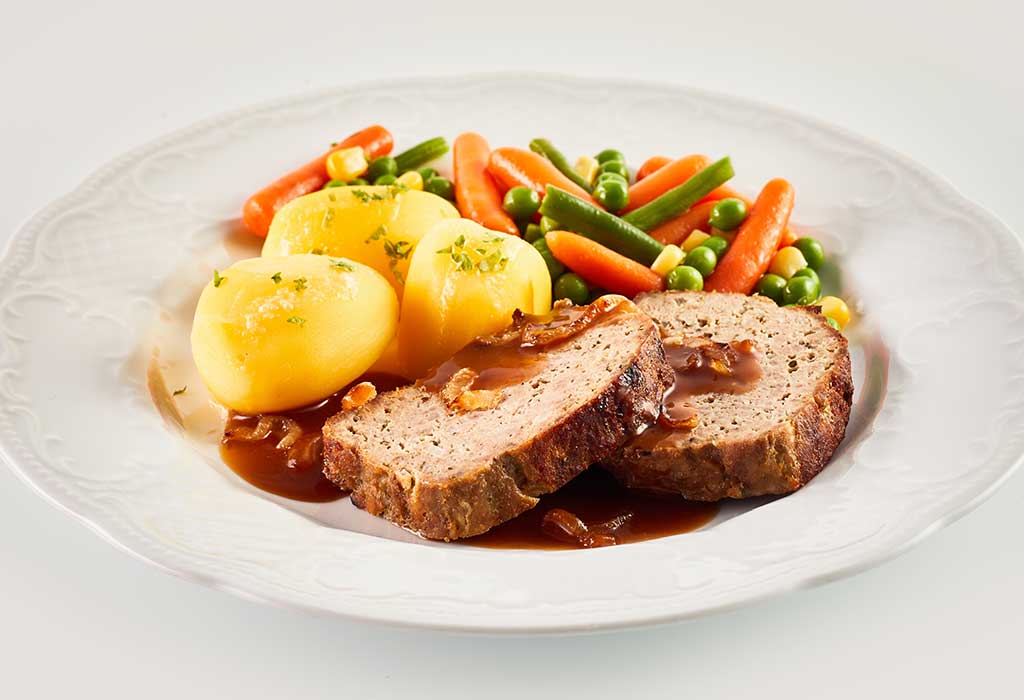 This slow cooker recipe is a healthy and wholesome lunch option! This is one of the best healthy cheap dinner ideas for two and works equally well for the entire family too!
Prep Time: 20 to 25 minutes
Servings: 6 to 8
Ingredients
1 ½ lb. ground turkey (You can also use ground beef or pork for the recipe)
2/3 cup bread crumbs
¾ cup milk
2 large eggs
1 lb. carrots
1 ½ lb. potatoes
2 tablespoons dried onions, minced
2 tablespoon brown sugar
¼ cup ketchup
1 teaspoon mustard
½ teaspoon sage
1 tablespoon Worcestershire sauce
Salt to taste
Oil for greasing
Instructions
Take a large mixing bowl.
Add eggs, milk, sage, salt, dried onions, and bread crumbs. Mix well.
Using your hands, crumble meat into the egg mixture and give a thorough mix.
Use a few drops of oil to grease your hands as you give a loaf shape to the meat mix.
Place the loaf in the Centre of a slow cooker.
Take carrots and potatoes, wash them well. Peel and chop them into big chunks.
Place the veggies around the meatloaf in the cooker.
Cook all the contents together on low heat for about 5 to 6 hours.
Take mustard, sugar, ketchup, and Worcestershire sauce in a bowl and mix well.
Pour the sauce mix nicely over the meatloaf and cook for another half an hour on high flame. Remove from fire.
Gently take out the meatloaf and place it on a flat dish.
Cut the loaf into desired sized pieces and serve with boiled veggies on the side!
Cheap Dinner Ideas
Try the following dinner ideas that your family will not only enjoy but will also not burn a big hole in your pocket!
5. Spinach Lasagna
This yummy lasagna recipe with spinach and cheese can be enjoyed best with some crispy bread!
Prep Time: 30 mins
Servings: 10-12
Ingredients
10 ounces of frozen spinach (make sure you thaw and drain the spinach well before making this recipe)
1 cup grated parmesan cheese
16 ounces ricotta cheese
16 ounces mozzarella cheese
1 egg, beaten
40 to 50 ounces marinara or spaghetti sauce
10 ounces lasagna sheets (cooked and drained)
½ teaspoon garlic powder
Salt to taste
Instructions
Take the frozen spinach and divide it into two equal parts.
Take a big bowl, add half of the frozen spinach, half of the grated parmesan, egg, ricotta cheese, salt, and garlic powder, and mix well.
Take another half of frozen spinach and mix with marinara sauce. Keep aside.
Take a baking dish and spread about half a cup of marinara and spinach mixture on the bottom of the dish. Make sure to cover all the sides of the dish with the sauce.
Place lasagna sheets on the baking dish.
Spread marinara mixture nicely over the lasagna sheets.
Place ricotta mix on as the second layer.
Sprinkle parmesan as the third layer.
Repeat the entire layering process once more.
Cover the baking dish with foil and bake in a preheated oven at 350 F for 40 to 45 minutes or until the cheese starts bubbling! Serve hot!
6. Mexican Pizza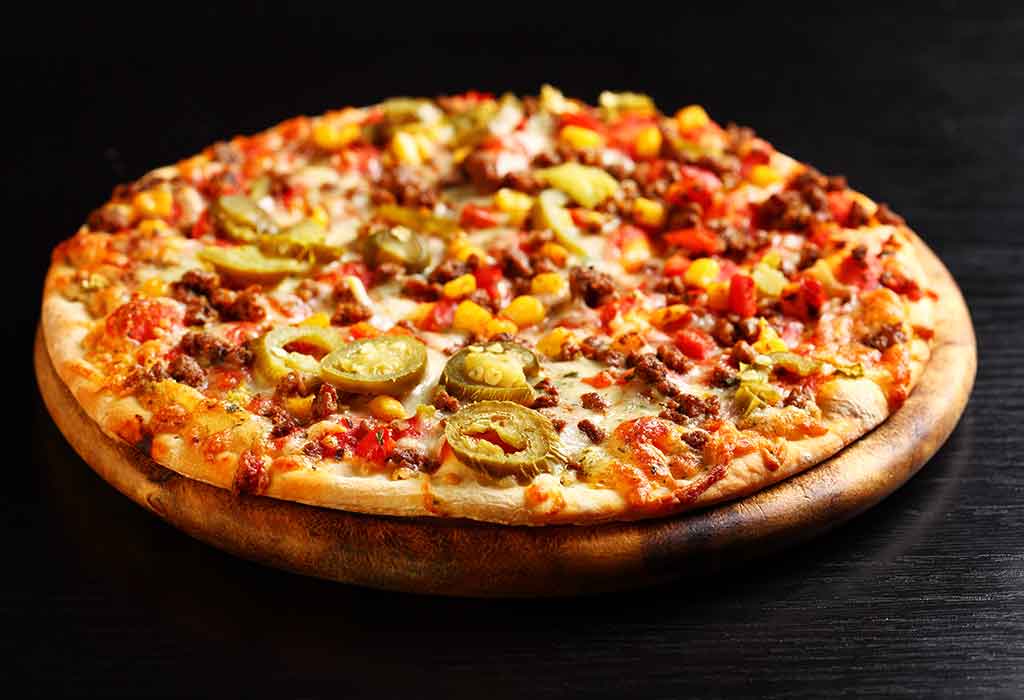 This spicy delight will make for a yummy dinner option for cozy dinners with family and friends!
Prep Time: 20-25 minutes
Servings: 8
Ingredients
2 cans pizza base dough
1-pound raw ground pork
4 cups Monterey Jack cheese
1 can tomato sauce
1 bottle taco sauce
1 onion, chopped
3 garlic cloves, minced
1/8 teaspoon cayenne pepper
1 tablespoon chilli powder
¼ teaspoon pepper powder
1 can green chillies (drained), chopped
1 tablespoon olive oil
Instructions
Take a large skillet, heat olive oil.
Add onions and garlic, sauté for a minute.
Add pork and cook until the meat is cooked.
Add tomato sauce, taco sauce, cayenne pepper, chilli powder, and pepper to the cooked meat. Cook everything on low to medium heat for 5 to 6 minutes or until all the flavours seep well into each other.
Add green chillies, mix well. Keep aside.
Roll pizza dough into two pizzas.
Place cookie sheet on the baking tray, spray with oil. Place both the pizzas on separate trays.
Bake the pizza bases for 6 to 8 minutes.
Spread sauce evenly on the cooked pizza bases and cover generously with shredded cheese.
Bake the pizzas at 400 F for approximately 20 to 25 minutes.
Slice the pizzas and serve hot!
Chicken Recipes Ideas
If your family enjoys eating chicken, these two budget-friendly recipes may become a regular addition to your meals!
7. Oven-fried Chicken With Cornflakes Coating
This crunchy munchy chicken can be enjoyed as an appetizer or main course meal option.
Prep Time: 15 to 20 mins
Servings: 6 to 8
Ingredients
8 chicken legs quarters
1 ½ cup light sour cream
2 cups cornflakes, nicely crushed
1 teaspoon Cajun seasoning
1 teaspoon dried parsley flakes
Salt and pepper to taste
Melted butter for greasing
Instructions
Remove chicken skin and sprinkle salt and pepper over the chicken pieces.
Take sour cream and generously rub sour cream on the chicken pieces.
Take crushed corn flakes in a flat dish, add Cajun seasoning and parsley flakes, mix well.
Take the chicken pieces and press on the cornflakes mix. Make sure to cover all the sides nicely. Keep aside.
Take a 9×13 inches baking dish and grease it with butter. Place all the chicken pieces, make sure not to overlap them.
Take some melted butter and drizzle over the chicken pieces.
Preheat the oven at 350 F and cook for an hour or until the chicken turns golden brown and is cooked well.
Serve hot with a dip of choice!
8. Quick Chicken and Rice Soup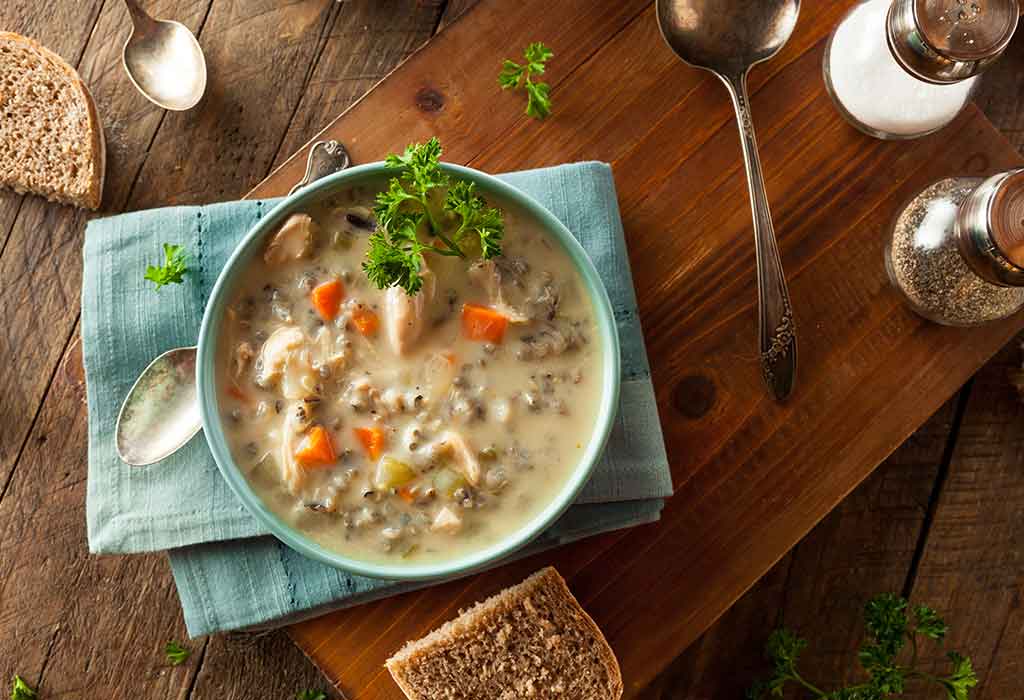 This chicken meal option can be made in a jiffy and is one of the best wholesome meal options!
Prep Time: 12 to 15 minutes
Servings: 6 to 8
Ingredients
2 to 3 large chicken breasts
3 carrots, finely chopped
½ cup of rice
1 cup chopped onions
5 -6 cups of chicken broth
1 cup chopped celery
2 tablespoons chopped parsley
3 -4 garlic cloves minced
½ teaspoon ground black pepper
½ teaspoon Kocher salt
¼ teaspoon dried rosemary
½ teaspoon thyme
1 ½ tablespoon olive oil
Instructions
Heat oil in a pressure cooker.
Place chicken breasts in the pan and cook on high flame for approximately three minutes on both sides. Cook chicken partially only. Take out the chicken and keep it aside.
In the remaining oil, sauté onion, celery, garlic, and carrots for a minute.
Add salt, thyme, rosemary, pepper, and salt and mix well.
At this point, add chicken broth and rice to the pan. Also, add the partially cooked chicken and pressure cook everything for 10 minutes.
Once the pressure releases, take out the chicken breasts and shred them using a fork, put the shredded chicken back in the broth.
You can adjust seasoning as per taste and serve hot!
Meat Recipes Ideas
This section shares some mouth-watering meat recipes that you can relish as a lunch or dinner option with your family!
9. Crock Pot Ham and Beans
You can relish this yummy pork and bean recipe with your favorite bread!
Prep Time: 7 to 8 hours
Servings: 7-8
Ingredients
2 cups red beans (or any beans that your family likes)
1 lb. Ham (make sure there are no or fewer bones in the pork)
1 tablespoon onion flakes
1 tablespoon minced garlic
2 tablespoon Italian seasoning
water as required
Salt to taste
Instructions
Wash beans under running water and place them in the crockpot. Put water and cover it. Leave it overnight or for 7 to 8 hours.
Remove the water from the beans.
Add seasoning, minced garlic, salt, and onion flakes, and mix well.
Place ham on the beans.
Add 7 to 8 cups of water.
Cook on low flame for 8 to 9 hours or 5 to 6 hours on high flame.
Serve hot with bread!
10. Pork Chops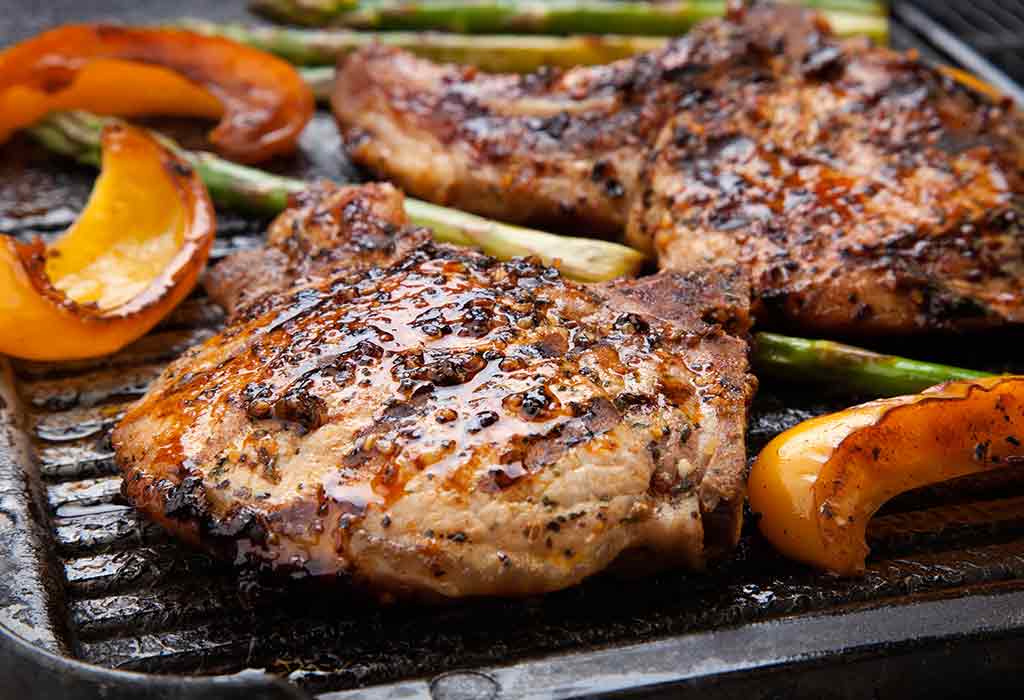 Serve as a side or main dish to perk up your everyday meals with this simple pork chop recipe!
Prep Time: 15 to 20 minutes
Servings: 6
Ingredients
7-8 pork chops
1 cup sour cream
¾ cup chicken broth
3-4 tablespoons butter
1 medium-sized onion, chopped
2-3 garlic cloves, minced
2 tablespoons paprika
½ teaspoon ground black pepper
1 bay leaf
Salt to taste
Instructions
Get rid of excess fat from the pork chops, if any. Sprinkle chops with salt and pepper.
Heat butter in a pan, add onion and garlic and sauté for a minute.
Add chops and cook until they become nice and tender. Remove any excess fat in the pan.
Add bay leaf and chicken broth and cook on medium to low flame for an hour.
Remove chops from the pan and place them in the serving dish.
Reduce the broth to half, add paprika and sour cream. Turn off the heat after adding sour cream.
Pour the creamy sauce over pork chops and serve!
Other Meal Ideas That Can Be Cooked on Budget
Here are some more ideas that would not cost a great deal and taste amazing too:
1. Crockpot Italian Chicken
This simple yet yummy crockpot Italian chicken recipe can be whipped with just four main ingredients that include, cream cheese, chicken, and sour cream. If you wish to add any vegetables such as broccoli, carrots, or peas, you can do so at a later stage too.
2. Pasta Salad
If you have any greens at home, some mozzarella in the fridge, salad dressing in the pantry, and some Fuseli or penne pasta in your kitchen, voila, you have everything that you need to whip this yummy pasta salad. Throw in some left-over chicken shreds or ham slices to perk up the taste. Serve this salad with soup or bread as a healthy meal option for your family!
3. Chicken Parmesan Casserole
This interesting family meals on a budget option is great for some cosy family dinner times! You just need some spaghetti pasta, chicken breasts, marinara sauce, and parmesan cheese as the main ingredients. Simply, layer all the ingredients and add some seasoning, and you have a yummy chicken parmesan casserole recipe for your family that everyone will fall in love with!
4. Oven-baked Chicken Drumsticks
Looking for some interesting meal idea with chicken, well oven-baked chicken drumsticks, is one such recipe that you can whip just a handful of ingredients. If you have chicken drumsticks in your fridge, all you need is honey, barbeque sauce, salt, and pepper to make this delicious chicken recipe! Simply mix all the ingredients and smear nicely on the chicken and bake until the chicken turns golden and crispy!
Next time you find yourself struggling to find some mouth-watering meal ideas that are easy on your pocket too, do try some of the above-mentioned options! Happy Cooking!
Also Read:
Food Myths Which Needs to Be Broken
Juice Fasting – Benefits and Side-Effects
A Guide on Very Low-Calorie Diet (VLCD)