10 Best Tips to Hang Pictures on Your Wall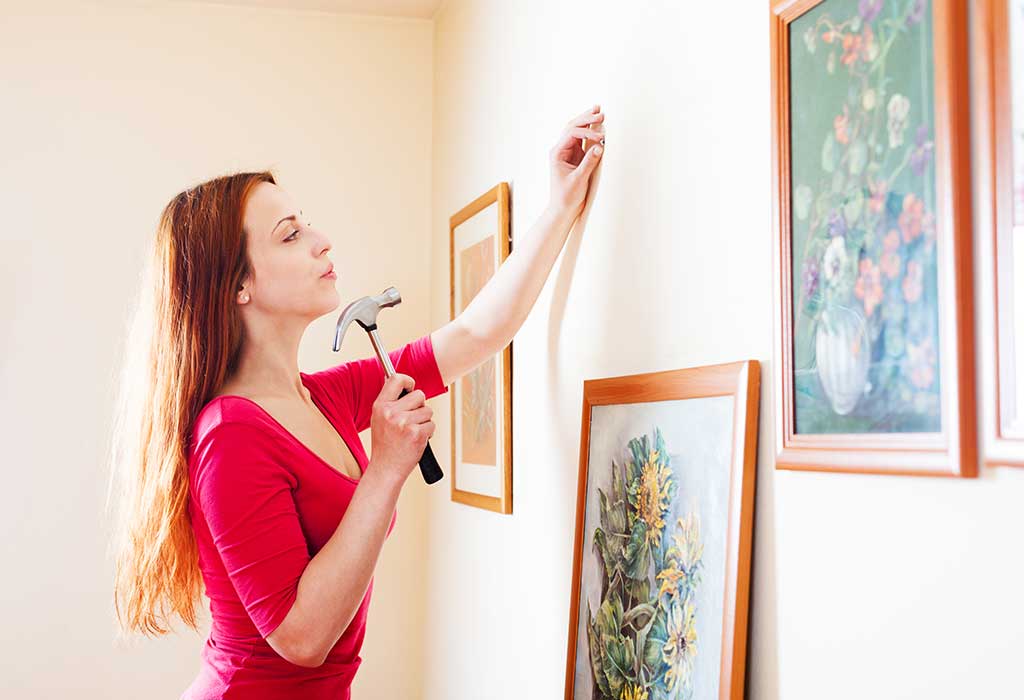 In this Article
You may be planning on decorating a wall with pictures or hang priceless canvas art- either way, it seems like a relatively easy task as a homemaker. You would think that to hang a frame needs no power tools- just a hammer, nails, and some leveling will do the trick.
Well, it is not that simple. There are a few things that one should know before you drive anything into a wall, brick, or even plaster. To hang a painting, you need to be prepared with the right kind of hardware, assess the right height, find the space to make sure that you get it right. A small mistake could cost you the beauty of a wall, and you definitely would not want it after spending a considerable amount on buying expensive murals or art.
How to Hang a Picture on Wall -Tips and Tricks
No home décor is complete without art on the walls. Be it a statement piece, painted canvas, or a collage of framed photographs; one needs to ensure that the artwork is hung securely. The way to hang a picture depends on the weight of the piece and the kind of attachment. You have the perfect picture frame, an art piece that looks amazing. Sadly it will not serve any purpose unless it is on the wall. Take a look at the few tips, tricks, and hacks to hang a heavy picture or hang photos on the wall. Consider these technical and aesthetic aspects before you hang a picture to get it right and add to the elegance of your décor.
1. Decide on a strategy.
As with anything, plan your exercise but deciding on a strategy. The weight, size, shape of the picture frame, the kind of surface you are working on must be considered even before you pick up the hammer.
2. Make sure you have the right hardware.
Not every picture or photo will need the same hardware. Given the different shapes and sizes of picture frames, each one is accompanied by the right accessories. You can even hang pictures without nails if they are designed so.
3. Consider space.
One should be able to see the art on the wall to enjoy and serenade its beauty. Depending on what you are trying to hang, make sure to consider the spacing between frames or angles from the seating arrangement.
4. Use a level frame.
It is no good if your picture is crooked after it is put up on the wall. Make sure you level your picture frame, especially using a hook and nails to mount it. The best way to do it by using a ruler, making sure that the nail is as close to the center of the frame. You could also use apps on your smartphone that will help.
5. Measure before you drill.
Measure the distance between the top of the frame and the hanging/wire bracket. Make sure to pull the hanging wire towards the top of the frame before measuring and then drill the nail.
6. Choose the ideal height.
Memorize the fact to get the perfect height: Eye-level is approximately 60 inches to 70 inches from the floor. The middle of the painting must sit at this height, and one needs to do a little bit of math. A professional tip- Measure the height of the frame, divide it by two. Now subtract the distance from the top of the frame to the hardware and add 60 to it. This should help get your picture at a height where anyone viewing it will revel in its glory.
7. Use painter's tape.
A wonderful secret weapon, painter's tape is an ideal arsenal to measure, block and align your picture. It is also handy when you have several pictures or photographs to hand next to each other.
8. Check the wall surface.
It is important to locate a wall stud if it is a drywall surface to provide a secure anchor. If not, then a drywall anchor must be used to hang pictures. Plaster walls tend to crumble, but it would help to locate a wall stud. One can pre-drill a hole and place a piece of painter's tape on the wall before drilling to prevent crumbling. For a brick wall, you will need to use a wall anchor.
9. Choose the right kind of hanging hardware.
One look at the back of a picture frame will reveal the kind of hardware options to use- from D rings, sawtooth hangers to wires; frames come with more than one option. What you choose will depend on what you are comfortable with. If the frame comes with a hook or sawtooth hanger, then a single nail could do the trick and also leave the least amount of damage. Wires offer greater stability and can be suspended between two D rings opposite to each other. It is the same process as hanging with a nail but is a two-fold suspension. You could use adhesive-backed picture hooks and strips for lighter picture frames and are suited for plaster and brick surfaces.
10. Try different variations.
You need always stick to the conventional mode of sing hammers and nails. If you are apprehensive about drilling nails, lean the frame against the back of the chair or a wall. Consider a picture shelf in one corner of the room. A picture rail along the ceiling could help to hang pictures with hooks and strings.
You may love to scour the flea market for arbitrary pictures or cheap frames to save costs. But then hanging a picture is what will bring the true essence. It is easy to take to a hammer and nail and use it without measuring or worrying about the specifics. A few tricks could help make the display on the wall more inviting with exciting results. Use the above tips to hang a picture like a pro. Hanging a picture is the final part, the culmination of all the effort of planning and measuring to hang it. It is after hanging a picture that one gets to call their home a little of their own. Spend those few extra minutes to make sure the picture or frame is hung perfectly to enjoy it with your cup of tea!
Also Read:
Ways to Organise Baby Photos at Home
Beautiful Homemade Wall Decor Ideas
Decoration Ideas for Centre Table in Living Room