Maasi-To-Be Karishma Kapoor Just Did Something Very Special For Kareena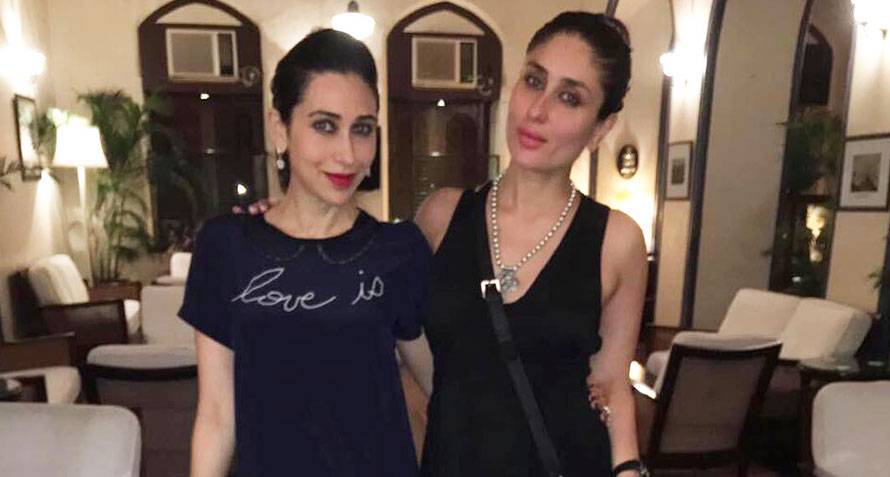 In this Article
We have one question for you. Who do you think was the most excited about your baby's birth? The Daddy? Your mum? Your mother in law? Well, while all these people were definitely very charged up about the arrival of your baby, there is also someone else whose excitement multiplied each day. Your sister! The bond that a maasi shares with her niece or nephew is the very definition of happiness. Karishma Kapoor, all set to become a maasi in December, is also passing her days in anticipation. This is why she decided to go ahead and do this in the meantime…
Karishma has decided that it is time to make her little sister feel special and pampered. After all she is going to become a mom for the very first time! This is why she is treating Kareena to – parties and dinners! Recently, the two sisters went out together, wearing coordinated black outfits and sporting lip colour in shades of red. Kareena's baby bump, which has now started to show, just adds so much extra cuteness to the occasion.
The mom to be is enjoying all the sisterly camaraderie. She loves the time the two share together, even more so because they haven't got a chance to work together on the screen. But in real life, Kareena appreciates her sister for prioritising her children and accepting that kids can lead to a change in our mindset too. "I always wish…there are no plans but I always wish to work with Karishma. Right now there are no plans because her kids are very small; her mindset is very different…"

Mom To Be Kareena Kapoor Just Got This Pregnancy Advice From Aamir Khan

While emotions of such pure sibling love can be hard to put into words, Lolo did it perfectly. We think this line captures what we have ever felt about our siblings – yes, even after that pillow fight when we vowed never to talk to each other again!
"Love is hanging out with the sis…"
https://www.instagram.com/p/BInX12wgfRb/?utm_source=ig_embed
Ever since Kareena's pregnancy was confirmed, Karishma has been all upbeat. In fact, we think she has already started counting days till December! Her enthusiasm is a huge support system for Kareena, especially considering that her decision to marry Saif initially shocked the household. Karishma herself admitted that the Kapoor family is a bit conservative and when Kareena moved in with Saif, it was unnerving. But times have changed since then and Lolo trusts her little sister completely. She appreciates how, despite being led by emotion, Kareena is a woman who always takes decisions that work out in the long run.
"We are very happy and very excited. And of course we are waiting! The baby is eagerly awaited.
Kareena has this incredible ability to always know what is right for her. She is led by emotion and instinct but touchwood, her decisions have always proved to be positive and wise."
Source: https://www.india.com/
Touchwood, indeed! Just like Karishma, and her kids Kiaan Raj and Samaira, we are also eagerly looking forward to Kareena and Saif's little baby. There's nothing quite as beautiful as welcoming a little human being, all bawling and innocent, into the world. Until then, let's take a leaf out from Karishma maasi's book and treat the moms-to-be around us to lots of love and pampering. And if you're one yourself, you now know who to turn to whenever you feel in the mood to chill out, right?