Look Divine This Durga Puja – 5 Bong Looks!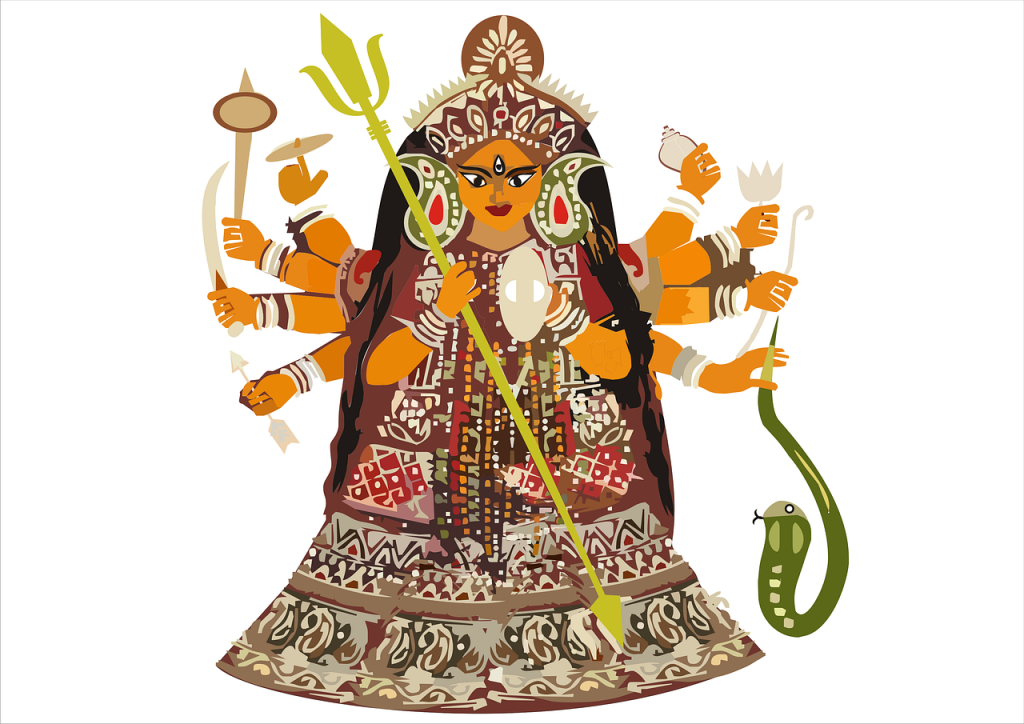 In this Article
Durga Puja, the biggest festival of the year for Bengalis around the world, begins on September 21. There's something distinctly festive about dressing up for Durga Puja in true blue Bong style. Here's our lowdown on Bong looks for this festive season – Pujo Aschhe!
The time to shop for new clothes, dress up and dance to the beat of dhol is here again! As Durga Puja approaches, ready yourself for the splendour with some Bengali looks that never fail to spellbound.
Bengali Looks For Durga Puja Season
1. The Classic Bong
Nothing beats the white and red bordered saree, worn with eye makeup, a dash of sindoor, a big red bindi and some gold jewellery. To wear a saree in the Bengali style, start with tucking the saree from the right of the waist until it completes one full round. Make pallu pleats and place it on the left shoulder. You could tie a trinket to the corner, bring it to the front under the right hand and place it on your right shoulder. Don't overdo the jewellery – a pair of nice jhumkas and a mangalsutra/basic chain works best. Let your hair loose; you can get it slightly curled as that goes best with this look. If you have naturally curly hair, you're good to go!
2. The New Age Bong
While fabrics such as "taant", jamdani and silk have always been popular on Durga Puja, chiffon, net and gorgette are also increasingly in vogue and among the different Bengali sarees in Durga Puja. You could drape one of these sarees in the Bengali style and couple it with some traditional red and white bangles. You can win extra points for some stylish pearl jewellery. The designs and your jeweller's number will be the favourite fuchka (panipuri) conversation!
3. The Doe-Eyed Siren
Bengali women have had poem after poem written about their stunning eyes! This Durga Puja, you can try the doe-eyed, smoky look to outshine everyone else. To get doe-eyes, put a light-colored eye shadow on your lids, followed by a light liner on the inner rims of your lower lids. Finally, apply a darker shadow in the crease of your eyelids. Don't forget the mascara! Pair this with neatly applied red lipstick and hair tied back in a bun.
4. The Retro Queen
The puffed-up sleeve blouse has been a rage among Bengalis ever since it was introduced. The retro look goes very well with Durga Puja. You can perfect it with a printed saree that has Bengali saree designs and traditional symbols. Get a floral hair accessory and some cute slip-ons for your feet. Also carry a sequinned clutch to hold tissues and make-up in. You'll need them after you dig into tempting mangshor-jhol (mutton curry)!
5. The Experimental Bong
Fashion never stops evolving. If you feel experimental and are wondering what to wear for Durga Puja, you could even don a red and golden lehanga or an anarkali suit in deep maroon. You can reserve the saree perhaps for Dashami/Dussehra day when the sindoor play will ensue, much like Holi! Try a side braid for your hair if you're planning on one of these outfits and make sure you wear some bangles. Pretty you!
With these ideas in mind, dress up to your heart's content and click lots of pictures with your kids and little ones. We can't wait to see your Bong look this Durga Puja!