Lacing Shapes DIY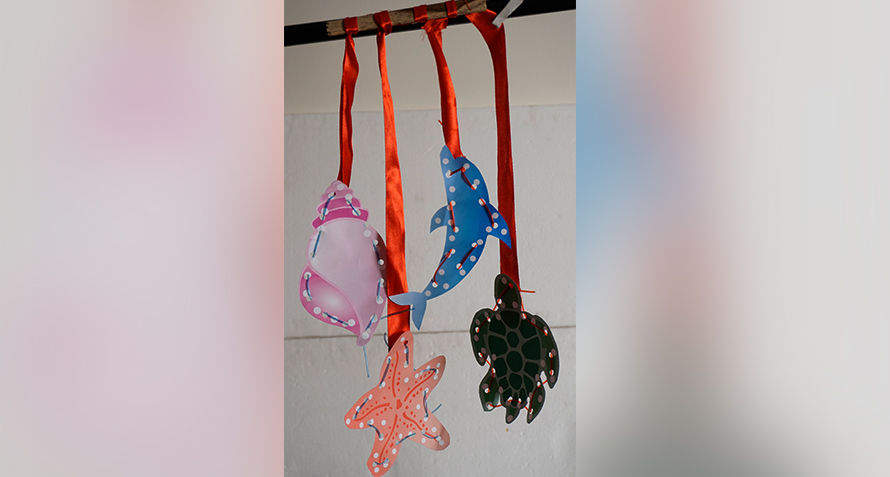 This easy-to-do activity sharpens a very important motor skill in your child – lacing or threading. It is simple and there's scope to get really innovative with it. Don't we all wish that our children learn to express themselves well? Try this craft to see what your child creates
This amazing DIY activity will teach your child how to thread. It is so easy to make, and yet the finished product looks so beautiful, that it is sure to put a smile on everybody's face. What's more, you can do this activity from materials that are all lying around your house!
You Will Need
Cardboard or Chartpaper
Markers, sketch pens
Scissors
Different coloured yarn, thread, or ribbons
Punching machine
Ribbon
Twig or stick
One enthusiastic mom-child pair!
Step-by-step Instructions
Arrange all your supplies for easy access.

Using the marker and sketch pen, draw big shapes on the cardboard or chart paper. You can also print out colourful shapes like we did.
Using the scissors, cut out the shapes you just drew. Do not worry if it is not a perfect shape. Encourage your child to do it on her own.


Using the punch machine, punch holes along the border of the shape you just cut out. Make sure the holes are not too close to each other.

Take a piece of string (or yarn or ribbon), and weave it through the holes you just punched. Go in from one hole, come out from the next. Repeat this until you have gone through all the holes and have arrived at the first hole.

Adjust the cord and then tie a knot to avoid the string falling out of the holes.


Repeat the same process with the remaining shapes.

Next, take the twig and ribbon and tie pieces of ribbon to the twig.

You can tape the shapes to the ribbon or even glue them on.

Your hanging shape mobile is ready!

Messiness Score
3
Level Of Difficulty
High
Parental Involment
High
Skills Enhanced
Fine motor skils, cutting along lines, lacing and threading skills, pre-writing skills.
You will observe your child doing…
Your child will want to cut the shapes by himself. He will be excited to ask you about the shapes you've chosen together.
It will be fun because…
Once your child sees his creation hanging up there, he will be proud of his work of art.