Italian appetizer bruschetta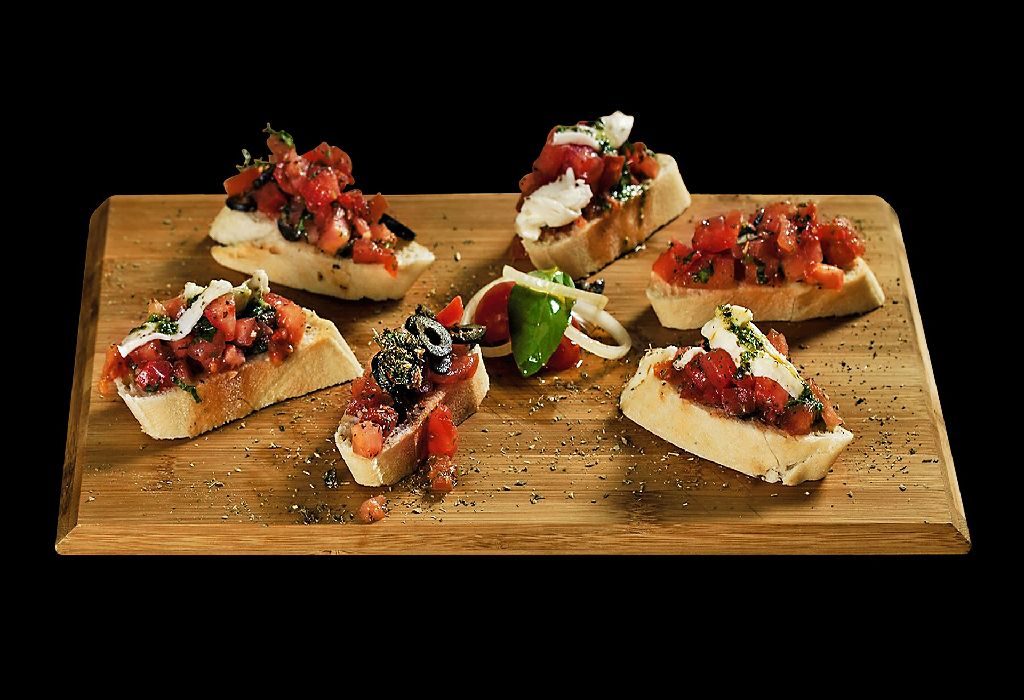 In this Article
Bruschetta is a delicious, fresh and quick-to-make Italian appetizer and enjoyed any time of the year. The simplest Italian bruschetta requires the bread to be toasted over real coals, rubbed down with raw garlic, drizzled with olive oil and sprinkled with a little bit of sea salt and fresh pepper.
Variations evolved to add other things like chopped tomatoes, beans, veggies, paneer or tofu, and fresh herbs. If you've got 20 minutes and want to make a delicious appetiser start off your favourite Italian meal, then this brochette recipe will be of help.
| | | |
| --- | --- | --- |
| Serves | Preparation Time | Cooking Time |
| 2 People | 15 Minutes | 5 Minutes |
Ingredients
1 cup fresh tomatoes, finely diced
1/2 fresh onion or sauteed onion
1/2 cup low fat paneer, cut into cubes
1/2 cup red bell peppers, cut into pieces
1/4 cup pumpkin, cut into pieces and roasted
4 cloves fresh garlic
1 bunch fresh basil
4 tsp(teaspoons) extra virgin olive oil
salt to taste
fresh ground pepper
Italian whole grain bread or baguette
Method
Step 1
Place all the ingredients in a mixing bowl.
Step 2
If you don't like using raw onions, you can also lightly saute the chopped onion in a frying pan with a little bit of olive oil, garlic, salt and pepper.
Step 3
Roast pumpkins in the same pan.
Step 4
Mix the ingredients thoroughly.
Step 5
If you're not short on time, allow the mixture to set for 30 minutes in the refrigerator.
Step 6
Cut 1/4″ thick slices of fresh Italian whole grain bread or baguette.
Step 7
Toast the bread in a toaster.
Step 8
Once the bread is toasted, paint each slice of bread with olive oil using a pastry brush.
Step 9
Then, using half a chunk of raw garlic, rub one side of the crusty slices down to impart some delicious garlic flavor directly onto the bread.
Step 10
Finally, pile as much of the bruschetta as possible onto the freshly toasted bread.
Step 11
Serve, and enjoy!
Nutritional Information
Serving Size 1 slice (50 g)
| | | | |
| --- | --- | --- | --- |
| Calories | 230 | Calories from Fat | 120 |
| Total Fat | 10g 15% | Saturated Fat | 4g 20% |
| Cholesterol | 5mg 2% | Sodium | 270mg 11% |
| Carbohydrates | 13g 4% | Dietary Fiber | 0.7g 3% |
| Sugars | 0g | Protein | 4g |
| Vitamin A | 8% | Vitamin C | 6% |
| Calcium | 6% | Iron | 4% |