Is Sirtfood Diet the Right Diet for Weight Loss?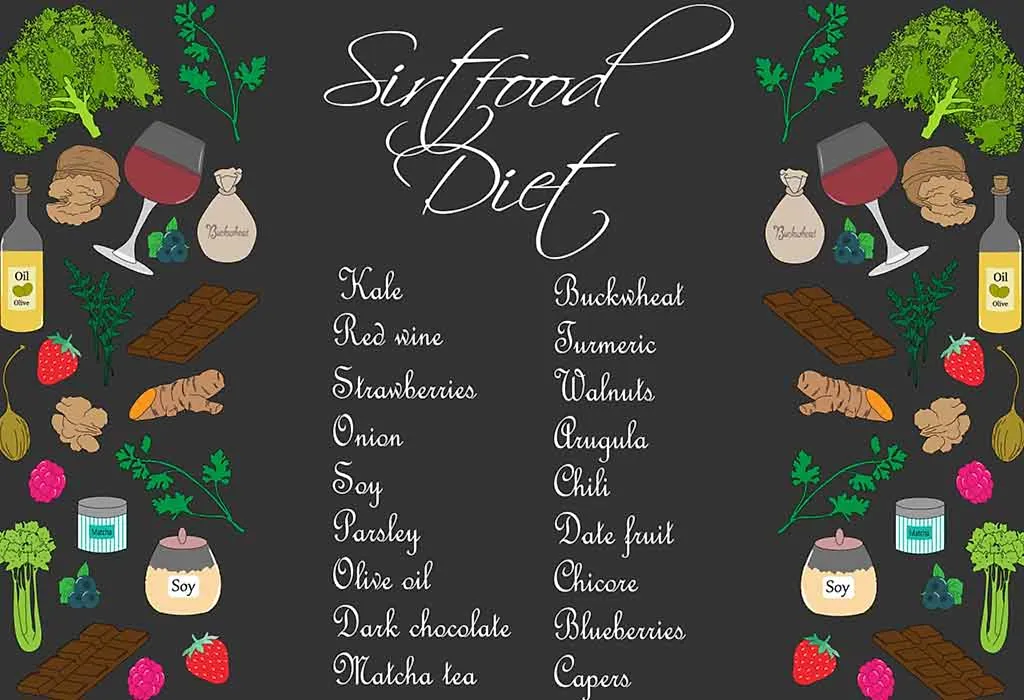 Trendy diets pop up regularly, and the Sirtfood diet is among the latest. A favorite among celebrities in Europe, it is famous for allowing the consumption of red wine and chocolate. The Sirtfood Diet book written by Aidan Goggins and Glen Matten centers around eating food rich in proteins called sirutins, which apparently switch on the "skinny" genes. The authors believe that "sirtfoods" are the secret to lose fat and also preventing diseases. Sirutins help to regulate a variety of functions in the body on a cellular level, playing an important role in metabolism and decrease inflammation and aging. Although the diet may not live up to its hype, it is not bad to try it for weight loss.
What Is Sirtfood Diet?
Sirtfood meals or diet have been advertised as a revolutionary diet and health plan that turn on the "skinny gene." The diet is based on research conducted on siturins (SIRT), which is a group of proteins that are found in the body which regulate a variety of functions like metabolism, inflammation, and lifespan. Certain natural plant compounds are said to increase the level of these proteins, and foods that contain these compounds have been termed "sirutins." Sirtfood diet comprises food that combines sirtfoods and calorie restriction that helps the body to trigger and produce higher levels of sirutins. The Sirtfood diet comprises of meal plans and recipes that are rich in sirutins leading to weight loss and maintaining mass and protecting from the disease at the same time.
Is It Effective in Losing Weight?
Although the founders of the diet claim that the sirtfood turns on the skinny gene in the body, there is not enough evidence to back it up. There is not tangible result to say that eating food rich in sirutins has health benefits and a beneficial effect on weight loss. A few participants practiced the diet along with exercise. During the first week, a study on participants showed to have lost on an average of 7 pounds and even gained muscle mass. Although, it is not surprising as exercise could result in weight loss. The study did not follow the participants after the first week. When the body is deprived of energy, it uses up energy stores of glycogen and also burns fat and muscle. When the body uses glycogen, it uses up to 3-4 molecules of water and gets rid of the water as well- resulting in loss of "water weight." But as soon as you increase your calorie intake, the glycogen stores rise up, resulting in the body gaining weight. This calorie restriction causes the body to lower the metabolic rate, resulting in the body using fewer calories per day for energy than before. This kind of diet may be effective to lose weight initially, but the weight will come back once the diet is over. With respect to preventing diseases, the efficacy cannot be seen until the diet is followed for three weeks. However, adding sirtfood diet foods to your diet on a regular basis could have an effect on weight loss. The diet could result in weight loss as it is low in calories. But the weight could return if followed only for a short period of time.
Is Sirtfood Diet Healthy?
Sirtfood diet plans are healthy choices resulting in health benefits due to their antioxidants and anti-inflammatory properties. Sirtfood diet and foods are a bit restrictive in nature and therefore have their own set of pros and cons. If you have skepticism about diet plans and doubt the efficacy of sirtfood plans, there read on to find out more about the same pros and cons. Sirtfood side effects and advantages can be weighed before one chooses to take to the plan.
Pros of Sirtfood Diet
The "sirt foods" are considered to activate the sirutin in the body. Sirutin is a type of protein that helps to protect the cells from dying and developing illnesses. They are also helpful in regulating metabolism.
It is based on a study of 40 people who frequent the gym and lost an average of 7 pounds in a week without any loss of muscle mass.
The diet lets you have red wine and chocolate on a regular basis without feeling guilty about eating calorie-rich food.
Comprising of buckwheat, blueberries, walnuts, and green peas , the sirtfood diet comprises foods that are healthy and nutritious.
It is designed to have long-term benefits and needs to be continued for life to show visible effects. It is also known to slow down the aging process.
Cons of Sirtfood Diet
There is a calorie restriction for the first week which forces people to lose weight irrespective of what kind of food is consumed. This reveals that the calorie restriction could be the reason why participants lose weight. For the first three days, participants have to consume only 1000 calories a day, and for the next four days, they are expected to consume 1500 calories per day.
Reducing the calorie intake drastically could have an adverse effect on the body and could make one feel lethargic.
Consumption of foods is restricted to the list of foods listed in the book, like "sirt juices," rocket, soy, green tea, and walnuts. Sirt juices may seem good for health, but they contain sugar and could increase sugar levels in the body.
Due to the restriction of certain kinds of food, the efficiency of various food that will give the body nutrition is restricted. For example, eating various fruits and vegetables helps the body get its range of vitamins and minerals.
It is difficult to adhere to Sirtfood Diet for the long term due to restrictions in terms of substituting particular food items.
Foods You Can Eat on a Sirtfood Diet
Below is the list of the top 20 sirtfoods that the Sirtfood diet has prescribed:
Parsley
Extra virgin olive oil
Kale
Red wine
Onions
Soy
Strawberries
Dark chocolate ( with 80% cocoa)
Buckwheat
Blueberries
Arugula (rocket)
Matcha green tea
Walnuts
Turmeric
Bird's eye chilli
Coffee
Capers
Red chicory
Lovage
Mejdool dates
How Does the Sirtfood Diet Work?
The Sirtfood diet comprises of two phases that last a total of three weeks. Post that, you need to continue "sirtifying" your diet and include as many sirtfood as possible. The book needs to be purchased to follow the diet. One must include all kinds of sirtfoods. Most of the ingredients and sirt foods are very easy to find. The three signature ingredients – match green tea powder, buckwheat, and lovage are expensive and difficult to find. Green juice is an integral part of the diet that needs to be made and consumed at least once a day. Implemented in two phases, read below to find out what they entail:
Phase 1
The first three days of the diet require the person to consume 1000 calories each day. This includes three green juices per day and a meal rich in sirutin foods or the so-called sirtfood. From day 4 to day 7, one will make progress to 1500 calories per day. At this stage, one will be drinking two green juices and eating two meals. This results in a loss of seven pounds in seven days. The Cornerstone of this phase is the green juice made of kale, arugula, celery, ginger, lemon, parsley, and matcha powder which reduces the calorie intake and gives the body the right amount of nutrients to keep the metabolism in check.
Phase 2
Phase 2 follows in the next two weeks, where the person has to eat three sirtfood-focussed meals (this is also called sirtifying the meals). This is along with one green juice per day and two optional Sirtfood diet snack bites. Snack bites could include dates and walnuts. There is no limit to the calorie intake in this phase.
Who Should Not Try the Sirtfood Diet?
The Sirtfood diet is not recommended to those who have diabetes. It is also hard to follow if you are highly active. If one does go ahead with the diet plan, side effects could include headache or feeling light-headed during the first phase. This is because the body takes a while to adjust to the lower calorie intake.
Sirtfood Recipes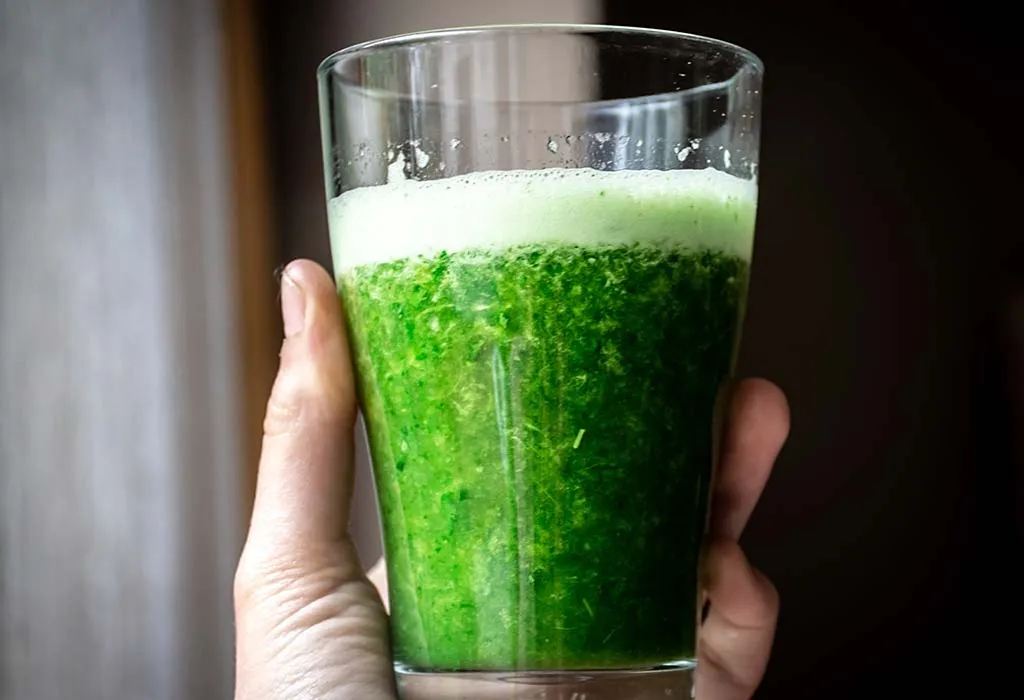 1. Sirtfood Green Juice
Sirtfood green juice is an integral part of the diet, especially in the first phase. Here is a recipe that can be whipped quickly.
Ingredients
2 large handfuls of kale
A large handful of arugula
A small amount of handful of flat-leaf parsley
2-3 large celery leaves, including leaves
½ medium green apple
½-1 inch of fresh ginger
Juice of ½ lemon
½ level teaspoon matcha powder
Total Cooking Time: 15 minutes
Servings : 1 person
How to Make
Mix greens (arugula, parsley, kale) together and juice them in a blender. It needs to be juiced well with no remnants. You must end up with ¼ cup of juice from the greens.
Next, juice the apple, ginger, and cider.
Peel the lemon and put it in the juicer as well. You could squeeze the lemon with your hand as well. At this stage, you could have 1 cup of juice in total or even slightly more.
Once the juice is made and ready to serve, you need to add the matcha. Pour a little amount into the glass, and then add the matcha. Stir vigorously with a fork or a teaspoon.
Once the matcha is dissolved, you can add the remainder of the juice. Stir it a final time, and the juice is ready to drink. Top up with plain water as per your taste.
2. Chickpea Curry
A go-to meal with plenty of flavors and lots of protein, this is a wonderful recipe.
Ingredients
1 tbsp coconut oil
1 red onion sliced
3 garlic cloves minced finely
1-inch fresh ginger finely chopped
1-2 birds eye chilli chopped
1 tbsp curry powder
1 tbsp ground cumin
1 tbsp ground turmeric
3 tomatoes
2 cups vegetable stock
3 oz kale
2 cans of chickpeas (15 oz) drained and rinsed
2 tbsp chopped coriander
½ cup plain yogurt
10 oz buckwheat
Total time is taken: 50 minutes
Servings: 4 people
How to Make
Heat a saucepan on medium heat. Add coconut oil, garlic, onion, chilies, and ginger for 2-3 minutes. Add the curry powder, cumin, and ½ tbsp turmeric. Cook on low-medium heat for 1-2 minutes.
Cut tomato into ½ inch wedges and retain the juice. Add to the saucepan and cook for 1-2 minutes.
Add stock, kale, and chickpeas. Bring to a boil and cook for about 7-8 minutes.
While the curry is cooking, cook the buckwheat according to the instructions on the package. Stir the leftover turmeric in the water you are cooking.
When the kale is tender, add coriander and yogurt to the curry. Bring it to a boil and remove it from heat. Bring it to a boil and remove it from the heat. Serve over the buckwheat.
3. Sirt Super Salad
Salads have always been an integral part of any diet plan. This one is a salad with a sirt twist.
Ingredients
50 gms of arugula
50 gms endive leaves
100 gms smoked salmon slices
80 gms avocado, peeled, stoned, and sliced
50 gms celery including sliced leaves
20 gms sliced red onion
15 gms chopped walnuts
1 tbsp capers
1 large mejdool date chopped and pitted
1 tbsp extra virgin olive oil
Juice of ¼ lemon
10 gms parsley chopped
Total time: 10 minutes
Servings: 1 person
How to Make
Place the salad leaves on a plate or a large bowl.
Mix all the remaining ingredients together and serve them on top of the leaves.
4. Sirtfood Bites
Snack bites are an integral part of sirtfood diet. Make these to have them handy when you feel those gentle hunger pangs.
Ingredients
120 gms walnuts
30 gms dark chocolate (85 per cent cocoa solids) that are broken into pieces/1/4 cup cocoa nibs
250gms mejdool dates
1 tablespoon cocoa powder
1 tablespoon ground turmeric
1 tablespoon extra virgin olive oil
1 teaspoon vanilla extract
1-2 tablespoons water
Total Time: 30-45 minutes
Servings: 15-20 bites
How to Make
Place the walnuts and chocolate in a food processor and blend until it is a fine powder.
Add all other ingredients except the water and blend the mixture until it forms into a ball. Add water depending on the consistency of the mixture. The mixture should not be very sticky.
Use your hands and make bite-sized balls. Refrigerate it in an air-tight container for 1 hour before you eat them.
You could roll those balls in cocoa or dried coconut to get a nicer finish. These will stay upto a week in your fridge.
5. Aromatic Chicken Breast With Kale, Red Onions, and a Tomato Chilli Salsa
A great twist to chicken, the salsa makes it a wonderful full-course meal.
Ingredients
120 gms skinless, boneless chicken breast
2 tsp ground turmeric
Juice of ¼ lemon
1 tablespoon extra virgin olive oil
50 gms chopped kale
20 gms sliced red onions
1 tsp chopped ginger
50 gms buckwheat
For the Salsa
130 gms tomato
1 finely chopped Thai chilli
1 tablespoon capers that are fully chopped
2 tbsp finely chopped capers
Juice of ¼ lemon
Total time is taken: 1 hour
Servings: 1 person
How to Make
To make the salsa, de-seed it and chop it. Retain as much juice as possible. Mix chili, capers, parsley, and lemon juice. You could put everything in a blender and mix it well.
Heat the oven to 220 degrees centigrade. Marinate the chicken breast in 1 tsp turmeric, lemon juice, and olive oil. Leave for 5-10 minutes.
Heat an ovenproof frying pan until hot, add marinated chicken, and cook for a minute on either side until pale golden brown. Transfer to the oven for 8-10 minutes or until fully cooked. Remove from oven, cover with foil, and rest for 5-10 minutes.
Cook kale in a steamer for 5 minutes. Fry red onions, ginger in a little oil until browned, and add the cooked kale.
Cook buckwheat according to the instructions with the remaining turmeric. Serve it alongside the chicken, vegetables, and salsa.
Some consider it a passing fad, and some really effective. Whatever it is, the sirtfood diet has found its place with some high profile celebrities who have vouched for its effectiveness.
Also Read:
How to Use Keto Diet for Weight Loss
Fat Burning Foods to Include in Your Diet for Losing Weight
Tips to Figuring Out Perfect Diet Plan for Weight Loss