Is It Safe to Consume Sushi While Breastfeeding?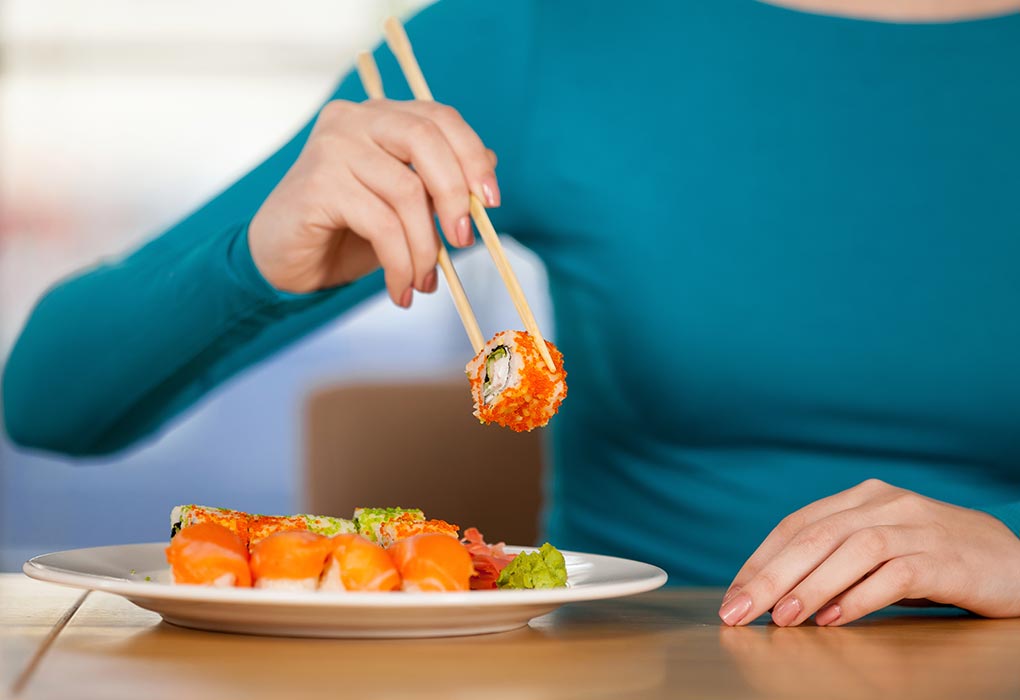 Sushi can be considered as one of the best culinary delights of Japan. Although sushi is not liked by everyone for its peculiar taste, those who enjoy eating it find it hard to resist. If you are one of those who enjoy indulging in this delicacy but are breastfeeding your baby, then you must find out whether you should eat it or not.
What Is Sushi?
Sushi is an exotic seafood dish of the Japanese origin. It is prepared with seaweed, rice (brown or white), tropical fruits, vegetables and various other ingredients. Sushi is a nutritious dish and can be made in many ways.
Can You Eat Sushi while Breastfeeding?
Yes, you can eat sushi while nursing your little one. However, make sure that you eat it from a good restaurant that serves hygienic and fresh food. In your pregnancy and nursing stage, be extra careful about consuming raw fish as it may contain high amounts of mercury, which may cause harm to your baby.
Risks of Eating Sushi While Nursing
This Japanese delicacy contains raw fish, which should be strictly avoided during pregnancy or while nursing. Different kinds of parasites or bacteria may be present in raw fish that may be used to prepare sushi. These may enter your body and may affect your unborn baby. However, they seldom enter your breast milk and affect the baby. But if the fish is flash-frozen, it may reduce the chances of it being infested with parasites or bacteria.
List of Sushi Fish As Per Their Mercury Levels
Some fish may contain high amounts of mercury in them and if you consume them, it may reach your baby via breast milk. Hence, be extra cautious of what kinds of fish you may safely consume. Here are some of our recommendations:
| | | | |
| --- | --- | --- | --- |
| Very Low Amounts Of Mercury | Moderate Amounts Of Mercury | High Amounts Of Mercury | Highest Amounts Of Mercury |
| Eat These Fish Without Any Worry | Limit Your Intake to Less Than Six Servings in a Month | Not More Than Three Servings In a Month | Do Not Include in Your Diet |
| Crawfish | Tilefish | Halibut | Grouper |
| Crab | Tuna | Mackerel | Bluefish |
| Flounder | Sheepshead | Perch (Ocean) | Marlin |
| Catfish | Perch (Freshwater) | Sablefish | Mackerel (King) |
| Butterfish | Monkfish | Sea Bass | Shark |
| Anchovies | Mahi-mahi | Tuna (Yellowfin, Albacore) | Swordfish |
| Salmon (fresh and canned) | Bass (black, striped, saltwater) | | Orange Roughy |
Precautions to Take When Eating Sushi While Breastfeeding
You must exercise the following precautions when eating sushi in your breastfeeding stage:
Handle raw fish with washed hands.
Always eat sushi from an upmarket or hygienic place. Do not compromise with your health.
When making sushi at home, ensure you clean everything nicely that may come in contact with the raw fish.
Avoid eating fish such as swordfish, mackerel, bluefish etc, as all these varieties may contain high amounts of mercury in them.
Whenever you buy canned fish, make sure you check the expiration and manufacturing details.
If you buy fish on regular basis, ensure that your freezer works well.
Whom Should You Consult If You Are Not Sure About Eating Sushi while Breastfeeding?
If you are not sure about eating raw sushi while breastfeeding, then it is suggested that you consult a person who is well informed about it. Here are some experts who may guide you better when it comes to eating sushi:
1. Lactation Consultant
Apart from teaching you the correct way of feeding your baby, your lactation consultant can also guide you about your dietary choices, which may include information on sushi, too.
2. Gynaecologist and Obstetrician
You may turn to your OB/GYN's for consultation, too. They may be able to tell you if there are any probable dangers of consuming sushi while breastfeeding.
3. Nutritionist
Apart from both the above sources, you may even ask a certified nutritionist about your concerns regarding eating sushi while breastfeeding your baby.
How to Include Sushi in Your Diet while Nursing
Fish helps in providing Vitamin D, omega-3 fatty acids, niacin and various other nutrients to you and your baby. Sushi can be made in various ways and can be included in your diet. If you have qualms about eating fish or non-vegetarian sushi, you can opt for many vegetarian variants too.
Sushi Recipes for Breastfeeding Mothers
Here are some sumptuous and easy-to-make sushi recipes that you can try at home:
1. Pesto and Egg Sushi
This sushi recipe offers a twist to the usual sushi recipe.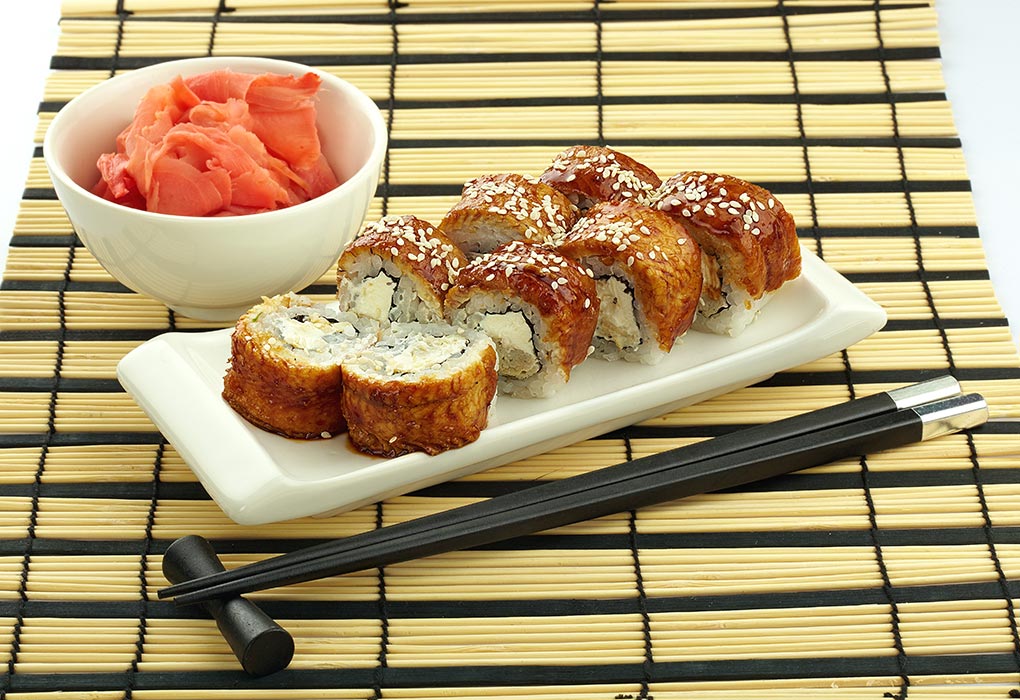 What you need
3 eggs
1 cups glutinous rice (white rice, cooked)
2 cups water
3 nori sheets (seaweed)
2 tablespoon basil pesto
Salt and pepper to taste
How to make
Beat the eggs in a bowl and add salt and pepper to it.
Heat oil in a flat pan, pour the beaten eggs and cook.
Spread nori sheets on a sushi mat.
Spread rice, pesto on the edges, and put the eggs on the top.
Roll the sheets and wet the ends to seal. Cut and serve.
2. Veggie Sushi Rolls
This recipe is for veggie lovers.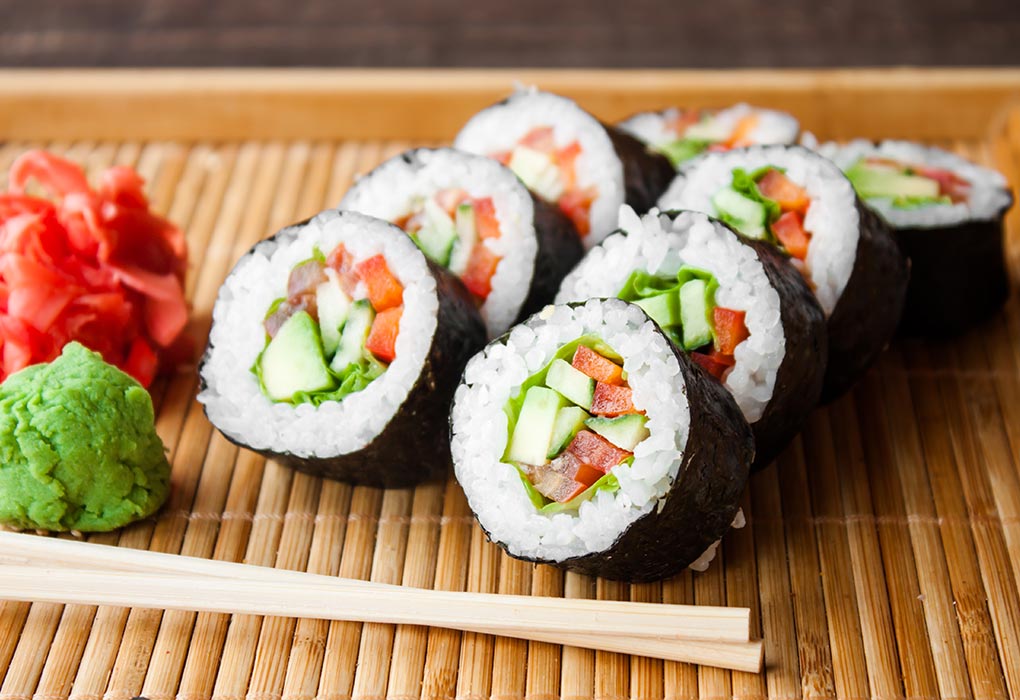 What you need
½ carrot, nicely peeled and cut
¼ cucumber, peeled and cut
¼ avocado (ripe), thinly sliced
1 ¼ cups cooked rice (special sushi rice)
1tablespoon roasted sesame seeds
1 tablespoon rice vinegar
1 nori sheet
Pickled ginger and soy sauce – Optional
How to make
In a big bowl mix water and vinegar.
Spread the nori sheets on the sushi mat.
Start layering with rice and then add sesame seeds.
Place the cut vegetables in any sequence you like and roll it.
Seal the edges with vinegar and water mixture.
Slice the roll and serve.
3. Tuna Sushi with a Spicy Twist
This recipe is ideal for all you tuna lovers out there.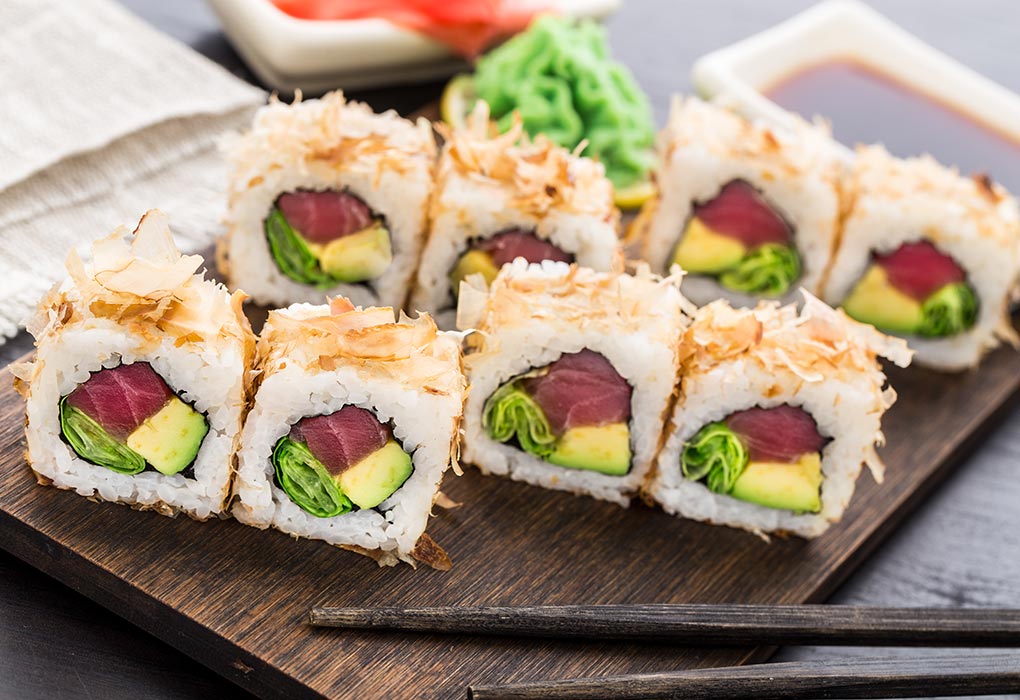 What you need
Spicy chopped tuna pieces
½ avocado
2/3 cup cooked sushi rice
1 nori sheet
1 tablespoon chilli sauce
1 tablespoon lemon juice
1 tablespoon mayonnaise
½ tablespoon sesame oil
How to make
Mix sesame oil, chilli sauce, mayonnaise and lemon juice together in a bowl and refrigerate.
Place the nori sheet and lay it on the sushi mat.
Add rice and spread evenly.
Place spicy tuna and avocado evenly on the rice.
Tightly roll the mat.
Slice the sushi roll and serve.
4. California Sushi Roll
This is yummy sushi delight for the real sushi lovers.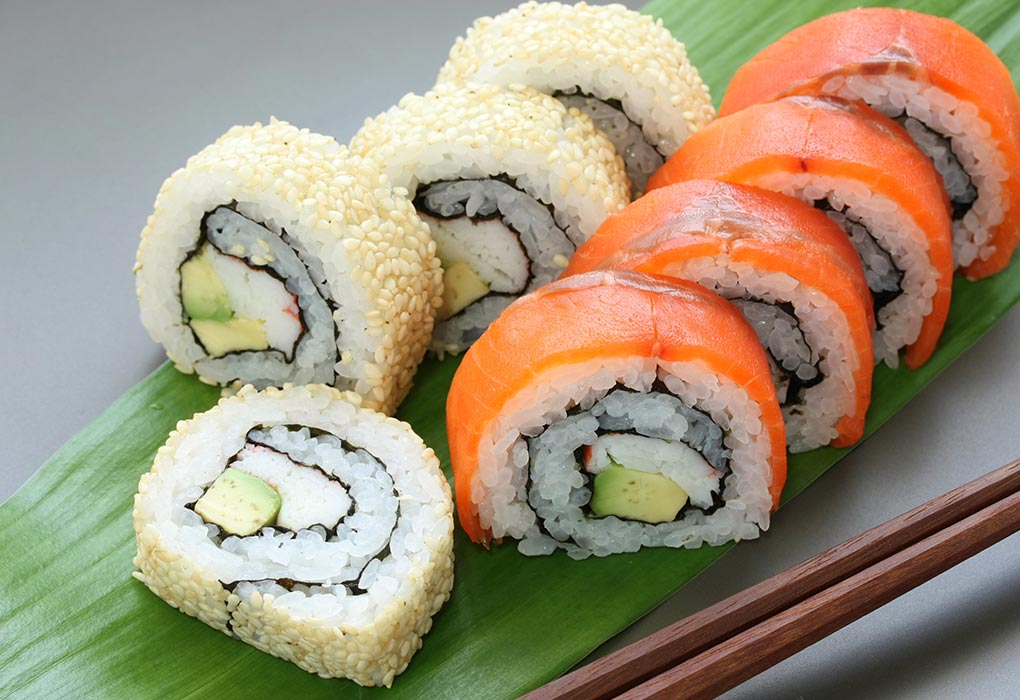 What you need
½ avocado
1 nori sheet
2/3 cup cooked sushi rice
1 tablespoon sesame seeds
6 sticks of imitation crab or surimi
How to make
Take the nori sheet and place it on a bamboo mat.
Put the layer of cooked sushi rice and sprinkle sesame seeds on it.
Gently flip the nori sheet and place the surimi across the ends and place the avocados next to it.
Carefully roll it inside out and cut with a sharp knife.
If sushi is prepared carefully and hygienically then it may pose no threat to you or your little munchkin's health. Hope this article helps you in understanding various aspects related to consuming sushi. Enjoy your Japanese delight!
Also Read: Is It Safe To Eat Spicy Food during Breastfeeding