Introducing Your Toddler to the Baby – When and How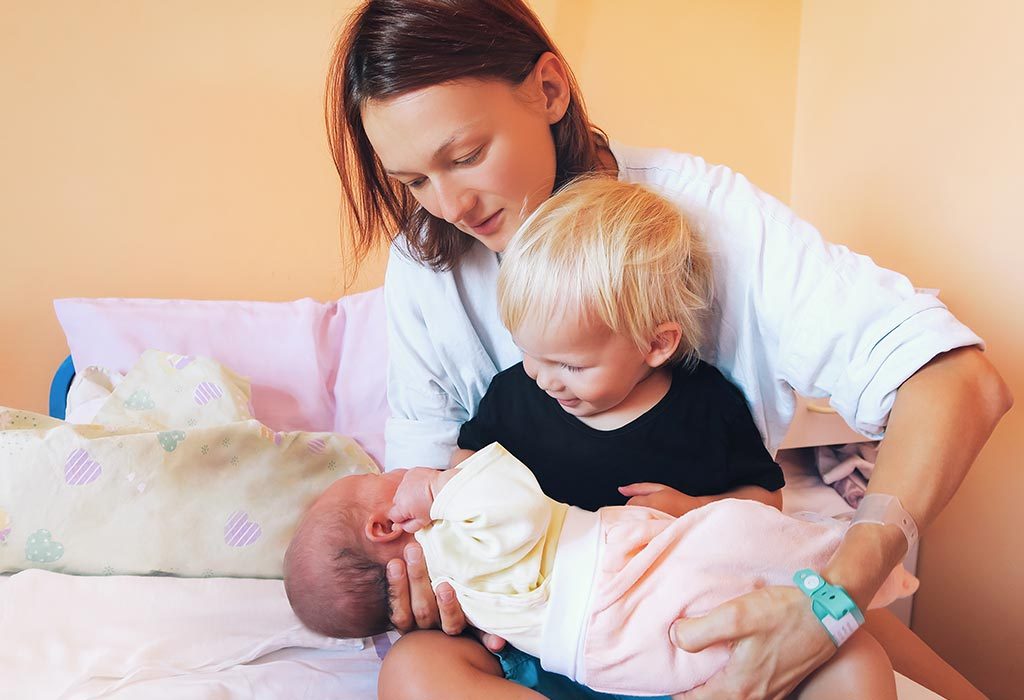 When you are busy taking care of your baby post-pregnancy, your toddler may feel left out. Most toddlers are generally excited by the prospect of a younger sibling, although it varies according to their age. Some may feel slightly threatened and sad with the thought of not being the centre of attention anymore.
Therefore, you have to think of ways to tell your toddler about the younger baby at the right time. Also, you should make time for your toddler too.
Video : Best Tips for Preparing a Toddler for a New Baby?
When Should You Tell Your Older Child About the New Baby
There is no simple way around this, you will have to think about ways to prepare the first child for a new baby sooner or later. The timing does play an important role, and it can greatly help in making the process easier for you as a mother.
Telling your toddler about the baby should not be too complicated; it also depends on how old your older child is. If he is at least 3 years of age, it would be best to tell him a few months before the date of delivery but you must keep it as simple as possible, and tell him that he will be having a younger brother or sister soon. For a child younger than 3 years of age, you can wait till late third trimester until the toddler notices that something is going on. In this case, it would be confusing for the child if you tell him early with no real change in your body shape. You could try telling him that his younger brother/sister will be here for his birthday, and he will start comprehending.
How to Prepare Your Older Child for the Arrival of New Baby
It is important to create a positive sense in the toddler about the new baby since he should not feel threatened by the arrival of the new baby. You will have to start talking to him about his brother/sister right from the time he understands the news so that he will adjust to it and will look forward to the arrival of a new member in the family. You can start by telling him how the baby is growing right now in your womb and maybe even get his help in setting up the nursery. There are also classes available for parents and toddlers together, which help in making this process easier.
Another important thing that you need to explain your child is that the baby will not be his playmate as soon as he gets home. Tell him that your little one will mostly be crying and sleeping for the first few months. If you have a separate room for your toddler, get him into the habit of sleeping alone in his new room. This will help your toddler get used to his new surroundings, and adjust better with the arrival of the baby. It will also help if you complete his toilet training before the baby is born. You should also explain your toddler about your frequent visits to the hospital and when you go to the hospital before the delivery. You can also make him visit you at the hospital after delivery so that he gets to see his sibling.
Tips for Introducing a Newborn Baby to an Older Sibling
Here are some ways to make the process easier for both you and the toddler:
1. Shopping
When you are choosing the things for the nursery or the clothes for the baby, take your toddler along. Ask for his opinions on the matters regarding the new baby, this will develop a sense of responsibility in the child and he will feel happy in being a part of the journey.
2. Make Him Feel His Presence
Let your toddler feel his younger sibling moving in your womb. Place his hand on your stomach when the baby moves inside you and watch for his reaction. Let him feel the baby and he will like the baby even more.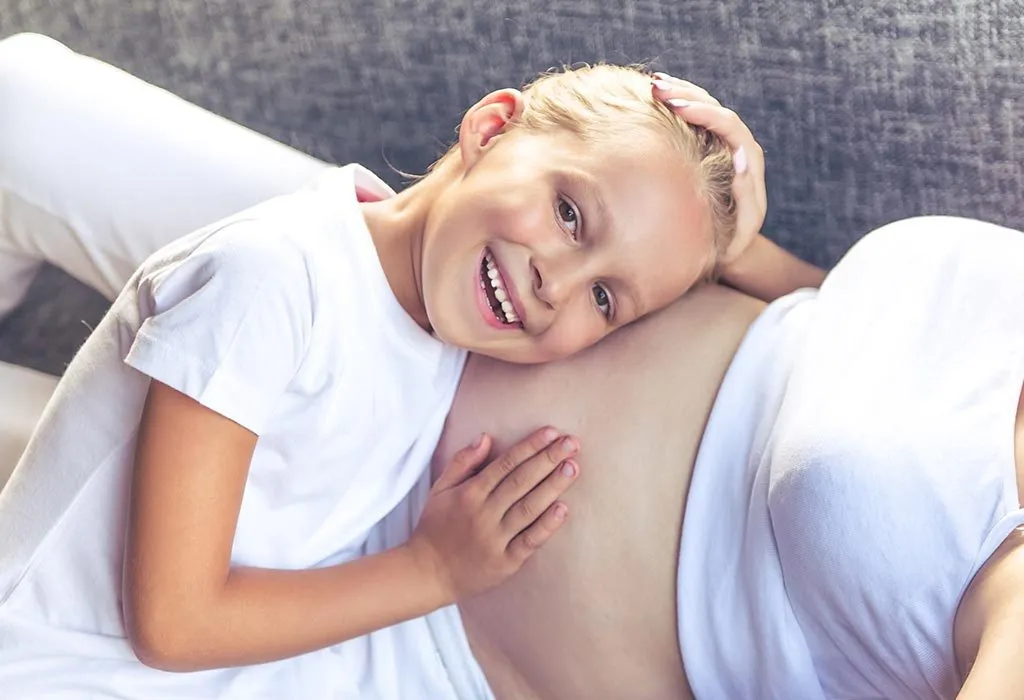 3. Talk to Him
Talk to your toddler about the arrival of the new baby to make him understand what will happen and why you will be in the hospital for a few days. This way he won't worry and will understand that newborns need a lot of love and attention. However, don't make him feel lonely. Tell him that you love him and even after the arrival of the baby, the love you have for him won't change.
4. Take Him Along
When you go to the doctor for your checkups, you can take your toddler along with you. This will help him understand what is happening. As the images of the baby show up on the screen in an ultrasound, your older one will be amazed and slowly will get used to the idea of having a younger sibling.
5. Plan
You will be gone from the home for a couple of days for the delivery, this might be hard for your toddler. So, make sure to give him a big hug when you get back home so that he understands that you missed him too. Tell him that you are proud of him for managing everything alone.
6. Make Outing Plans
This first few days after the delivery will be very hectic and your new baby will require most of your attention. This can make the toddler feel marginalised, so ensure that he remains busy the entire time. You can squeeze in some outing plans for the toddler in this period, so he does not notice the difference so quickly. Plan a fun day out for the toddler with his grandmother, uncle or aunty, and he will be all pleased and happy.
7. Get Him Involved
If your toddler has still not warmed up to the new baby, involvement will surely bring him closer to the child. Get your toddler involved in whatever activities you do, even if it is something mundane like changing a diaper. Ask him to bring the diaper from the cupboard or to keep a watch on the baby when you go for a bath. Such activities will bond your two munchkins.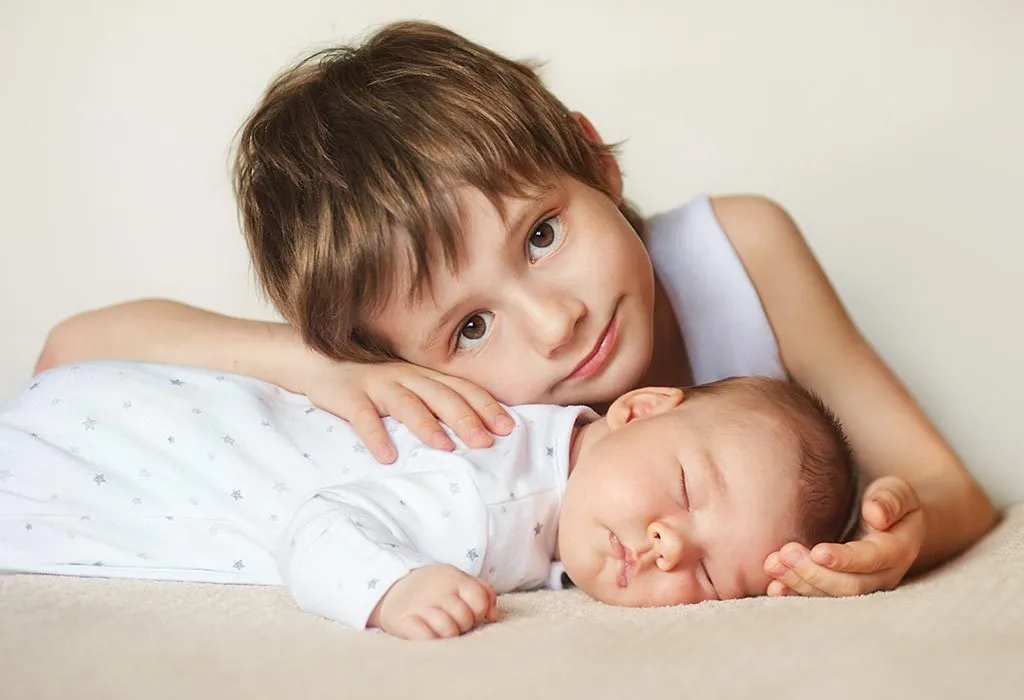 8. Spend Some Alone Time
You might be exhausted after taking care of the baby and putting him to sleep, but spending a small amount of time- even ten minutes- with your toddler can really make his day. You can simply cuddle with him, ask him about his day or do some activities with him- that is sure to make him extremely happy.
How to Help Your Older Child to Adjust to the New Baby
This greatly depends on the age of your toddler; children younger than the age of 2 will most likely not understand it completely, so the best thing to do will be to look at images of babies and families, and talk to him about a new addition to the family.
Children older than 2 but younger than 4 are hard to manage since they still crave your attention and they may feel jealous of the new baby. Therefore, the best thing to do will be to talk to him as early as possible and get him involved in all the activities concerning the new baby. School-age children may also feel jealous, but they can understand the situation much better, just keep pampering your older child occasionally and he will not complain.
Your toddler will definitely warm up to his sibling in time. However, you can make the process much easier for him, with the tips given above.
Also Read: Sibling Rivalry – Reasons & Solutions
?>