7 Hygiene Essentials for Your Baby
The joy of welcoming a baby into this world cannot be described in words. Embracing motherhood for the first time can be rewarding yet challenging, as playing mommy is a demanding job. Being a mum, you will want to protect your baby from all things harmful and take care of him in the best way possible. So naturally, you'll be extra careful about your little one's hygiene. However, it is important to know that baby hygiene differs greatly from the basic hygiene we maintain as adults. To ensure your little one is protected from infections and sickness, we suggest you invest in some hygiene essentials for babies.
Video: Hygiene Essentials for Babies That You Should Invest in for Your Baby's Health
7 Hygiene Essentials You Should Invest in for Your Baby's Health
Hygiene plays a vital role in the overall development of a baby. When it comes to your baby's hygiene, we know you won't take shortcuts. Refer to this checklist, as it has everything you need for your baby!
For Your Baby – Grooming and Hygiene Essentials
1. Wet Wipes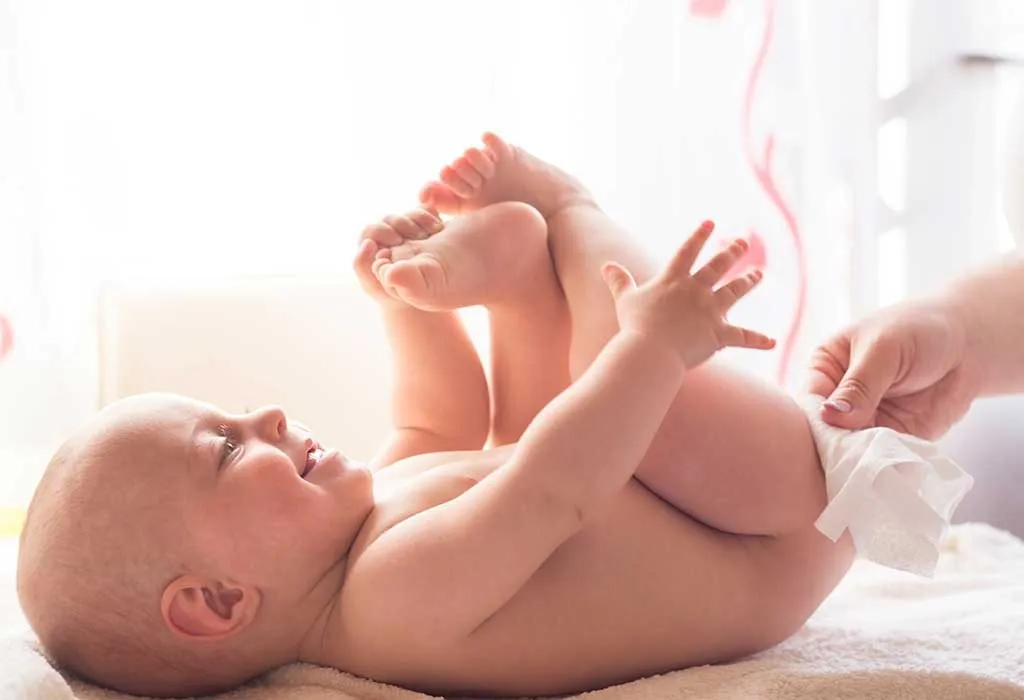 The life of a new parent without wet wipes would be a lot more difficult. Baby wipes come in handy to clean up diaper spills, spit-up, soiled surfaces and really, just everything! You will need wipes to clean your baby during each diaper change. While changing your baby's diaper, clean your baby's bottom using gentle baby wipes and give him some diaper-free time to air out the area. Always opt for wipes that are alcohol-free and soft and gentle on your baby's skin. Mee Mee's Caring Baby Wet Wipes contain aloe vera extract that will soothe inflammation and moisten your little one's skin.
2. Finger Brush
Maintaining oral hygiene from early on is important for healthy gums and strong teeth. You can start cleaning your baby's teeth as soon as his first tooth appears either with your finger or a gentle finger brush. Use a soft baby brush with a small head. Ideally, you should buy a finger brush which is made from non-toxic materials and has soft bristles. Remember, it is never too early to start taking care of your baby's dental health.
3. Nail Clippers and Scissors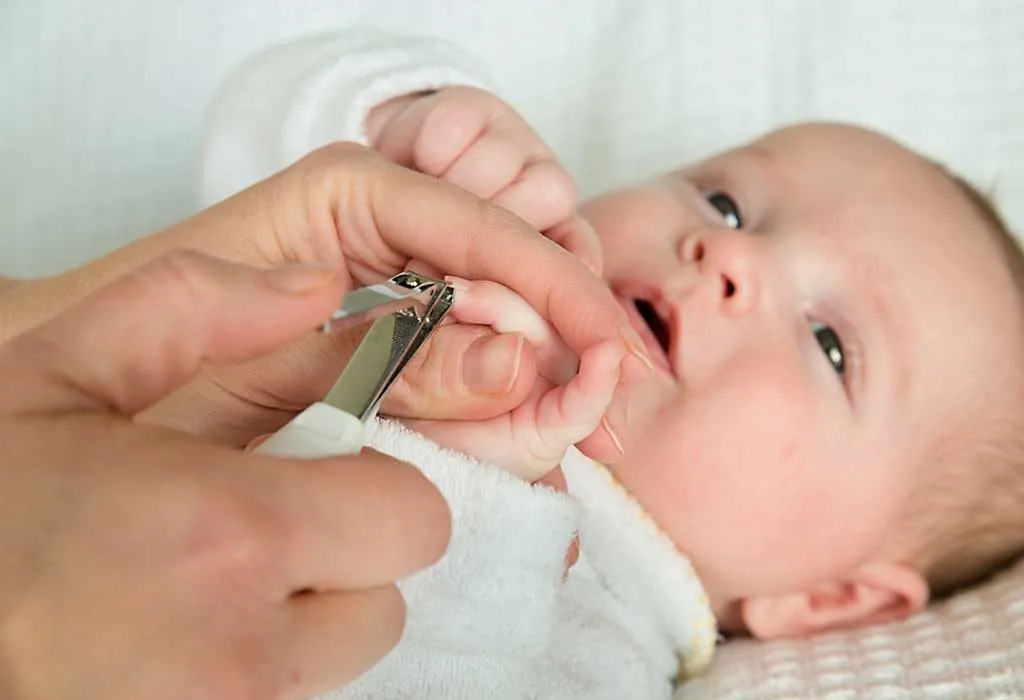 Using a nail clipper or a pair of scissors to cut your baby's delicate fingernails can be a daunting task, but you have to do it. Babies' fingernails grow fast and have sharp edges; they often can accidentally scratch and hurt themselves. Invest in a nail clipper specially designed for babies to prevent your little one from hurting himself. Buy a clipper that is slightly sharp and has a magnifier – it will make your job easy. Mee Mee's Gentle Nail Clipper with Magnifier has stainless steel blades and is easy to hold. It has a magnifying glass that will enable you to see your baby's nails without straining your eyes so that you don't accidentally hurt him.
4. Cotton Balls
Keep cotton balls well in stock for your tiny bundle of joy. For the first few weeks of your baby's birth, it's best that you use sterile cotton balls to clean his bottom. As a baby's immune system is weak, he can catch infections from all things around, so as parents, you should do everything in your power to protect your child. To clean your little one's bottom, dip a cotton ball in water and gently wipe his bottom. Refrain from using soap or any other product containing chemicals on their soft bottom. You can even use cotton balls to wipe the outside of your baby's ears. remember to not stick the cotton ball or cotton buds inside your little one's ears or eyes. Cotton balls also come in handy when you travel with your sweet bundle of poop!
For Your Baby's Clothes and Feeding Accessories
5. Laundry Detergent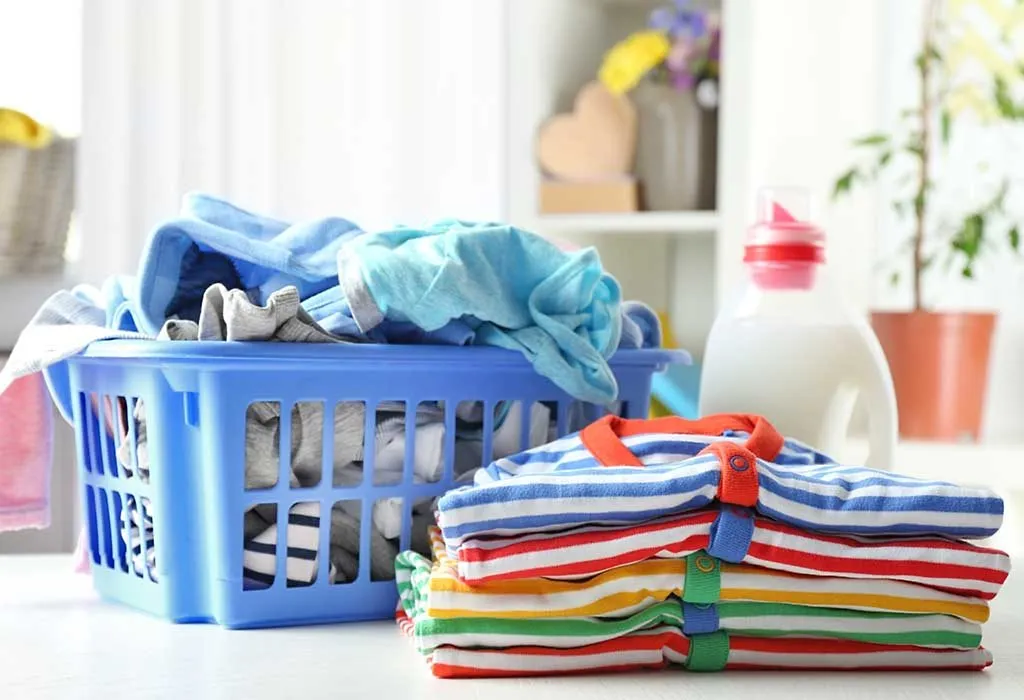 As your baby's immune system is still developing, he can catch infections from almost anywhere – even from his clothes. While you must wash their clothes correctly and with a good quality detergent, that won't be enough, not always. Using regular detergent on baby's clothes can irritate your baby's skin, and the chemicals present in the detergent can lead to allergic reactions in your baby. Using a detergent that is chemical-free and eco-friendly is recommended. Mee Mee's Baby Laundry Detergent is mild and devoid of any harsh chemicals that can be added to warm water before soaking baby clothes in it. This laundry detergent is free of artificial colouring and prevents dirt from settling on the fabric. Soak your baby's clothes in warm water with this detergent for about 30 minutes before washing them. Later, allow his clothes to dry in the sunlight and remove any bacteria left on the clothes!
6. Bottle Cleaning Brush
You must be breastfeeding your baby, but there will be times when you bottle-feed him too. Whether you bottle feed him regularly or infrequently, you must clean his bottles thoroughly after every feed. A clean feeding bottle and nipple can prevent your baby from catching various infections. To clean your baby's bottles, get a bottle-cleaning brush that is non-toxic and durable. Choose a brush that has soft and flexible bristles.
7. Sterilizer
If your baby uses a feeding bottle daily, a better option to clean his bottles would be using a sterilizer. Sterilize your baby's bottles after each feed to remove unwanted germs, and let the bottles dry before you use them again. Sterilizing the bottles and other feeding utensils would be the best way to protect your baby from health risks and infections. However, be careful while buying a sterilizer or you'll end up with one that is toxic. A BPA-free and non-toxic steriliser, like Mee Mee's Compact 3 in 1 Steam Sterilizer & Bottle Warmer, is a great investment. You can sterilize bottles, warm milk in it, and heat baby food in it. It is easy to clean and lightweight, making it easy to carry along while travelling!
Tips to Maintain Hygiene for Your Baby
Apart from these, always ensure that your baby's environment is clean and hygienic too. Here are some things you should do to maintain proper hygiene and to ensure that your baby stays healthy and happy.
Keep your baby's skin soft, supple, and clean. Give your newborn a sponge bath 1-2 times a week – if your baby is younger. As the baby grows older, you can increase the frequency to 2-3 times a week. After every bath, towel dry him well and wipe carefully between skin folds. Then moisturise his skin with a dermatologically-tested, hypoallergenic cream.
Change your baby's diaper often and as soon as he soils it. If you leave soiled diapers on for a while, it can lead to rashes and irritation, making him uncomfortable and cranky. While changing his diapers may not be your favourite part of playing mommy, you will have to do it – so do it right! Use good quality diapers that are soft and comfy. Always keep a trusted diaper rash cream in your house if your child gets a rash. Being prepared and thorough always helps, especially when you have an energetic baby in the house!
Wash your hands thoroughly before you lift your baby in your arms. Use a sanitiser if needed – remember, when it comes to a baby's health and safety, there is nothing wrong with being overly careful. If you have visitors, ask them politely to use sanitiser before touching the baby. Also, keep your home sanitized. Clean the floors of rooms and bathrooms with disinfectant.
Your little one is likely to put everything in his mouth. Make sure you keep his toys clean. You never know what may lead to an infection, so keeping everything clean and within his reach is best. Wash your baby's toys every other day, or better yet, sanitize them frequently. When it is about your baby's health, prevention is the best cure!
There you go – now you have hygiene essentials plus some easy-to-follow tips to take care of your baby's health without any hassle!
References/Resources:
1. Newborn Hygiene; Northwestern Medicine; https://www.nm.org/conditions-and-care-areas/pediatrics/pediatric-infant-and-newborn-care/hygiene
2. Bathing and Skin Care for the Newborn; Stanford Medicine; https://www.stanfordchildrens.org/en/topic/default?id=bathing-and-skin-care-for-the-newborn-90-P02628
3. Infant Hygiene; CDC; https://www.cdc.gov/hygiene/childcare/index.html
Also Read:
Baby Travel Checklist
Baby Gear Essentials Checklist
Newborn Baby Shopping List You Should Consider