How to Remove Oil Stains from Clothes – Easy Ways to Revive Your Fabric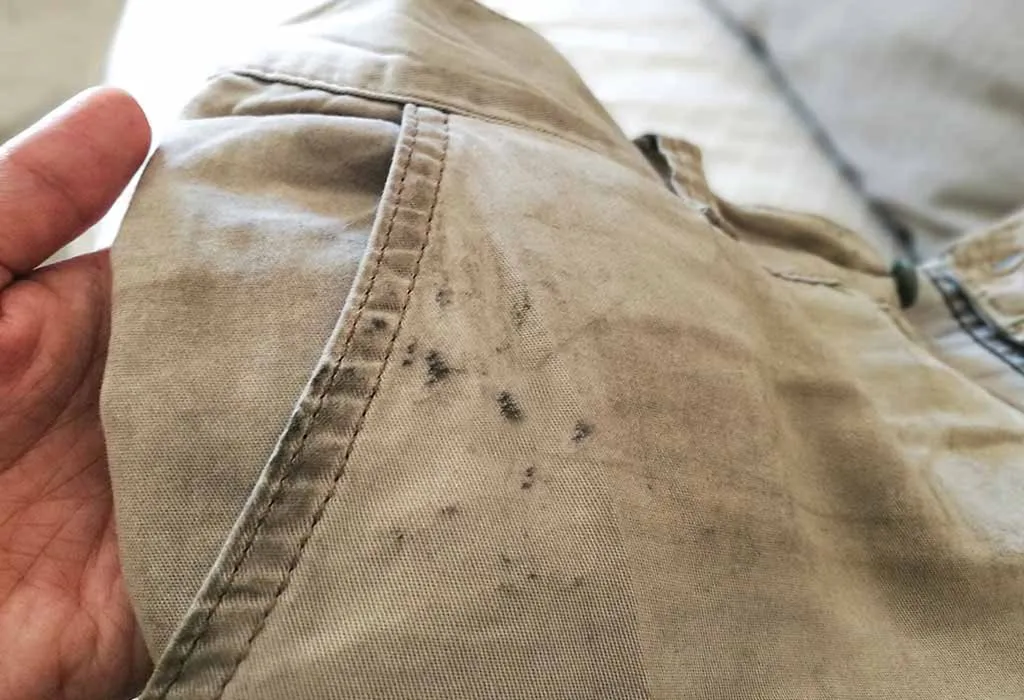 Oil and grease stains on clothes are easy to get, but they're also easy to remove. Sometimes you're propping up your favourite attire for prom night or a party, and before you know it, you spill oil paint stains on clothes. While we realise there are various kinds of oils you could spill on your clothes – like, coconut, cornstarch, olive oil, mustard oil, motor, and many more – removing stains requires a bit of finesse and creative application of some household items lying around the house.
How to Get Rid of Oil Stains on Clothes at Home
There are various ways to remove oil stains from your clothes at home. Heck, you can even learn how to remove oil stains from clothes with baking soda alone. Here are some of the most common ways and all it takes is a few items that you can get from the convenience store-
1. Using Baby Powder
Have some baby powder lying around? Time to put it to use and remove those stains from synthetic clothes:
Dab out the oil using paper towels before it spreads further and permeates your clothes. Make sure not to press into the clothing.
Now, take some baby powder and apply it on the affected area.
Let it sit in for 30 minutes.
Using your fingers, you can dust off the baby powder or a steel spoon to scoot it out.
Voila – your garment or clothing is as good as new!
2. Using Dish Detergent, Shampoo or Soap
If you can shampoo to remove greasy spots from your hair, you can use it to remove the stains on cotton shirts too. Here's what to do:
Get some shampoo and rub it across the affected areas.
Wash and rinse according to the instructions mentioned on the clothing tag
If you're planning to use dish detergent to wipe off those stains, apply some cornstarch and let it soak for 30 minutes. Get your dish detergent or soapy water and use a nail brush to work through the affected areas. Wash and air dry afterwards according to the instructions provided in the clothing tag.
3. Using Spot Remover
If you want to know how to remove mustard oil stains or stains from georgette clothes, you'd be surprised to learn that you can use a spot remover for that. Here's how to do it:
Use a spot remover spray and apply it to the cooking oil stains on clothes
Let it sit for a few minutes while in the meantime you get a pot or kettle of water boiling
Get a washtub or a container, place the clothes in it, and pour the boiling water on it
When you're pouring it, make sure to pour it from as high as possible. This helps remove the stains by breaking up the grease/oil bonds
Be sure not to spill on the floor since the water is scalding hot
4. Using Lighter Fluid
Using lighter fluid to remove those pickle oil stains from clothes is an ingenious idea but make sure to do a spot test before proceeding.
Ready? Here you go:
Grab some WD-40 or similar lighter fluid and gently spray it over the affected areas
Let it sit for 20 minutes
Get a tub of warm water and soak your clothes with it. Wash out the lighter fluid now
Drain out the water and wash your clothes using laundry detergent this time, taking care to follow the instructions laid out by your clothing label
Let the clothing air-dry now but make sure not to air-dry it too hot since any unnoticed stains may set into your clothing if you do that
That's it!
Other Home Remedies to Fight Oil Stains on Fabrics
In case you're wondering if there are different ways to remove those pesky oil stains, we have good news for you. Here are a couple more ways you can get rid of those stains:
1. Vinegar
Take a bowl and pour water and vinegar into it in equal parts.
Take a dry cloth, dampen it in the solution and rub it over the affected areas.
2. Salt
Stir in salt and rubbing alcohol in a 1:4 ratio in a bowl
Get a dry cloth, dampen it with this and rub that hard across the affected areas
3. Chalk
Get chalks or some chalk powder and rub it over the oily areas
Let it sit for a few minutes and let it absorb the stains
Brush away the chalk powder and if there any stains remaining, repeat this step to prevent more blotting
Wash and airdry your clothes now as per the label's instructions
4. Aloe Vera Gel
Soak your clothes and let it sit in the water some time
Take it out and apply aloe vera gel on the affected areas
Wash the fabric and airdry it based on the instructions mentioned.
Your stains are now eliminated.
5. Coke
We're talking Coca Cola and not cocaine here.
Get some coke and add it over the stains
Let it sit for roughly 1 to 2 hours
Wash and air dry afterwards to remove the stains (and the coke) completely
6. Toothpaste
Get any toothpaste and dab it over the affected areas
Use a toothbrush to scrub off the stains for a bit
Rinse with water and air dry for a finish
FAQs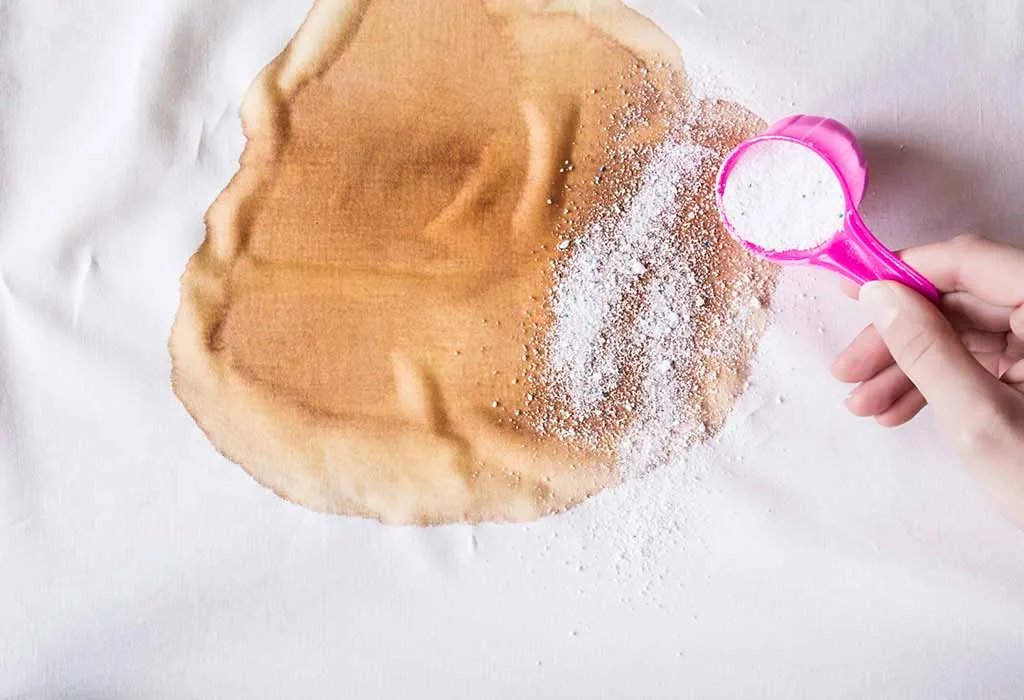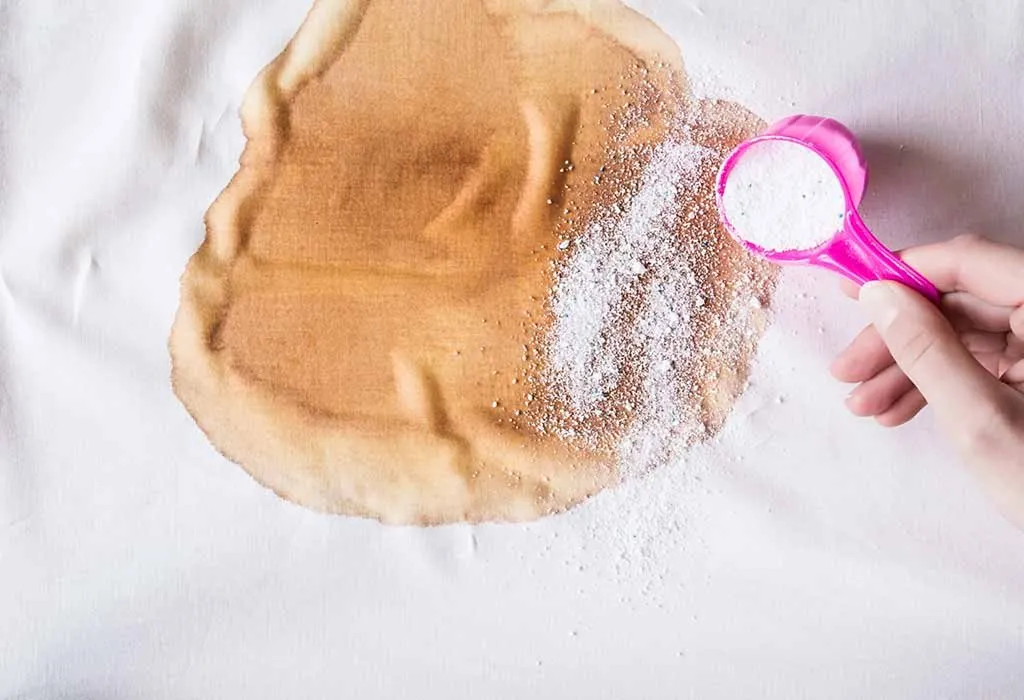 Still, have questions? Here are some of the most common ones asked by our readers:
1. Can I Get Stains Out of Clothes That Have Already Been Washed And Dried?
Yes, you can. Here's how:
Get a bottle and mix in three tablespoons of white vinegar with two tablespoons of liquid detergent and warm water.
Apply this cleaning solution and rub it over the affected areas
Blot using a dry cloth and normally wash afterwards
If the stain hasn't yet gone, repeat this process and then air dry the clothing
2. How To Remove Oil Stains From A Cloth That Says "Dry Clean Only"?
For clothing items that have a "dry clean only" label, here's how to remove the stains:
Get dish soap and water to create a cleaning solution.
Take a dry cloth, dampen it, and dab it over the stain-affected areas
Pour just a tiny bit of the solution and wait for 10 or 15 minutes
Wipe away stains with a damp cloth, and you're done.
3. How Can I Get Essential Oil Out of Clothes?
This is where the magic of using baking soda to remove oil stains comes to life. Here's how to remove those essential oils:
Get some paper towels and blot out the stains as much as you can
Using a toothbrush, sprinkle some baking powder on it and scrub it over the affected areas
Let it sit for an hour roughly or give it more time until the colour turns yellowish brown
Use a flat knife to wipe away the powder and repeat this process until no stains remain
Wash and clean your clothes normally once this is done
Removing oil, paint, or cooking oil stains from clothes is not hard and hopefully, we've helped you out with that. Next time you go on a date, to the party, or are attending that special event, remember to keep these stain cleaning tips in mind, and you'll be all set.
And for now, let us know how your cleaning session goes or if you have any more creative ways to remove stains.
Saree Pallu Styles You Should Try Out
Lingerie Mistakes and How to Avoid Them
Fashion Tips for Plus Size Women