How to Remove Hair Dye/Colour From Skin – 10 Easy Tips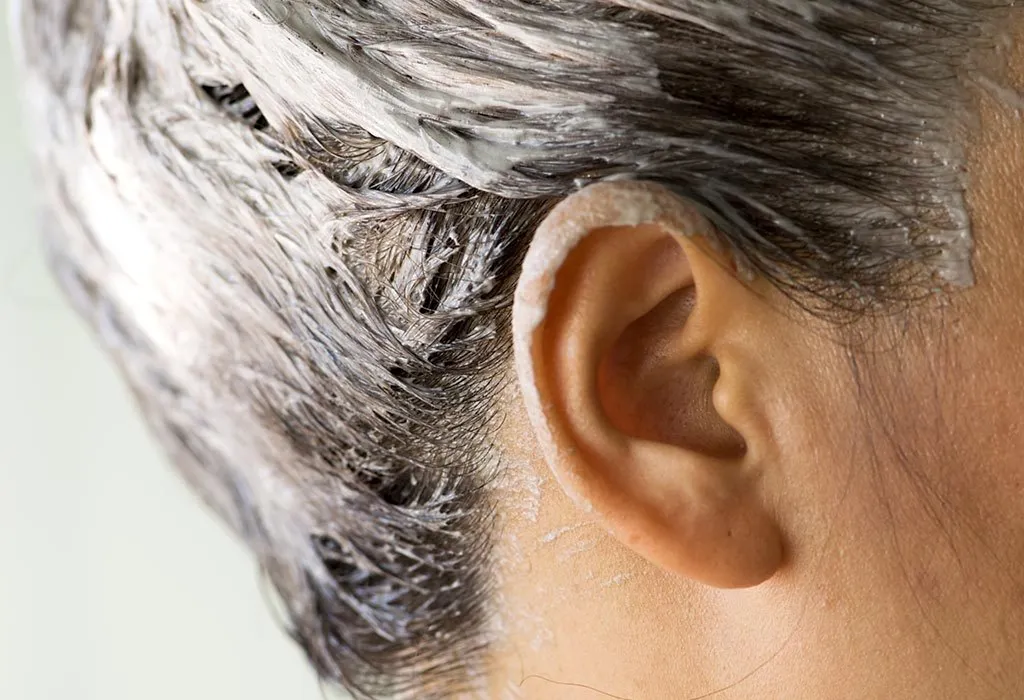 In this Article
Are you thinking of altering your look by dyeing your hair? Well, hair dyeing is undoubtedly one of the easiest ways of changing the way one looks. However, sometimes no matter how hard to try to prevent, these hair colours may leave marks on your skin. You obviously don't want to roam around with these colourful patches on your skin – in this post, we shall be discussing how to remove permanent hair colour from skin, or how you can get rid of hair dye stains from your skin.
10 Effective Ways to Remove Hair Dye or Colour From Skin
The most obnoxious thing that most of us usually deal while handling hair dyes is the stubborn marks these dyes leave on our skin. Whether you are a first-timer or you dye your hair regularly, following these techniques of removing hair colour from your skin may prove to be helpful to you:
1. Baking Soda
One of the best home remedies to remove hair colour from skin is baking soda. Baking soda contains abrasive properties which help in scrubbing off the dead skill cells that get stained with hair dye. For best results, mix 10 ml liquid laundry detergent with 10 ml baking soda because it helps in lifting the dyed dry molecules from the skin. You can use this mixture to remove stains from any parts of the body; however, it is not recommended for your delicate facial region.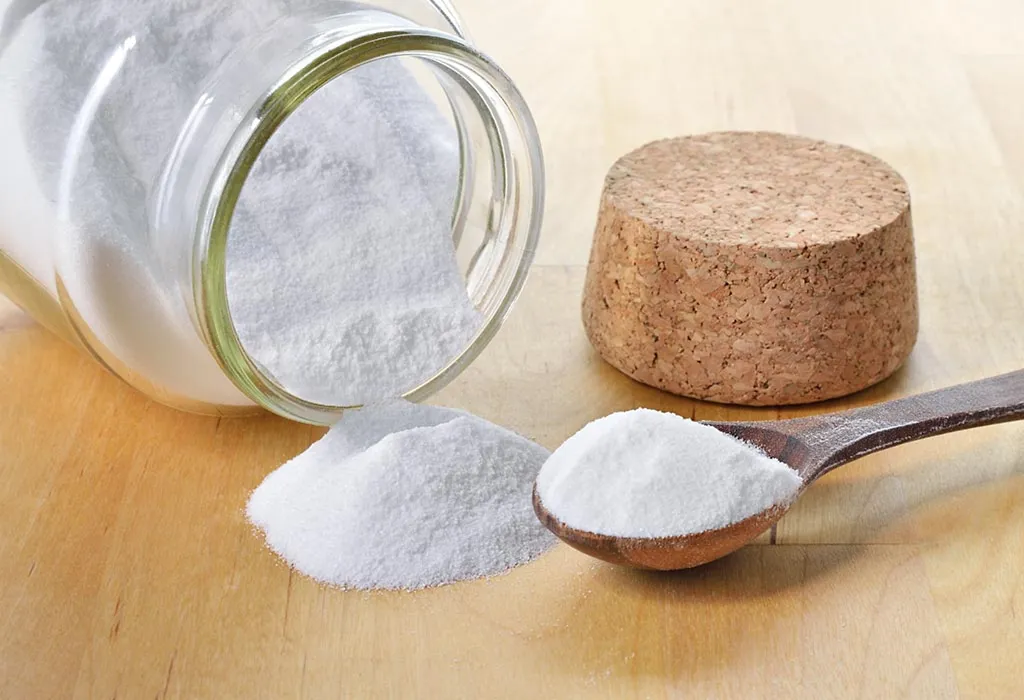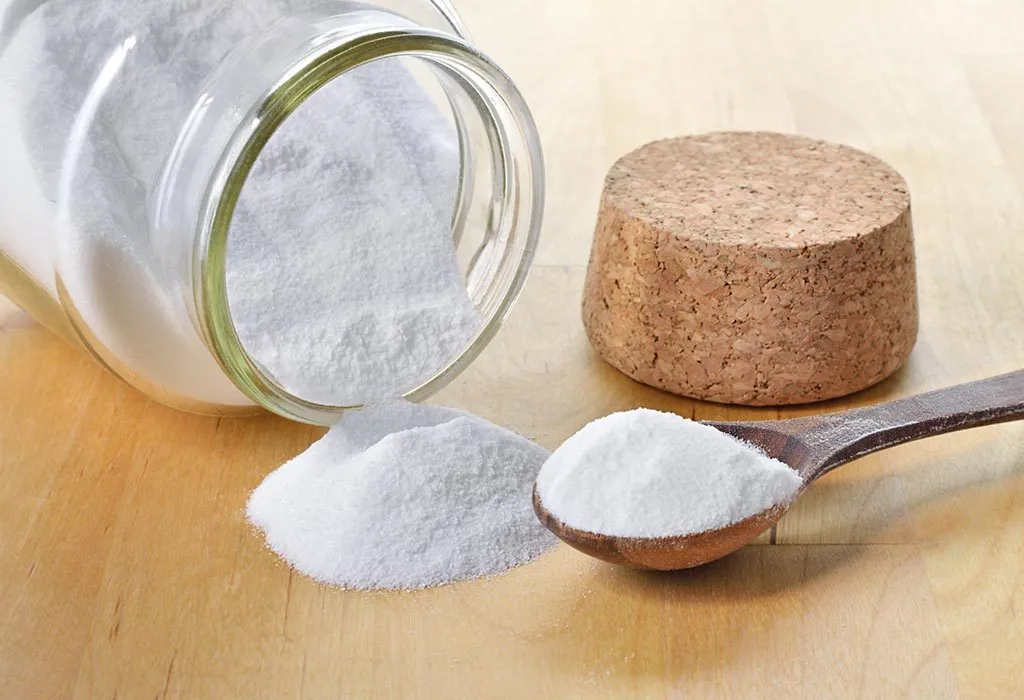 2. Liquid Laundry Detergent
Liquid laundry detergent is also an effective way of removing dye stains. All you need is some liquid laundry detergent. Lather it up and scrub on the stained area. Warm water works best in getting rid of the stains. You may wash the area a couple of times to remove the stains. Make sure you do not use this method on your face because facial skin is sensitive and may get irritated. Also, this method is most effective in scrubbing off the weaker dyes and may not work that well on stronger dyes.
3. Nail Polish Remover
Nail polish removers work great for removing black hair colour or other coloured dyes too. You need an acetone-based nail polish remover for this. Soak a cotton ball in the remover and gently swipe it over the dyed skin. Make sure you exercise extra caution while using acetone on your face. Acetone is very abrasive and can cause irritation on delicate skin. Also, after using nail polish remover, make sure you wash your skin thoroughly with water and soap.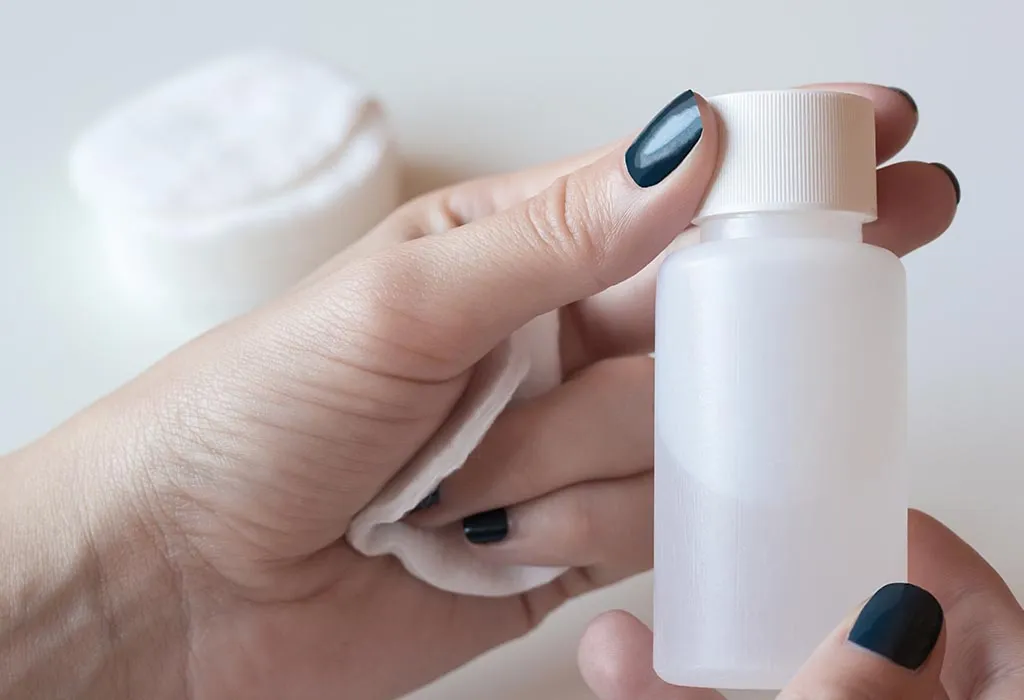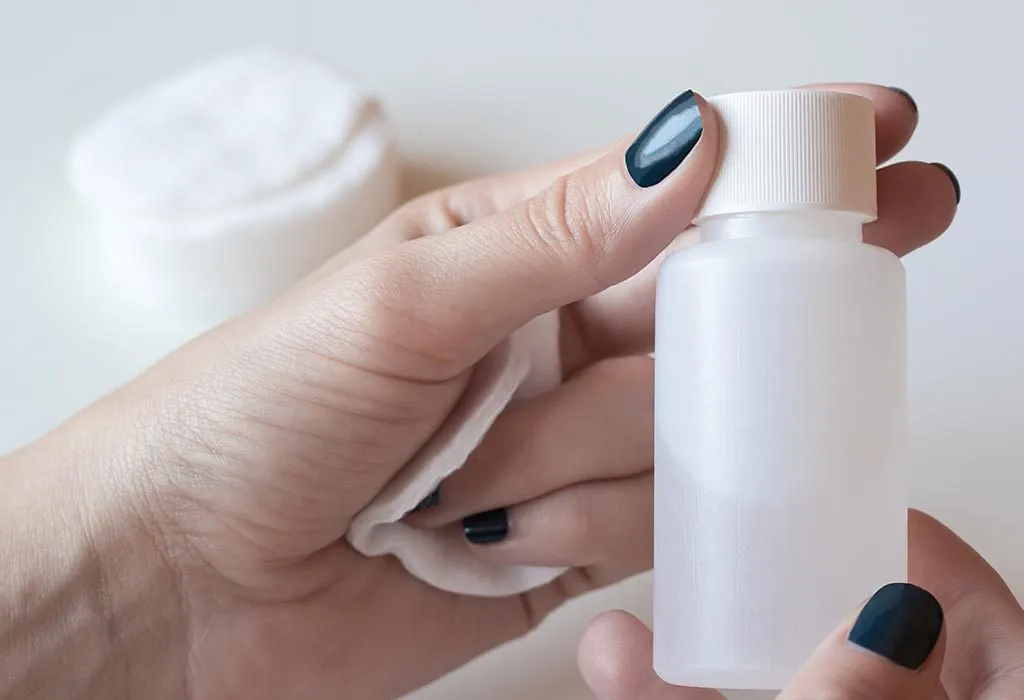 4. Baby Oil
One of the safest home remedies to remove hair colour from skin naturally is baby oil. Baby oil can be applied safely on the face and other stained areas of the skin; however, refrain from using too much oil on your face as it may enter your eyes. Take any baby oil and smear the tinted area nicely with it. For best results, leave the oil overnight or at least for eight hours on skin. If you are sleeping with the oil on your skin, you may cover the area with a cotton cloth to secure your bedding. Wash the area with warm water and a mild soap or shampoo.
5. Petroleum Jelly
Petroleum jelly is not only helpful in healing your dry and chapped skin, but also in removing dye marks from the skin. Take a generous amount of jelly and apply to the stained area. Rub the jelly in circular motions and soon you will notice the dye wearing off. You can take a soft washcloth or cotton ball and remove the jelly. For tougher stains, you can let the jelly sit on your skin for at least eight hours or overnight. Petroleum jelly can be safely used on any part of the skin; however, make sure you protect your eyes.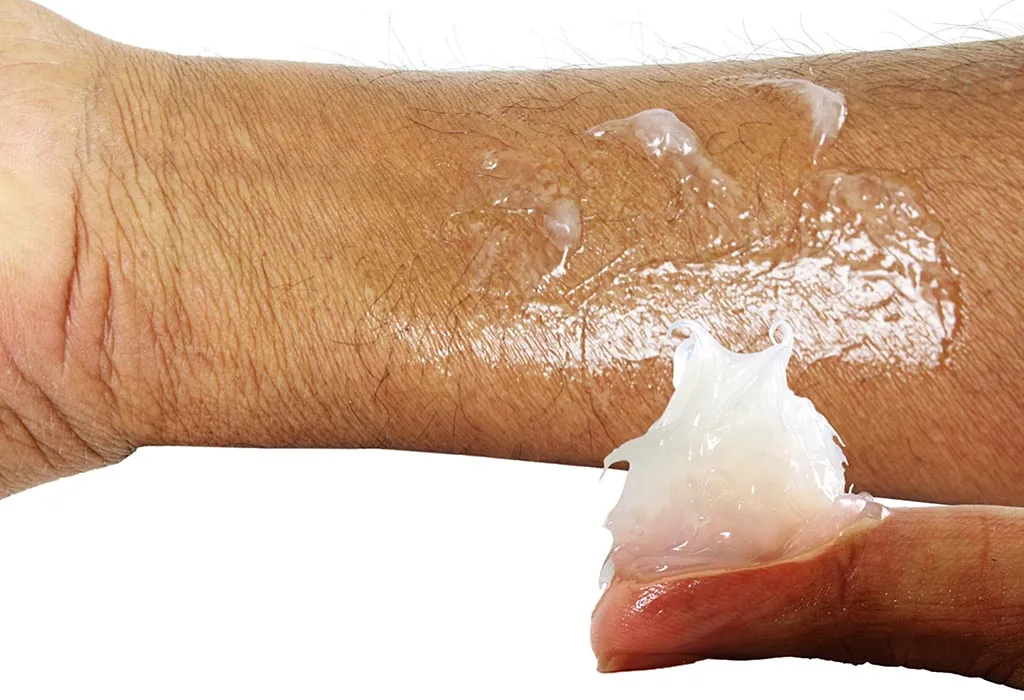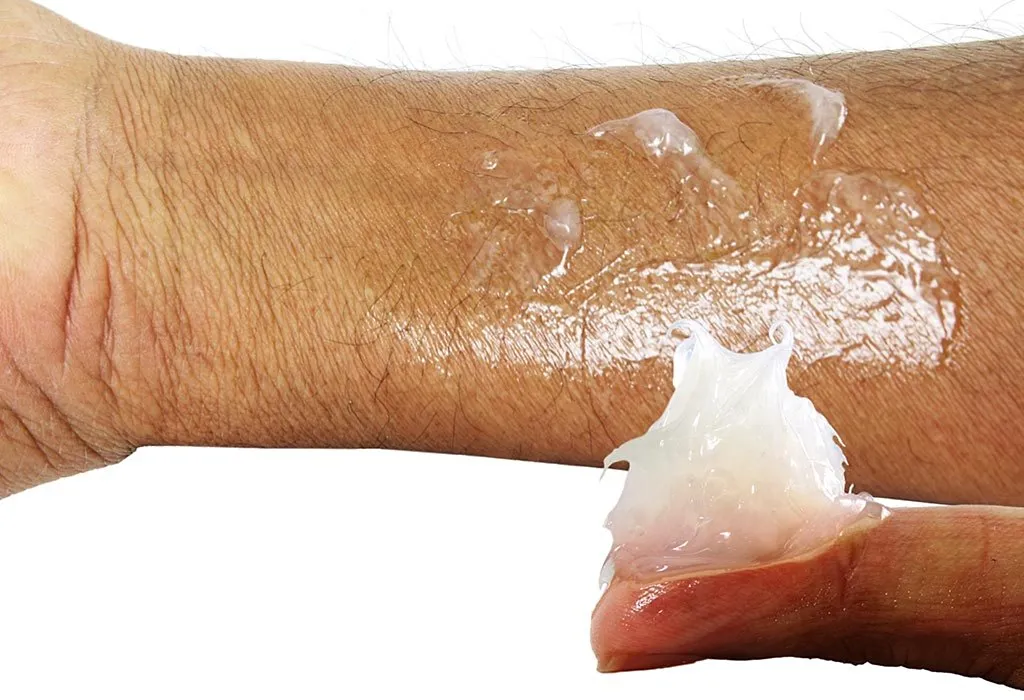 6. Toothpaste
Apart from shining your pearly whites, toothpaste can help you deal with tough dye stains too. You can use any toothpaste; however, the ones with baking soda work best for the stains. You can apply a thin coat of toothpaste on the skin and leave it on for a minute or so. Toothpaste is mildly abrasive and will help in lifting up the dyed cells from the skin. You can massage the toothpaste on the skin, and once the stain comes off, wash the skin with mild soap and warm water.
7. Make-Up Remover
If you have any makeup remover with you, it can be used to scrub off dye marks too. Makeup removers work best for removing makeup from the skin and eyes, however, you can try this to remove dye marks too. Simply dab on some remover on a cotton ball and try to scrub off the stain. You can wait for a few minutes before rinsing your skin with soap and water.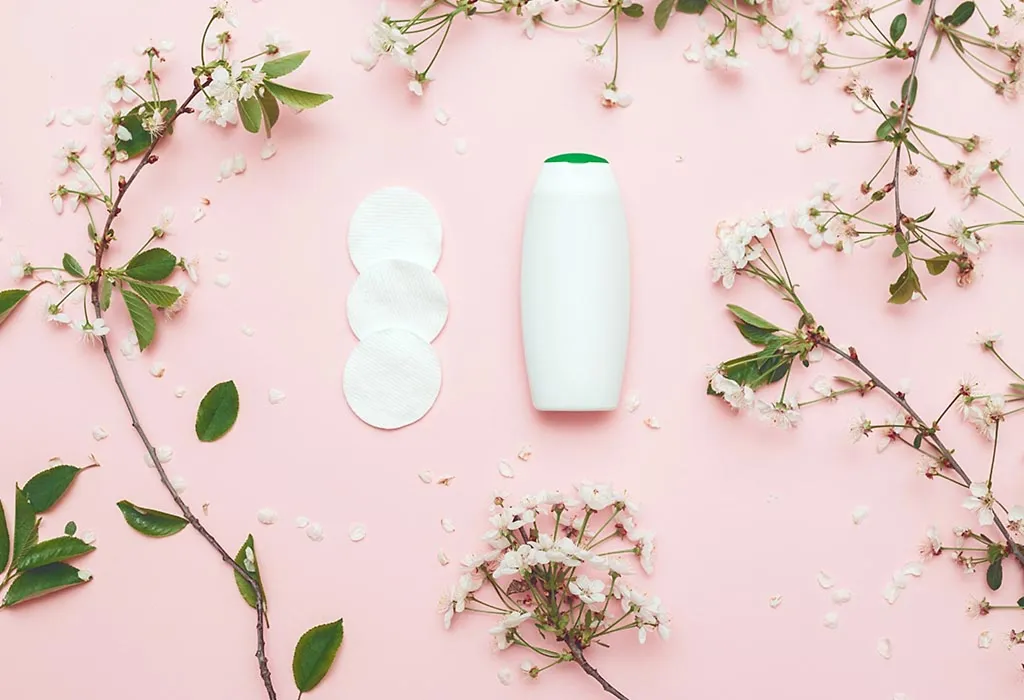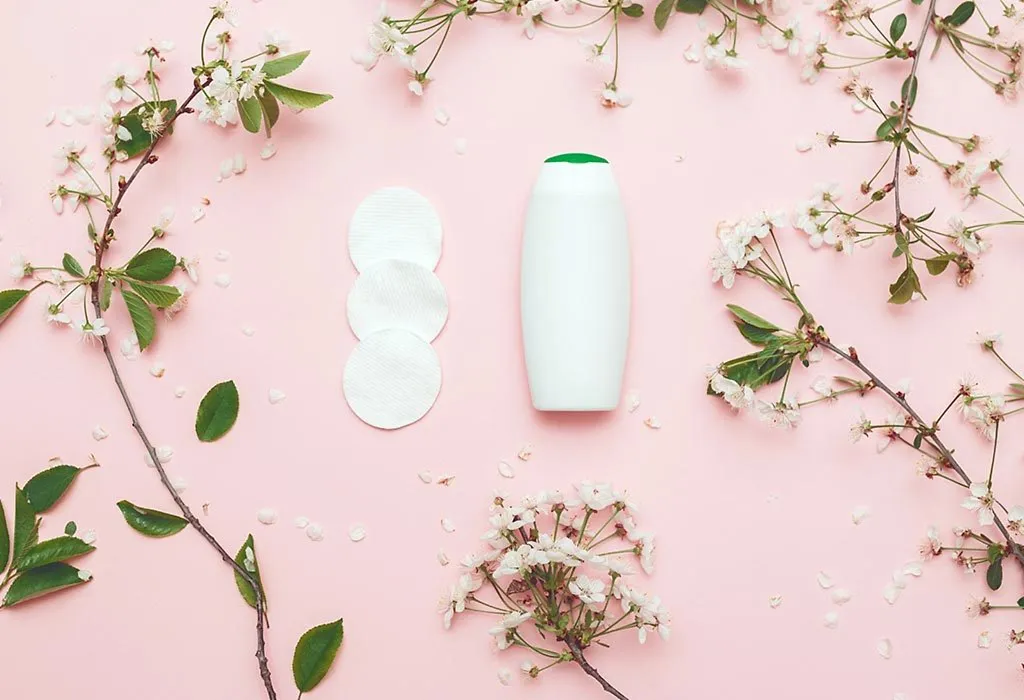 8. Dish Soap
Dish soap is not only good for washing dirty dishes, but also to tackle tough dye stains. Simply apply some dish soap on the stained skin area and rub in circular motion. Wash with tepid water and watch the stain disappear. For tougher stains, you can mix equal parts of dish soap and baking powder for scrubbing off the stain. However, dish soap and baking powder mix is not an ideal option for removing a stain from the face.
9. Olive Oil
Olive oil is great for nourishing the skin and it can also be used to get rid of nasty dye marks from the skin. Olive oil is super gentle on the skin and thus you can safely apply it to remove marks from your face too. Olive oil not only helps get rid of them but also helps in making your skin silky smooth. Take a cotton ball soaked in some olive oil and scrub on the stained area. If you are dealing with stubborn stains, you can leave the oil on your skin for some time and then wash it off with mild soap and tepid water.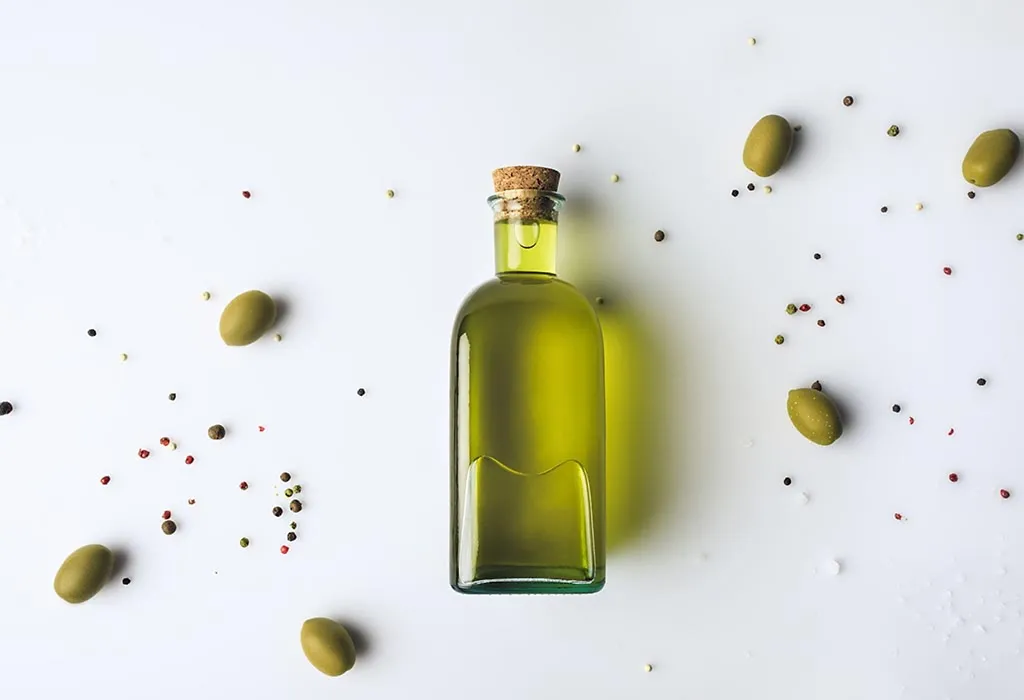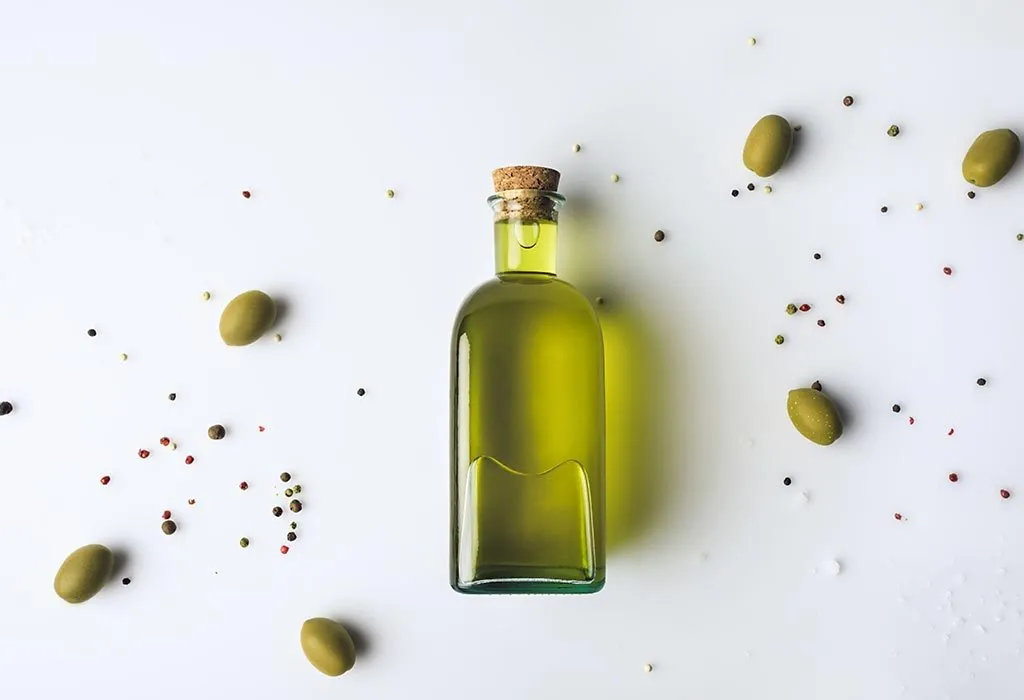 10. Lava Soap
Lava soap is a heavy-duty cleanser soap that works best for removing tough stains such as grease, paint, tar, etc. This clearly means that this soap can be highly abrasive on the skin. Therefore, you may use this soap to remove dye stains from your hands. But if you wish to remove the stain from your hairline or face, you need to exercise extra caution because it may harm your delicate facial skin. You can take the soap and lather it up nicely on your hands, take a cotton ball and soak it up in the lather and gently swipe over the stains. Make sure you are super careful while handling this soap on your face and eyes.
These are some easy and effective ways of removing hair dye stains from the skin. However, if your skin is sensitive, you must exercise caution while using these methods. If any irritation or reaction appears on your skin, wash the area with plenty of water and rush for medical assistance.
Also Read:
Effective Skin Care Tips After 30
Working Home Remedies for Removing Blackheads
Essential Oils to Use for Reducing Your Ageing Skin