How to Make Tomato Ketchup at Home – Easy Steps to Make a Tasty Sauce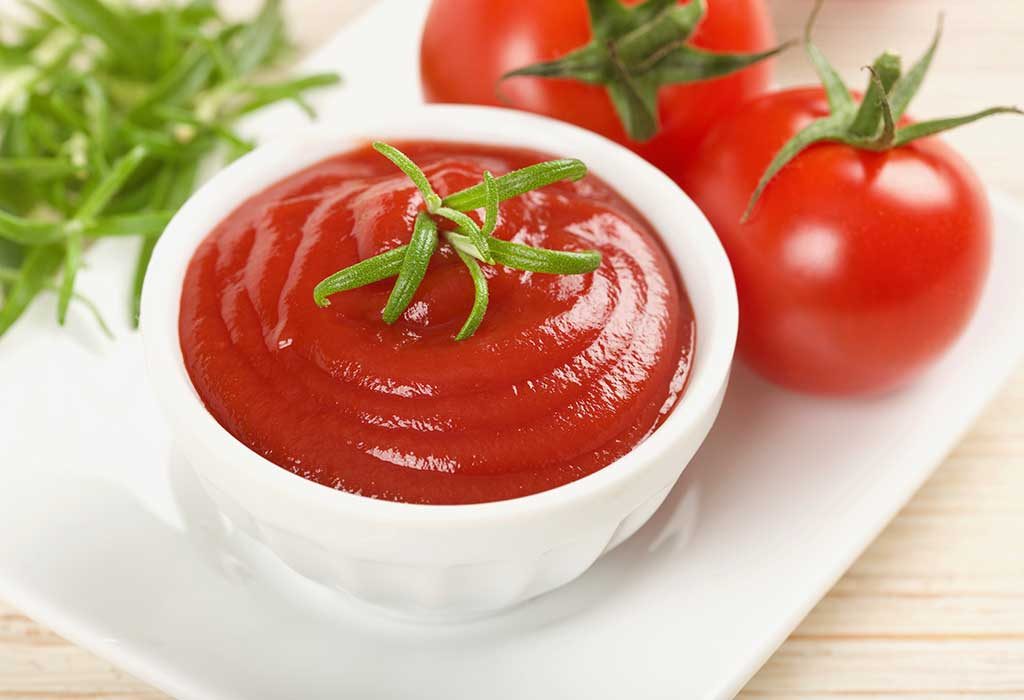 You can't deny the fact that ketchup is to children what honey is to bees! Apart from being one of the most kid-friendly food products, it compliments almost every food item, making it a must-have in your kitchen. So, why not just buy a bottle from your nearest store? Well, no brand of store-bought ketchup can contain the goodness of fresh tomatoes and that unique taste which is suited to your kid's taste buds. Most importantly, homemade ketchup does not contain any preservatives and are free from corn syrup, which contain a significant amount of fructose.
Quick Homemade Tomato Sauce Recipe
Here is a well-trusted tomato ketchup recipe with fresh tomatoes to help you whip up yummy tomato sauce in your kitchen, using ingredients that are easily available and applying techniques that do not take much of your time. So put on your chef's hat and keep reading!
Ingredients
Fresh tomatoes (1 kg)
Garlic (2 tsp)
Spices (garam masala) (1 tsp)
Chilli powder (1 tsp)
Vinegar (2 tsp)
Sugar (2 tsp)
Salt (2 tsp)
Water (boiled)
Time Required
The ingredients required for the ketchup are fairly regular and easy to procure, and hence the preparation time is around 10 minutes only. The cooking time will span around 50-60 minutes, taking the complete cooking time to around 70 minutes.
Serving
One batch of the tomato ketchup can take care of 2-3 servings.
Nutrition
Every 100 gm of the ketchup contains 124 kcal
Extremely low concentration of saturated fat, cholesterol, and sodium
Good levels of potassium and copper
A rich source of essential vitamins such as Vitamin A, Vitamin K, Vitamin E, and Vitamin C
Preparation Method
Take the tomatoes, wash and then chop them into considerably big pieces.
Next, take the garlic and ensure that you chop it into fine pieces.
Put both the garlic and tomato pieces in a pan, cover the utensil and let the mixture cook on medium heat until it attains a soft texture. The process will take 20-30 minutes (approx.), with occasional stirring required at 5-minute intervals.
Take the pan from the stove and let it cool, so it comes down to room temperature.
Now, use a mixer to grind this mixture and blend it into a fine paste.
Get rid of the seeds and skin that still remain in the paste. Pass it carefully through a sieve to result in a sauce that is extremely smooth in texture.
Once you have succeeded in making a smooth paste, transfer it into your pan and put it on the stove again.
Cook it on medium heat and let it reach boiling point. Once this happens, add all the condiments such as salt, sugar, garam masala, and chilli powder to the paste.
Now, let the complete mixture simmer on low heat until it takes the form of a thick sauce. This should not take more than 15 minutes.
You will know when your sauce is ready and piping as it will begin to spurt noticeably at the centre of the pan.
You can now safely remove your pan from the stove, add vinegar to it, and additional seasoning according to your taste buds.
Notes
This process does not require use of any water.
You can also use a soup strainer for this purpose.
You might need to sieve two times, depending on the thickness and texture of your paste.
What Types of Tomato Sauces Can You Make at Home?
Now that we are through the basic recipe for classic tomato ketchup, it's time to tingle that chef's hat a bit and delve deeper into the sassy finger-licking world of sauce. Here are a few noteworthy variations to the traditional ketchup that are worth giving a try.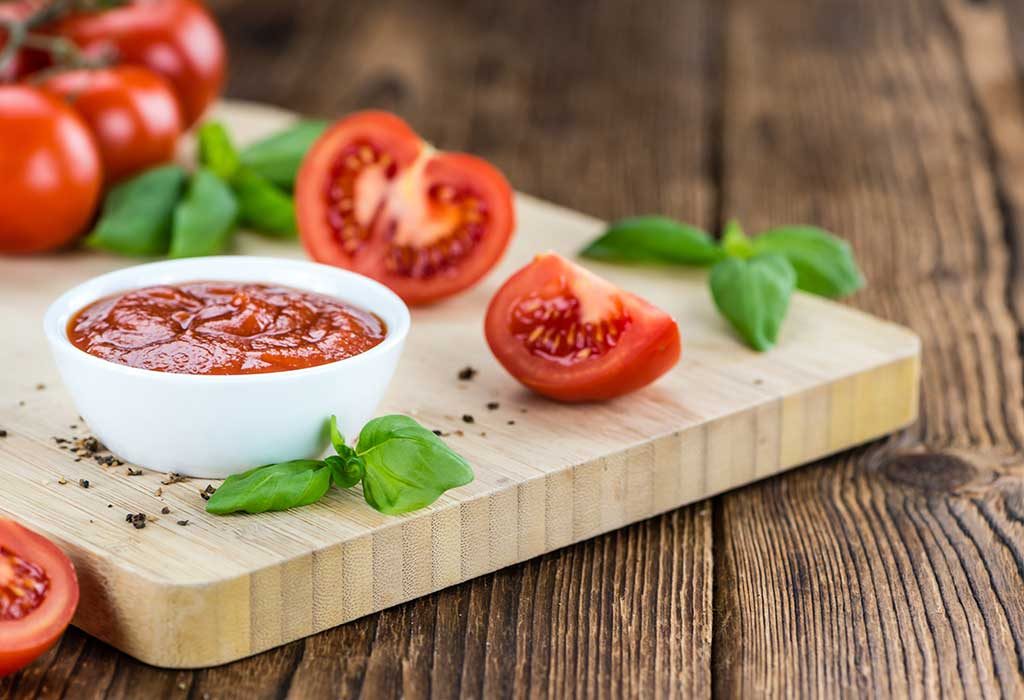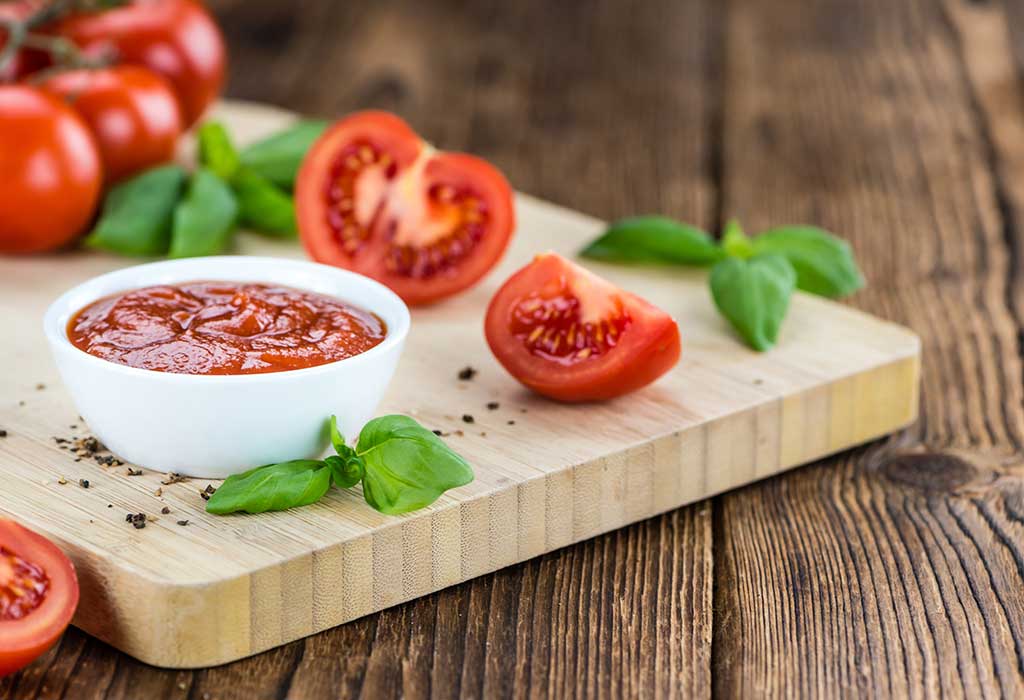 1. Roasted Tomato Sauce with Garlic
This is a simple, quick, yet incredibly delicious sauce.
Requires ingredients that are easily available – garlic, olive oil, salt and pepper, basil leaves, and fresh tomatoes, of course.
Compliments continental dishes such as spaghetti, noodles, fried rice etc.
2. Bolognese Sauce with Turkey
Fits the bill for a healthy sauce rich in protein – it is a tomato sauce recipe with no sugar.
Addition of ground turkey to the sauce greatly improves both taste and nutritional value.
Replace sugar with cinnamon and if it suits your taste, add a little chicken stock to the mixture for additional flavour.
3. Vegetable and Meat Sauce
This one's more than a sauce – it's a super healthy mix of meat and fresh veggies.
Fresh vegetables such as onion, bell pepper, spinach, carrots, and celery can form the puree.
Add the above mix to ground beef and freshly chopped tomatoes.
4. Vegan Pesto Sauce
The king of sauces when it comes to flavours.
Contains four key ingredients – garlic powder/chopped garlic, yeast, sea salt, and cashew crumbs.
5. Chickpea Sauce
For the vegetarians who want a sauce with meaty texture.
Mix freshly chopped tomatoes with chickpeas (blended) and add vegetables such as onions, carrots etc. according to taste.
FAQs
Here are a few common doubts answered, to help you if you hit a roadblock.
1. How Long Does Homemade Tomato Ketchup Stay Fresh?
Your freshly made tomato ketchup, once packed in jars that are airtight and sterilized and stored in a refrigerator, will remain perfectly good for a period of 90-120 days.
Adding a sodium benzoate-water mixture to the sauce increases the shelf life of the ketchup by another 120-150 days.
2. How Do You Store Leftover Tomato Sauce?
Ensure that you pick a clean and dry jar for storage that has been effectively sterilized. Boil water and place the jar in it for around 1-2 minutes, then leave it out to dry.
Tomatoes contain lycopene, which is an antioxidant that prevents heart problems and fights cancer. They also contain folate, besides numerous vitamins and minerals. The best part is that the lycopene content increases when you cook the tomatoes. So try out these delicious fresh tomato ketchup recipes at home, and take advantage of the health benefits that you get from the goodness of this juicy red fruit!
Also Read:
How to Make Homemade Pickle
Tips for Making Multigrain Atta at Home
Vegan Sources of Protein You Should Include in Diet